This 5-Ingredient Meal Prep Egg White Frittata is the perfect high protein meal prep breakfast, and it only has 181 calories per serving!
Get ready for the EASIEST Meal Prep Breakfast EVER in the history of breakfast!!!!
Okay, to be honest I feel a little weird about sharing this as an actual recipe since it's soooooo easy, but it's the breakfast I've been basically eating every day for the past 6 months, and it's mainly because I'm not a big breakfast person and can't be bothered making it each morning.
You see as a food blogger, and anyone else who works from home for that matter, I am working off of my own schedule everyday, and I'm one of those people where once I'm working, I'm working and I'm not stopping.
When I had an office job in between semesters of university, I actually struggled a lot with breakfast because I just couldn't get hungry before I had to leave for work. I ended up making smoothies most of the time, or elaborate meal prep breakfasts that were amazing (these Chocolate Avocado Muffins were one of them actually, and one of the first recipes on the blog) but weren't sustainable enough for me to make in bulk every week on the two days off I had each week.
Lunches were easy; I would mostly eat dinner leftovers, and I still do!
But at the beginning of my foray into meal prep, breakfasts and even snacks were just not my thing. I don't exactly always enjoy them like I do lunch and dinner, and my body takes quite some time to wake up and be hungry and I really don't believe in forcing yourself to eat, work out, etc when you just feel like you can't.
It's funny because I look back to that time in my life, though not so long ago, as me being really inexperienced with recipe development and meal prep in general. I've always been pretty good at meal planning, but I think the trouble I get into is that I'm just SO into food that I take it too far and make things that are too elaborate, with too many steps.
One of the best parts of blogging is that over the past three years I've really been able to find what type of recipes resonate most with people, and then try and pick apart why.
One thing I've seen over and over is that most of the recipes I've made that have taken off have been simple recipes with few ingredients, little cooking/hands on prep time that still have a ton of flavour. Make-ahead ideas like this 5-Ingredient Meal Prep Egg White Frittata and simple 30-minute Italian Chicken Skillets alike.
At the end of the day, people just want eating and meal planning to be easy!
So, I'm listening to myself, and listening to YOU, and trying to post as many delicious, easy, simple ideas as possible, and hopefully if you're meal prepping at the last minute you also won't have to run to the store either and you can simply use up whatever veggies you have lying around in the fridge.
I'm posting this Egg White Frittata in part because it's not exactly a new idea, but it's a meal prep recipe I've been able to successfully make each week over and over again because it's so easy and so versatile.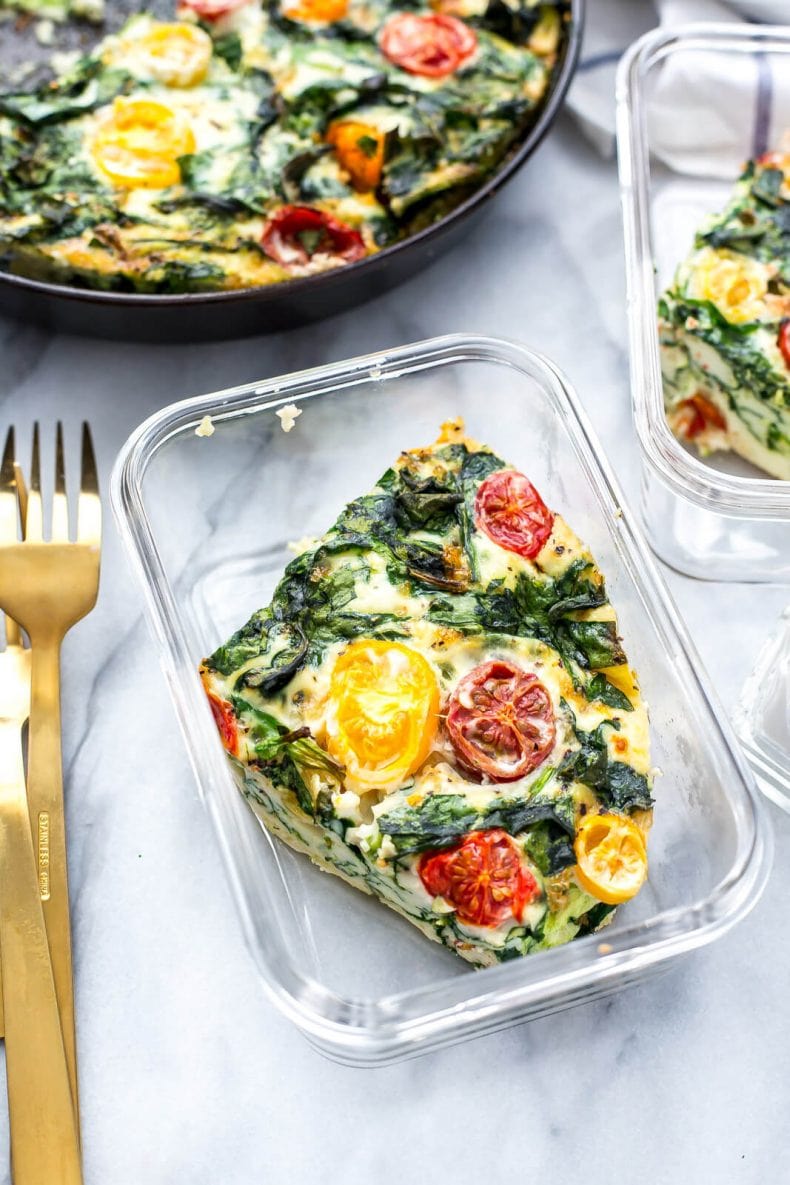 Basically all you need to do is grease a shallow round baking dish with a bunch of olive oil or butter, add a carton of egg whites (if you'd like, you could do a carton of eggs or use a dozen eggs that you have whisked together in a bowl), then add whatever veggies you have on hand (I'll use two varieties, usually cherry tomatoes or bell peppers and a green of some sort) and then a tiny bit of salt and pepper.
Add in some cheese if you'd like (goat, Swiss, cheddar or feta would be your best bet) and you've got a delicious breakfast for the week that can be eaten warmed up in the microwave or cold, it's up to you!
Each morning I actually eat this cold with a bit of hot sauce on top and a half a bagel on the side. It's the perfect mix of protein and carbs, it goes down easy, and it keeps me full all morning long so I can take full advantage of how productive I am in the mornings.
What a way to start the day right?!
Cut this Meal Prep Egg White Frittata into four or five portions (I do five portions since I usually eat some sort of bagel or toast on the side) and then you've got breakfast covered the whole work week; you can even take it with you on the go since it travels well!
Will you be making this Meal Prep Egg White Frittata? 
When meal prep is this easy and delicious, it's hard to see how you couldn't just set aside an hour each weekend to dedicate to these! Come on, I know these bowls are calling your name!I think
If you try any of my recipes be sure to let me know on Instagram, Twitter, Facebook or in the comments – I'd love to see what you come up with!
Meal prep tools
5-Ingredient Meal Prep Egg White Frittata
This 5-Ingredient Meal Prep Egg White Frittata is the perfect high protein meal prep breakfast, and it only has 181 calories per serving!
Print
Pin
Rate
Ingredients
2

tbsp

olive oil

1

500mL

carton egg whites

1

cup

cherry tomatoes, sliced in half

1

cup

baby spinach, chopped

1/2

tsp each

Salt & pepper
Instructions
Preheat oven to 400 F. Grease a large shallow round baking dish/cake pan with olive oil, making sure to grease the sides well. Add remaining ingredients, stirring well and gently with a fork.

Place baking dish on top of a baking sheet lined with parchment paper just in case a bit of the oil rises above the egg white mixture (optional, but I do this to avoid grease dripping down into the oven as the egg whites rise and cook).

Bake in the oven for 30-35 minutes until egg whites are firmly set. Remove from oven and slice into 4-5 pieces when cooled. Congrats, you've got breakfast ready for the week!
Video
Nutrition
Calories:
181
kcal
|
Carbohydrates:
5
g
|
Protein:
23
g
|
Fat:
7
g
|
Saturated Fat:
1
g
|
Polyunsaturated Fat:
1
g
|
Monounsaturated Fat:
5
g
|
Sodium:
365
mg
|
Potassium:
466
mg
|
Fiber:
1
g
|
Sugar:
3
g
|
Vitamin A:
1150
IU
|
Vitamin C:
10.7
mg
|
Calcium:
40
mg
|
Iron:
0.5
mg