These Healthy Meal Prep Lunch Ideas for Work are the perfect way to stay on track with your weekly meal planning – these meal prep bowls are creative, delicious ways to stay organized during busy work weeks. (Article Updated January 2021)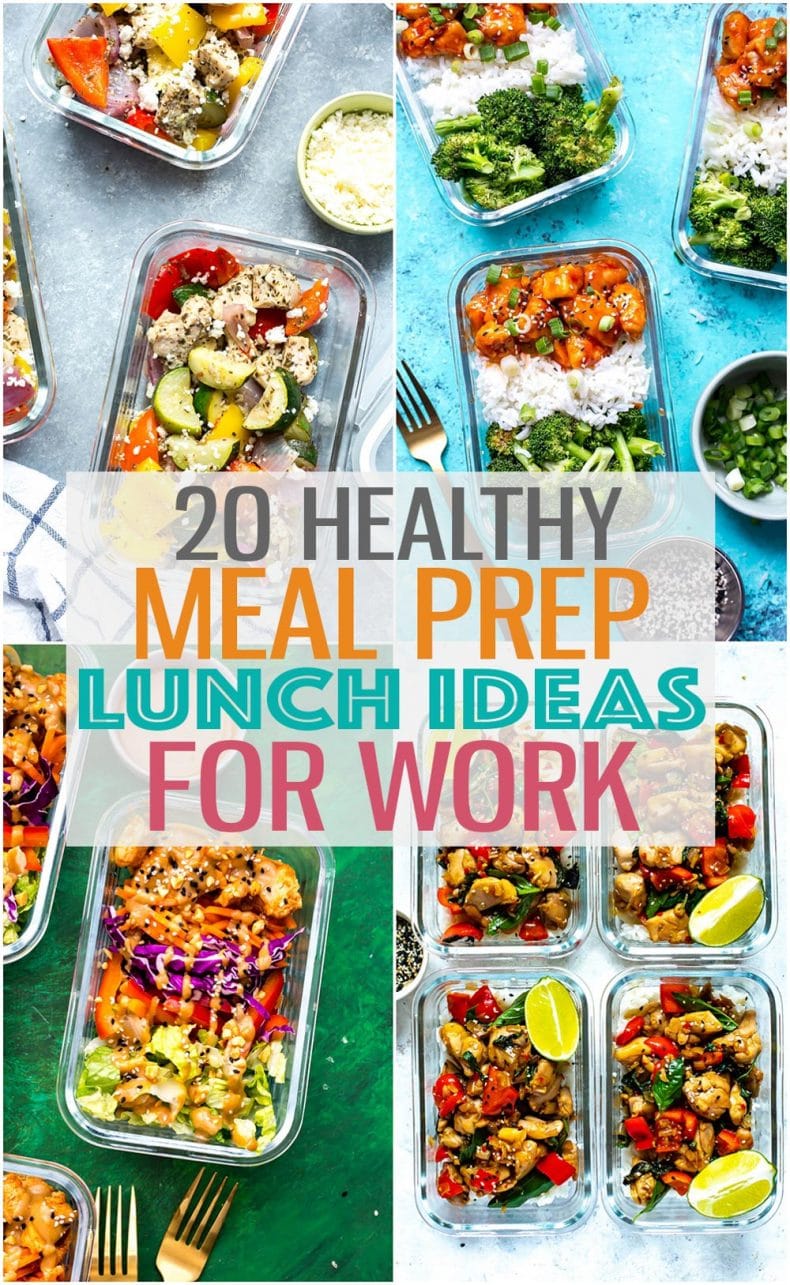 Healthy Lunches for Work
I've rounded up my favourite healthy meal prep recipes from my fave food bloggers so you can switch up your weekly meal prep routine and give some more thought to the creative side of lunch time!
All it takes is a couple of hours (or less) on the weekend and you're on your way to healthy eating throughout the work week – and no stressing over what to take for lunch either, or doing any last minute scrambling!
Let me tell you about these Healthy Meal Prep Lunch Ideas for Work: they are super fun ways to switch up your weekly meal prep process so that you're eating healthy whole foods that are also delicious!
Benefits of healthy lunches:
They save time
They save money so you're not buying lunch out
You're more organized
You're less stressed in the morning – no wondering what to eat and when
You're eating healthy, unprocessed food on a consistent basis
You'll have more energy because you're eating better
More Healthy Lunch Ideas & Resources
If you're looking for more delicious recipe inspiration, look no further than some of these helpful resources below!
Picking Easy Lunch Ideas
The key to really sticking with a meal prep routine is to pick easy recipes that come together with just a small ingredient list.
All of the recipes below are categorized according to each type of lunch idea. For instance, I have some sheet pan recipes below that cook on one pan that you can then distribute into meal prep bowls and warm up once you're at work. Of course, I also have some salads, wraps and sandwiches too.
Here are the types of easy lunch ideas you'll find below as you scroll down:
One pan recipes
Wraps
Sandwiches
Soups
Casseroles
Pastas
Salads
Rice bowls
Lettuce wraps
There are also vegan, gluten-free and low-carb lunch ideas organized by category. Happy meal prepping!
Make a meal plan for your weekly lunches
Meal planning is the best way I stay on track with lunch ideas. I will usually fill in what I plan to make for lunch in a meal planner and then make one or two lunch recipes for the week in advance. For a limited time, you can now download my FREE 4-Week Meal Prep Plan HERE.
If you need some help coming up with lunch ideas in general, be sure to check out my Start Here page to learn how to best use my blog to help with meal prep! Or you can check out my step-by-step meal prep process here.
Wraps & Sandwiches
And of course, where would we be if I didn't list some wrap and sandwich options?! I really dislike the traditional types of sandwiches with cold cuts so I try to cook up chicken breast and shred it to use in wraps or sandwiches but from time to time lean cold cuts like turkey are ok. Even just cheese and vegetables will give you enough protein to sustain yourself for the day too! Try these new wrap and sandwich ideas below.
Kale Caesar Wraps via The Girl on Bloor // Green Goddess Grilled Cheese via The Girl on Bloor
Buffalo Chicken Wrap via The Girl on Bloor // Turkey Pinwheels via Two Peas & Their Pod
Soup Recipes for Lunch
Soups are really great options for work and are easier to transport than you think! And before you think soups aren't filling enough think again! I've included some thicker soups/stews in this round up to give you some ideas of ways you can add protein to your soups. Most are also vegan/vegetarian-friendly so soups can be super budget-friendly as long as you have access to a microwave at work.
Zucchini Noodle Soup Jars via The Girl on Bloor // Slow Cooker Sausage and Kale Soup via The Girl on Bloor
Golden Lentil Soup Soup via The Girl on Bloor // Mason Jar Instant Noodles via The Girl on Bloor
One Pan Lunch Ideas
If you're meal prepping ahead of time, these are my favorite type of healthy lunches to make! You basically throw everything on a sheet pan or in a skillet, cook, then divide into glass meal prep bowls. You can often switch up the veggies you're using too, these one pan recipes are so versatile and customizable! My personal faves are the Greek Chicken bowls and Sweet Chili Chicken, link below.
Chicken Tandoori Meal Prep Bowls via The Girl on Bloor // Sheet Pan Greek Chicken Meal Prep Bowls via The Girl on Bloor
Healthy Sheet Pan Sausage and Veggies via Isabel Eats // Honey Chipotle Meatball Meal Prep via Sweet Peas and Saffron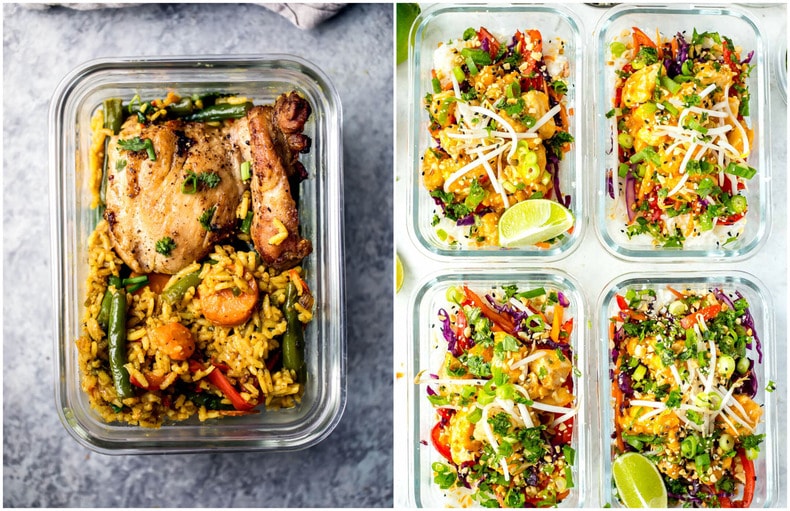 One Pan Thai Coconut Yellow Curry Chicken & Rice via Ambitious Kitchen // Sweet Chili Chicken Meal Prep Bowls via The Girl on Bloor
Vegetarian Lunch Ideas
Vegetarian lunch ideas are great for when you're looking to eat lunch on a budget. Typically all you need is a can of beans or chickpeas, or some tofu that has been quickly marinated along with a killer sauce and veggies. Sometimes you can even get away with a couple no-cook recipes where you can just throw everything in a meal prep bowl or jar and call it a day!
Healthy Chickpea Meal Prep Bowls via Green Healthy Cooking // Southwest Sweet Potato Vegan Meal Prep Bowls via Salt and Lavender
Chana Masala via The Girl on Bloor // Mediterranean Chickpea Jars via The Girl on Bloor
Low Carb Lunch Recipes
Low carb lunches are great options because they keep you from getting too weighted down with that midday meal. Oftentimes all you need to do is cook up a lean protein, add some veggies (raw or cooked) and season everything with the same spice blend or sauce. Plus, you end up saving time because you don't have to cook any grains. It's a win-win!
Meal Prep Shrimp Zucchini Noodles via Skinny Fitalicious // Meal Prep Healthy Chicken Lettuce Wraps via Skinny Fitalicious
Peanut Chicken Meal Prep Bowls via The Girl on Bloor // Low Carb Philly Cheesesteak Meal Prep via Meal Prep on Fleek
Salad Lunches
Similar to the low carb options above, salads are of course a go-to for healthy lunches but they don't have to be boring! Be sure to mix up the toppings and salad dressings. I like keeping my salads in mason jars when meal prepping them for the week because you can keep the dressing and protein in the bottom then layer in your veggies. This is especially important for lettuce to make sure it stays fresh!
Keto Prosciutto Egg Cups via Meal Prep on Fleek // Caprese Chicken Meal Prep Bowls via Sweet Peas and Saffron
Big Mac Salad Jars via The Girl on Bloor // Shrimp Sushi Salad Jars via The Girl on Bloor
Rice Bowl Lunches
When I really have time to prep ahead, I like to prep rice bowls! The Korean Chicken and Mango Chicken are my faves because the sauces are just SO good, but burrito bowls are also super easy to throw together and you can also take shortcuts by using pre-chopped veggies and store-bought salsas, which are a great low-calorie option for your bowls!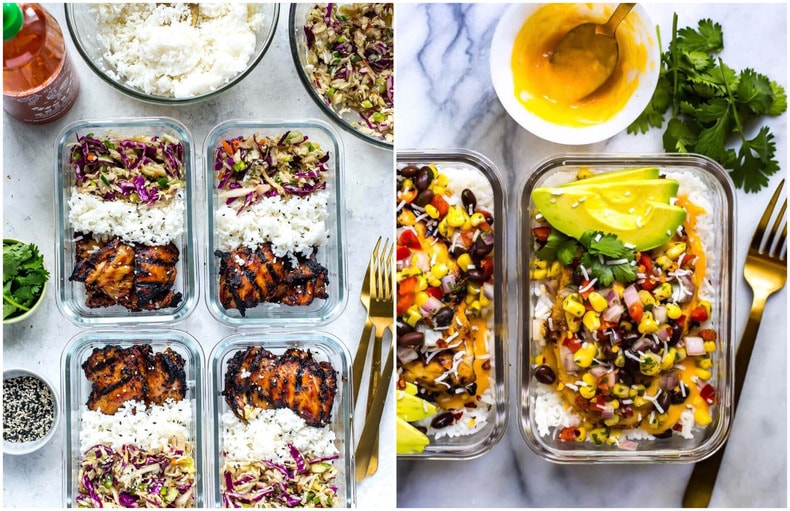 Korean Chicken Meal Prep Bowls via The Girl on Bloor // Coconut Mango Chicken Meal Prep Bowls via The Girl on Bloor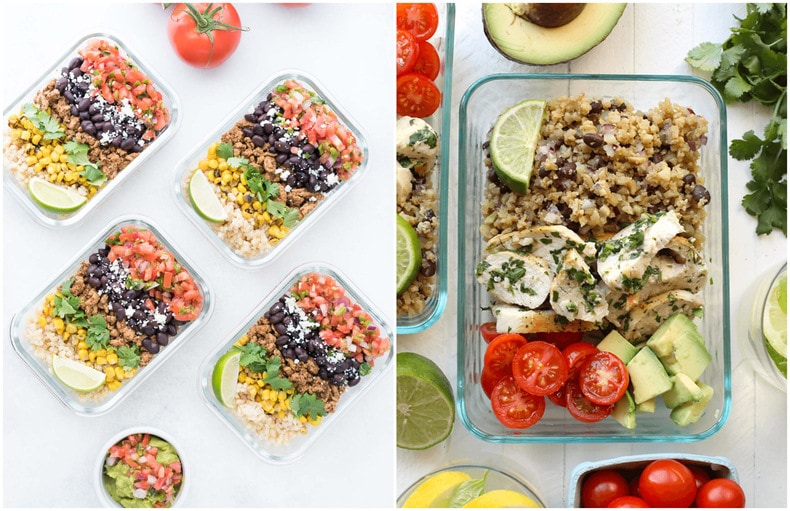 Meal Prep Burrito Bowls via Free Your Fork // Meal Prep Cilantro Lime Chicken Bowls via Fit Foodie Finds
Cashew Chicken Meal Prep Bowls via The Girl on Bloor // Chicken Burrito Bowl Meal Prep via Kitchen @ Hoskins
Instant Pot Lunches
I love making my lunches for the week in the Instant Pot. You can make all sorts of lunch-friendly recipes like rice bowls, casseroles, pastas, taco meat, etc. I personally like to batch cook a big pot of pasta to take for work week lunches like the Pesto Chicken Pasta linked below – it's one pot for minimal clean up, you can easily transport it to work and it reheats well. Tip: add a splash of water overtop of your pasta before microwaving. It will help retain moisture!
Instant Pot Chicken Pesto Pasta via Eating Instantly // Instant Pot Honey Garlic Noodles via Eating Instantly
And there you have it, my fave healthy lunch recipes together in one place! Get started meal prepping by just choosing one or two of the above recipes to make for your weekly lunches and move up from there. You can also try mixing and matching some of the above recipes to switch up your weekly lunches.
Lunch Recipes & Weight Loss
I always used to struggle with lunch meal prep for the work week because I had trouble planning ahead and let's just say this was long before I discovered food blogs! I used to rely primarily on cookbooks to whip together delicious dinners but would struggle when it came to making my lunches for work and school.
You can learn more about my 25lb weight loss and meal prep journey over on my About Page, and this page will also help you navigate how to use my website to its full potential. I've got a ton of other amazing resources and recipes that will help you with so many more healthy lunch ideas!
Meal prep tools
Healthy Breakfast Ideas
If you're looking for more meal prep ideas, give one of these grab and go breakfasts a try!
Healthy Dinner Meal Prep
Back when I was first learning to cook for myself, I would often just rely on dinner leftovers for lunches the next day. Turns out, that's only a great strategy if you have the time to make dinner every night. If you're struggling to make dinner, you can find some of my fave meal prep dinners below:
Budget-Friendly Meat Recipes
Another lunch strategy I love is making a bunch of baked chicken ahead of time then using for fun bowls with delicious sauces, or freezing steak in marinades for easy cooking.