This Green Goddess Grilled Cheese Sandwich is a delicious, healthy lunch idea filled with avocado, spinach, sprouts, havarti and mozzarella! 
Ingredients in green goddess grilled cheese
This green goddess grilled cheese is a tasty lunch idea and twist on your fave sandwich! This recipe serves two people, but you can easily double the ingredients to serve more. Here's what you need:
Whole grain bread
Havarti and mozzarella cheese
Spinach
Alfalfa sprouts
Avocado
Tomatillo or green tomato
Ingredient substitutions
The above toppings are only suggestions for these grilled cheese sandwiches; you can add anything you have kicking around the house! Here are some other ideas:
Bread – I prefer whole grain bread to keep these sandwiches nutritious and healthy, but you can use any type of bread or even use tortillas to create quesadillas/wraps!
Cheese – I prefer white cheeses for this recipe as havarti and mozzarella melt easier, but you can use whatever type of cheese you'd like. White cheddar and Swiss are also great options.
Veggies – Feel free to use which green veggies you have on hand! Thinly sliced asparagus or finely chopped broccoli would also be great additions. You don't have to use a green tomato either – a red one works just fine, or you can leave the tomato out altogether.
How to make these sandwiches
These healthy grilled cheese sandwiches are SO easy to make! Here's how to make them:
Add thinly sliced avocado to your first slice of bread, then add one cheese slice. Add the rest of the veggies, then add another cheese slice.
From there, melt butter in a skillet, then fry the assembled sandwiches for about 5 minutes each side. Make sure to closely monitor your sandwich and not crank the heat too high to make sure your sandwich doesn't burn. A great tip for melting the cheese completely is to place a lid on top of the skillet while frying.
Once your grilled cheese is finished, slice in half then serve with your fave sides. I usually serve with ketchup and pickles, and sometimes a side of soup!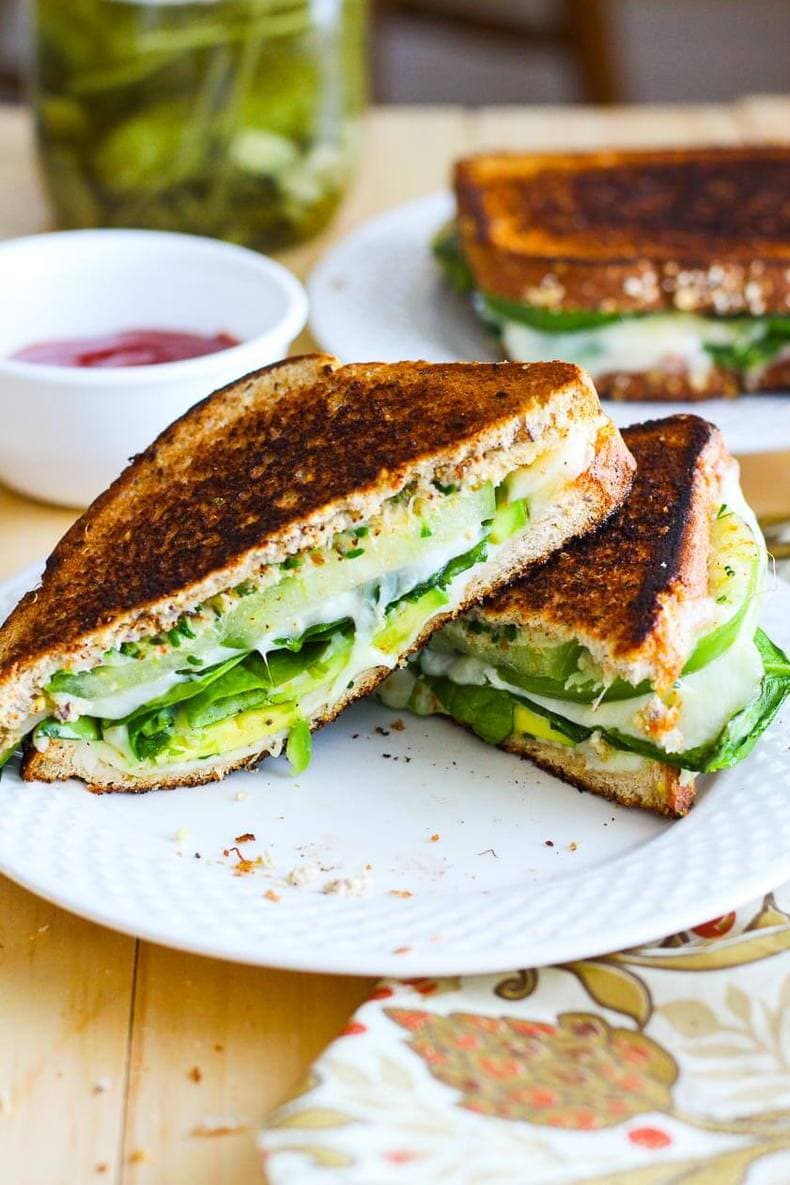 Frequently asked questions
Here are some frequently asked questions when it comes to these grilled cheese sandwiches. Add any questions of your own in the comments and I will add them in this post!
Why is my grilled cheese soggy?
You will want to let your bread develop a crispy side when frying in your skillet. Make sure to let it sit for at least 3-5 minutes before flipping. Using a medium-low temperature will prevent your sandwich from burning while melting your cheese and making your bread crispy. You'll also want to avoid overstuffing the sandwich with fillings.
Can you meal prep grilled cheese?
Technically you could, but leftover grilled cheese is never as good as fresh. Leftover sandwiches will last for about 3 days in the fridge so you can always make some ahead of time and then reheat in a skillet once ready to eat.
Which cheese is best?
You'll want a good quality cheese that melts well, such as havarti, mozzarella, Swiss, cheddar or moneterey jack.
Can you eat grilled cheese on a diet?
Yes you can! This grilled cheese clocks under 500 calories, and when you're trying to lose weight you should typically (although of course this varies) eat between 300-500 calories for each meal. This is right in line with what you should be aiming for. Plus, with all the veggies, you can be sure you're getting a nutrient-dense meal.
Storing and reheating leftovers
You likely won't have any leftover sandwiches as this recipe only serves two, but if you do, you can store your extra sandwiches in the fridge up to 3 days. The cheese will get a bit slimy if you try to keep them for any longer than this and the bread will get soggy so you will want to eat your leftovers quickly.
That said, if you do have leftovers, you can reheat in a skillet over med-low heat for 5-10 minutes. Use the same method as when you cooked your grilled cheese for the first time, adding a lid to the skillet to melt the cheese. Frying on the stovetop will help to make the bread crispy again.
Unfortunately, you cannot freeze grilled cheese sandwiches.
More sandwich & wrap recipes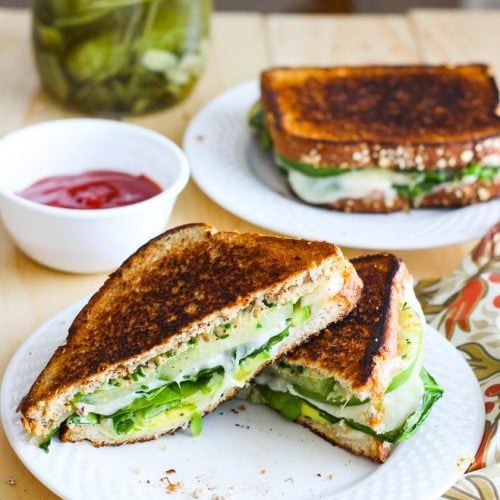 Green Goddess Grilled Cheese Sandwich
This Green Goddess Grilled Cheese Sandwich is a delicious, healthy lunch idea filled with avocado, spinach, sprouts, havarti and mozzarella! 
Print
Pin
Rate
Ingredients
4

slices

whole grain bread

1/2

avocado

thinly sliced

1

tomatillo or green tomato

thinly sliced

2

slices

each havarti and mozzarella cheese

Handful baby spinach

Handful alfalfa sprouts

1

tbsp

butter

Pickles & ketchup to serve
Instructions
Place sliced avocado on top of each slice of bread. Top with 1 slice havarti cheese. Top with tomatillo, then 1 slice mozzarella cheese. Add spinach, then top with 2 more slices havarti. Finally, add sprouts and last 2 slices of mozzarella. Top with final slice of bread

Meanwhile, butter a large frying pan and melt butter over low-medium heat.

When butter is melted, place each sandwich in the pan, and cover with fitting lid.

Cook for approx. 5 minutes per side and continue cooking and flipping until cheese is fully melted. Serve and enjoy with pickles and ketchup.
Nutrition
Calories:
495
kcal
|
Carbohydrates:
35
g
|
Protein:
22
g
|
Fat:
31
g
|
Saturated Fat:
15
g
|
Cholesterol:
67
mg
|
Sodium:
794
mg
|
Potassium:
531
mg
|
Fiber:
6
g
|
Sugar:
5
g
|
Vitamin A:
1232
IU
|
Vitamin C:
13
mg
|
Calcium:
448
mg
|
Iron:
3
mg