This Kale Salad is the best meal prep lunch! It's got protein with lentils and halloumi cheese, lots of veggies and a tasty dressing.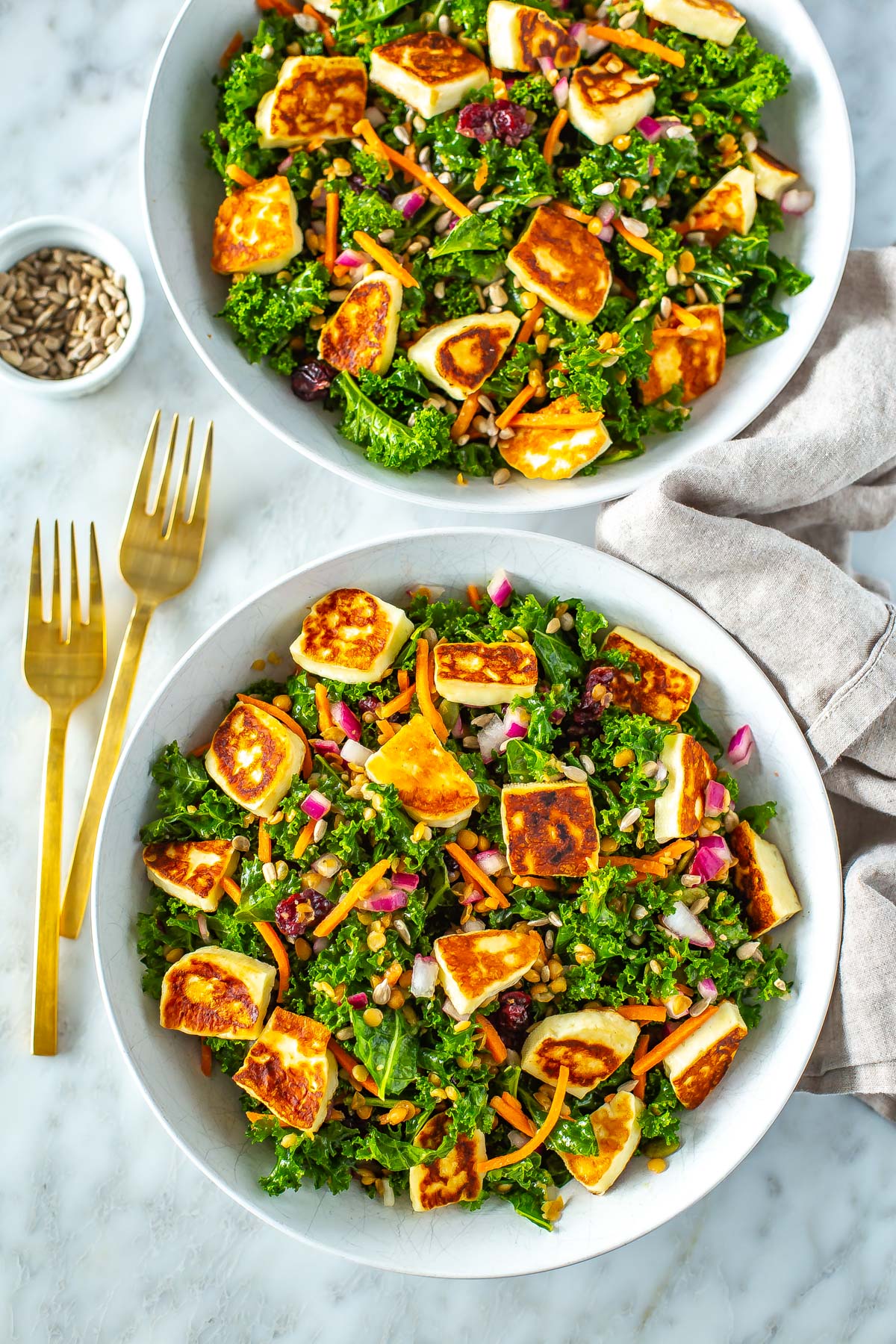 Ingredients and substitutions
Olive oil – or another neutral cooking oil like avocado oil or canola oil.
Curly kale – you could also try making this recipe with spinach or another dark leafy green. If you're not using kale, you don't need to massage the greens.
Halloumi cheese – feta or mozzarella would also be good in this salad.
Lentils – use another legume like chickpeas or lima beans.
Carrot matchsticks – swap out for another veggie of your choice like bell peppers or cucumber.
Red onion – white onion would also work but will have a milder flavour.
Dried cranberries – try using another dried fruit like raisins or dried currants.
Sunflower seeds – substitute for another seed or nut of your choice like pumpkin or chia seeds.
Pumpkin seeds – see substitution notes above.
Dressing
Olive oil – or another neutral cooking oil.
Lemon juice – freshly squeezed lemon juice is recommended but bottled lemon juice will work in a pinch.
Honey – maple syrup or agave would also help sweeten up this dressing.
Dijon mustard – whole grain mustard would be the best substitute here since it has a similar tang.
Minced garlic – I prefer freshly minced garlic. Jarred minced garlic will work too.
Salt & pepper – to taste.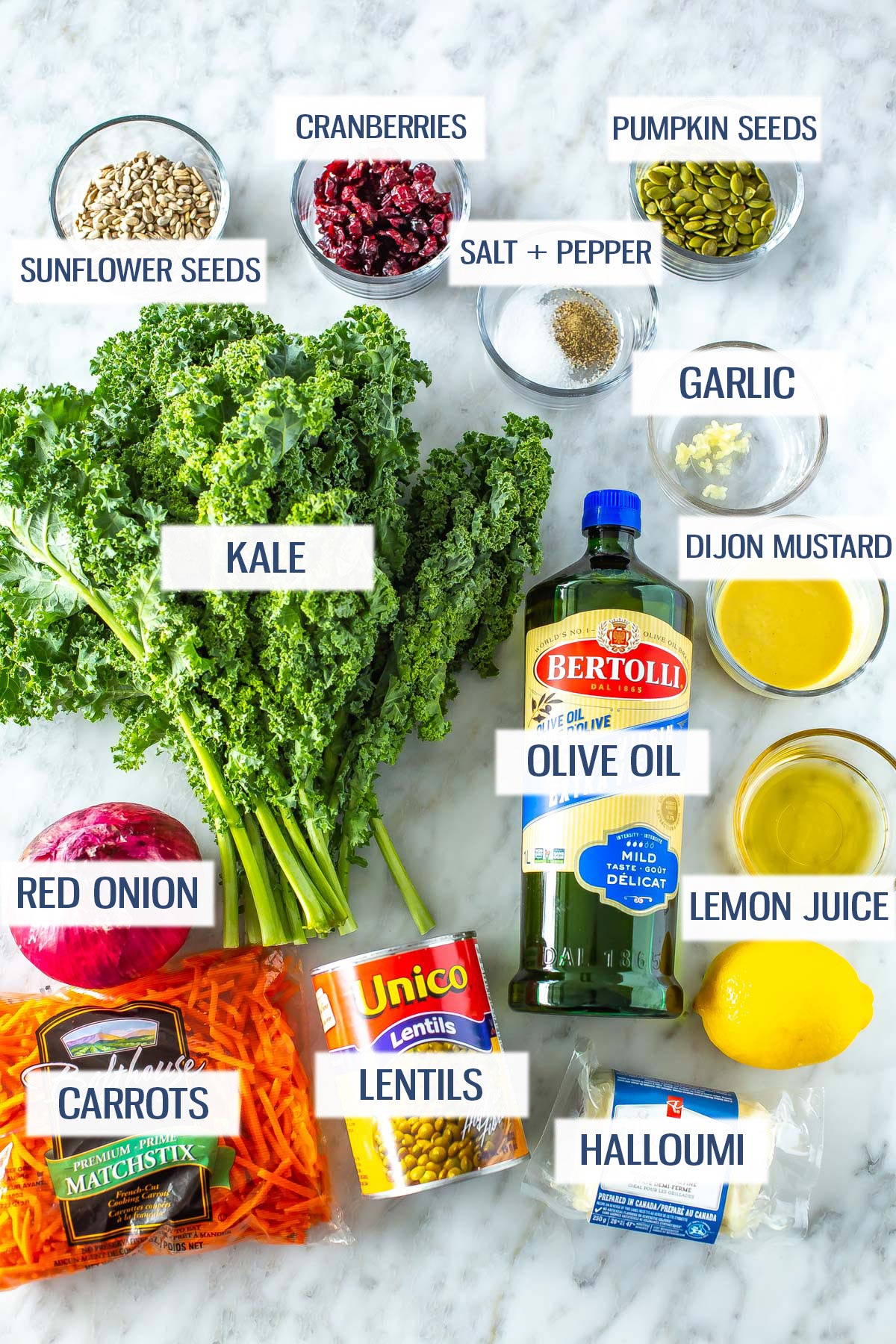 How to make kale salad
Massage the kale.
Brush the halloumi with olive oil.
Fry the halloumi.
Make the dressing.
Mix everything together.
Top with fried halloumi and serve!
How healthy is kale salad?
Kale salad is super healthy! Kale is often considered to be a superfood since it's packed full of amazing nutrients like vitamin A, vitamin C, manganese, calcium, potassium and magnesium while also being low in calories.
In addition to the kale, this salad is also a great source of protein thanks to the lentils and halloumi cheese, so you'll feel full for longer. Plus, since you're making your own dressing, you won't have to worry about tons of preservatives or sodium that you'd get from a store-bought salad dressing. All in all, this salad is a great option when you're looking for a delicious and nutritious meal.
Frequently Asked Questions
Can you eat kale raw in salad?
Yes! Kale is most commonly eaten raw in a salad. For this recipe, you'll need to massage the kale with olive oil. Massaging the kale makes it more tender, easier to chew and less bitter.
What does it go well with?
Kale goes well with just about everything. For this salad, I paired the kale with halloumi cheese, lentils, dried cranberries, seeds and a simple olive oil vinaigrette. Feel free to experiment with the flavours and toppings if you don't have some of the ingredients on hand! This kale salad would also be good with feta cheese, chickpeas and dried raisins.
What's the best kale for salads?
I personally like using curly kale for my salads. It's the variety you're most likely to find at the grocery store and can be either green or purple. You can also use Tuscan kale if you can find it, which tends to be a lot sweeter, or baby kale which looks like spinach and doesn't need to be massaged.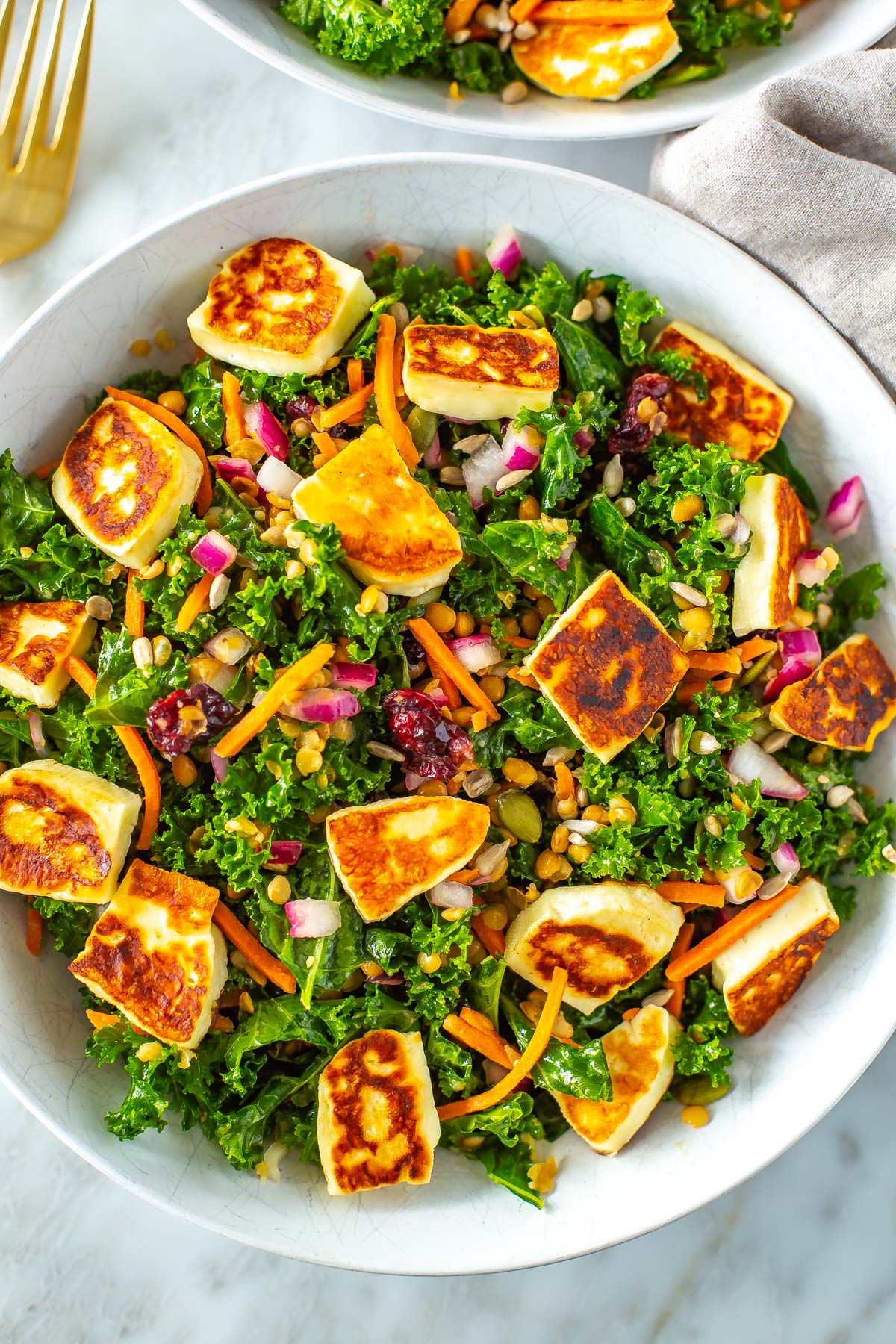 Storing this salad
You can store this kale salad in the fridge for 2 to 3 days. I suggest storing the dressing separately so the ingredients don't get soggy, then adding the dressing on right before serving. You can keep the salad in a mason jar or airtight container for up to a week.
Freezing the kale
Unfortunately, this salad won't freeze very well. That being said, if you happen to have a lot of extra kale, you can freeze it for later to use in another recipe. Spread the kale out on a baking sheet and flash freeze it for a couple of hours, then transfer it to a freezer-safe glass bowl or Ziploc bag. It will last in the freezer for up to 6 months and can be used in a variety of dishes like smoothies, soups, pasta sauces and more.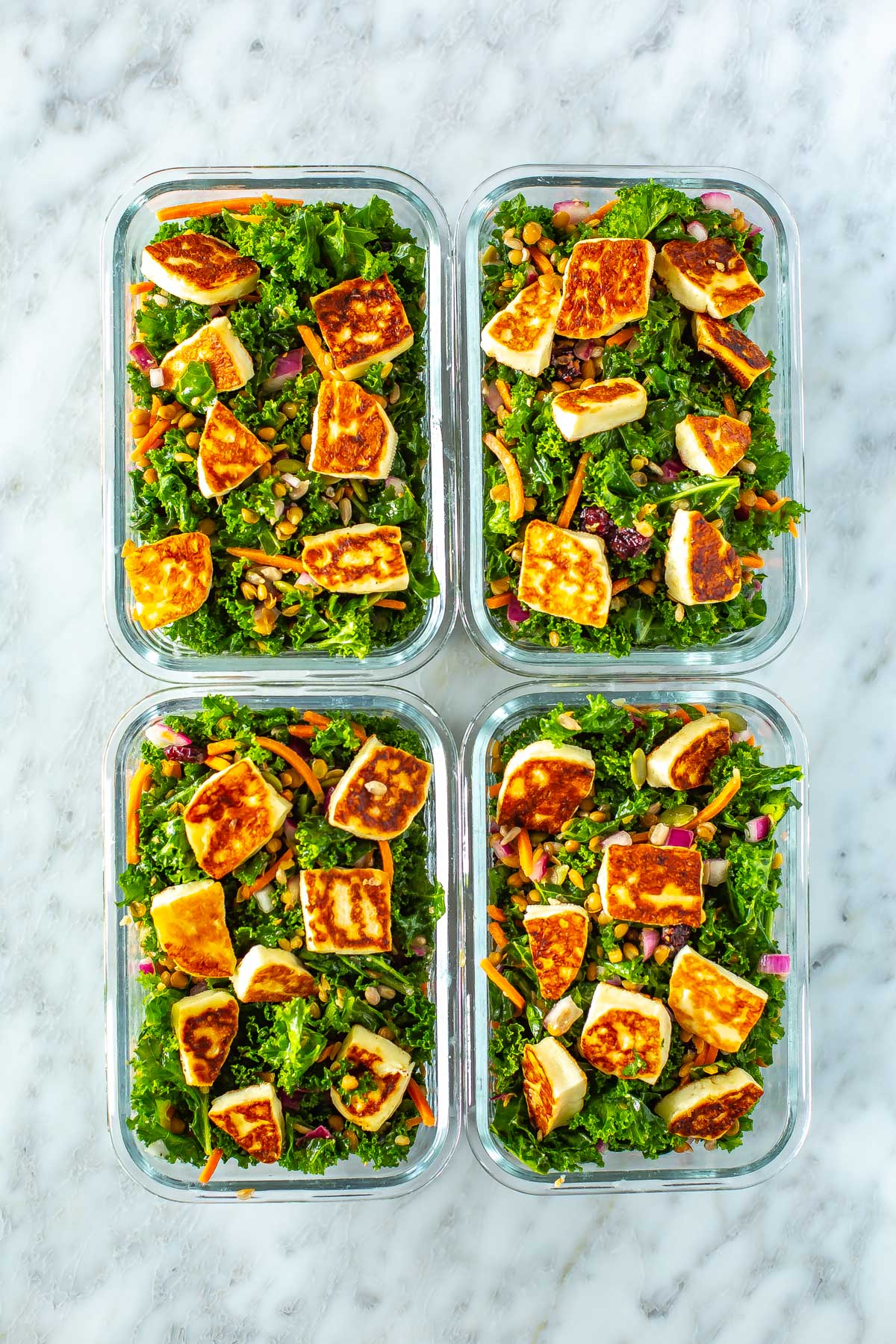 Wanna Learn How To Meal Prep?
My meal planning service, Dinner Prep Pro, removes the guesswork and helps you get dinner on the table in 15-20 minutes each night. My meal prep checklists only take 1 hour each week!
More healthy salad recipes
Meal prep tools for this recipe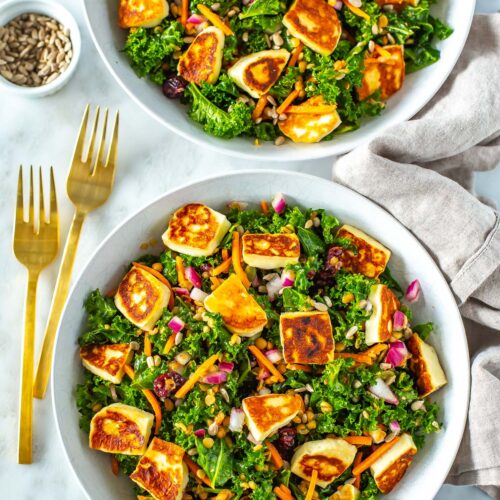 The Best Kale Salad on the Internet
This Kale Salad is the best meal prep lunch! It's got protein with lentils and halloumi cheese, lots of veggies and a tasty dressing.
Print
Pin
Rate
IN A CYCLE OF EATING POORLY?We've got you covered with our free Routine Revamp mini course! You'll receive 8 lessons and free coaching with us! Register👇
Join Routine Revamp!
Servings: 6 servings
Calories: 532kcal
Ingredients
1 tbsp olive oil divided, for massaging/brushing
1 head curly kale washed, dried and chopped
1 (250g) package halloumi cheese cut into 1 inch pieces
1 (540mL) can lentils rinsed and drained
1 cup carrot matchsticks
1 red onion finely diced
1/4 cup dried cranberries
2 tbsp roasted salted sunflower seeds
2 tbsp roasted salted pumpkin seeds
Dressing
2 tbsp olive oil
2 tbsp lemon juice the juice of 1 lemon
1 tbsp honey
1 tsp dijon mustard
1 clove minced garlic
1/2 tsp salt
1/4 tsp pepper
Instructions
Chop up the kale into bite-sized pieces and then wash and dry it using a salad spinner. When dry, massage it with just a little bit of olive oil in a large bowl and set aside.

Meanwhile, cut halloumi into 1 inch pieces and then brush with a little bit of olive oil and season with salt and pepper. Heat a large skillet over med-high heat then fry halloumi for 1-2 minutes per side until browned. Remove from heat and set aside.

Meanwhile, mix the olive oil, lemon juice, dijon mustard, minced garlic and salt and pepper together in a small bowl to make the dressing.

Add the lentils, carrots, red onion, sunflower seeds, pumpkin seeds and dried cranberries to the bowl with the kale, then toss everything together with the dressing. Serve in bowls, top with halloumi cheese and enjoy!
Notes
Make sure to massage the kale with olive oil so it's easier to digest and less bitter. Add in other veggies of your choice like bell peppers, cucumber or celery. Store this salad in the fridge for 2-3 days. Store the dressing separately then add it on right before serving. Freeze any leftover kale for up to 6 months and use it for other recipes like smoothies and soups.
Nutrition
Calories: 532kcal (27%)Carbohydrates: 57g (19%)Protein: 30g (60%)Fat: 21g (32%)Saturated Fat: 9g (56%)Polyunsaturated Fat: 3gMonounsaturated Fat: 8gTrans Fat: 0.01gSodium: 764mg (33%)Potassium: 909mg (26%)Fiber: 25g (104%)Sugar: 10g (11%)Vitamin A: 5759IU (115%)Vitamin C: 28mg (34%)Calcium: 530mg (53%)Iron: 6mg (33%)
Don't wait until January to eat healthy!Sign up for our free Routine Revamp mini course!
Join Routine Revamp!