These veggie-filled Kale Chicken Caesar Wraps are the perfect on-the-go lunch, with a Caesar dressing that's lighter on calories.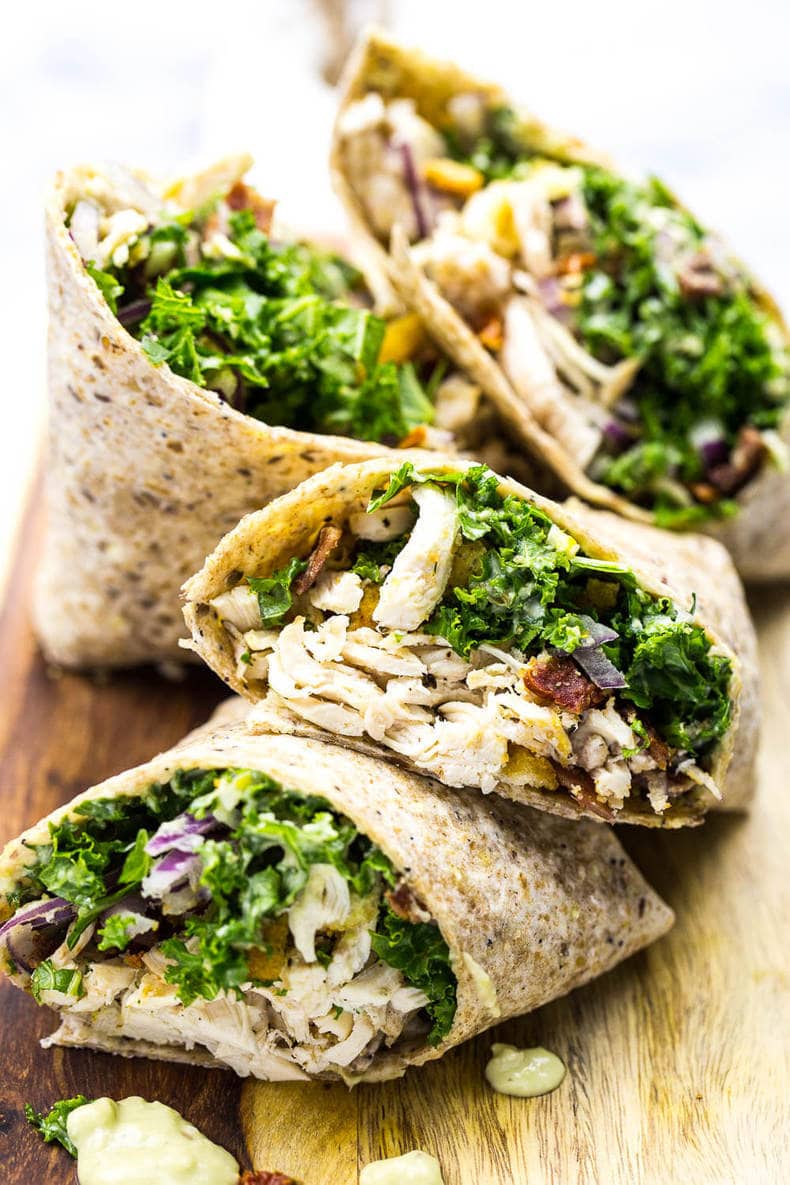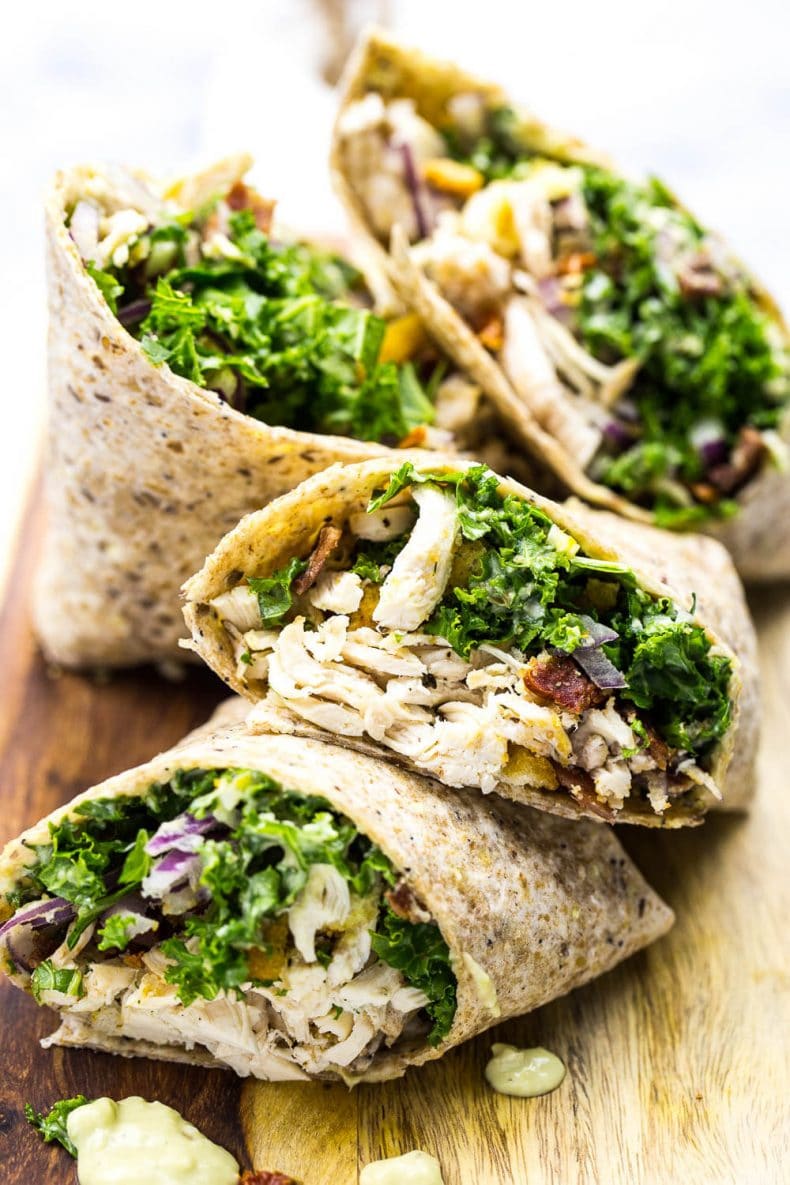 Ingredients and substitutions
Caesar dressing
Light mayo – swap out for smashed avocado instead (although the dressing won't last as long).
Parmesan cheese – nutritional yeast is a great dairy-free substitute.
Lemon juice – freshly squeezed lemon juice is preferred but bottled lemon or lime juice will work in a pinch.
Worcestershire sauce – a combination of soy sauce and ketchup is the best substitute here.
Dijon mustard – stone-ground mustard will provide a similar flavour.
Capers – swap out for some finely-chopped green olives instead.
Garlic – fresh minced garlic or the jarred minced variety would both work.
Salt & pepper – to taste.
Wrap
Multigrain wraps – or another variety of your choice like spinach, flour or even lettuce wraps.
Chicken breasts – you can use leftover chicken or even turkey (just make sure to use white meat).
Turkey bacon – pork bacon will work but has a higher calorie count.
Red onion – swap out for yellow or white onion instead.
Kale – any dark leafy green would work here like collard greens or spinach.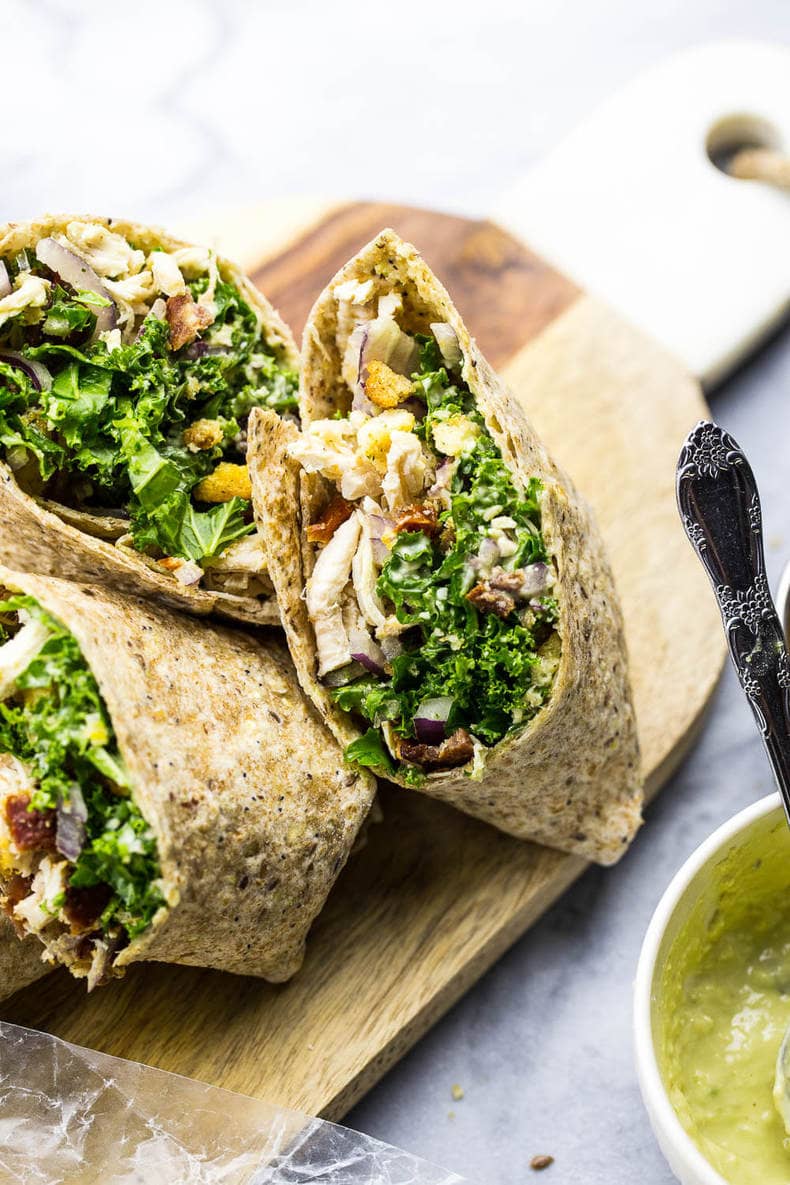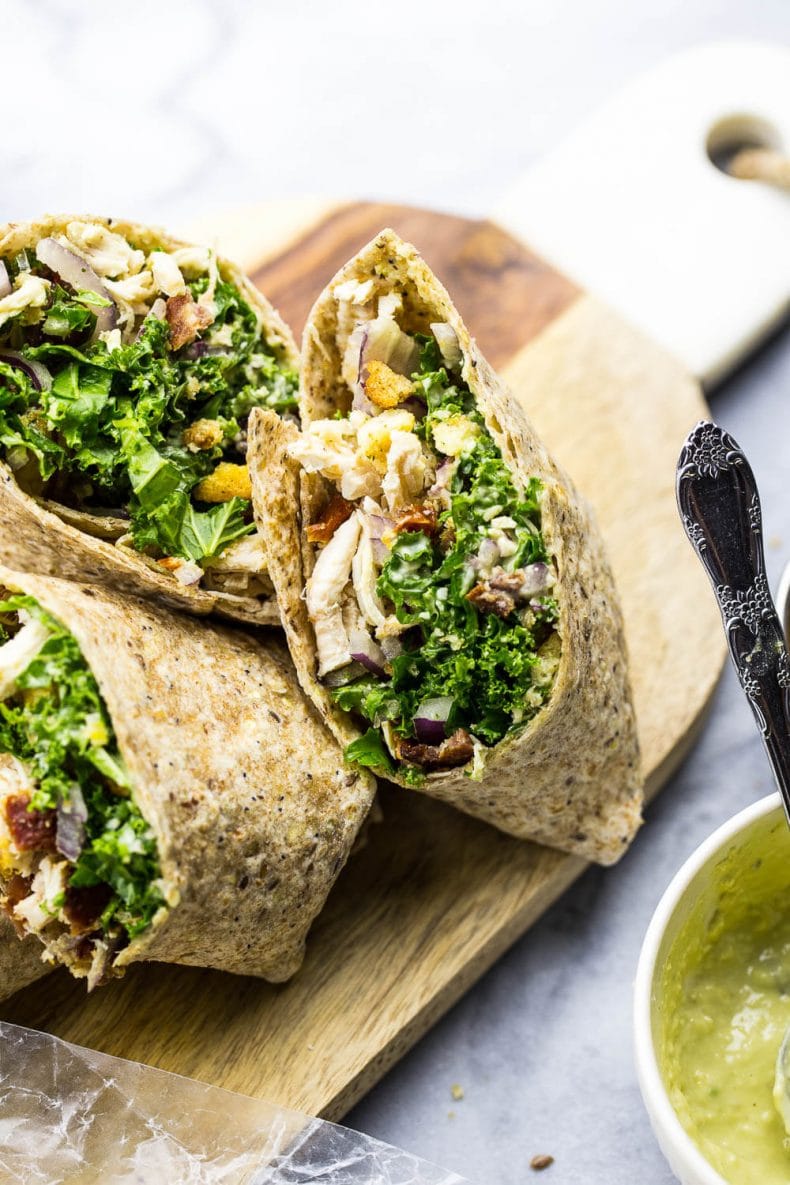 How to make this recipe
Assemble your ingredients.
Make the dressing.
Cook the chicken and fry the bacon.
Mix everything together in a large bowl.
Add the ingredients to a wrap.
Roll the wrap, serve and enjoy!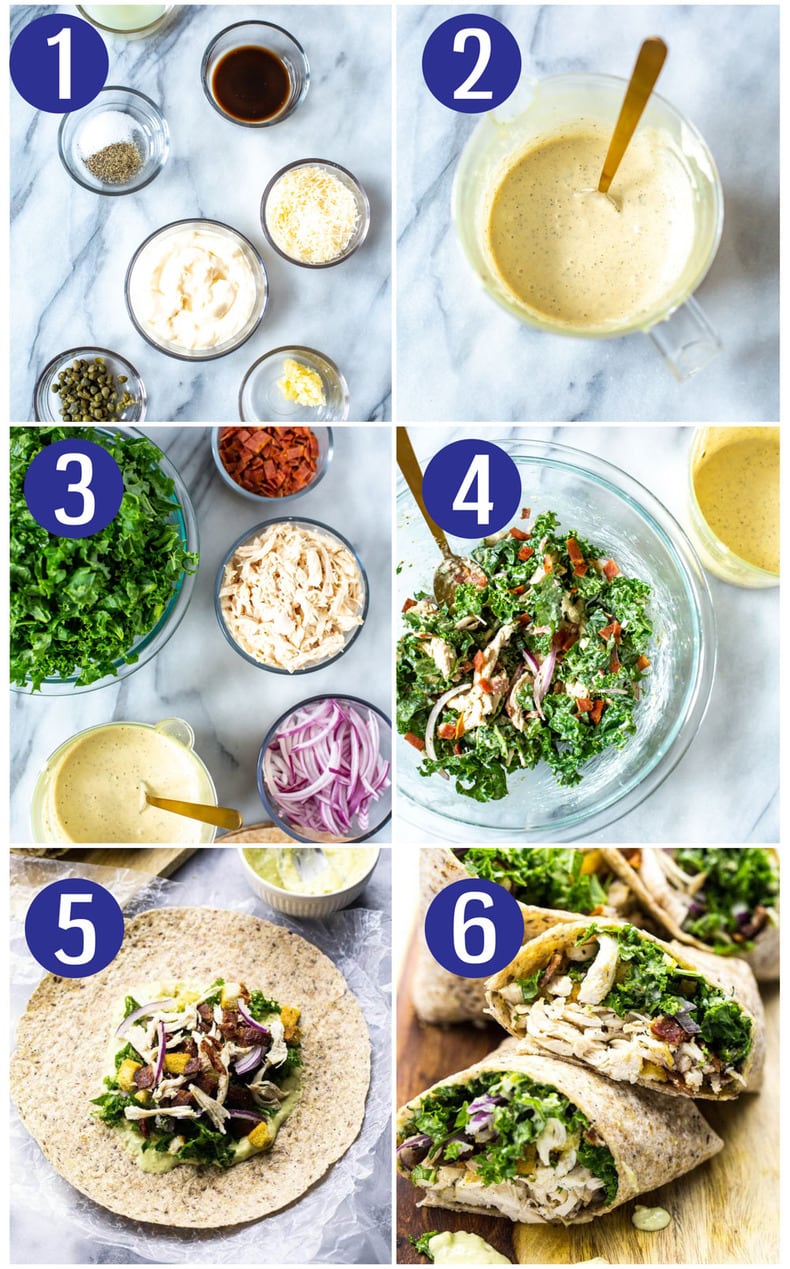 Cooking the chicken
You have several choices of how to cook the chicken for these wraps.
Boil it in a pot of water for about 15 minutes.
Pan fry it in oil until it is completely cooked.
Put it in the Instant Pot. It will take about eight minutes on high pressure. You can even cook frozen chicken in the Instant Pot. The breasts will take 14-15 minutes in that case.
Slow cook it in the crockpot.
Bake in the oven.
After the chicken has fully cooked and cooled, you can shred it. Use a fork and knife or two forks to pull the meat apart.
You can even use leftover or rotisserie chicken! It's a great way to reuse last night's dinner and reduce food waste.
Frequently Asked Questions
What's in a chicken Caesar wrap?
A chicken Caesar wrap is made of Caesar dressing, chicken and lettuce all wrapped in a tortilla.
Are they healthy?
Chicken Caesar wraps can be super high in calories if you're using a store-bought sauce, which is typically full of fat and preservatives. My version is a lot healthier since it uses a lighter homemade Caesar dressing, chicken breast, multigrain wraps and kale (which is full of good nutrients).
How many calories are in this recipe?
This recipe has 400 calories per wrap. It's super filling and packed full of nutritional value thanks to the kale.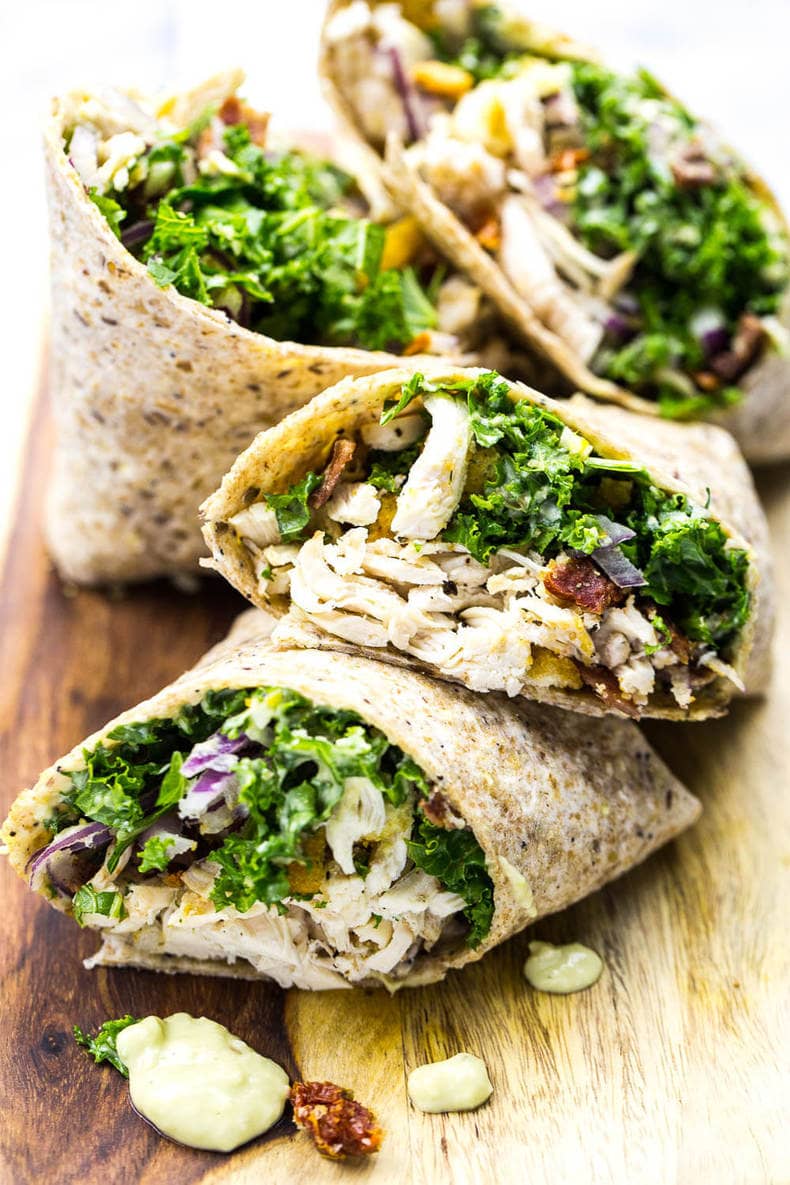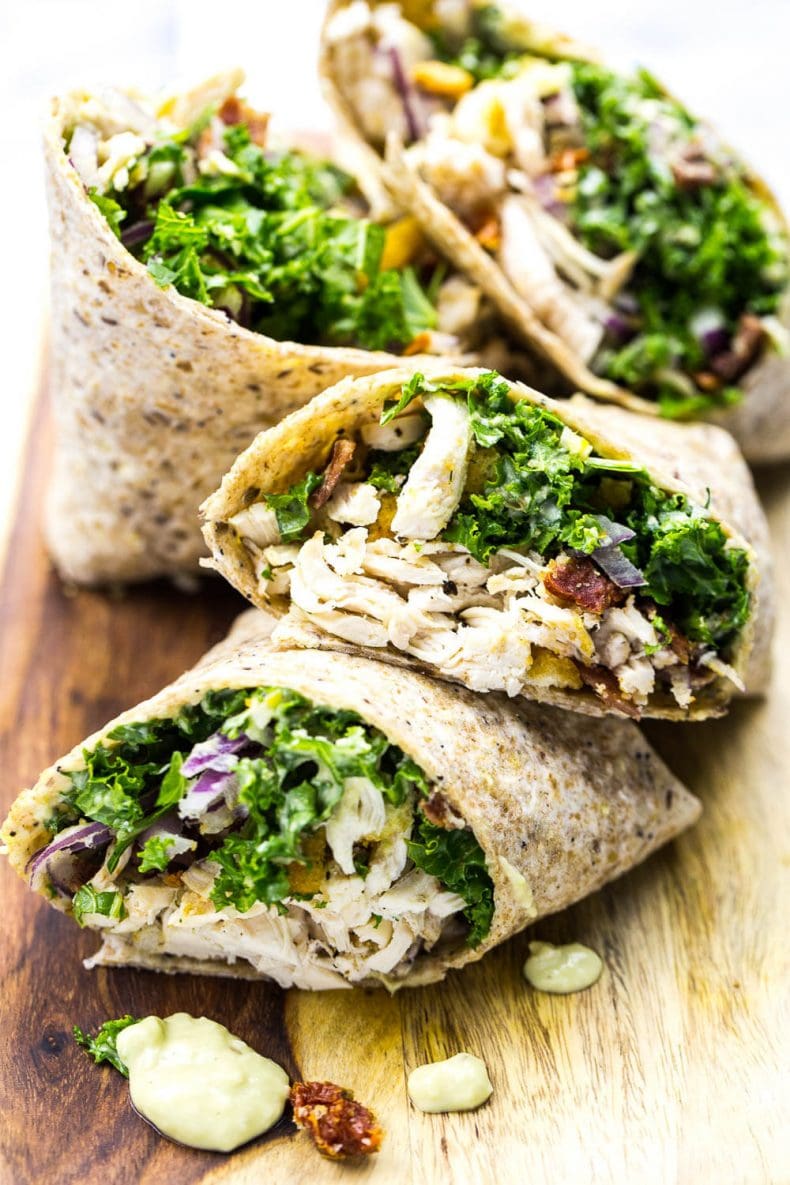 Storing and reheating
Once you put the chicken Caesar wrap all together, I recommend eating it within 24 hours. You can make these the night before and have lunch ready the next morning.
If you want the ingredients to last longer than that, wait to put everything together and store all the ingredients separately in the fridge. The cooked chicken and bacon will last in the fridge for up to 5 days and the dressing will last for up to 7 days. These wraps are best eaten cold, so you don't have to worry about reheating.
Freezing the chicken
While you can't freeze the entire chicken Caesar wrap, you can freeze the chicken. In fact, I love having some cooked chicken in my freezer at all times – it's one of my top meal prep hacks.
You can make this chicken any way that is easy for you. And since cooked chicken will last in the freezer for 3 months, you can make big batches. Make Instant Pot shredded chicken or fill your soup pot or baking sheet with chicken breast. Shred it when it's cooled and store it in small portions. Thaw your chicken in the refrigerator overnight and make your chicken wraps the next day! Easy-peasy.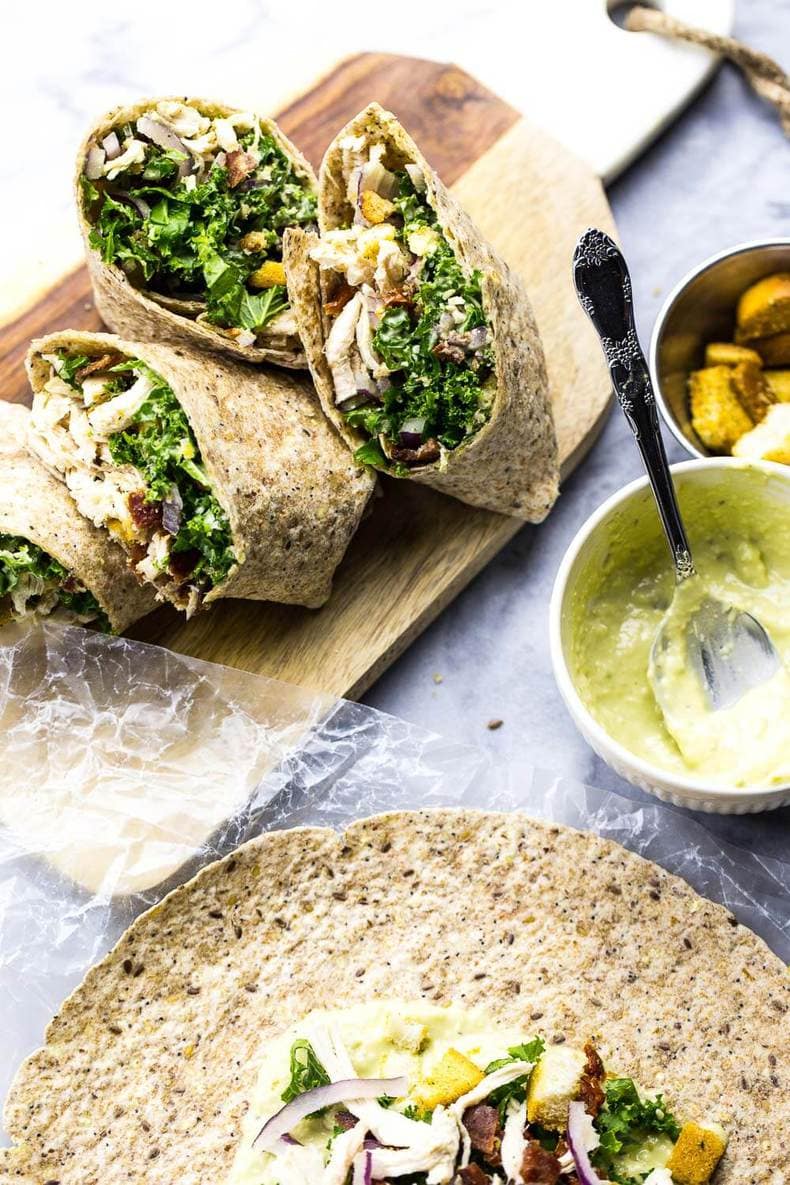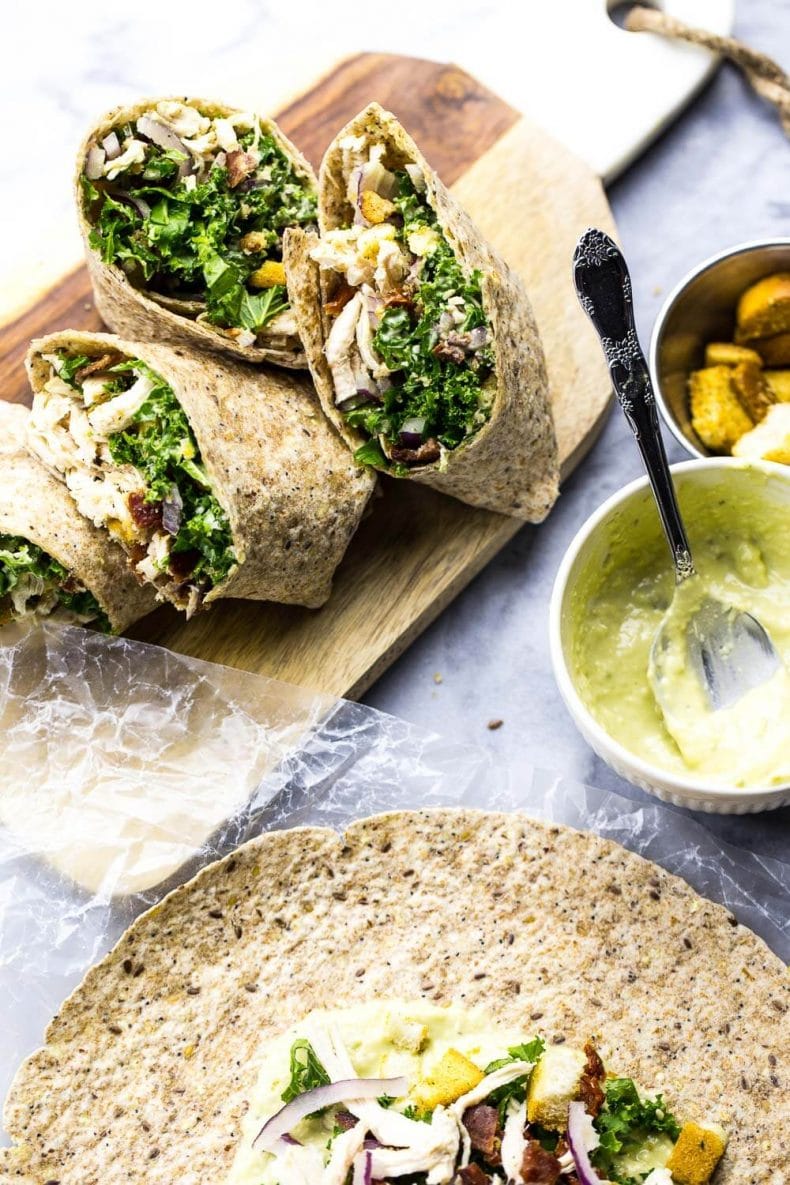 Wanna Learn How To Meal Prep?
My meal planning service, Dinner Prep Pro, removes the guesswork and helps you get dinner on the table in 15-20 minutes each night. My meal prep checklists only take 1 hour each week!
More meal prep wrap recipes
Meal prep tools for this recipe
I get all my free-range chicken breasts and bacon from Butcher Box.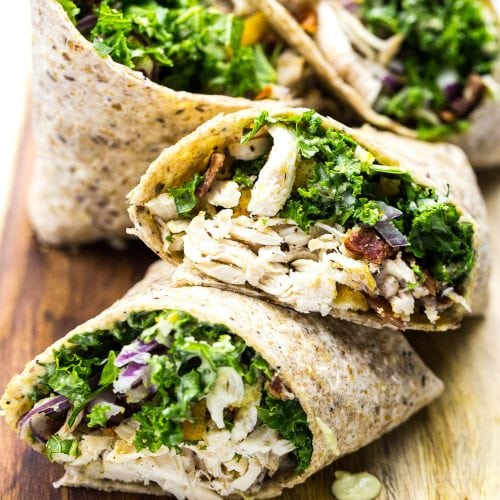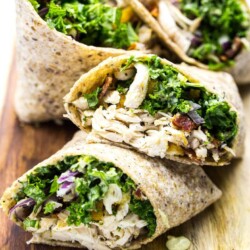 Kale Chicken Caesar Wraps
These veggie-filled Kale Chicken Caesar Wraps are the perfect on-the-go lunch, with an avocado Caesar dressing that's lighter on calories.
Print
Pin
Rate
IN A CYCLE OF EATING POORLY?We've got you covered with our free Routine Revamp mini course! You'll receive 8 lessons and free coaching with us! Register👇
Join Routine Revamp!
Servings: 4 wraps
Calories: 400kcal
Ingredients
Caesar dressing (makes about 1 cup dressing)
1 cup light mayo
1/2 cup parmesan cheese
2 tbsp lemon juice
1 tbsp Worcestershire sauce
1 tbsp dijon mustard
1 tbsp capers
3 cloves garlic, minced
1/2 tsp each salt and pepper
Wrap
4 multi-grain wraps
2 chicken breasts
4 slices turkey bacon
1 small red onion, sliced
2 cups kale
Instructions
Add all caesar dressing ingredients to a blender, food processor or bowl with an immersion blender and blend until well combined.

Meanwhile, cook chicken in a large pot of boiling water for 15 min. Let cool and shred apart with two forks. At the same time, fry turkey bacon in pan on med-high heat for 5-7 min until well cooked.

Add 1/2 cup chicken, 1 slice turkey bacon (crumbled), a bit of red onion and 1/2 cup kale to a large bowl and toss with about 1/4 cup caesar dressing. Add to the middle of each whole wheat wrap. Fold two edges of the wrap, then roll over with one of the free sides. Squeeze ingredients inside and roll up into a wrap.

Cut in half and eat! Wraps are up good to make the night before and eat within 24 hours as long as they stay in the fridge. Leftover dressing will last up to 7 days in the fridge. Enjoy!
Video
Notes
Try adding in extra veggies like sundried tomatoes, roasted red peppers, avocado, sweet potatoes and bell peppers. Replace some or all of the light mayo with smashed avocado. Cut down on prep time by using leftover chicken. Fold the sides of the wrap towards the middle, fold the bottom up towards the middle then roll from the bottom so your wrap keeps its shape. Store the ingredients separately in the fridge for up to 5 days. Freeze the cooked chicken for up to 3 months. Thaw it in the fridge overnight then assemble your wraps fresh.
Nutrition
Calories: 400kcal (20%)Carbohydrates: 13g (4%)Protein: 35g (70%)Fat: 23g (35%)Saturated Fat: 6g (38%)Cholesterol: 104mg (35%)Sodium: 1461mg (64%)Potassium: 741mg (21%)Fiber: 1g (4%)Sugar: 4g (4%)Vitamin A: 3517IU (70%)Vitamin C: 47mg (57%)Calcium: 218mg (22%)Iron: 2mg (11%)
Don't wait until January to eat healthy!Sign up for our free Routine Revamp mini course!
Join Routine Revamp!