These Meal Prep Instant Pot Taco Bowls are similar to taco salad – made in one pot, you've got lunches ready for the week in 30 minutes!
Okay, so get ready to hear about one of my recipe fails that ended up turning into something delicious!
Meal Prep Instant Pot Taco Bowls with mushed up sweet potato as it turns out is an amazing combo! You see, initially I went into this thinking I would have this sweet potato turkey taco mixture and the sweet potato would stay whole. I've been testing out so many recipes in the Instant Pot (like, I'm obsessed with Instant Pot meal prep) that I've kinda got the hang of different liquid to starch ratios, but haven't really ventured into root veggies and potatoes too much.
Silly me thinking the sweet potatoes would stay whole, but as it turns out, sweet potato puree is delicious. And it mixes especially well with ground turkey, which tends to dry out super quickly. So, best way to get your meat to stay moist AND add some extra flavour? SWEET POTATOES and taco meat in the Instant Pot!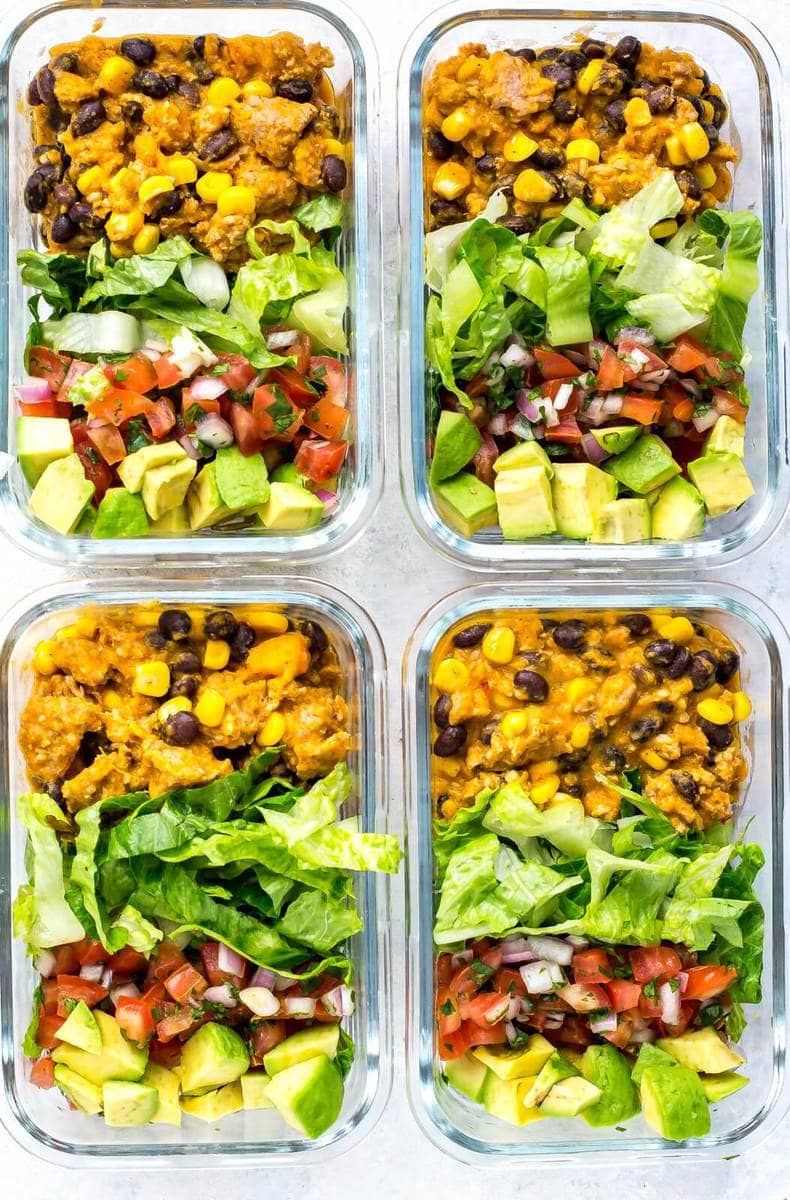 Can you believe I almost abandoned this photoshoot and started new?
I was shocked when I started stirring my turkey and sweet potato mixture and discovered the sweet potato started to turn mushy, but then I took a little spoonful and realized that this is probably my new favourite way to enjoy taco meat.
And because I'm trying to be the meal prep queen over here, of course I had to turn it all into a delicious taco bowl.
Anything that can be made in one pot and paired with some fresh veggies then turned into a giant bowl of deliciousness is the perfect meal to me – for lunch OR dinner!
Taco Bowl Toppings
As delicious as these taco salad bowls are, they are also super versatile. I added in lettuce, pico de gallo and diced up avocado but you could switch up the veggies and add in whatever you have on hand in the fridge.
I know I say that a lot, but that's honestly the best part of any type of meal prep: reducing food waste, eating delicious food, and saving time and money!
I don't know about you but I've gotten really into batching tasks lately – like for the past 6 months, I've had this weird schedule where I have to do all of my photoshoots at once, and all of my desk work at once. Part of the reason is because I'm going back and forth between Hamilton and Toronto to do my photography (I know, it's a little insane) but another reason is because it's actually made me so much more productive and I feel like I get so much of my day back by batching things.
Meal prep is just another example of batching at its finest.
You make everything all at once on one day, then you get to eat several more times after that without having to do any extra work (see these Greek Chicken Meal Prep Bowls for example). Except for washing your meal prep dishes after you've eaten out of them. And yes, I point this out because doing dishes is the absolute BANE OF MY EXISTENCE.
Like, if I ever get rich and famous I'm gonna hire someone to come over and wash my dishes for me every single day. You think I'm kidding but as someone who basically cooks for living, there is a lot of clean up and I just want no part of it LOL.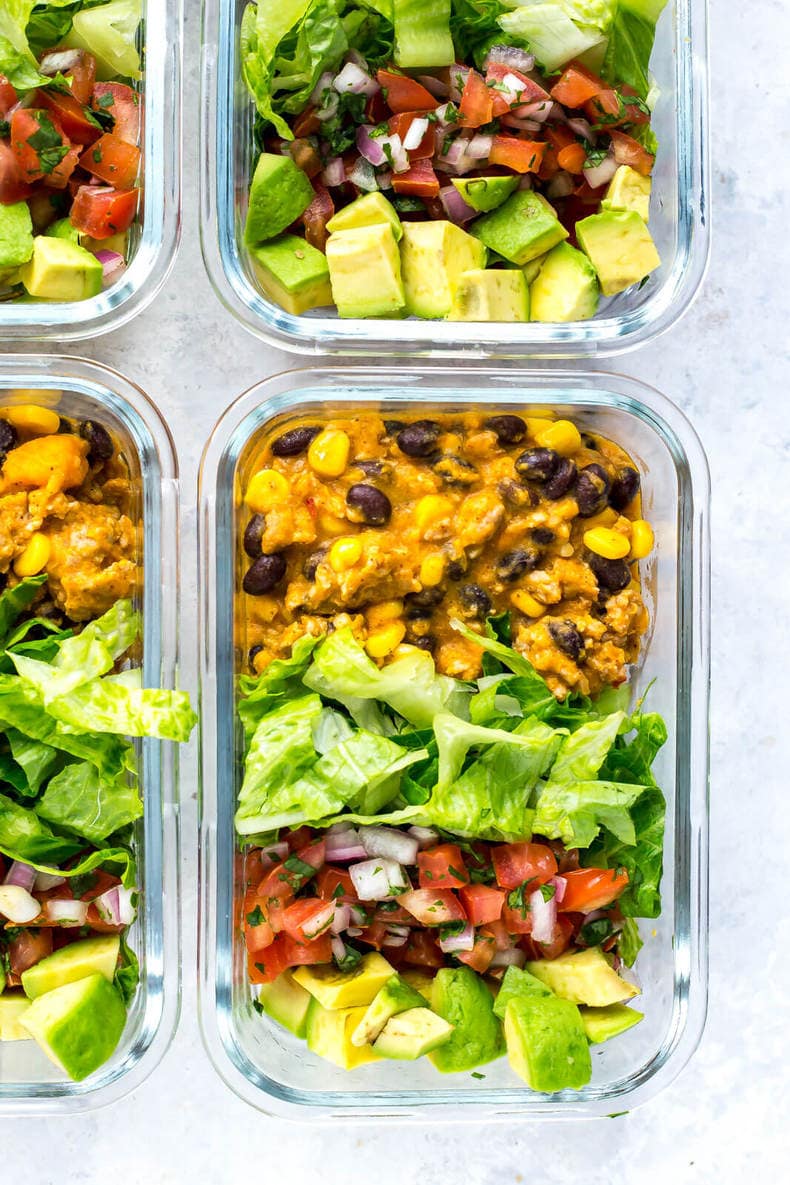 But anyways, I'm rambling today. And I've been told people hate it when food bloggers do that 😉
So back to these Meal Prep Instant Pot Taco Bowls.
They are a great way to get your veggies in, and mixing ground turkey and sweet potatoes with taco seasoning in the Instant Pot is the easiest way to meal prep EVER. Dump it all in the pressure cooker, let it all cook up (usually the cooking cycle is finished within 15-20 minutes by the time it preheats, pressure cooks and you do the quick release), and then divide among your glass bowls. I got mine at IKEA by the way, best investment everrrrrr.
You could also probably cook the meat on the stovetop with the sweet potatoes if you don't have an Instant Pot or don't want your sweet potatoes to turn into a puree – you're looking at a bit more hands on cooking time though, which can be disruptive because during the time everything is cooking in the Instant Pot, I'm usually preparing the veggies and starting to assemble my Meal Prep Instant Pot Taco Bowls.
But anyway, it's up to you; don't be afraid to get creative!
Will you be making these Meal Prep Instant Pot Taco Bowls? 
When meal prep is this easy and delicious, it's hard to see how you couldn't make time for it each week. You legit have no excuse, just saying…
If you try any of my recipes be sure to let me know on Instagram, Twitter, Facebook or in the comments – I'd love to see what you come up with!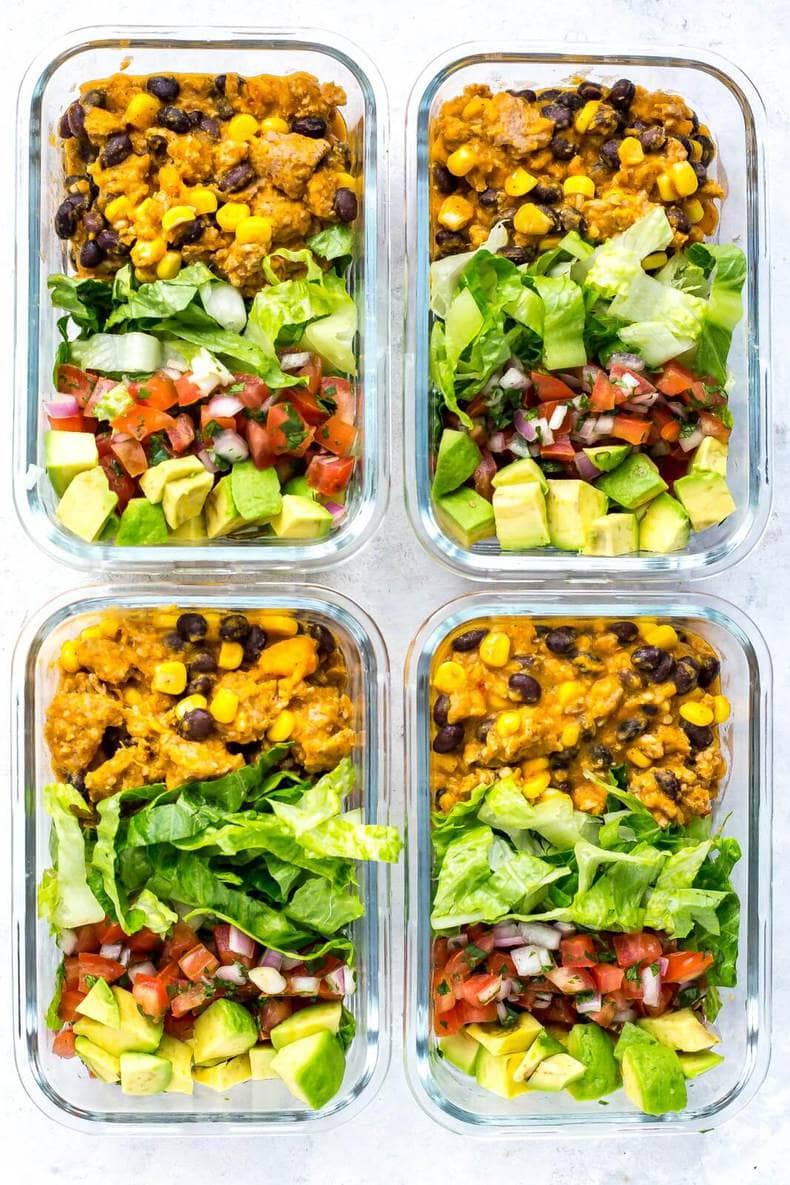 The Instant Pot DUO Plus 60
 is the version I use in this recipe.
And this is my fave taco seasoning if you don't feel like making your own!
Get your square glass meal prep bowls here!
Meal Prep Instant Pot Taco Bowls
These Meal Prep Instant Pot Taco Bowls are similar to taco salad - made in one pot, you've got lunches ready for the week in 30 minutes!
Print
Pin
Rate
Ingredients
1

tbsp

olive oil

1

lb

ground turkey (or ground chicken)

1

medium-sized

sweet potato, diced

3/4

cup

chicken broth

2

tbsp

taco seasoning

1/2

tsp

salt

1

can

black beans

1

cup

Corn

1

cup

romaine lettuce, chopped

1

avocado, diced
Pico de gallo
3

plum tomatoes, diced

1

small

red onion, diced

1/4

cup

cilantro, chopped

1

tbsp

lime juice

1/2

tsp

salt
Instructions
Add olive oil, turkey, sweet potatoes, chili powder and broth to Instant Pot in that order. Set to cook on high pressure for 3 minutes. Once complete, do a quick release of pressure and open lid when safe to do so.

Meanwhile, mix ingredients for pico de gallo together and set aside.

Add black beans and corn to turkey mixture in Instant Pot, stirring well. Serve mixture among 4 meal prep bowls, then add lettuce, pico de gallo and avocado. Will keep in fridge up to 3 or 4 days.
Nutrition
Calories:
426
kcal
|
Carbohydrates:
34
g
|
Protein:
28
g
|
Fat:
20
g
|
Saturated Fat:
4
g
|
Polyunsaturated Fat:
4
g
|
Monounsaturated Fat:
11
g
|
Cholesterol:
76
mg
|
Sodium:
728
mg
|
Potassium:
909
mg
|
Fiber:
11
g
|
Sugar:
5
g
|
Vitamin A:
1000
IU
|
Vitamin C:
27.2
mg
|
Calcium:
80
mg
|
Iron:
3.6
mg