This Ultimate Meal Prep Buffalo Chicken Wrap is a delicious, easy lunch idea – pack them bento box style for work week lunches!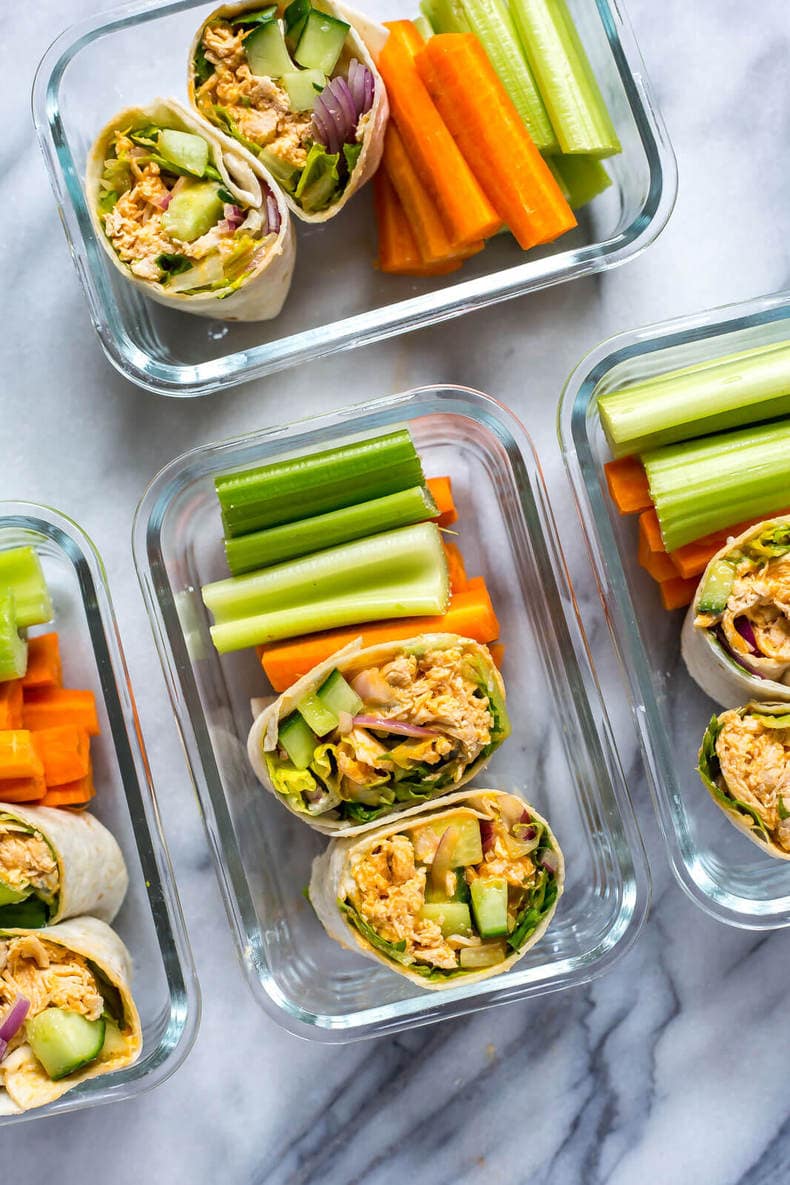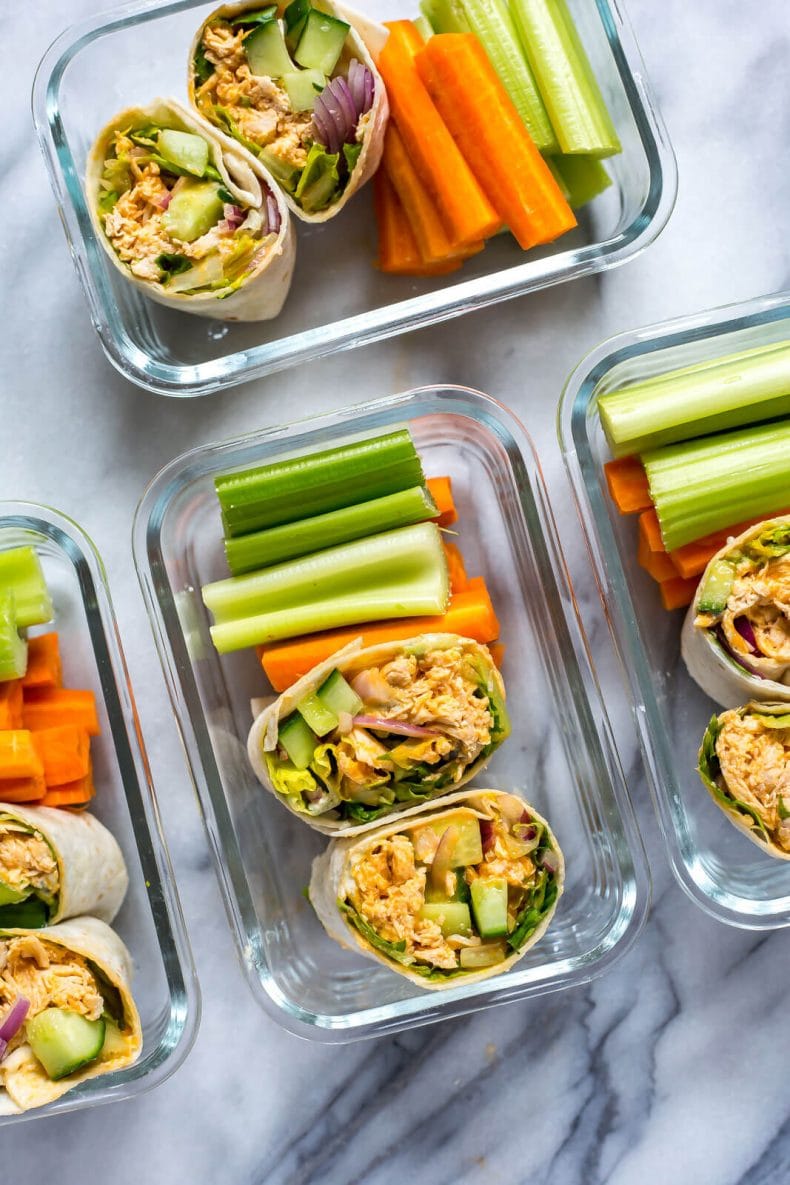 Seeing as I'm writing this during back to school season, I thought it was only appropriate that I share the super easy no-fail lunch recipe that I used to make all the time when I was back in school and learning to cook for myself!
And this time in meal prep form!
How to make a buffalo chicken wrap
Okay, so how do you actually make these buffalo chicken wraps?
Super simple – cook the chicken, then shred it using a fork and knife. Toss the chicken in some store-bought buffalo wing sauce (I like Frank's Red Hot) and then get your veggies chopped up and ready to throw in the wrap once the chicken is done cooking.
You can use some extra sauce like a ranch dressing if you'd like but I prefer to keep the calories lower and the wrap less soggy so I use some real blue cheese as an extra flavour component in addition to the chicken. It's up to you!
I also love to create lettuce wraps for times when I'm feeling a little something lighter for lunch or dinner with less carbs like these Mexican chicken lettuce wraps – so you could always turn this buffalo chicken wrap into a lettuce wrap.
Buffalo chicken wrap fillings
I don't know why I don't make wraps more often to be honest, they're so easy and the combinations are endless. Like all my other recipes, just add in whatever veggies you have lying around in the fridge and then add some protein.
Here are some easy ideas for fillings to add:
Crumbled blue cheese
Lettuce
Sliced tomatoes
Red onions
Ranch dressing
Cucumber
Avocado
Banana peppers
Bell peppers
Celery
The options are endless! Feel free to use up veggies that are going to go bad but be mindful that certain veggies may cause the wraps to go soggy faster (such as tomatoes, avocado and banana peppers). If you're eating it right away it's fine, but be mindful when meal prepping. There are tips to preventing sogginess further on in the post.
Which type of buffalo sauce?
To make this recipe as simple as possible, I've just used store-bought buffalo wing sauce. Most out there have few preservatives and are super low in calories so it's not worth going to the trouble of making your own. I personally use Frank's Red Hot buffalo wing sauce but most grocery stores also have their own no-name brand.
If you'd like to make the sauce less spicy, you can cut it with some sour cream or Greek yogurt – just add half the sauce and make the other half your dairy product of choice.
What type of chicken should you use?
I use boneless, skinless chicken breasts then boil them in water to cook them. From there, you just have to shred the meat and the chicken only takes about 15 minutes to cook. You can use your Instant Pot or cook in a pot on the stove – that's the easiest route anyway!
You can definitely use any type of chicken though, including thighs. Or you can even use rotisserie chicken to speed up your prep time.
You can also bake your chicken (I have the ultimate guide to baked chicken breast here) for a bit more flavour and about the same amount of cook time. If you bake your chicken, I recommend that you cut it instead of shredding it.
How to make crispy chicken
Another way to make this wrap really tasty is to make crispy chicken tenders! They are actually pretty easy to make in the oven at home (this is one of the best homemade chicken tenders recipes), or you can make Airfryer chicken nuggets then slice them up and toss them in sauce.
Using crispy chicken gives your buffalo chicken wrap that restaurant-quality feel without adding all the calories because of deep-fried chicken. You still get the health factor with all the flavour!
Preventing sogginess
Now this is the trickiest part of any wrap recipe – keeping it from going soggy! Here are some tips and tricks to keeping your wraps fresh:
Layer the wet ingredients inside, and the dry ingredients like lettuce on the outside
Pack the ingredients separately to make your wrap fresh on-the-go
Avoid soggy veggies like cucumber, tomatoes and banana peppers
Avoid additional dressings
Meal prepping buffalo chicken wraps
Ever see those bento boxes with wraps at Starbucks? That's where I'm getting my inspiration from here!
I love how they manage to do a bit more portion control with their wraps by placing two of the thirds in a meal prep box and then pairing the wraps with some other healthy ingredients.
After you have rolled your wrap simply cut into thirds then add two thirds or all of the wrap into your glass meal prep bowls. Add in your veggies then you're good to go!
How long will they keep in the fridge?
Let's face it, wraps don't last a TON of time in the fridge but they should last up to 3 days if you pack them properly. You can always make the ingredients separately and make your wraps fresh the day of – you'll likely get another 1-2 days out of them if you do this.
Time hacks
I always recommend using whole foods but sometimes you have to cheat a little bit and go with some shortcuts in order to keep on track with meal prep and honestly, sometimes that's ok!
Here are some time hacks that should help you prep these buffalo chicken wraps faster:
Use rotisserie chicken
Use store-bought pre-cooked chicken
Use store-bought chicken tenders
Use pre-packaged veggie packs
Use pre-crumbled blue cheese
Use pre-chopped lettuce
Making this wrap healthier
I think the most important thing is making sure you actually use real chicken, unlike how I used to do it back in the day. Real food ingredients over processed food any day! I get that real life is about balance so you may not want to follow all these tips, but if you are looking to enjoy buffalo chicken at it's healthiest follow these tips!
Use whole-grain tortillas
Use real chicken
Skip the cheese
Leave out any additional dressings
Load your wraps up with veggies
Serve veggies on the side
What to serve with buffalo chicken wraps
Inspired by your fave pub-style sides, I've included some chopped up carrots and celery with this buffalo chicken wrap so you can add some extra sauce on the side and enjoy this as a whole meal while getting in all your veggies – this is a super well-balanced meal prep idea that you can customize and switch up from time to time while still keeping things easy and simple.
Here are some other side dish ideas for these wraps:
Grapes, berries or other fruit
Whole grain crackers or rice crisps
Vegetable chips, such as beet, parsnip or sweet potato chips
Side salad
More buffalo chicken recipes
Love buffalo chicken just as much as I do? I've got a TON of other buffalo chicken recipes for you to enjoy!
Meal prep tools for this recipe
The Ultimate Buffalo Chicken Wrap
This Ultimate Meal Prep Buffalo Chicken Wrap is a delicious, easy lunch idea that's going to help you get back into a healthy routine - pack them bento box style for your school and work lunches!
Print
Pin
Rate
Ingredients
2

cups

water

`

1/2

tsp

salt

1

lb

medium-sized chicken breasts

1

cup

buffalo wing sauce

4

flour tortillas

1/2

head

romaine lettuce, chopped

1/2

cup

blue cheese, crumbled

1/2

cucumber, diced

1/2

small red onion, sliced

Carrots, celery & ranch dip as optional sides
Instructions
Add water, salt and chicken to Instant Pot. Cook on high pressure 5 minutes - Instant Pot will take about 10 minutes to preheat, then the 5 minutes to cook. Do a quick release of the pressure, then remove breasts and shred chicken with a fork and knife. Alternatively, bring a large pot of water to a boil, then cook chicken for 15-18 minutes until cooked through. Shred chicken with a fork and knife.

Add chicken back to the pot (make sure you have dumped the water) and toss with buffalo sauce. Add romaine lettuce, buffalo chicken, blue cheese, cucumber and red onion to each wrap, being careful not to overfill them.

Cut them into thirds, then place wraps into glass meal prep bowls. Serve with carrots, celery and dip of your choice - wraps will keep in fridge up to 3 days.
Video
Nutrition
Calories:
437
kcal
|
Carbohydrates:
50
g
|
Protein:
26
g
|
Fat:
14
g
|
Saturated Fat:
5
g
|
Polyunsaturated Fat:
2
g
|
Monounsaturated Fat:
4
g
|
Cholesterol:
55
mg
|
Sodium:
2185
mg
|
Potassium:
452
mg
|
Fiber:
4
g
|
Sugar:
6
g
|
Vitamin A:
10200
IU
|
Vitamin C:
8.3
mg
|
Calcium:
210
mg
|
Iron:
3.6
mg