The Ultimate Meal Prep Buffalo Chicken Wrap
This Ultimate Meal Prep Buffalo Chicken Wrap is a delicious, easy lunch idea that's going to help you get back into a healthy routine – pack them bento box style for your school and work lunches!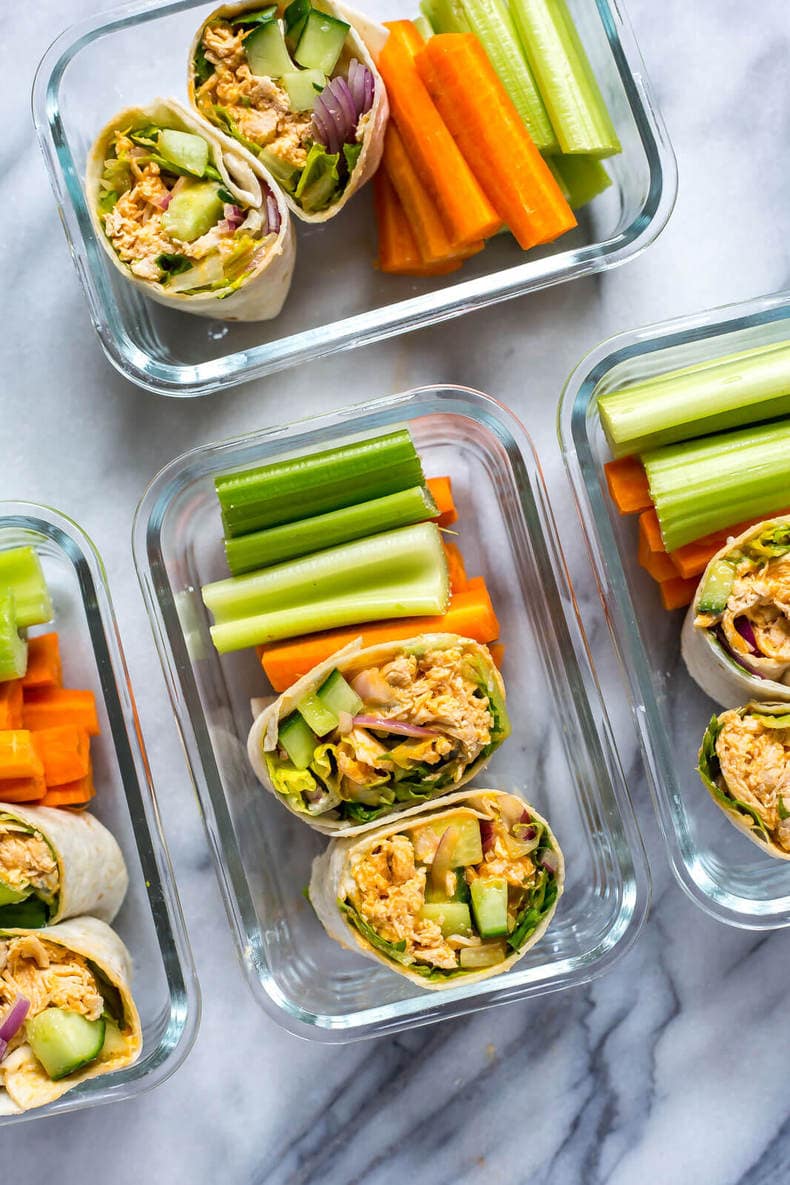 Meal Prep Buffalo Chicken Wraps
Seeing as I'm writing this during back to school season, I thought it was only appropriate that I share the super easy no-fail lunch recipe that I used to make all the time when I was back in school and learning to cook for myself!
Although pretty sure I used to skip the healthy shredded chicken and use oven-baked chicken fingers instead, so I guess you could say I'm bringing you a healthier version of my fave ever buffalo chicken wrap!
And this time in meal prep form!
Ever see those bento boxes with wraps at Starbucks?
That's where I'm getting my inspiration from here!
I love how they manage to do a bit more portion control with their wraps by placing two of the thirds in a meal prep box and then pairing the wraps with some other healthy ingredients.
Inspired by your fave pub-style sides, I've included some chopped up carrots and celery with this buffalo chicken wrap so you can add some extra sauce on the side and enjoy this as a whole meal while getting in all your veggies – this is a super well-balanced meal prep idea that you can customize and switch up from time to time while still keeping things easy and simple.
Seriously, another bomb wrap recipe idea would have to be the Chicken Caesar Wraps I made a couple years ago for the blog and I swapped out the romaine for kale – such a delicious twist on the salad while still keeping it healthy.
And I believe I even whipped up an avocado-based caesar salad dressing for that lunch wrap…so bomb!
I don't know why I don't make wraps more often to be honest, they're so easy and the combinations are endless. Like all my other recipes, just add in whatever veggies you have lying around in the fridge and then add some protein.
I also love to create lettuce wraps for times when I'm feeling a little something lighter for lunch or dinner with less carbs like these Mexican chicken lettuce wraps – so you could always turn this buffalo chicken wrap into a lettuce wrap.
Sky's the limit!
I think the most important thing is making sure you actually use real chicken, unlike how I used to do it back in the day. Real food ingredients over processed food any day!
Speaking of using real ingredients, I have swapped out the chicken tenders for whole chicken breasts in this recipe and it's made all the more easy with the Instant Pot.
You definitely don't need an Instant Pot for this recipe but it'll just save you some extra clean up along with making it easier to chop up all your veggies because it's hands off once you set it.
You can also make the shredded chicken by boiling the breasts in a large pot of salted water on the stove, but it just takes a little bit more time (you're looking at closer to 15-20 min) and you'll have to keep an eye on it so it doesn't boil over.
The choice is yours whether you go stovetop or pressure cooker!
How to Make a Buffalo Chicken Wrap
Okay, so how do you actually make these buffalo chicken wraps then you ask?
Super simple – cook the chicken, then shred it using a fork and knife. Toss the chicken in some store bought buffalo wing sauce (I like Frank's Red Hot) and then get your veggies chopped up and ready to throw in the wrap once the chicken is done cooking.
You can use some extra sauce like a ranch dressing if you'd like but I prefer to keep the calories lower and the wrap less soggy so I use some real blue cheese as an extra flavour component in addition to the chicken. It's up to you!
And the veggies you use are also optional – what I usually do on meal prep days is take a look through my fridge and figure out what veggies are going to go bad and what I should use up first.
Bell peppers, other types of greens like spinach or kale along with any kind of onion will work for this buffalo chicken wrap so don't feel like you can't make it because you don't have cucumber.
Whatever your taste buds crave is what should go in there – just make sure you don't fill up the wrap super full or it won't roll up. If you're looking for how to roll these wraps take a look at the video at the beginning of this post to see how it's done!
Will you be making this Meal Prep Buffalo Chicken Wrap? 
It's one of my fave ever wrap recipes and super easy to make – plus who doesn't love buffalo chicken?!
If you try any of my recipes be sure to let me know on Instagram, Twitter, Facebook or in the comments – I'd love to see what you come up with!
Get your square glass meal prep bowls here!
And of course I get all my free-range chicken breasts from Butcher Box!
If you're interested in checking out more easy meal prep recipes for back to school, check out these Sheet Pan Greek Chicken Meal Prep Bowls or these Honey Sriracha Chicken Meal Prep Bowls – they're also my go-tos for this hectic time of year!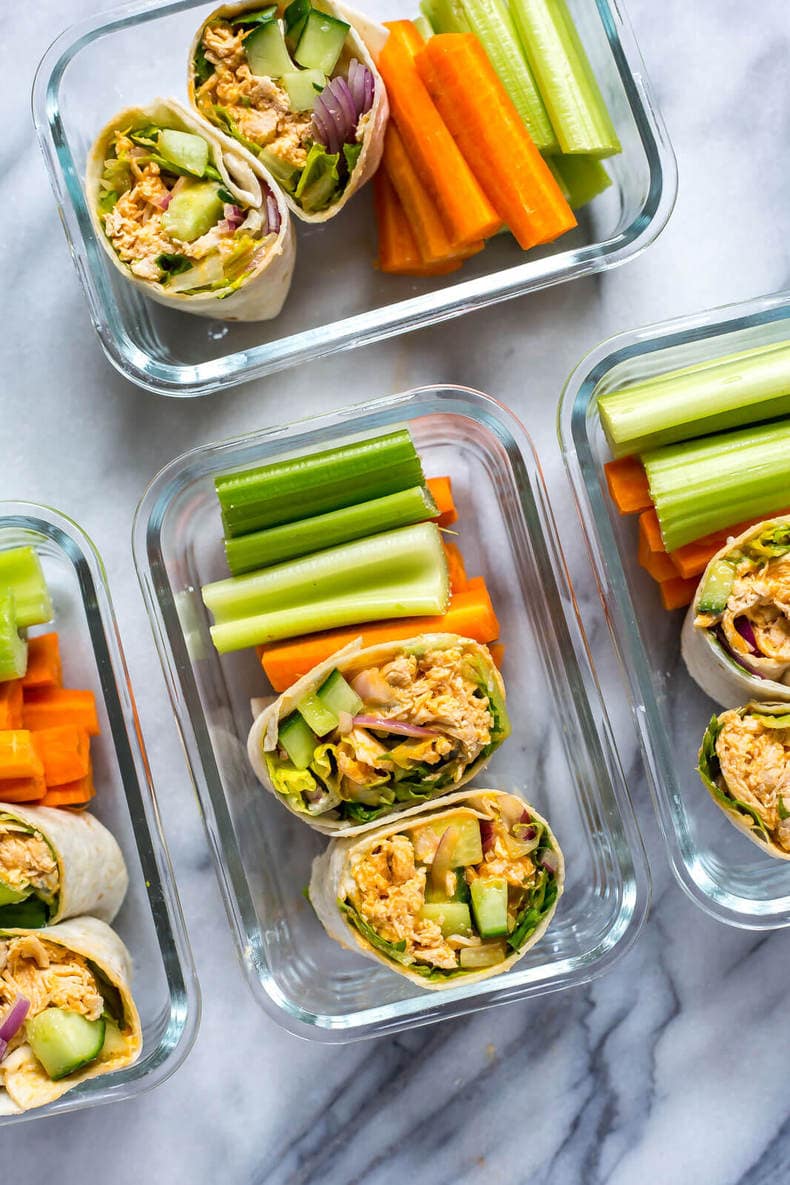 Print Recipe
The Ultimate Buffalo Chicken Wrap
This Ultimate Meal Prep Buffalo Chicken Wrap is a delicious, easy lunch idea that's going to help you get back into a healthy routine - pack them bento box style for your school and work lunches!
Ingredients
2

cups

water

`

1/2

tsp

salt

3

medium-sized chicken breasts

1

cup

buffalo wing sauce

1

package

flour tortillas

1/2

head

romaine lettuce, chopped

1/2

cup

blue cheese, crumbled

1/2

cucumber, diced

1/2

small red onion, sliced

Carrots, celery & ranch dip as optional sides
Instructions
Add water, salt and chicken to Instant Pot. Cook on high pressure 5 minutes - Instant Pot will take about 10 minutes to preheat, then the 5 minutes to cook. Do a quick release of the pressure, then remove breasts and shred chicken with a fork and knife.

Add chicken back to the pot and toss with buffalo sauce. Add romaine lettuce, buffalo chicken, blue cheese, cucumber and red onion to each wrap, being careful not to overfill them.

Cut them into thirds, then place two wraps into glass meal prep bowls. Serve with carrots, celery and dip of your choice - wraps will keep in fridge up to 3-4 days.
Nutrition
Calories:
437
kcal
|
Carbohydrates:
50
g
|
Protein:
26
g
|
Fat:
14
g
|
Saturated Fat:
5
g
|
Polyunsaturated Fat:
2
g
|
Monounsaturated Fat:
4
g
|
Cholesterol:
55
mg
|
Sodium:
2185
mg
|
Potassium:
452
mg
|
Fiber:
4
g
|
Sugar:
6
g
|
Vitamin A:
204
%
|
Vitamin C:
10
%
|
Calcium:
21
%
|
Iron:
20
%