Reducing food waste can help you save a lot of money while meal prepping! Try these easy tips to help you buy less food and use up leftovers.
Why you should reduce food waste
Food waste has become a big issue not only in households but globally, too. Here are just a few reasons why you should be reducing your food waste:
You'll save money by purchasing less food
You can become more confident in the kitchen after making substitutions and repurposing leftovers in exciting ways
You'll help the environment by reducing your carbon footprint.
Meal plan
Your first step in cutting back food waste is to meal plan! By meal planning, you'll be able to know what groceries you need to buy (or not). I've got a whole guide on my meal planning process but here's a quick breakdown of the steps:
Make time for meal planning. Carve out 15 minutes a week to draft up a meal plan.
Audit your fridge, freezer and pantry to identify ingredients you need to use up. I try to note down the top 5 ingredients I need to use up and use that information to form the rest of my meal plan.
Refer to a "master list" of recipes. Look at recipes you want to try, family favourites, and quick meals you fall back on time and time again.
Look at your calendar. Make sure to account for days you won't be home for dinner and plan for quick meals on extra busy days.
Put it all together. Prioritize recipes that will help you use up the ingredients you already have on hand before they go bad.
Don't overbuy groceries
Now that you've got a meal plan, it's time to get groceries! Even with the best intentions, it can be easy to overbuy at the grocery store. I prefer to shop after a big meal so it cuts back on impulse purchases of food I know I won't eat.
If you find that you almost always have a bunch of leftover food at the end of the week even after meal planning, then it's time to take a look as to why that's happening. If you've had trouble sticking to making the recipes you've planned, choose some easier ones or plan for leftovers.
On the other hand, you could just be choosing too many recipes in your meal plan. I typically recommend a family of four cooks 5 dinners as I feel like that allows you to use up some leftovers or eat out during the weekends. If you have a smaller household size, you may need to cut that amount down further.
Understand expiration dates
Did you know that the date on packaged food may not be an expiration date at all? Here's a breakdown of some of the labels you may see on food and what they mean.
Best before: This indicates when the item will be at its best quality. There should be no food safety concerns if you eat an item a week or two past its best before date.
Use by: This is a suggested date as to when you should eat the food. If you're a couple of days past this date, then evaluate the item (consider its appearance, texture, and smell) before deciding to toss it or eat it.
Sell by: This is a date for retailers that helps them determine how long an item should be on a shelf. Most shelf-stable foods are okay to eat after this date, but again, evaluate them to make sure they're still good.
Freeze by: This lets you know when you should freeze a certain item so you can maintain its peak quality. Food may be safe one or two days after this date.
As you can see, most of these dates are just recommendations, not strict guidelines to follow. I always try to evaluate any food I'm concerned about to see if it has an off odour, flavour or texture. You'll often get a couple of extra days or even weeks with pantry staples. When it comes to meat, however, I believe when in doubt, throw it out! You don't want to get food poisoning from eating expired meat.
Store food properly
Storing food properly is one of the biggest ways to reduce food waste. By purchasing the right containers, you can extend the freshness of food by several days.
I prefer using glass containers over plastic as I find they work best for keeping things smelling and tasting fresh. I will also sometimes take pantry staples like rice, cereal, or flour out of its original packaging and store them in containers with lids. This helps them maintain their quality for longer.
See all my favourite storage containers below or check out my blog post on food storage tips for more ideas!
Food storage containers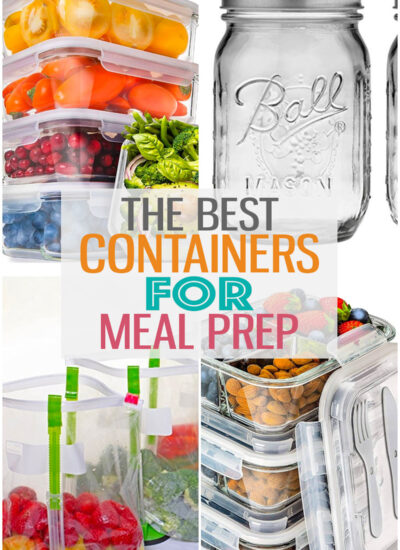 Use your freezer
The freezer is my secret weapon when it comes to cutting back on food waste! I love using it to freeze leftovers or ingredients that I may not use up before they go bad.
While it can be easy to throw everything and anything into the freezer, here are a few things you need to keep in mind:
Cool the food to room temperature before freezing.
Freeze individual portions of leftovers so they're easier to thaw and reheat.
Package things up in aluminum foil or freezer bags in order to prevent freezer burn.
Label everything you put in the freezer with the item/recipe name and the date you frozen it.
A lot of items can stay frozen for 3-6 months, however, you should check your country's food safety guidelines for more information.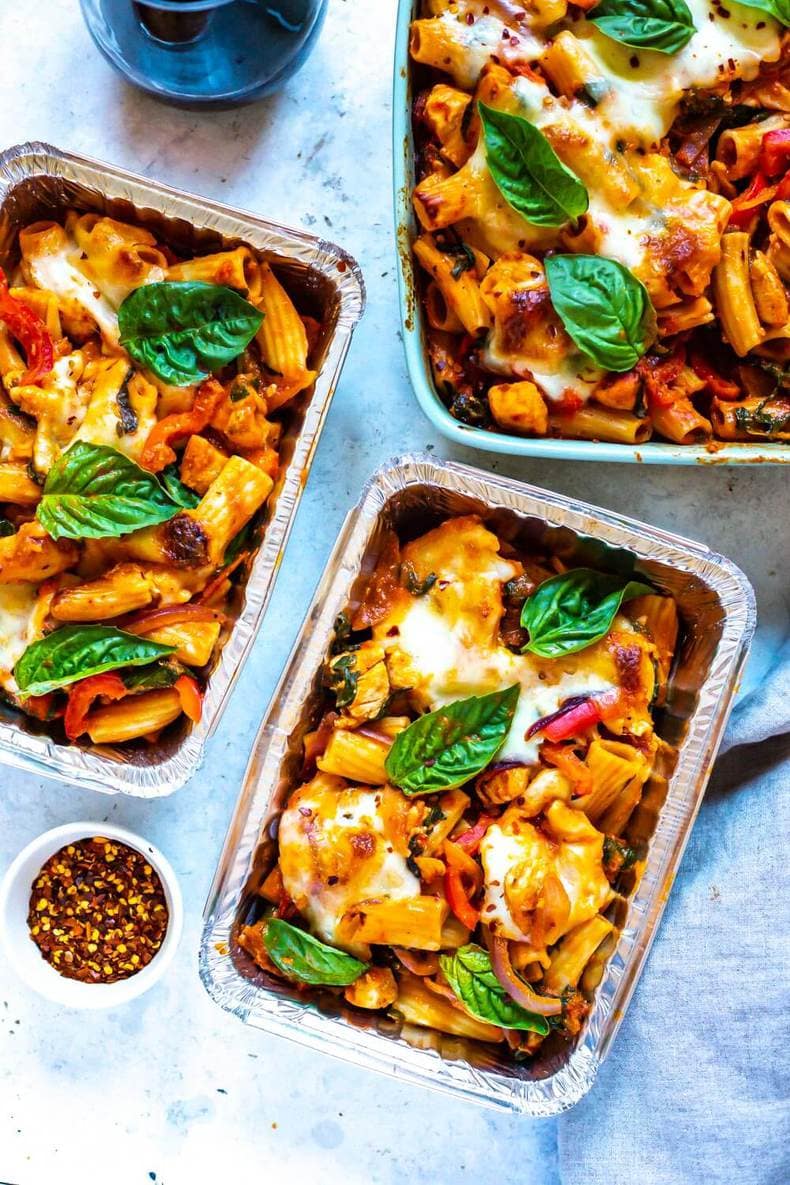 Stay organized
If you really want to reduce food waste, you need to stay organized! We've already discussed how a meal plan will help you stay on track, but there's so much more you can do in terms of organizing your kitchen.
I try to stick to the "first one in, first one out" method when it comes to storing food in my pantry, fridge and freezer. This means putting older items in front of newer items, so you use them up first. This is especially helpful when you have multiples of the same item—you'll easily be able to use up one box/container entirely before opening up another.
Just like how I recommend labeling the food in your freezer with expiration dates, I also recommend labeling items in your fridge with the date you've opened them. This will give you an idea of how much longer you can use up an item before it goes bad.
If you have trouble using up fresh fruits and vegetables before they go bad, I recommend storing them outside your crisper and in clear containers instead, so you can easily see them when you open the fridge. This helps combat the "out of sight, out of mind" mentality that some people have.
Join The Girl on Bloor Premium!
ZERO ADS!
Weekly Meal Prep Checklists
Bonus eBooks
Don't be afraid to make substitutions
If you really want to become a pro at reducing food waste, then you have to get comfortable with making substitutions in recipes.
Remember that most recipes are just guidelines and you can substitute with other ingredients you have on hand for similar results. All of the recipes on The Girl on Bloor have substitution ideas for each ingredient but feel free to get creative with it!
I also find there are just some ingredients I'll never use up, like specific sauces or vinegars, so I try to find common substitutions for them instead. For example, if you struggle with using up a bottle of maple syrup, perhaps swap it out for honey, if that's something you always have in your pantry.
Love your leftovers
Leftovers: some people love them and some people hate them. In order to combat food waste, though, you have to start loving them!
I admit it can be boring eating the same thing over and over again, so I try to switch things up when it comes to leftovers. This could mean using up leftover chicken in wraps or pasta dishes, or freezing leftovers so I can enjoy them a few weeks later.
Think of using leftovers up as a fun challenge. See below for some of my favourite ways to use up random food scraps and leftover ingredients you may have on hand. You can also browse these quick and easy leftover meal ideas for some more inspiration.
Creative ways to use up food scraps and leftover ingredients
Make fried rice out of leftover rice and vegetables.
Save vegetable scraps to make homemade veggie broth.
Chop up leftover herbs and make a compound butter with them.
Use carrot tops instead of basil to make a pesto.
Julienne broccoli stems and add them to mason jar instant noodles.
Roast seeds from butternut squash or pumpkins for a delicious snack.
Turn old bread into breadcrumbs or croutons.
Make quick pickled red onions before they go bad.
Wanna Learn How To Meal Prep?
My meal planning service, Dinner Prep Pro, removes the guesswork and helps you get dinner on the table in 15-20 minutes each night. My meal prep checklists only take 1 hour each week!