This Grilled Steak Gorgonzola Flatbread is a lighter dish made with gorgonzola cheese and fresh veggies that's ready in just 30 minutes!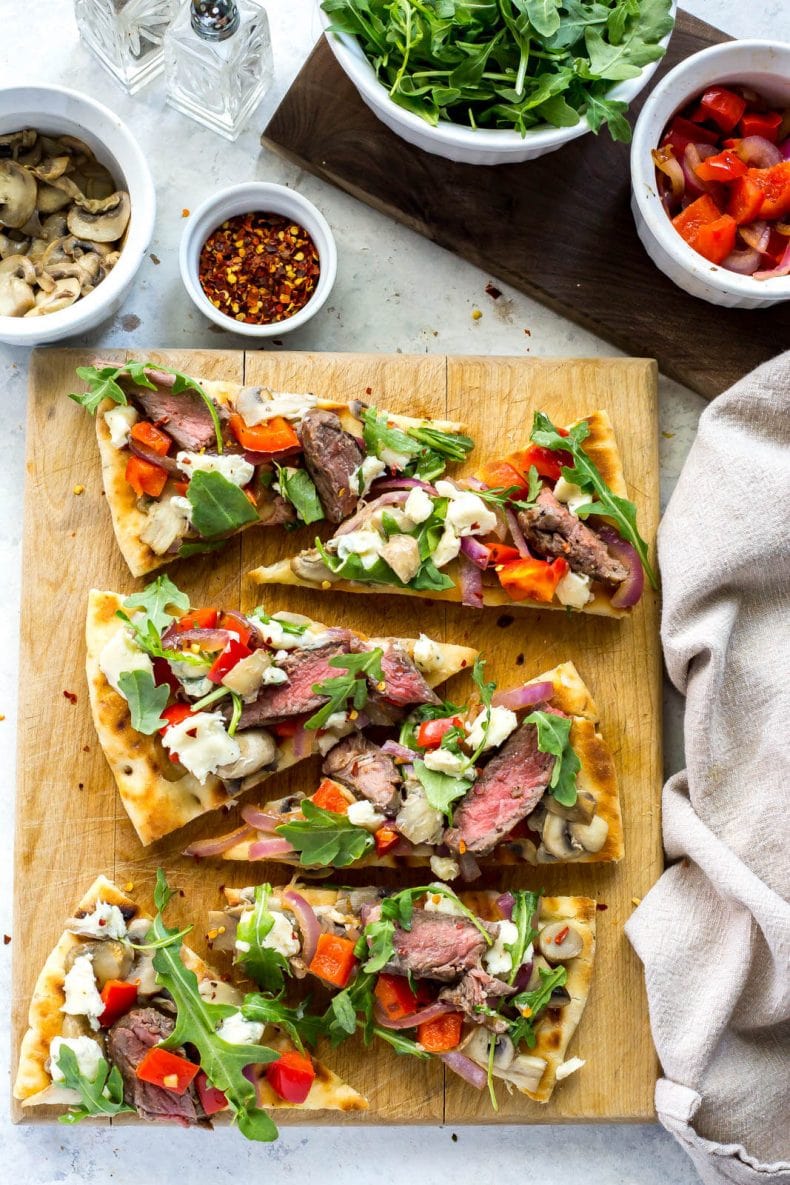 How to make this recipe
Grill the steak until medium rare.
Slice the steak.
Sauté the mushrooms, red onion and red pepper.
Lightly toast the flatbread on the grill.
Add all the toppings to the flatbread.
Slice, serve and enjoy!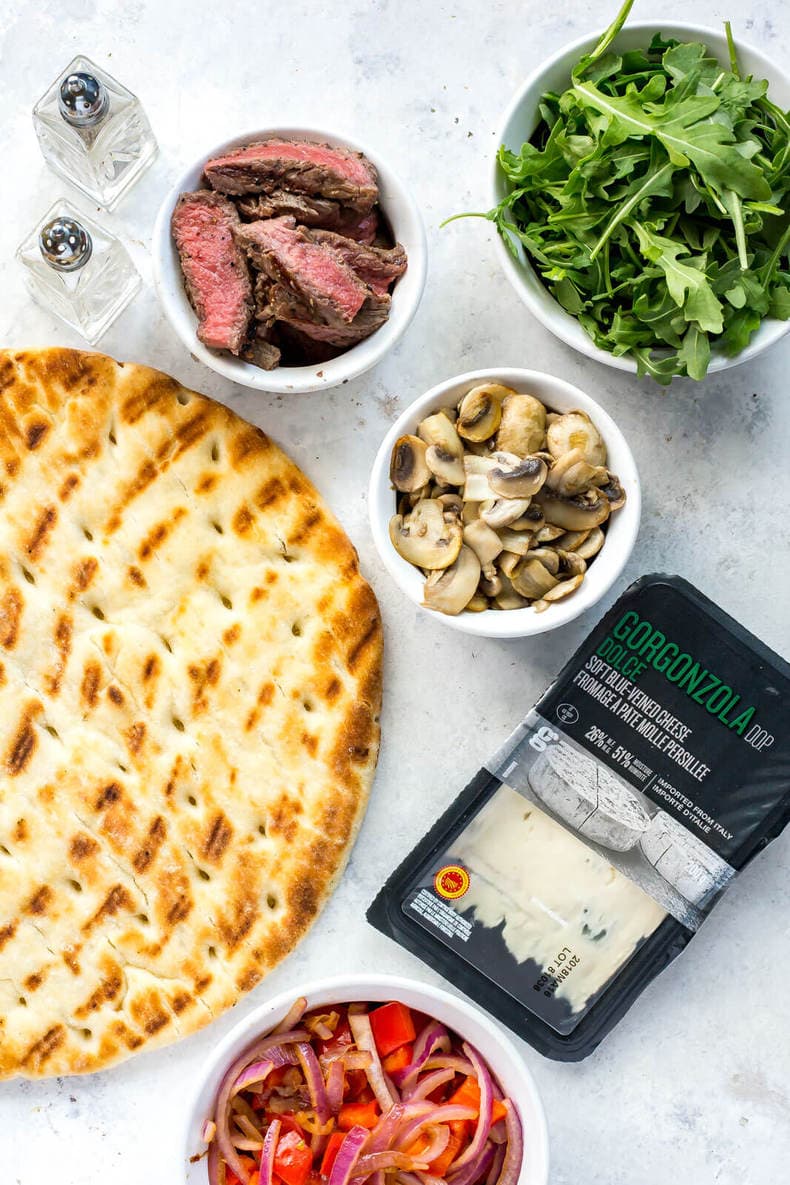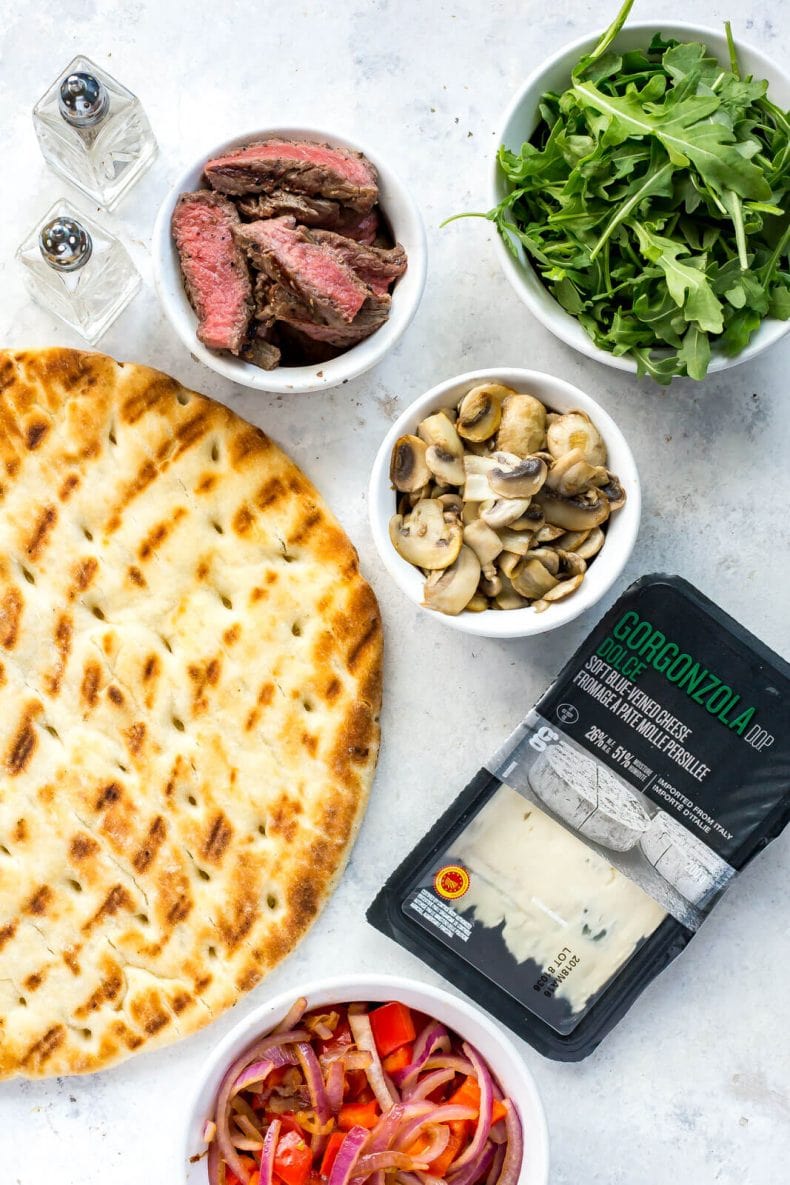 Skip the Ads and Get Right to the Recipes!
ZERO ADS on over 600 recipes!
Weekly Meal Plans, Grocery & Prep Lists
Bonus eBooks
Ingredients and substitutions
Flatbreads – use store-bought flatbreads or a pre-made pizza shell.
Sirloin steak – look for a one-inch thick steak for the best results.
Gorgonzola cheese – the closest substitute is blue cheese, but feta cheese or goat cheese will work just as well for this recipe.
Red onion – red onions are the best option for this recipe. Feel free to leave them out entirely.
Mushrooms – you can use cremini mushrooms, brown mushrooms or pre-sliced baby Bella mushrooms. If you're in a pinch, canned mushrooms will also work.
Red pepper – use any bell pepper colour of your choice.
Arugula – baby spinach, dandelion greens, radicchio or watercress can be used in place of arugula for this flatbread.
Salt & pepper – to taste.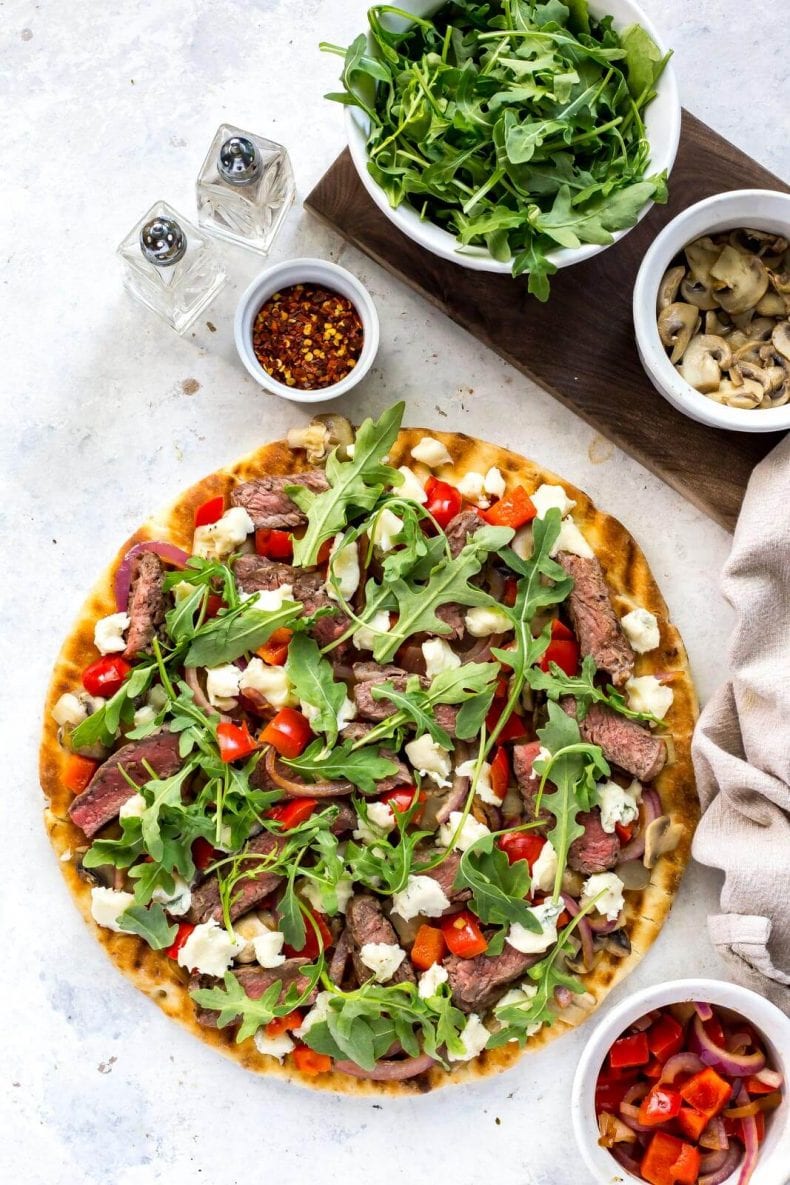 What is flatbread?
Flatbread is a thin bread that's been rolled into flattened dough. It's no more than a few centimetres thick and it's typically unleavened, which means it's made without yeast (unlike traditional pizza dough and pita bread). Fun fact: it's thought to be one of the earliest types of bread ever made!
Is flatbread healthy?
Flatbread is definitely one of the healthier types of bread. It generally has less calories, less fat and more fibre. Check the nutritional information on the various types of flatbread at the store to make sure you're getting the healthiest version.
Storing and reheating
If you have any leftover slices of flatbread, you can store them in the fridge for up to 3 days in an airtight storage container.
The best way to reheat them is by placing them on a baking sheet and heating them in the oven at 350°F until warmed. This will ensure that the crust remains crisp and the toppings are heated. You can also reheat the flatbread slices in the microwave for 2-3 minutes, but the crust will likely be soggy.
Freezing this dish
This flatbread is definitely freezer-friendly! Flatbreads freeze really well – all you have to do is assemble your flatbread as instructed, leaving out the cheese and arugula, then place them in the freezer instead of the oven!
Flatbread will last in the freezer for up to two months, making it an easy make-ahead dinner idea! Imagine all the money you'll save on last-minute pizza delivery orders when you have a delicious flatbread ready for you in the freezer. If you plan on freezing the flatbread, make sure to wrap it in plastic wrap or in a freezer bag (toppings side up) and store it in the freezer.
When you're ready to enjoy your dish, remove the plastic wrap and pop the flatbread into the oven directly from the freezer. Keep your flatbread in the oven 15-20 minutes. Once it's cooked, add the arugula and cheese and enjoy!
Wanna Learn How To Meal Prep?
My meal planning service, Dinner Prep Pro, removes the guesswork and helps you get dinner on the table in 15-20 minutes each night. My meal prep checklists only take 1 hour each week!
More flatbread and pizza recipes
Meal prep tools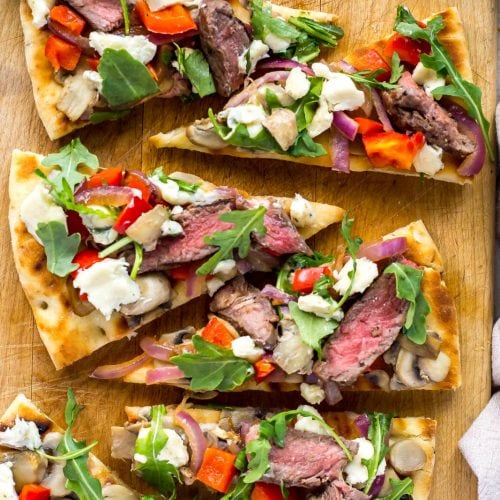 Grilled Steak Gorgonzola Flatbread
This Grilled Steak Gorgonzola Flatbread is a lighter dish made with gorgonzola cheese and fresh veggies that's ready in just 30 minutes!
Print
Pin
Rate
Click Here to Remove Ads
Servings: 4 servings
Calories: 229kcal
Ingredients
1 store bought pizza or flatbread shell
8 oz top sirloin steak (about 1 inch thick)
1 cup gorgonzola cheese sub burrata, buffala mozzarella or goat cheese if you'd like
1 small red onion, sliced
8 oz mushrooms, sliced
1/2 red pepper, chopped
1 cup Arugula
Salt and pepper to taste
Instructions
Preheat BBQ to med-high heat, or preheat oven to 400 F. Season steak with salt and pepper, then when grill is preheated, add steak and grill for 2 minutes per side until cooked medium rare. Alternatively, heat a bit of olive oil in a skillet over medium-high heat and cook steak for 2 minutes per side. Remove steak from heat and let sit at least 10 minutes before slicing.

Meanwhile, add olive oil to a large skillet. Add mushrooms, cooking for 3-4 minutes until mushrooms start to release juices. Add red onion and red pepper and season with salt and pepper, then saute for another 2-3 minutes until softened.

While veggies are cooking, add pre-made pizza/flatbread shell to the grill or oven and cook for 1-2 minutes per side until crust is slightly toasted. Remove from heat and add steak, cheese of choice, sauteed veggies, and then top with arugula. Serve and enjoy!
Nutrition
Calories: 229kcal (11%)Carbohydrates: 12g (4%)Protein: 22g (44%)Fat: 11g (17%)Saturated Fat: 6g (38%)Cholesterol: 55mg (18%)Sodium: 485mg (21%)Potassium: 557mg (16%)Fiber: 2g (8%)Sugar: 3g (3%)Vitamin A: 800IU (16%)Vitamin C: 23mg (28%)Calcium: 187mg (19%)Iron: 2mg (11%)
Join The Girl on Bloor Premium!
ZERO ADS!
Weekly Meal Prep Checklists
Bonus eBooks