These Taco Bell Nacho Fries, aka fries supreme, are smothered in delicious nacho cheese, pico de gallo, ground beef and sour cream.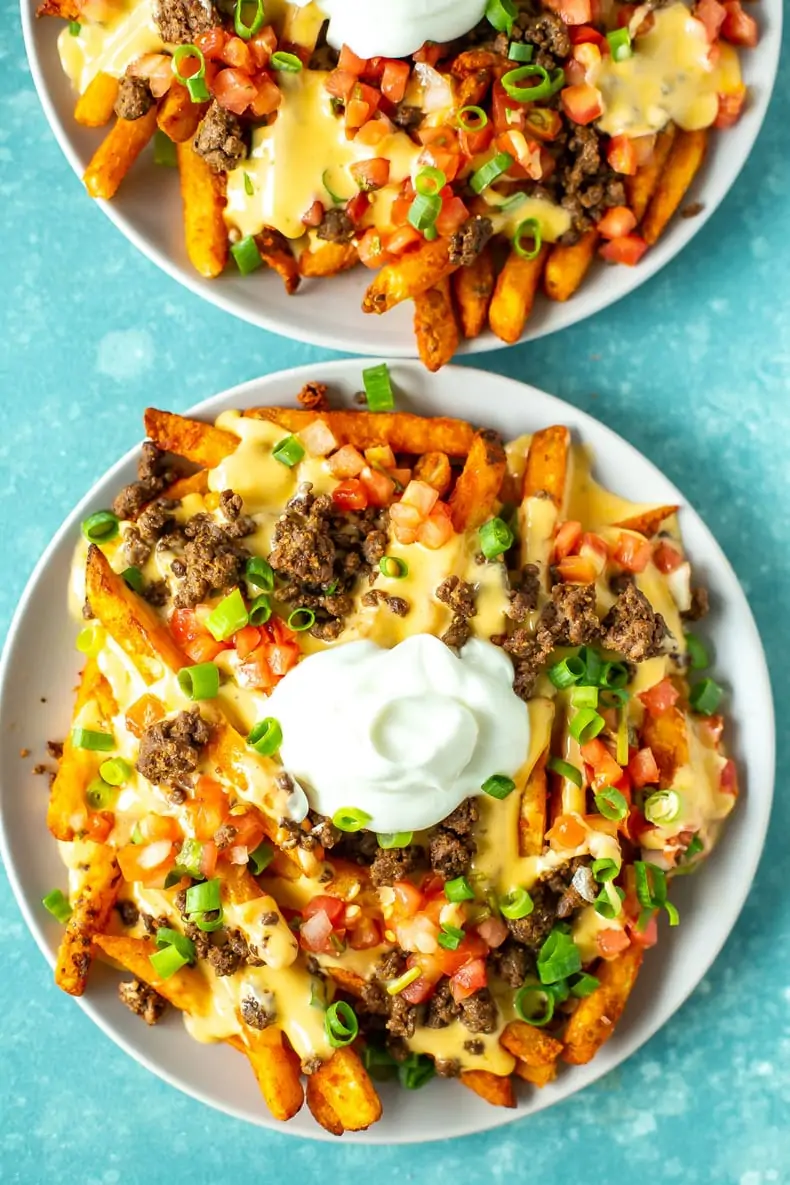 How to make these fries
There are a few different components of these fries so it's just a matter of making each part then putting them all together.
Here's a brief overview of how to make nacho fries (full directions are at the bottom of the page in the recipe card):
Bake oven fries.
Saute ground beef with taco seasoning.
Meanwhile, make cheese sauce by melting butter in a skillet, then whisking in flour, pickled jalapenos, chili powder and salt. Whisk in milk, bring to a boil, then whisk in cheese and stir until melted.
Remove fries from oven and top with cheese sauce, ground beef, pico de gallo, chives and sour cream. Enjoy!
Ingredients and substitutions
extra-lean ground beef – Feel free to substitute ground chicken, turkey, or ground pork. Shredded rotisserie chicken would also be delicious on the fries
taco seasoning – If you don't have any taco seasoning on hand, you can use a combination of chili powder and cumin
spicy seasoned frozen French fries – If you are unable to find pre-seasoned fries, you can use plain fries. See my notes below on how to season them
pico de gallo – Good substitutes include plain diced tomatoes or chunky salsa
scallions – You can substitute chives or finely minced white onion for scallions
sour cream – To cut the fat and calories, you can use low fat or light sour cream. Plain Greek yogurt also makes a great sour cream substitute
For the nacho cheese sauce:
milk – any variety of dairy milk will work, but using milk with a high percentage of fat (like whole milk or even Half & Half) will create the best cheese sauce
pasteurized cheese – I use 10 slices of Kraft singles, but you could substitute them for 6 ounces of Velveeta or 3/4 cup shredded cheddar cheese
Seasoning for the fries
If you can't find seasoned spicy fries in the frozen foods aisle at your local grocery store, it won't be a problem. Just buy a bag of regular French fries.
Then, before you bake them, toss them in a bit of homemade taco seasoning. Even just some chili powder and salt will be perfect.
Calories in this dish vs Taco Bell
Comparing the calorie count for a serving of this dish versus a serving of Nacho Fries Supreme from Taco Bell was actually a little difficult to do. This is because they are not currently on the menu. However, where I live in Canada we have Supreme Fries, which is basically the same thing as the US version called Nacho Fries.
One 227 gram serving of Fries Supreme has 520 calories. If you make it using the same brand of ingredients that I use, one serving of my fries has 486 calories. You are getting more food with my version, so you can rest easy knowing you're saving calories AND staying fuller for longer with more food.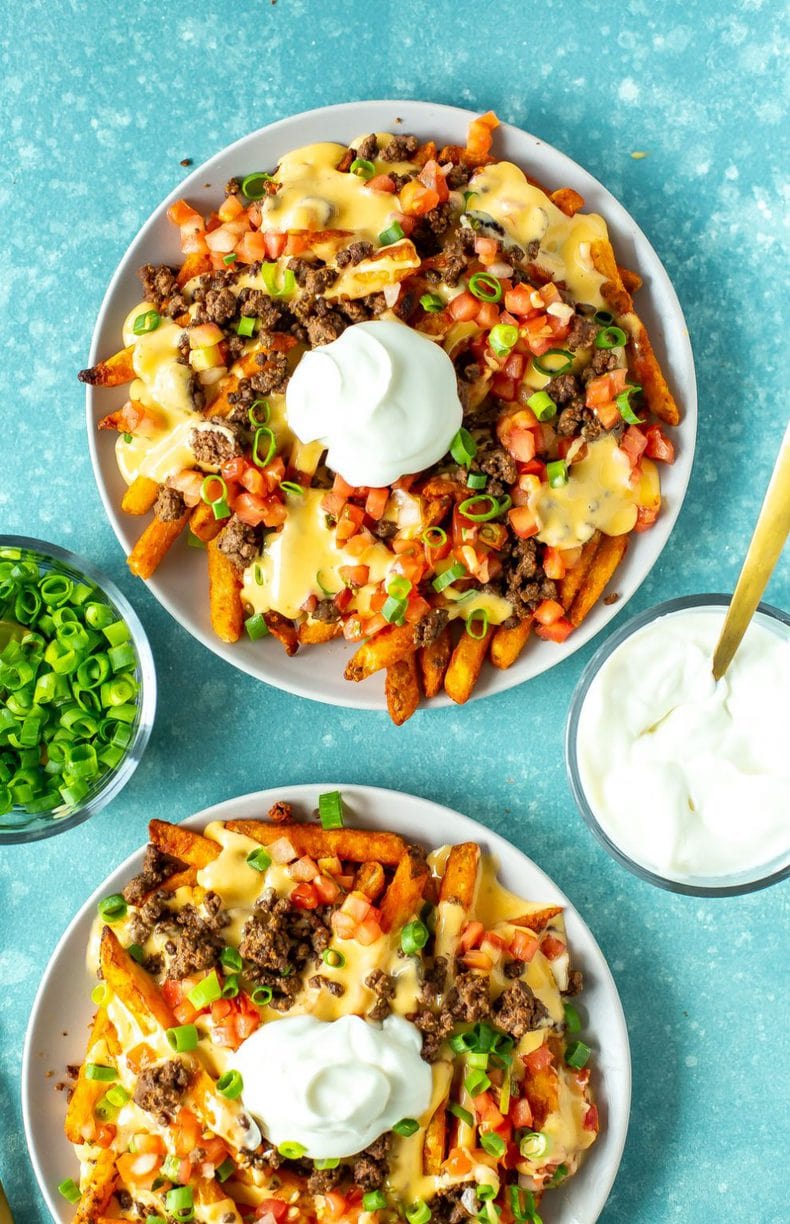 Storing and reheating
When you make a dish that has a combination of hot and cold components, it can be difficult to reheat without changing the consistency and flavours.
That being said, if you think you may end up with leftovers, you might want to serve the fries at the table with each topping in a separate bowl. Not only will this make it easier to reheat everything later, but it also allows everyone to add whatever toppings to their fries that they like.
Refrigerate any leftovers in covered containers and use them up within 4 to 5 days.
Freezing this recipe
If you would like to, you can freeze the baked nacho fries, the cheese sauce, and the ground beef. Just be sure to store them separately in freezer-safe containers or freezer bags.
Note: Cheese sauce can be frozen, but sometimes, it will separate as it thaws out. If this happens, stir it gently as you reheat it and it should come back together.
To reheat the French fries
Place the fries in a single layer on a rimmed baking sheet and place it into a preheated 375 F. oven. It will take about 15 minutes for the fries to warm through.
To reheat the nacho cheese sauce
The best way to reheat cheese sauce is in a saucepan on the stove, over medium-low heat. To prevent the sauce from separating and/or scorching, it is best to warm it through slowly. Stir it every couple of minutes until it warms and thins out to a pourable consistency.
To reheat the ground beef
You can reheat the meat in a small skillet on the stove top over medium-high heat, or in a microwave on 50% power for about 2-3 minutes.
Another option is to simply spread the ground beef over the French fries and reheat them both in the oven.
Want to Learn How to Meal Prep? Join Dinner Prep Pro!
Our meal planning service removes the guesswork and helps you get dinner on the table in 15-20 minutes each night thanks to our prep ahead checklists. It takes just one hour of ingredient prep on a Sunday!
More restaurant copycat recipes
Meal prep tools for this recipe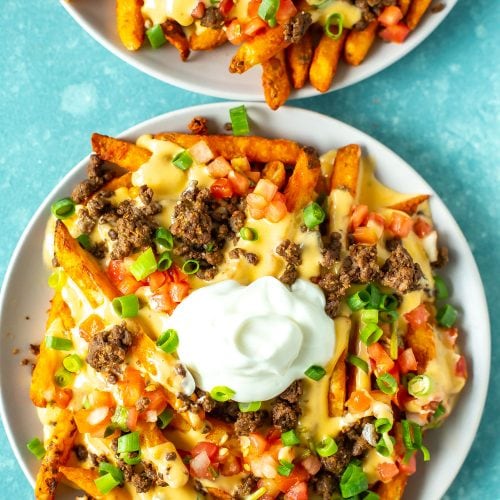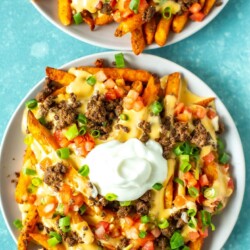 Taco Bell Nacho Fries
These Taco Bell Nacho Fries, aka fries supreme, are smothered in delicious nacho cheese, pico de gallo, ground beef and sour cream. 
Print
Pin
Rate
Servings: 6 servings
Calories: 486kcal
Ingredients
1 lb extra-lean ground beef
1 tbsp taco seasoning
1 (650g) bag frozen fries spicy flavor
1/2 cup pico de gallo
1/4 cup chives or scallions, sliced
1/4 cup sour cream
Nacho cheese sauce
1 tbsp salted butter
1 tbsp flour
2 pickled jalapeno peppers, minced (optional)
1 pinch chili powder
1 pinch salt
1/2 cup milk
10 Kraft singles cheese slices or 3/4 cup cheddar cheese
Instructions
Preheat oven to 450 F. Bake fries on a parchment-lined baking sheet for 10-12 minutes per side or as directed on the package.

Heat a large skillet over med-high heat. Saute ground beef with taco seasoning for 8-10 minutes until fully cooked. Set aside.

Meanwhile, melt butter in a small skillet over medium heat. Whisk in flour, pickled jalapenos, chili powder and salt. Whisk in milk, then bring to a boil, watching closely so it doesn't burn. Whisk in cheese and stir until fully melted. Remove from heat.

Once fries are done, remove from heat and top with cheese sauce, followed by ground beef, pico de gallo, chives and sour cream. Serve and enjoy!
Video
Nutrition
Calories: 486kcal (24%)Carbohydrates: 38g (13%)Protein: 23g (46%)Fat: 28g (43%)Saturated Fat: 11g (69%)Cholesterol: 69mg (23%)Sodium: 848mg (37%)Potassium: 777mg (22%)Fiber: 5g (21%)Sugar: 3g (3%)Vitamin A: 448IU (9%)Vitamin C: 9mg (11%)Calcium: 118mg (12%)Iron: 3mg (17%)