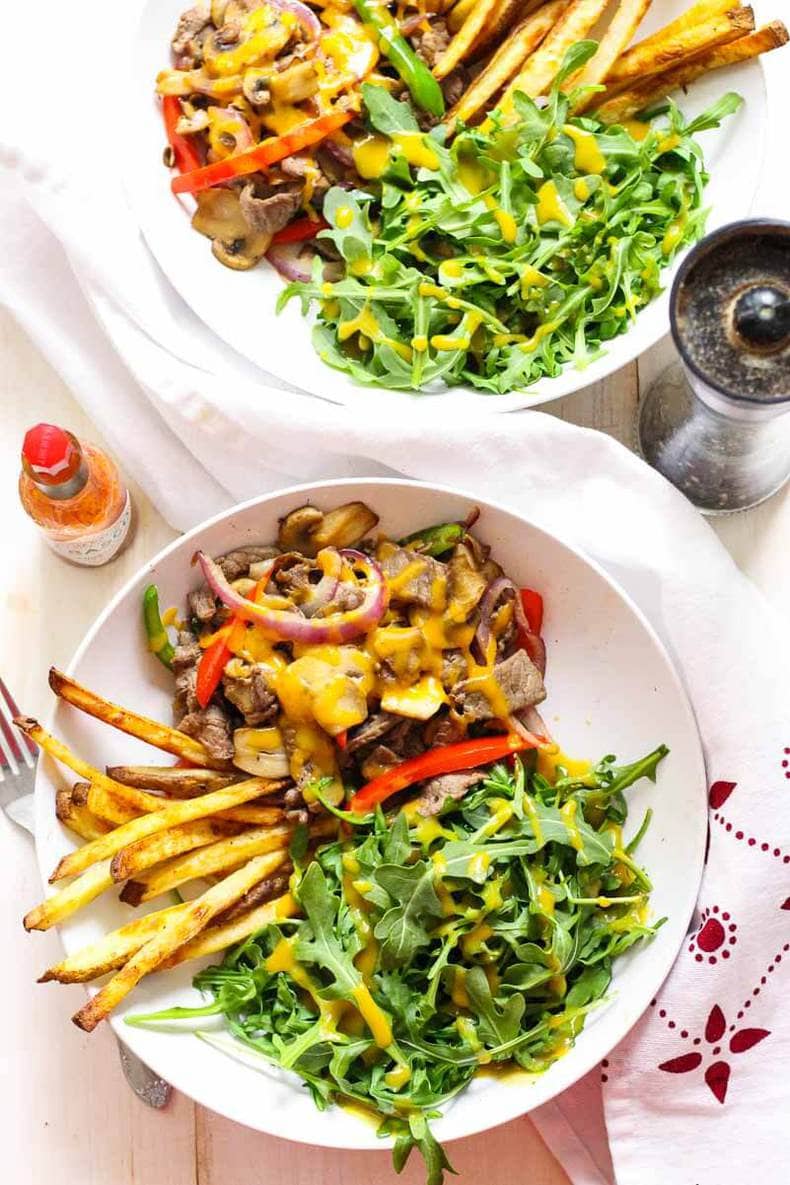 Salad. That was probably one of my least favourite words growing up. Though I'm a giant fan of all kinds of veggies, I really always thought of salads in terms of the same old iceberg wedge with your choice of the same red, Italian or ranch dressings. If you're with me and sick of the same old salad, be fully prepared to be amazed. I'm gonna help you take your salad game to the next level!
Introducing the Philly Cheesesteak Salad Bowl. With oven fries. Hell yeahhhhhh.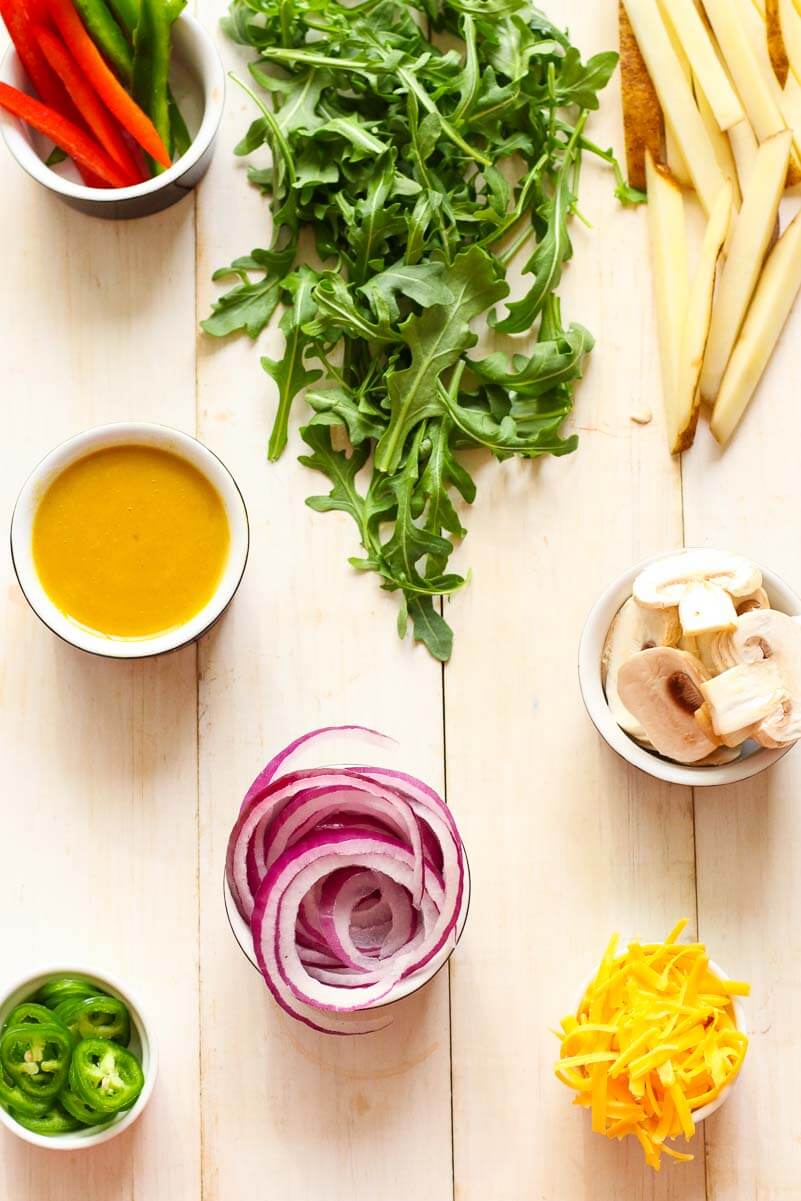 These Philly Cheesesteak Salad Bowls are reminiscent of my favourite sub from Quizno's – you know the one with mushrooms, thin-sliced steak, red onions and a sweet honey-djion dressing? My mouth is already watering just thinking about it. Take out the heavy bread and the processed meat and cheese, and you've got my delicious, wholesome version atop a bed of arugula and healthier russet potato oven fries. Super tasty and low-calorie for a win-win, quick dinner!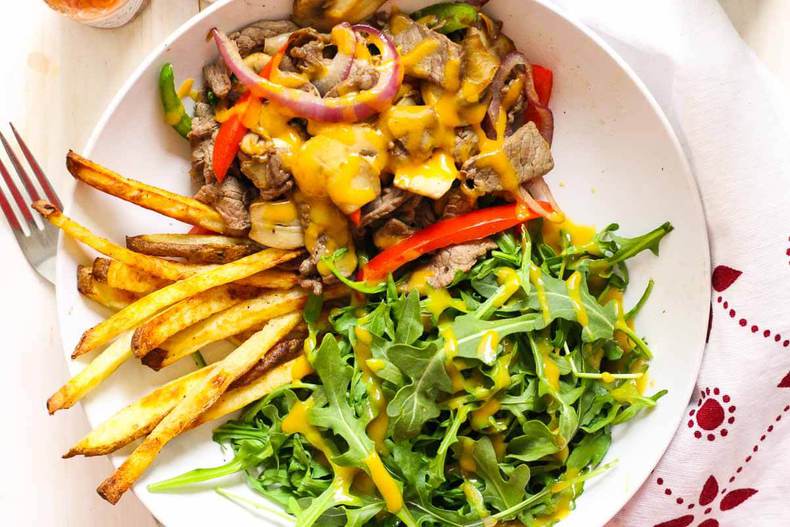 As you can tell I absolutely love my oven fries, but the great part about giant salad bowls is that you can switch things up according to your tastes and dietary needs. I for one am trying to cut down the amount of wheat and bread that I eat for dinner so adding potatoes, quinoa or brown rice is something I've tried to commit to for dinner instead of heavier pastas and other starches.
Now I bet you're wondering about the steak. To be honest, I used a really cheap cut of meat to save money – it's more about the marinade that you use for this recipe and getting the beef as thinly sliced as possible. To get a super thin slice, freeze it for a good hour in order to cut it easier. Also, be sure not to fry it for longer than 2-3 minutes to avoid overcooking it, especially if you're like me and cheaping out. 😉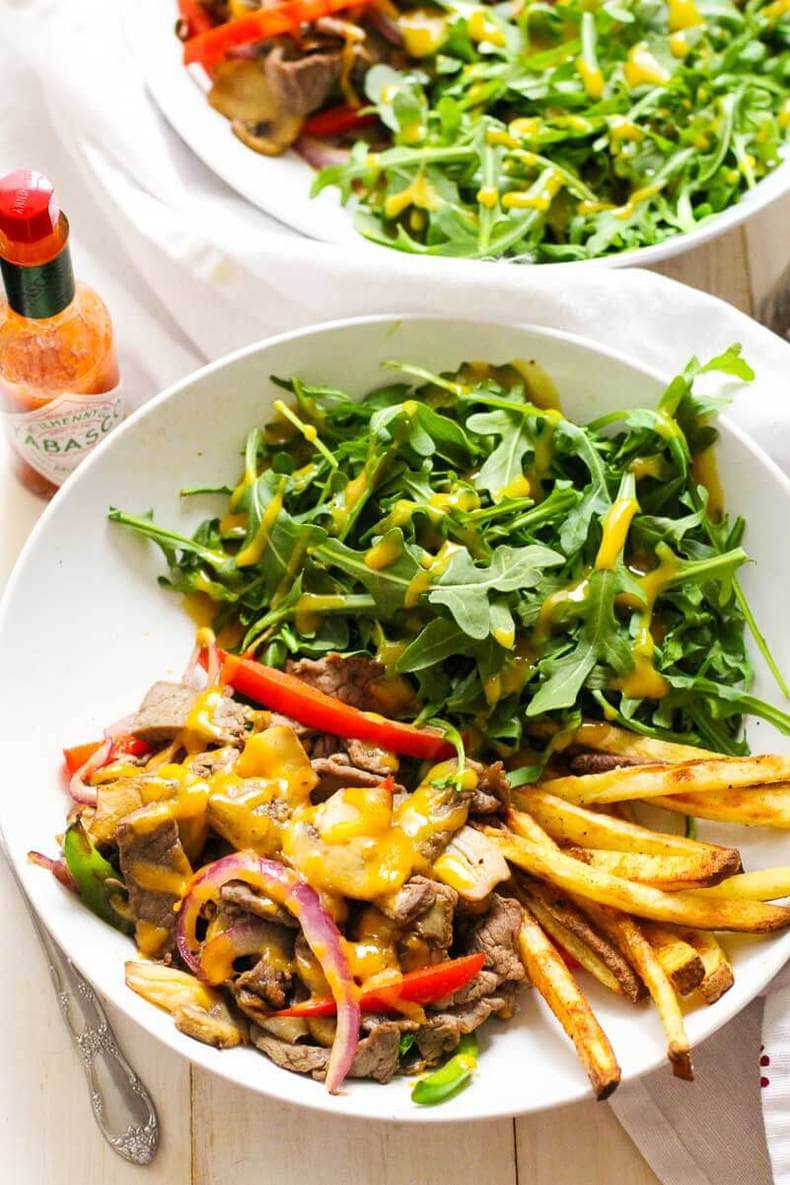 Now as much as I have gone on about the meat and fries, the sautéed veggies are what totally make this delicious bowl and it's important that you have lots of them! I added red and green peppers and red onion, then placed some arugula on the side. You can use any of your favourite kind of greens, or even just stir-fry some more veggies for a completely warm salad bowl. It's really up to you – this bowl is your oyster!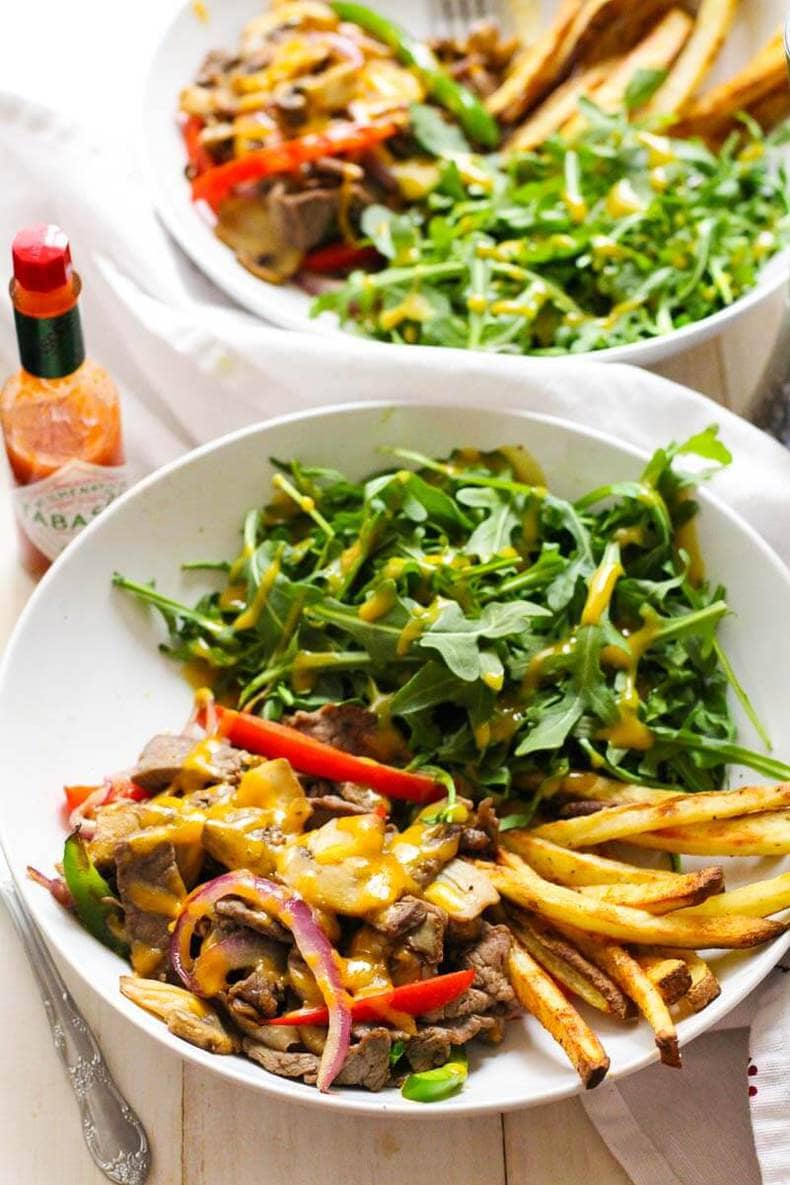 Will you be trying these Philly Cheesesteak Salad Bowls? If you try any of my recipes be sure to let me know on Instagram, Twitter or Facebook – I'd love to hear from you!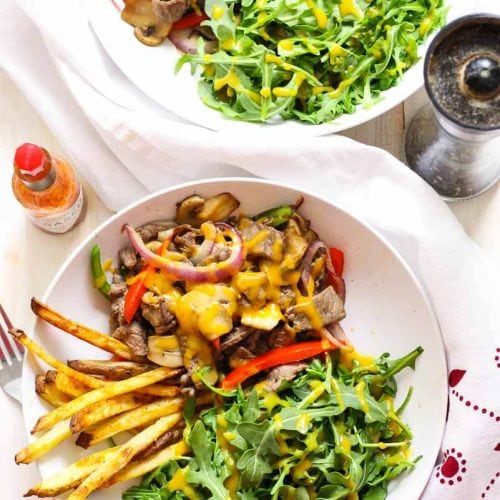 Philly Cheesesteak Salad Bowls
These Philly Cheesesteak Salad Bowls make the easiest 30-minute dinner and totally transform the way you eat salad!
Print
Pin
Rate
Ingredients
1

russet potato

1

tbsp

olive oil

20

mushrooms

sliced

1/2

each red and green pepper

sliced

1/2

red onion

sliced

1/3

cup

shredded cheddar cheese

2

cups

arugula

divided

Salt & pepper to taste
Honey Dijon Dressing
1/3

cup

Dijon mustard

3

tbsp

honey

1/4

tsp

salt

1/4

tsp

pepper
Steak
2

steaks

cut of your choice - I used fast fry sirloin steaks

1

tbsp

olive oil

1

tsp

worcestershire sauce

1/2

tsp

salt

1/2

tsp

pepper
Instructions
Preheat oven to 475 degrees.

Freeze steak for up to an hour. Remove and slice as thinly as possible with a sharp knife. In a large bowl, marinate steak in worcestershire sauce, salt and pepper.

Wash potatoes and cut into thin fries. Soak in water, dry and toss in olive oil, salt and pepper.

Cook in the oven for 12 minutes per side or until fries are crisp.

Meanwhile, stir fry steak on med-high heat for 2-3 minutes. Remove and add veggies, stir frying for 5 minutes. Remove from heat and mix steak and veggies together, topping with cheddar cheese. Broil in oven for 2-3 minutes if necessary.

Add arugula and oven fries to bowl, tossing arugula in honey dijon dressing.

Enjoy!