This One Pot Creamy Mac and Cheese Bar is a great option for your next party and a fun way to jazz up plain old mac and cheese!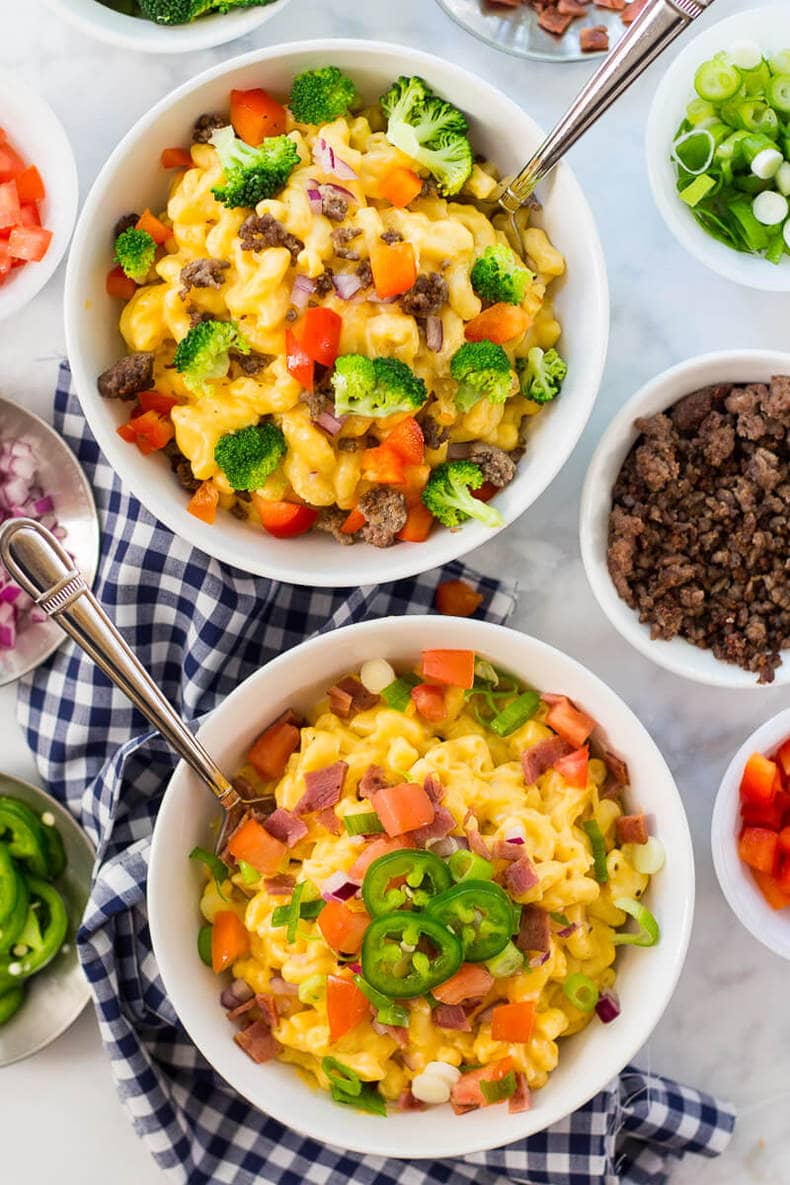 Ingredients and substitutions
Butter – substitute butter for margarine, ghee, oil, heavy cream or cream cheese.
Flour – cornstarch will be a great substitute for flour to thicken the mac and cheese. Potato starch will also work.
2% milk – use any variety of dairy or non-dairy milk for this recipe.
Salt & pepper – to taste.
Macaroni – macaroni pasta is classic but any other short pasta can be a great substitute. I recommend scoobi doo pasta, conchiglie, penne, farfalle or cavatappi pasta as substitutes for macaroni.
Medium cheddar – use cheddar cheese, double the mozzarella cheese, Monterey Jack or Gruyere cheese instead.
Mozzarella cheese – see substitution notes above.
Toppings
Ground beef – any other ground meat or steak cuts can be used.
Bacon – use turkey bacon or real bacon for this recipe
Broccoli – replace with another vegetable of your choice or leave this out altogether.
Green onion – chives would also be yummy.
Red pepper – swap out for yellow or orange pepper instead.
Red onion – white or yellow onion can also be used.
Diced tomatoes – Roma tomatoes are recommended but cherry tomatoes will also work.
Sliced jalapeños – use fresh or pickled sliced jalapenos for a bit of kick.
Skip the Ads and Get Right to the Recipes!
ZERO ADS on over 600 recipes!
Weekly Meal Plans, Grocery & Prep Lists
Bonus eBooks
How to make mac and cheese
Melt the butter.
Add the flour, milk and water.
Bring to a boil then add the pasta.
Prep your desired toppings.
Stir in the cheese, add your toppings and dig in!
How to set up a mac and cheese bar
Mac and cheese is a fan favourite on its own, but having a mac and cheese bar is the perfect way to please everyone at the party! The toppings you can set out on the table are limitless, so everyone can add what they're craving. Setting up your mac n cheese bar is pretty simple – just follow these steps:
Set our bowls and plates.
Add the base mac and cheese to a big pot.
Set out your toppings and sauces with spoons.
Let everyone serve themselves!
Looking for the best mac and cheese bar toppings? Here are some of my faves:
Protein: chili, bacon, ground beef, pulled pork and lobster
Extra cheese: feta, parmesan and goat cheese
Veggies: broccoli, red pepper, sun-dried tomatoes, red onions and sautéed mushrooms
Other: panko, breadcrumbs, olives, beans, chipotle peppers, crushed chili flakes and herbs
Sauces: hot sauce, salsa, ketchup and chipotle sauce

Frequently Asked Questions
What are the best kinds of cheese for mac and cheese?
When it comes to mac and cheese, I like sticking with the classics of medium cheddar and mozzarella. That being said, you really can't go wrong when it comes to what cheese you add! Experiment with different varieties of cheese like Monterey Jack, gruyere, feta, parmesan and even goat cheese.
What condiments can I add?
You can add whatever condiments you want to your mac and cheese bar. While ketchup is a classic, you can also try adding in some hot sauce, salsa or chipotle sauce – the options are endless! I like setting out a wide variety of options so people have lots to choose from.
Who invented mac and cheese?
Traditional mac and cheese (not the boxed KD kind) dates all the way back to the 13th century in Italy, the home of all things delicious! It grew in popularity across Europe and was eventually brought across the pond to the New England area where it was served as a kind of casserole.
Is this recipe healthy?
Mac and cheese is obviously an indulgent dish, but there are a few ways you can make your mac and cheese healthier. Use margarine or olive oil instead of butter, swap out the milk for skim milk and go easy on the high-calorie mac and cheese bar toppings.
Storing and reheating
I find that a mac and cheese bar is so popular, there are rarely any leftovers once the party's ended! If you do happen to have leftovers, this mac and cheese makes the best leftover lunches and dinners for the rest of the week.
Store the mac and cheese in individual servings or in one large container – the individual servings will be easier when it comes to reheating. Before refrigerating, let the macaroni and cheese cool down to room temperature then store it in the fridge for up to 5 days. Make sure to store any mac and cheese bar toppings separately.
When you're ready to enjoy the dish, reheat the mac and cheese in the microwave for 1-2 minutes until warm. Reheat any toppings, mix them in and enjoy.
Can you freeze mac and cheese?
You sure can! Double the amount of mac and cheese you're making and store the rest in the freezer for up to 2 months. That way, you can use half for your mac and cheese bar, and keep half to freeze for later. Before freezing, make sure the macaroni and cheese has cooled completely, then divide it into airtight containers or freezer-safe Ziploc bags.
When you're ready to enjoy your frozen mac and cheese, thaw it in the fridge overnight and then microwave until warm. If you have the extra time, for best results you can reheat the mac and cheese in the oven at 375° Fahrenheit. Serve with your favourite toppings and dig in.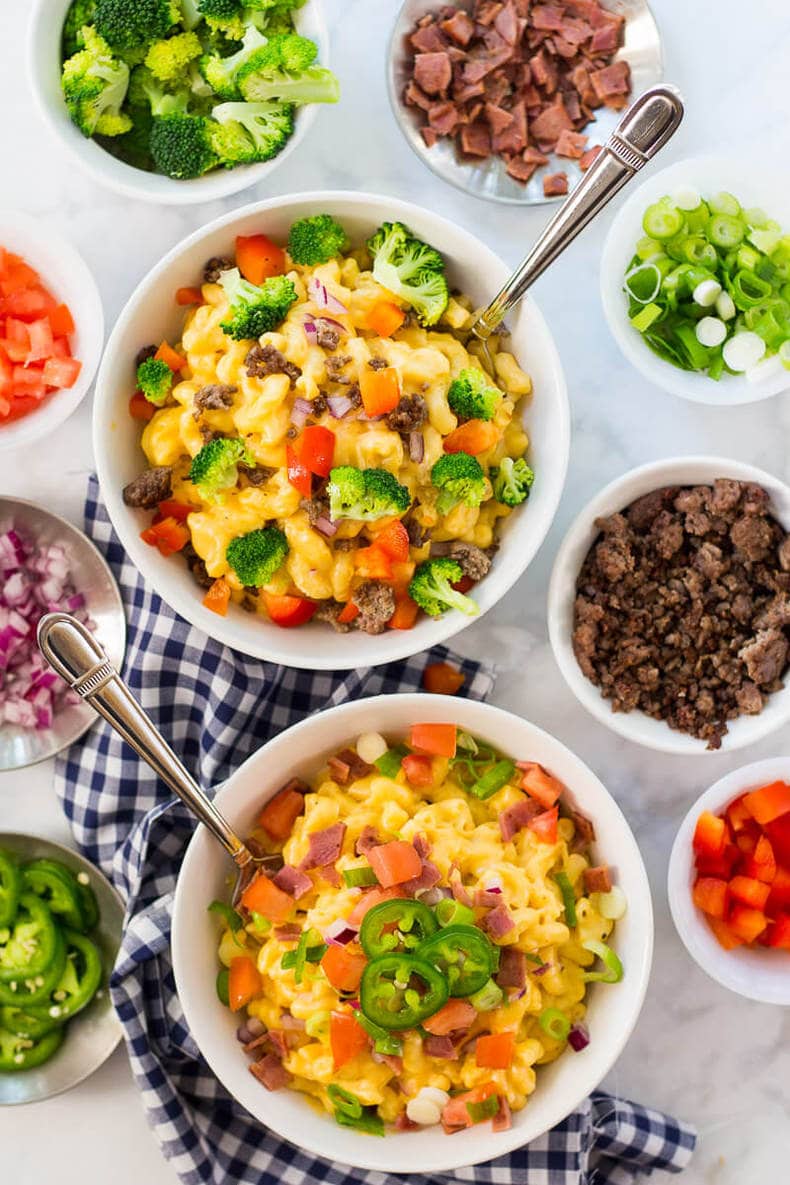 Wanna Learn How To Meal Prep?
My meal planning service, Dinner Prep Pro, removes the guesswork and helps you get dinner on the table in 15-20 minutes each night. My meal prep checklists only take 1 hour each week!
More mac and cheese recipes
Meal Prep Tools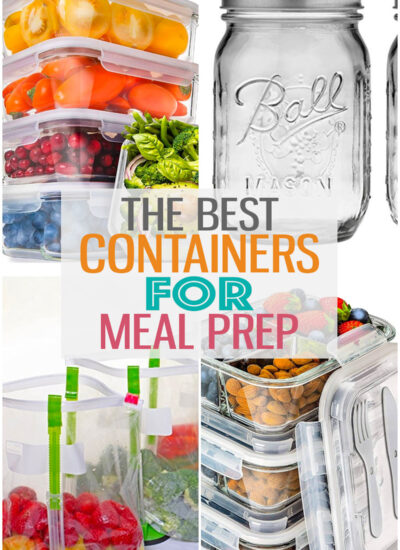 One Pot Creamy Mac and Cheese Bar
This One Pot Creamy Mac and Cheese Bar is a great option for your next party and a fun way to jazz up plain old mac and cheese!
Print
Pin
Rate
Click Here to Remove Ads
Servings: 8 servings
Calories: 418kcal
Ingredients
2 tbsp butter
2 tbsp flour
3 cups 2% milk
4 cups water
1/4 tsp salt
1/8 tsp pepper
450 g macaroni
1 cup medium cheddar
1 cup mozzarella cheese
Topping Ideas
ground beef
bacon
Broccoli
green onion
red pepper
red onion
Diced tomatoes
Sliced jalapeños
Instructions
In a large, deep pot, melt butter over medium-high heat. Add flour, whisking frequently. Add milk 1 cup at a time, whisking to remove lumps and stirring until thickened.

Add water, bringing the mixture to an almost boil. Add salt and pepper, then pasta, stirring frequently and cooking for 10-11 min.

Meanwhile, fry ground beef and/or bacon until cooked through. Prepare other desired toppings.

When pasta is al dente, stir in all four cheeses and mix well. Remove from heat and serve alongside toppings.
Notes
Mix and match with your favourite toppings including different kinds of cheese, protein and veggies. Store the leftovers in the fridge for up to 5 days then reheat in the microwave for 1-2 minutes. Freeze this mac and cheese for up to 2 months. Thaw in the fridge overnight then microwave or reheat in the oven at 375° F.
Nutrition
Calories: 418kcal (21%)Carbohydrates: 22g (7%)Protein: 24g (48%)Fat: 25g (38%)Saturated Fat: 14g (88%)Polyunsaturated Fat: 1gMonounsaturated Fat: 5gCholesterol: 76mg (25%)Sodium: 679mg (30%)Potassium: 325mg (9%)Fiber: 1g (4%)Sugar: 5g (6%)Vitamin A: 550IU (11%)Vitamin C: 15.7mg (19%)Calcium: 500mg (50%)Iron: 1.1mg (6%)
Join The Girl on Bloor Premium!
ZERO ADS!
Weekly Meal Prep Checklists
Bonus eBooks