This Roasted Vegetable Flatbread will satisfy all your pizza cravings with delicious toppings like portobello mushrooms and fresh mozzarella.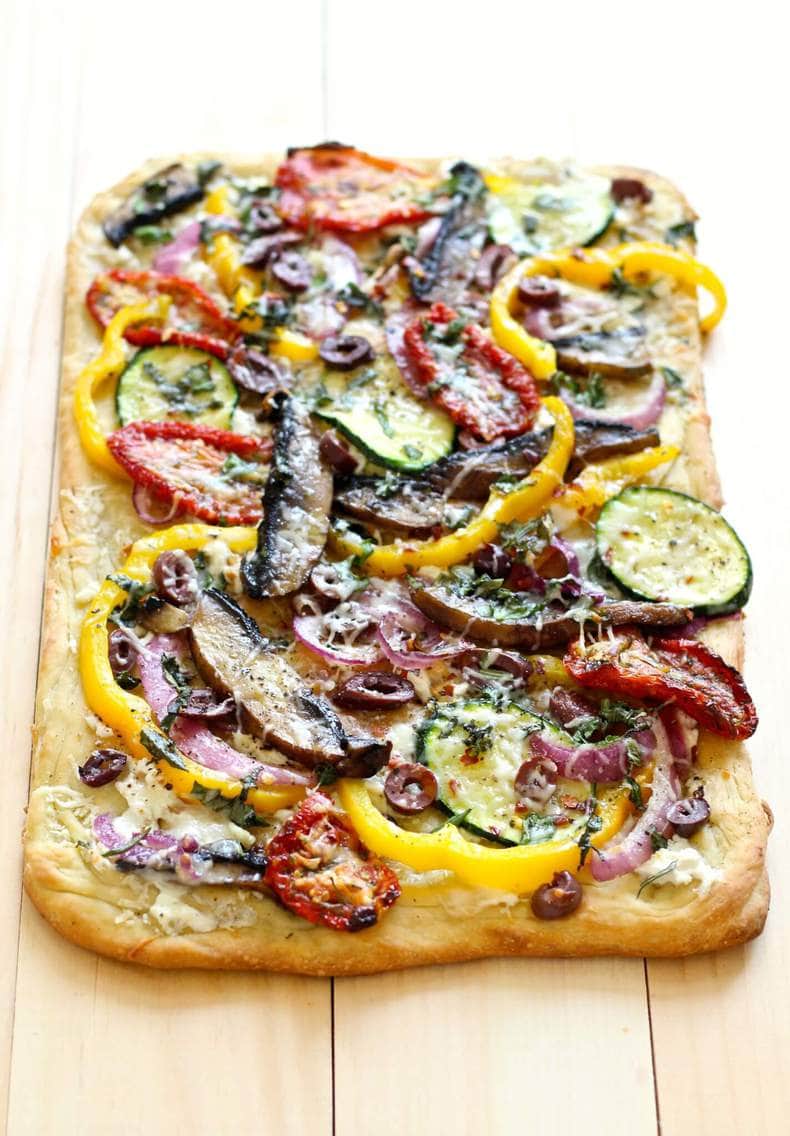 Ingredients and substitutions
Pizza dough – store bought pizza dough will be the easiest to use in this recipe. If you enjoy making your own pizza dough, feel free to do so. And if you're gluten intolerant or looking for a low-carb meal, use cauliflower crust instead.
Olive oil – any neutral oil like sunflower oil, avocado oil and grapeseed oil can work in this recipe.
Garlic – use fresh garlic or jarred minced garlic.
Portobello mushrooms – if you can't find portobello mushrooms, you can also use brown or white crimini mushrooms, white or brown button mushrooms or shiitake mushrooms.
Zucchini – yellow squash would pair nicely with this recipe or you can leave this out altogether.
Sundried tomato – roasted red pepper would be a good replacement.
Red onion – white onion, yellow onion or shallots can be used instead of red onion.
Yellow pepper – use another bell pepper colour of your choice. Opt for either red or orange bell peppers first as they have a sweetness similar to yellow bell peppers.
Salt & pepper – to taste.
Ricotta cheese – goat cheese, feta cheese or cottage cheese would all be yummy.
Basil – to garnish.
Rosemary – to garnish.
Parmesan cheese – try nutritional yeast or leave this out altogether.
Mozzarella cheese – fresh pizza mozzarella will melt the best but you can use any cheese of your choice like goat cheese or leave out altogether.
How to make this flatbread
Roll out the pizza dough and cook for 8-10 minutes.
Slice and roast the vegetables.
Add the ricotta cheese, veggies and cheese to the dough.
Cook for 12-15 minutes until the cheese has melted.
Serve and enjoy!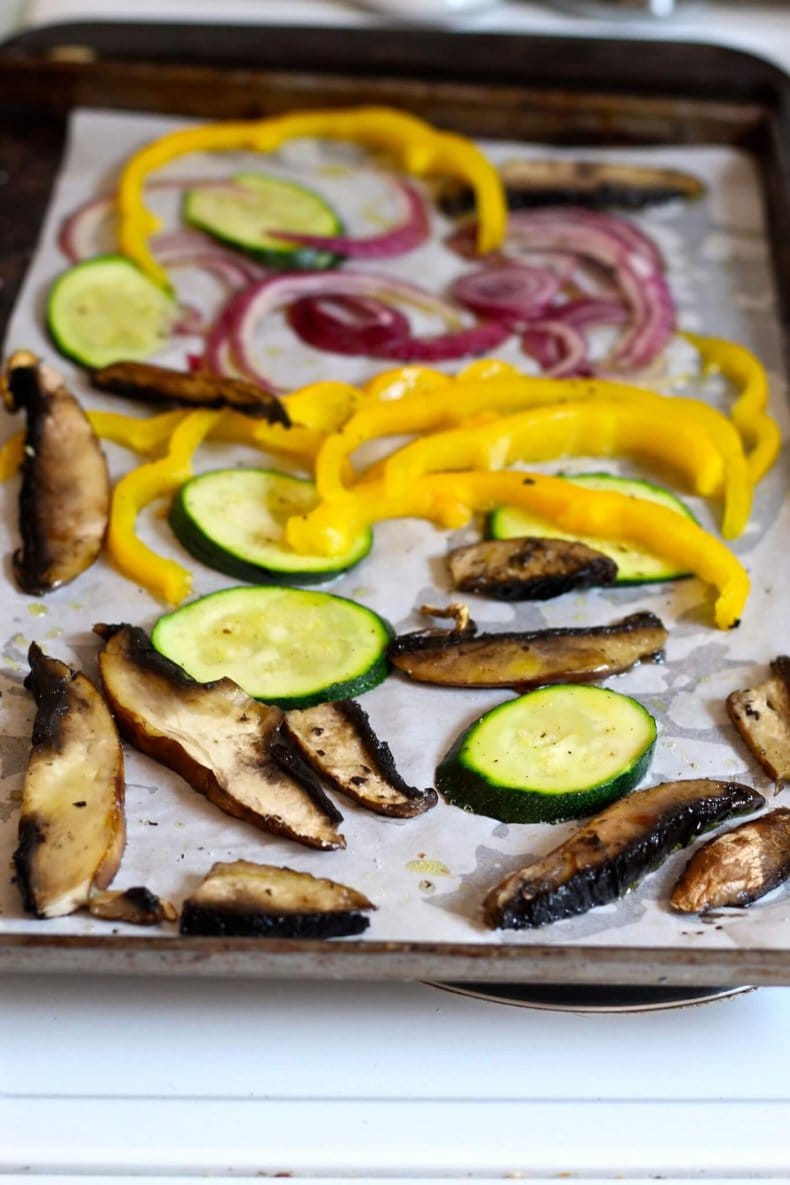 Flatbread topping ideas
One of the great parts of this recipe is you can mix up the ingredients to whatever you're craving or whatever leftover veggies you have in your fridge. Try mixing up the veggies and cheese or even try adding some protein like chicken or steak. The options are endless when it comes to flatbread toppings!

Frequently Asked Questions
What is flatbread pizza?
Flatbread pizza typically has a thinner and crispier crust with more creative toppings. It also usually doesn't have the same traditional tomato sauce base as a regular pizza.
How many carbs are in this recipe?
This recipe has 54 grams of carbs per serving. If you want to reduce the carb count even more, you can typically find low-carb flatbread options at the health food store or make your own low-carb flatbread.
Is flatbread pizza better for you than regular pizza?
This flatbread is definitely better for you than your typical double-cheese, double-pepperoni order from the pizza place down the street. Flatbread also tends to be healthier as it doesn't have a saucy base and has lots of fresh veggies on top.
Storing and reheating
You can store any leftover flatbread in the fridge for up to 3 days in an airtight glass container. The best way to reheat them is to place them on a baking sheet in the oven at 350°F until they are warmed all the way through. You can reheat them in a microwave for 2-3 minutes, but the crust will likely be soggy.
Freezing this recipe
This dish is definitely freezer friendly! Flatbreads freeze really well – all you have to do is assemble your flatbread as instructed and then place them in the freezer instead of the oven! Once you've placed your flatbread in the freezer it will last for up to two months. Talk about an easy, last minute dinner idea!
If you plan on freezing your flatbread, make sure to wrap it in plastic wrap or in a freezer bag (toppings side up, of course) and then store it in the freezer. When you're ready to enjoy your dish, remove the plastic wrap and pop the flatbread into the oven directly from the freezer. Keep your flatbread in the oven 12-15 minutes until the cheese has melted.
Wanna Learn How To Meal Prep?
My meal planning service, Dinner Prep Pro, removes the guesswork and helps you get dinner on the table in 15-20 minutes each night. My meal prep checklists only take 1 hour each week!
More flatbread & pizza recipes
Meal prep tools for this recipe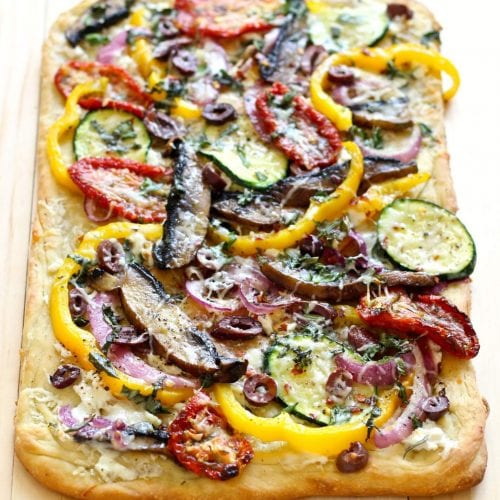 Roasted Vegetable Flatbread
This Roasted Vegetable Flatbread will satisfy all your pizza cravings with delicious toppings like portobello mushrooms and fresh mozzarella.
Print
Pin
Rate
IN A CYCLE OF EATING POORLY?We've got you covered with our free Routine Revamp mini course! You'll receive 8 lessons and free coaching with us! Register👇
Join Routine Revamp!
Servings: 4 servings
Calories: 414kcal
Ingredients
1 storebought pizza crust
2 tbsp olive oil divided
2 cloves garlic minced
1 portobello mushroom
1/2 medium zucchini
7-8 sundried tomato slices
1/2 red onion sliced
1/2 yellow pepper sliced
1/2 tsp salt
1/2 tsp pepper
1/3 cup ricotta cheese
2 tbsp fresh basil chopped
1/2 tsp dried rosemary
1/2 cup Parmesan cheese
1/2 cup mozzarella cheese
Instructions
Preheat oven to 500 degrees.

Brush pizza crust with 1 tbsp olive oil and season with salt & pepper, topping with garlic. Cook for 8-10 minutes.

Meanwhile, slice vegetables. Add vegetables to a non-stick baking sheet, seasoning with salt and pepper and drizzling remaining tbsp of olive oil overtop. Roast in the oven for 5 min.

Once dough is finished, remove from oven and add ricotta cheese as the first layer, then add vegetables, herbs & and other cheeses.

Cook for another 12-15 minutes until cheese is melted and pizza dough is fully cooked. Serve and enjoy!
Notes
Mix up the toppings to whatever you have in your fridge. Cook the pizza dough for 8-10 minutes before adding the toppings to get that amazing crunchy texture. Store your leftovers in the fridge for up to 3 days then reheat on a baking sheet in the oven at 350°F. Wrap your flatbread in plastic wrap or a freezer-safe Ziploc and freeze for up to 2 months. Pop it in the oven and reheat for 12-15 minutes until the cheese has melted.
Nutrition
Calories: 414kcal (21%)Carbohydrates: 54g (18%)Protein: 15g (30%)Fat: 16g (25%)Saturated Fat: 5g (31%)Cholesterol: 20mg (7%)Sodium: 1172mg (51%)Potassium: 357mg (10%)Fiber: 3g (13%)Sugar: 9g (10%)Vitamin A: 352IU (7%)Vitamin C: 35mg (42%)Calcium: 171mg (17%)Iron: 3mg (17%)
Don't wait until January to eat healthy!Sign up for our free Routine Revamp mini course!
Join Routine Revamp!