This Steak and Quinoa Burrito Bowl with pico de gallo and corn salsa is a delicious lunch idea you can meal prep, and is inspired by Chipotle!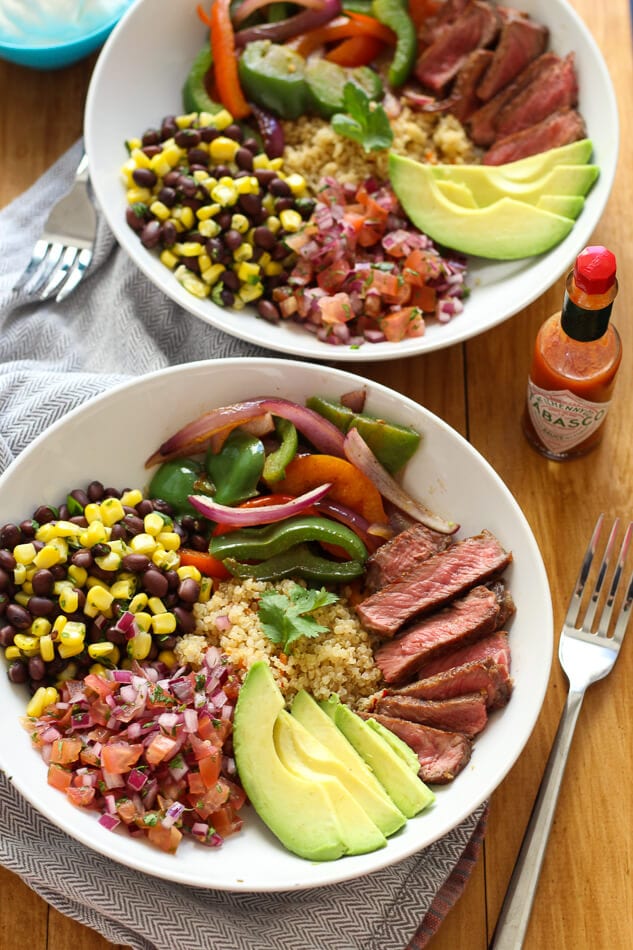 How to make this recipe
Making these quinoa burrito bowls is relatively easy, but there are multiple components. You can make everything all at the same time, or you can prep different ingredients, such as the quinoa and salsas, ahead of time so that it's quicker and easier to throw together.
Here's how to make these burrito bowls:
Make your quinoa.
Meanwhile, mix together the ingredients for the corn salsa and pico de gallo.
Cook the steak until medium-rare, then cut across the grain.
After the steak is finished, fry the veggies in the same pan.
Now put your bowl together!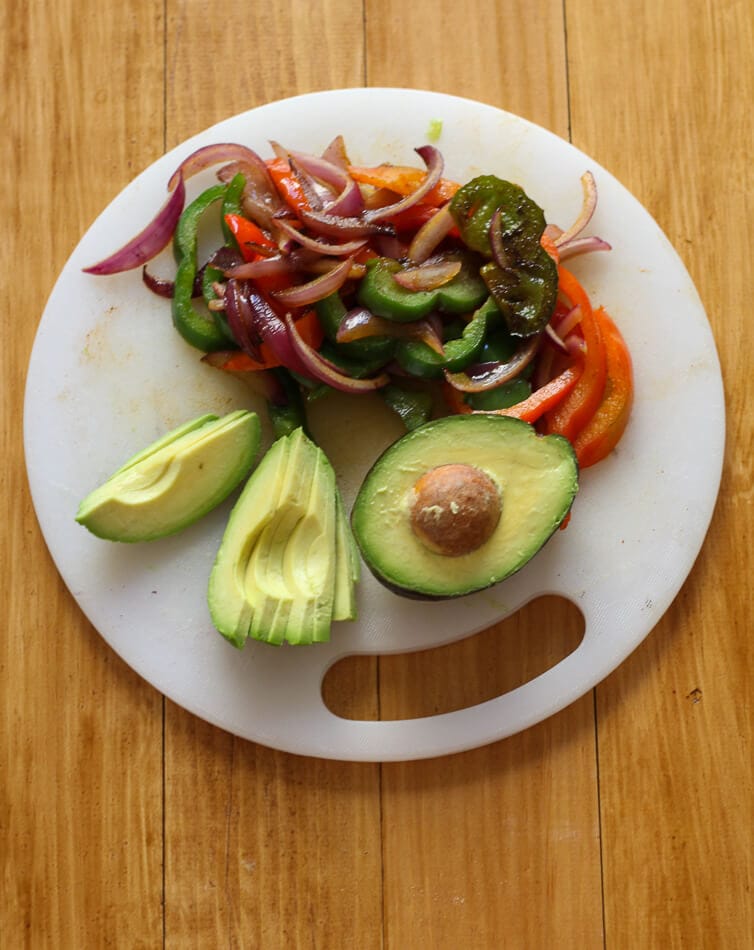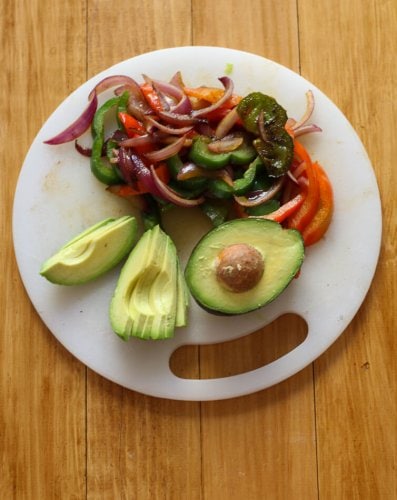 Skip the Ads and Get Right to the Recipes!
ZERO ADS on over 600 recipes!
Weekly Meal Plans, Grocery & Prep Lists
Bonus eBooks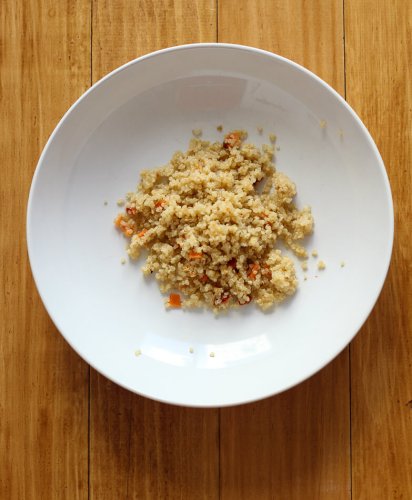 Cooking quinoa perfectly
Quinoa requires a ratio of 2:1 – in this case, you'll want to use double the water for each part of quinoa that you add. In this recipe, you'll use 1 cup of water, and 1/2 cup of quinoa. You could also use 2 cups of water and 1 cup of quinoa if you'd like a bit of extra quinoa for your other meal preps.
I typically use a rice cooker because you just have to add your water and quinoa, then press a button. No stirring, no fuss, no muss. Cooking it on the stovetop means you have to watch it a bit more, but as long as you use some butter to prevent sticking you will be fine! A pinch of salt helps bring out some flavour but it's not necessary.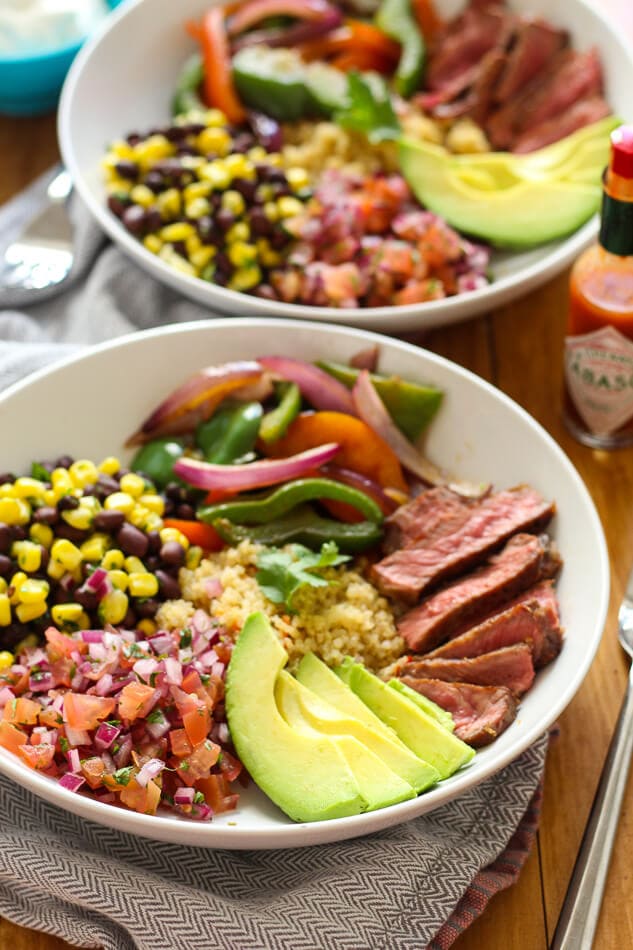 Ingredient substitutions
Here's what you can sub in and out of this recipe – these steak burrito bowls are very versatile!
Steak – You can use chicken, shrimp or ground beef in this recipe. Whichever protein you prefer will work great with the other flavours in these bowls!
Quinoa – You can leave out the quinoa or use rice if you'd like a traditional burrito bowl. Lettuce and/or cabbage make for a better low carb base.
Veggies – I sauteed bell peppers and onion, but you can saute whichever veggies you'd like or just leave the extra veggies out altogether. You'll get lots with the salsas.
Salsas – I typically buy store bought pico de gallo to save time, then I just add black beans and corn without turning the two ingredients into a salsa to save time. Feel free to use whichever type of salsas you'd like with these bowls!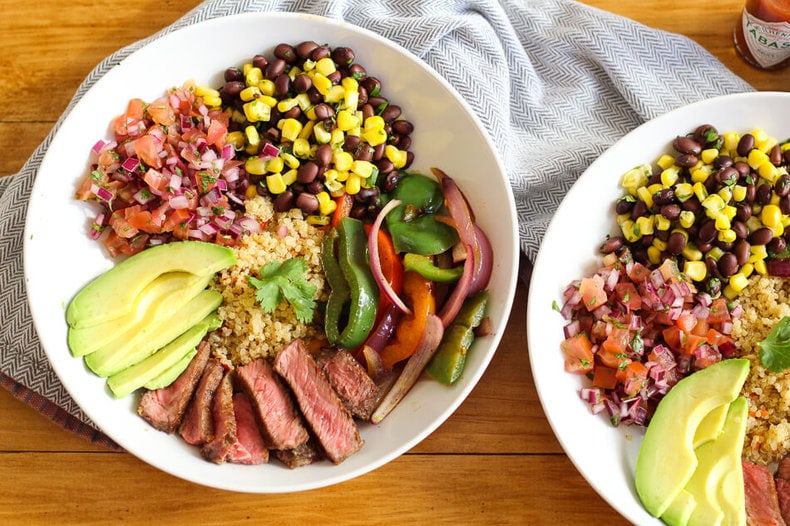 Storing and reheating
You can store the leftovers of these bowls in glass containers up to 5 days in the fridge. I typically eat the leftovers cold as it's not recommended to reheat the salsas and you don't want the steak to become overcooked, but you could throw it in the microwave for 1-2 minutes if you really want a hot meal.
Freezing the quinoa
You can't freeze much of this recipe except for the quinoa. To store leftover quinoa, wait for it to come to room temperature then store in a glass bowl with a lid. Defrost in the fridge overnight, or microwave for 4-5 minutes, stirring halfway through.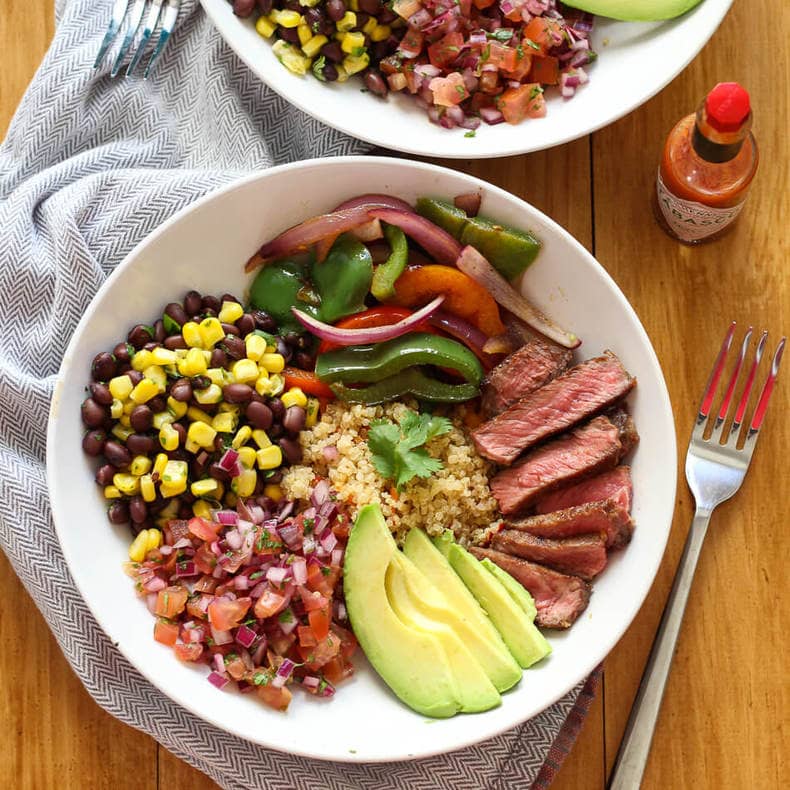 Wanna Learn How To Meal Prep?
My meal planning service, Dinner Prep Pro, removes the guesswork and helps you get dinner on the table in 15-20 minutes each night. My meal prep checklists only take 1 hour each week!
More quinoa recipes
Meal prep tools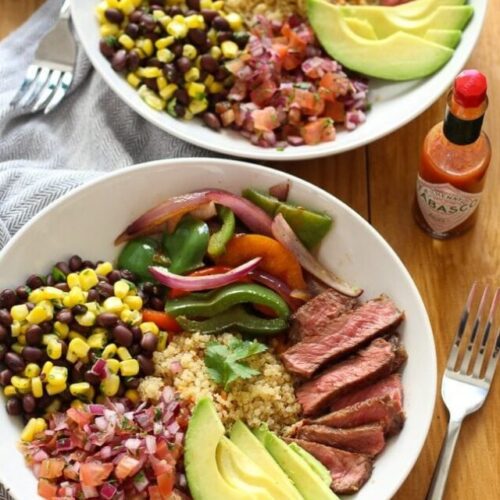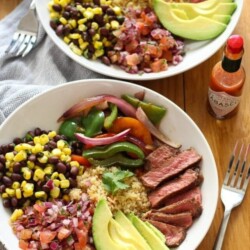 Steak Quinoa Burrito Bowl
This Steak and Quinoa Burrito Bowl with pico de gallo and corn salsa is a delicious lunch idea you can meal prep, and is inspired by Chipotle burrito bowls!
Print
Pin
Rate
Click Here to Remove Ads
Servings: 4 people
Calories: 549kcal
Ingredients
2 tbsp olive oil divided
16 oz sirloin steak
1 red pepper, sliced
1 green pepper, sliced
1 red onion, sliced
1 avocado
Quinoa
1 cup water
1/2 cup quinoa
1 tsp butter
1 pinch salt
Corn Salsa
1 cup corn
1 can black beans rinsed and drained
1 tbsp lime juice
2 tbsp cilantro chopped
1/2 tsp salt
Pico de Gallo
2 tomatoes diced
1 small onion finely diced
1 tbsp lime juice
2 tbsp cilantro finely chopped
1/2 tsp salt
Instructions
Make your quinoa in a rice cooker or in a pot on the stove.

Meanwhile, mix ingredients for corn salsa and pico de gallo together.

On med-high heat, add 1 tbsp olive oil to a large frying pan. When pan is smoking, add the steak and cook on high for approximately 2-3 minutes each side, depending on the thickness of your steak. When the steak is somewhat firm and not super squishy, I usually take it off. Be sure to let it rest for AT LEAST 5 minutes before slicing it across the grain!

After the steak is finished, keep the frying pan on the heat, add remaining tbsp of olive oil and add the veggies, sautéing for about 5 minutes and stirring every once in a while.

Now put your bowl together! Add sliced steak, stir-fried veggies, salsas and sliced avocado in a circle around the quinoa in the middle of the bowl.

Add your fave hot sauce, sour cream, cilantro and salsa as garnishes and enjoy!
Nutrition
Calories: 549kcal (27%)Carbohydrates: 51g (17%)Protein: 37g (74%)Fat: 23g (35%)Saturated Fat: 5g (31%)Cholesterol: 72mg (24%)Sodium: 1289mg (56%)Potassium: 1383mg (40%)Fiber: 14g (58%)Sugar: 8g (9%)Vitamin A: 1787IU (36%)Vitamin C: 84mg (102%)Calcium: 84mg (8%)Iron: 5mg (28%)
Join The Girl on Bloor Premium!
ZERO ADS!
Weekly Meal Prep Checklists
Bonus eBooks