30 Minute Steak and Quinoa Burrito Bowl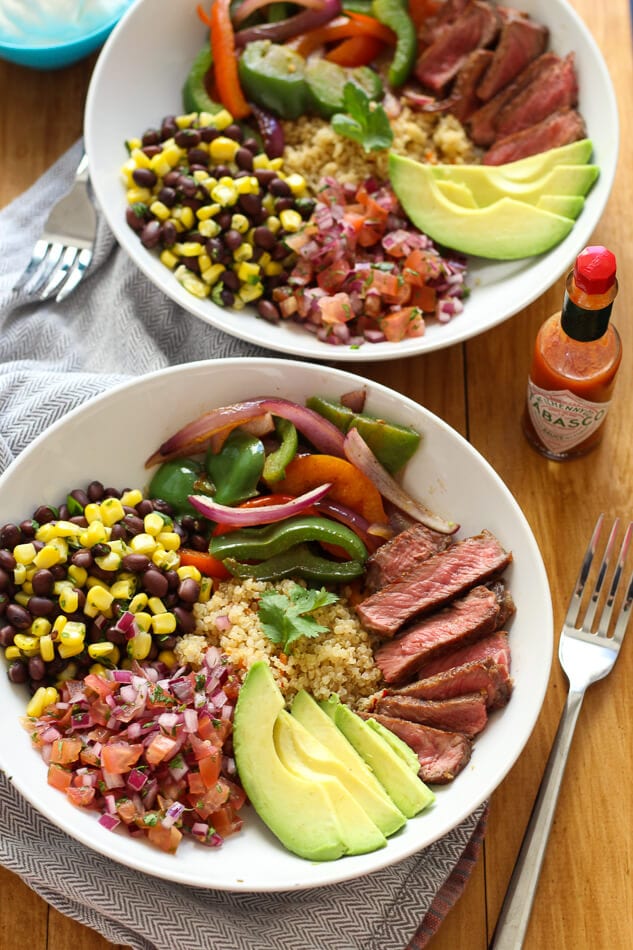 Steak was on sale the other day at our local grocery store and let me tell you: I was excitedddd. Like probably way more excited than I should have been. Whenever I went home to visit my parents when I was finishing my bachelor's degree, my dad would always joke around and pull a big steak out of the freezer for us to have for dinner. Starving student I believe he would say…
Even as an adult who has a bit more spending money, I still get excited when I think about steak for dinner. When I'm at home making dinner for myself, however, I'm always tempted to spice things up, as
opposed to just doing a plain Steak & Frites sort of deal. Here's where the Steak and Quinoa Burrito Bowl comes in…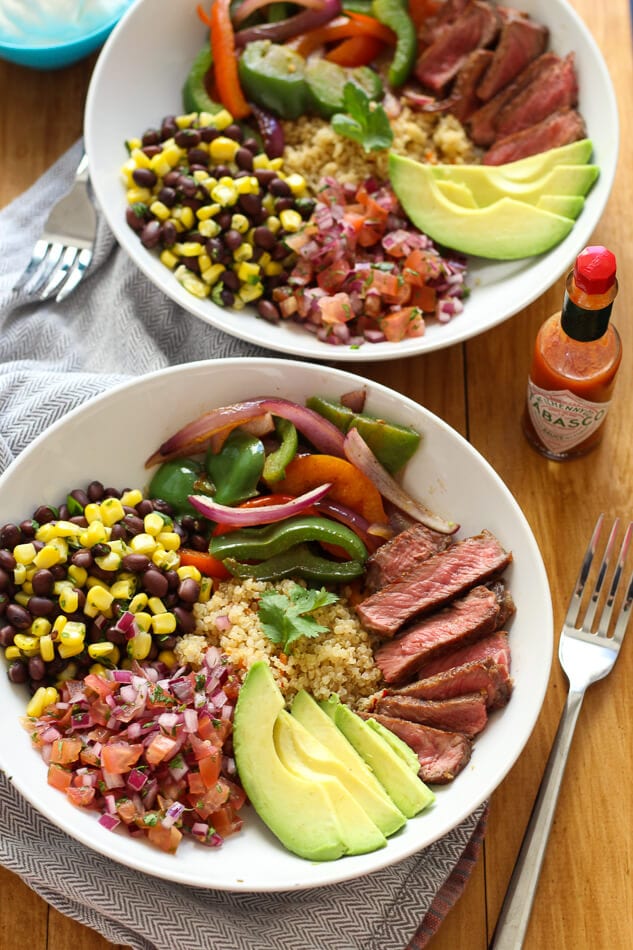 I was inspired to put together this quinoa burrito bowl after seeing Ali's chicken burrito bowl recipe on one of my favourite blogs, Gimme Delicious. Quinoa is a "superfood" because it's a whole grain that's considered a source of protein, so lately I've been adding that instead of rice and noodles to my meals at night. I'm trying to eat more foods that are better for my digestion, and this is a great starch that's not too heavy and subs in nicely for the standard burrito rice.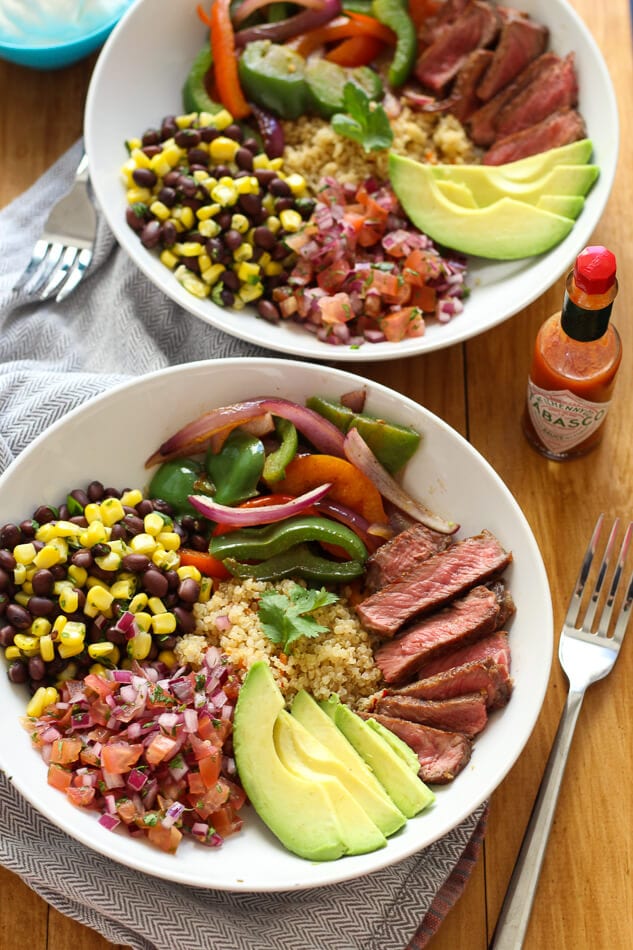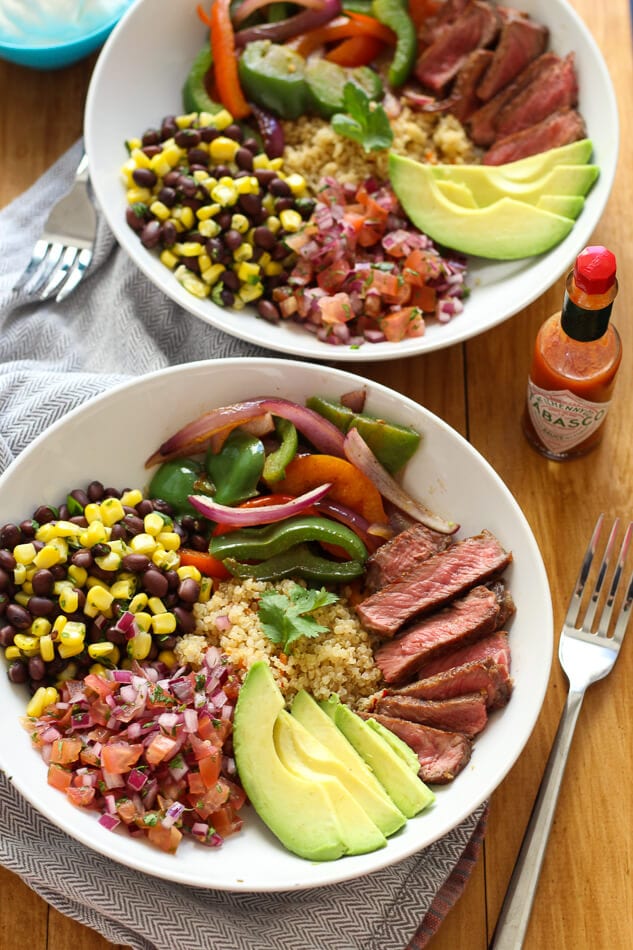 I'm a HUGEEEEE fan of salsas. I probably make an excuse to put salsa in just about every food I can think of, and I love to make all kinds of salsa variations in the summer when tomatoes, corn and peppers are in season (not to mention all the fresh herbs!), but who says you can't brighten up a short-lived November day with some pico de gallo?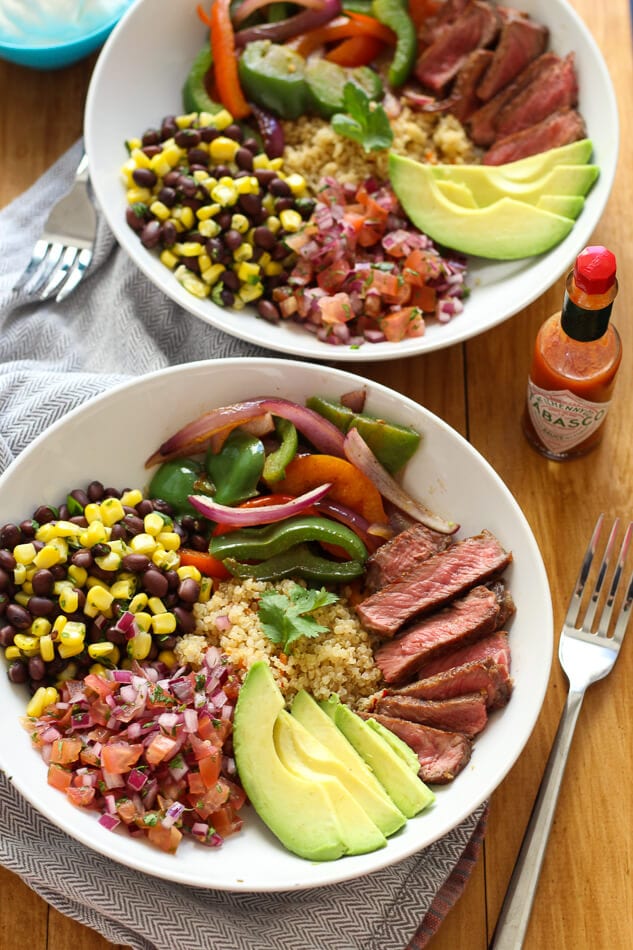 I've had the same pico de gallo recipe on hand for a while, and experimented this time by throwing together a quick corn and black bean salsa. It's whatever you're into veggie-wise, and of course whatever's in season/available at the grocery store.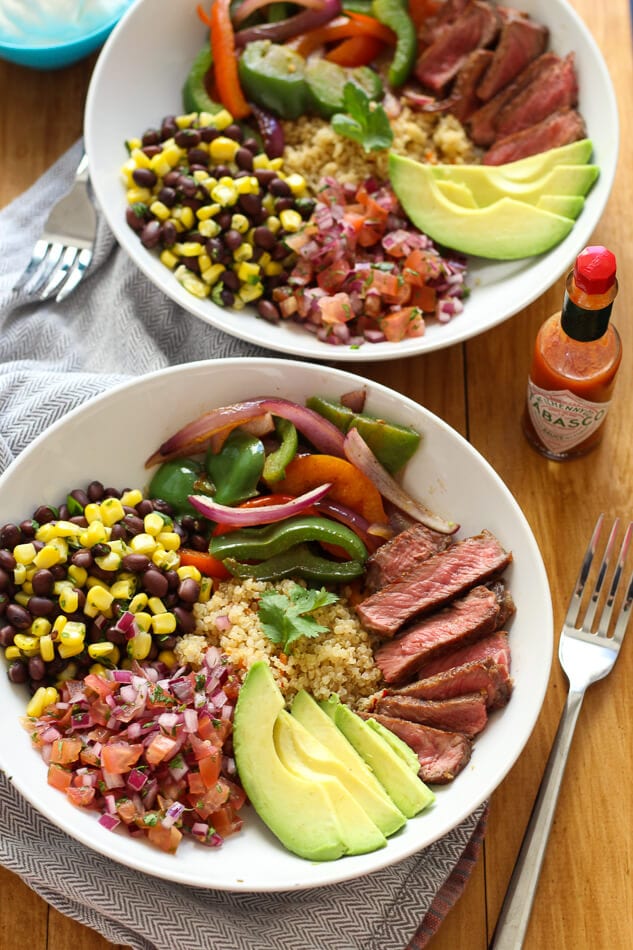 I'm going to miss how fragrant and fresh the limes were this summer, and if you find yourself lacking fresh limes at home for the salsa, you can always sub in bottled lime juice, fresh lemon juice or even red wine vinegar – you just want to add a bit of citrus/acid to a fresh salsa. Keep in mind, you'll (probably) be mixing your burrito bowl together, so you'll want all the flavours to blend nicely.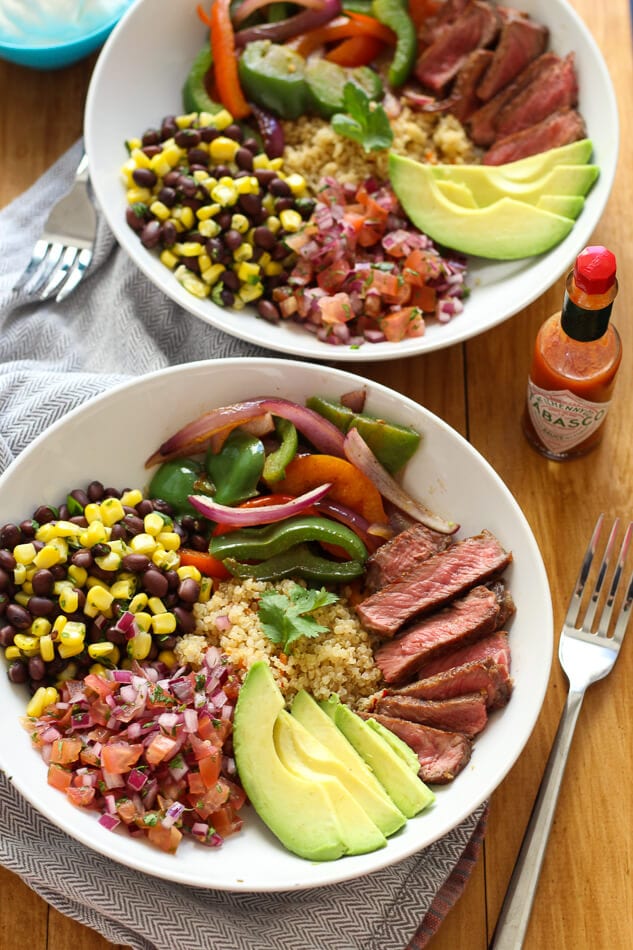 This Steak and Quinoa Burrito Bowl takes only 30 minutes to make from start to finish, so it's perfect for throwing together after a long day at work or school. I was a bit inspired to make it deconstructed like a bibimbap bowl – full of vibrant colours and flavours! Add in some simple sautéed peppers and onions, some sliced avocado and quinoa, and you're set!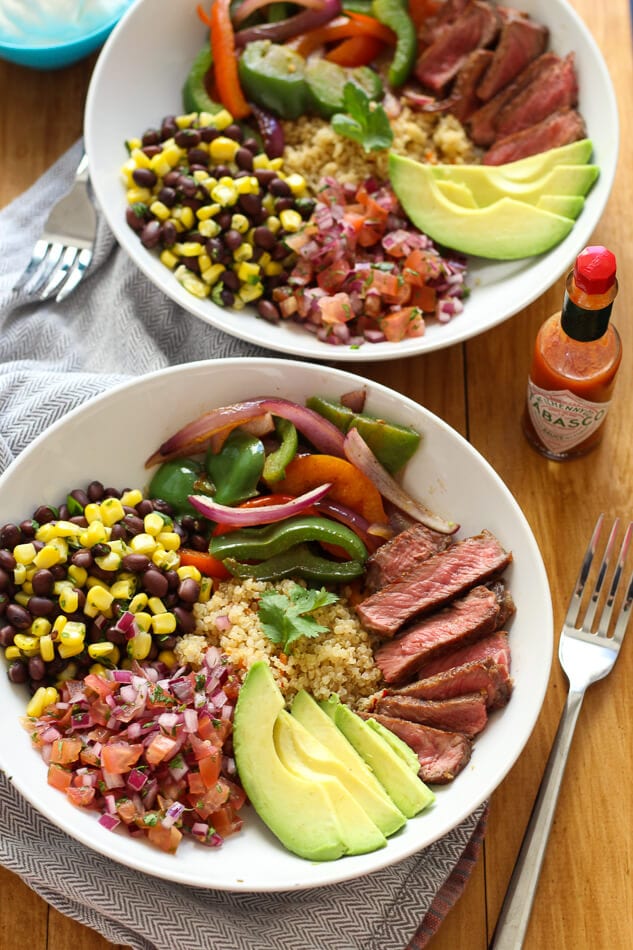 Will you be trying this deconstructed Steak and Quinoa Burrito Bowl? It'll have your dinners feeling way more exciting this week!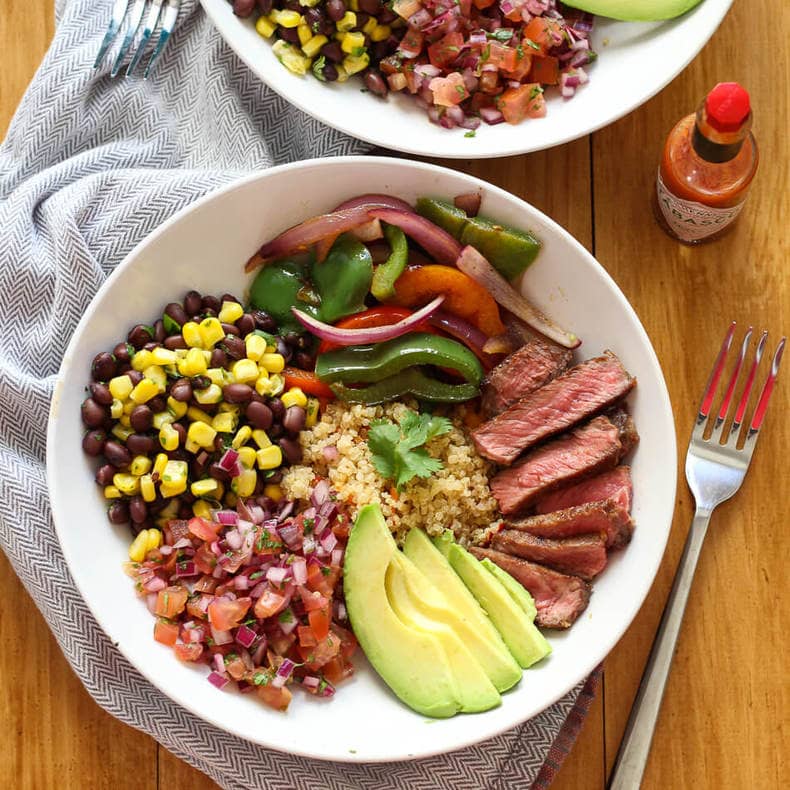 Print Recipe
30 Minute Steak and Quinoa Burrito Bowl
This Steak and Quinoa Burrito Bowl is full of quickly thrown together fresh salsas alongside sliced avocado and stir-fried peppers!
Ingredients
1, 1-

inch

thick sirloin steak

2

tbsp

olive oil

1

cup

quinoa

divided into two bowls

Your fave stir-fry veggies: red and green peppers

onion, or anything else you have on hand for your burrito bowl
Corn Salsa
1/2

cup

frozen corn

defrosted

1/2

cup

black beans

2

tsp

lime juice

1/4

cup

cilantro

1/2

tsp

salt

1/4

tsp

pepper

Dash hot sauce
Pico de Gallo
2

vine tomatoes

finely chopped

1/3

cup

red onion

finely diced

2

tsp

lime juice

1/4

cup

cilantro

finely chopped

1/2

tsp

salt
Instructions
Divide your quinoa into two bowls evenly.

Mix together salsas and let sit while cooking the veggies and steak to help enhance their flavours.

On high heat, add olive oil to a large frying pan. When pan is smoking, add the steak and cook on high for approximately 4 minutes each side, depending on the thickness of your steak. A good pan-fried steak relies on a nice sear, so don't be tempted to lift the steak to check if it's done. I've pan-fried steaks so many times and find that for a 1-inch thick cut of steak, it takes about 4 minutes each side for a nice medium rare. If your steak is thinner, I suggest cooking for 2-3 minutes each side, again depending on the thickness.

When the steak is somewhat firm and not super squishy, I usually take it off. Be sure to let it rest for AT LEAST 6-7 minutes before slicing it across the grain!

After the steak is finished, keep the frying pan on the heat and add veggies, sautéing for about 5 minutes and stirring every once in a while.

Now put your bowl together! Add sliced steak, stir-fried veggies, salsas and sliced avocado in a circle around the quinoa in the middle of the bowl.

Add your fave hot sauce, sour cream, cilantro and salsa as garnishes and enjoy!!