Philly Cheesesteak Stuffed Peppers
These Philly Cheesesteak Stuffed Peppers are a delicious low-carb spin on the classic sandwich and a tasty dinner idea you can prep ahead of time  Jump to Recipe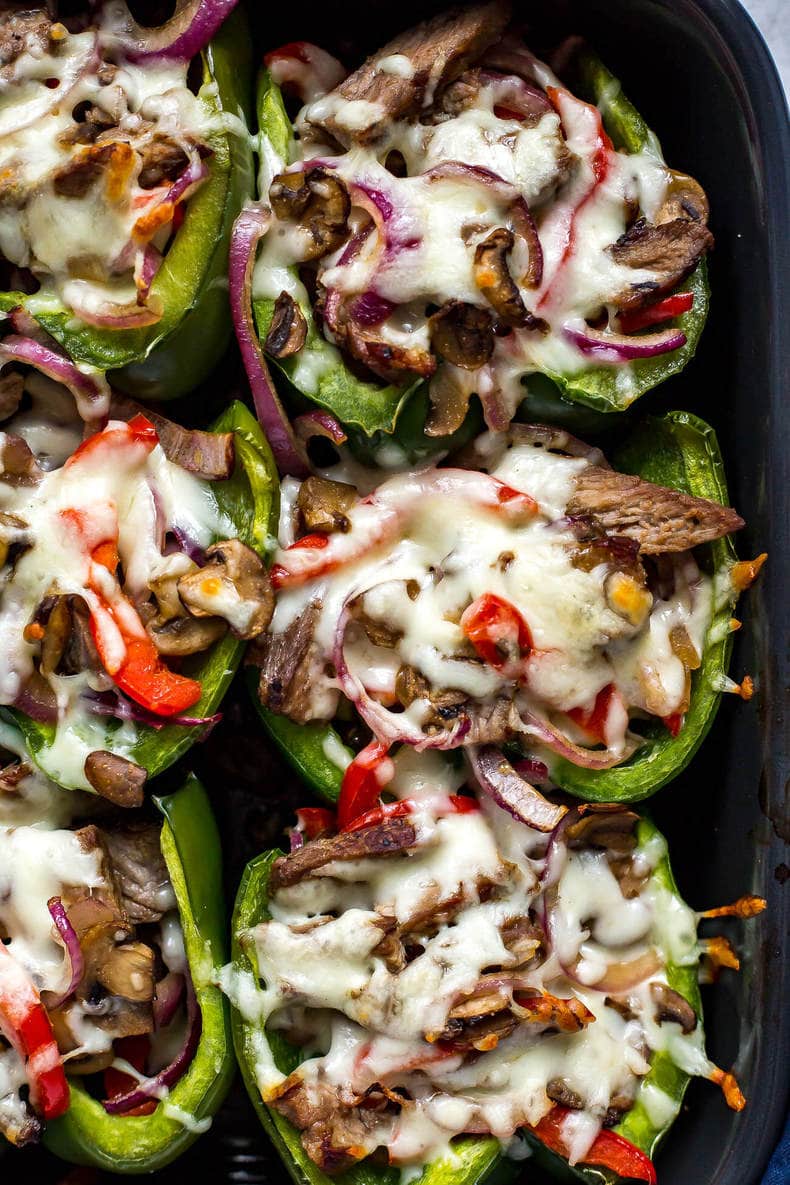 Gimme all this ooey gooey cheesy goodness ASAP please!
These Philly Cheesesteak Stuffed Peppers are the most delicious dinner idea, and they're a low carb way to get your fill of your fave sandwich while also sneaking some extra veggies into your diet. Anytime I can do a stuffed vegetable version of one of my fave foods I get so excited. Nothing like getting the flavours in while keeping the calorie count down!
I also love these Philly Cheesesteak Stuffed Peppers because they are easy to meal prep for the work week (surprise surprise, me making these for my weekly meal prep!)
If you're looking to get serious about healthy eating, you HAVE to sign up for my free 5-day meal prep challenge below! It's going to get you on the right path and give you the structure you need to eat better – and I'll send you loads more healthy recipes too!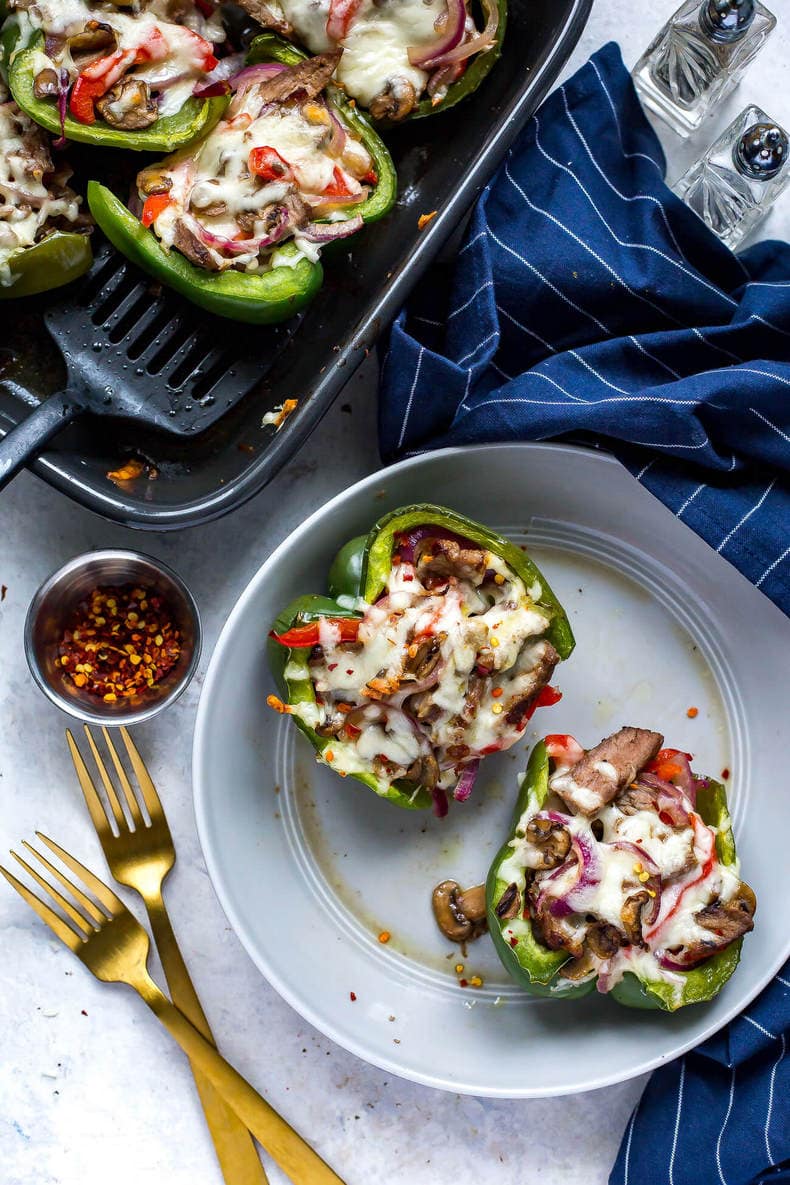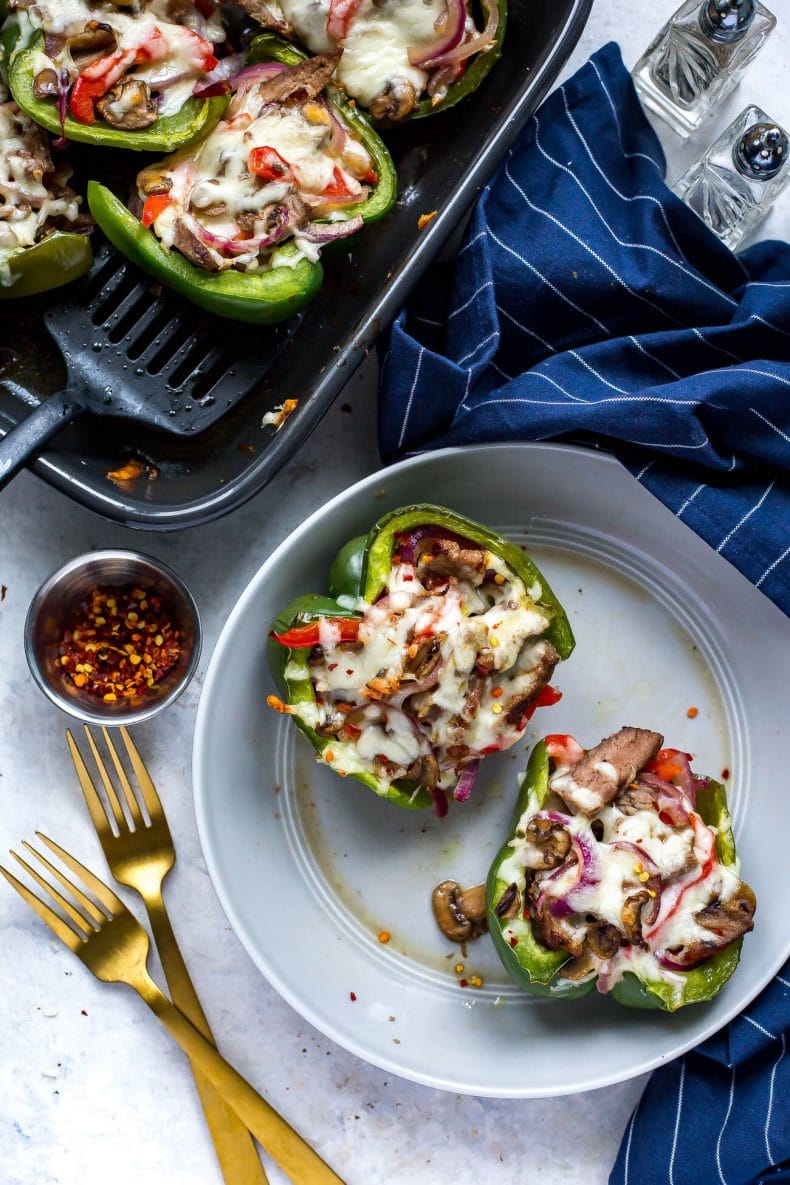 The ingredient list is pretty simple for these Philly Cheesesteak Stuffed Peppers. All you need is the following:
Four green peppers (you could do multi-coloured but green are the cheapest so choose these to keep costs down)
One package of pre-sliced mushrooms
A sirloin steak (I usually buy one that's 1 inch thick and cook it for 1 minute per side on high heat)
Half of a red bell pepper
One small red onion
Mozzarella cheese (Swiss works wonderfully here too)
Six different ingredients, and your trip to the store is complete! Then you have lunch or dinner ready for the whole week!
Lately I've cut a lot of grains out of my diet because I'm trying to eat more of a high-protein diet to support my training goals at the gym. My weight has fluctuated so much over the years that I find it's hard to really maintain my health and fitness goals – physically, and mentally.
You know the feeling right? Where you feel like you're spending so much of your time at the gym, or you have a couple cheat days (ESPECIALLY around the holidays!) and then it turns into a cheat week and you just lose motivation to eat well and take care of yourself?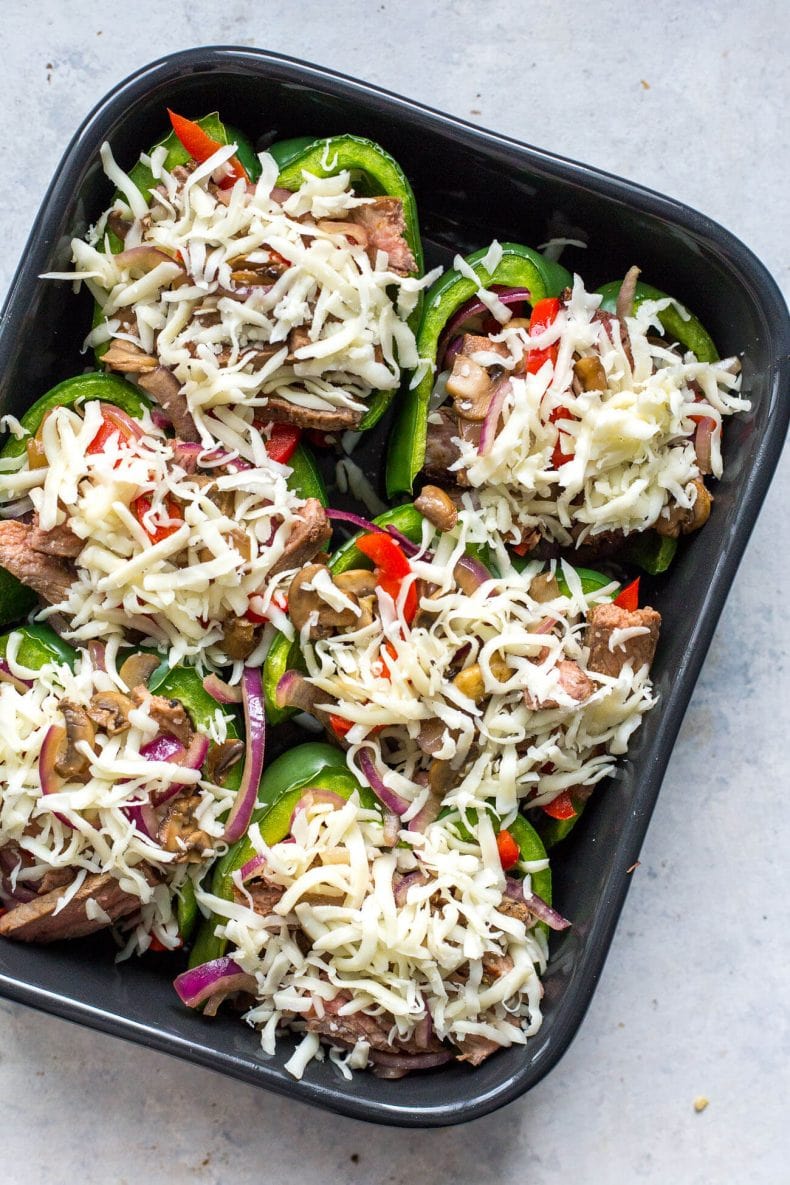 I've found myself in that pattern so many times over the years that I've really been making a concerted effort to stay on top of my nutritional goals and get a TON of veggies in alongside enough protein to support strength training at the gym. Though I'm not exactly following a low carb diet per se (I have a scone every Saturday morning and sneak in some pasta/potatoes maybe once or twice a week), for the most part I'm eating two servings of veggies and a larger serving of protein at each meal time.
I've noticed I have so much more energy and I feel like I've really been progressing at the gym. For instance I started doing squats with just the 40lb bar at the gym but now I'm up to 45lb weights on each side IN ADDITION to the 40lb bar. I can only do about 6 squats at that weight LOL but seriously, I would say that that's progress!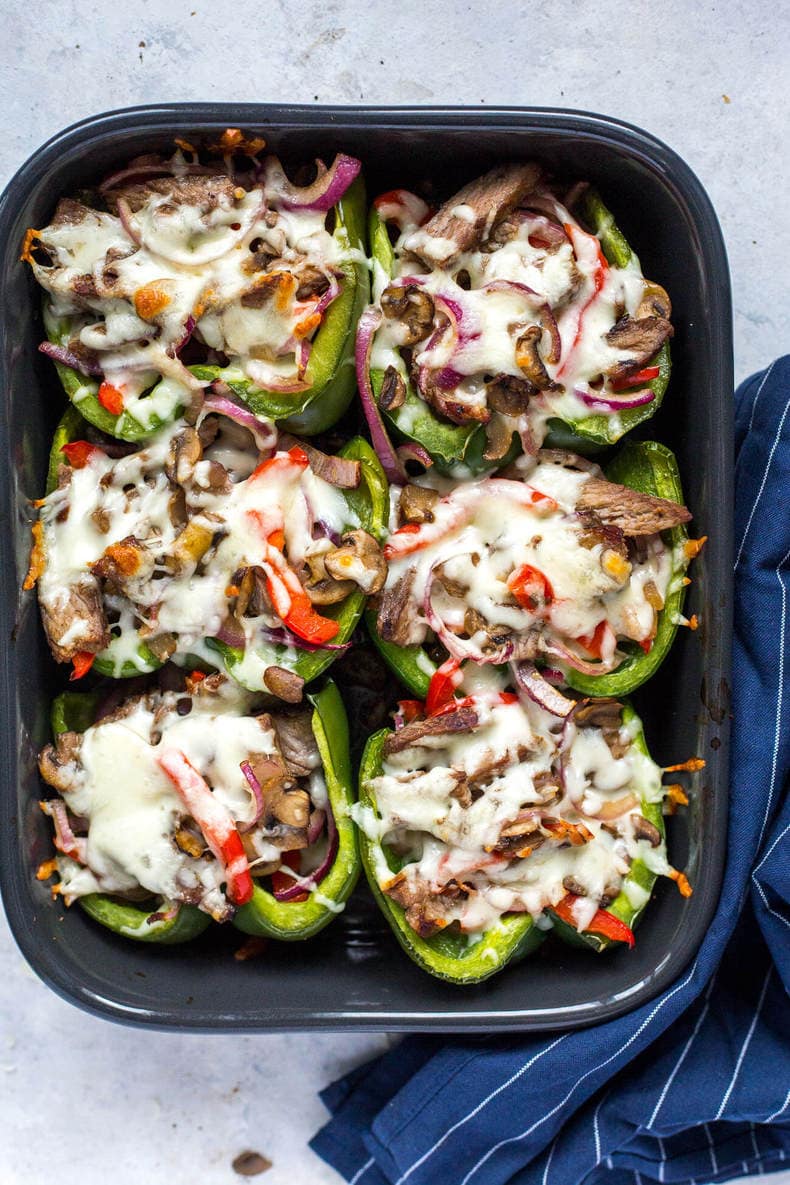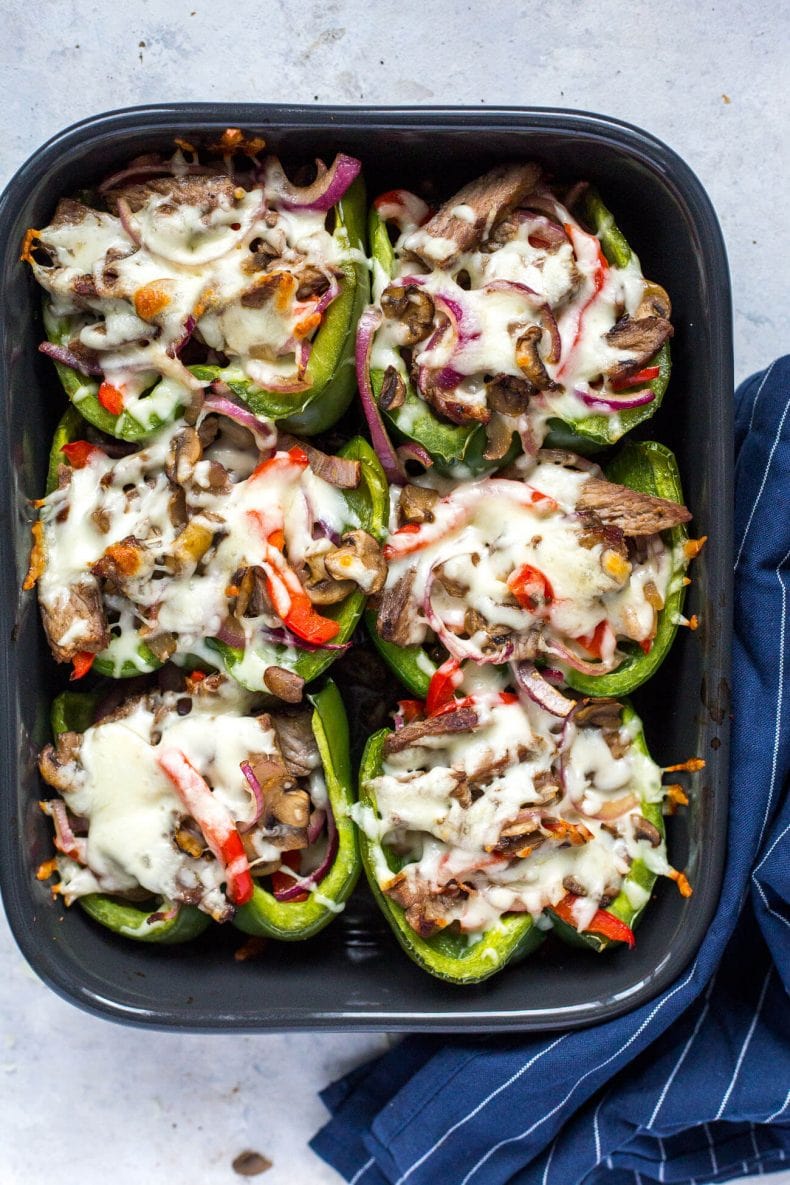 So, that brings me back to these Philly Cheesesteak Stuffed Peppers. They're low carb, they've definitely got at least two servings of vegetables, and they've got lean protein so you can rest easy knowing you're eating a super healthy meal with tons of nutritional value. If you find that you'd like to even out the meal with a serving of grains you can definitely add some cooked rice or quinoa, but it would add to the cooking time so I keep it simple by sauteing everything in one pan then filling these and baking them.
Super easy and if you time everything right these Philly Cheesesteak Stuffed Peppers come together in under 40 minutes!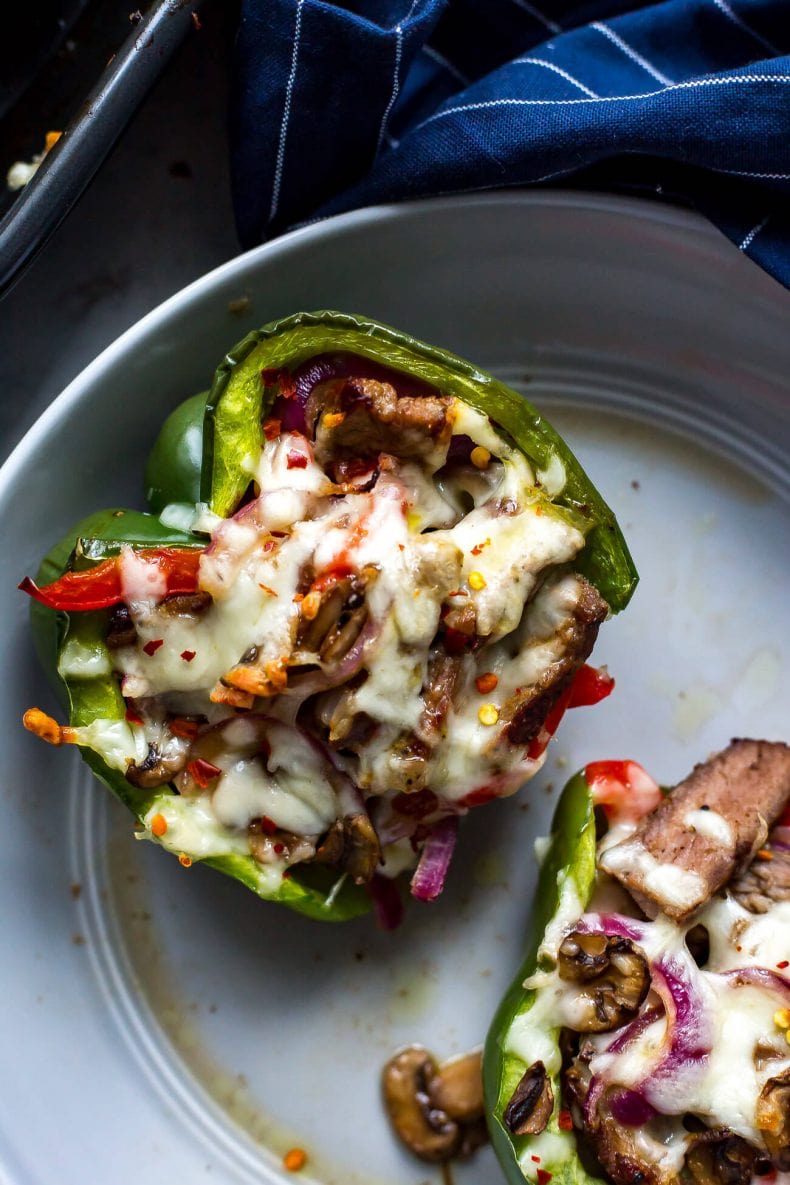 Will you be making these Philly Cheesesteak Stuffed Peppers? 
When meal prep is this easy and delicious, it's hard to see how you couldn't just set less than an hour to get yourself all set up for the work week!
If you try any of my recipes be sure to let me know on Instagram, Twitter, Facebook or in the comments – I'd love to see what you come up with!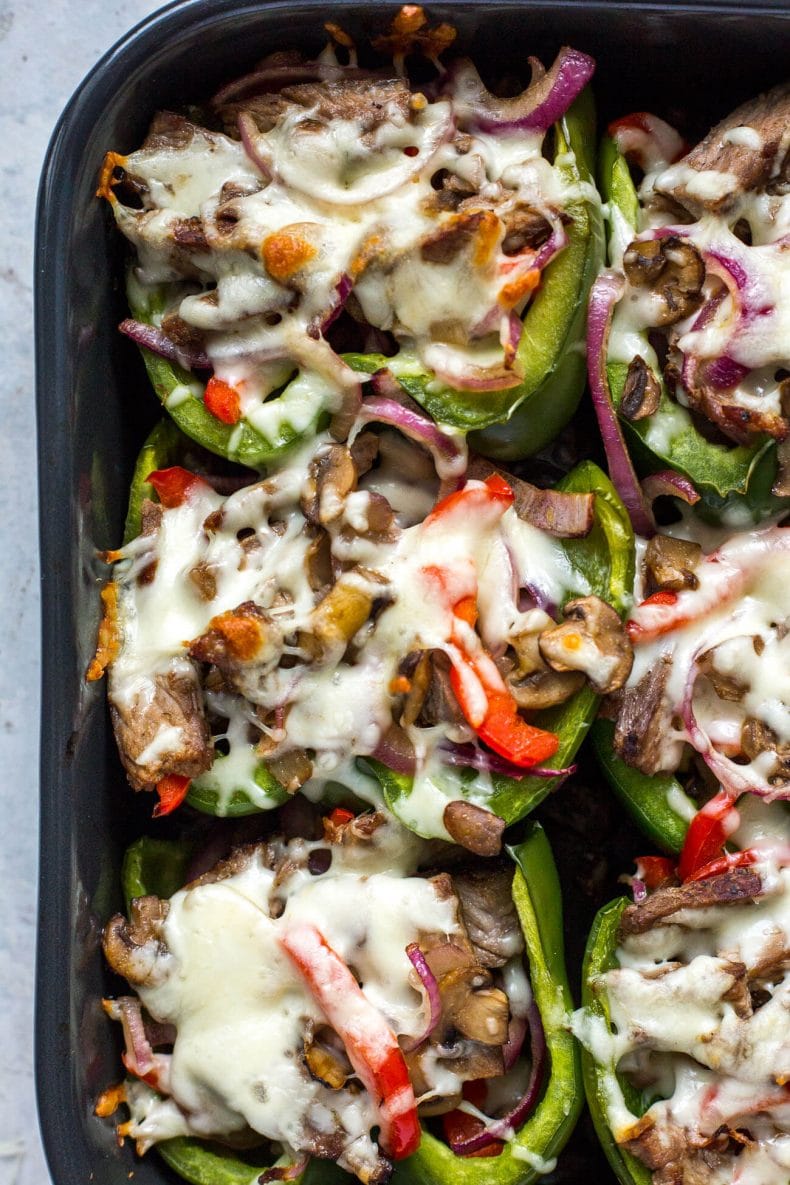 More Healthy Dinner Recipes
If you're looking for some more delicious ideas to make busy weeknights easier, check out my top healthy recipes below!
Tools to Make This Recipe
Meal prep challenge
If you'd like some more help with meal planning, then you'll love my free 5-day meal prep challenge! Sign up for free below:
Print Recipe
Philly Cheesesteak Stuffed Peppers
These Philly Cheesesteak Stuffed Peppers are a delicious low-carb spin on the classic sandwich and a tasty dinner idea you can prep ahead of time!
Ingredients
2

tbsp

olive oil, divided

4

green peppers, cut in half

1

sirloin steak

1 1/2

cups

sliced mushrooms

1/2

red pepper, sliced

1

small red onion, sliced

2

cups

mozzarella cheese, grated

Salt and pepper to taste
Instructions
Preheat oven to 400 F. Cut green peppers in half and de-seed them. Drizzle with 1 tbsp olive oil, season with salt and pepper and bake in a 9x13 dish covered with tin foil for 10 minutes.

Add remaining 1 tbsp of olive oil to a large frying pan and heat over high heat until oil is smoking. Add steak and sear for 1 minute per side. Remove from heat and slice very thinly across the grain when cool enough to handle.

In same skillet, add mushrooms and cook until they start to release juices. Add onions and red pepper, sauteeing for 2-3 minutes until tender and seasoning with salt and pepper.

Meanwhile, remove green peppers from oven. Divide steak slices and veggies among peppers then top with cheese and season with a little more salt and pepper. Bake for 15 minutes or until cheese is melted. Remove and serve!
Video
Nutrition
Calories:
432
kcal
|
Carbohydrates:
16
g
|
Protein:
30
g
|
Fat:
27
g
|
Saturated Fat:
10
g
|
Polyunsaturated Fat:
2
g
|
Monounsaturated Fat:
13
g
|
Cholesterol:
60
mg
|
Sodium:
666
mg
|
Potassium:
605
mg
|
Fiber:
4
g
|
Sugar:
7
g
|
Vitamin A:
1250
IU
|
Vitamin C:
161.7
mg
|
Calcium:
230
mg
|
Iron:
2.9
mg