This Chicken, Spinach & Artichoke Spaghetti Squash is a low carb dinner and a healthier take on the popular creamy dip!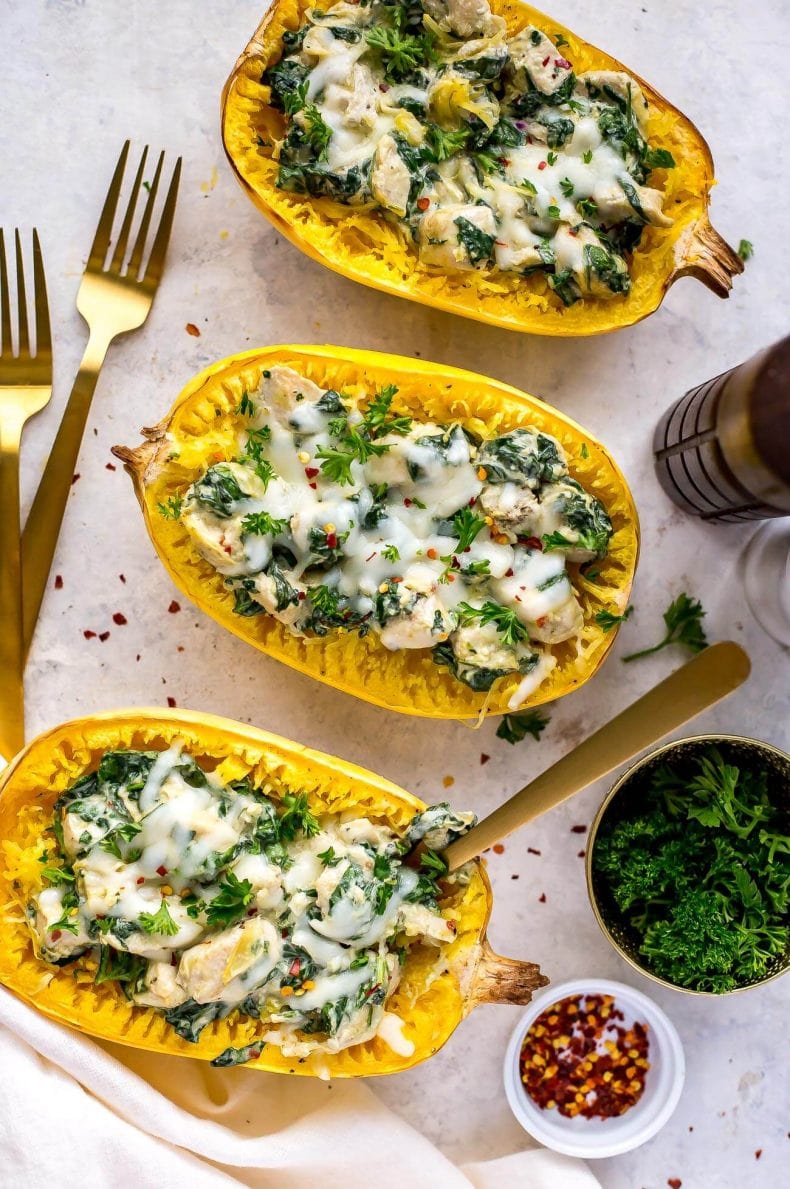 Ingredients and substitutions
Olive oil – or another neutral cooking oil like avocado or sunflower oil.
Spaghetti squash – you can try making this recipe using butternut squash or acorn squash, but it won't have the same noodle-like texture as spaghetti squash.
Chicken breasts – boneless skinless chicken thighs would also work or you can leave out the chicken entirely.
Onion powder – finely diced onion or even garlic powder can be used instead.
Chili flakes – leave these out if you're not a fan of spice.
Salt & pepper – to taste.
Artichoke – you can leave the artichokes out altogether if you don't have any on hand.
Spinach – or another dark leafy green like kale.
Goat cheese – cream cheese would be the best substitute here.
Mozzarella cheese – use another shredded cheese of your choice.
Skip the Ads and Get Right to the Recipes!
ZERO ADS on over 600 recipes!
Weekly Meal Plans, Grocery & Prep Lists
Bonus eBooks
How to make spaghetti squash boats
Bake the squash and scrape out the flesh.
Sauté the chicken.
Add in the artichoke, spinach and goat cheese.
Stuff the squash boats with the spinach artichoke filling.
Bake for another 5-10 minutes.
Serve and enjoy!
Roasting the spaghetti squash
Before stuffing your spaghetti squash, you'll need to roast it so it's nice and tender. Here's how to roast spaghetti squash perfectly every time:
Slice your spaghetti squash in half lengthwise. If you find that it's too tough first, microwave it for 2-3 minutes before cutting it in half.
Scoop out the seeds.
Drizzle with olive oil and season with salt and pepper.
Roast in the oven at 425° Fahrenheit for 30 minutes – this will make it al dente, but don't worry, you'll be roasting it more once you add the chicken.
Scrape the insides with a fork to create spaghetti-like strands of squash.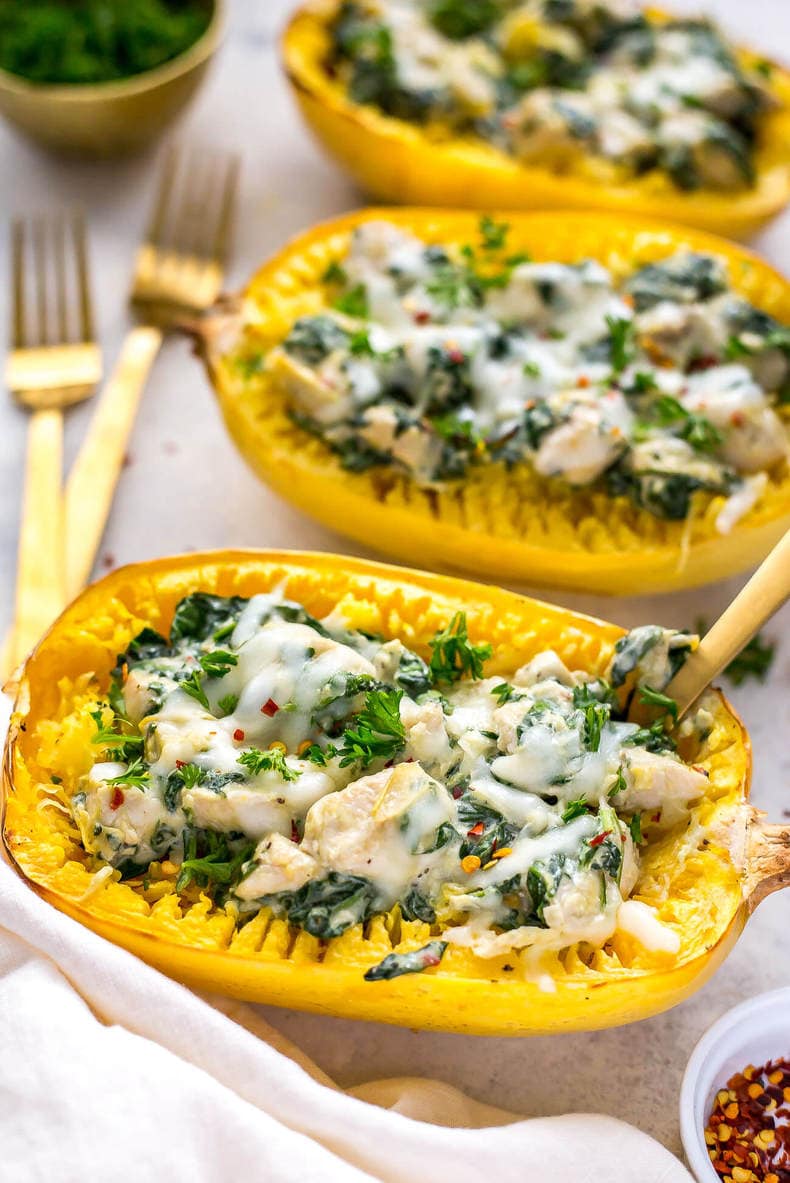 Frequently Asked Questions
What does spaghetti squash go with?
Spaghetti squash has a mild but slightly sweet flavour, which makes it a great low carb substitute for traditional noodles. For this recipe, I paired the spaghetti squash with chicken and a creamy spinach and artichoke dip – it's so delicious!
How do you cut it?
You'll want to cut the spaghetti squash in half for this recipe so you have two evenly-sized boats. The exterior skin of the squash can be super tough, so if you find that it's hard to cut into, microwave the squash for 2-3 minutes first. After it's cooled down, the skin should be a lot softer and easier to cut into!
How many calories are in this recipe?
This recipe has 440 calories per serving. If you want to make it even healthier, go light on the extra mozzarella on top.
Storing and reheating
You can store these spaghetti squash boats in the fridge for up to 5 days in airtight glass containers. For reheating, I'd suggest sticking them in the oven for 10 minutes at 350° Fahrenheit. You can also microwave them for 2 minutes if you're in a pinch!
You also have the option to make the filling and/or roast the spaghetti squash up to 2 days in advance. It's a great way to prep some components beforehand and saves time.
Can you freeze spaghetti squash?
This recipe freezes very well – just make sure to store in glass bowls with lids and freeze for up to 3 months. You can defrost in the fridge overnight or just microwave it right from frozen for 6-7 minutes, stirring halfway through. Reheating from frozen in the oven for 45 minutes at 350° Fahrenheit would also work.
You can also freeze the filling by itself or freeze the roasted spaghetti squash components alone instead of the entire cooked meal.
Wanna Learn How To Meal Prep?
My meal planning service, Dinner Prep Pro, removes the guesswork and helps you get dinner on the table in 15-20 minutes each night. My meal prep checklists only take 1 hour each week!
More spaghetti squash recipes
Meal prep tools for this recipe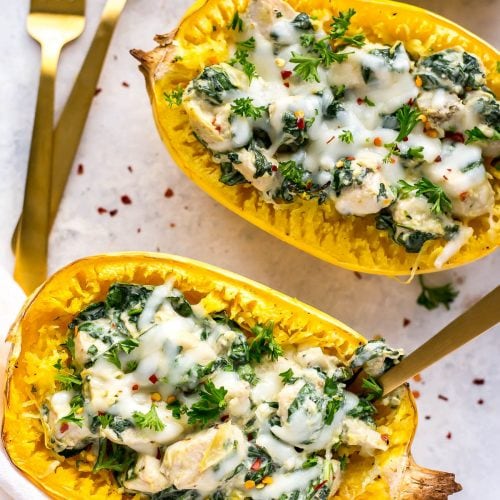 Chicken, Spinach & Artichoke Spaghetti Squash
This Chicken, Spinach & Artichoke Spaghetti Squash is a low carb dinner and a healthier take on the popular creamy dip!
Print
Pin
Rate
Click Here to Remove Ads
Servings: 4 servings
Calories: 440kcal
Ingredients
2 tbsp olive oil, divided
2 spaghetti squash, sliced in half & seeds scooped out
2 chicken breasts, cut into cubes
1 tsp onion powder
1/2 tsp chili flakes
1/2 tsp salt
1/4 tsp pepper
1 (400mL) can artichoke hearts, chopped
3 cups spinach, chopped
1/3 cup goat cheese
1/2 cup mozzarella cheese, grated
Instructions
Preheat oven to 425 F. Microwave squash for 2 minutes. Slice in half and scoop out seeds. Place on a parchment-lined baking sheet and drizzle with 1 tbsp olive oil, then season with salt and pepper. Bake for 30 minutes.

Meanwhile, add 1 tbsp olive oil to a large skillet. Add chicken and saute until lightly browned, about 5-6 min. Season with salt and pepper, onion powder and chili flakes. Add artichokes, spinach and goat cheese, stirring for about 1 minute or until spinach softens.

Remove spaghetti squash from oven and scrape with a fork. Divide spinach mixture among each spaghetti squash half, then top with mozzarella cheese. Bake another 5-10 minutes until cheese is melted. Serve and enjoy!
Video
Notes
You can easily make these spaghetti squash boats vegetarian by leaving out the chicken. Microwave the squash for 2-3 minutes so it's easier to cut into the skin. Store the leftovers in the fridge for up to 5 days. Reheat in the oven at 350 F for 10 minutes or in the microwave for 10 minutes. Freeze the spaghetti squash on its own for up to 6 months. Defrost in the fridge overnight then reheat as normal.
Nutrition
Serving: 1gCalories: 440kcal (22%)Carbohydrates: 35g (12%)Protein: 34g (68%)Fat: 20g (31%)Saturated Fat: 7g (44%)Cholesterol: 92mg (31%)Sodium: 685mg (30%)Potassium: 1076mg (31%)Fiber: 8g (33%)Sugar: 14g (16%)Vitamin A: 3087IU (62%)Vitamin C: 18mg (22%)Calcium: 236mg (24%)Iron: 3mg (17%)
Join The Girl on Bloor Premium!
ZERO ADS!
Weekly Meal Prep Checklists
Bonus eBooks