These clean eating meal prep ideas will help you learn to eat whole food ingredients while enjoying delicious, healthy food for breakfast, lunch and dinner!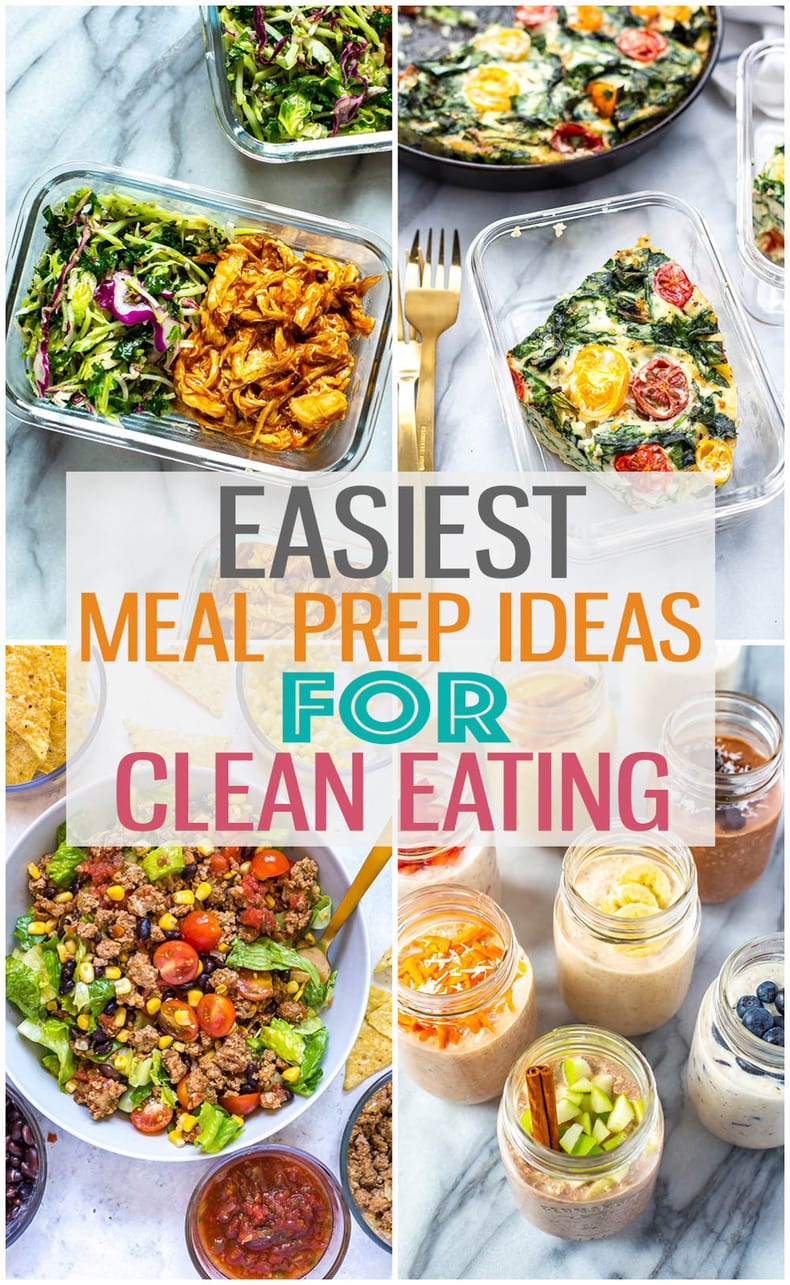 How to incorporate clean eating into meal prep
If you're making a big batch of food for the work week, you'll want to make sure you're using wholesome ingredients in order to get the health benefits of meal prep. Don't get me wrong: sometimes store-bought condiments that may have added sugars or fats have their place in cutting down prep time, but if you're looking to eat healthier, you're going to want to stay away from most processed foods.
Using whole food ingredients and knowing how to stock your pantry can help ensure that you're getting the most out of your meal preps. My Clean Eating Reset book has a full pantry, fridge and freezer checklist filled with ingredients you should keep stocked in your kitchen to ensure you're working with the right tools.
Here are some screenshots from the Clean Eating book below!
The 80/20 rule
Clean eating isn't a diet; it's a lifestyle. How you see your diet and nutrition and how you prepare food can lead to better health, more energy and sometimes even more money in your wallet! I go with the 80/20 rule: eat well 80% of the time, and indulge the other 20% of the time. Life gets busy and you can't beat yourself up if you're not able to eat whole foods ALL the time. Plus we all deserve a treat every once in a while 😉
This post will detail how to eat clean when it comes to meal prep, and give you some general guidelines to follow. Take what you want, leave what you don't. However you get healthy, focus on the nutritional content of what you're eating and how that's going to fuel your body – that's how you will have lasting success with clean eating!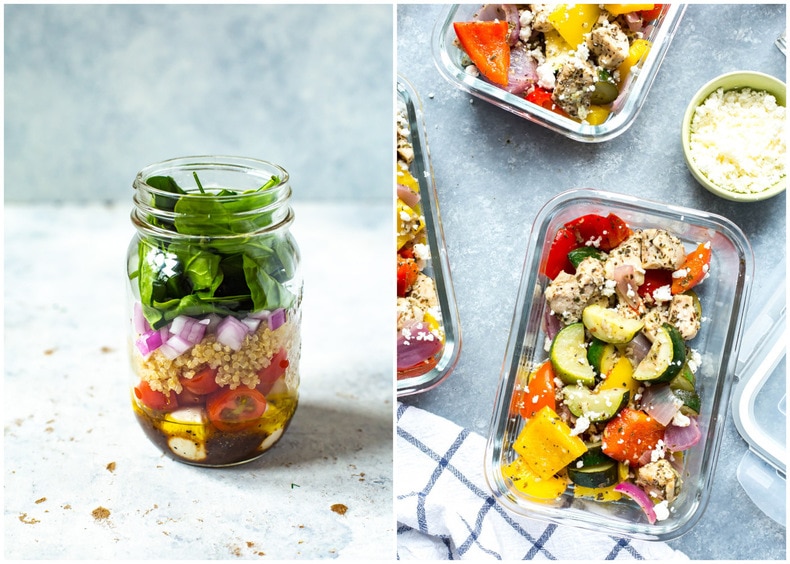 Clean eating guidelines
Eating clean is easier than you think! Here's a list of general guidelines when it comes to clean eating as a lifestyle.
Avoid processed foods such as TV dinners, boxed and canned foods (there are exceptions such as canned beans, diced tomatoes, etc.)
Avoid refined sugars whenever possible – aim to switch to natural ingredients such as honey, maple syrup and stevia
Steer clear of trans fats and excessive sodium
Know how to read labels on food products
Opt for whole grains over white flour products
Practice mindful eating – eat when you're hungry, stop when you're full
Consume healthy fats such as extra-virgin olive oil, avocado, fish, etc.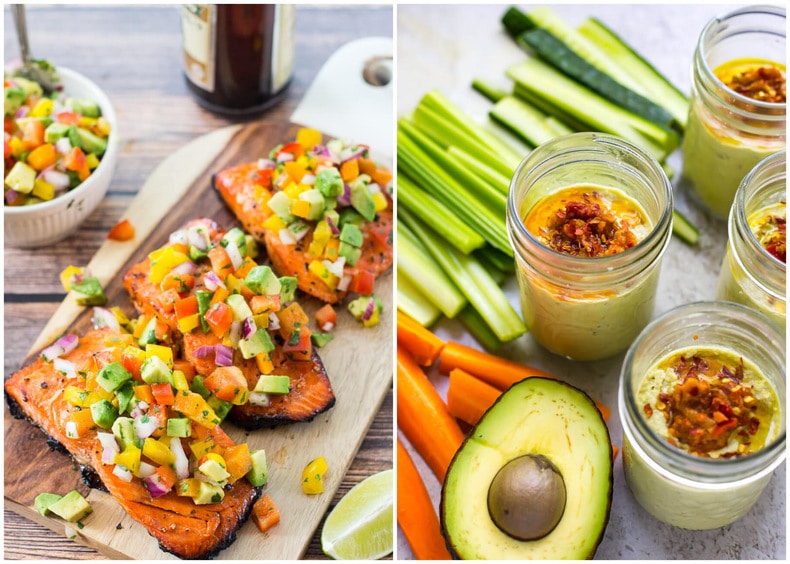 Clean eating strategies
There are so many ways to eat healthier but these are my top tips to eating clean, and sticking to it! Making meal prep easier on yourself helps you stay focused and on track – knowing what you're eating and when is really helpful in maintaining a healthy diet.
Make your own salad dressings and sauces at home, that way you know what's in them. Most will last in the fridge up to a couple months
Eat more fruits & vegetables – aim for half your plate at every meal, including breakfast!
Skip cereals, fruit-flavored yogurt, store-bought granola and instant oatmeal packs – all of these breakfast items have a ton of sugar even though they are often marketed as "healthy"
Make your own frozen dinners and ditch the TV dinners – making a pasta bake and dividing it into individual servings or whipping up mini pot pies can still give you the comfort food you crave without the
Store leftover meat (cooked or raw) in the freezer. I do this with baked chicken breast, chicken marinades and steak marinades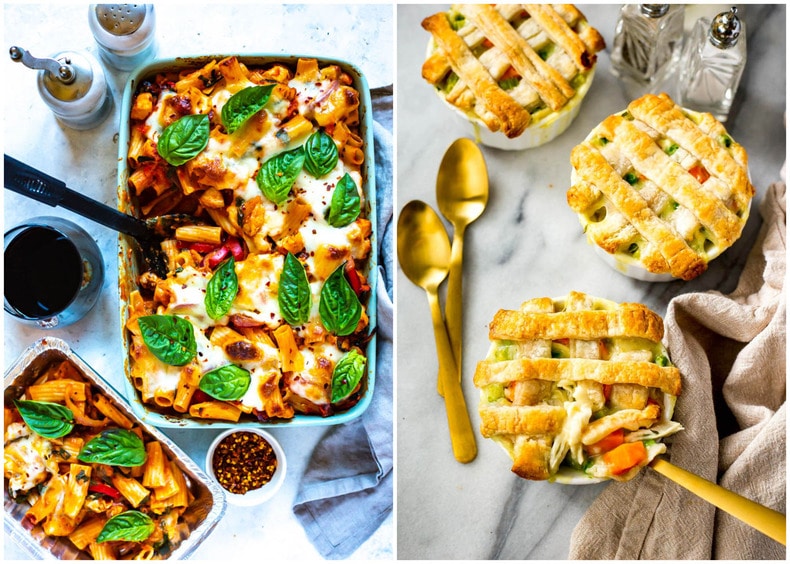 Meal prep breakfasts
Breakfast is the first day of the meal – don't skip it! Instead make a set of delicious, healthy breakfasts that you can grab on the go or whip up in a flash. Make ahead options like a breakfast casserole done in the slow cooker are also a great idea. Here are some of my best breakfast recipes that fit a clean eating lifestyle!
Meal prep lunches
Lunch is an integral part of your busy day – it's the midday meal that keeps you going throughout the day, and you want to make sure you're making healthy ingredient choices. I love making meal prep bowls to ensure I have a healthy lunch to enjoy all week long. Here are some of my fave clean recipes below, and I have several more in this healthy lunch ideas post linked here.
Clean eating dinner recipes
When it comes to dinner, making it in a skillet or a sheet pan is easiest and it ensures you get a full serving of lean proteins and vegetables in. You can go low carb here or choose a healthier whole grain side such as brown rice or quinoa to get the full nutritional benefits of a comprehensive end of the day meal. Here are some healthy, easy clean eating dinner ideas below – and check out 52 Healthy Dinner Ideas here for more inspiration.