These clean eating meal prep ideas will help you learn to eat whole food ingredients while enjoying delicious, healthy food for breakfast, lunch and dinner!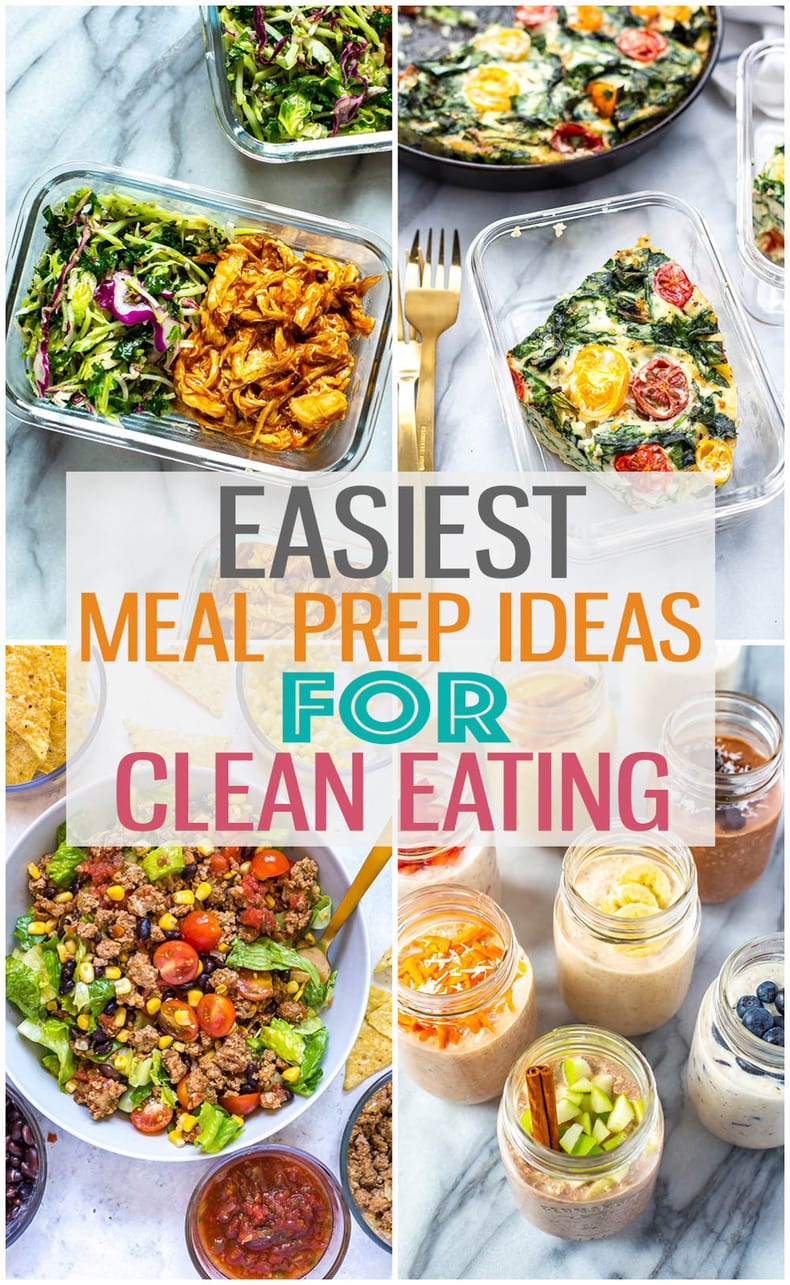 What is clean eating?
Clean eating can vary according to different sources and be confusing for some. First of all, I want to address the elephant in the room: there is no such thing as clean or dirty foods. I may not like the name "clean eating", but it basically means healthy eating. A clean eating lifestyle aims to give a general guideline of what's good for your body and outlines what's not as nutritious.
For some, clean eating means a strict diet with nothing but whole foods and no room for flexibility. However to me, clean eating means doing your best to eat healthy MOST of the time. The bottom line is that clean eating is consuming food in its most natural state, or as close to it as possible so it's not processed or refined.
Why incorporate clean eating into meal prep?
If you're making a big batch of food for the work week, you'll want to make sure you're using wholesome ingredients in order to get the health benefits of meal prep. Don't get me wrong: sometimes store-bought condiments that may have added sugars or fats have their place in cutting down prep time, but if you're looking to eat healthier, you're going to want to stay away from most processed foods.
Using whole food ingredients and knowing how to stock your pantry can help ensure that you're getting the most out of your meal preps. My Clean Eating Reset book has a full pantry, fridge and freezer checklist filled with ingredients you should keep stocked in your kitchen to ensure you're working with the right tools.
Here are some screenshots from the Clean Eating book below!
Skip the Ads and Get Right to the Recipes!
ZERO ADS on over 600 recipes!
Weekly Meal Plans, Grocery & Prep Lists
Bonus eBooks
The 80/20 rule
Clean eating isn't a diet; it's a lifestyle. How you see your diet and nutrition and how you prepare food can lead to better health, more energy and sometimes even more money in your wallet! I go with the 80/20 rule: eat well 80% of the time, and indulge the other 20% of the time. Life gets busy and you can't beat yourself up if you're not able to eat whole foods ALL the time. Plus we all deserve a treat every once in a while 😉
This post will detail how to eat clean when it comes to meal prep, and give you some general guidelines to follow. Take what you want, leave what you don't. However you get healthy, focus on the nutritional content of what you're eating and how that's going to fuel your body – that's how you will have lasting success with clean eating!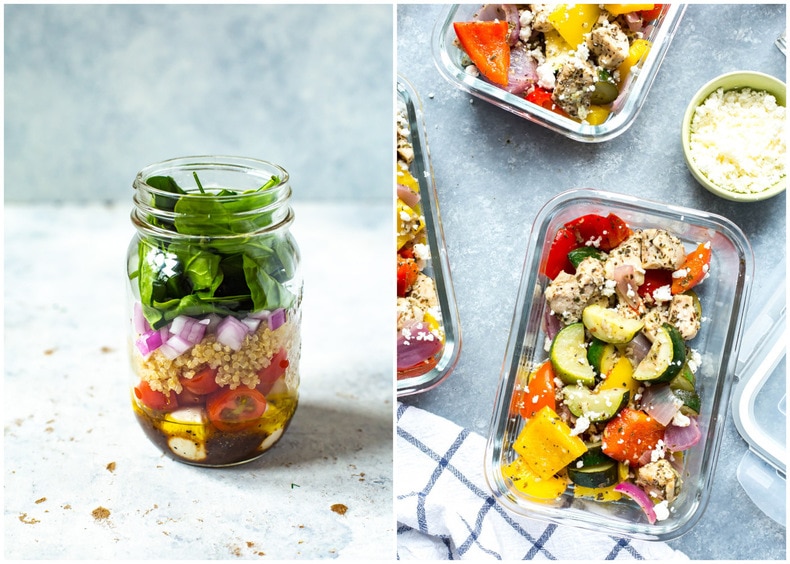 Clean eating guidelines
Eating clean is easier than you think! Here's a list of general guidelines when it comes to clean eating as a lifestyle.
Avoid processed foods such as TV dinners, boxed and canned foods (there are exceptions such as canned beans, diced tomatoes, etc.)
Avoid refined sugars whenever possible – aim to switch to natural ingredients such as honey, maple syrup and stevia
Steer clear of trans fats and excessive sodium
Know how to read labels on food products
Opt for whole grains over white flour products
Practice mindful eating – eat when you're hungry, stop when you're full
Consume healthy fats such as extra-virgin olive oil, avocado, fish, etc.
Clean ingredients
The best thing about clean eating is its emphasis on whole foods. Almost nothing is off-limits in this diet save for processed foods.
Here's what you should be eating when making this lifestyle change:
Whole grains – quinoa, wheatberries, farro, barley, whole wheat bread/pasta, brown rice
Lean proteins – fish, shellfish, legumes, nuts & seeds, chicken, turkey, extra-lean beef, lean cuts of pork
LOTS of fruits and veggies – anything you can think of, really!
Healthy fats – healthy oils, avocado, fish
Here are some foods you should be limiting or avoiding:
Most desserts
Chips
Sugary drinks
Cold cuts and other processed meats
Boxed foods and frozen dinners
Many different kinds of store-bought sauces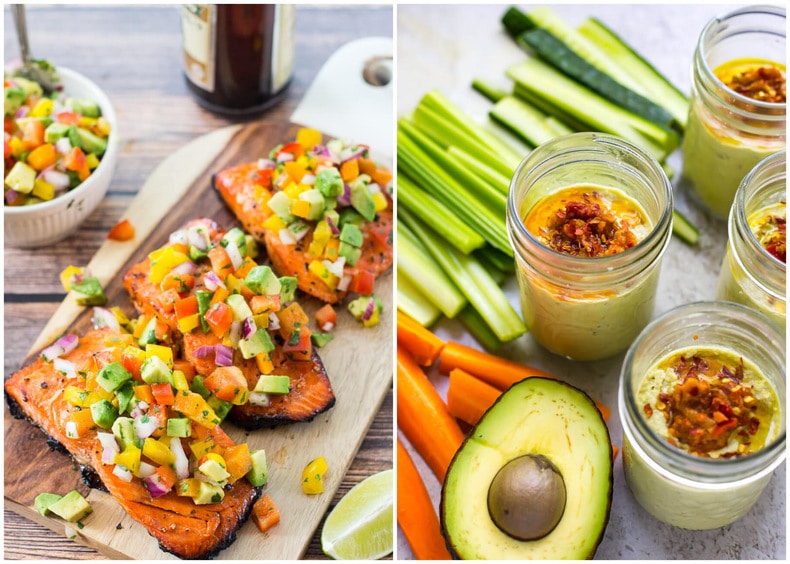 Clean ingredient swaps
While there are some foods you should try not to eat too often, there are alternatives for some of your fave guilty pleasures.
Here are some of my fave alternatives to make your kitchen clean eating friendly:
Swap sour cream for Greek yogurt
Swap mayo for mashed avocado or hummus
Try honey or maple syrup instead of sugar
Instead of pasta, try chickpea pasta
Instead of white rice, use cauliflower rice
Use coconut milk in place of heavy cream
Use ground almonds instead of breadcrumbs
I've got full lists of ingredients and more shopping tips for clean eating in my Clean Eating Reset eBook, as pictured below. This comprehensive 32-page book is your ultimate resource for clean eating and it's sure to help you choose better foods when meal prepping to ensure you're getting all the health benefits of cooking from scratch.
Click here to learn more about my Clean Eating Reset Book!
Clean eating strategies
There are so many ways to eat healthier but these are my top tips to eating clean, and sticking to it! Making meal prep easier on yourself helps you stay focused and on track – knowing what you're eating and when is really helpful in maintaining a healthy diet.
Make your own salad dressings and sauces at home, that way you know what's in them. Most will last in the fridge up to a couple months
Eat more fruits & vegetables – aim for half your plate at every meal, including breakfast!
Skip cereals, fruit-flavored yogurt, store-bought granola and instant oatmeal packs – all of these breakfast items have a ton of sugar even though they are often marketed as "healthy"
Make your own frozen dinners and ditch the TV dinners – making a pasta bake and dividing it into individual servings or whipping up mini pot pies can still give you the comfort food you crave without the
Store leftover meat (cooked or raw) in the freezer. I do this with baked chicken breast, chicken marinades and steak marinades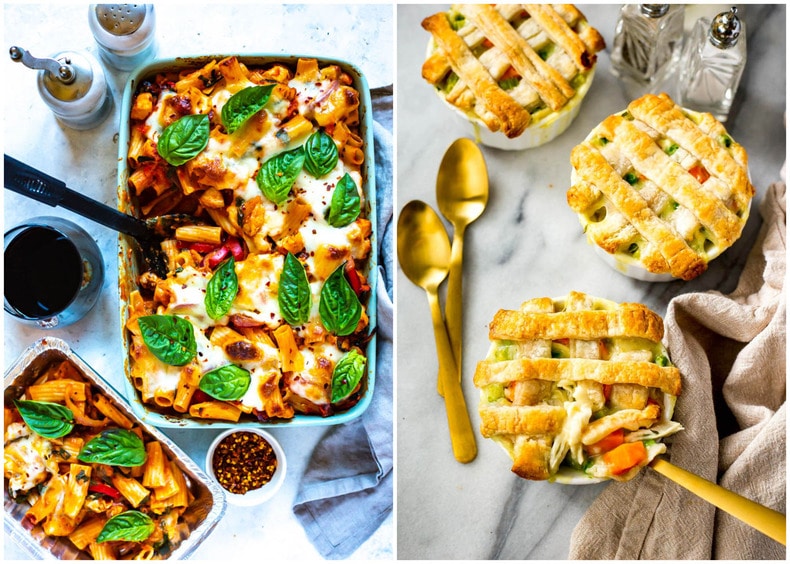 Breakfast meal prep
Breakfast is the first day of the meal – don't skip it! Instead make a set of delicious, healthy breakfasts that you can grab on the go or whip up in a flash. Make ahead options like a breakfast casserole done in the slow cooker are also a great idea. Here are some of my best breakfast recipes that fit a clean eating lifestyle!
Pina Colada Instant Pot Steel Cut Oats via The Girl on Bloor // Crockpot Breakfast Casserole via The Girl on Bloor
Meal Prep Banana Egg Pancakes via The Girl on Bloor // Meal Prep Sausage Egg McMuffin via The Girl on Bloor
Meal Prep Starbucks Egg Bites via The Girl on Bloor // Carrot Cake Oatmeal Muffin Cups via The Girl on Bloor
Lunch meal prep
Lunch is an integral part of your busy day – it's the midday meal that keeps you going throughout the day, and you want to make sure you're making healthy ingredient choices. I love making meal prep bowls to ensure I have a healthy lunch to enjoy all week long. Here are some of my fave ideas below, and I have several more in this healthy lunch ideas post linked here.
Zucchini Noodle Soup Jars via The Girl on Bloor // Slow Cooker Sausage and Kale Soup via The Girl on Bloor
Chicken Tandoori Meal Prep Bowls via The Girl on Bloor // Sheet Pan Greek Chicken Meal Prep Bowls via The Girl on Bloor
Big Mac Salad Jars via The Girl on Bloor // Shrimp Sushi Salad Jars via The Girl on Bloor
Dinner meal prep
When it comes to dinner, making it in a skillet or a sheet pan is easiest and it ensures you get a full serving of lean proteins and vegetables in. You can go low carb here or choose a healthier whole grain side such as brown rice or quinoa to get the full nutritional benefits of a comprehensive end of the day meal. Here are some healthy, easy dinner ideas below – and check out 52 Healthy Dinner Ideas here for more inspiration.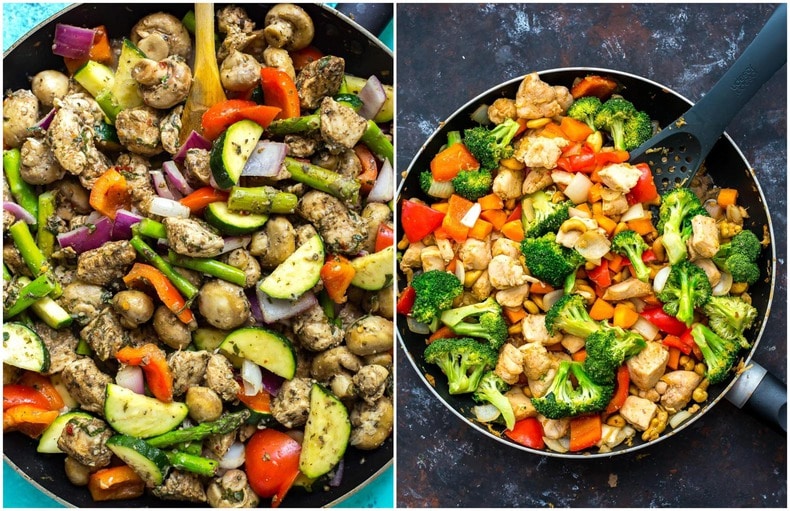 Italian Chicken Skillet // Cashew Chicken
Hasselback Caprese Chicken // Jalapeno Popper Chicken
Pesto Chicken Sheet Pan Dinner // Sausage & Root Veggie Scramble
The ultimate Clean Eating Resource Guide
If you're looking to learn even more about clean eating, I've written a 32-page book on the subject! The Ultimate Clean Eating Reset will help you make healthier food choices and learn about clean eating as a lifestyle – and trust me when I say it truly is a lifestyle and not a diet.
This comprehensive 32-page guide is filled with actionable information on how to eat clean for a better life. If you've ever wanted to have more energy to feel and look your best, you have to learn more about clean eating and meal prep!
Chapters include the following topics:
A breakdown on what clean eating is and how to apply it to your life
Clean eating ingredients such as proteins, sweeteners, fats and more
Mindset strategies to prepare for success in healthy eating
Healthy shopping strategies
How to build a clean pantry, fridge and freezer
Meal planning strategies, such as how to repurpose leftovers and creating healthy meal prep lunches
Sample meal plan
Clean eating recipes for breakfast, lunch, dinner and snacks
Tips for dining out and avoiding takeout
Time hacks to get you cooking more efficiently
Using shortcuts from the grocery store without compromising on healthy eating
Last minute meal ideas suitable for clean eating (recipe-free!)
BONUS self care checklist
And more!
More details
The photos above are screenshots from the eBook, which is a 32-page PDF document.
The Clean Eating Reset eBook is available for purchase $39.97 and will immediately download to your computer after your purchase – we're able to pass the cost savings onto you since there are no print publication costs.
The eBook will likely take you one to two weeks to work through since it's such a comprehensive guide.
Full money back guarantee within 7 days if you are unhappy with your purchase.
Here are a few screenshots from the book below – click here to learn more about my clean eating ebook!
Wanna Learn How To Meal Prep?
My meal planning service, Dinner Prep Pro, removes the guesswork and helps you get dinner on the table in 15-20 minutes each night. My meal prep checklists only take 1 hour each week!
More clean eating resources
For all my resource posts, you can always check out the archives for helpful diet and meal prep advice. I've also listed some handy articles below that will help you get on the right track when it comes to healthy eating!
Meal prep mini course
If you'd like some more help with clean eating, then you'll love my free 5-day meal prep challenge! Over the course of the challenge, I'll send you a free meal planner and shopping list templates so that you stay on the right track with clean eating meal prep (plus more goodies of course!)