Meal Prep Protein Balls 5 Ways (No Bake)
These are the easiest ever protein balls, made 5 ways! They're great meal prep snacks, and you can freeze them – try cookie dough, peanut butter, macaroon, brownie or oatmeal raisin.  Jump to Recipe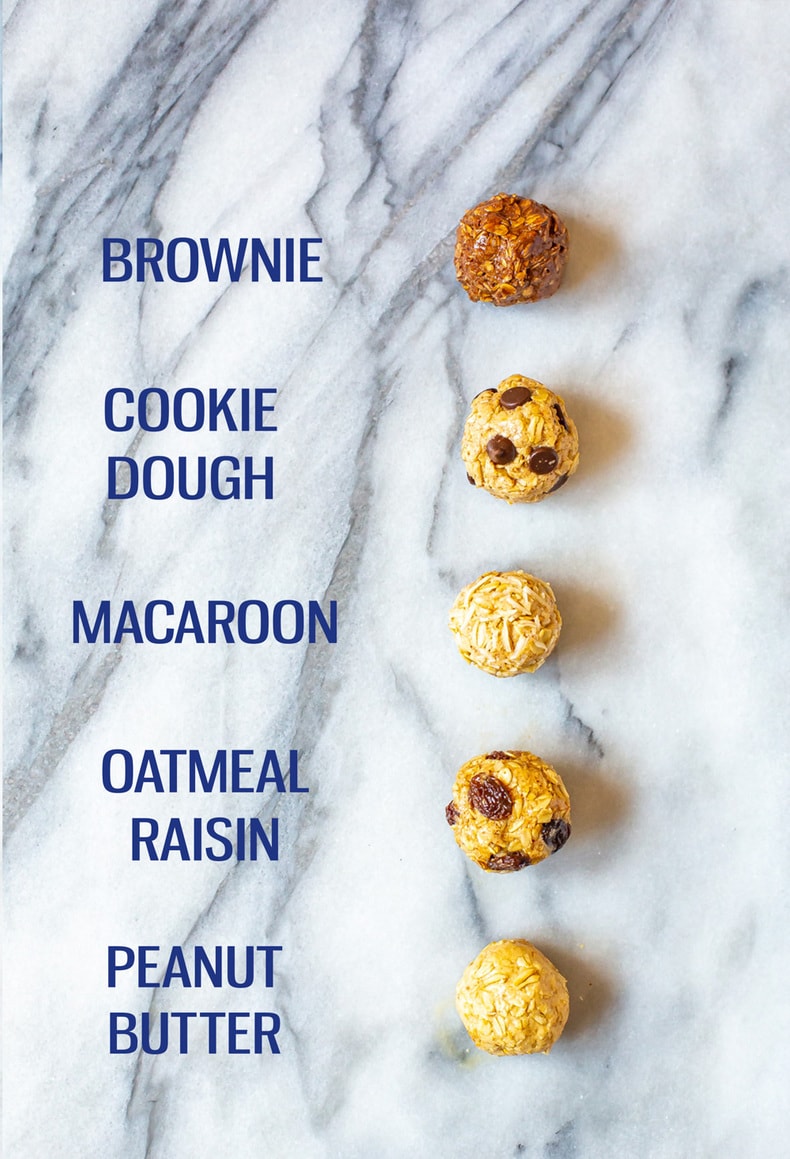 Ingredients in protein balls
The basic ingredients for protein balls is the same regardless of which flavor you make.
Rolled oats– This grain is a great source of fiber, vitamins, minerals and antioxidants. Rolled oats are great for baking and adding to recipes such as this one. They have a soft creamy texture, even in these no bake protein balls.
Protein powder– Whey protein powder is a milk derivative. This protein powder will help you lose weight, gain muscle and provides essential amino acids.
Coconut oil– Coconut oil is high in healthy saturated fats, which is required for heart and brain health. Coconut oil is a liquid at room temperature and a solid when cold. This will help your protein balls keep their shape.
Alternative sweeteners
In these protein balls, I always use honey to give them a bit of natural sweetness. Honey does however have a very high fructose content. This is great for many baked goods because you can use less and still create a sweet treat.
However, honey is high in calories and can spike your blood sugar moderately. This being the case, it is not a good choice if you are following a keto or low carb diet. If you are avoiding honey, you can use other sweeteners.
Stevia– Stevia is an extract from the leaves of a plant native to Brazil. It has no calories or carbs and is 200 times sweeter than sugar. A little bit goes a long way!
Maple syrup– Maple syrup has a lower glycemic index than honey and also has more calcium, iron, zinc and copper. Just be sure to use real maple syrup and not an artificial product.
Agave syrup– Agave has calories but its glycemic index is lower than other sweeteners. Replace honey with the same amount of agave.
How to make protein balls (step by step)
These no bake protein balls take only a few minutes to put together and will provide you with a high energy snack any time. They are incredibly easy to make!
Microwave honey (or other sweetener), nut butter and coconut oil.
Add oats and protein powder.
Add the mix ins of your choice or create your own special recipe based on these nutrition principles.
Roll into balls.
Refrigerate for 30-60 minutes.
How to roll the balls
To make the protein balls uniform in size and shape, try these tips:
Use a cookie scoop to keep the size consistent
To prevent the dough from sticking to your hands, dampen them with water
If they are mushy, try adding a bit more oats
If they are crumbling, add wet ingredients (like honey)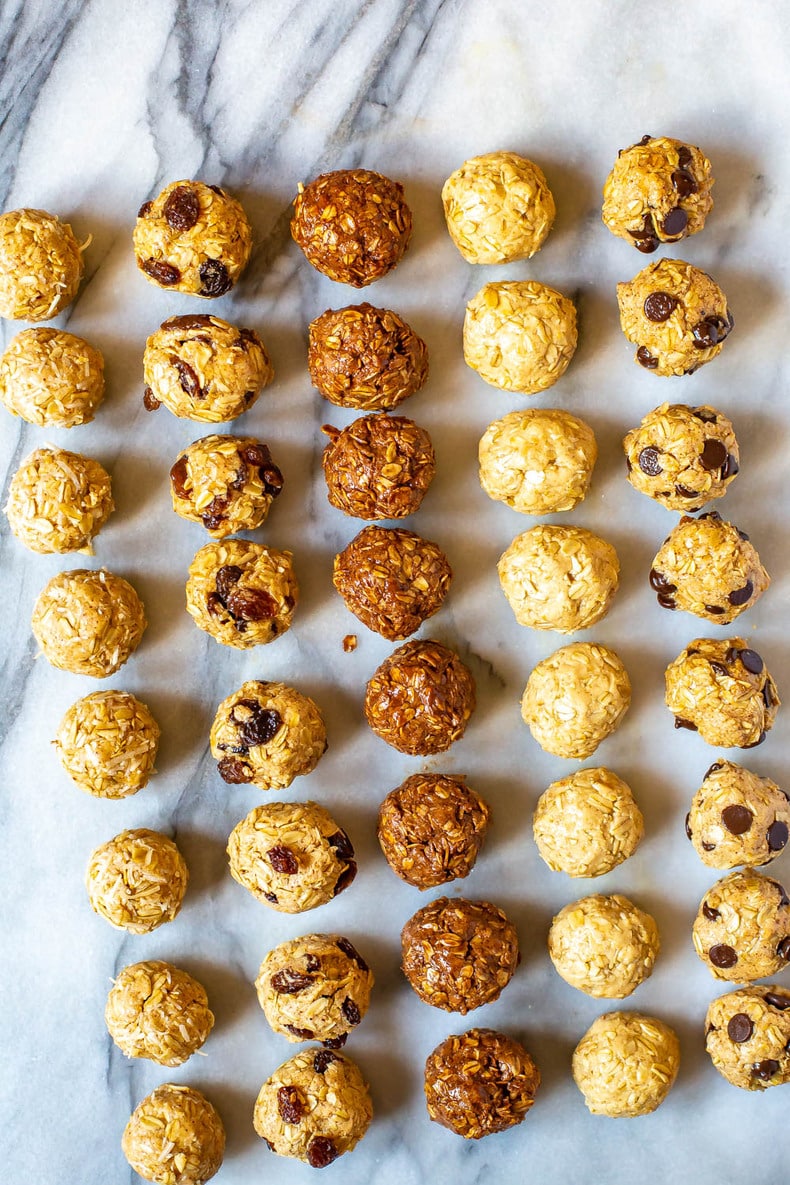 Five different varieties of protein balls
In this protein ball recipe, you start with the same basic ingredients each time. What you add to that base depends on what variety you want to make. This recipe will make any of these flavors:
Macaroon– add almond flour and coconut
Cookie dough– add nut butter and chocolate chips
Peanut butter– add peanut butter, of course!
Brownie– add almond butter and cocoa powder
Oatmeal raisin– add almond butter and raisins
BROWNIE PROTEIN BALLS

PEANUT BUTTER PROTEIN BALLS

MACAROON PROTEIN BALLS
OATMEAL RAISIN PROTEIN BALLS
COOKIE DOUGH PROTEIN BALLS
How to make protein balls nut-free
For nut-free protein balls, use sunflower butter instead of peanut, cashew, or almond butter.
To make no bake protein balls nut free and vegan, use sunflower butter, and use maple syrup rather than honey.
What type of protein powder to use
Whey protein is a great source of high quality protein from milk. When choosing a supplement, look for one with the fewest ingredients and with protein as the first ingredient. Another sign of a quality product is labeled as a protein isolate instead of a concentrate.
For these recipes, chose a vanilla or unflavored variety of whey protein. It is the most versatile and can be used in any recipe. Here is the protein powder I use if you're looking for a clean one.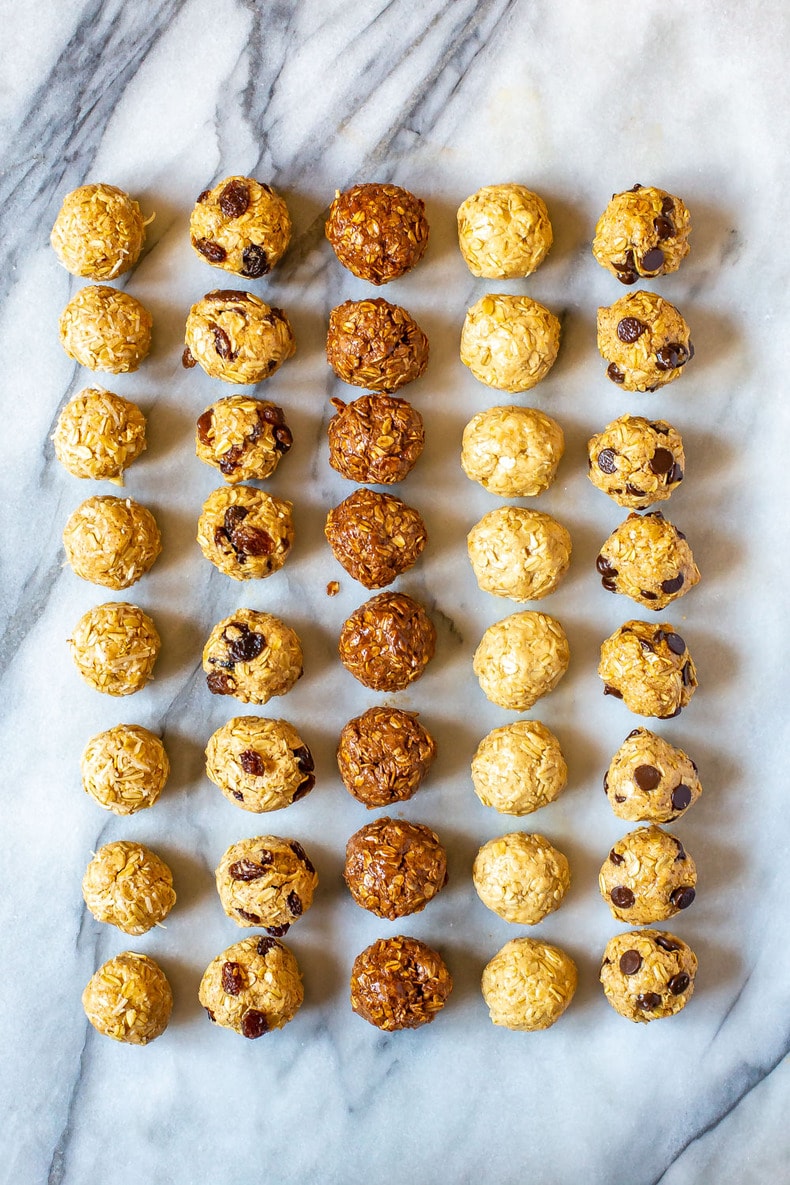 Storing and freezing
These protein balls are made with shelf stable ingredients so they can stay at room temperature for awhile. However, they will last longer in the refrigerator.
They can be stored in the refrigerator for two weeks and the freezer for three months.
Other healthy snack ideas
One of the best ways to make good food choices is to have healthy snacks and meals easily available. Try a few of these other easy healthy snack ideas:
Meal prep tools for this recipe
Meal prep challenge
If you'd like some more help with meal planning, then you'll love my free 5-day meal prep challenge! It's basically a free course that will teach you how to meal prep and cook healthy meals at home with some PDF bonus materials. Sign up for free below: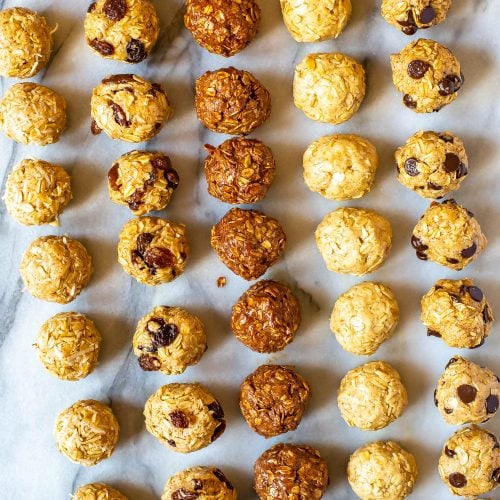 Protein Balls 5 Ways
These are the easiest ever protein balls, made 5 ways! They're great meal prep snacks, and you can freeze them - try cookie dough, peanut butter, macaroon, brownie or oatmeal raisin.
Print
Pin
Rate
Chilling time:
30
minutes
Ingredients
Macaroon protein balls
2

cups

rolled oats

1 1/3

cup

vanilla whey protein powder

1/4

cup

honey

1/4

cup

coconut oil

1/4

cup

almond butter

1/2

cup

unsweetened shredded coconut
Cookie dough protein balls
2

cups

rolled oats

1 1/3

cup

vanilla whey protein powder

1/4

cup

honey

1/4

cup

coconut oil

1/4

cup

cashew or almond butter (cashew gives a more neutral flavour)

1/3

cup

chocolate chips
Peanut butter protein balls
2

cups

rolled oats

1 1/3

cup

vanilla whey protein powder

1/4

cup

honey

1/4

cup

coconut oil

1/4

cup

peanut butter
Brownie protein balls
2

cups

rolled oats

1 1/3

cup

vanilla whey protein powder

1/4

cup

honey

1/4

cup

coconut oil

1/4

cup

almond butter

2

tbsp

cocoa powder
Oatmeal raisin protein balls
2

cups

rolled oats

1 1/3

cup

vanilla whey protein powder

1/4

cup

honey

1/4

cup

coconut oil

1/4

cup

almond butter

1/2

cup

raisins
Instructions
Choose the protein balls you're going to make. Mix the oats and protein powder together in one large bowl, then mix together honey, coconut oil and nut butter of choice in another bowl. Microwave wet ingredients for 30-40 seconds, then fold into dry ingredients.

Mix in your add-ins according to which protein ball recipe you choose to make. For instance, if you choose to make the macaroon recipe, stir in the shredded coconut.

Roll dough into 1-inch balls, then place on a baking tray or large baking dish and chill for 30 minutes to 1 hour in the fridge. Store in the fridge for up to 14 days, or freeze up to 3 months.
Video
Nutrition
Calories:
128
kcal
|
Carbohydrates:
11
g
|
Protein:
10
g
|
Fat:
5
g
|
Saturated Fat:
3
g
|
Sodium:
1
mg
|
Potassium:
56
mg
|
Fiber:
1
g
|
Sugar:
3
g
|
Calcium:
13
mg
|
Iron:
1
mg
*Nutrition info is for 1 protein ball*