Meal prep saves you time, money and hassle, and it's the way I've been cooking for years now. It's also a big part of the reason I've been able to keep up my personal fitness along with a crazy work schedule and still squeeze in some time for fun on weekends. Since I get asked so often, I thought I'd share my foolproof method for easy meal prep and planning, including free printables!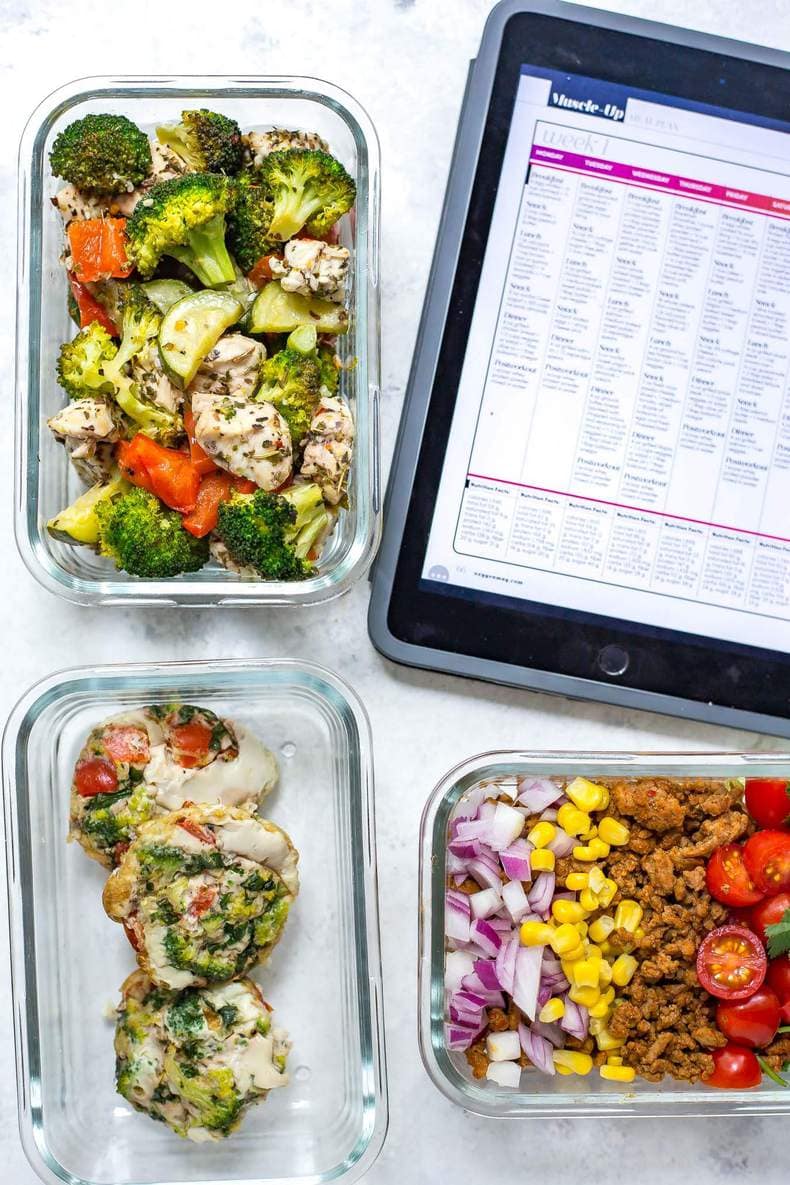 As a full-time blogger, food photographer and entrepreneur, I'm never really off the clock. Something always needs fixing or tinkering with, and my day job really does involve me working from sun rise to sunset.
I couldn't get half the things on my to-do list accomplished without proper sleep, nutritionally dense meals and a little bit of movement each day. As a fellow busy person, you can probably relate to the rat race and recognize that a healthy lifestyle plays a huge part in your success.
If you're looking for a more specific guide on how to get started with meal prep check out my FREE 5-day meal prep challenge below – it's a step-by-step guide sent over five days directly to your email inbox!
Healthy Meal Ideas
Before we get started, take a look at some of the most helpful resources on my site below!
Meal prep proteins
Healthy Breakfast Ideas
If you're looking for help with grab and go breakfasts I've got you covered with these easy ideas:
Healthy Lunch Ideas
If you're struggling to make lunch every week, these posts are where you should start after reading this resource guide.
Healthy Dinner Ideas
If you're looking for more delicious meal inspiration, look no further than some of these helpful resources below!
My Fave Meal Prep Tools
Needless to say, meal planning is a lifesaver and whether it's a new habit you're trying to form or you just want to get into a routine where you're eating out less, I promise I can help!
Here's Why You Should Meal Prep
Meal Prep Saves You Money
You don't need to worry about spending all your money on takeout, or even spending time after work stopping to grab something because you've already got some freezer meals at home, or you've prepped for the week ahead. The money you spend per meal is SO MUCH CHEAPER because you're creating your meals in bulk and you're repurposing different ingredients for multiple meals.
Meal Prep Reduces Food Waste
This is a big one for me. When I was first learning to cook for myself, I just kind of bought groceries on a whim and I was finding a lot of my produce going bad, or forgetting about meat in the freezer. I think one of the best parts of meal prep and planning is being able to have a dual purpose for ingredients. Don't buy 10 different types of veggies and let them go bad after using them up in one meal. Learning to make meals with overlap in ingredients helps you cut down on food waste because you know exactly what's in the fridge and how it's going to be used.
Meal Prep Saves You Time
Saving time is sometimes just as important as saving money! I know I honestly can't take time out of my busy day to make a big meal, or even a sandwich. It's go-go-go, and whether you're working from home or out of an office, or even on the road, I promise life is so much easier when you've already got a packed lunch. What's even better is when that lunch (and three more where that came from!) took just 45 minutes to make on a Sunday or on a weeknight after work. Making your meals in bulk is such a time saver and will keep you feeling satisfied and energized so you can focus on doing what you do best: kicking ass at work!
Meal Prep Doesn't Have to Be Boring!
I think one of the biggest misconceptions is that meal planning is a lot of hard work, and it's often made up of boring, plain meals like chicken, spinach and sweet potato. Umm, NO! One of the biggest reasons I'm able to get through the work day – and have a GOOD DAY at that! – is because I know I have something tasty to look forward to. I'm always thinking of new ways to serve up healthy, vibrant flavours while still using minimal ingredients with an emphasis on real food and nutritious fuel for your body. Healthy and delicious is SO POSSIBLE. I know because I eat that way everyday. Call me a fit foodie!
Meal Planning Reduces Stress
Yes, I would classify this as different than saving time and money. I know when I first started working and wasn't able to eat at home, I was really stressed out thinking of when I had to go grocery shopping, when I had to make everything, and the last thing I would wanna do after a long day is come home and make a ton of food to get through the week. I also wasn't making enough money to justify buying any meals out, so I had to rely on home cooked meals. Trust me when I say from experience that Hhaving all your breakfasts and lunches ready at the beginning of the week is a life saver and allows you to free up mental space and energy during the week so you can focus on getting things done. No last minute scrambles to get dinner on the table either.
If you're looking to get serious about meal prep, you HAVE to sign up for my free 5-day challenge below! It's going to get you on the right path and give you the structure you need to meal prep like a pro!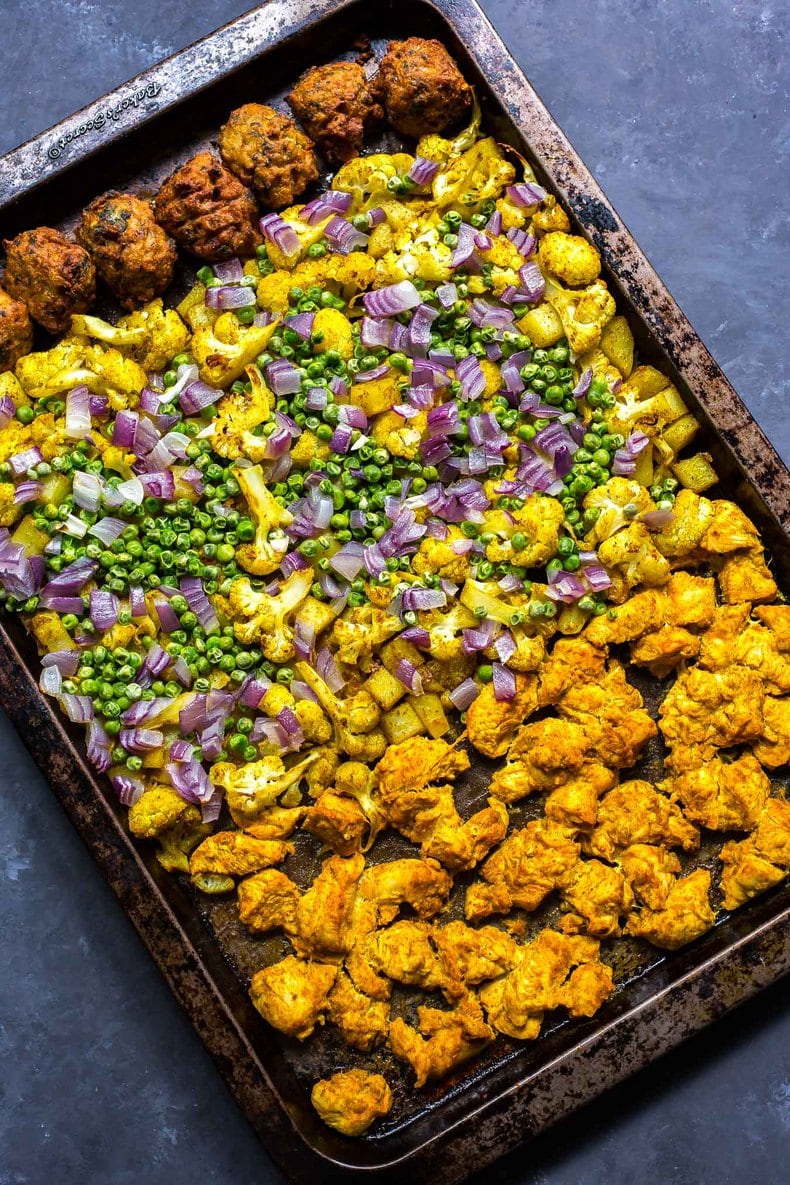 SO. The big question, really, is just HOW do we get this all done?!
Well as a busy working woman, I tend to cook mainly for myself. I don't have a family yet and don't live with a partner so I'm just cooking for me, myself and I. Single living has its perks for sure, but it's also harder in a way when you're meal planning, and I know you can relate. Whether you're cooking for you and others or are cooking for just yourself, you always want to make sure there's enough food (but not TOO much), and you don't want to fall into a mundane routine.
Well, I'm here to help! I've found a routine that consistently works for me and that is prepping breakfast and lunch for the work week ahead of time in bulk – aka meal prepping at its finest. But don't think you've gotta spend a few hours or a whole day in the kitchen at a time. My simple recipes will help you cook delicious food you love and get it all whipped up in a hurry.
HERE'S MY WEEKLY MEAL PREP STRATEGY:
Breakfast:
I usually have the same thing for breakfast almost every week (usually a make-ahead egg white crustless quiche), and it's something that I prepare in advance because I HATE cooking in the morning. Like, gimme coffee, gimme peace and quiet…I am not going to get up to make something when my stomach is grumbling and I'm still waking up. Given my love-hate relationship with breakfast, I like to have it made in advance, or least have it be something that's super easy to throw together in 5 minutes. Here are a few of my favourite breakfast ideas:
Instant oatmeal with berries or chopped up apples and cinnamon
Whole-wheat English muffin with peanut butter and sliced banana
Scrambled (or hard-boiled) eggs with cheese and spinach
Make ahead egg white crustless quiche with mixed veggies (usually spinach and red pepper)
Granola yogurt parfait
Lunch:
When it comes to lunches, I definitely have a few main go-tos but I also really like to switch it up and try new things. I'll often create my lunches in bulk at the beginning of the week in the form of meal prep bowls or grab and go mason jars, planning to have three or four servings of the same thing prepped and ready to go, and then count on using dinner leftovers for lunch at least 1-2 days out of the week. Here are a few of my favourite lunches I end up cycling through on a regular basis:
Lettuce wraps with leftover protein from dinner
Kale & quinoa bowls or salads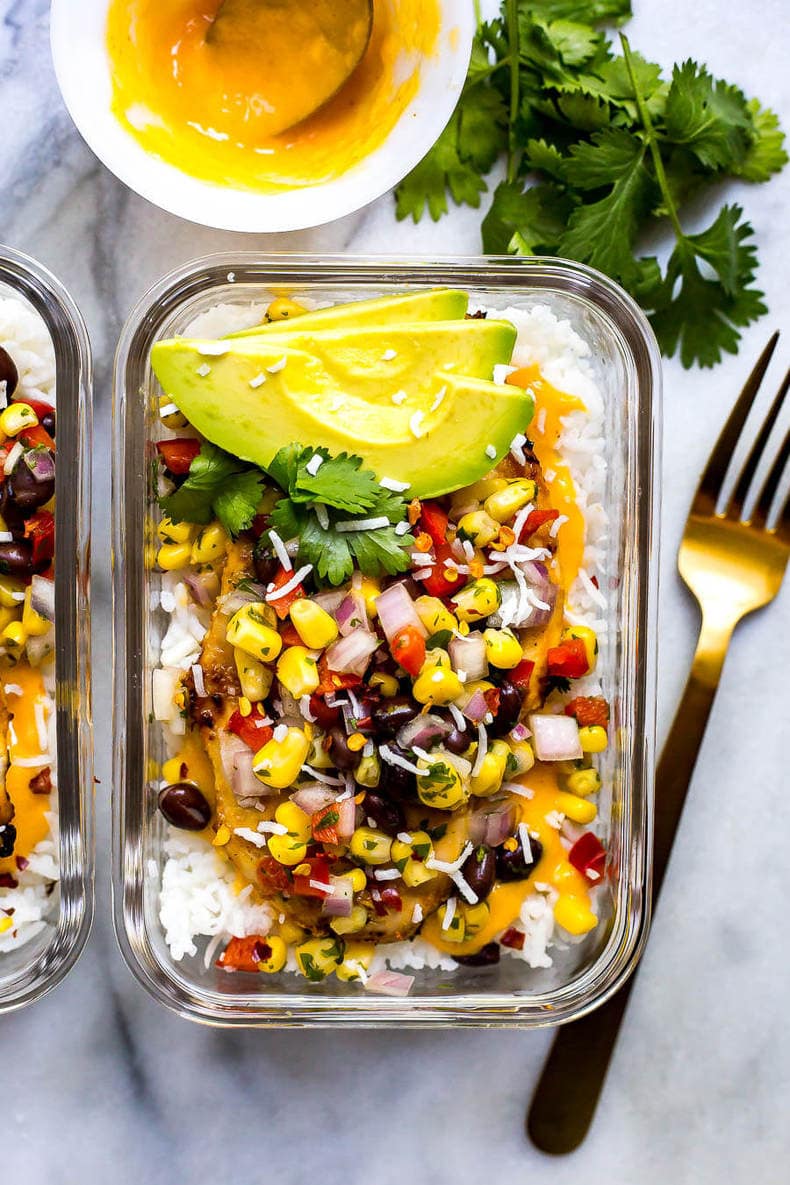 Dinner:
Dinner is another meal of the day that I have a love-hate relationship with. On the one hand, I'm almost always craving something hot, delicious and comforting. It's my favourite meal of the day, so I have high expectations for it – no salads or sandwiches for me. I need a piping hot bowl of something with a ton of flavour, like something absolutely amazing to enjoy with a fave show while I kick back and relax because it's the one time of day I can really unwind.
But I also want dinner ready quickly, and I don't always have it planned out. When in a rush, freezer meals or something done in the slow cooker is helpful, but I also love 30-minute one pot meals or sheet pan dinners that come together at the last minute with ingredients you already have on hand in the cupboard or fridge. Here are some of my go-to dinner recipes:
Snacks:
Some people like to plan out their snacks in advance but I'm more a fly-by-the-seat-of-my-pants kinda gal when it comes to snacking. BUT, I will say that the snacks I try to keep on hand in the house are healthy options that I can access in a hurry. I have a high-quality whey protein for after workouts, and I try to have other high-protein, low-calorie snacks around too. Sometimes I'll also make homemade granola bars or energy bites if I'm looking for something a little sweet. Here are my go-tos:
Hard-boiled eggs
Protein powder
Beef jerky (low for a lower-sodium, high-quality version; or you can make your own)
Fruits and nut butters (I'm a sucker for apples and peanut butter)
Homemade green smoothies (no yogurt, just fruit/veggies like spinach, celery, apple, lemon, ginger, etc)
Nuts like almonds, cashews, walnuts, pumpkin seeds, etc
Low-sugar, dairy-free fudgsicles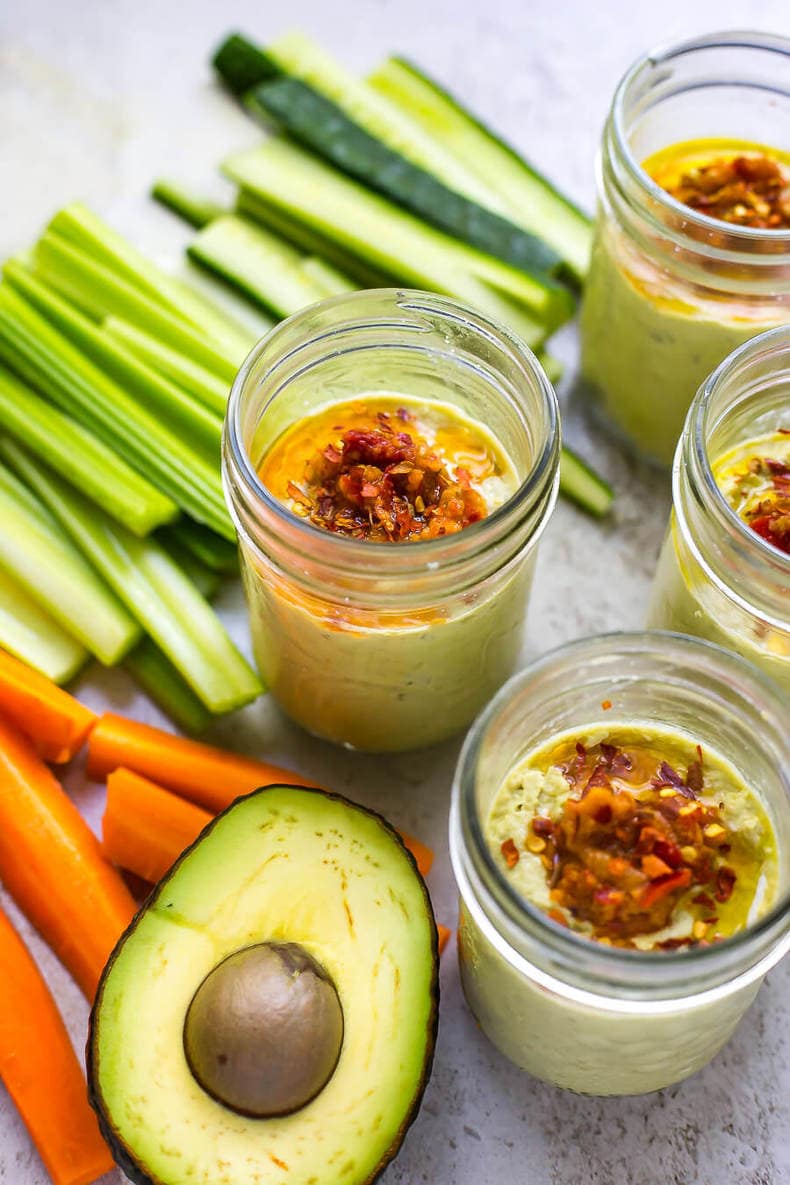 HERE'S HOW I KEEP ON TRACK:
Print off a free weekly calendar and shopping list!
Lucky for you, I have a FREE WEEKLY CALENDAR & SHOPPING LIST (along with a bunch of other meal prep resources) for you to download to keep yourself organized – get them when you sign up for my 5-day meal prep challenge!
The one you'll download on Day 3 of the Challenge is the one I use when meal planning and meal prepping each week, and it helps me stick to my routine and stream-lines the planning process.
I like to be able to also see when I'm going out in advance so I can plan my meals around my schedule, and write down what I already have on hand in my fridge and pantry BEFORE I go grocery shopping so I can reduce food waste and not have to waste money buying the same thing twice. This meal calendar is definitely a lifesaver!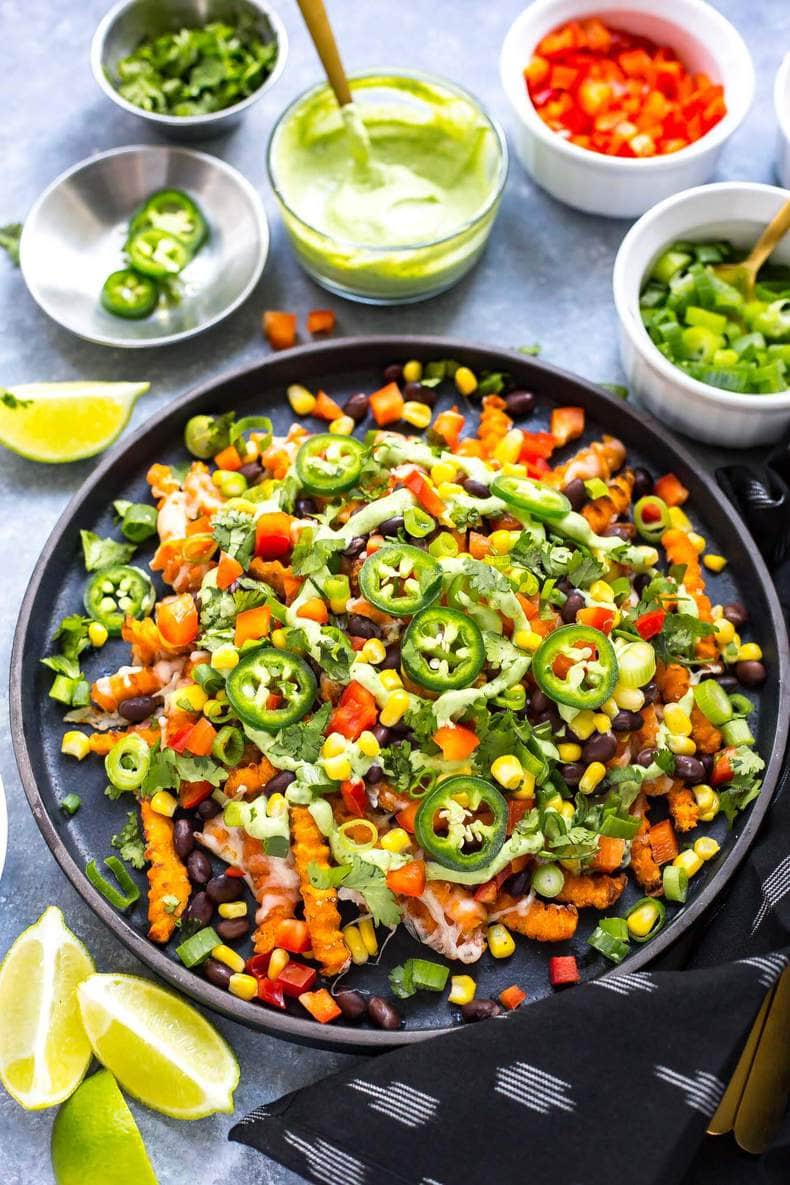 More Meal Prep Tips:
Keep it simple. If you just don't think you can plan out three meals a day, that's okay. Try planning dinner for each meal of the week, and make enough so that there are leftovers for lunches all week long. From there, you can keep a good inventory of snacks and simple breakfast ideas until you find recipes you're comfortable with and know you love.
Use the same ingredients more than once. This is hands down the best way to reduce food waste. Use those carrots for two or three different recipes; and no, you probably don't need to include eggplant in that recipe when you like red peppers or zucchini better, so make ingredient swaps work for you where you can. Buy fresh ingredients you know you'll use in a variety of recipes.
Prepare ingredients ahead of time. Know that you're making quinoa bowls later in the week? Make the quinoa or other grains ahead of time, or cook chicken in the oven or boil it to make pulled chicken for later in the work week. It helps to have some components of a recipe prepared ahead of time.
Keep a well-stocked pantry and spice drawer. This is another huge one for me. I ALWAYS make sure I have a ton of spices on hand so I can just add a little bit here and there, and I also make sure my pantry/fridge is stocked with staples like butter, olive oil, onions, garlic, crushed tomatoes, bouillon cubes, coconut milk, pickles, hot sauce, mustard, vinegars…you name it, I've got it. It makes life so much easier when you go to make a recipe and see you've already got most items on hand.
Keep a well-stocked freezer. This brings me to my second point: have a ton of meat in your freezer. I personally like to buy in bulk when meat goes on sale, and I have a ton of variety on hand, everything from turkey sausages to ground beef, shrimp and scallops. And of course, a bottomless supply of boneless, skinless chicken breasts. It may be expensive to stock up all at once but if you have all of these items on hand you're less likely to buy food out because you KNOW you have a ton of options to satisfy any cravings you have! And that can be cheaper in the long run!
Go easy on yourself. Sometimes life happens, and that's okay. Your meal plan is meant to help you stay organized and take a look at your week at a glance, not to rigidly lock you in – there will be some days you just don't want to cook, and that's okay. Being prepared helps get you back on track again the next day though!