These Avocado Hummus Snack Jars are a delicious and healthy snack that's high in fibre and filled with good fats! Enjoy on-the-go with veggies and crackers, or as the perfect portion size after work!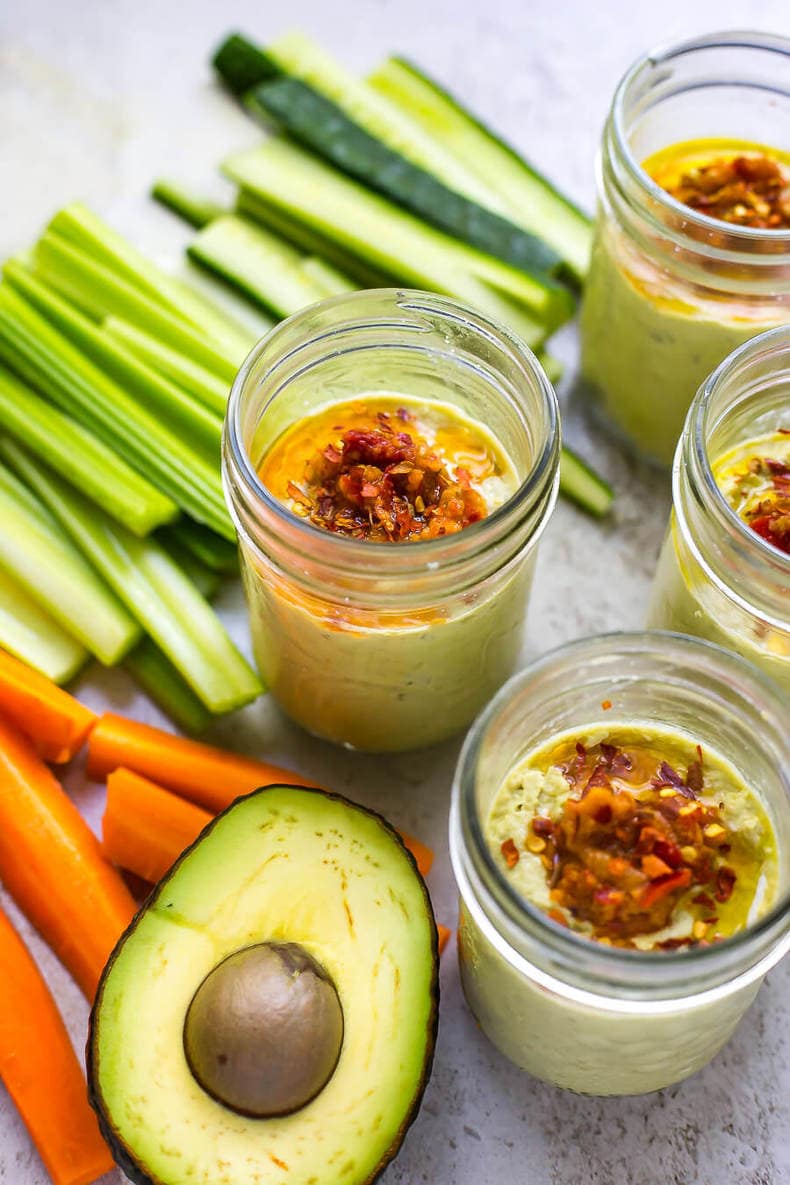 This post is sponsored by Vitamix – thanks for supporting the brands that help keep my blog up and running!
Say hello to the glorious, healthy snack idea that is avocado hummus – in cute little mason jars to boot!
Now that the hockey playoffs are in full swing, we are literally watching sports every night. I mean, my mom and I are going a bit crazy trying to take over the TV on my dad but every once in a while it's nice to get together with friends and family, have a few drinks and some snacks and cheer on our fave teams.
So, in honour of the playoffs, I'm bringing you a super healthy, fun and easy snack idea that is bound to be a crowd-pleaser. Say hello to Avocado Hummus Snack Jars. The bonus? Everybody gets their own serving!!!
Now if you know me, you know I don't normally like to share my food. I'm that girl giving you a tiny sliver of something when you ask for a taste LOL.
So that's why I like the idea of mini mason jar snacks so much – everyone gets their own serving, and it's such a fun way to transport some of your fave foods. And if you don't end up heading out to that playoff game, you've still got some Avocado Hummus Snack Jars packed for the work week. I know I'm not the only one who comes home after a day of work absolutely starving.
Having something nutritious and delicious that you can grab right out of the fridge is super convenient and really helps keep you on track with your health and wellness goals.
Ummm, now let's talk about how amazing avocado hummus really is.
This stuff is kinda like the most brilliant blend of guacamole and hummus. You've got the garlicky, smooth spread from the blended chickpeas and tahini, and the avocado brings a nice coolness to this recipe that is just meant for after work snacking, or sharing with friends.
And the best part is that it can be made in a pinch using your Vitamix!
I've been working with Vitamix for a little under a year now and it's crazy how much their high speed blenders have changed the way I cook. I use it as a food processor for fresh salad dressings and to make a variety of different things like smoothies, soups, frozen cocktails and iced frappucinos.
Funny enough, I had actually never tried to make too many dips. With the exception of this crazy amazing brussels sprouts and kale cheese dip back in October. OMG. Yes.
I was a bit skeptical at first that the chickpeas would blend easily, but if you keep your Vitamix running on low speed, it all comes together over the course of a few minutes blending on and off. I also add a little water and lemon juice to make it easier to blend this mixture all together.
With minimal energy these Avocado Hummus Snack Jars come together in a hurry and that's exactly what you need after a long day. No cooking, just healthy snacking!
Now add a little bit of antipasto of your choice or some sliced sundried tomatoes as a fun little topping and get ready to serve these Avocado Hummus Snack Jars with some cut up veggies and your fave crackers.
If you really wanna go crazy, you can throw some veggie chips in there too! 😉
Now excuse me while I get back to this glorious weather and BBQ season – I'll be serving up fresh colourful food like this for the next few months while I can!
Will you be making these Avocado Hummus Snack Jars? 
I'm so in love with these little guys – they're just too cute!
If you try any of my recipes be sure to let me know on Instagram, Twitter, Facebook or in the comments – and for this campaign, make sure you keep up with the conversation on social media using the following hashtags: #Vitamix #HockeySnacks #PlayOffSnacks #TheyShootTheyEat
Avocado Hummus Snack Jars
These Avocado Hummus Snack Jars are a delicious and healthy snack that's high in fibre and filled with good fats! Enjoy on-the-go with veggies and crackers, or as the perfect portion size after work!
Print
Pin
Rate
Ingredients
1

can

chickpeas, drained and rinsed

1/2

cup

tahini

1

avocado, diced

2

cloves

garlic minced

1

tbsp

lemon juice

1/2

tsp

salt

1/4

cup

water

Antipasto or sliced sundried tomatoes (optional topping)

Carrot sticks, celery sticks, cucumber cut into wedges

Assorted crackers, chips, etc.
Instructions
Add all ingredients with the exception of antipasto/veggies/crackers to your Vitamix. Blend on the lowest speed for 30 seconds, removing lid as necessary to stir. Continue blending on low speed until fully mixed together - the whole process should take about 5 minutes.

Scoop out into jam jars, and top with antipasto or sundried tomatoes. Serve alongside cut up veggies, crackers, chips or whatever other snacks you're craving. Enjoy within the first 2-3 days of serving.
Nutrition
Calories:
259
kcal
|
Carbohydrates:
11
g
|
Protein:
6
g
|
Fat:
23
g
|
Saturated Fat:
3
g
|
Sodium:
305
mg
|
Potassium:
381
mg
|
Fiber:
4
g
|
Vitamin A:
95
IU
|
Vitamin C:
7.8
mg
|
Calcium:
48
mg
|
Iron:
1.6
mg