These Avocado Hummus Snack Jars are high in fibre and a healthy on-the-go snack option that tastes great with veggies and crackers.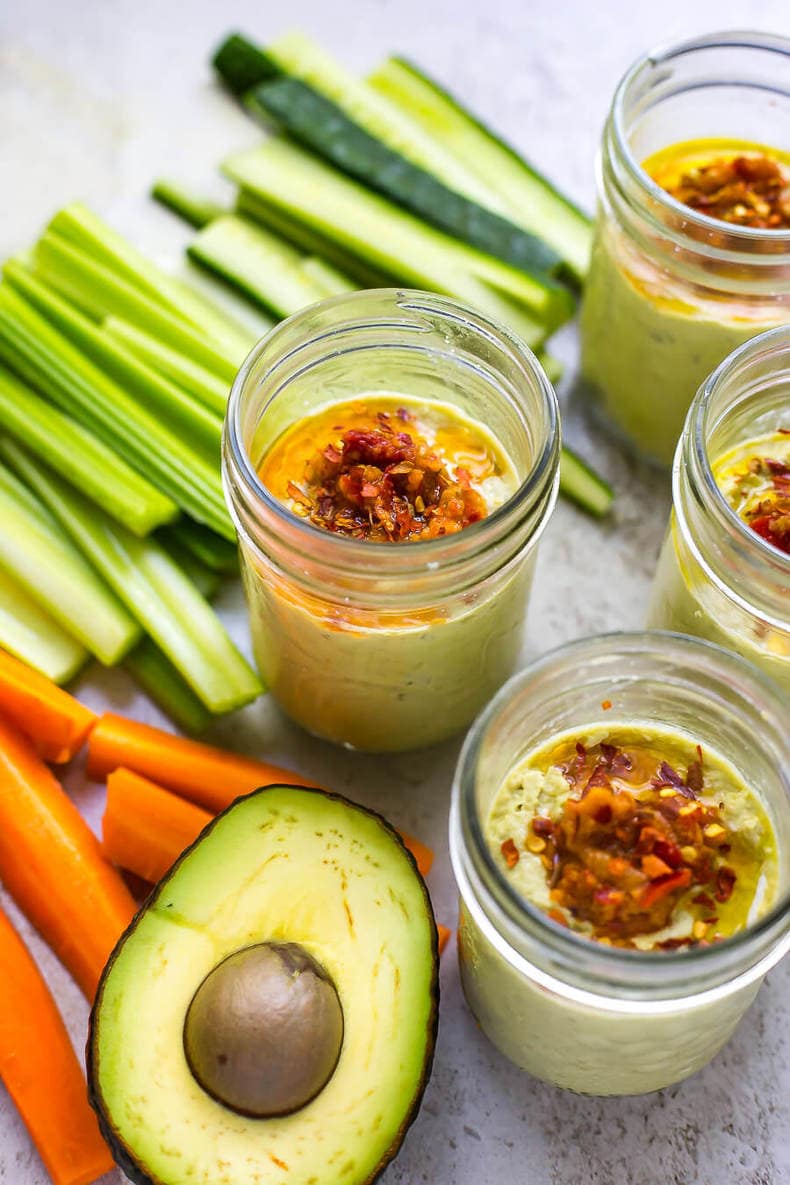 How to make avocado hummus
Add everything except the antipasto, veggies and crackers to a blender.
Blend until smooth.
Divide the hummus equally amongst four mason jars.
Top each jar with antipasto.
Serves with veggies and crackers and enjoy!
Skip the Ads and Get Right to the Recipes!
ZERO ADS on over 600 recipes!
Weekly Meal Plans, Grocery & Prep Lists
Bonus eBooks
Ingredients and substitutions
Chickpeas – use canned chickpeas that have been rinsed and drained for an easier assembly process.
Tahini – cashew butter, sunflower seed butter or another nut butter can work in place of tahini.
Avocado
Garlic – use fresh or jarred minced garlic. Garlic powder can be used in a pinch.
Lemon juice – use fresh or bottled lemon juice for this recipe.
Salt (to taste)
Water
Antipasto – the antipasto will be used as a garnish and is optional. Sun-dried tomatoes can also be used.
Veggie sticks – use any veggies of your choice, such as carrots, cucumbers, celery or bell peppers.
Crackers – chips can also be used to dip into the avocado hummus.
What is hummus made of?
Hummus is typically made of chickpeas, tahini, lemon and spices, but there are different varieties and flavours to use from. This recipe uses avocado to make it extra creamy!
How many calories are in avocado hummus?
This avocado hummus recipe has 259 calories. It's super filling and a great option when you're looking for a snack that's high in fibre and good fats.
What to eat with hummus
This avocado hummus is a delicious snack on its own or as an accompaniment to so many recipes! If you are looking to make the most of this hummus recipe, here are a few ways to serve this dish:
Serve hummus as a dip with veggies (cucumbers, carrots, celery, etc.)
Serve as a dip with pita chips, crackers and naan crisps
Use the avocado hummus as a spread in sandwiches
If you want a plant-based pasta sauce, this avocado hummus is a great way of creating a non-dairy cream sauce
Serve the hummus as a topping for buddha bowls and other meal prep bowls
Storing instructions
To store any leftover hummus, transfer it to an airtight container. I suggest mason jars to keep the avocado in this hummus fresh longer.
When storing, you can store with the antipasto or sun-dried tomatoes that you've added on top or add them to the top when ready to enjoy. Squeeze some extra lemon juice on top or cover the hummus with plastic wrap before closing the container to keep the avocado from browning.
After storing, your hummus will last in the fridge for up to one week! It may lose its vibrant colour from the oxidizing avocado but it is still okay to eat for the week.
Can you freeze avocado hummus?
Yes! You can definitely freeze the avocado hummus for later. To freeze, transfer Avocado Hummus to an airtight container. Leave some room at the top so it has room to expand over time. I recommend storing them in multiple mason jars like I have pictured, rather than one large container. Before freezing, layer a piece of plastic wrap directly on top of the avocado hummus and freeze for up to 3 months.
If freezing, don't top the hummus with the antipasto or sundried tomatoes.
When ready to enjoy, place the avocado hummus into the fridge to thaw overnight. If it hasn't thawed fully, wait until it has thawed completely. Once it has thawed completely, top with desired toppings then serve and enjoy!
Wanna Learn How To Meal Prep?
My meal planning service, Dinner Prep Pro, removes the guesswork and helps you get dinner on the table in 15-20 minutes each night. My meal prep checklists only take 1 hour each week!
More healthy snack recipes
Meal prep tools
Healthy Avocado Hummus Snack Jars
These Avocado Hummus Snack Jars are high in fibre and a healthy on-the-go snack option that tastes great with veggies and crackers.
Print
Pin
Rate
Click Here to Remove Ads
Servings: 4 jars
Calories: 259kcal
Ingredients
1 can chickpeas, drained and rinsed
1/2 cup tahini
1 avocado, diced
2 cloves garlic minced
1 tbsp lemon juice
1/2 tsp salt
1/4 cup water
Antipasto or sliced sundried tomatoes (optional topping)
Carrot sticks, celery sticks, cucumber cut into wedges
Assorted crackers, chips, etc.
Instructions
Add all ingredients with the exception of antipasto/veggies/crackers to a high speed blender. Blend on the lowest speed for 30 seconds, removing lid as necessary to stir. Continue blending on low speed until fully mixed together – the whole process should take about 5 minutes.

Scoop out into jam jars, and top with antipasto or sundried tomatoes. Serve alongside cut up veggies, crackers, chips or whatever other snacks you're craving. Enjoy within the first 2-3 days of serving.
Nutrition
Calories: 259kcal (13%)Carbohydrates: 11g (4%)Protein: 6g (12%)Fat: 23g (35%)Saturated Fat: 3g (19%)Sodium: 305mg (13%)Potassium: 381mg (11%)Fiber: 4g (17%)Vitamin A: 95IU (2%)Vitamin C: 7.8mg (9%)Calcium: 48mg (5%)Iron: 1.6mg (9%)
Join The Girl on Bloor Premium!
ZERO ADS!
Weekly Meal Prep Checklists
Bonus eBooks