Learn how to make the best healthy smoothies – they contain minimal ingredients and will keep you full for hours. You can meal prep them, too!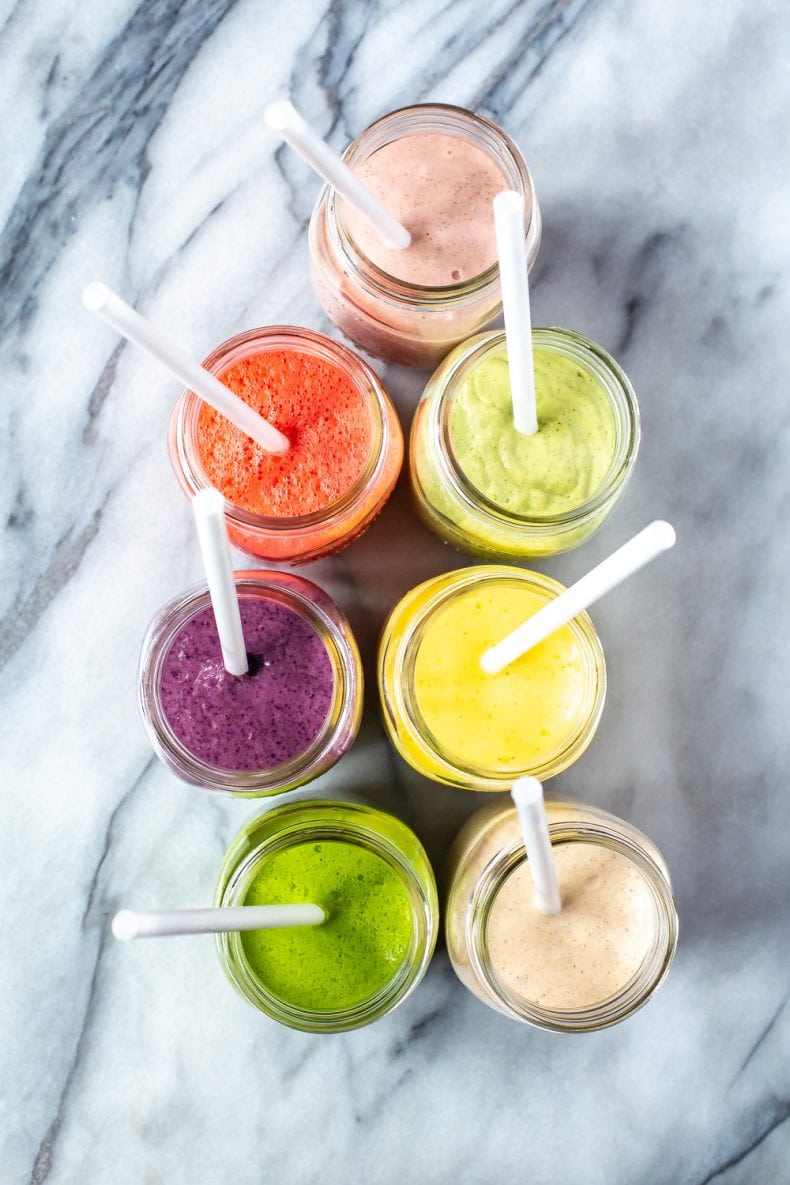 Healthy Smoothies
I think many people have misconceptions about what healthy smoothies really are. I know when I was younger, I thought that healthy smoothies were the ones you got at Booster Juice. Sadly, I would order a large smoothie from there or Starbucks after a night of partying and think I was replenishing my body with healthy food. Little did I know these smoothies were often filled with sugary frozen yogurt and can contain up to 460 calories (just take a look at their acai smoothie).
To make genuinely healthy smoothies, you have to be careful with the ingredients you use. You want to choose the highest-quality ingredients to ensure that you're getting the nutritional benefits you should be getting with fruit-filled smoothies.
What are the healthiest things to put in a smoothie?
My biggest piece of advice when it comes to what to put in your smoothie is to keep it simple! Pick 1-3 fruits to add, maybe a leafy green such as spinach and then your liquid and protein source. That's it! Sometimes the healthiest foods are the simplest foods.
There really aren't too many things you shouldn't be adding to smoothies, but I can say with confidence that sugar and ice are the biggest no-nos in my book.
First up, ice will totally water down your smoothies if you don't drink them right away and you need a super high-powered blender to get a smoother consistency. Second, you can get sweeter smoothies with natural ingredients – don't add calories or reduce the healthiness by adding sugar!
Adding more protein
Even if you're just looking to drink a smoothie as a healthy snack, you should still be adding a protein source to ensure that it satiates you and keeps you feeling full for a little while.
These are the best protein sources for smoothies:
Greek yogurt (the highest protein yogurt out there)
Seeds such as flax, hemp hearts and chia seeds – these seeds also help to add Omega-3s to your smoothies.
Protein powder such as Kaizen Naturals, which has 30g of protein and just 130 calories per scoop.
How to make your smoothies sweeter
We all have varying levels of taste when it comes to sweetness. For me personally, as I've incorporated less sugar into my diet over time, I've gotten used to things tasting less sweet.
Bananas are great natural sweeteners and they are often more than enough when you're making a smoothie. If you don't like bananas, applesauce is a great substitute or you can sweeten up your smoothie with dates, honey, real maple syrup (not cheap table syrup), stevia or molasses.
Are smoothies effective for weight loss?
Yes, you can lose weight drinking smoothies but it needs to be part of an overall diet plan. Read more about meal prep and weight loss here.
If you are drinking smoothies in an effort to lose weight, make sure to keep these points in mind:
Not all smoothies are healthy. Drinking smoothies alone will not help you lose weight. Healthy smoothie recipes can contribute to your weight-loss plans, but only if you're choosing low-fat, low-calorie, low-sugar ingredients.
Use portion control. Smoothies can contain more vegetables or fruit than you would eat raw and that means you are taking in more calories, carbohydrates and sugar than you think. Keep your smoothie at around 10 oz (most store-bought smoothies are at least 16 oz or more). If you make too much, freeze the extra portion for later.
Smoothies can leave you feeling hungry. Make sure your smoothie contains the right balance of ingredients. Adding protein and healthy fats will help make you feel full longer. But be careful as these additions can also make the calorie count go up. If you feel the need to add healthy fats or protein, then consider adding a quarter of an avocado (81 calories), half a cup of Greek yogurt (140 calories) or a tablespoon of peanut butter (95 calories).
The Best Healthy Smoothie Recipes
I rounded up some of my favourite healthy smoothie recipes below. They're all packed full of nutrients and are great for meal prep.
Green smoothie
Strawberry banana smoothie
Tropical smoothie
Avocado smoothie

Watermelon smoothie

Peanut butter banana smoothie
Blueberry Smoothie

How to meal prep smoothies
When it comes to meal prepping smoothies, there are two main methods:
Smoothie freezer bags: Make little smoothie freezer packs in Ziploc bags or mason jars that contain all your fruits and veggies measured out. When you're ready to make your smoothie, all you have to do is dump the freezer pack into the blender, add in your liquid and blend! I like to make big batches of these freezer packs so I have some variety to choose from throughout the week. They'll last in the freezer for up to 3 months.
Pre-blending smoothies: You can also pre-blend your smoothies and store them in the fridge in mason jars for up to 3 days. This method is a great grab-and-go option. All you have to do is give the mason jar a good shake, add in some water if needed and enjoy! Just keep in mind the texture won't be the same as if they were freshly blended.
Meal prep tools for this recipe
More healthy smoothie recipes
The Best Healthy Smoothie Recipes
Learn how to make the best healthy smoothies – they contain minimal ingredients and will keep you full for hours. You can meal prep them, too!
Print
Pin
Rate
Ingredients
Green smoothie
1

cup

baby spinach

1/2

green apple, chopped

1

banana
Strawberry banana smoothie
1/2

cup

frozen strawberries

1

banana
Tropical smoothie
1/4

cup

frozen mango chunks

1/4

cup

frozen pineapple chunks

1

tbsp

shredded unsweetened coconut
Avocado smoothie
1

ripe avocado, mashed

1

banana
Watermelon smoothie
1

cup

watermelon

1

lime, juiced
Peanut butter banana smoothie
1

banana

1

tbsp

peanut butter
Blueberry smoothie
1/2

cup

frozen blueberries

1

banana
Base ingredients for all smoothies
1/2

cup

dairy, almond, rice, soy or coconut milk

1/3

cup

plain Greek yogurt (optional)
Optional add-ins
1

tbsp

flax, hemp or chia seeds

2

tbsp

protein powder of choice

1

tbsp

sweetener of choice (honey, stevia, agave syrup, dates)

1/2

cup

applesauce (use in place of banana)
Instructions
Add in base ingredients and add-ins of choice to a blender or Magic Bullet. Usually almond or coconut milk, Greek yogurt and hemp seeds are my go-to ingredients for any smoothie but you can add in additional natural sweeteners or swap out bananas for applesauce.

In addition to your base ingredients, add the ingredients for whatever smoothie you want to make. For instance, if you are looking to make the green smoothie, add the spinach, green apple and banana to the blender.

Blend ingredients on high until a smooth consistency develops. Add more milk as desired if you'd like a thinner smoothie. Serve immediately or enjoy up to 3 days after making your smoothie.

Tip: If you want to make these smoothies ahead you can assemble little individual-sized plastic bags filled with the fruit-based ingredients and freeze up to 3 months in advance.
Video
Notes
Nutritional info is an approximate calculation for one smoothie with two different types of fruit, 1/2 cup almond milk and 1/3 cup of Greek yogurt. You can calculate exact calories depending on your unique combo of ingredients on Myfitnesspal.
Add more protein with Greek yogurt, seeds or a whey-based protein powder.
Sweeten up your smoothie using bananas, applesauce, dates, honey, stevia, molasses or real maple syrup.
Assemble smoothie freezer packs ahead of time in Ziploc bags or mason jars.
Pre-blend your smoothies and store them in the fridge for up to 3 days.
Nutrition
Calories:
214
kcal
|
Carbohydrates:
42
g
|
Protein:
12
g
|
Fat:
2
g
|
Cholesterol:
3
mg
|
Sodium:
212
mg
|
Potassium:
798
mg
|
Fiber:
5
g
|
Sugar:
26
g
|
Vitamin A:
3335
IU
|
Vitamin C:
53.5
mg
|
Calcium:
253
mg
|
Iron:
1.1
mg