This is the best Baked Oatmeal Recipe ever, and it's really healthy too, making it the perfect breakfast for meal prep or a crowd. Top with fresh berries for a well-rounded breakfast.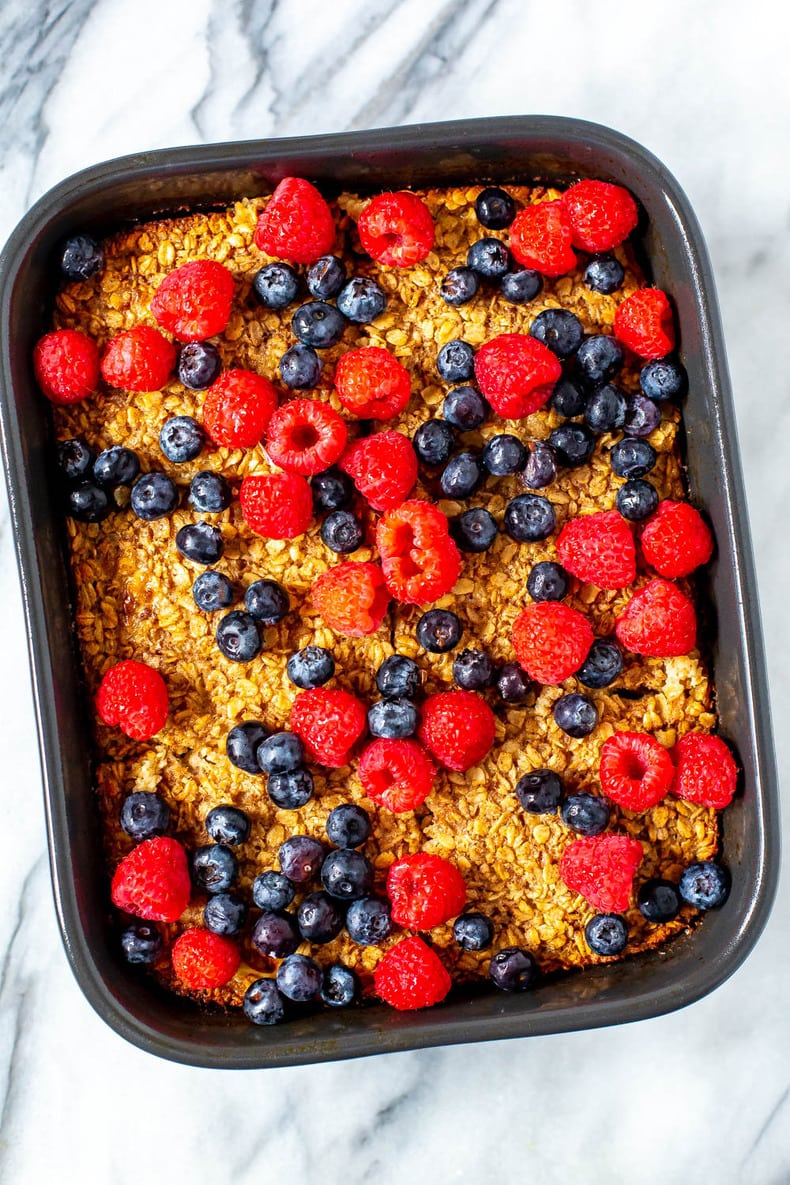 Ingredients in baked oatmeal
Of course, the main ingredient in baked oatmeal is oats. I used rolled oats. Rolled oats are a whole grain. The grain has been separated from the tough outer hull then steamed and rolled flat. Because of this, rolled oats have a creamy and soft texture after they are baked.
Other ingredients you will need to make baked oatmeal are:
Cinnamon and salt
Baking powder
Banana
Coconut oil
Milk
Eggs
Maple syrup
Vanilla
I like to top my oatmeal with fresh berries but any fresh fruit, nuts, seeds or coconut will work!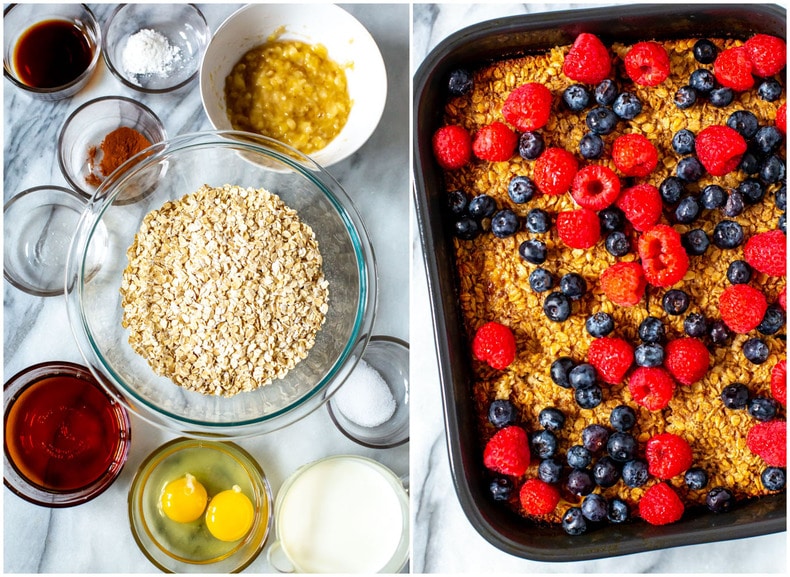 How to make baked oatmeal
This baked oatmeal recipe makes six servings, but it's easy to double or triple if you are feeding a crowd or want to meal prep healthy breakfast foods for your family. You can also serve smaller portions to a crowd then provide some sides like bacon, sausages and fresh fruit.
It only takes a little bit of prep time to make this hearty meal. Here's how to make it:
Mix rolled oats with baking powder, cinnamon and salt
Mix all the wet ingredients together in another bowl.
Fold the wet ingredients into the dry ingredients.
Add oatmeal to a greased 9×11 baking dish and bake at 350F for 45 minutes.
Top with berries, maple syrup or your favorite toppings.
Is baked oatmeal healthy?
Oatmeal is a fantastic breakfast food to add to your diet. It's a whole grain that is naturally gluten free. Plus you will get all of these nutrients when you eat oatmeal:
Fiber
Iron
Zinc
Folate
B vitamins
Copper
While oatmeal is fairly high in carbs, it balances this out by also containing a high amount of protein, fiber and antioxidants. It is relatively low in calories and fat and will keep you feeling full for a long time.
The oatmeal itself is a very healthy choice. The toppings may change the nutritional content however. You can skip the fruit if it is too high in sugar for you or add nut butters for more protein and fat.
Instead of brown sugar which is usually found in oatmeal, I use maple syrup as a natural sweetener. You could also use other natural sweeteners like honey or date sugar.
Ingredient substitutions
If you use different kinds of oats, your cooking time will change. Steel cut oats, which are minimally processed oats, take slightly longer than rolled oats. Instant or quick oats have been cut into smaller pieces and will cut your baking time down considerably. If you use a different kind of oat, watch it carefully to ensure you don't overbake and dry it out.
Try changing the flavor of the oatmeal by altering the spices you use. Instead of cinnamon, try pumpkin pie spice, brown sugar, ginger or give it a kick with cayenne.
If you prefer, you can use applesauce instead of the mashed banana.
You can offer lots of different options for toppings for this best baked oatmeal recipe as well. This is especially convenient if you are feeding a crowd. A bar with a variety of toppings to go with the baked oatmeal will make every guest happy. Try some of these toppings:
Fresh or frozen berries
Maple syrup
Nuts such as almonds, pecans or walnuts
Dried fruit
Seeds like sunflower. pumpkin or chia
Nut butters
Coconut flakes
Chocolate chips
Bananas
Jam
Honey
Making it vegan
With two small ingredient substitutions this baked oatmeal dish can be vegan.
Use coconut milk or almond milk in place of the dairy milk.
For the egg, use a flax egg.
This recipe is already gluten free and nut free, unless you offer nuts or nut butters for optional toppings.
More easy oatmeal recipes
What to serve with baked oatmeal
If this is part of a holiday brunch, serve other breakfast foods with it. For a complete spread, offer a few of these dishes:
Yogurt
Eggs (scrambled or in a casserole)
Breakfast meats like bacon or sausage
Fresh fruit
Storing and reheating
Baked oatmeal lasts in the refrigerator for up to five days. That means you can prepare this dish in advance for a meal or work it into your meal prep routine.
This baked oatmeal recipe makes six servings. Divide it into individual sized portions and be prepared for a quick healthy breakfast at any time.
If you are reheating individual portions, you can do so in the microwave for one minute. If you are reheating the entire dish, put it in the oven for 15-20 minutes.
Can you freeze baked oatmeal?
This baked oatmeal recipe also works beautifully as a freezer meal. You can freeze baked oatmeal all together or divide it into individual portions. It will last for six months in the freezer.
You can reheat oatmeal from frozen in the microwave for 5-6 minutes. Add a little milk or water as you heat it to keep it moist.
Meal prep tools for this recipe
Meal prep challenge
If you'd like some more help with meal planning, then you'll love my free 5-day meal prep challenge! It's basically a free course that will teach you how to meal prep and cook healthy meals at home with some PDF bonus materials. Sign up for free below: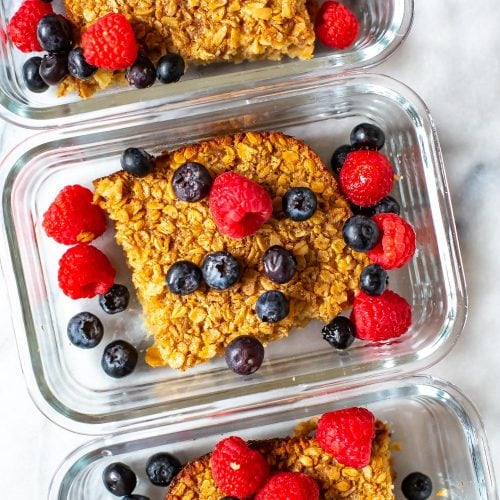 Best Baked Oatmeal
This is the best Baked Oatmeal Recipe ever, and it's really healthy too, making it the perfect breakfast for meal prep or a crowd. Top with fresh berries for a well-rounded breakfast.
Print
Pin
Rate
Ingredients
3

cups

rolled oats

1

tsp

cinnamon

1

tsp

baking powder

1/2

tsp

salt

1

mashed banana

2

tbsp

coconut oil

2

cups

milk

2

eggs

1/2

cup

maple syrup

1

tbsp

vanilla

1

cup

fresh or frozen berries, for topping
Instructions
Preheat oven to 350 F. In a large bowl, mix together rolled oats, cinnamon, baking powder and salt.

In another large bowl, mix together mashed banana, coconut oil, milk, eggs, maple syrup and vanilla. Fold wet ingredients into dry ingredients.

Spray 9x11 baking dish with non-stick spray. Add oatmeal mixture. Bake in oven for 45 minutes, then top with berries and extra maple syrup. Leftovers will keep in the fridge up to 5 days.
Video
Nutrition
Calories:
345
kcal
|
Carbohydrates:
50
g
|
Protein:
10
g
|
Fat:
11
g
|
Saturated Fat:
6
g
|
Cholesterol:
63
mg
|
Sodium:
158
mg
|
Potassium:
402
mg
|
Fiber:
4
g
|
Sugar:
21
g
|
Vitamin A:
211
IU
|
Calcium:
183
mg
|
Iron:
2
mg