Pumpkin Spice Latte Protein Bars
These Pumpkin Spice Latte Protein Bars are a delicious, healthy snack that's perfect for fall and a skinny, filling version of your favourite Starbucks drink!
HELLO FALL!
Well, really it's only mid-September, and technically still summer. But today we're going to pretend that it's fall. We've had a couple chilly days so far in Toronto – the sun is starting to set way too early for my liking, and the only way I'm going to deal with this is with some tasty fall food.
Yes, I am definitely one of those people who LOVES pumpkin spice lattes. I've even got a pumpkin spice frappuccino recipe on the blog. Umm, you're right, basic bish over here and I'm proud of it! I swear there's nothing better than a cool fall day, chunky sweaters, crisp colourful leaves and a hot drink in hand.
Couple problems though.
Number one, I don't have $5 or more (I think it's more than $5 now at Starbucks for a PSL, correct? Insanity!) to drop on ONE coffee. Number two, those things are hella high in calories for just a drink. I've found myself really committed to health and fitness lately. I'm at the gym at least five days a week, I'm eating to complement all the exercise I'm doing and on top of feeling more energized and mentally healthy, I feel like I've finally achieved the body I've always wanted.
Sure, you find more motivation the longer you're on that health and fitness kick, but I know that a huge part of my success has been because of my love of food and my commitment to eating well on a regular basis. Of course we all have treats here and there and that's just as healthy as sticking to a relatively clean diet (whatever clean is even supposed to mean these days, it's a hot topic lately haha!) At the end of the day, I'm really making sure that whatever I put into my body is going to nourish and satisfy me for the long haul, and of course it's all gotta be delicious to boot.
These days, a super sweet pumpkin flavoured coffee just ain't gonna cut it.
But Pumpkin Spice Latte PROTEIN Bars? Yeah, they'll do!
Honestly, it's SO easy to make homemade protein bars and energy bites at home. Like, I don't know why I don't do it more often because 15 minutes is all you really need and then you've got a week's worth (or more if you double the recipe) of healthy, on-the-go snacks.
Don't be tempted to grab the packaged snack bars and energy bites that you see at the store, no matter how tempting they are because you can really cut the costs of your meal prep by making protein bars at home. You can also ensure they're gluten free or low-sugar, low-carb, etc to fit your diet and fitness goals.
I've used oat flour here because it's got extra protein and is a more healthier, wholesome choice than regular white flour. Not to mention the fact that you can't exactly eat regular flour while it's still raw so that would also really change the integrity of this recipe considering that these are no-bake protein bars. Some other swap-ins for oat flour that I haven't yet tested but will think about could be almond flour, chickpea or coconut flour to give you a little bit of inspiration if you're looking to customize these bars.
And if you're interested, these protein bars are actually super low in sugar! I've only used 2 tbsp of honey in the whole recipe, relying on the pumpkin puree and protein powder to sweeten things up a bit. I actually love pumpkin, but did you know that most canned versions are squash? Turns out there's a pumpkin shortage – the short season each year probably doesn't help either!
There's your fun fact of the day 😉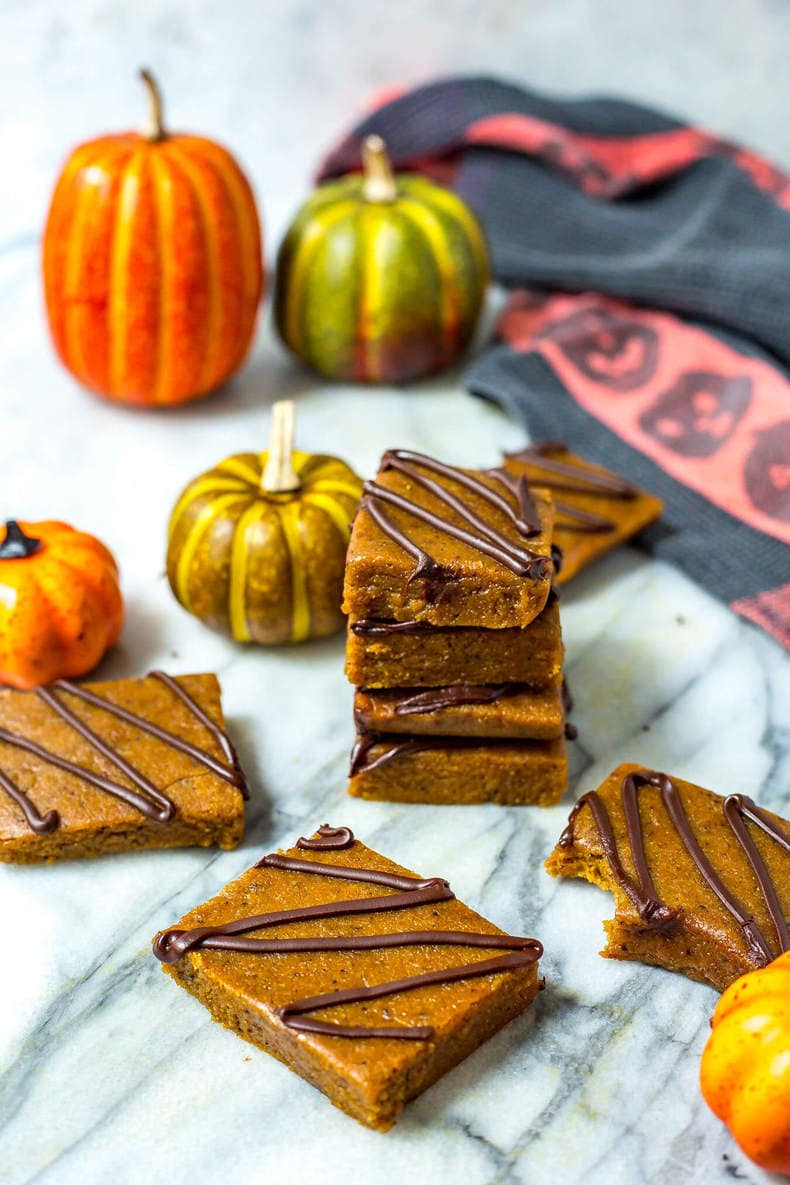 Will you be making these Pumpkin Spice Latte Protein Bars? 
I can't even deal with how much I love these things! I think I'm going to change it up to make a new version of these every holiday season. Christmas is next! Except that's a holiday I don't even wanna think about right now…
If you try any of my recipes be sure to let me know on Instagram, Twitter, Facebook or in the comments – I'd love to see what you come up with!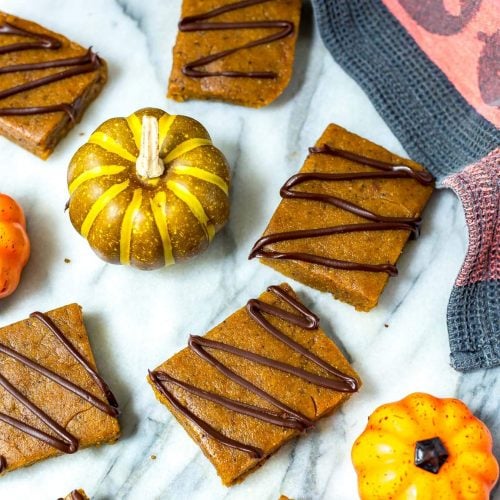 Print Recipe
Pumpkin Spice Latte Protein Bars
These Pumpkin Spice Latte Protein Bars are a delicious, healthy snack that's perfect for fall and a skinny, filling version of your favourite Starbucks drink!
Ingredients
2

cups

oat flour

2

cups

protein powder

3/4

cup

pumpkin puree

1/3

cup

tahini

2

tbsp

honey

1

tbsp

instant coffee

2

tsp

pumpkin pie spice

1

tsp

vanilla

1

cup

chocolate chips

2

tsp

milk, water or cream (optional)
Instructions
Mix all ingredients together in a large bowl, using your hands near the end to completely blend everything together.

Squish all ingredients down into a greased 9x5in (1.5 qt) baking dish, or 8x8 dish for thinner protein bars, pressing down firmly and smoothing the top as much as possible. Freeze for 20-30 minutes.

Meanwhile, melt chocolate chips for 2 minutes in the microwave (I'll use a bit of milk, water or cream sometimes to make them melt smoother but that's totally optional).

Remove protein bars from the freezer and cut using a sharp knife, dividing into 8-10 pieces. Drizzle chocolate overtop, then serve and enjoy! I like to keep extras in the freezer for meal prep purposes - they'll keep up to 3 months in there!
Nutrition
Serving:
1
g
|
Calories:
292
kcal
|
Carbohydrates:
26
g
|
Protein:
19
g
|
Fat:
15
g