These 15 Healthy Slow Cooker Recipes for Meal Prep are the best way to get ready for the work week – just dump everything in the crock pot!
Disclosure: This post contains affiliate links – that means I will make a very small commission if you happen to make a purchase through one of my links; this helps me keep my site up and running so I can continue to provide you with free recipes and resources 🙂 There is no additional cost to you!
My roommate is an absolute genius when it comes to meal prep. She gets all her ingredients out, dumps everything in the slow cooker, and she's got lunches ready for the week while she gets other errands done throughout the day. No tending to a complicated recipe, and very minimal clean up. Or you know, some time to get some R&R and recover after a crazy weekend.
I never really used to use the slow cooker until recently – it just seemed like one of those appliances you used to make stews and chili with and that's about it. You know, like boring old people food LOL. Oh boy was I ever wrong! Little did I know you could get so creative with it, or how perfect it was for getting your meals ready for the week. Chicken gets so tender, and it's basically the perfect appliance for taco meat. And did I mention you can make a mean butter chicken in the slow cooker too?
Here are some of my favourite tools for slow cooker meal prep:
Whether you're dumping everything in the crock pot to cook while you're at work all day or you're just looking to more efficiently plan ahead for the week, these delicious slow cooker recipes (everything from tasty curries to meatballs and quinoa casseroles) will make your weekly meal prep a breeze!
Slow Cooker African-Inspired Peanut Stew via The Girl on Bloor
This African Peanut Stew is a delicious vegetarian option that tastes like a curry with a hint of nuttiness – it's the perfect thing to throw in your slow cooker all day! Stir in the spinach at the end of and add a side of basmati rice and you're good to go!
Slow Cooker Chili via Hungry Blonde
Now who doesn't love a tasty chili? They are absolutely perfect to have cooking in the slow cooker, and will save you after a long and busy day. And most chilis make great freezer meals to boot!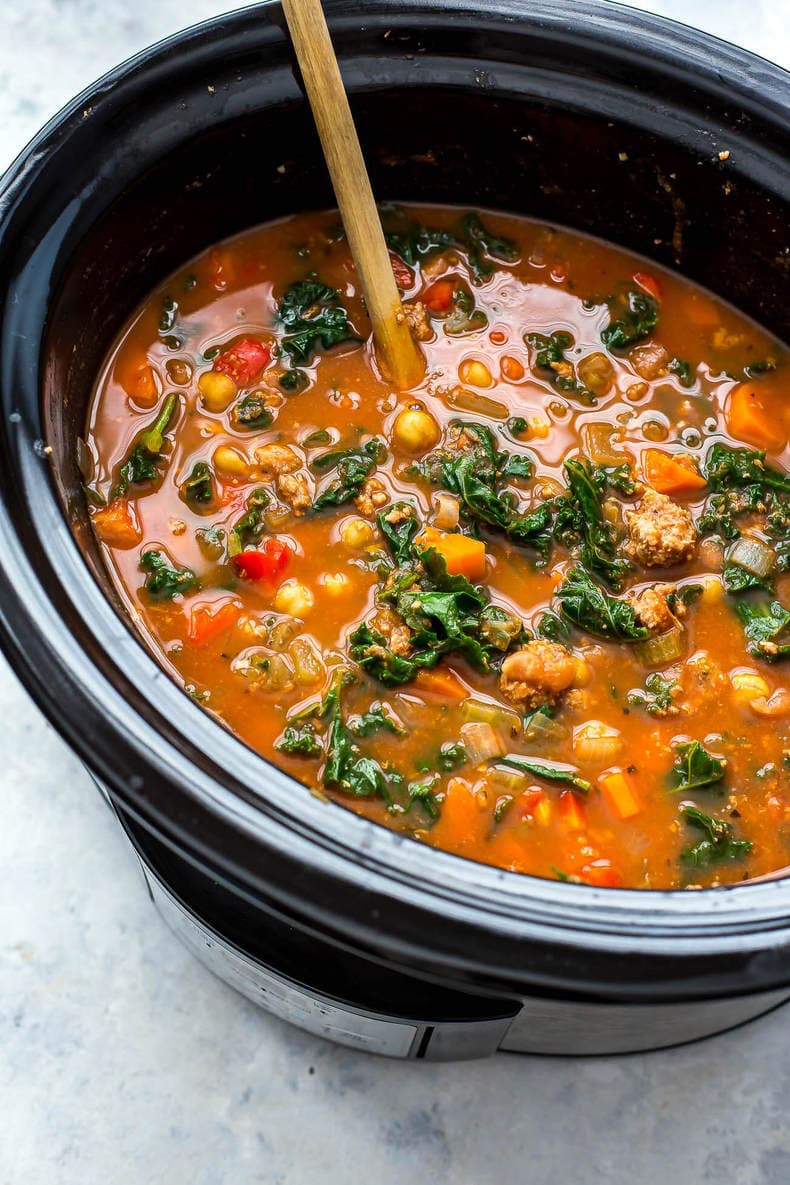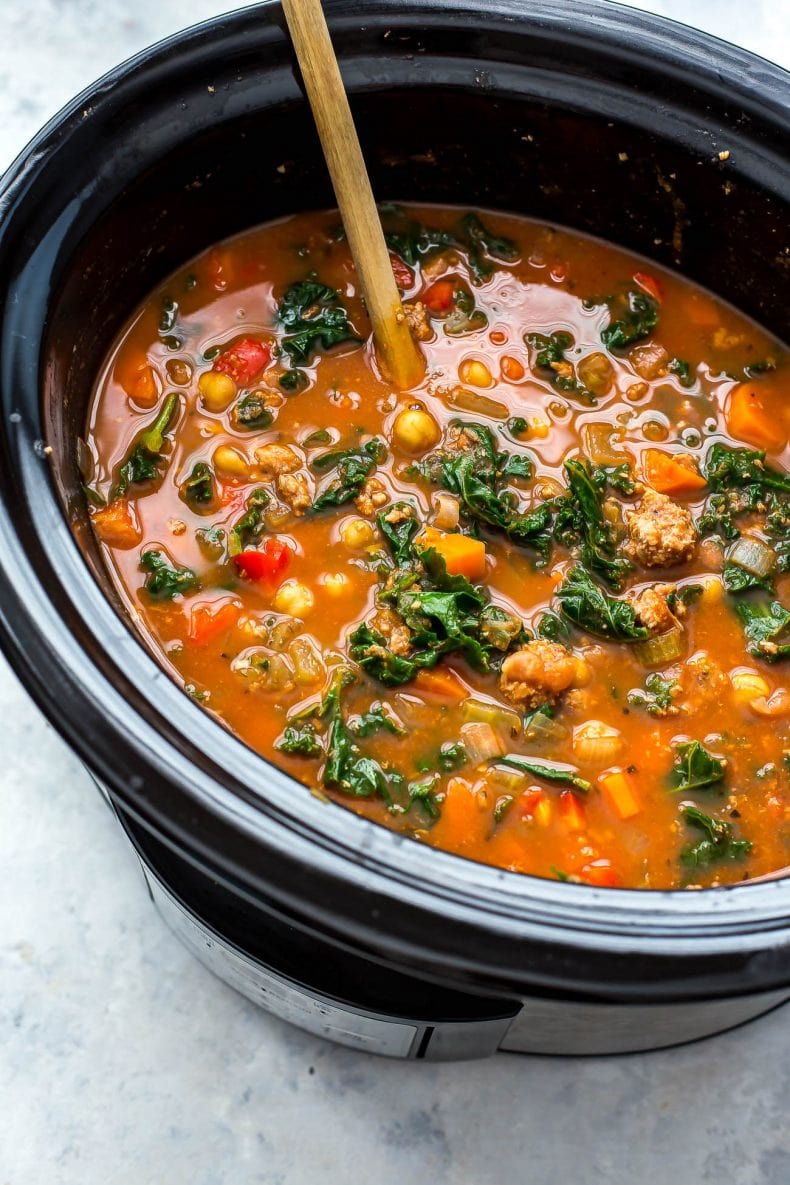 Slow Cooker Tuscan Sausage and Kale Soup via The Girl on Bloor
This Slow Cooker Tuscan Sausage soup uses turkey sausage for a lighter dinner and is perfect served with a bit of fresh sliced bread. It's super low in calories and high in fibre, plus you get a full serving of veggies as well!
Slow Cooker Mexican Quinoa Casserole – Food Faith Fitness
This Mexican Quinoa Casserole is a high-protein vegetarian option for your weekly meal prep, and comes together with mostly pantry staples! A no-brainer slow cooker meal!
Asian Chicken Nachos – Life Made Sweeter
Yes, you can get your nachos started in the slow cooker! This Asian chicken is slow cooked all day so you're left with delicious, tender meat to top your nachos with. Add a bit of freshly chopped cabbage and tortilla chips and you're good to go – plus you can save the chicken for other meals!
Slow Cooker Jambalaya via Kim's Cravings
This Slow Cooker Jambalaya is the perfect dinner idea – have it cooking in the slow cooker all day and come home to a delicious hot meal!
Slow Cooker Lemon Chicken via Melanie Makes
Who doesn't like lemon chicken? This version is made easy in the slow cooker so that all you have to do is add a couple sides and you've got a whole dinner ready in no time!
Slow Cooker Teriyaki Meatballs via Let's Dish
These Teriyaki Meatballs are the perfect freezer meal! You can use them in other types of meal prep for your weekly lunches, or you can pair them with a couple sides for a dinner that cooks while you're at work!
Slow Cooker Pork Tacos in Green Goddess Dressing via Delightful Mom Food
Forget boring old chicken tacos! Switch it up and try out these slow cooker pork tacos – the green goddess dressing can be made while everything's cooking in the crock pot too!
Slow Cooker Chicken Cauliflower Curry via A Sweet Pea Chef
This chicken curry is such a delicious comfort food option for chilly nights, and it's freezer-friendly! Make it in the crock pot on a Sunday, cook up some rice or quinoa to serve on the side and enjoy all week long!
Roasted Red Pepper Slow Cooker Chicken Cacciatore via The Girl on Bloor
This Slow Cooker Chicken Cacciatore can be served with pasta, rice or just a bunch of veggies for a delicious spin on Italian comfort food!
Slow Cooker Turkey Quinoa Chili via Nutritionist Eats
Looking to switch up your chili game? Add some quinoa and lower calorie ground turkey for a healthier twist on chili – no tending to the stovetop required!
Crock Pot Butter Chicken via Kitchen Sanctuary
This Slow Cooker Butter Chicken is a must-try – forget takeout! A delicious blend of spices and some other pantry staples make this Indian food favourite an amazing dinner idea!
Slow Cooker Salsa Verde Chicken Tostadas via Isabel Eats
Never heard of tostadas? You don't know what you're missing!!! Made with an easy salsa verde and slow cooked for delicious, juicy chicken, these tostadas are a tastier, crunchier version of a taco! And made in the slow cooker too!
Slow Cooker Butternut Squash Dal via The Girl on Bloor
Get ready for another delicious vegetarian curry recipe made in the crock pot! This one comes together with seasonal butternut squash, red lentils and some spices from your pantry for a delicious last minute dinner!
Crockpot Taco Soup via Catz in the Kitchen
Chili meet tacos! This Crockpot taco soup is an amazing way to enjoy Mexican food in comfort food form!
Healthy Slow Cooker Recipes
These 15 Healthy Slow Cooker Recipes for Meal Prep are the best way to get ready for the work week - just dump everything in the crock pot!
Print
Pin
Rate
Instructions
Follow the instructions of the recipe of choice linked to above.
Nutrition