Crockpot Salsa Chicken comes together SO easily – you can use it to make tacos, burritos bowls, salads and more – plus you can freeze it!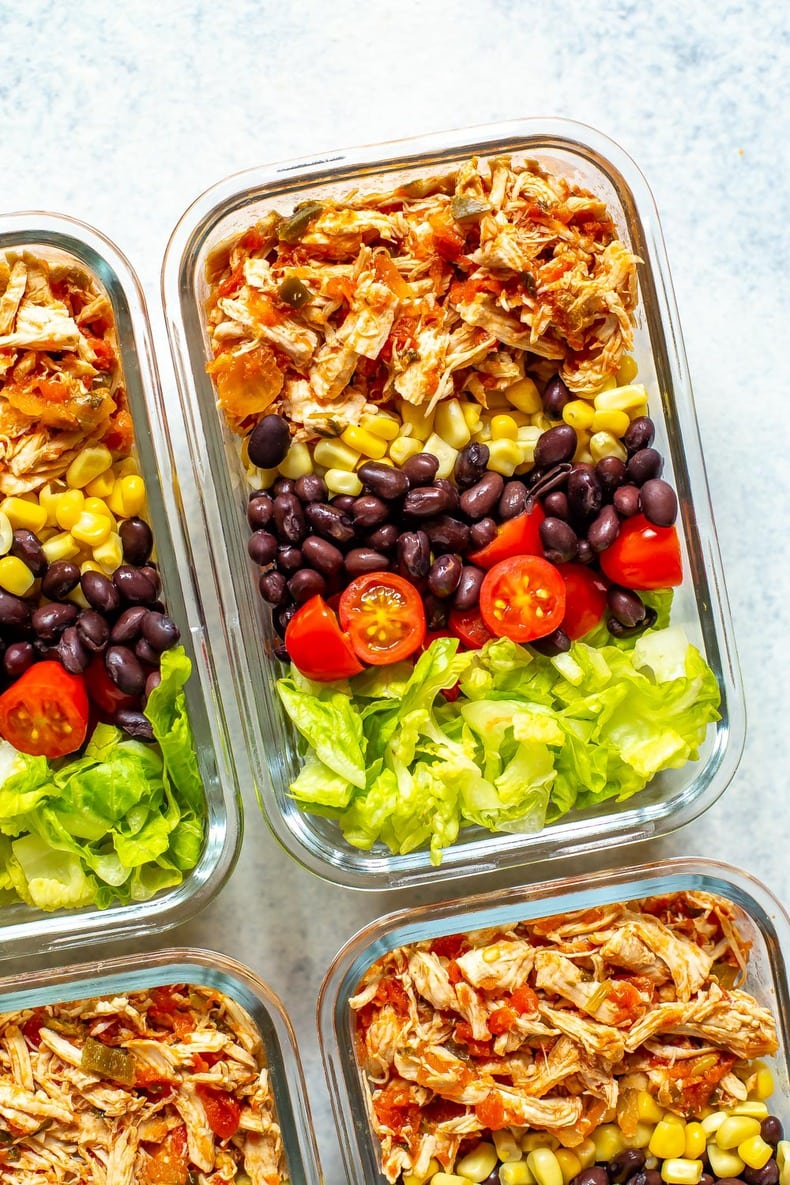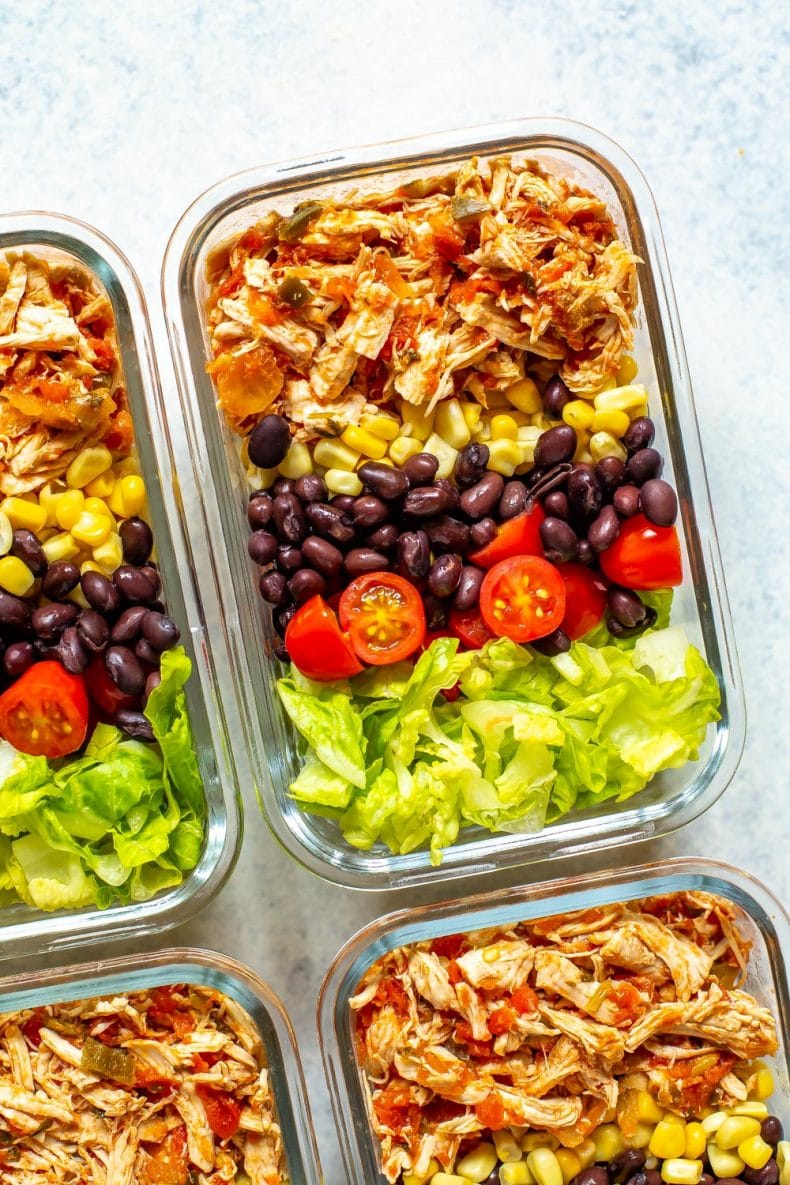 How to make crockpot salsa chicken
Recipes like this salsa chicken are perfect for meal prep dinners. I mean, does making dinner get any easier than two ingredients that transform themselves into a delicious meal in your crockpot? I don't think so!
To make this salsa chicken, all you need to do is add a bit of olive oil to the bottom of the crockpot, add your chicken and then add salsa of choice. It's really that easy, and an absolute no-brainer for an easy meal prep lunch or last-minute dinner idea.
Can you put raw chicken in a slow cooker?
Yes! The chicken is totally safe to put in the slow cooker raw, it will get slow cooked to perfection and become so tender cooked while cooked low and slow.
You cannot add frozen raw chicken to a slow cooker, however, because if it spends too much time thawing out (which it would do while cooking at a low temperature) then bacteria like salmonella can grow.
So, add your raw chicken, but make sure it's fully defrosted first!
Or, you can use frozen chicken to make this recipe in the Instant Pot. I have an Instant Pot version of this recipe linked to further on in this post.
Skip the Ads and Get Right to the Recipes!
ZERO ADS on over 600 recipes!
Weekly Meal Plans, Grocery & Prep Lists
Bonus eBooks
Is it better to cook chicken on high or low in crockpot?
You can choose different cook times for this recipe so there is flexibility:
Cook on low 6-8 hours: For the most tender chicken, I'd recommend cooking 6-8 hours. This timeline will depend on the size of your chicken breasts. Eight hours is the safest bet for larger breasts, and usually the time that works best for most people starting this recipe, then going to work for the day. The chicken shreds super easily and is fall-apart tender. If you have smaller breasts though, 6 hours on low will work.
Cook on high 4 hours: If you need your chicken ready faster, you can cook on high for 4 hours. You still get tender chicken that falls apart when you shred it, and there's way less time to wait!
Can you make salsa chicken in the Instant Pot?
Yes you can! If you'd like detailed instructions, head on over to my sister site that focuses solely on Instant Pot recipes called Eating Instantly. My Instant Pot Salsa Chicken recipe is extremely similar to this crockpot chicken version but it's ready in less than 30 minutes.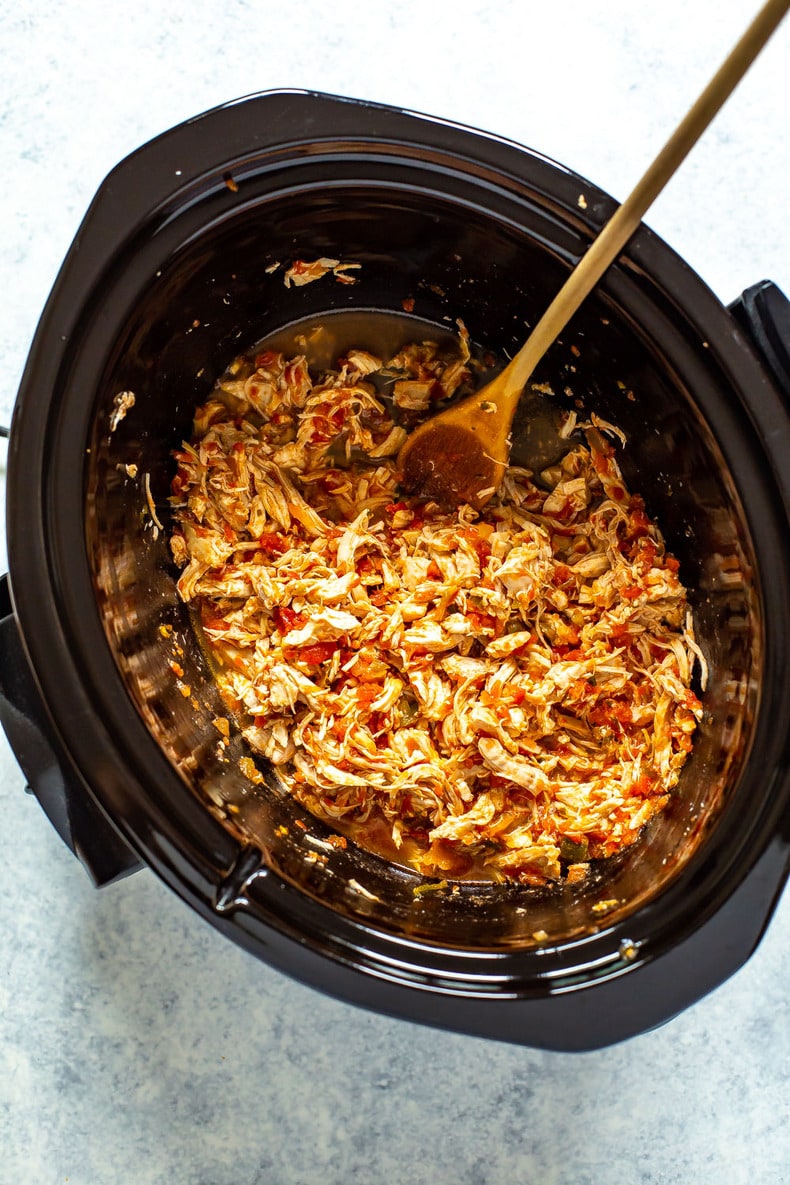 How do I keep chicken from drying out in the crockpot?
A slow cooker is one of the best ways to cook meats that have a lot of connective tissue because the long cooking time breaks down these tissues. Chicken breast doesn't have a lot of connective tissue so it can easily be overcooked in a slow cooker and come out too dry.
To prevent overcooking, and to keep the chicken juicy, here are some tips:
make sure that you add enough liquid to the crockpot with the chicken
if you will be leaving the chicken to cook for longer than 6-8 hours, try adding 1/2 a cup of chicken broth
use chicken thighs instead!
Using chicken thighs
Use boneless, skinless thighs in place of the breasts if you'd like! The meat will be even more tender, but you will get a little less protein, and a little more fat and calories with chicken thighs than you will with breasts.
You can also use chicken drumsticks but it will be a bit more work to remove all the chicken from the bone by the end of the cook time and again, you will be compromising a bit on calories and fat. However, you will have a meal prep recipe that's a bit more budget-friendly so it's best to weigh your options!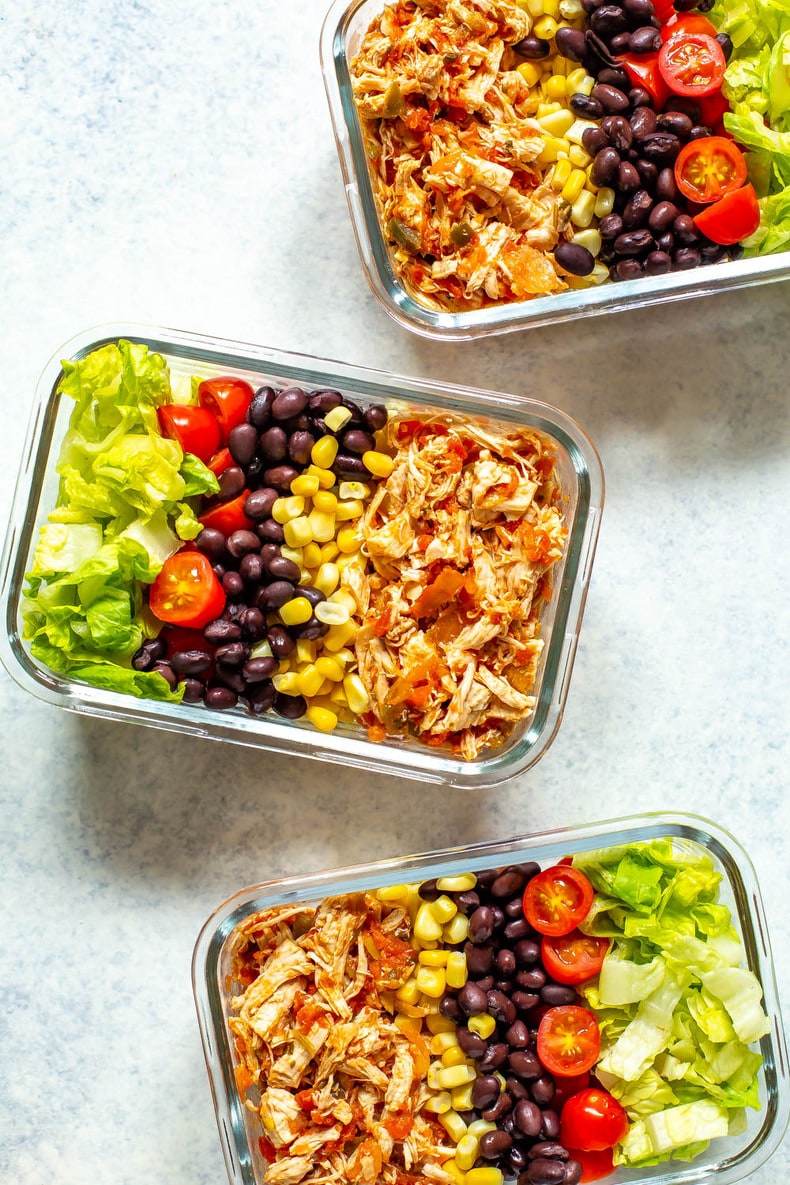 What kind of salsa should I use?
Fresh salsa that's made-from-scratch can be very healthy and add SO much flavour! Here is a super easy homemade salsa recipe if you'd like to go that route.
You don't need to make your own, though – it takes extra time that you could be spending meal prepping other things. If you purchase salsa from a store, you might want to take a minute to read the labels. For a healthier salsa, steer clear of the brands with corn syrup and/or other sugars in them.
I prefer to use a fresh salsa from the grocery store such as Garden Fresh Gourmet (no, this is not an ad for them LOL! Just my fave brand). You can usually find salsa like this in with the fresh salad dressings and veggie dips, or sometimes in among the hummus.
You can also easily use jarred salsa too! Just remember that whatever kind of salsa you use, that's exactly what your chicken is going to taste like.
Meal prepping salsa chicken
This is the best meal prep recipe ever because you just dump in your 2 ingredients, then set it and forget it! After that you shred the chicken (it should easily fall apart after slow cooking 6-8 hours), then you add whatever other ingredients you'd like. I've pictured this slow cooker chicken as a meal prep taco salad above, adding black beans for more protein then some corn, cherry tomatoes and lettuce.
I find you don't even really need a dressing because the chicken is so flavorful so you have an amazing low-calorie meal prep recipe that's perfect for work week lunches.
Pack everything up in glass meal prep bowls, then store in the fridge up to 5 days. SO EASY!
Can I freeze slow cooker salsa chicken?
Salsa chicken can safely be left in the refrigerator for up to five days but if you won't be using it up during time, then it's best to freeze the leftovers for future use.
Divide the leftover chicken into meal-sized portions and place them into airtight containers or heavy-duty freezer bags. The cooked chicken can be kept in the freezer for up to three months.
To defrost, leave it in the fridge overnight then heat for 2-3 minutes in the microwave, or you can reheat in the microwave frozen up to 5-7 minutes, stirring halfway through. When reheating I also recommend you sprinkle some water overtop as it helps to keep the chicken from developing that "leftover" taste.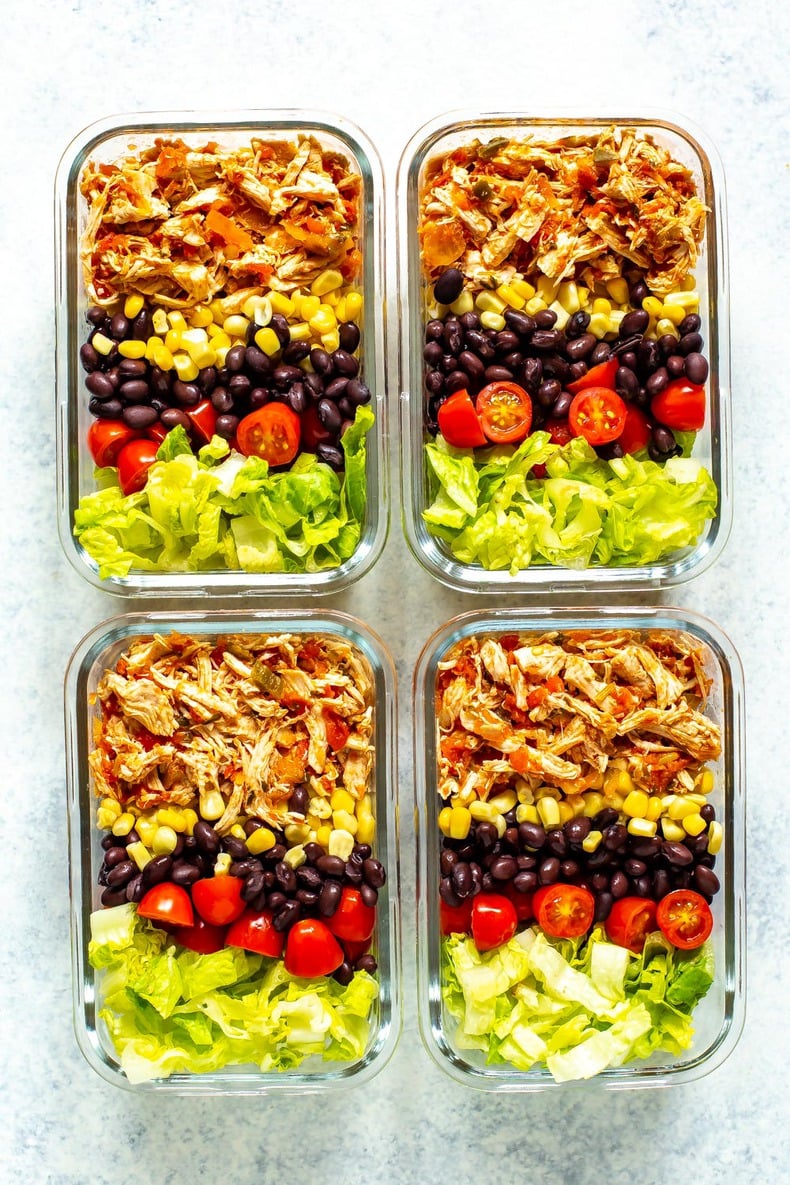 Wanna Learn How To Meal Prep?
My meal planning service, Dinner Prep Pro, removes the guesswork and helps you get dinner on the table in 15-20 minutes each night. My meal prep checklists only take 1 hour each week!
How can I use this crockpot salsa chicken?
Yes, you can use pulled crockpot salsa chicken in a variety of ways! Here are just some suggestions found on my site – just substitute the meat in the recipes for the chicken:
Use it as a pizza topping! Instead of traditional pizza sauce, you can use enchilada sauce on the crust. Add the salsa chicken, your favourite veggies (peppers and onions would be delicious on a Mexican pizza), and add Mexican cheeses instead of Mozzarella.
Stuff some zucchini boats. Replace the turkey sausage with pulled salsa chicken to give some bold flavor to these Easy 30-Minute Zucchini Pizza Boats.
Make burritos. My Pulled Chicken Burritos are always a favourite, but you can take them to the next level with salsa chicken! Everyone will love adding their favorite toppings to the burritos.
Make tacos. Everyone will look forward to Taco Tuesdays when you use pulled crockpot salsa chicken instead of ground beef or turkey. Set up a taco bar and enjoy!
Other Crockpot Recipes to Try
Love Crockpot chicken recipes? These other ideas will be right up your alley!
You may also want to check out this round up of Crockpot Chicken Recipes – they will make meal prep day super easy!
Meal prep tools for this recipe
Grab some glass meal prep bowls if you plan on turning this salsa chicken into your weekly lunches.
I get all my free-range chicken from Butcher Box, conveniently delivered to me frozen.
Get a meat thermometer to make sure your chicken is cooked through
Use these Ziploc bag holders if you're marinating the chicken then freezing it
Freeze this recipe in glass microwave-safe bowls up to 3 months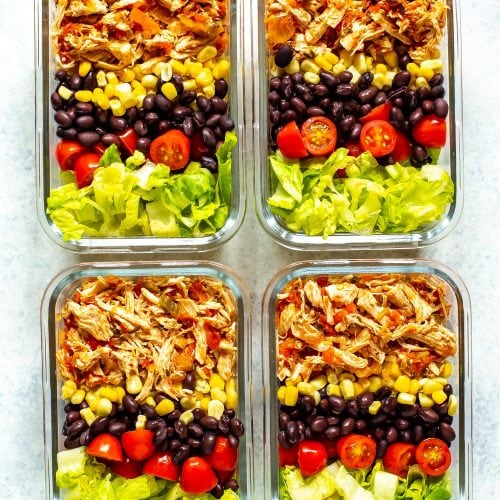 Easiest 2-Ingredient Crockpot Salsa Chicken
Easiest 2-Ingredient Crockpot Salsa Chicken comes together SO easily and it can be used for so many recipes like tacos, burrito bowls, salads and more. Plus, it can be frozen!
Print
Pin
Rate
Click Here to Remove Ads
Servings: 4 servings
Calories: 160kcal
Ingredients
1 tbsp olive oil
1 lb chicken breasts
500 mL fresh salsa Note: You can use jarred, but fresh salsa tastes the best
Topping ideas
Romaine lettuce, chopped
Sliced avocado
Corn
Black beans, rinsed and drained
Sliced jalapenos
Shredded cheese
Sour cream
Cilantro
Corn tortillas
Cooked rice
Instructions
Add olive oil, chicken and salsa to crockpot and cook on low for 6 hours. Remove chicken breasts after cook time is finished, shred, and add back to crockpot, stirring well.

Serve with toppings of choice. Will keep in glass meal prep bowls in the fridge up to 4-5 days.

If freezing chicken: wait for chicken to cool closer to room temperature then freeze in small glass containers with lids. Defrost in the fridge overnight and reheat in microwave for 2-3 minutes to serve.
Video
Nutrition
Calories: 160kcal (8%)Protein: 24g (48%)Fat: 6g (9%)Saturated Fat: 1g (6%)Cholesterol: 73mg (24%)Sodium: 132mg (6%)Potassium: 420mg (12%)Vitamin A: 35IU (1%)Vitamin C: 1.3mg (2%)Calcium: 6mg (1%)Iron: 0.4mg (2%)
Join The Girl on Bloor Premium!
ZERO ADS!
Weekly Meal Prep Checklists
Bonus eBooks