These healthy crockpot chicken recipes will inspire you to create meal prep with your slow cooker – most sauces only contain 5 ingredients and are dump-and-go.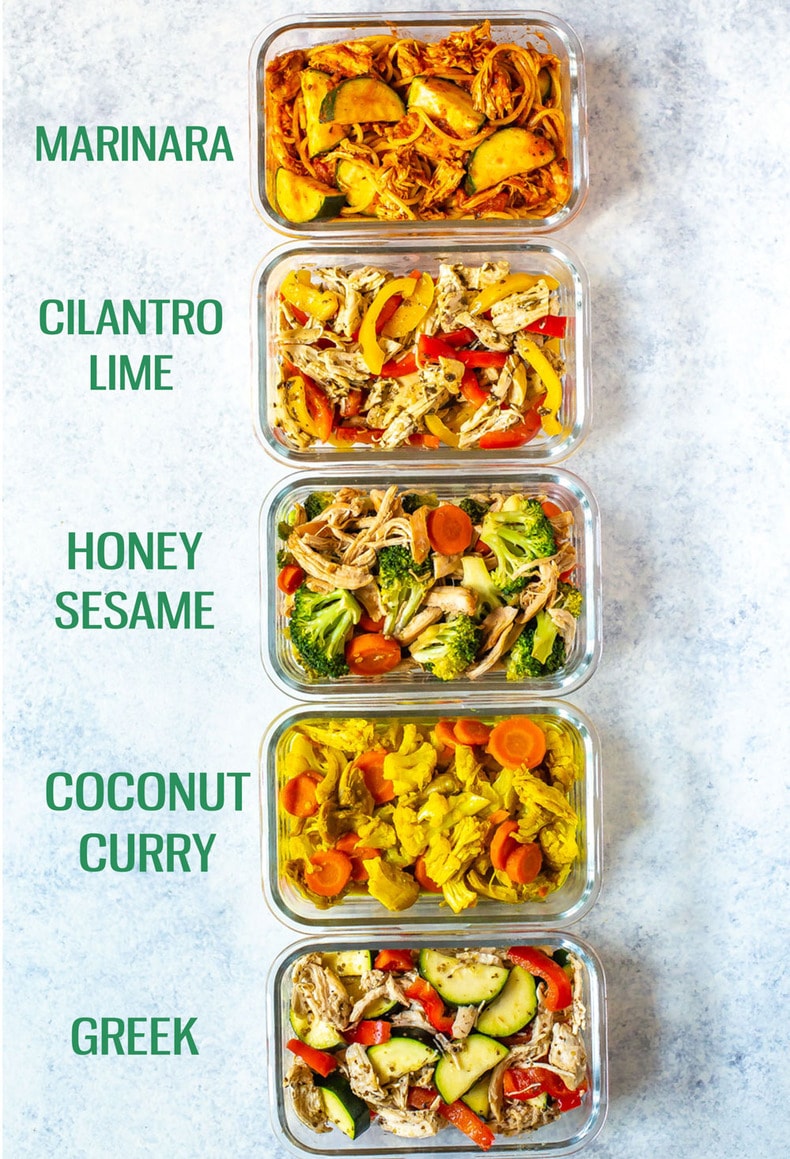 Ingredients in Crockpot chicken recipes
The ingredients in all of these slow cooker recipes are very basic. You may even have some of them in your refrigerator or pantry already.
To make all 5 of the recipes, you will need fresh ingredients like the following:
Chicken breasts
Cauliflower
Carrots
Broccoli
Red and yellow peppers
Zucchini
Garlic
Ginger
Depending on the recipe you're making, you'll also need pantry staples like the following:
Coconut milk
Soy sauce
Spaghetti
Marinara sauce
Curry powder
Turmeric
Lime juice
Cilantro
Lemon juice
Italian seasoning
Most of the sauces the chicken is marinated in contain only 5 ingredients and from there you will use 2-3 veggies. You can then serve with any type of starch such as pasta or rice, or you can just serve your chicken dinner with the sauce and veggies. These meals are super easy to throw together and make crockpot chicken easy!
Crockpot chicken recipes 5 ways
As you can see above, you'll marinate the chicken – from there you can either freeze it right in the marinade to use another time, or you can cook up a batch of chicken then add to meal prep bowls. You'll see the five options I have listed below in the recipe card ( here).
You can choose from the following options:
Marinara chicken
Cilantro lime chicken
Honey sesame chicken
Coconut curry chicken
Greek chicken
How to make chicken in a Crockpot
If you plan to make any of these slow cooker chicken recipes using frozen chicken, it's important to thaw the chicken first. Here are the exact steps to making crockpot chicken recipes:
Marinate the chicken in your choice of sauce.
Place the chicken into the crockpot and cover it with the liquid ingredients and seasonings. Just dump it all in and let the crock pot do the work!
Cooking time is typically three to four hours on high or six to eight hours on low. You can tell that chicken is fully cooked when the internal temperature reaches 165 degrees Fahrenheit.
Some recipes require a second step of cooking ingredients later or separately. This is because veggies should only be in the crock pot for about an hour. You can add them with an hour of cooking time left or steam them separately. Make sure to remove and shred the chicken while cooking the veggies.
Add the shredded chicken back to the crockpot, then mix everything altogether.
Serve and enjoy! Most leftovers can be refrigerated up to 5 days or frozen for 3 months.
Note: The spaghetti for the marinara chicken recipe will have to be cooked on the stove top instead of in the slow cooker. Luckily, veggies and pasta take just a few minutes to cook.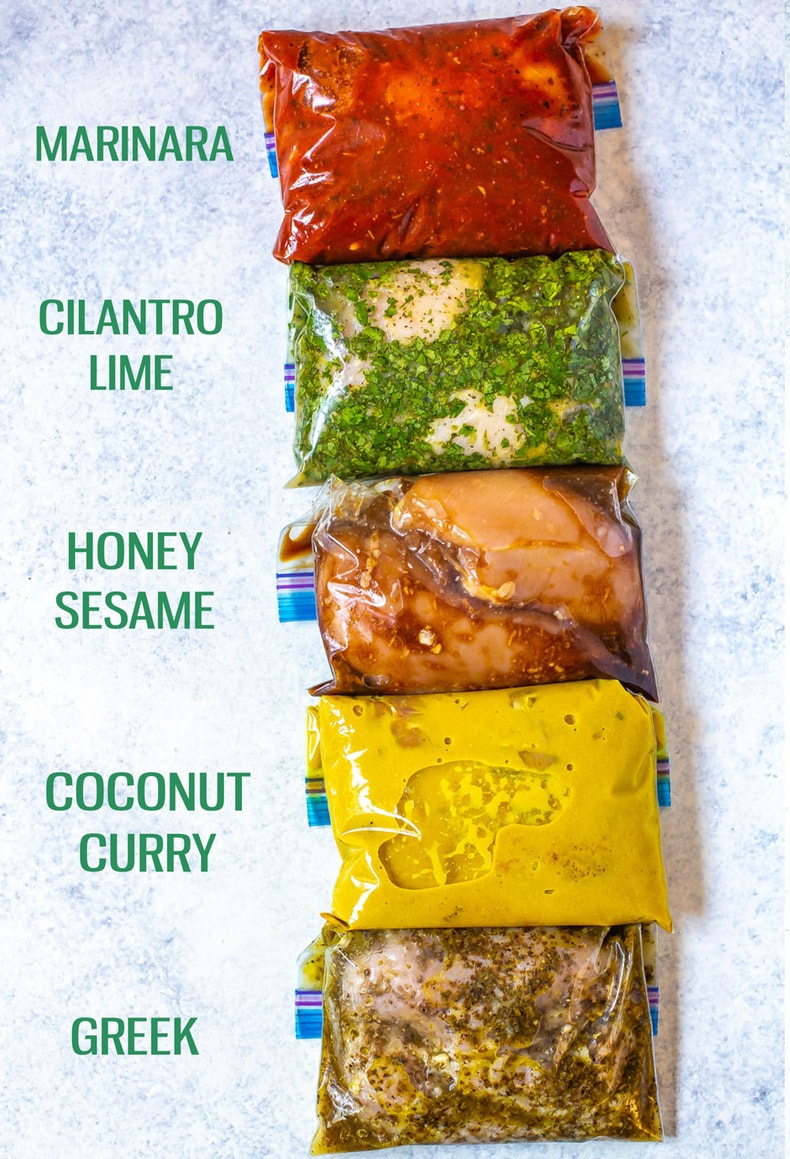 Meal prepping crockpot chicken
Making these recipes is a fantastic way to make meals ahead.
Combine the chicken and marinade ingredients into a zip top bag. Everything except the veggies and pasta can be stored together.
If the chicken is already frozen, do not thaw it first. It can go right into the bag with the other ingredients. This is also a great way to thaw chicken the day before you want to cook it. Put the bag of ingredients into the fridge and the next morning, just dump it into the slow cooker.
If you have the time, the raw chicken and marinade can be made up to two days before you plan to cook them. Then, just store everything together in the refrigerator.
Freezing crockpot chicken recipes
You have two options for freezing these dishes. One is to freeze prior to cooking and the other is to freeze cooked meals.
Freezing recipe ingredients raw
If you want to freeze everything before cooking it, prepare the bags as stated above and freeze for up to three months. Be sure to completely thaw the chicken before putting it into the crockpot.
Freezing cooked ingredients
If the recipes have been made already, you can them as well. Don't leave them at room temperature before freezing though; chill them in the refrigerator. Also, do not freeze cooked veggies or pasta.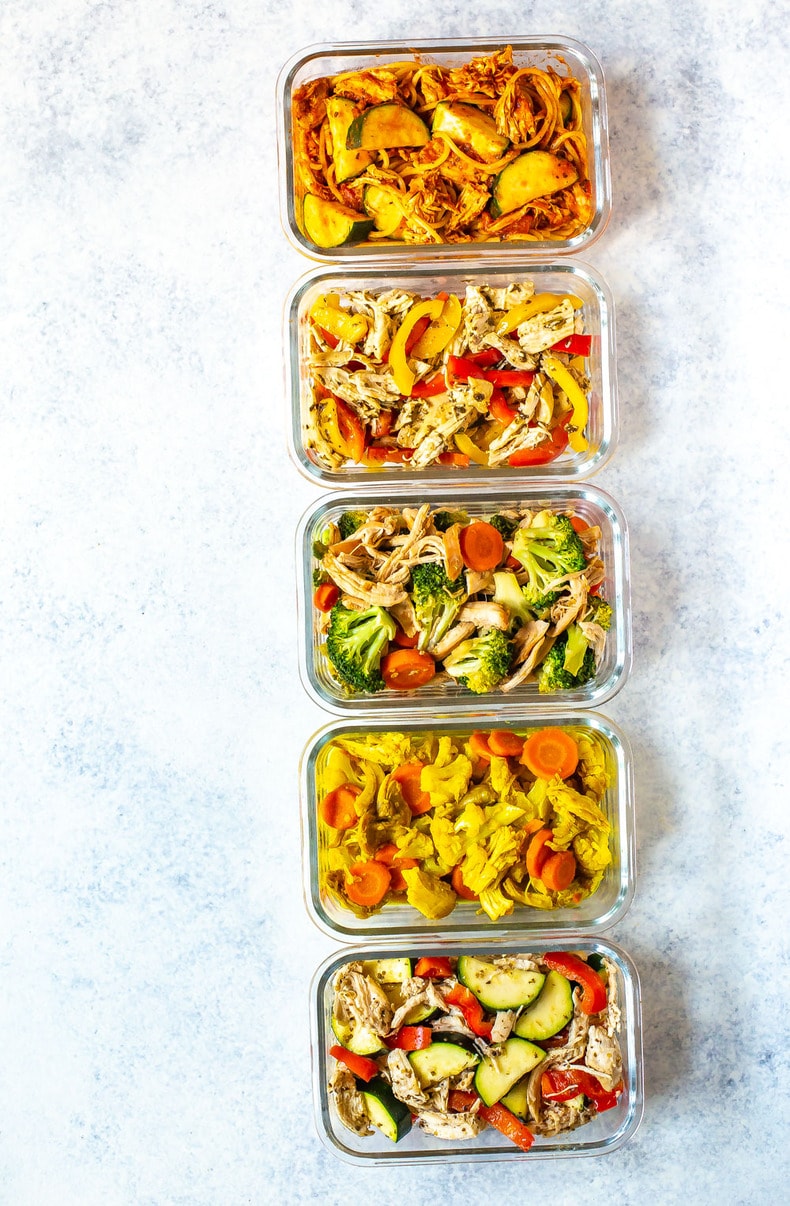 Can you cook frozen chicken in a crockpot?
The short answer is, you can, but it's not advised. Depending on who you ask, this topic can be controversial, so let's just deal with the facts.
According to the U.S. Food and Drug Administration (FDA), foods need to be kept at certain temperatures to maintain food safety standards. If food isn't stored properly, you run the risk of food contamination and contracting foodborne illnesses like Salmonella. Regarding meat and poultry, the FDA says this:
"Bacteria grow most rapidly in the range of temperatures between 40 °F [4 °C] and 140 °F [60 °C], doubling in number in as little as 20 minutes. This range of temperatures is often called the "Danger Zone." Never leave food out of refrigeration over 2 hours, and if the temperature is over 90 °F. don't leave it out over 1 hour."
The problem is, it can take a long time for frozen food to thaw in a slow cooker, especially when cooking on the low setting. After frozen chicken thaws, it has to reach an internal temperature of 165 °F (74 °C) to be safe to eat. Depending on the size of the frozen meat, that can take longer than 2 hours.
So, the safest thing to do is to thaw frozen chicken before cooking it in a slow cooker. Remember to use a cooking thermometer to make sure that the chicken is fully cooked before eating it, too.
OK, are you ready to check out these healthy crockpot chicken recipes? Let's do this!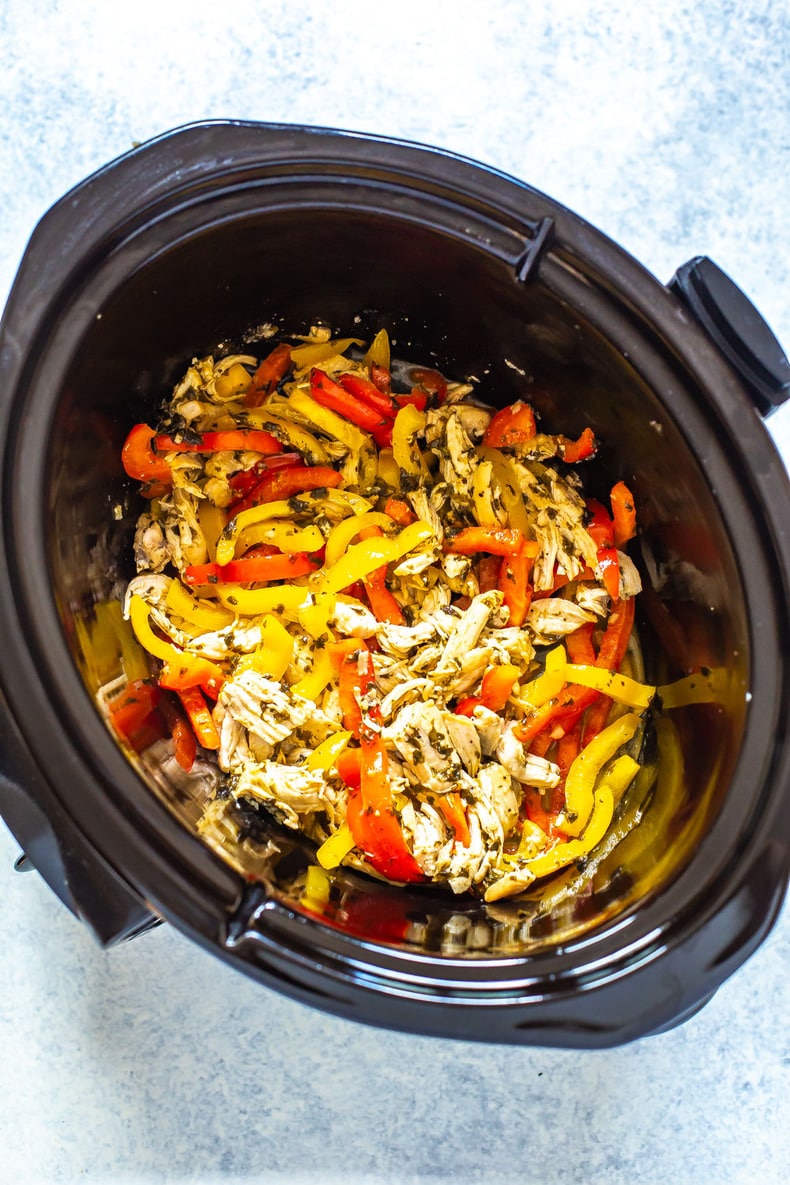 Five crockpot chicken recipes
If you've wondered where to start on making crock pot chicken, these five recipes (pictured below), will save your meal plan!
Because of the slow way a crock pot cooks, the chicken always comes out juicy and flavorful. It's neither mushy or stringy. And it always cooks evenly. Plus, it doesn't need constant tending or turning for this amazing result.
Some people claim that chicken should be seared prior to cooking in a crockpot, but in my experience, it really doesn't make a difference. You still get the full flavor of the seasoning by just dumping it all together.
Chicken can get dry if cooked for too long in the crock pot. These recipes have more liquid ingredients than a simple marinade for just that reason. Plus, all of the liquids go into the crockpot with the chicken, even if they sat together in the refrigerator for awhile first.
Honey sesame chicken
Coconut curry chicken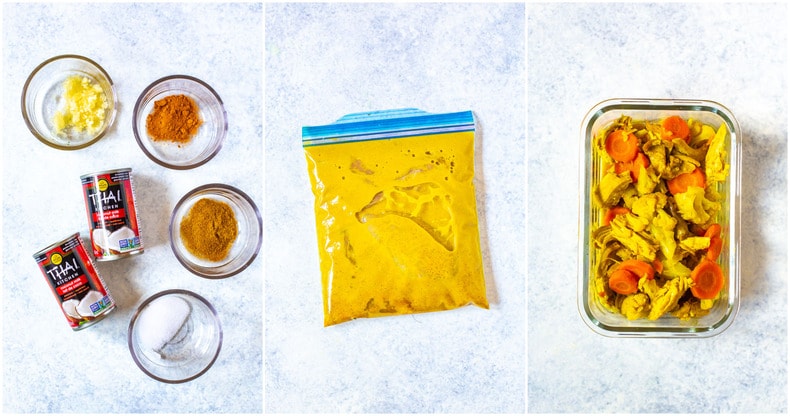 Marinara chicken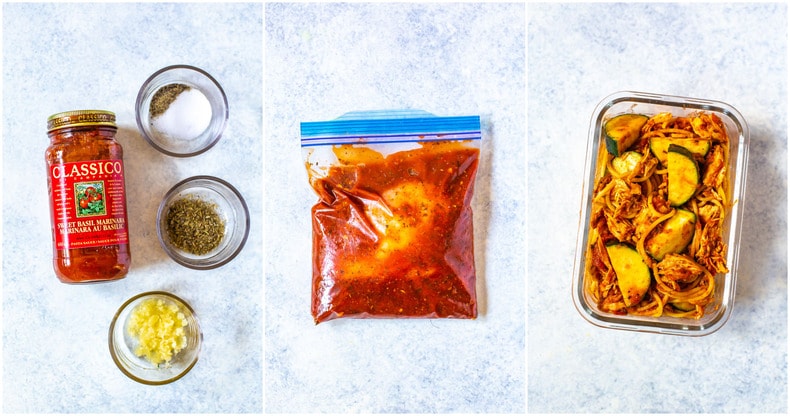 Greek chicken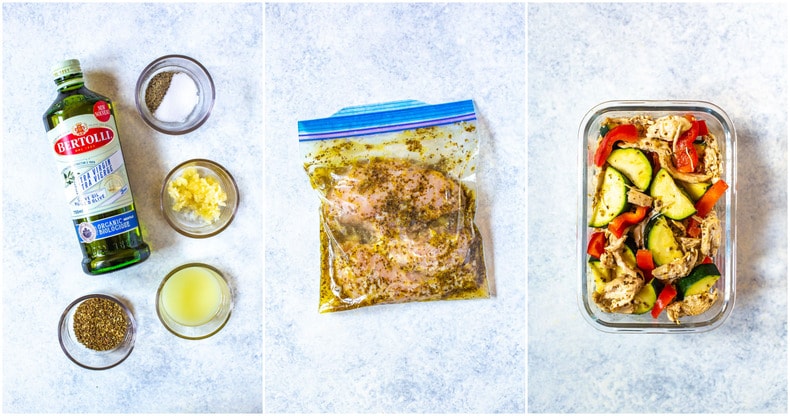 Cilantro lime chicken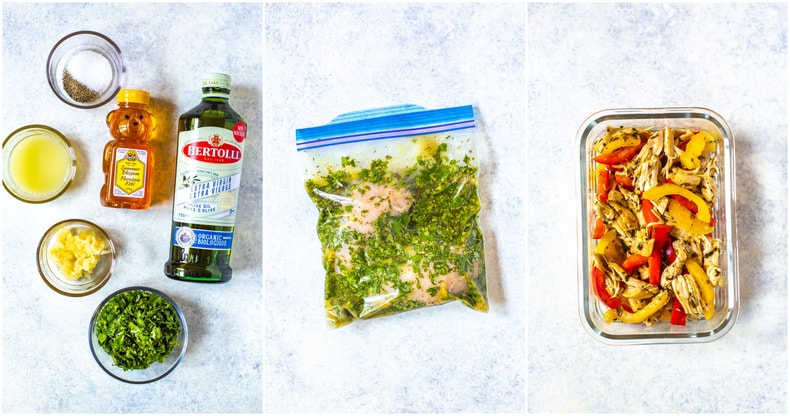 What to serve with crockpot chicken recipes
When your main dish is as easy as these crockpot chicken recipes, you want an equally simple and nutritious side dish. The chicken is a great source of lean protein. Many of the dishes also have a serving of veggies. Here are some suggestions to compliment your meal.
Garden salad
Steamed or roasted veggies
Rice, egg noodles, or potato salad
Crispy bacon Brussels sprouts
Even more crockpot chicken recipes
There are so many amazing, talented bloggers creating new recipes that making healthy meals in a crockpot has never been easier! You can find healthy crockpot chicken recipes for every dietary need and in nearly every cuisine you want. Whole30, gluten-free, paleo… you name it!
Maybe you need easy crockpot chicken soup recipes or a new way to make healthy slow cooker chicken breast. Whether you want to cook with chicken thighs, breasts, or a whole chicken, you can find a recipe for it in this collection!
Before we jump into these delicious looking recipes, there's a commonly asked question about cooking in a crockpot that I want to address.
Slow Cooker White Chicken Chili via Diabetes Strong // Crockpot Greek Chicken Gyros via The Seasoned Mom
Healthy Crockpot Chicken Thighs with Green Chiles via Clean Eating Kitchen // Crockpot Butternut Squash Chicken Curry via The Girl on Bloor
Slow Cooker Whole Chicken (Rotisserie-Style) via Cooking Classy // Crockpot Chipotle Chicken Soup via Salt and Lavender
Slow Cooker Gluten-Free Teriyaki Chicken via Joy Food Sunshine // Crockpot Salsa Verde Chicken via The Girl on Bloor
Crockpot Coconut Curry Chicken Soup via Amee's Savory Dish // Slow Cooker Chicken Mole Tacos via The Gingered Whisk
Slow Cooker Chicken Adobo via The Lemon Bowl // Crockpot Chicken Tikka Masala via The Girl on Bloor
Low Carb Crockpot Beef and Broccoli via Low Carb Yum // Healthy Crockpot Tumeric Chicken via Sweet Phi
Slow Cooker Healthy Chicken Pot Pie Stew via Center Cut Cook // Slow Cooker Pumpkin Quinoa Chicken Chili via Ambitious Kitchen
Healthy Chicken Fajita Quinoa Soup via Eat Yourself Skinny // Slow Cooker Chicken Shawarma via A Clean Bake
Meal prep tools for this recipe
Meal prep challenge
If you'd like some more help with meal planning, then you'll love my free 5-day meal prep challenge! Sign up for free below:
Healthy Crockpot Chicken Recipes
These healthy crockpot chicken recipes will inspire you to create meal prep with your slow cooker - most sauces only contain 5 ingredients and are dump-and-go.
Print
Pin
Rate
Ingredients
Coconut curry chicken
1

lb

chicken breasts

1

tbsp

curry powder

1

tsp

turmeric

4

cloves

garlic, minced

1

tsp

salt

1

(400mL) can

coconut milk

1

head

cauliflower, chopped into florets

2

carrots, sliced
Honey sesame chicken
1

tbsp

sesame oil

1

lb

chicken breasts

1/4

cup

low sodium soy sauce

2

tbsp

honey

4

cloves

garlic, minced

1

head

broccoli, chopped into florets

2

carrots, sliced
Cilantro lime chicken
1

tbsp

olive oil

1

lb

chicken breasts

1/4

cup

lime juice

2

tbsp

honey

1/2

cup

fresh chopped cilantro

2

cloves

garlic, minced

1

tsp

salt

1

red pepper, sliced

1

yellow pepper, sliced
Greek chicken
1

tbsp

olive oil

1

lb

chicken breasts

2

tbsp

lemon juice

4

cloves

garlic, minced

1

tbsp

oregano

1

tsp

salt

1/2

tsp

pepper

1

red pepper, sliced

1

zucchini, sliced
Marinara chicken
1

lb

chicken breasts

1

(696mL) jar

marinara sauce

2

cloves

garlic, minced

1

tsp

Italian seasoning

1/2

tsp each

salt & pepper

1

lb

spaghetti, cooked

1

zucchini, sliced
Instructions
Add chicken and sauce ingredients of choice to crockpot. Cook on high for 4 hours or low for 6 hours. You may choose to add and cook vegetables such as bell peppers, cauliflower, zucchini, broccoli, etc. in the last remaining hour of cook time instead of the full cook time.

Once cook time is up, remove chicken and shred or chop. Add back to crockpot with vegetables and gently stir to combine.

Serve over rice or pasta (optional), as desired. Enjoy!

To freeze: add all ingredients to a large freezer-safe Ziploc bag and freeze up to 3 months. Defrost in the fridge overnight then add to crockpot to cook once fully defrosted.
Video
Nutrition
Calories:
379
kcal
|
Carbohydrates:
14
g
|
Protein:
29
g
|
Fat:
20
g
|
Saturated Fat:
7
g
|
Cholesterol:
73
mg
|
Sodium:
791
mg
|
Potassium:
1202
mg
|
Fiber:
4
g
|
Sugar:
4
g
|
Vitamin A:
5145
IU
|
Vitamin C:
72
mg
|
Calcium:
55
mg
|
Iron:
2
mg