Healthy Crockpot Chicken Recipes
These healthy crockpot chicken recipes will give you the inspiration to create healthy, wholesome meals in your slow cooker! 
There are so many amazing, talented bloggers creating new recipes that making healthy meals in a crockpot has never been easier! You can find healthy crockpot chicken recipes for every dietary need and in nearly every cuisine you want. Whole30, gluten-free, paleo… you name it!
Maybe you need easy crockpot chicken soup recipes or a new way to make healthy slow cooker chicken breast. Whether you want to cook with chicken thighs, breasts, or a whole chicken, you can find a recipe for it in this collection!
Before we jump into these delicious looking recipes, there's a commonly asked question about cooking in a crockpot that I want to address.
Can you cook frozen chicken in a crockpot?
The short answer is, you can, but it's not advised. Depending on who you ask, this topic can be controversial, so let's just deal with the facts.
According to the U.S. Food and Drug Administration (FDA), foods need to be kept at certain temperatures to maintain food safety standards. If food isn't stored properly, you run the risk of food contamination and contracting foodborne illnesses like Salmonella. Regarding meat and poultry, the FDA says this:
"Bacteria grow most rapidly in the range of temperatures between 40 °F [4 °C] and 140 °F [60 °C], doubling in number in as little as 20 minutes. This range of temperatures is often called the "Danger Zone." Never leave food out of refrigeration over 2 hours, and if the temperature is over 90 °F. don't leave it out over 1 hour."
The problem is, it can take a long time for frozen food to thaw in a slow cooker, especially when cooking on the low setting. After frozen chicken thaws, it has to reach an internal temperature of 165 °F (74 °C) to be safe to eat. Depending on the size of the frozen meat, that can take longer than 2 hours.
So, the safest thing to do is to thaw frozen chicken before cooking it in a slow cooker. Remember to use a cooking thermometer to make sure that the chicken is fully cooked before eating it, too.
OK, are you ready to check out these healthy crockpot chicken recipes? Let's do this!
Healthy Crockpot Chicken Recipes
Slow Cooker White Chicken Chili via Diabetes Strong
Crockpot Greek Chicken Gyros via The Seasoned Mom
Healthy Crockpot Chicken Thighs with Green Chiles via Clean Eating Kitchen
Crockpot Butternut Squash Chicken Curry via The Girl on Bloor
Slow Cooker Whole Chicken (Rotisserie-Style) via Cooking Classy
Crockpot Chipotle Chicken Soup via Salt and Lavender
Slow Cooker Gluten-Free Teriyaki Chicken via Joy Food Sunshine
Crockpot Salsa Verde Chicken via The Girl on Bloor
Crockpot Coconut Curry Chicken Soup via Amee's Savory Dish
Slow Cooker Chicken Mole Tacos via The Gingered Whisk
Slow Cooker Chicken Adobo via The Lemon Bowl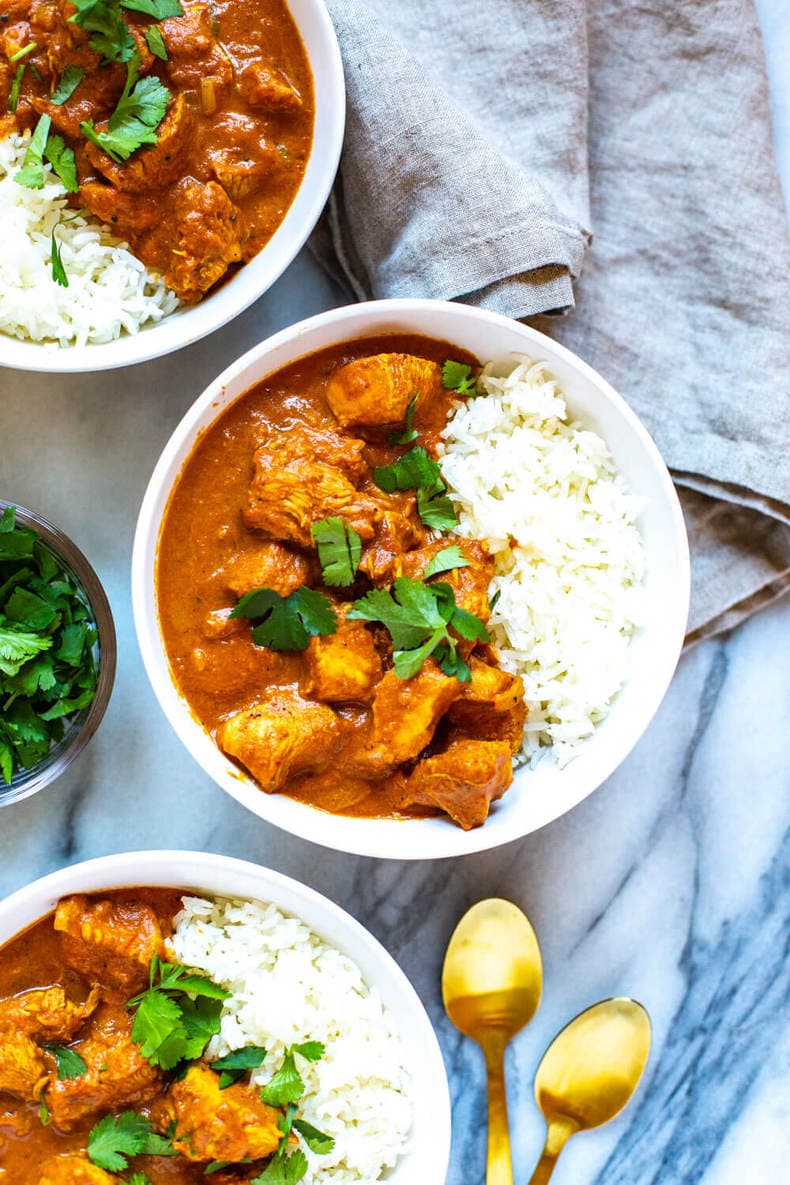 Crockpot Chicken Tikka Masala via The Girl on Bloor
Low Carb Crockpot Beef and Broccoli via Low Carb Yum
Healthy Crockpot Tumeric Chicken via Sweet Phi
Slow Cooker Healthy Chicken Pot Pie Stew via Center Cut Cook
Slow Cooker Pumpkin Quinoa Chicken Chili via Ambitious Kitchen
Healthy Chicken Fajita Quinoa Soup via Eat Yourself Skinny
Slow Cooker Chicken Shawarma via A Clean Bake
Print Recipe
Healthy Crockpot Chicken Recipes