These Crock Pot Baked Potatoes are WAY easier to make than oven baked – load them up with bacon, cheese, sour cream and chives for a full meal!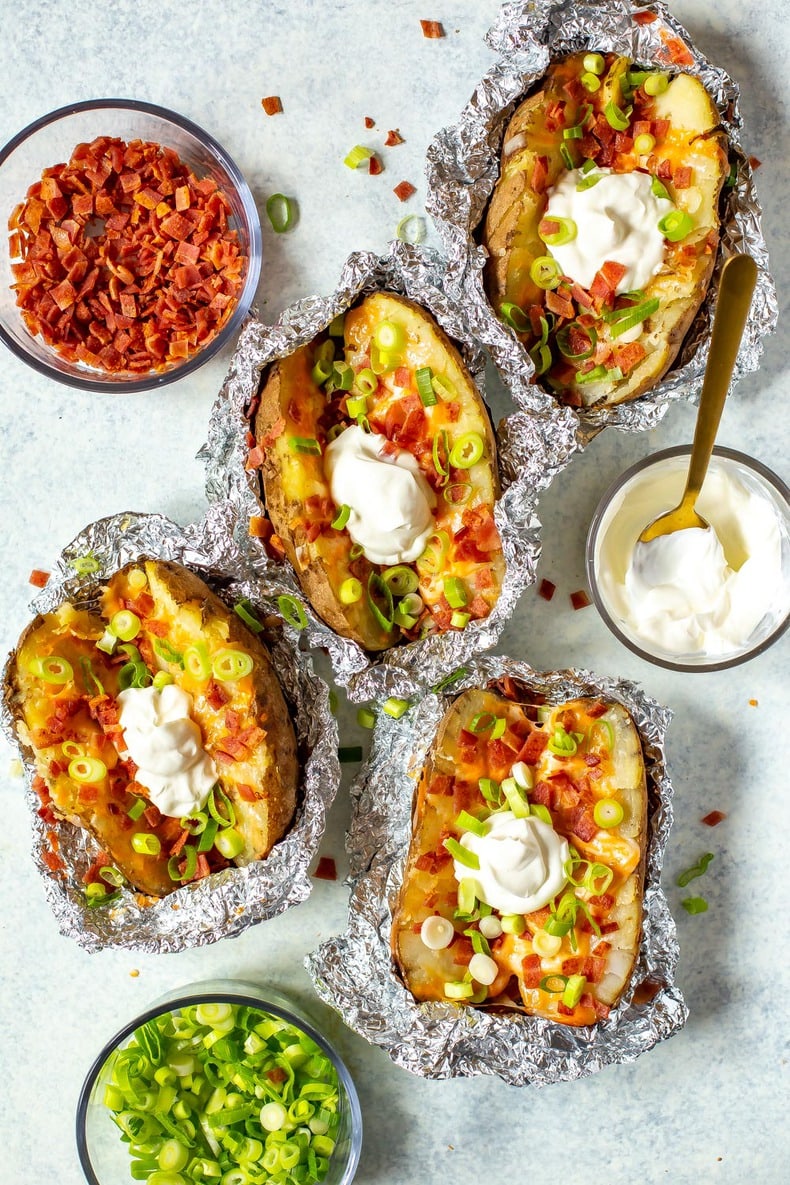 Ingredients in crock pot baked potatoes
Besides the Russet potatoes, all you need for slow cooker baked potatoes are the toppings you want to add. I also recommend adding cheese towards the end and melting it in the crockpot!
Russet potatoes are starchy and known to be good for baking. They have a light mealy texture and fall apart after being cooked. They have a mild flavor and are the perfect blank slate for baked potatoes with lots of delicious toppings.
Russets are also light and fluffy when made into mashed potatoes.
How to make crock pot baked potatoes
This is the easiest side dish ever! Prick the skins of the potatoes and set them in the crock pot. Cook on high for four hours or low for eight hours.
With almost no effort at all, you have the perfect side dish for any meal.
Cut your potatoes open and add cheese in the last 15 minutes of cook time if you're looking to turn the baked potatoes into a full meal instead of using them as a side dish – they're so delicious this way!
While the potatoes are cooking, you'll prepare any toppings you'd like such as cooking the bacon and slicing the green onions or chives.
Turn them into mashed potatoes
An added bonus of slow cooker baked potatoes is that with no effort at all you have perfectly baked potatoes for any use.
You can easily turn these into mashed potatoes. The skins will peel right off after cooking in the crock pot. Mash them with a fork, potato masher or mixer, depending on how smooth you like your potatoes.
Can you double the recipe?
If you need to feed a crowd, you may want to use more than four potatoes.
You can double this recipe, but you need to keep in mind the size of the potatoes compared to your crock pot. If you have extra large potatoes or the crock pot is very full, it will take more time for the potatoes to cook completely. You can always add 2 hours to the cook time if you're unsure.
Do you need to add water?
Surprisingly, you do not need to add water to the bottom of the crock pot to cook potatoes. Any liquid added or steam produced in the crock pot does not boil off like it would an open pot. All moisture you start with stays in the crock pot.
If you have an older model crock pot, it may recommend using some liquid so follow those instructions. But generally, you do not need to add much water to any dish you cook in the crock pot.
Additional toppings
A great topping for crock pot baked potatoes is meat like bacon – if you'd like to make this meal lighter, use turkey bacon. Not only is it delicious, but it adds some filling protein to make it a complete meal. Other options would be pulled pork or BBQ chicken.
Other toppings that are great on baked potatoes include:
Cheddar cheese
Sour cream
Blue cheese
Green onions
Chives
Salsa
Broccoli
Black beans
Chili
Buffalo sauce
Sliced jalapenos
Corn
A potato bar is a great way to feed a crowd. With the blank slate of the potato and a table full of options for toppings, every guest will have a meal they love. Plus you won't spend the whole gathering in the kitchen!
Storing and reheating baked potatoes
If you have leftover potatoes, they can be stored in the refrigerator for up to five days.
To reheat, you can put your potato in the oven or toaster oven for a few minutes or use the microwave. If you reheat it in the microwave, you can put a damp paper towel over the cut portion of the potato to keep it from drying out.
This means that you can also meal prep with these potatoes. Make them when you have time on the weekend and store them in the refrigerator for a day that week. They would make a great side dish for dinner or a filling lunch.
Freezing baked potatoes
If you want to extend the life of your baked potatoes further, you can freeze them.
Once they have completely cooled, place them on a tray in the freezer. After they have frozen, put them in a freezer bag. This will keep them from sticking together in the freezer.
You can put a baked potato into the oven directly from the freezer. It will take about 35 minutes in a 400 F oven to warm it completely.
A baked potato will last for three months in the freezer.
Ideas to use up leftover baked potatoes
Since these potatoes are so easy to make, you may want to make crock pot baked potatoes part of your regular routine.
But if you need to use up these potatoes, you have plenty of options besides typical baked potatoes with toppings. Try some of these:
Twice baked potatoes
Potato salad
Potato soup
Add to a casserole
Pan fry as breakfast potatoes
Smashed potatoes
More easy crockpot recipes
If you're looking for more easy crockpot comfort food, check out these recipes below:
Meal prep tools for this recipe
Grab some glass meal prep bowls if you plan on storing the leftovers for lunches.
Freeze these baked potatoes in Ziploc bags up to 3 months to prevent freezer burn
Crock Pot Baked Potatoes
These Crock Pot Baked Potatoes are WAY easier to make than oven baked - load them up with bacon, cheese, sour cream and chives for a full meal! 
Print
Pin
Rate
Ingredients
4

medium-sized russet potatoes
Topping ideas
1

cup

shredded cheddar cheese

4

strips

bacon

2

green onions, sliced (or use chives)

1/4

cup

sour cream
Instructions
Prick potatoes with a fork, wrap in foil, then add to crockpot. Cook on high for 4 hours, or on low for 8 hours.
If loading potatoes with toppings
Cook bacon at some point while potatoes are cooking.

In the last 15 minutes of cooking time, slice the potatoes in half lengthwise, then add cheese.

Remove potatoes from crockpot, then garnish with cooked bacon, green onions/chives and serve with sour cream. Enjoy!
Video
Nutrition
Calories:
404
kcal
|
Carbohydrates:
40
g
|
Protein:
15
g
|
Fat:
21
g
|
Saturated Fat:
11
g
|
Cholesterol:
52
mg
|
Sodium:
344
mg
|
Potassium:
996
mg
|
Fiber:
3
g
|
Sugar:
2
g
|
Vitamin A:
432
IU
|
Vitamin C:
13
mg
|
Calcium:
252
mg
|
Iron:
2
mg