These Low Carb Burger Lettuce Wraps are made with double-stacked patties sandwiched between layers of cheddar cheese and special sauce!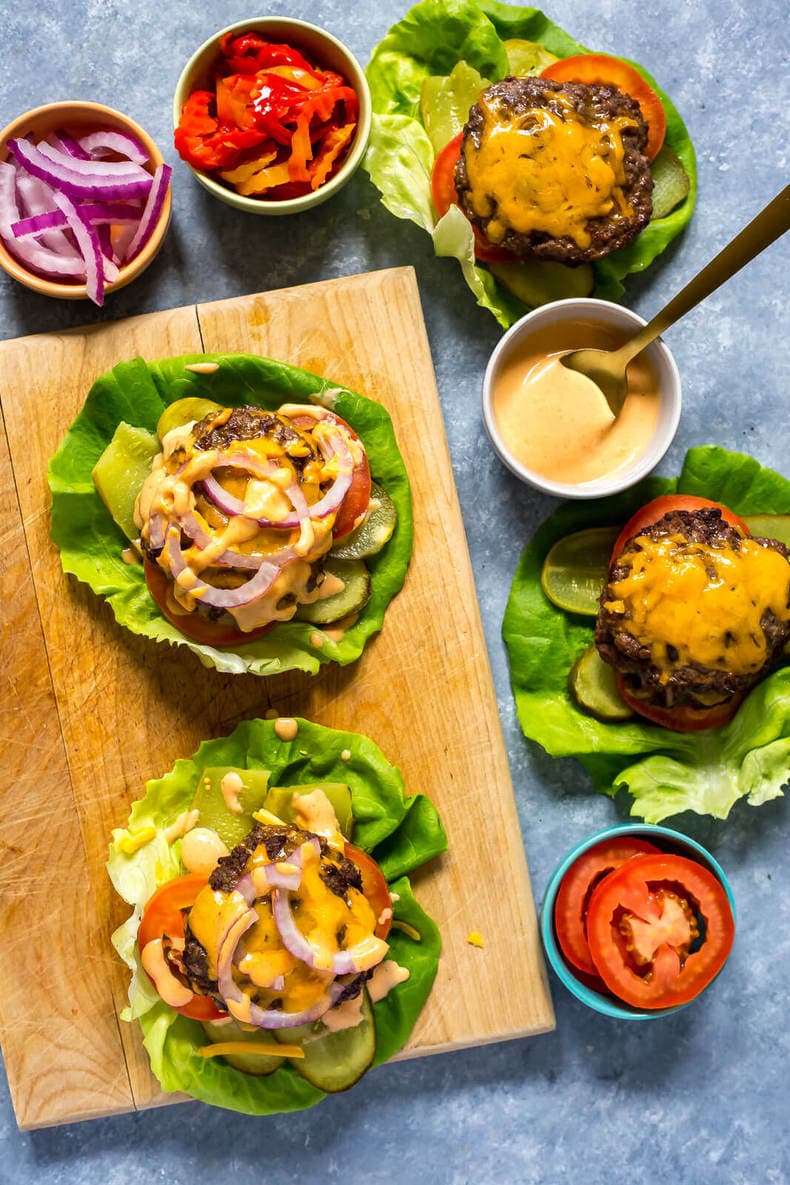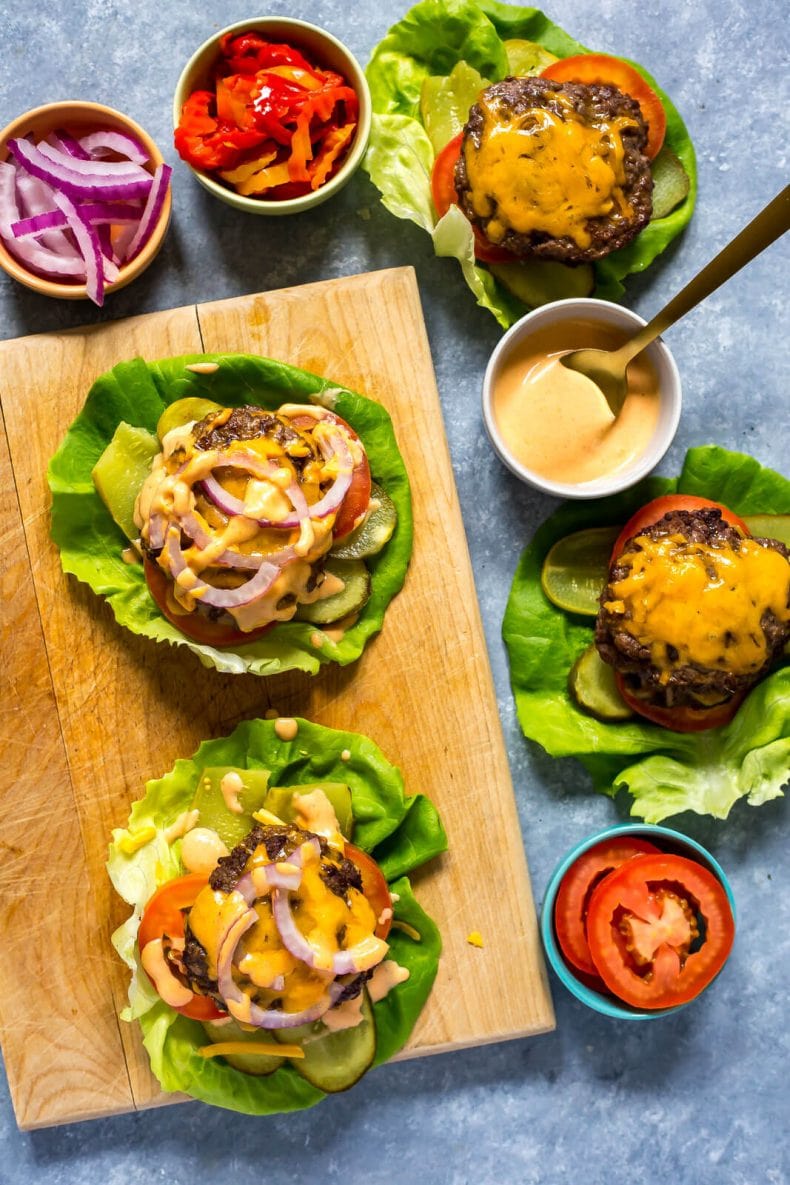 Ingredients and substitutions
Ground beef – if you're looking for a leaner option, use ground turkey.
Salt & pepper – to taste.
Cheddar cheese – use either grated or sliced cheddar cheese or another cheese of your choice.
Boston lettuce – iceberg lettuce or romaine lettuce leaves can be used if you can't find Boston lettuce.
Plum tomatoes – use heirloom tomatoes, Roma tomatoes or red vine tomatoes in place of plum tomatoes.
Red onion – yellow onions or sweet onions work wonderfully on burgers.
Pickles – feel free to leave these out if you don't like pickles. For a similar texture and crunch, use banana peppers (if you're a fan of some heat!)
Special sauce
Light mayo – use sour cream as a lighter alternative.
BBQ sauce – mix ketchup and Worcestershire sauce together if you don't have any BBQ sauce.
Garlic powder – onion powder or garlic salt can also work.
Paprika – use chili powder, cayenne powder or crushed chili flakes instead.

How to make burger lettuce wraps
Make the special sauce.
Prep the veggies.
Form then cook the patties.
Assemble your wraps and dig in!

What lettuce do you use for lettuce wraps?
This recipe calls for Boston lettuce. Boston lettuce leaves, also known as Bibb leaves, are a highly nutritious option. They have a higher folate, iron and potassium count than other lettuce and are super malleable!
If you can't find any Boston lettuce, iceberg lettuce is another popular option for lettuce wraps. It doesn't have as high of a nutrient count as Boston lettuce, but it still adds a great texture to your dish. It also has a high water content, which makes it crunchier than other options. Because of the leaves' sturdy structure, they're also least likely to get soggy.
If you're looking for a lettuce that's the perfect middle ground between nutritious and crunchy, use romaine lettuce! It has lots of nutrients like Boston lettuce with the crunch of iceberg lettuce. If you're using romaine lettuce, fold over the excess leaf while eating for a true burger experience.
Skip the Ads and Get Right to the Recipes!
ZERO ADS on over 600 recipes!
Weekly Meal Plans, Grocery & Prep Lists
Bonus eBooks
Frequently Asked Questions
Are burger lettuce wraps healthy?
Burger lettuce wraps are definitely a healthier option since you're using lettuce instead of hamburger buns, but it all depends on what you add to them. As long as you don't go crazy with the unhealthy toppings, these burger wraps should still be fairly healthy.
How do you wrap the burger?
Since Boston leaf lettuce basically forms 'cups' for all your fillings, you don't have to worry about wrapping your lettuce wraps. Just add the patty and toppings to the lettuce leaves and enjoy.
How many carbs are in this recipe?
Boston lettuce has a carb count of 2.9g of carbohydrates per 100g of lettuce. In comparison, hamburger buns have an average carb count of 29g of carbohydrates. Though carbs are not the enemy, by using lettuce wraps as a substitute to hamburger buns you are reducing the amount of carbohydrates significantly in this meal. This is perfect if you're counting your macronutrients or are on a keto diet.
Storing and reheating
The leftovers from this recipe will last up in the fridge for to 5 days. I recommend storing the lettuce, sauce and filling separately so the lettuce doesn't get soggy. When you're ready to enjoy the dish, warm up your patties in the microwave, assemble your lettuce wraps and enjoy!
Freezing the beef patties
You can't freeze lettuce wraps, but you can freeze the beef patties! Stack them with a small piece of wax or parchment paper in between each patty to ensure they don't stick together. Place the stack inside of an airtight container or freezer bag and freeze them for up to 3 months. When you're ready to enjoy, you can cook them from frozen on the grill or in a pan on the stovetop.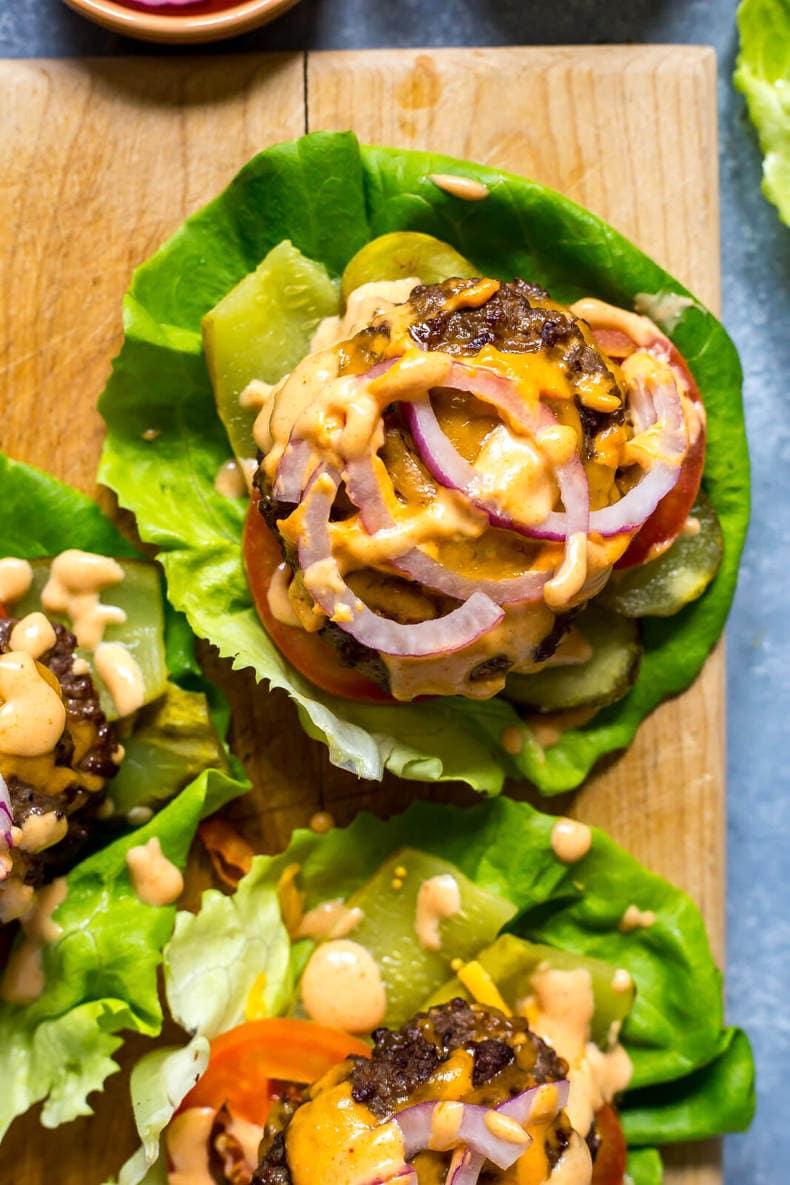 Wanna Learn How To Meal Prep?
My meal planning service, Dinner Prep Pro, removes the guesswork and helps you get dinner on the table in 15-20 minutes each night. My meal prep checklists only take 1 hour each week!
More lettuce wrap recipes
Meal prep tools for this recipe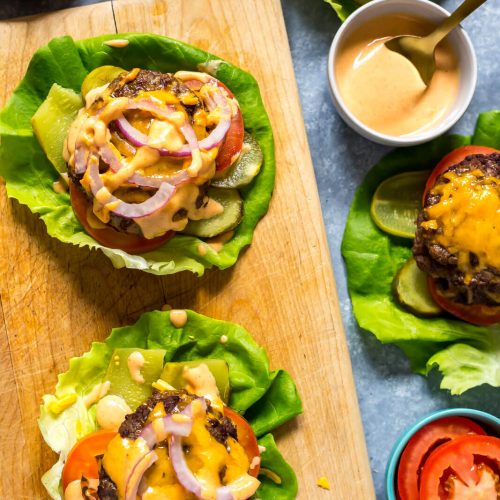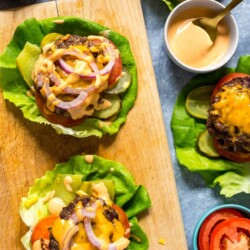 Low Carb Burger Lettuce Wraps
These Low Carb Burger Lettuce Wraps are made with double-stacked patties sandwiched between layers of shredded cheddar cheese and special sauce!
Print
Pin
Rate
Click Here to Remove Ads
Servings: 4 servings
Calories: 418kcal
Ingredients
1 lb ground beef
1/2 tsp salt
1/4 tsp pepper
1/2 cup grated cheddar cheese
1 head Boston lettuce
2 plum tomatoes, sliced
1/2 small red onion, sliced
6 sliced pickles
Special sauce
1/2 cup light mayo (or sour cream)
1 tbsp BBQ sauce
1/2 tsp garlic powder
1/2 tsp paprika
Instructions
Preheat BBQ to med-high. Mix ingredients for special sauce together and prep veggies.

Mix salt and pepper into ground beef, mixing well to combine. Form 8 evenly-sized very thin (1/4 inch) patties and place onto grill, BBQing for 1-2 minutes per side. Remove from grill and add cheese to one patty, then stack with another patty and top with more cheese.

Lay lettuce leaves on plates and topping with two slices pickles and two slices of tomatoes. Add beef patties with melted cheese, and top with red onions, then drizzle with special sauce. Serve and enjoy!
Video
Notes
For an even healthier option, make these burgers with ground turkey instead of ground beef. If you can't find Boston lettuce, use romaine or iceberg lettuce. Store all the leftovers separately in the fridge for up to 5 days. Reheat the burgers in the microwave then assemble your lettuce wraps fresh. Freeze the beef patties for up to 3 months then cook from frozen.
Nutrition
Calories: 418kcal (21%)Carbohydrates: 7g (2%)Protein: 26g (52%)Fat: 31g (48%)Saturated Fat: 11g (69%)Polyunsaturated Fat: 6gMonounsaturated Fat: 11gTrans Fat: 0.03gCholesterol: 99mg (33%)Sodium: 1435mg (62%)Potassium: 404mg (12%)Fiber: 1g (4%)Sugar: 3g (3%)Vitamin A: 950IU (19%)Vitamin C: 8.3mg (10%)Calcium: 160mg (16%)Iron: 2.3mg (13%)
Join The Girl on Bloor Premium!
ZERO ADS!
Weekly Meal Prep Checklists
Bonus eBooks