These Low Carb Burger Lettuce Wraps are made with double-stacked patties sandwiched between layers of shredded cheddar cheese and a special sauce made with pantry staples. They're the perfect healthy summer meal!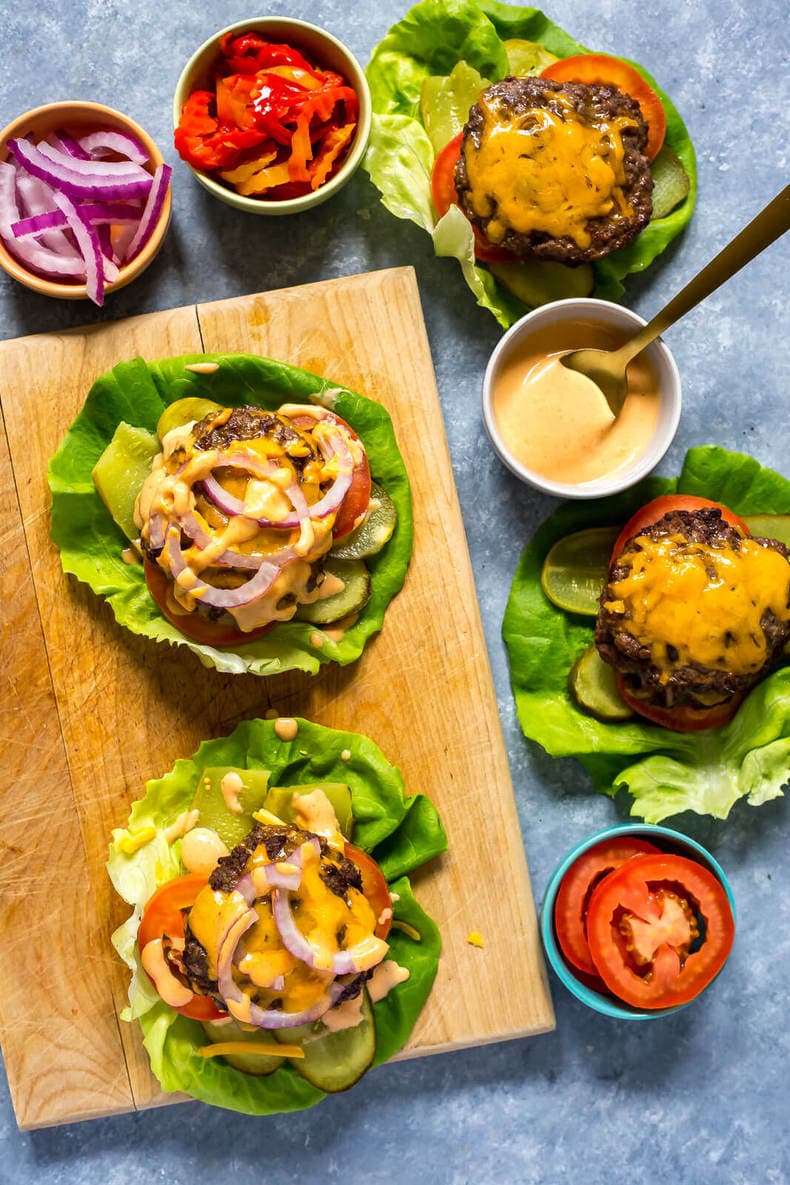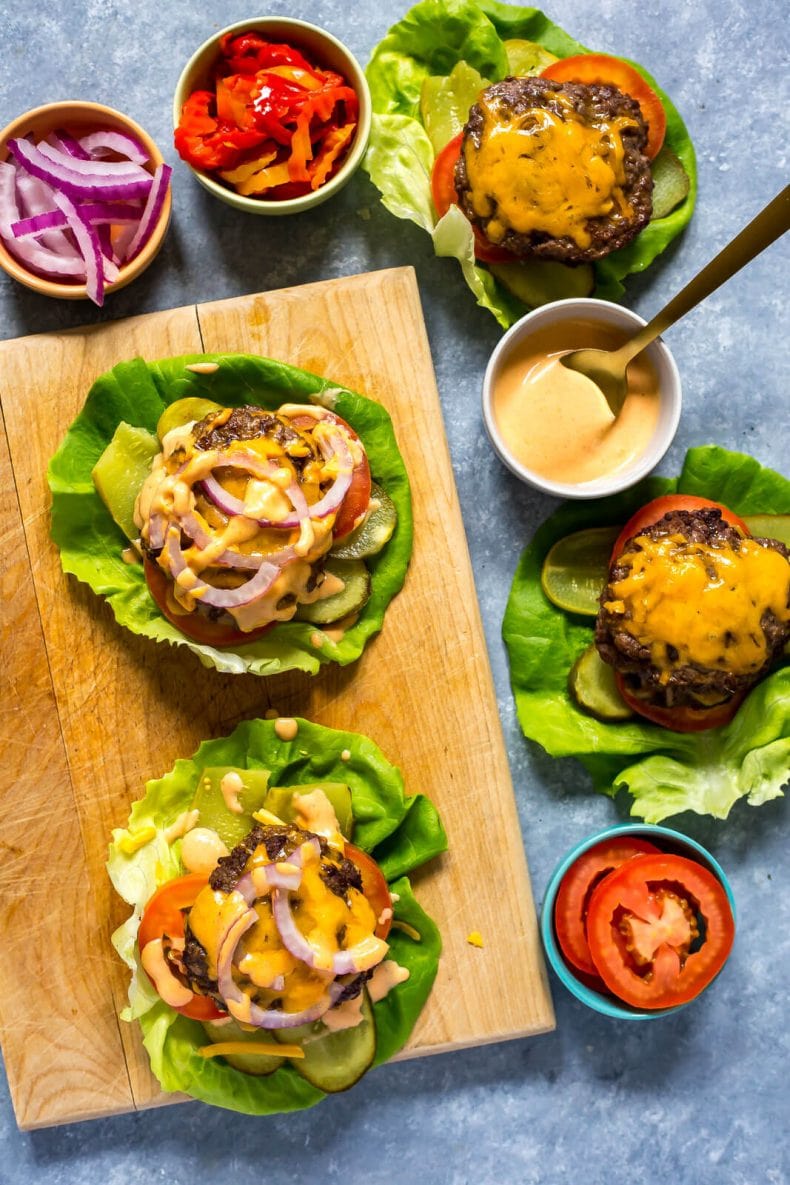 Counting calories this summer? Trying to eat less buns with your burgers?
I mean, I hope not – you better be living your best life right now!!! But if you are looking to enjoy some good ole' fashioned burgers and you're just looking for something a little bit lighter during the week, then you're definitely going to want to give these Low Carb Burger Lettuce Wraps a try! (or these Mexican Chicken Lettuce Wraps are another amazing low carb option)
OMG and the sauce!!! Probably the best part of these burgers to be honest – and you most likely already have most of the ingredients in your fridge too.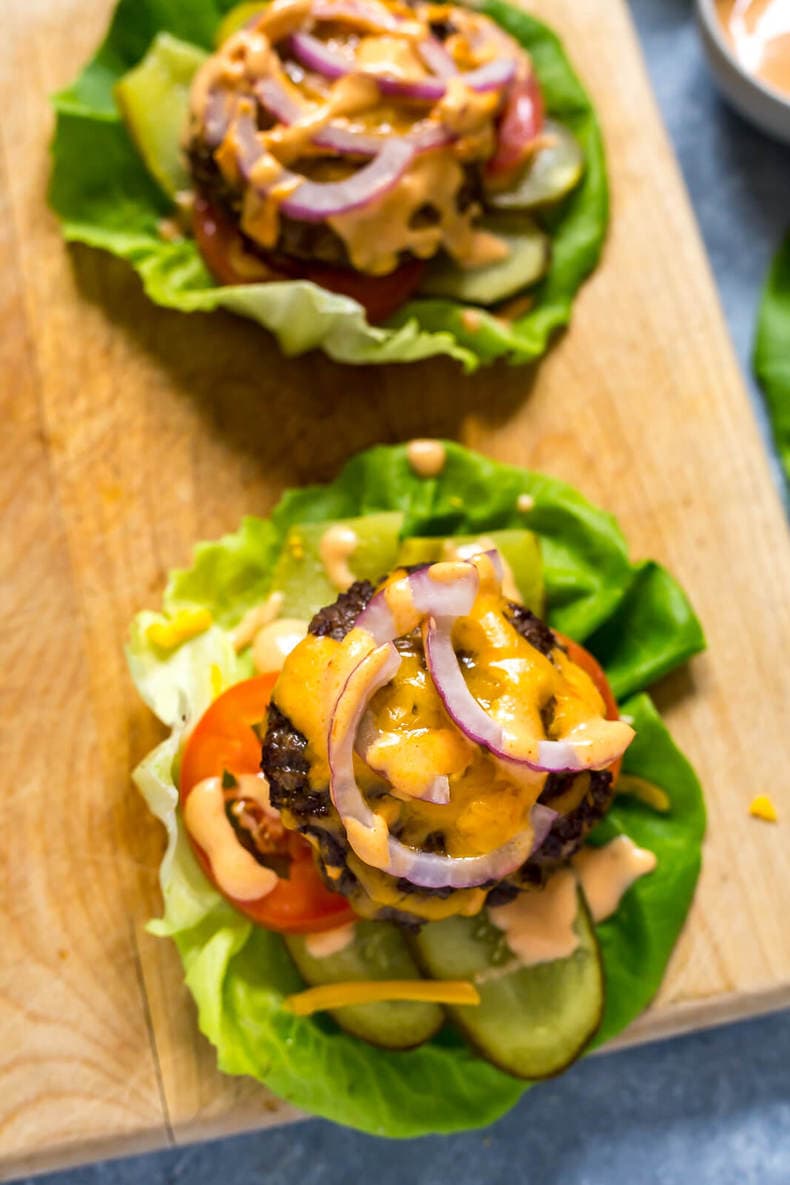 So before we get too much into the sauce, I want to talk about the mighty burger for a second and explain what these lettuce wraps are inspired by.
Last summer was a great one – I went out dancing plenty of times with the girls, and often we would end the night at some sort of greasy restaurant.
Oh my lord, downtown Toronto is a wonderful place in the summer. So many patios to go to, and it's so fun to go out dancing in the entertainment district, especially since you don't have to worry about coat check and you can come and go as you please.
And needless to say, the city becomes ALIVE with people day and night.
So anyways, last summer we went out a lot, like every weekend.
And we would usually hit up Burger's Priest, which is this amazing small burger chain based in the Greater Toronto Area and Hamilton. We went to the location right downtown in the entertainment district and got a round of fries and the California burger…this thing is INSANE!
So much better than our usual Big Mac or Whopper actually – especially when you've had one too many cocktails LOL!
So the sauce on this thing was DEFINITELY what made it – not quite a Big Mac sauce that's reminiscent of Thousand Island dressing, but dressing with a bit more of a kick sandwiched between two greasy buns and a perfectly cooked burger with melted cheese and grilled onions.
Best burger I've ever had in my life…until I ate it sober.
And you know what it was?
THE BUNS! Too greasy, too thick…just too much in general.
So I thought I would take the burger I love so much and re-adapt it with a bunch of veggies so that it's much better for you but you still get all the flavours of a custom burger.
Burgers are actually so simple to make I don't know why I don't make them more often to be honest.
All you really need is some extra lean ground beef, salt and pepper.
There are some good burgers out there (try these portobello beef burgers if you're looking for something fancy) with grated onions, breadcrumbs, egg, Dijon mustard, etc but let's be real, if you're craving a burger you likely want something resembling fast food. Keyword here is FAST.
So whip up my burgers below, throw them on some lettuce, and while the burgers are in the pan stir together some BBQ sauce, mayo and some seasonings.
Boom it's that easy!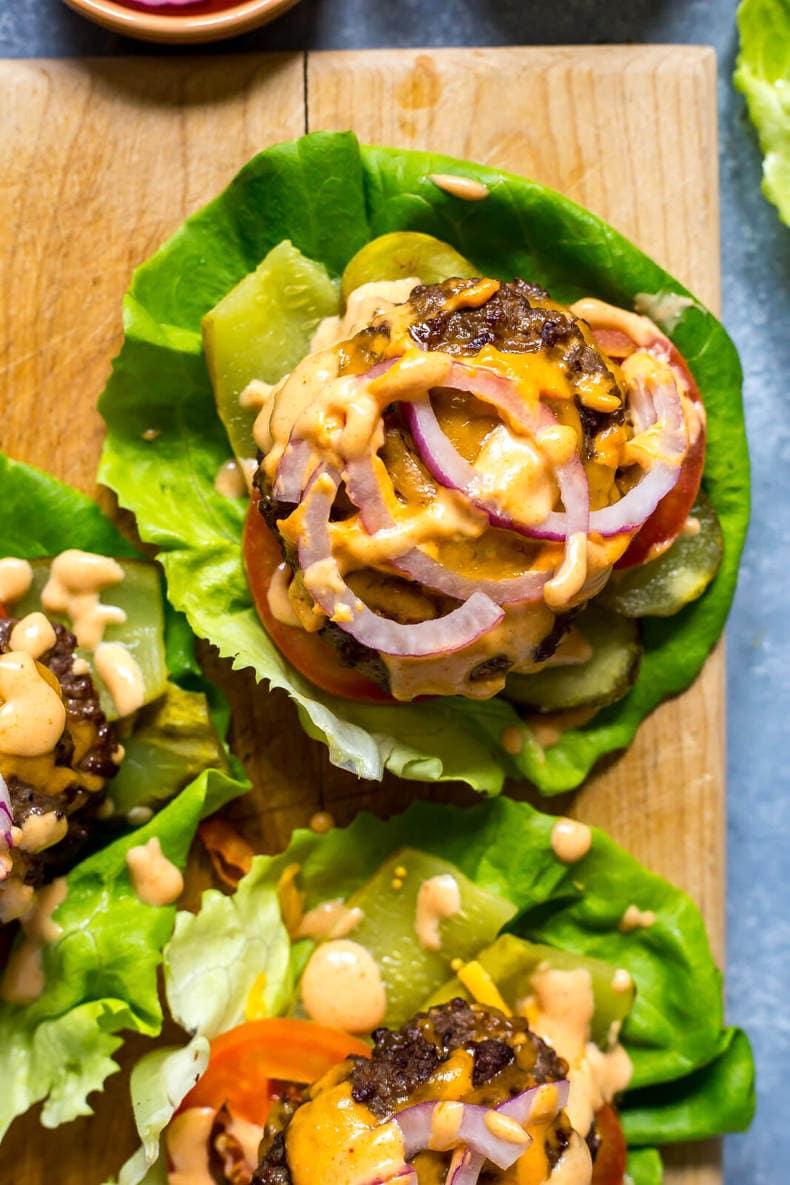 So if you don't have a BBQ to use this summer, don't fret!
These Burger Lettuce Wraps can be made on the stovetop too! Get your patties super thin (about 1/4 inch) and make 8 of them per pound of beef, then throw them in a frying pan. Cook for 2 minutes a side and you've got dinner ready in a hurry!
And if you want to make these burgers just like the ones at Burger's Priest, be sure to saute the onions after you've taken the burgers off the heat for a little bit.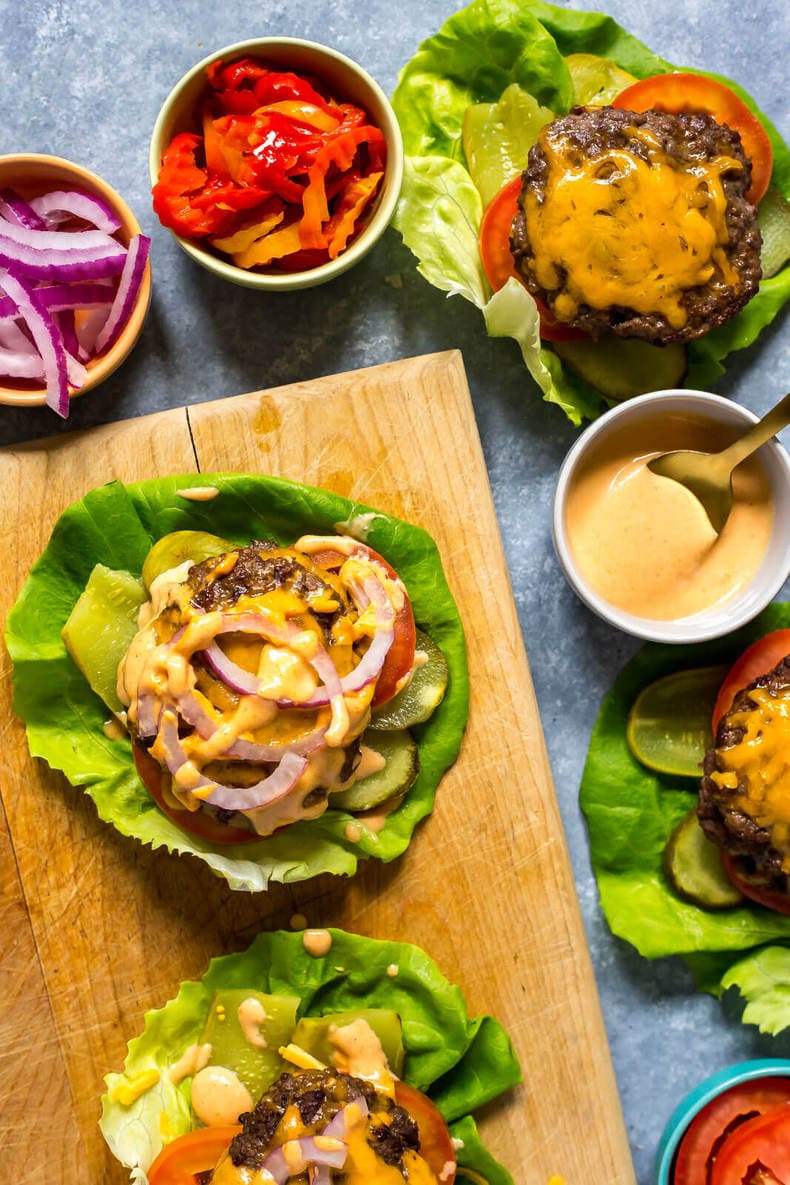 And don't forget to add some banana peppers and pickles – those are super delicious toppings that pack in a ton of extra zesty flavour so you can minimize the amount of sauce you use and limits the calorie count.
Not that you really need to worry with these bunless burgers I suppose…
Will you be making these Low Carb Burger Lettuce Wraps? 
This is going to become my fave burger recipe of the summer, just you watch!
If you try any of my recipes be sure to let me know on Instagram, Twitter, Facebook or in the comments – I'd love to see what you come up with!
Here's the brand of light mayo I use to make the special sauce.
Or if you have no time to make the special sauce for this recipe, you can actually buy Big Mac sauce online!!!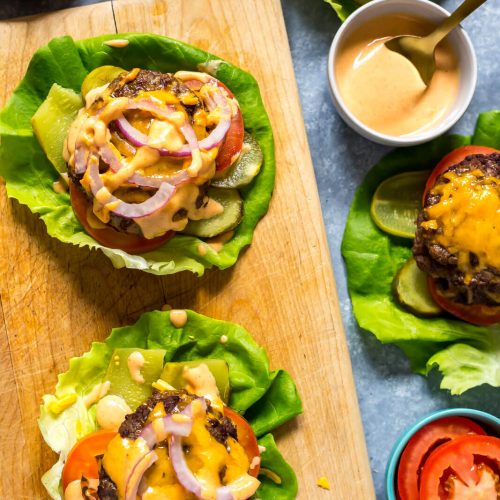 Low Carb Burger Lettuce Wraps with Special Sauce
These Low Carb Burger Lettuce Wraps are made with double-stacked patties sandwiched between layers of shredded cheddar cheese and a special sauce made with pantry staples. They're the perfect healthy summer meal!
Print
Pin
Rate
Ingredients
1

lb

ground beef

1/2

tsp

salt

1/4

tsp

pepper

1/2

cup

grated cheddar cheese

1

head

Boston lettuce

2

plum tomatoes, sliced

1/2

small red onion, sliced

6

sliced pickles
Special sauce
1/2

cup

light mayo (or sour cream)

1

tbsp

BBQ sauce

1/2

tsp

garlic powder

1/2

tsp

paprika
Instructions
Preheat BBQ to med-high. Mix ingredients for special sauce together and preep veggies.

Mix salt and pepper into ground beef, mixing well to combine. Form 8 evenly-sized very thin (1/4 inch) patties and place onto grill, BBQing for 1-2 minutes per side. Remove from grill and add cheese to one patty, then stack with another patty and top with more cheese.

Lay lettuce leaves on plates and topping with two slices pickles and two slices of tomatoes. Add beef patties with melted cheese, and top with red onions, then drizzle with special sauce. Serve and enjoy!
Video
Nutrition
Calories:
418
kcal
|
Carbohydrates:
7
g
|
Protein:
26
g
|
Fat:
31
g
|
Saturated Fat:
11
g
|
Polyunsaturated Fat:
6
g
|
Monounsaturated Fat:
11
g
|
Trans Fat:
0.03
g
|
Cholesterol:
99
mg
|
Sodium:
1435
mg
|
Potassium:
404
mg
|
Fiber:
1
g
|
Sugar:
3
g
|
Vitamin A:
950
IU
|
Vitamin C:
8.3
mg
|
Calcium:
160
mg
|
Iron:
2.3
mg