This Chili's Margarita Grilled Chicken is a copycat recipe of one of your restaurant favourites! Topped with cheese, corn, black beans and salsa, you'll be craving these delicious loaded chicken breasts every night!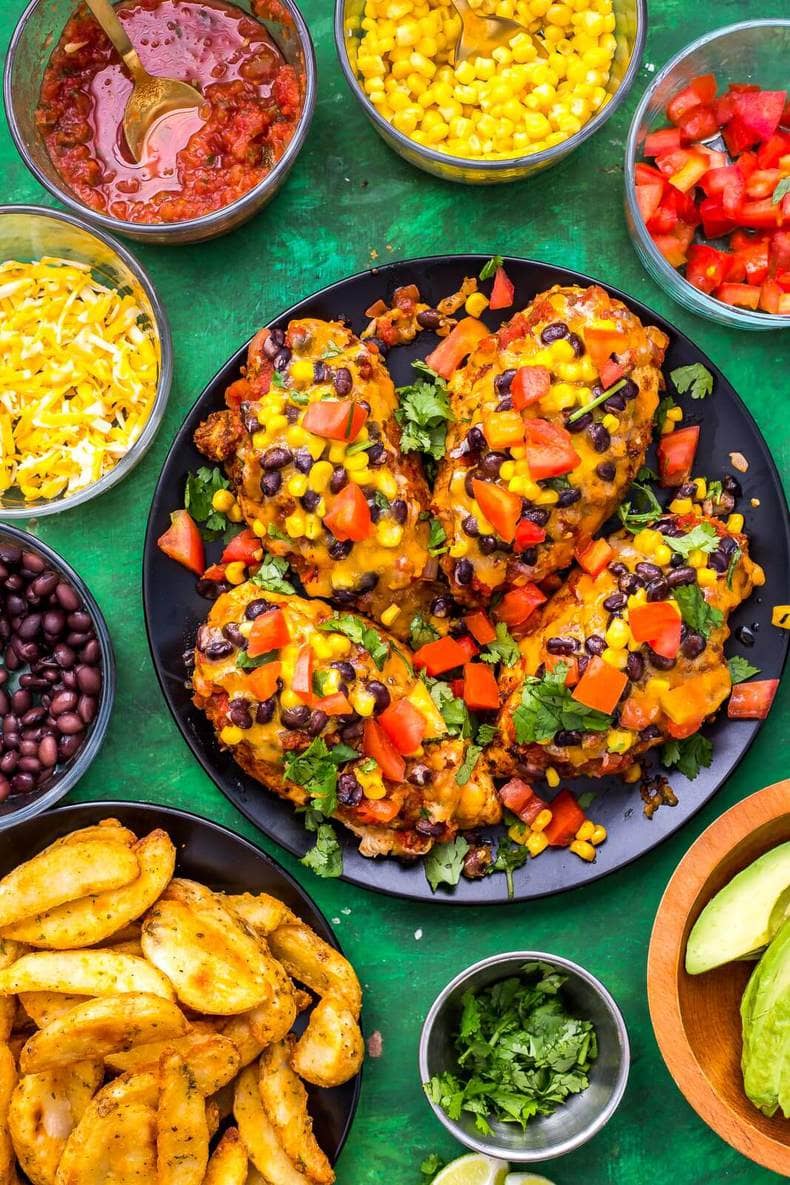 Ahhh, Chili's Margarita Grilled Chicken oh how I love you. Not to be confused with this equally delicious Margherita Stuffed Chicken recipe, by the way.
Except this technically is not grilled chicken. Not at all.
It's made much easier in the oven, which is perfect for those of you that don't have regular access to a BBQ (since moving back downtown that includes me right now!) But I promise you, you really don't need to bbq this chicken to get the amazing flavour, and it's all actually WAY less messy than trying to do it on the BBQ, mainly because of the toppings.
Inspired by my Stuffed Fajita Chicken recipe, I decided to do another Tex Mex style chicken breast recipe and you're basically going to want to eat these everyday.
I added some sliced avocado and potato wedges to this Margarita Grilled Chicken recipe, but it's really up to you to decide what kinds of sides you wanna serve.
I feel like even a small side salad would be enough because you've got some veggies and cheese on top of the chicken to begin with so I find that this recipe is super filling even without a ton of sides. I actually ate one breast with no sides for lunch one day and found it was more than enough food.
I love dressing up chicken breasts with a bunch of toppings and cheese. It's one of my favourite ways to spice up a chicken dinner. I basically baked the chicken in the oven for 20 minutes with a little bit of homemade taco seasoning (if you're in a bind, use chilli powder) and some olive oil, then took the chicken out of the oven and loaded it up with salsa, black beans, corn and cheese.
I baked the chicken another 10 minutes, then removed and added some fresh tomatoes and sliced avocado. Basically a big fiesta in your mouth! The salsa keeps the chicken from drying out, and the cheese just adds to the deliciousness and is the perfect finish.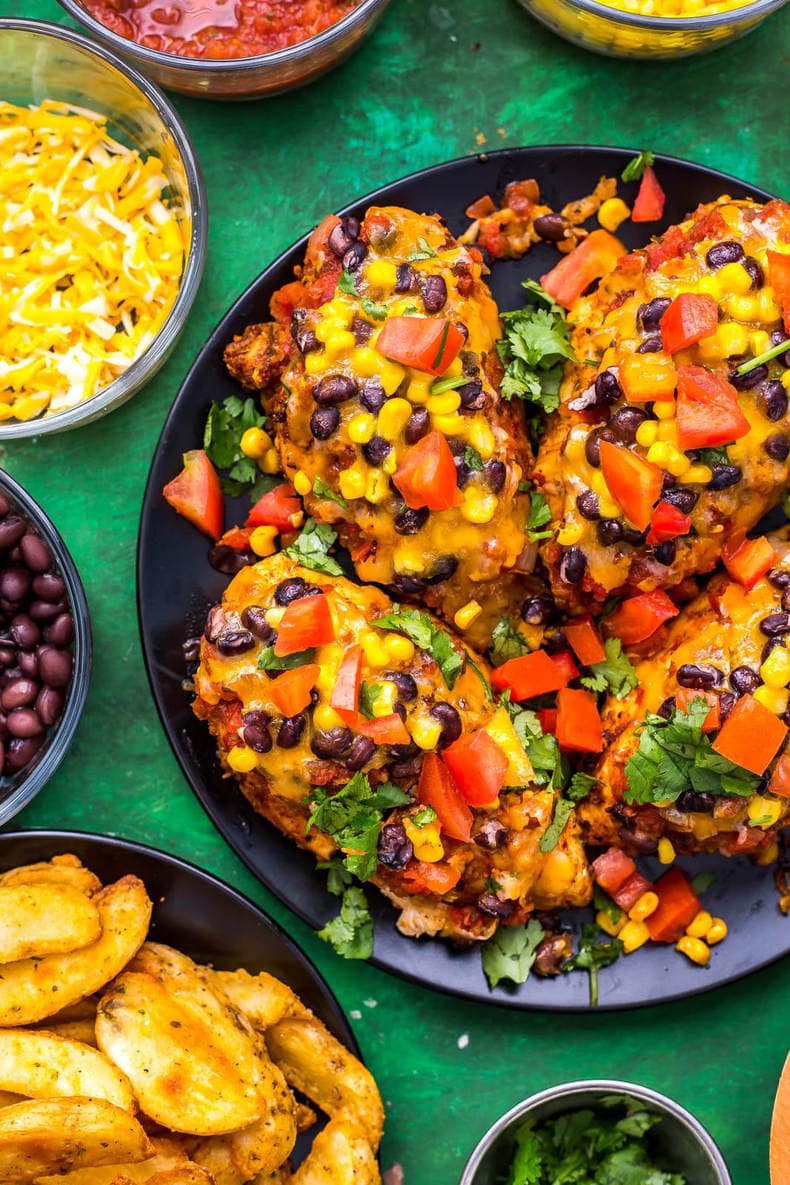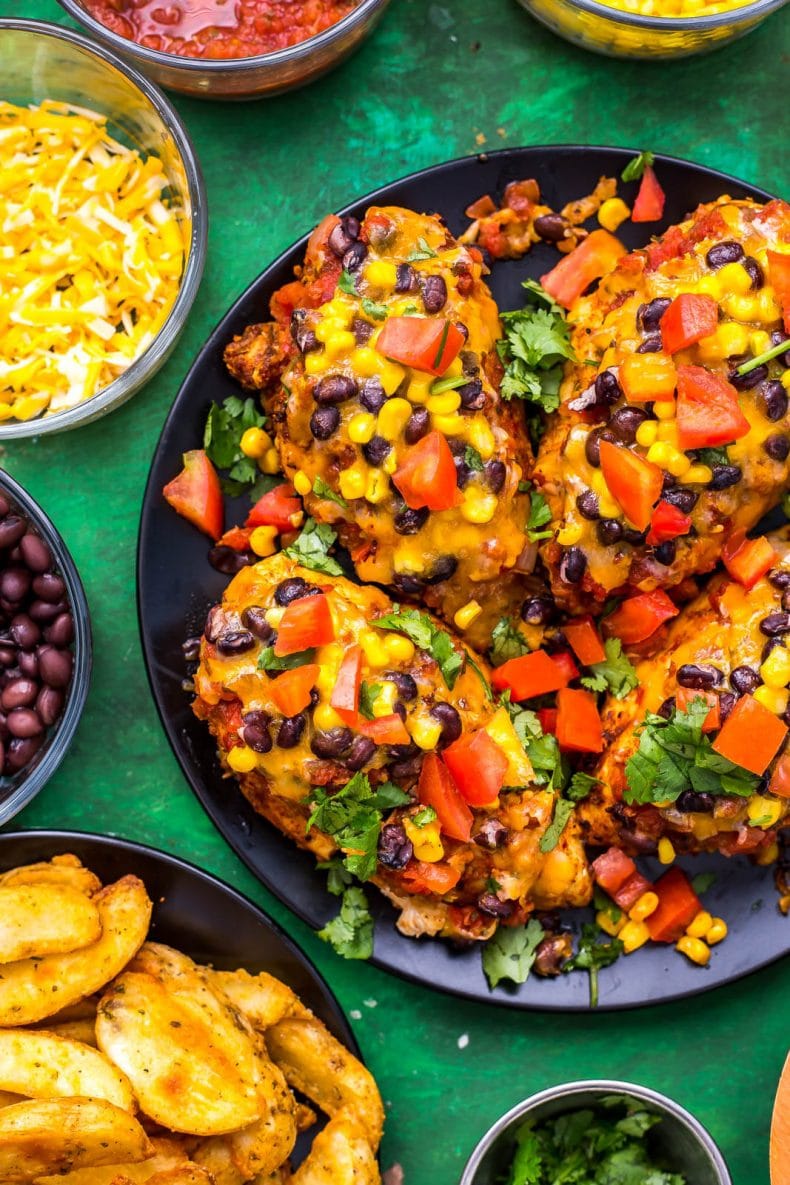 Plus I'm convinced that you really can't go wrong with the whole salsa-melted cheese combo. Kinda reminds me of nachos minus the crunch.
Actually, some tortilla strips (you know the kind you top salads with) would be the perfect topper here if you're looking to make some additions.
Also, make sure that you use fresh salsa if possible. The jarred kind works great as well and you likely already have it on hand at home, but I love using the Garden Fresh Gourmet salsas for many recipes that call for salsa. It's better than the jarred stuff and tastes closer to homemade. By the way this isn't sponsored haha, I just love the stuff.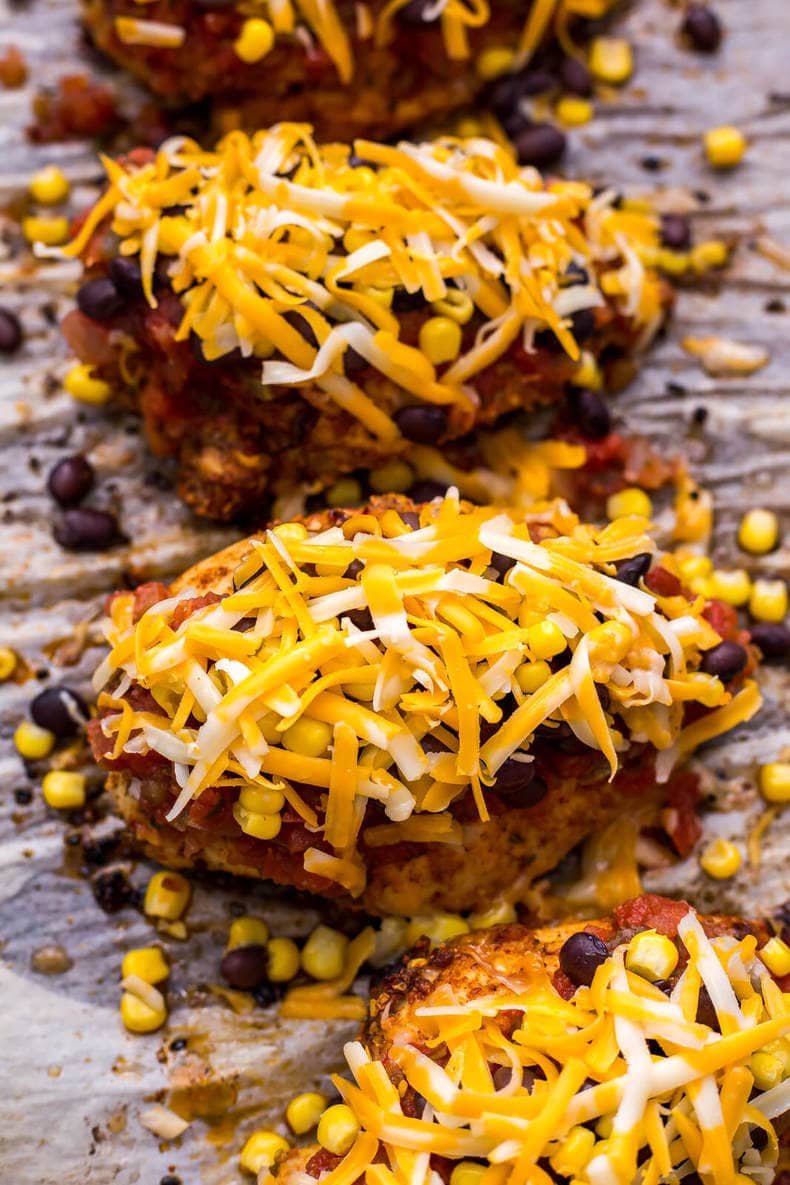 Now because I know you're dying to know and just *LOVE IT* when food bloggers talk about the history of a recipe, I'm gonna tell you a bit about the origins behind this creative genius of mine. (Please tell me you're hearing the sarcasm here lmaoooo)
I remember going to Chili's as a kid. We have them here in Canada I think, but mostly in touristy towns like Niagara Falls. But they are all over the US (duh) and we stopped on a family trip to grab something to eat. I got the Margarita Grilled Chicken, it looked and sounded so good. But honestly, I was disappointed. I feel like it was too…limey. If that's a word.
When I moved out on my own and was in university, I always thought back to that Margarita Grilled Chicken and remembered its potential.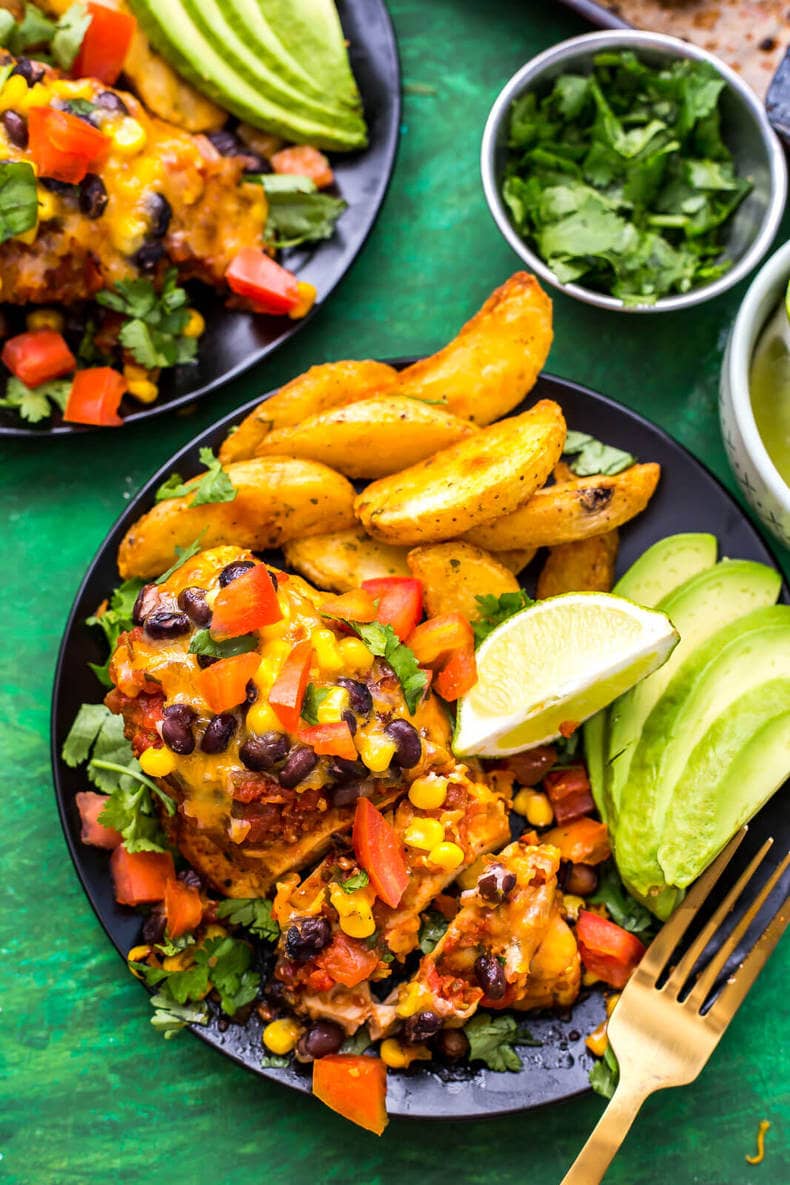 I have this great love of re-creating restaurant copy cats at home. I'd like to think I'm a good cook and have a good instinct for flavour (well, I'd hope so, I do run a food blog full time after all hahahah) so I'll usually go by the seat of my pants adding in a little bit of this, a little bit of that and just experiment with food.
So I ended up actually making a version of this recipe for the first time when I was 20 and in third year university. That was the year I kinda got fat again I think from all the eating and partying I did. Good times, but life was a little too unbalanced back then.
So, here I am with the healthier version, and you've even got some nutritional info to go along with it. You're welcome!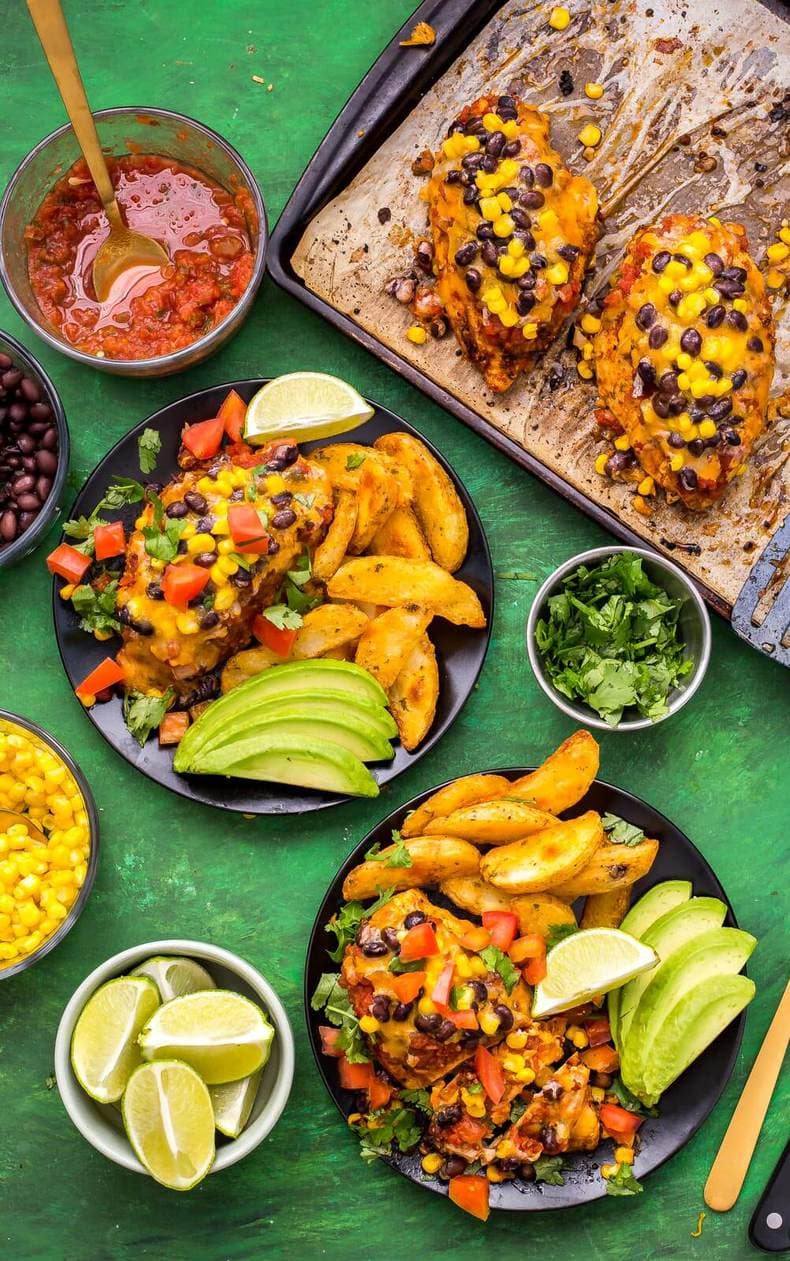 Will you be making this Chili's Margarita Grilled Chicken? 
I think I ate like 3/4 of this recipe on my own, even though I promised my brother and his girlfriend I would share. Too late guys, too late.
If you try any of my recipes be sure to let me know on Instagram, Twitter, Facebook or in the comments – I'd love to see what you come up with!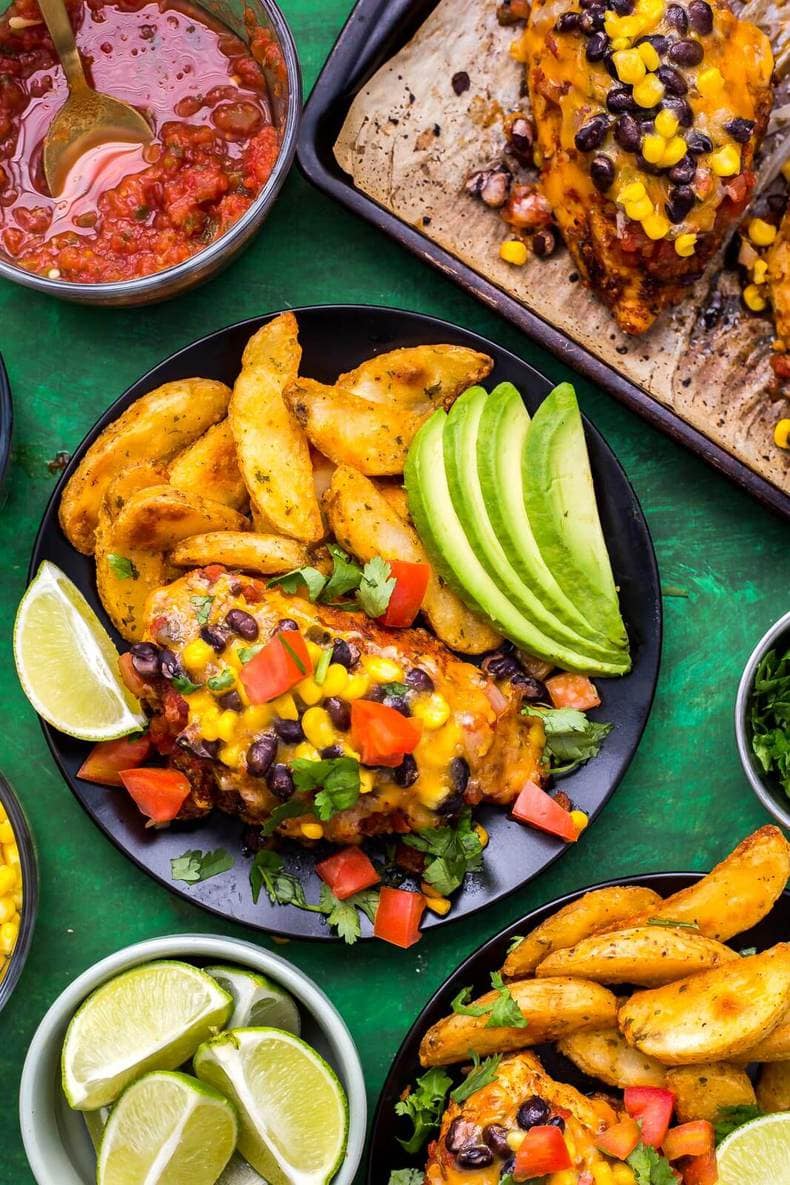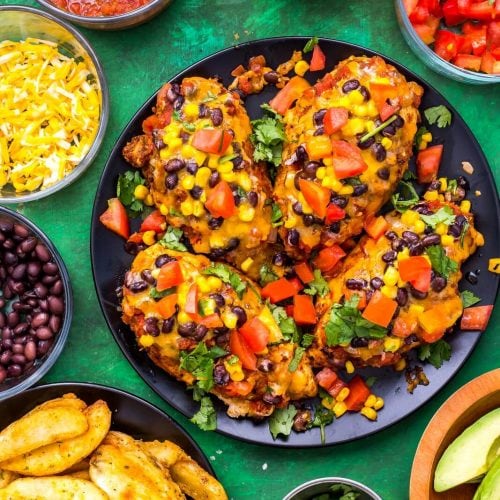 Chili's Margarita Grilled Chicken Copycat
This Chili's Margarita Grilled Chicken is a copycat recipe of one of your restaurant favourites! Topped with cheese, corn, black beans and salsa, you'll be craving these delicious loaded chicken breasts every night!
Print
Pin
Rate
Ingredients
4

chicken breasts

1/2

tbsp

olive oil

1

tbsp

taco seasoning

1/2

tsp

salt

1

cup

salsa (I used the fresh kind, not the jarred kind but you could use either)

1/2

cup

Corn

1/2

cup

black beans

1

cup

shredded cheddar cheese

1

plum tomato, diced

1/4

cup

chopped fresh cilantro

1

avocado, sliced

Optional side dish: frozen potato wedges
Instructions
Preheat oven to 400 F. Rub chicken breasts with olive oil, taco seasoning and salt. Bake in the oven 20 minutes.

Remove chicken from oven, then top with salsa, corn, black beans and cheese. Bake another 10 minutes until cheese is melted.

Remove chicken from oven and top with diced tomatoes and cilantro. Add sliced avocado and lime on the side. I served frozen potato wedges with my chicken as a side dish but that's optional; you could also do sweet potato fries, a side salad, sauteed spinach or more. The choice is up to you!
Nutrition
Calories:
360
kcal
|
Carbohydrates:
15
g
|
Protein:
33
g
|
Fat:
19
g
|
Saturated Fat:
9
g
|
Polyunsaturated Fat:
2
g
|
Monounsaturated Fat:
4
g
|
Cholesterol:
62
mg
|
Sodium:
969
mg
|
Potassium:
612
mg
|
Fiber:
5
g
|
Sugar:
3
g
|
Vitamin A:
500
IU
|
Vitamin C:
9.9
mg
|
Calcium:
40
mg
|
Iron:
1.8
mg