Easy 30-Minute Zucchini Pizza Boats
These Easy 30-Minute Zucchini Pizza Boats are a delicious, low-carb dinner idea that are perfect for satisfying those pizza cravings – and they're super easy to throw together at the last minute!
I call these Easy 30-Minute Zucchini Pizza Boats a delicious weeknight win. Especially during this crazy month that we call September.
I have a love-hate affair with getting older. Okay, I'm only 26 so it's not like I'm some little old granny over here, but this is kind of the age where you really start getting your shit together and realize you're not going to live forever and you need to start taking care of yourself, most of which involves eating healthier, going to the gym and taking on a routine of sorts.
I know personally I really love and value the schedule I've put together for myself and taking time out for my own self care each day is just as integral to my physical health and wellbeing as it is my mental wellbeing. As stressful as life can be in your mid to late-20s figuring out your career and balancing friendships, relationships and family, I know a good meal can really be the highlight of my day and that's where these 30-Minute Zucchini Pizza Boats come in.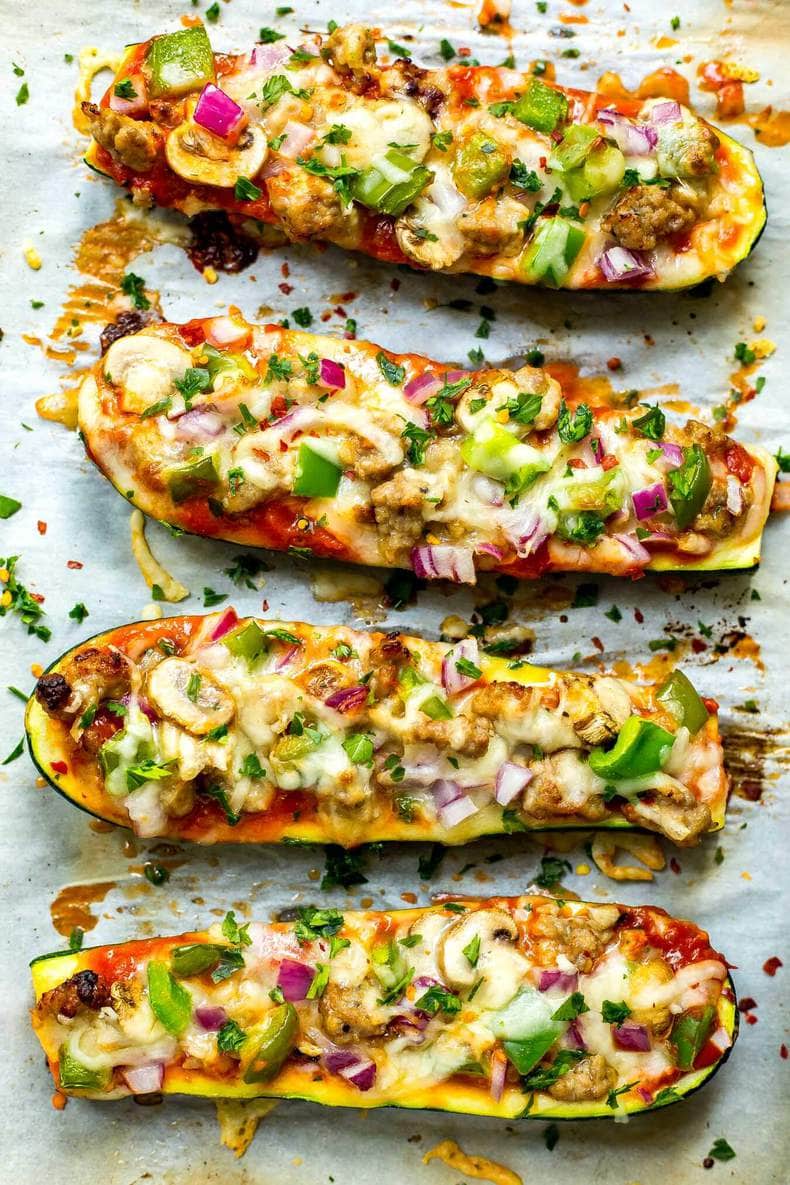 It's no secret that I love stuffed zucchini – just look at these Mini Vegetarian Tex Mex Zucchini Boats or these Enchilada Zucchini "nachos". I think I just ADORE this veggie.
Comfort food in a low-carb vessel, aka the perfect way to get some extra veggies in your life. Seriously, these pizza boats are so easy to throw together you'll forget you're even cooking.
Okay, maybe that's a stretch. Just a tad.
I think I tend to underestimate how long it takes to cook things sometimes, but maybe that's because I actually really love cooking. I do have to say it's my very favourite time of the day, especially as I recently moved back downtown on my own and am just cooking for myself again. I'm back on what I like to call the single lady diet, and believe you me this diet is DELICIOUS.
I think my cooking style has changed so much over the years and as of late I'm really concerned with eating more of a plant-based diet paired with high quality proteins, and these zucchini pizza boats really hit the spot. After a long day and an hour or so at the gym I wanna keep the good vibes rolling and that includes dinner.
I've actually been seeing all these recipes for cauliflower crust pizzas lately so I've been especially inspired to try a lower carb pizza idea, but honestly I don't know that I could go through all the complicated steps of making the crust, baking it and then waiting to top my pizza and bake again.
Too long a process for yours truly.
I don't know about you but when I have a craving for something, I've gotta get it right away and that's the idea with these 30-Minute Zucchini Pizza Boats. Pizza in 30 minutes or less, you feel me?!
You could definitely even speed up the process by using less toppings than I have, or by making them vegetarian, or by using pre-cooked proteins like leftover chicken or turkey pepperoni from the store.
There are any number of ways you could take this.
The end goal though is to have something delicious and easy on the dinner table in as little time as possible and I think these pizza boats make that possible. Don't be afraid to get creative!
Will you be making these Easy 30-Minute Zucchini Pizza Boats? 
When in doubt, turn to pizza. It never disappoints!
If you try any of my recipes be sure to let me know on Instagram, Twitter, Facebook or in the comments – I'd love to see what you come up with!
Get your square glass meal prep bowls here to store your leftovers.
And of course I get all my free-range poultry from Butcher Box!
Print Recipe
Easy 30-Minute Zucchini Pizza Boats
These Easy 30-Minute Zucchini Pizza Boats are a delicious, low-carb dinner idea that are perfect for satisfying those pizza cravings - and they're super easy to throw together at the last minute!
Ingredients
4

zucchini, sliced in half lengthwise

1

small can

Pizza Sauce

1/2

8oz package

button mushrooms, sliced

1

small

red onion, diced

1/2

green pepper, diced

2

cups

shredded mozzarella cheese

1

tbsp

fresh chopped basil (optional topping)

1

tsp

red chili flakes (optional topping)
Homemade quick turkey sausage (alternative option: use storebought turkey/pork sausage, remove casings and break up with spoon)
2

tsp

olive oil

1/2

lb

ground turkey

2

tsp

fennel seeds

1

tsp

garlic powder

1/2

tsp

salt

1

tsp

Italian seasoning (or 1/2 tsp oregano & 1/2 tsp basil)
Instructions
Preheat olive oil in a large skillet over med-high heat. Add turkey and seasonings, crushing up with a crushing spoon and mixing well. Cook for 5-6 minutes until turkey is browned and fully cooked. Remove from heat and set aside.

Preheat oven to 400 F. Cut zucchini in half lengthwise and scoop out flesh. On a baking sheet or in a 9x13 casserole dish, spread each zucchini boat with pizza sauce, then top with sausage, mushrooms, red onion, green pepper and cheese.

Bake in the oven for 15 minutes or until cheese is melted. Remove from oven and sprinkle with fresh basil and chili flakes. Serve and enjoy!
Nutrition
Calories:
390
kcal
|
Carbohydrates:
12.5
g
|
Protein:
32.75
g
|
Fat:
26
g