MEAL PREP FOR BUSY PEOPLE
Meal prep saves you time, money and hassle, and it's the way I've been cooking for years now. It's also a big part of the reason I've been able to keep up my personal fitness along with a crazy work schedule and still squeeze in some time for fun on weekends. Since I get asked so often, I thought I'd share my foolproof method for easy meal prep and planning, including free printables!
Access my free meal prep challenge!
Access free meal prep challenge & bonus resources.
Over five printable PDF downloads to help you stay on track with your health & fitness goals like a weekly meal planner, printable shopping list, and more will be sent during the challenge!
If you just don't think you can plan out three meals a day, that's okay. Try planning dinner for each meal of the week, and make enough so that there are leftovers for lunches all week long. From there, you can keep a good inventory of snacks and simple breakfast ideas until you find recipes you're comfortable with and know you love.
Use the same ingredients more than once
This is hands down the best way to reduce food waste. Use those carrots for two or three different recipes; and no, you probably don't need to include eggplant in that recipe when you like red peppers or zucchini better, so make ingredient swaps work for you where you can. Buy fresh ingredients you know you'll use in a variety of recipes.
Prepare ingredients ahead of time
Know that you're making quinoa bowls later in the week? Make the quinoa or other grains ahead of time, or cook chicken in the oven or boil it to make pulled chicken for later in the work week. It helps to have some components of a recipe prepared ahead of time.
Keep a well-stocked pantry and spice drawer
This is another huge one for me. I ALWAYS make sure I have a ton of spices on hand so I can just add a little bit here and there, and I also make sure my pantry/fridge is stocked with staples like butter, olive oil, onions, garlic, crushed tomatoes, bouillon cubes, coconut milk, pickles, hot sauce, mustard, vinegars…you name it, I've got it. It makes life so much easier when you go to make a recipe and see you've already got most items on hand.
Keep a well-stocked freezer
This brings me to my second point: have a ton of meat in your freezer. I personally like to buy in bulk when meat goes on sale, and I have a ton of variety on hand, everything from turkey sausages to ground beef, shrimp and scallops. And of course, a bottomless supply of boneless, skinless chicken breasts. It may be expensive to stock up all at once but if you have all of these items on hand you're less likely to buy food out because you KNOW you have a ton of options to satisfy any cravings you have! And that can be cheaper in the long run!
Sometimes life happens, and that's okay. Your meal plan is meant to help you stay organized and take a look at your week at a glance, not to rigidly lock you in – there will be some days you just don't want to cook, and that's okay. Being prepared helps get you back on track again the next day though!
My Favorite Meal Prep Tools
Get started with meal prep and meal planning with this Healthy Eating Challenge! This free 5-day email series includes free printable PDFs and will walk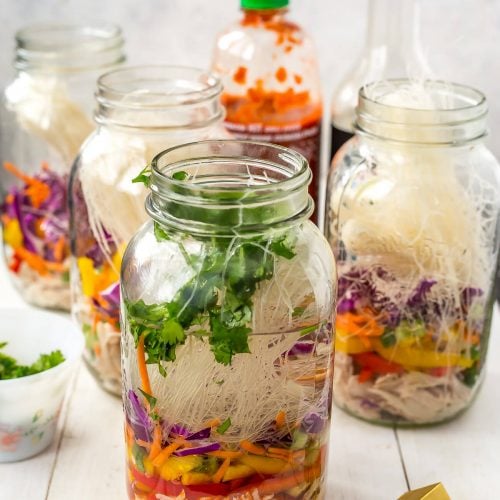 These Mason Jar Instant Noodles are the perfect work lunch. The jars are packed full of veggies, vermicelli noodles and shredded chicken! Ingredients and substitutions