Enjoy August to the fullest with some of the best lunch and dinners! Keep reading to check out the top recipes you should try out this month! 
Top recipes to make in August
Happy August! Who else is in shock that it's already August – I feel like this year has just flown by!  Make the most out of August by enjoying some of the best recipes for this month. I've included recipes that uses in-season produce, grilled meats and limited cook time. Scroll through to see the recipes I've curated for this month and let me know what recipes you're most excited to try. If you try any of the recipes for yourself, make sure to tag me on Instagram so I can see your recreations!
1. Chicken Satay Lettuce Wraps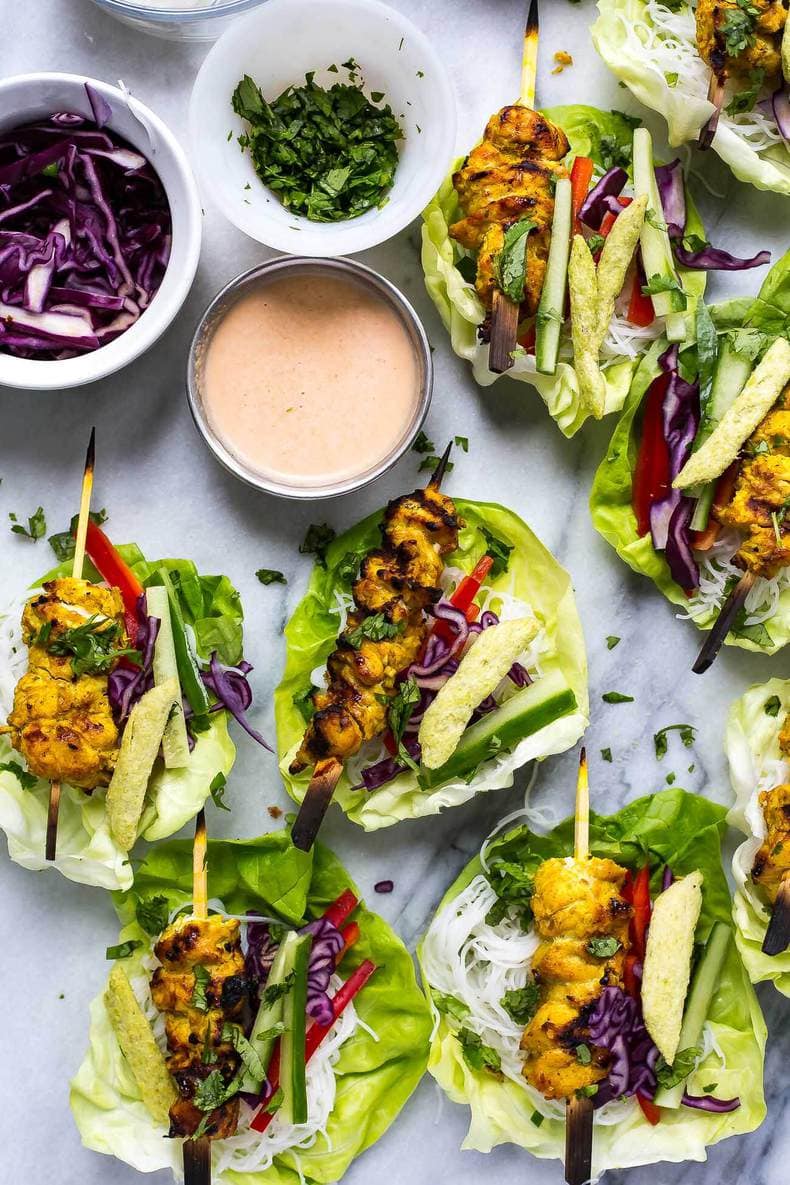 These Chicken Satay Lettuce Wraps is the perfect way to get a blast of summer flavours. Alongside the char on the BBQ chicken satay and the fresh lettuce that surrounds it, the dish is served with an easy, homemade coconut-peanut dipping sauce. Doesn't coconut just scream summer? Overall this recipe is bound to be a fresh and flavourful favourite this month!
2. Hasselback Baked Caprese Chicken 
This Hasselback Baked Caprese Chicken is like summer on a plate! It has all the delicious flavours of a caprese salad stuffed into a chicken breast! There's no such thing as a boring chicken breast when you have a recipe like this on the menu.
3. Meal Prep Banana Egg Pancakes
Breakfast is the most important meal of the day, so why not include the perfect summer breakfast for August! These Meal Prep Banana Egg Pancakes are a delicious grab & go breakfast idea made with just two ingredients: eggs and bananas! Serve alongside your favourite fruit and you're all set. Did I mention, they're even freezer-friendly?
4. Sheet Pan Bruschetta Chicken
This Sheet Pan Bruschetta Chicken is made to perfection with all the best summer produce. Tomatoes and zucchini are summer superstars in the produce aisle, and paired with a chicken breast and broccoli, it's a delicious dinner idea for the family! P.S. sheet pan dinners are the perfect dinner solution on busy nights!
5. Summer Buddha Bowls with Turmeric Chickpeas
Attention plant-based readers, keep reading because this recipe is for you! These vegan summer Buddha bowls are enriched with turmeric chickpeas, soy sauce marinated tofu and quinoa. This Buddha bowl includes zucchini, tomatoes and corn – so, basically all the summer staples!
5. Baked Turkey Meatballs with Zucchini Noodles
These Baked Turkey Meatballs are freezer-friendly and perfect for meal prep! Pair these meatballs with you classic spaghetti or zucchini noodles for a low-carb dinner favourite. Using zucchini noodles (aka Zoodles) is definitely on trend and perfect for the summer months.
6. The Best Juicing Recipes
These Juicing Recipes are the perfect way to get started with making cold press juices. Making your own cold press juices is a great way to cool down in the summer heat. Drinking fresh juice is both refreshing and more health conscience than competing high-sugar drinks. Also, it's just so much better to make your own juices than purchase them for $10 per bottle.
7. Kalbi Beef Tacos
These Kalbi Beef Tacos are seasoned with sesame oil, then topped with a delicious citrus slaw, pickled red onion and jalapenos! They're seriously a flavour bomb of the tastiest flavours combined together. Make the Kalbi steak on the BBQ or in the oven and enjoy the Korean-inspired flavours of this taco recipe.
8. Sweet Chili Chicken Salad Jars
These Sweet Chili Chicken Salad Jars are the perfect grab and go lunch! They're filled with coleslaw along with vermicelli noodles and crispy wontons! Honestly this salad jar is the perfect example of how to enjoy delicious, healthy salads during the summer without forcing yourself to eat a boring lettuce and dressing combination. Store this salad in a mason jar and you've got the best meal prep salad ready for you when you are.
9. Low Carb Jicama Fries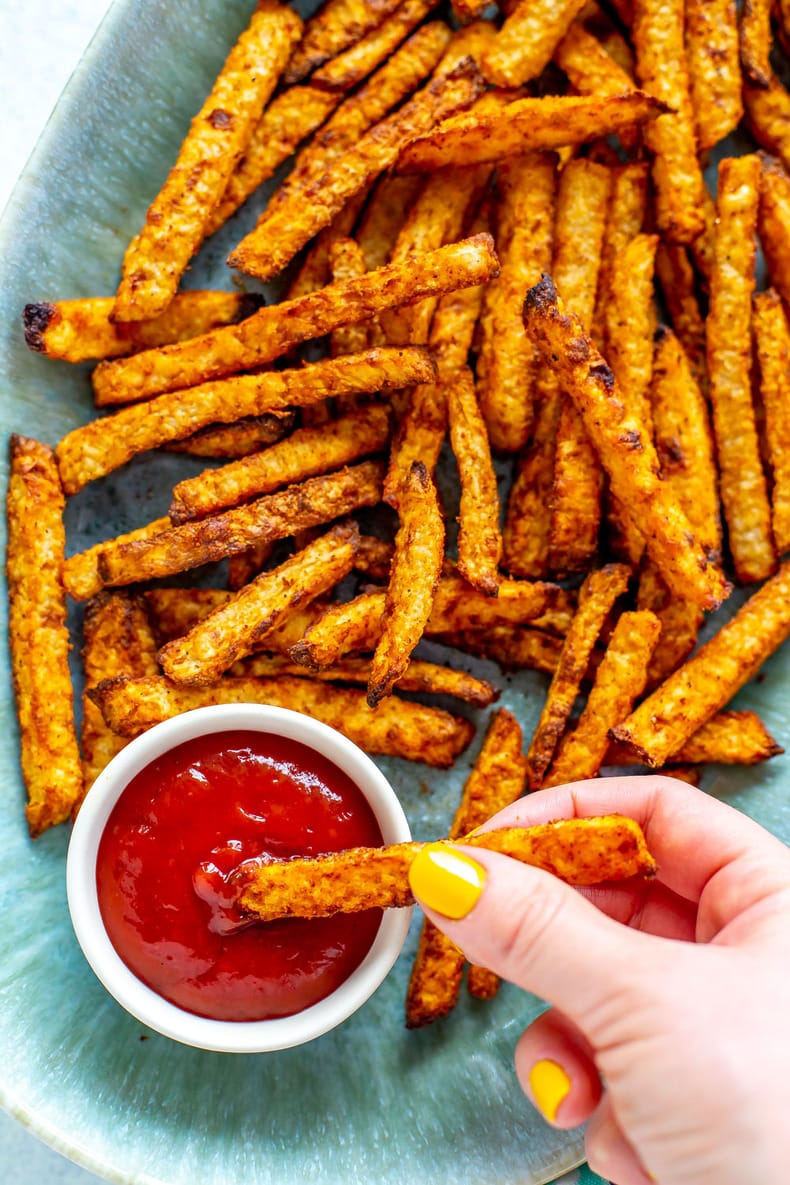 Jicama fries are a delicious low carb side dish that you can add to any meal! Trust me, they're delicious and you won't even realize you're not eating traditional fries. These jicama fries are coated with an addicting spicy marinade and can be made easily in the oven or air fryer. Bring these to your next potluck, BBQ or picnic and watch them all disappear!
10. Instant Pot Caribbean-Inspired Chicken
If you have an Instant Pot, this is about to be your new favourite recipe! This Instant Pot Caribbean inspired Chicken with Mango Salsa is a one pot meal complete with jerk-inspired seasoning. I've made this delicious jerk-inspired seasoning with spices you probably already have on hand. Served with a mango salsa that screams summer, this recipe will give you all the flavours of a trip down south right at home!
11. One Pan Italian Chicken Skillet
This Italian Chicken Skillet is a delicious, low calorie meal that you can make quick in one skillet! It's the perfect way to get dinner on the table fast. Easily meal prep this recipe so you can take this Italian chicken skillet dish with you to work for a whole week. What I love most about this recipe is that you can customize the veggies to whatever you have in your veggie crisper – so you can customize it to have in-season produce all year long.
12. Ultimate Vegetarian Mason Jars (Two Ways)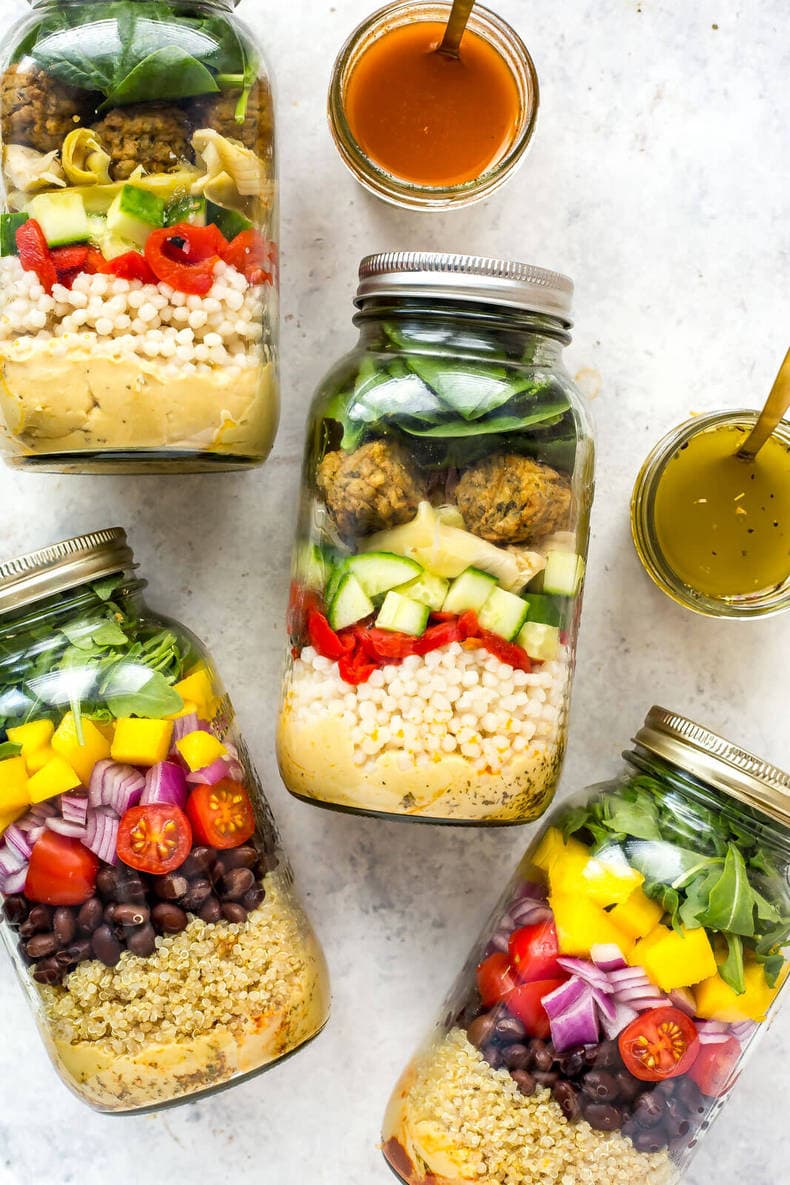 Mason jar salads are the best way to meal prep fresh, healthy meals that stay fresh for the whole week! No more wilted lettuce and soggy vegetables! These Ultimate Vegetarian Mason Jar Salads are packed with protein and a delicious hummus base that adds even more flavour and a creamy texture to your salad. The protein in these vegetarian salads are falafel and black beans but feel free to add any leftover chicken from your week to add even more protein.