This recipe for Cauliflower Mashed Potatoes is a great low carb alternative to mashed potatoes, and is seasoned with sour cream, parmesan cheese, butter and chives.  
Ingredients in cauliflower mashed potatoes
This recipe needs four cups of cauliflower, which is about two heads. Besides that, you just need your seasonings. To make your cauliflower mash buttery, you'll also need:
Garlic
Butter
Sour cream
Parmesan cheese
Cauliflower is low in calories and carbs. Plus it has lots of extra fiber, which will make this dish as satisfying as carb-laden potatoes.
How to make cauliflower mashed potatoes
Cauliflower mashed potatoes are easy to make and much healthier than their starchy counterpart.
Boil the cauliflower in water for eight minutes. This is one time it's ok to overcook your veggies a little bit. They should be very soft before you blend them.
Drain the cauliflower.
Put the cauliflower in a food processor and pulse until blended.
Drain and squeeze excess water from the mashed cauliflower through a clean dishtowel or cheesecloth.
Return to the pot with butter and garlic. Cook for two to three minutes.
Stir in sour cream, parmesan, salt, pepper and chives before serving.
Make mashed cauliflower keto
On the keto diet, just one serving of mashed potatoes could put you over your carb limit for the whole day. Cauliflower is a great substitute. It will still give you the buttery, creamy flavor of your favorite comfort food, but with a much smaller amount of carbs. This recipe fits perfectly with your keto diet!
Cauliflower can replace potatoes, rice and pasta on the keto diet. Learning how to use cauliflower as a substitute for other carb-heavy foods will greatly improve the variety in your diet.
If you need to make this paleo or dairy free, you can replace the butter with ghee or olive oil. You can find vegan sour cream products at your local grocery store.
Food processor, masher or blender?
I prefer to use a food processor for mashing the cauliflower. A blender will puree the cauliflower, which is ok as long as you don't over process it. It should still retain some texture.
If you don't have a food processor, a low-tech method would be to use a potato masher. Just mash to the consistency you like. If you prefer mashed potatoes with some lumps, you can do the same with your mashed cauliflower.
How to make cauliflower mash thicker
If you are replacing mashed potatoes with mashed cauliflower, you will be disappointed if this dish turns out runny and watery. A few tricks will make the difference between a cauliflower puree and thick velvety mashed cauliflower.
Squeeze out as much water as you can. Use a towel or cheesecloth. You can even put the cauliflower in a fine mesh strainer and press the water out of it with a bowl. Move it around and continue to squeeze out as much as you can.
When you put it back on the stove top, don't take it off until it reaches the consistency you like. If after a few minutes, it still seems runny, let it cook a bit longer to thicken it.
Add a little more sour cream and cheese at the end to get a thicker consistency.
What to serve with cauliflower mashed potatoes
Mashed cauliflower is a perfect substitute for starchy mashed potatoes. Just as you would potatoes, these make a great side dish. Enjoy them with any of your favorite main dishes. You'll get an extra serving of veggies in this low-carb side.
Here are some other serving suggestions:
Deconstructed shepherd's pie (as you see pictured here)
Meatloaf
Storing and reheating mashed cauliflower
You can store this dish in the refrigerator for up to five days.
You can reheat this cauliflower mash in the microwave – you can either reheat as an individual serving or reheat the whole recipe at once in a large bowl. Microwave for 2-3 minutes, stirring halfway through.
You can add fresh chives back on top to revive the dish and add some colour after you have reheated.
Freezing cauliflower mashed potatoes
Freezing mashed cauliflower is easy. After it has cooled, put it in a freezer bag and squeeze out all of the air. You can lay it out flat for easy storage.
It will last in the freezer for three months.
You can thaw it overnight in the refrigerator. If you forget to thaw it in the fridge, you can thaw it quickly in the microwave or in a bowl of cool water. Reheat in the microwave from frozen for 6-7 minutes, checking it halfway through.
Turn cauliflower mash into a full meal
A great way to use this cauliflower is to turn it into a complete meal as pictured with this shepherd's pie. This deconstructed version will save you lots of time and still taste like the traditional meal. You just mix the two dishes together on your plate for a healthy version of this comfort food.
Here's how to make the shepherd's pie mixture:
Brown the ground beef.
Add veggies and seasoning.
Create your cornstarch mixture and pour it over the meat. This will thicken the meat mixture like gravy.
Serve with mashed cauliflower.
More low carb cauliflower recipes
If you're a cauliflower fan, check out these other great ideas below!
Meal prep tools for this recipe
Meal prep challenge
If you'd like some more help with meal planning, then you'll love my free 5-day meal prep challenge! It's basically a free course that will teach you how to meal prep and cook healthy meals at home with some PDF bonus materials. Sign up for free below: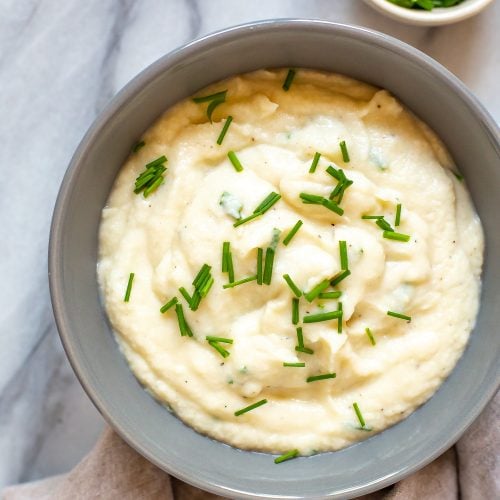 Cauliflower Mashed Potatoes
This recipe for Cauliflower Mashed Potatoes is a great low carb alternative to mashed potatoes, and is seasoned with sour cream, parmesan cheese, butter and chives. 
Print
Pin
Rate
Ingredients
2

heads

cauliflower (about 4 cups)

2

cloves

garlic, minced

2

tbsp

butter

1/2

cup

sour cream

1/2

cup

grated parmesan cheese

1/2

tsp

salt

1/4

tsp

pepper

Chives, for garnish
Deconstructed Shepherd's pie (optional add on)
1

lb

extra-lean ground beef

1

yellow onion, diced

2

cloves

garlic, minced

2

cups

frozen vegetables

1/4

cup

beef broth

2

tsp

Worcestershire sauce

2

tsp

cornstarch
Instructions
Cauliflower mash
Bring a large pot of water to a boil. Cook cauliflower in boiling water for 8 minutes until softened. Drain, then add cauliflower to a blender or food processor. Pulse until fully blended.

Drain cauliflower mixture with a linen towel or cheesecloth (squeeze out as much liquid as possible), then add cauliflower back to pot. Stir in butter and garlic, cooking over med-high heat for 2-3 minutes.

Remove from heat then stir in sour cream, parmesan cheese and salt & pepper. Sprinkle with chives then serve and enjoy!
Deconstructed Shepherd's pie (optional add on)
If serving with the shepherd's pie mixture, start cooking it while the cauliflower is boiling. Brown ground beef in a large skillet over med-high heat, breaking meat up with a spoon. Add in onion and garlic, sauteing for 4-5 minutes until softened and fragrant. Add vegetables and salt & pepper.

Mix cornstarch, beef broth and Worcestershire sauce together in a small bowl until combined, then pour over ground beef and veggie mixture. Bring to a boil then cook for 2-3 minutes. Serve beef mixture with cauliflower mash on the side for a full meal.
Video
Nutrition
Calories:
232
kcal
|
Carbohydrates:
16
g
|
Protein:
11
g
|
Fat:
16
g
|
Saturated Fat:
9
g
|
Cholesterol:
41
mg
|
Sodium:
642
mg
|
Potassium:
916
mg
|
Fiber:
6
g
|
Sugar:
6
g
|
Vitamin A:
465
IU
|
Vitamin C:
139
mg
|
Calcium:
234
mg
|
Iron:
1
mg
Calories are for cauliflower mash alone. If serving with the shepherd's pie add on, then nutritional info is as follows:
388 calories, 16g carbs, 35g protein, 21 g fat, 12 g saturated fat, 6 g sugar