This Chipotle Chicken Avocado Melt is a copycat of the Panera Bread sandwich, complete with focaccia bread, smoked Gouda & roasted red peppers.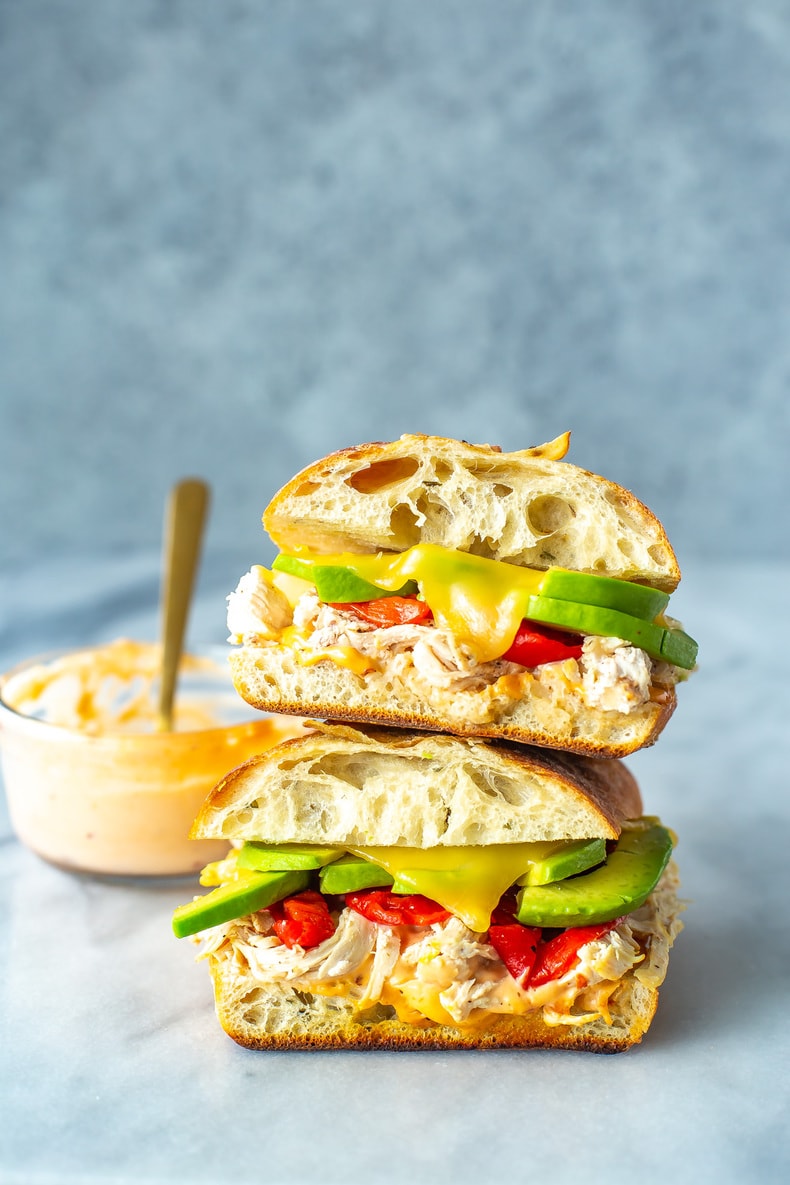 What's on the Chipotle Chicken Avocado Melt?
This recipe is remarkably close to the sandwich that's on Panera's menu, and it's incredibly delicious!
Shredded chicken
Roasted red peppers
Sliced avocado
Smoked gouda cheese
Chipotle mayo
Focaccia bread
How to make this Panera Bread sandwich
You'll need to do a little bit of prep work, and then just assemble the sandwich! You'll find some shortcuts for the prep further down in the post.
First, measure out your ingredients and make the chipotle mayo.
Bring a pot of water to a boil and add the chicken breasts. Boil until cooked all the way through.
Transfer the cooked chicken to a cutting board or large plate and shred. You can do this by hand with two forks, or by using an electric mixer. Don't forget to season with salt and pepper!
Slice the bread lengthwise and in half. Then place one of the bottom pieces in a skillet.
Assemble the sandwich, starting by spreading a layer of chipotle mayo on the bread. Then add the chicken, roasted red pepper, avocado, cheese, and top piece of bread. Place the skillet over medium heat, cover with a lid, and cook until cheese has melted.
Repeat to make a full-size sandwich. Now you're ready to eat!
Making the chipotle mayo
To make this spread, you'll need some light mayo and a can of chipotles in adobo sauce.
Mince the chipotle: Chop half of a pepper into tiny pieces, as small as you can get them.
Mix the mayo: Add the minced pepper to a bowl with the mayo and some of the sauce from the can. Stir together until combined.
You can easily make this ahead of time and refrigerate. It will stay fresh in an airtight container for up to 3 weeks.
A note on chipotles in adobo sauce
This ingredient is usually in the Mexican food section of the grocery store. If you can't find any, you can come up with something similar to use in a pinch.
Remove the seeds and membrane from a ripe jalapeño and then toast the pepper in a hot skillet.
Then, mix together the following to use in place of the adobo sauce. It's not an authentic recipe, but it's a close enough substitute to work.
1/2 tablespoon each: tomato paste, apple cider vinegar
1/2 teaspoon chipotle powder
Just a pinch each: oregano, garlic powder, salt
Ingredient substitutions
Chicken – Boneless, skinless thighs can be used in place of the chicken breasts. The flavor and texture, as well as the nutritional content, will be slightly different though.
Bread – Ciabatta bread can be substituted for the focaccia and is a popular sandwich bread choice.
Cheese – Try experimenting with cheddar, swiss, or Monterey Jack for different flavor combinations. Vegan cheese could also be used to make this recipe dairy-free.
Chipotle Chicken Avocado Melt calories
This recipe makes four sandwiches. Each sandwich has 568 calories. The version at Panera Bread, by comparison, is 760 calories so you're saving about 200 calories with my version!
What to serve with this sandwich
For the true Panera experience at home, you could pair this with some White Cheddar Mac and Cheese. Or try one of this quick-and-easy options:
Green salad
Sweet potato fries
Baked or kettle chips
Sliced apples or pears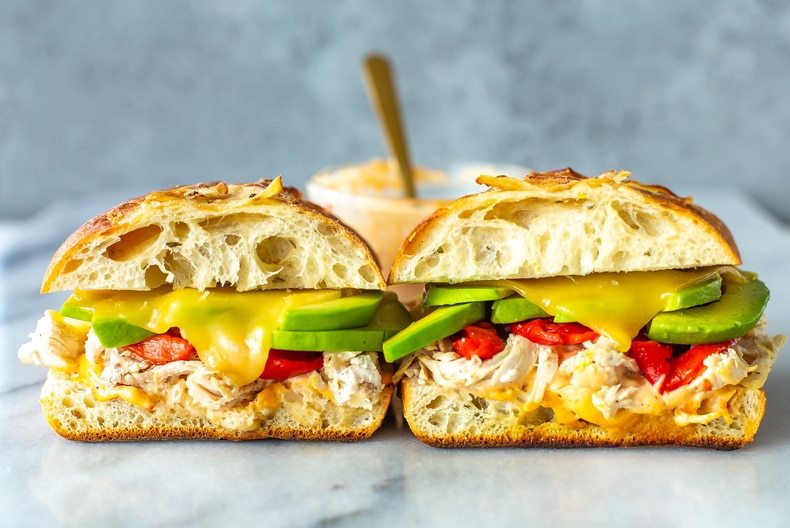 Storing and reheating
Most of the components of the sandwich can be stored in the refrigerator separately, but the sandwich itself should be made fresh.
The shredded chicken and chipotle mayo can be made ahead of time and stored in the refrigerator until ready to use. The chicken should be used within 3 to 4 days, but the mayo will stay fresh up to 3 weeks.
Avocado is best when it's sliced fresh, but it's possible to prep this ahead of time as well. Squeeze some fresh lemon or lime over the slices and place in an airtight container or wrap tightly with plastic wrap. Use within a day.
If you'll be taking this sandwich for lunch at the office, you can pack everything separately and assemble there. It would be best to heat in a toaster oven so the bread doesn't become soggy.
Freezing the chicken for later
Shredded chicken freezes wonderfully, and you can always make a big batch ahead of time to use for this sandwich or in other recipes.
After cooking and shredding the chicken, let it cool completely before transferring to freezer bags or airtight containers. I recommend freezing in smaller portions. As a result, you have more control over how much to thaw at a time.
The meat will last 3 to 4 months in the freezer.
The night before you're ready to use it, place in the refrigerator to thaw. The next day, heat in the microwave or on the stove until it's warm.
TIME SAVER!
If you'll be using the chicken for something like a soup or casserole, you can add it in frozen.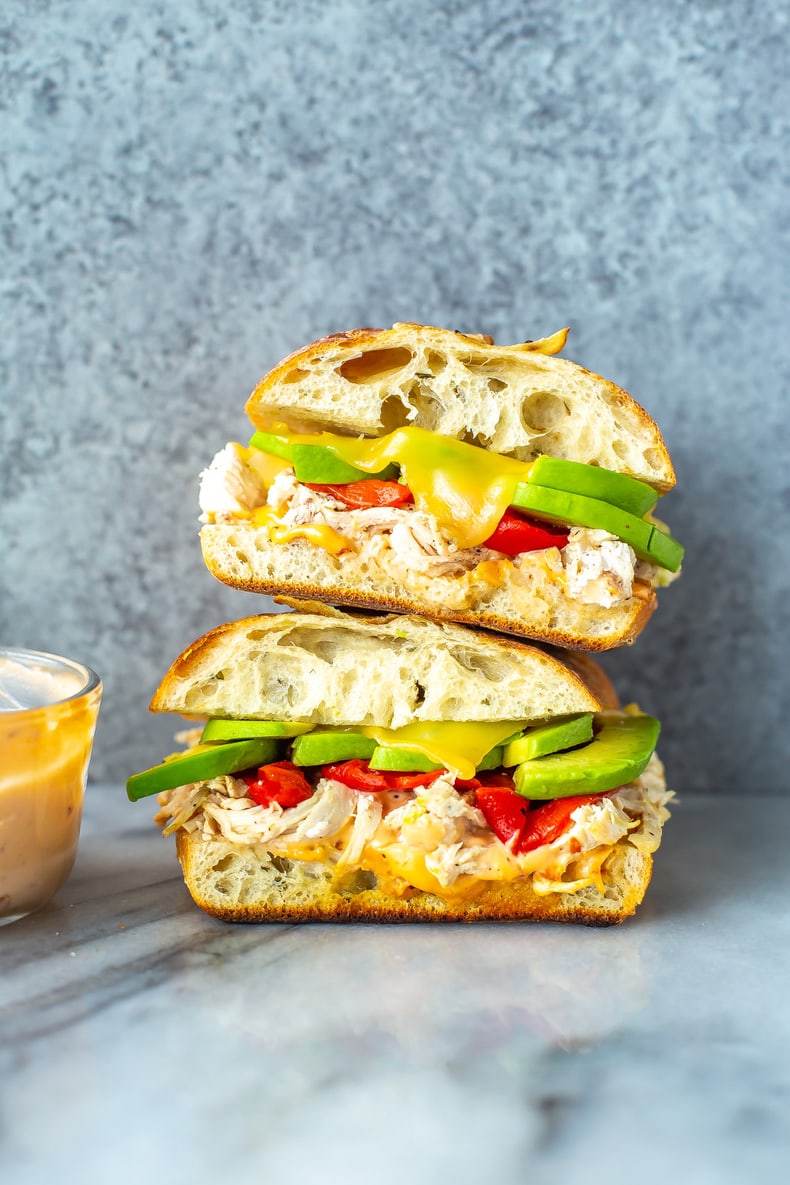 More restaurant copycat recipes
Meal prep tools for this recipe
Buy some store bought chipotle mayo to save time
I get all my free-range chicken from Butcher Box, conveniently delivered to me frozen
Get a meat thermometer to make sure your chicken is cooked through before shredding
Freeze any leftover chicken in glass microwave-safe bowls up to 3 months
Chipotle Chicken Avocado Melt
This Chipotle Chicken Avocado Melt is a copycat of the Panera Bread sandwich, complete with focaccia bread, smoked gouda & roasted red peppers!
Print
Pin
Rate
Ingredients
1

loaf

focaccia bread

1

chicken breast

1/4

cup

roasted red peppers, sliced

1

avocado, sliced

4

slices

smoked gouda cheese
Chipotle mayo
1/3

cup

light mayo

1

tbsp

adobo sauce (from a can of chipotles)

1/2

chipotle pepper, minced
Instructions
Add chicken breast to a large pot of boiling water and cook for 15-20 minutes or until internal temperature of chicken reaches 165 F. Remove from water, then shred chicken and season with salt & pepper.

Slice focaccia in half lengthwise if needed. Mix ingredients together for chipotle mayo, then spread a little over a tablespoon over one half of focaccia bread.

Top with 1/4 of the chicken, about 1 tbsp roasted red pepper, 1/4 of the avocado and one cheese slice. Top with remaining slice of focaccia bread, then add to a skillet over medium heat. Place lid overtop and cook for 3-4 minutes until cheese has just melted. Serve and enjoy!
Video
Nutrition
Calories:
568
kcal
|
Carbohydrates:
55
g
|
Protein:
29
g
|
Fat:
27
g
|
Saturated Fat:
7
g
|
Cholesterol:
73
mg
|
Sodium:
1878
mg
|
Potassium:
502
mg
|
Fiber:
5
g
|
Sugar:
3
g
|
Vitamin A:
318
IU
|
Vitamin C:
10
mg
|
Calcium:
228
mg
|
Iron:
1
mg