This Homemade Cinnamon Dolce Latte is just like your fave espresso-based drink from Starbucks – this coffee recipe is also so perfect for fall and back to school season!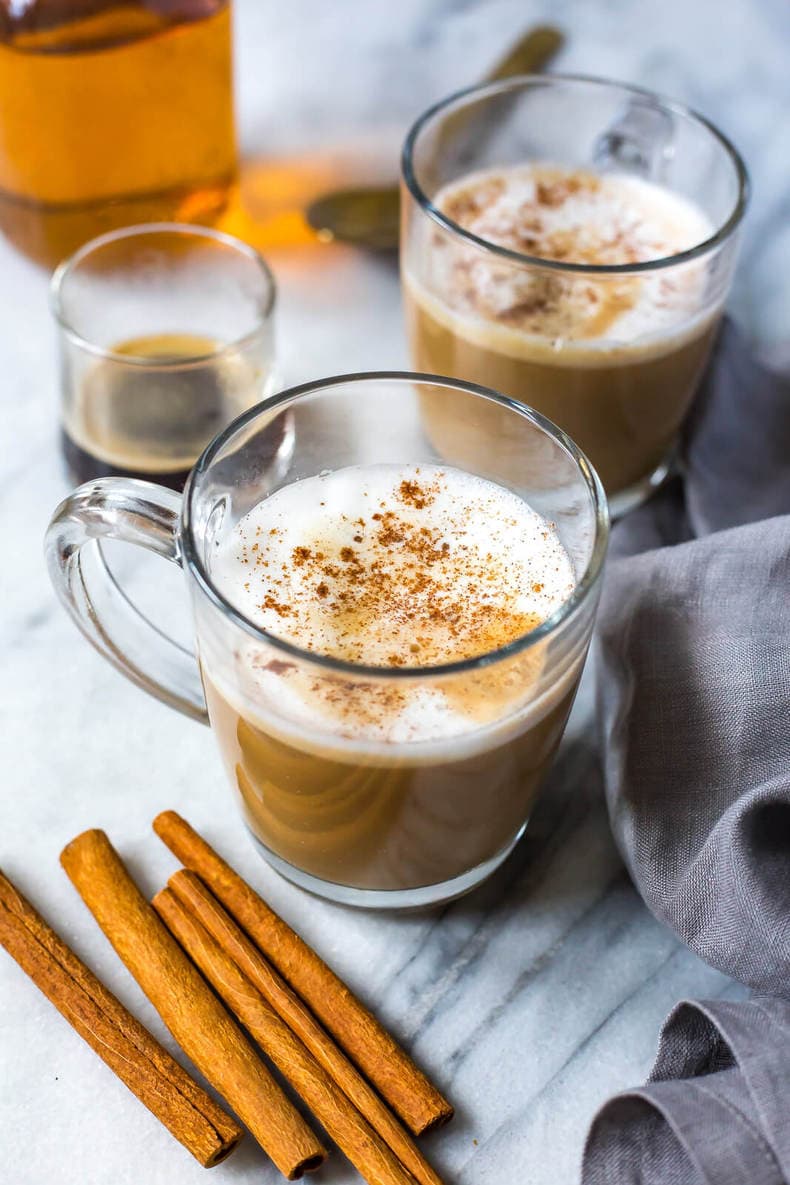 This post is sponsored by Philips – thanks for supporting the brands that help keep my blog up and running!
Back-to-school season is a crazy busy time for just about anybody. Whether you're going back to school or just trying to get into a better routine now that summer's over, you probably don't have much time to dedicate to self-care.
And yes, I'm labelling your daily coffee as part of self-care – taking time for yourself to indulge in something enjoyable every day is important! As a full-time blogger I can tell you that I practically LIVE on coffee and it's one of the most pleasurable aspects of my day.
Even though life is so hectic and you probably don't have time to go out and get a special coffee, you can still make a coffee-shop inspired latte at home – this will definitely be a ritual you stick to this fall once you find out how easy it is to make delicious espresso-based beverages at home.
And I've got the most delicious Starbucks copycat for you to try! Say hello to my top-secret Homemade Cinnamon Dolce Latte recipe!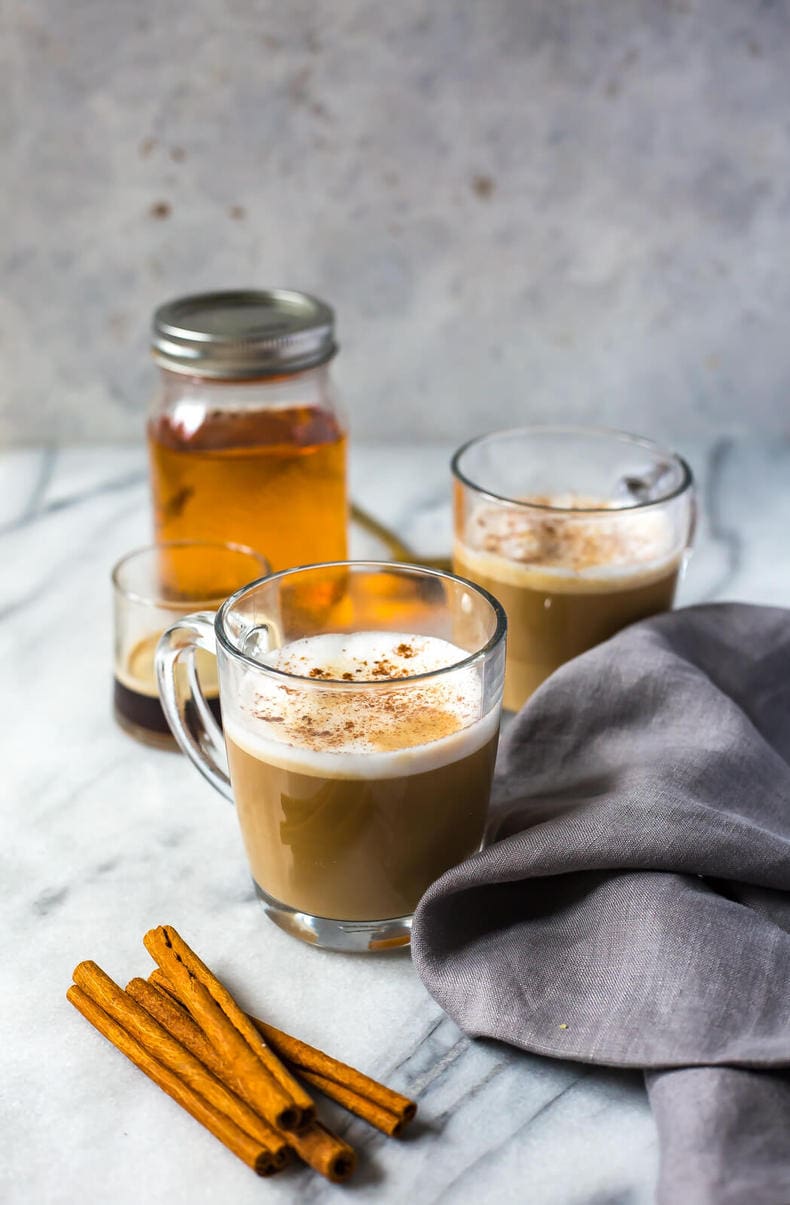 Okay, so maybe it's not so top-secret since I am sharing it on the blog today, but the machine I'm using is one of the ways I get this latte to taste so rich and authentic.
As you've probably noticed, I've partnered with Philips and their line of kitchen appliances to share how you can elevate your home cooking experience. Given my love of coffee, the Philips 3100 coffee and espresso machine is probably one of my favourites!
With this machine, you can enjoy special moments at home with your fave espresso drink – no trip to the coffee shop required! As long as you have some milk and ground espresso or coffee beans at home, you're pretty much good to go!
I've recently been using the Philips 3100 to make a variety of iced coffees, but now that cooler weather is approaching I can't wait to start making Pumpkin Spice Lattes and these Cinnamon Dolce Lattes! Unlike the beloved PSL, this cinnamon dolce latte is super simple to make – all you need is a basic cinnamon-infused simple syrup to take this drink to new heights.
Of course, the Philips 3100 machine really helps because it's a pro at making really strong coffee. You can make pretty much anything in a flash: I'm talking cappuccinos, lattes, espresso shots, regular coffee, iced coffee…and all at the touch of a button!
I used the cappuccino button to whip up this delicious latte because I like my lattes to be foamy with just a bit of milk. You could say making your latte this way is like making a skinny version because you're using less milk and the espresso taste comes through way stronger. Although technically a latte is made from espresso shots, you can use either whole coffee beans (there's a grinder in the machine) or pre-ground coffee and espresso to brew your latte.
The Philips 3100 has grinders that are 100% pure ceramic so they are extremely precise, and you can enjoy fresh, aromatic coffee for at least 20,000 cups. The machine has five different levels of strength – I have mine set on the highest level because I looooooove strong coffee – and the milk carafe is life-changing in providing a thick, foamy froth for your latte. It also has a super easy to use milk clean function!
Compared to many other coffee machines I've had, the Philips 3100 also provides a hotter drink than most so you can have a high-quality coffee almost instantly. It's seriously changed the way I enjoy my daily coffee routine.
This Cinnamon Dolce Latte is so perfect for fall because it's rich without being overwhelmingly sweet. The cinnamon simple syrup is the key ingredient and guess what? It's not insanely hard to make either and will last in the fridge up to 3 weeks!
I love making homemade simple syrups because they're a great way to switch it up when it comes to your daily coffee ritual. They make it an easy option to make your coffee at home so you're not tempted to go out and spend a ton of money, and you can make more than a couple at a time so you have options to choose from.
How to Make a Cinnamon Dolce Latte
The basic formula for this cinnamon dolce latte is super simple and that is: Cinnamon simple syrup, ground espresso and milk.
I usually fill the Philips 3100 milk carafe to the minimum level with 2% milk (you can use skim, 1% or whole milk too) and then I take two scoops of ground espresso. I've really been enjoying the Lavazza brand and the Philips machine makes the brew really strong on the highest strength setting. I actually don't like my lattes too milky so I use the least amount of milk possible, so be warned that you could use up to a 3/4 cup of milk if you want.
Add your cinnamon syrup first, then your milk and espresso shots over top. Sprinkle some powdered cinnamon (or cinnamon sugar!) as a garnish and then serve and enjoy!
To make it a skinny cinnamon dolce latte you can use skim milk or just use less milk by using the cappuccino setting on your Philips 3100. It's a great way to enjoy a lower-calorie drink that still feels indulgent!
You can also sweeten the taste using the simple syrup. Instead of adding 3-4 spoonfuls, try for one or two and then do a taste test. If you're like me and don't consume much sugar on a regular basis you're likely going to favour a drink that is less sweet.
Will you be making this Homemade Cinnamon Dolce Latte?
Be sure to check out the Philips 3100 on Amazon, Canadian Tire and the Hudson's Bay Company and then you can try this latte recipe for yourself!
If you try any of my recipes be sure to let me know on Instagram, Twitter, Facebook or in the comments – I'd love to see what you come up with!
Homemade Cinnamon Dolce Latte
This Homemade Cinnamon Dolce Latte is just like your fave espresso-based drink from Starbucks - this coffee recipe is also so perfect for fall and back to school season!
Print
Pin
Rate
Ingredients
2

scoops

espresso

1/2

cup

milk
Cinnamon dolce syrup
1

cup

water

1

cup

sugar

4

cinnamon sticks
Instructions
Bring water to a boil in a medium-sized saucepan. Stir in sugar and add cinnamon sticks, then reduce to a simmer, cooking on a slow boil for 10 minutes. Remove from heat, remove cinnamon sticks and store in a mason jar. Set aside for later (will keep in fridge up to 3 weeks)

When ready for your latte, add ground espresso to the Philips 3100. Add milk in the milk carafe and attach to the 3100. Add 3-4 spoonfuls of cinnamon dolce syrup to a mug then place underneath the milk carafe and espresso spout.

Press the strength button, then the cappuccino button. Milk will come out first, followed by espresso. Sprinkle a little bit of powdered cinnamon overtop (optional) then serve and enjoy!