This oven baked eggs recipe shows how to bake eggs 5 ways. Flavors include ham and asparagus, broccoli cheddar and mushroom spinach.
Are baked eggs healthy?
The shorter amount of time eggs are cooked, the more nutrients they retain. There is a balance however, in needing to bake the eggs completely and preserving the nutritional value. Don't overcook them, but still make sure they are 160 degrees Fahrenheit inside before consuming.
Different levels of doneness
I've listed different cook times for your different levels of doneness.
Runny yolks: bake 12 minutes
Medium yolks: bake 14-15 minutes
Hard yolks: bake 18 minutes
You want to keep the oven at a lower temperature of 350 degrees Farenheit to ensure you don't overcook them either.
Do you need to use ramekins?
I find that muffin tins are the easiest way to meal prep a bunch of eggs at one time, and they work just as well as ramekins in cooking the eggs evenly. You'll see many baked eggs recipes calling for ramekins (such as this version) and they do work well in terms of elevating the presentation.
Ramekins are also a little bit easier to clean in terms of just throwing them in the dishwasher afterward, and you can eat your baked eggs with a fork or spoon, and more easily dip toast into the yolks. If you don't have ramekins at home though (or not enough of them), then just use muffin tins!
Fillings for baked eggs
I've listed a variety of different filling ideas in the recipe card (  below) but you can add pretty much any ingredient your heart desires! Here are some other filling ideas:
Any and all vegetables, chopped up finely (bell peppers, mushrooms, mixed greens, broccoli)
Seasonings such as chili flakes, Italian seasoning, etc.
Grated cheese (cheddar, mozzarella, Swiss)
Soft cheese (such as ricotta, goat cheese, feta, etc)
Any type of deli meat such as ham, bacon, turkey, etc.
Fresh herbs (basil, cilantro, parsley, rosemary)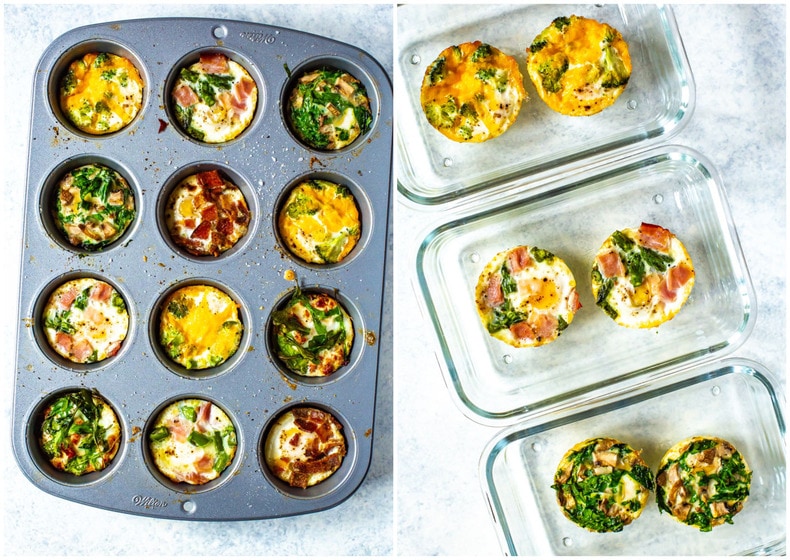 Can you make them plain?
Yes of course! You definitely don't need to make your baked eggs super fancy or anything – in fact, you can make them without any additional ingredients at all. One of my fave blogs, Fit Foodie Finds, also has a great baked eggs recipe that uses plain eggs – this idea is perfect for meal prep or re-purposing the eggs in another recipe.
How to bake eggs in the oven (step-by-step)
Baked eggs in a muffin tin is the simplest way to go – this way you can make a bunch of eggs at a time and you can use them for a crowd or as weekend meal prep. Here are the basic steps below:
Grease your muffin tins with butter or cooking spray (I prefer butter as this is the better greasing agent)
Put one egg and your choice of add-ins and seasoning in each muffin cup
Bake the batch at 350 degrees for 13-18 minutes, depending on how firm you like the yolk to be
Each cup can have different add-ins, making it easy to please everyone or give you variety each morning.
The baked eggs can be kept in the refrigerator for five days. Your entire week of breakfast can be cooked in one thirty-minute window on the weekend. Eggs baked in muffin tins are also easy to store in the freezer and will last even longer!
What is the easiest way to make eggs?
This recipe for baked eggs has your back! Crack some eggs into a muffin tin and add the veggies or seasoning that sound good to you today. Just stick them in the oven and they are done! No mixing, flipping, boiling, watching or worrying.
The easiest way to make delicious eggs is to use this recipe as your base and customize to suit your taste.
Ham gives the eggs a little more protein. Sauteed spinach and fresh herbs add another dimension to the flavor. Some people love their eggs when they are cheesy or can't have eggs without bacon. This easy recipe does it all.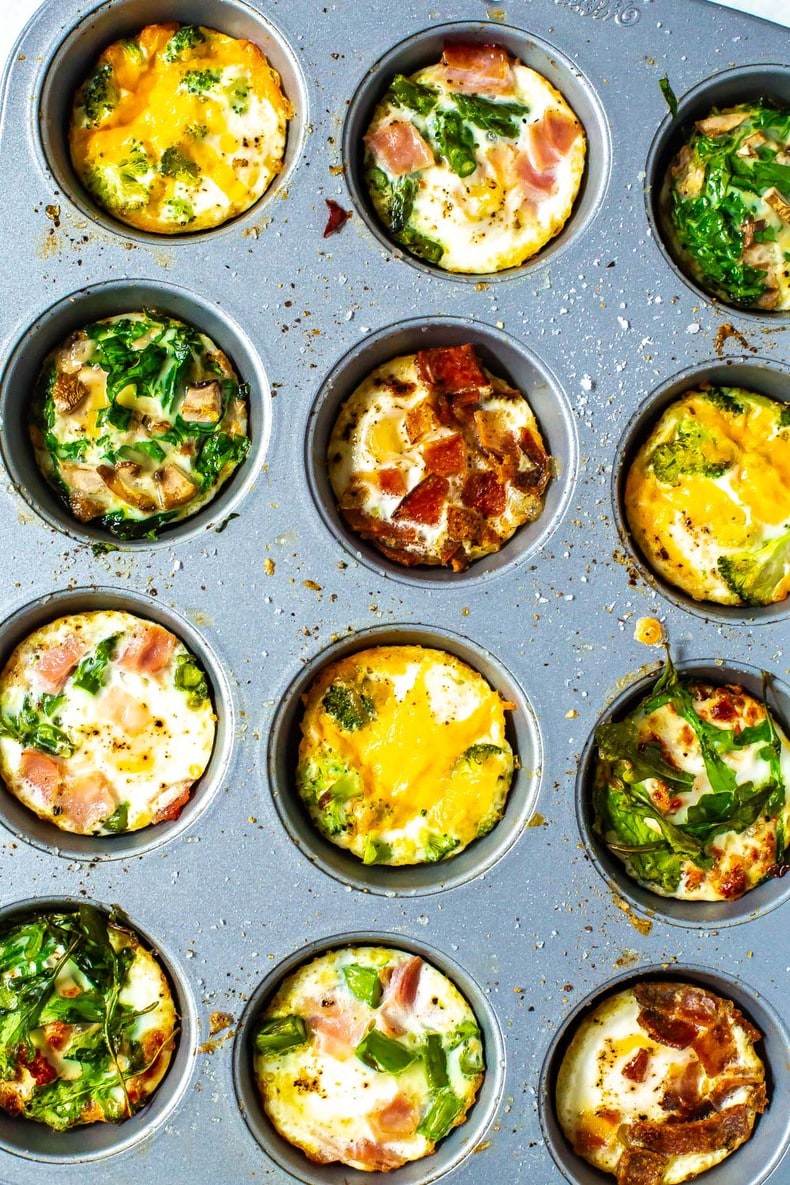 How can you tell if baked eggs are done?
If you have a food thermometer, it's easy to know when they are done. Eggs should reach an internal temperature of 160 degrees F.
Otherwise, use the typical baking method of sliding a knife into the middle of the egg cup. If the knife comes out clean, the eggs are baked all the way through. If you want the yolks to be a little runny, they should only take 12-14 minutes and the knife will not be completely clean – you should expect to see some yolk on it.
How do you get baked eggs out of a muffin pan?
To avoid this problem, before you start cooking, lightly spray your muffin pans with non-stick cooking spray or use butter to grease them.
If they are stuck in the pan after baking, you can attempt to remove the baked eggs this way:
Put a kitchen towel over the top of the pan.
While holding the towel in place, flip the pan upside-down and give it a good shake. The towel will catch anything that falls out so you aren't chasing eggs all over the kitchen. You can loosen them with a flexible spatula first as well.
If you are still left with bits of egg in your muffin pan, soak the pan in hot sudsy water for ten minutes. Then, rinse the pan and scrub the stuck on spots with kosher salt.
Baked egg variations
Here are some suggested ingredient combinations for you to use in your baked eggs. These are just some ideas so know that you have flexibility in what you choose to make. You can make just one variety or a whole bunch at a time. Watch the video in the recipe card to see how it's done!
below to make each of these baked egg combos.
Mushroom spinach
Sundried tomato & arugula
Bacon
Ham & asparagus
Broccoli cheddar
Meal prepping baked eggs
It's super easy to use these baked eggs for meal prep! You'll want to store two or three at a time in glass meal prep bowls so that you can grab them on the go as you walk out the door. I always find that I'm not that hungry first thing in the morning so when I had an office job, I would just take my glass container of baked eggs with me to eat at work. If you prep these ahead on a Sunday and store them for later, you're good to go for easy breakfasts all week, and all it took was 30 minutes of cooking and prep!
Can you freeze baked eggs?
You sure can! To freeze, pack them in glass bowls or large freezer Ziploc bags. You can reheat them in the microwave straight from frozen for 4-5 minutes.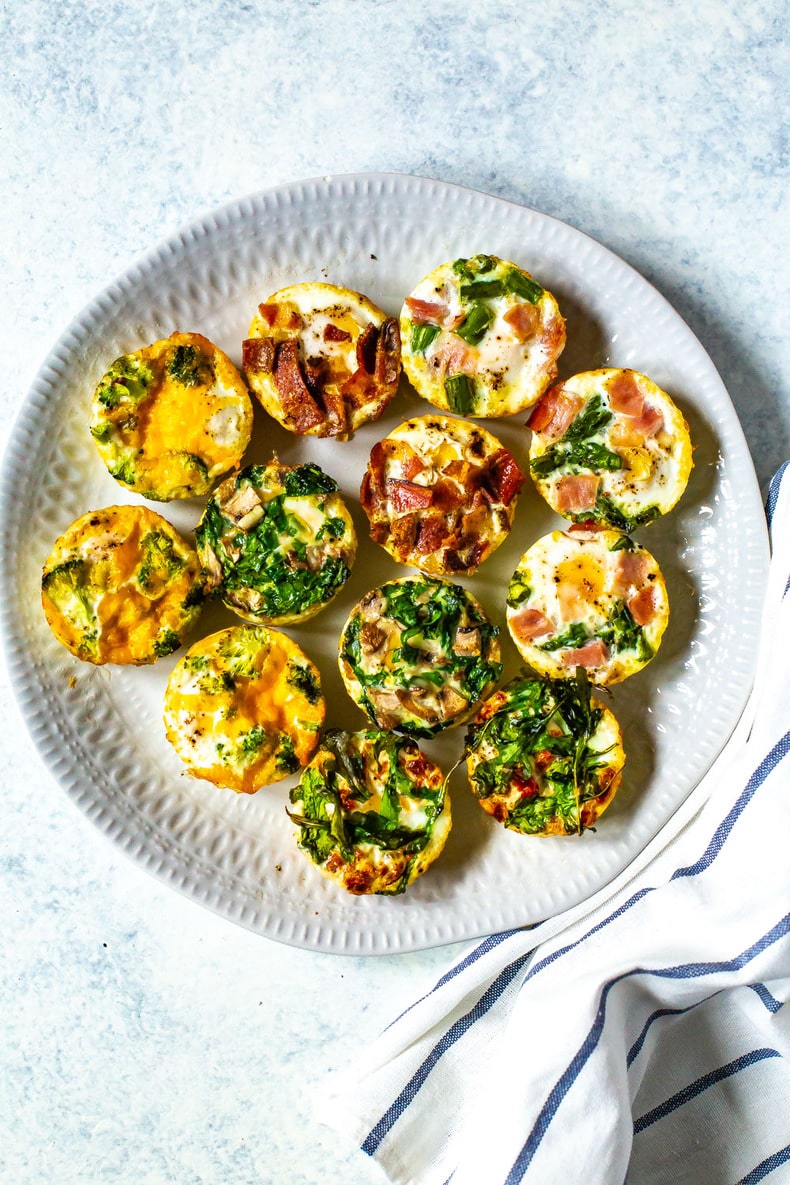 Do you eat them cold?
You can eat baked eggs either hot or cold. If you don't have a way to reheat them, it's totally fine to eat them cold and they will still taste good. It all depends on how much time you have, whether you have access to a microwave and what your personal preference is.
How to reheat baked eggs
Whether reheating from the fridge or frozen, baked eggs are super easy to reheat.
From fridge: Reheat in the microwave for 1-2 minutes
From freezer: Reheat in the microwave for 4-5 minutes
More egg recipes
Looking for more easy breakfast recipes using eggs? I've got a TON of other meal prep-friendly egg recipes!
Meal prep tools for this recipe
Baked Eggs 5 Ways
This oven baked eggs recipe will show you how to bake eggs in muffin tins in 5 different ways. Flavors include ham and asparagus, broccoli cheddar, mushroom spinach and more!
Print
Pin
Rate
Ingredients
Filling ideas
Deli ham

Asparagus, sliced

Sundried tomatoes

Arugula

Thinly sliced mushrooms

Spinach, chopped

Pork or turkey bacon, cooked and chopped

Broccoli

Cheddar cheese
Instructions
Preheat oven to 350 F. Grease muffin tins with butter then crack an egg into each muffin tin. Add desired fillings, season each cup with salt and pepper, then bake for 12-14 minutes for semi-runny yolks. Bake for 18 minutes for hard yolks.

I have made the following flavor combos as in the video below: ham and asparagus, mushroom and spinach, sundried tomato and arugula, bacon, and broccoli cheddar.

Serve and enjoy! Can be refrigerated up to 5 days in fridge-safe containers. To reheat, microwave for 1-2 minutes on high.

To freeze: Let cool closer to room temperature, then freeze in glass meal prep bowls or a large freezer Ziploc bag. To reheat, microwave for 2-4 minutes on high (will depend on the temperature of your microwave).
Video
Nutrition
Calories:
160
kcal
|
Carbohydrates:
1
g
|
Protein:
11
g
|
Fat:
12
g
|
Saturated Fat:
5
g
|
Cholesterol:
338
mg
|
Sodium:
159
mg
|
Potassium:
121
mg
|
Sugar:
1
g
|
Vitamin A:
595
IU
|
Calcium:
49
mg
|
Iron:
1.5
mg