This Santa Fe Chicken Salad is a perfect Chili's copycat recipe loaded with spicy chicken, yummy veggies, tortilla strips and Santa Fe sauce.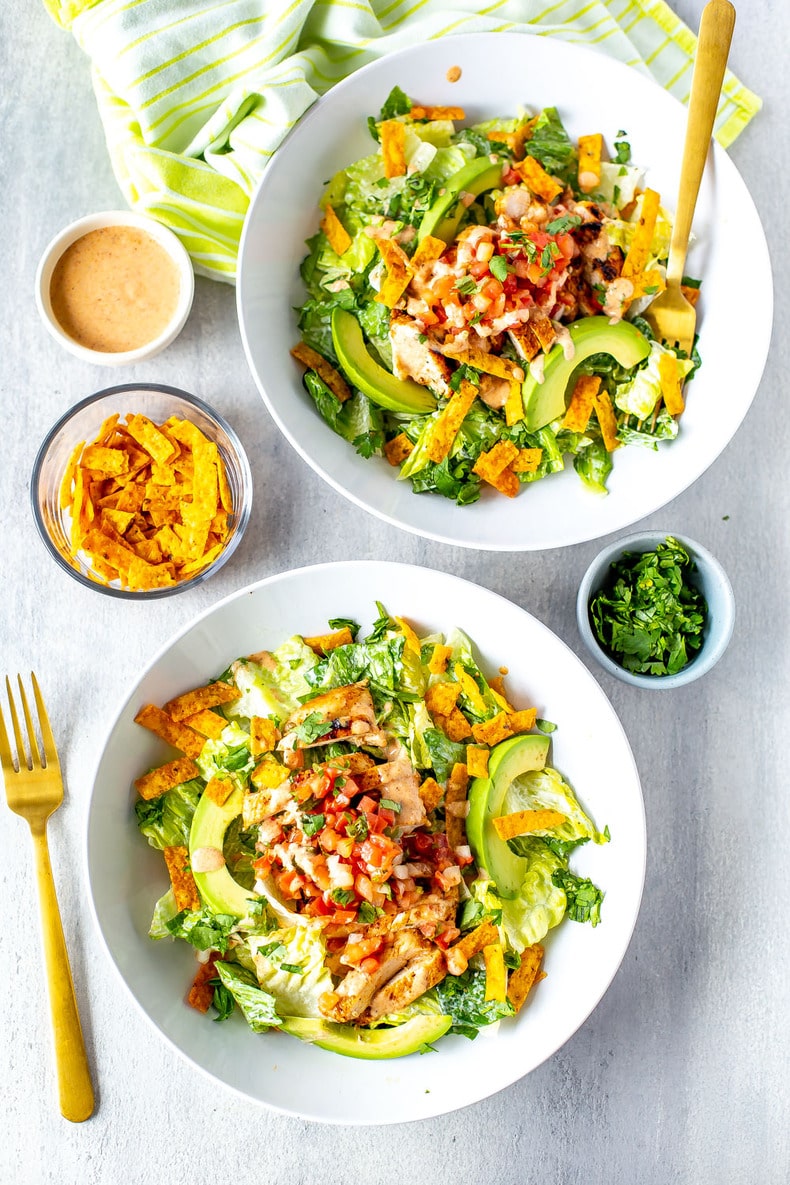 Ingredients and substitutions
Chicken cutlets – or slice two boneless skinless chicken breasts in half lengthwise.
Olive oil – use any neutral cooking oil here such as avocado oil.
Taco seasoning – make a homemade taco seasoning or use 2 parts chili powder, 1 part cumin and 1 part paprika.
Romaine lettuce – use any salad greens of your choice or even spinach for a healthier option.
Avocado – guacamole would also work or you can leave the avocado off altogether.
Pico de gallo – use a store-bought or homemade version. Alternatively, use some chopped-up tomatoes.
Cilantro – leave this off altogether if you're not a fan of cilantro.
Tortilla strips – tortilla chips will work if they're all you have at home.
Ranch dressing – use your favourite store-bought version or try making your own.
Santa Fe sauce
Light mayo – feel free to use full-fat or non-fat mayo, or even sour cream or plain Greek yogurt.
Lime juice – freshly squeezed is preferred but bottled lime juice will work in a pinch.
Chili powder – use a combination of paprika, cumin and cayenne instead.
Paprika – smoked paprika is best. You could also use cayenne for more of a kick.
Onion powder – garlic powder will provide a similar flavour.
Salt & pepper – to taste.
How to make Chili's Santa Fe chicken salad
Make the dressing.
Marinade the chicken.
Cook the chicken.
Slice the chicken thinly.
Toss the lettuce in the ranch dressing.
Assemble your salad ingredients, serve and enjoy!
Making this salad vegetarian
It may be obvious, but the easiest way to make this a vegetarian salad is to omit the chicken. If you'd like to add some meatless protein, here are some ideas:
Black beans
Quinoa
Chickpeas
Crispy tofu or tempeh
Hard boiled eggs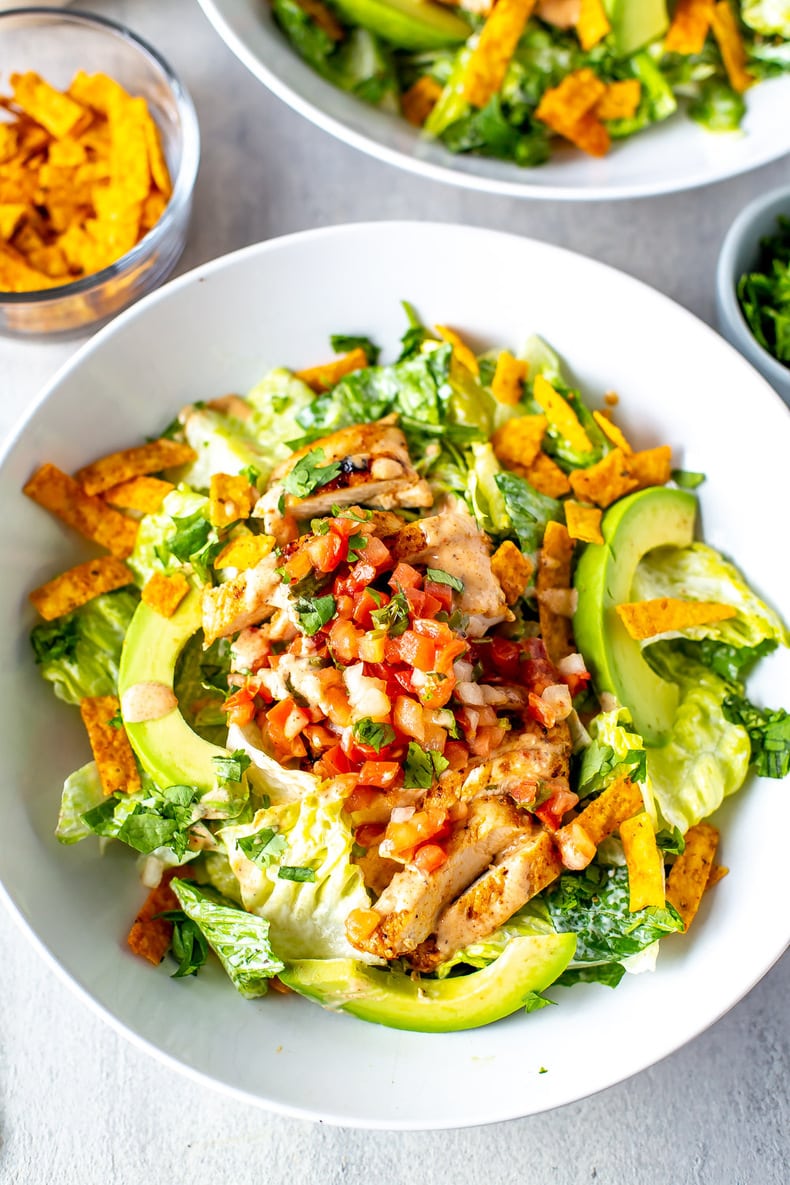 Frequently Asked Questions
How many calories are in Chili's Santa Fe chicken salad?
According to the restaurant's nutritional guide, one serving of Chili's Santa Fe chicken salad has 635 calories, without any dressing. You have to add another 210 calories for 3 tablespoons of their Santa Fe dressing! In comparison, a serving of my copycat salad has just 438 calories, and that includes the ranch dressing and Santa Fe sauce.
What comes on this grilled chicken salad?
Just like the Chili's version, this grilled chicken salad is made with chicken cutlets marinated in taco seasoning, romaine lettuce, sliced avocado, pico de gallo, chopped cilantro, ranch dressing and Santa Fe sauce.
What is Santa Fe dressing made of?
The dressing for the salad is a combination of two things; ranch salad dressing and an incredibly flavourful Santa Fe sauce. It's so good you're going to want to put it on everything! To make the Santa Fe dressing, all you have to do is mix together some light mayo, lime juice, water, chili powder, paprika, onion powder, salt and pepper. Easy-peasy!
Storing and reheating
For best results, I'd suggest storing all the components of this recipe separately in airtight glass containers for up to 5 days. This will ensure everything stays as fresh as possible and that the lettuce doesn't get soggy. I'd also cut up the avocado fresh right before eating or it'll brown in the fridge. Assemble the salad fresh and eat it cold or warm up the chicken before adding it to your freshly-dressed salad.
Freezing the chicken
For easier meal prep, you can freeze the chicken. After you cook the chicken, just allow it to cool down, then store it in a Ziploc freezer bag or meal prep container.
The night before you want to use it, place the container of frozen chicken in your refrigerator to thaw. It's perfectly safe to eat the chicken cold on top of your salad but it does taste better warm. To warm it up, stick it in the oven for 20-25 minutes at 350° Fahrenheit, sauté it in a pan on the stovetop or microwave it for a couple of minutes. Regardless of which reheating method you choose, make sure to sprinkle some water over top of the chicken beforehand so it doesn't dry out.
Wanna Learn How To Meal Prep?
My meal planning service, Dinner Prep Pro, removes the guesswork and helps you get dinner on the table in 15-20 minutes each night. My meal prep checklists only take 1 hour each week!
More Chili's copycat recipes
Meal prep tools for this recipe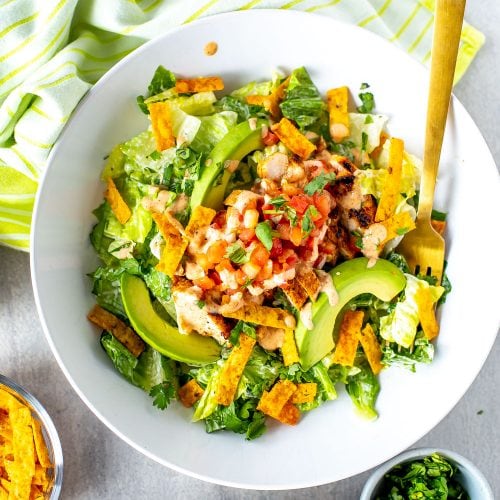 Chili's Santa Fe Chicken Salad
This Santa Fe Chicken Salad is a perfect Chili's copycat recipe loaded with spicy chicken, yummy veggies, tortilla strips and Santa Fe sauce.
Print
Pin
Rate
Click Here to Remove Ads
Servings: 4 servings
Calories: 438kcal
Ingredients
4 chicken cutlets
1 tbsp olive oil
1 tbsp taco seasoning
1 head romaine lettuce
1 avocado, sliced
1/2 cup pico de gallo (store bought)
1/4 cup chopped cilantro
1/4 cup tortilla strips
2 tbsp ranch dressing
Santa fe sauce
1/3 cup light mayo
1 tbsp lime juice
1 tbsp water
1/2 tsp chili powder
1/2 tsp paprika smoked paprika is preferred
1/2 tsp onion powder
Salt & pepper, to taste
Instructions
Rub chicken cutlets with olive oil and taco seasoning. Heat a large skillet over med-high heat and cook chicken for 3-4 minutes per side until cooked through. Set aside and let cool, then slice chicken thinly.

Meanwhile, mix together ingredients for santa fe sauce.

When ready to serve salad, toss lettuce with ranch dressing, then top with sliced chicken, avocado, pico de gallo, cilantro and tortilla strips. Drizzle santa fe sauce overtop then serve and enjoy!
Video
Notes
Make this salad vegetarian by swapping out the chicken for black beans, tofu or eggs. Store all the components of this salad in the fridge for up to 5 days. Warm up the chicken in the microwave, oven or on the stovetop then assemble your salad fresh. Freeze the chicken for up to 3 months. Defrost in the fridge overnight then reheat as normal.
Nutrition
Calories: 438kcal (22%)Carbohydrates: 18g (6%)Protein: 39g (78%)Fat: 24g (37%)Saturated Fat: 4g (25%)Cholesterol: 114mg (38%)Sodium: 700mg (30%)Potassium: 1259mg (36%)Fiber: 7g (29%)Sugar: 6g (7%)Vitamin A: 14205IU (284%)Vitamin C: 17mg (21%)Calcium: 66mg (7%)Iron: 3mg (17%)