It can be hard to eat well during the work week but you can stay on track if you know how to Meal Prep Healthy Snacks for Work!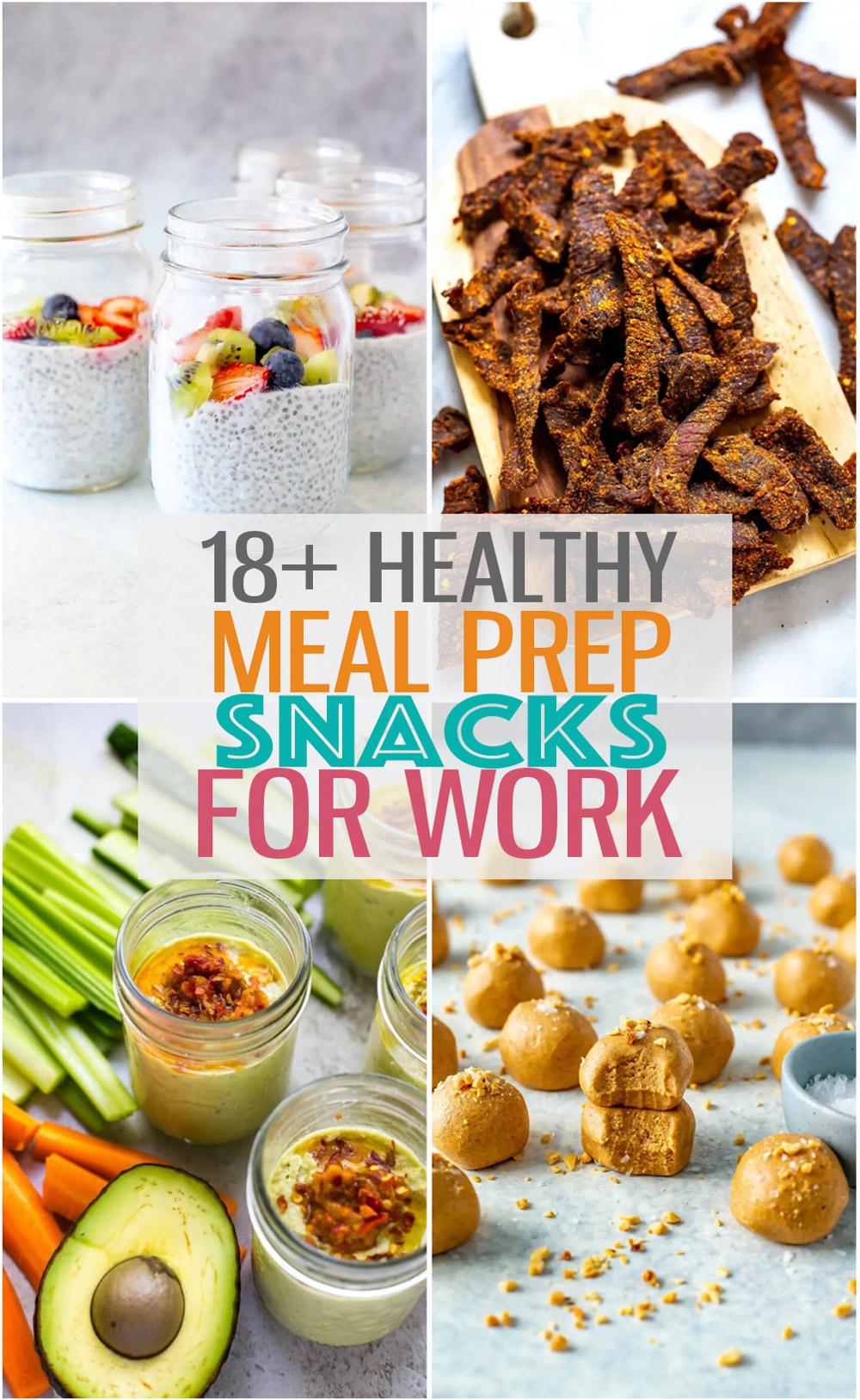 Healthy snack ideas are so hard to come up with sometimes. I'll admit that I definitely fall into the same old snack rut time and again then get bored with eating the same old thing.
And let's face it, it's not easy to come up with healthy snacks, let alone remember to pack them in your lunch! I'm not a fan of most store-bought snacks because it's hard to read labels and determine whether or not what you're eating are whole foods, so when in doubt I make my own healthy snacks for work – and they don't have to take all day either!
This round up of meal prep snacks is designed for the busy foodie in mind – I've included a bunch of sweet options along with some healthy savoury ones. No matter your diet, you'll be sure to find a few options. If you're looking to amp up your protein, these easy high protein snack recipes are for you.
I'm a big fan of mason jars for snacks just as I am with meal prep salads because they're a great way to recycle old containers and keep everything stored safely – think fun dip ideas that you can enjoy with chopped up veggie packs!
I've also listed some healthier homemade snack options like beef jerky and granola bars that will give the store-bought versions a run for their money! Whether you have some time to prep ahead or are literally trying to spend only 30-minutes on healthy snacks for work there's bound to be a couple healthy snacks that you're going to love!
Watch how to make some of these recipes on YouTube!
Bites, Bars, and Cups
I like snacks in all shapes and sizes! Whether they're energy balls, granola bars, or chocolate fat bomb cups (which are oh so good, by the way!), these recipes are the perfectly portioned grab-and-go options.
Peanut Butter Protein Balls via The Girl on Bloor // Nut Free Chocolate Fat Bombs via The Girl on Bloor
Tahini Coconut Energy Protein Bites via The Girl on Bloor // Peanut Butter Cup Quinoa Energy Bites via Lively Table
Vanilla Cashew Butter Cups via The Endless Meal // Chocolate Cashew Protein Bars via Build Your Bite
Yogurt, Puddings and Smoothies
A great way to get more fruits and veggies into your snacks is by including them in yogurts, puddings, and smoothies. These quick recipes are so sweet and delicious! They can also double as breakfasts.
Meal Prep Green Smoothie via The Girl on Bloor // Protein Shakes 5 Ways via The Girl on Bloor
The Creamiest Avocado Smoothie via The Girl on Bloor //High Protein Chia Pudding via The Girl on Bloor
4-Ingredient Frozen Yogurt via The Girl on Bloor // Super Simple Homemade Coconut Yogurt with Chia Strawberry Jam via The Endless Meal
Dips
Dips are one of my favourite snacks to make! Whip one up and pair it with some veggies or chips for a very satisfying treat. Make sure to pack them in a mason jar for easy storage.
Avocado Hummus Snack Jars via The Girl on Bloor // Mini Buffalo Chicken Salsa Dip Jars via The Girl on Bloor
Beet Chips with Homemade French Onion Dip via The Girl on Bloor // Roasted Eggplant Dip via Salt and Lavender
Snacks with Granola or Oats
Say goodbye to store bought granola bars with these homemade alternatives! They aren't hard to make and taste so much better. They're also fully customizable so you can include all your favourite ingredients.
Easy Everyday Granola via Simple and Sweet Food // Healthy Granola Bars and Cinnamon via Healthy Hacks
Easy Baked Oatmeal Muffins via Sweat Peas and Saffron // Banana Bread Baked Oatmeal with Berries and Cinnamon via Isabel Eats
Savoury Snacks
No sweet tooth? No problem! From spicy parmesan popcorn to homemade beef jerky, you'll love these savoury snacks.
Homemade Beef Jerky via The Girl on Bloor // Garlic Parmesan Popcorn via The Girl on Bloor
Copycat Oven-Baked Starbucks Egg Bites via The Girl on Bloor // Tuna Protein Box via Sweet Peas and Saffron
Want to Learn How to Meal Prep? Join Dinner Prep Pro!
Our meal planning service removes the guesswork and helps you get dinner on the table in 15-20 minutes each night thanks to our prep ahead checklists. It takes just one hour of ingredient prep on a Sunday!
Southwest Spiced Crunchy Chickpeas via Salt and Lavender // Jalapeno Parmesan Crisps via Isabel Eats
Meal Prep Snacks
It can be hard to eat well during the work week but you can stay on track if you know how to Meal Prep Healthy Snacks for Work!
Print
Pin
Rate
Servings: 4 servings
Calories: 150kcal
Instructions
Follow the instructions of the recipe of choice linked to above.
Video
Nutrition
Calories: 150kcal (8%)