These Baked Oatmeal Cups are the perfect grab and go breakfast. Choose from 5 different variations, from mango coconut to apple cinnamon!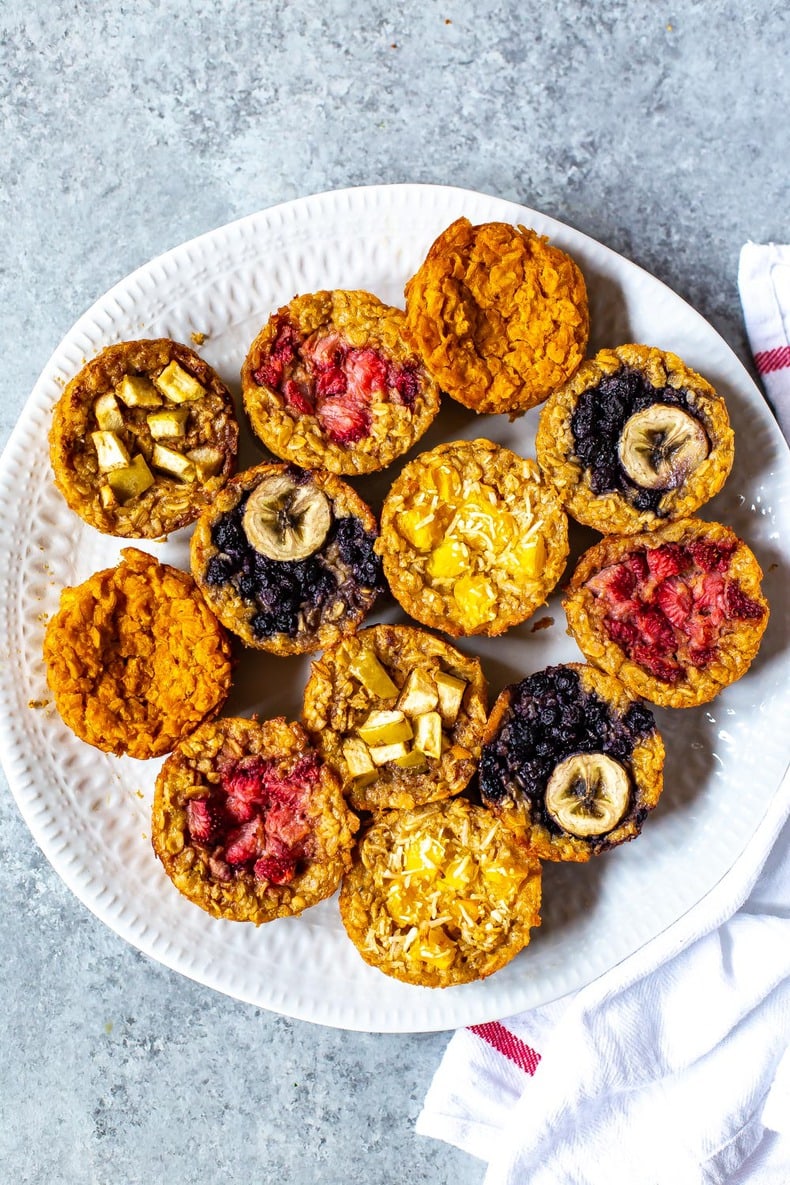 Are baked oatmeal cups healthy?
Oats are naturally gluten free and a filling breakfast. They are also packed with vitamins and minerals, like iron, zinc and folate.
If you need a reason to indulge in these delicious oatmeal cups daily, here are a few of the many benefits of oats:
High in fiber
Lots of antioxidants
Reduces cholesterol
Helps to stabilizes blood sugars
Relieves constipation
Provides healthy fats
Baked oatmeal for meal prep
And if you are looking for a quick easy breakfast to compliment your healthy lifestyle, baked oatmeal is the solution. With lots of protein in each serving, oats will keep you feeling full until lunch.
To meal prep them for the week, simply add them to square glass containers once cooled, store in the fridge and then enjoy them hot or cold on-the-go!
How to make baked oatmeal cups (step-by-step)
Here is exactly how to make this meal prep breakfast!
Preheat your oven to 350 F. You want a lower temperature so as not to burn the oatmeal.
In a large bowl, mix your dry ingredients together (rolled oats, baking powder and salt). In another large bowl, mix together the wet ingredients (milk, eggs, maple syrup and vanilla).
Fold the wet ingredients into the dry ingredients, then add whatever fruit fillings you desire.
Line muffin tins with cupcake liners or spray with non-stick spray. Add the oatmeal mixture.
Bake the cups in the oven for 40 minutes. Store leftovers in the fridge and enjoy!
Can you make baked oatmeal without milk or eggs?
You can definitely make these oatmeal cups without milk or eggs, so they are vegan-friendly! I recommend using non-dairy milk such as almond or coconut milk to keep the calorie count lower, but you can use dairy milk, or just skip the milk altogether and use water.
As for eggs, you can sub in 1 mashed banana in place of the two eggs. The texture may be a bit off, but you will get similar results and end up with vegan oatmeal cups!
Sweetening oatmeal cups
There's 1/4 cup of maple syrup in these baked oatmeal cups and that makes them mildly sweet. If you'd like more sweetness or are looking for natural sweeteners, here is what you can add in place of the maple syrup:=
Honey
Stevia
Mashed dates
Applesauce
Shredded coconut or coconut sugar
Mashed banana
Do I need to refrigerate baked oatmeal?
Baked oatmeal is perfect for meal prep. It can be made any time and be ready to eat in an instant.
After the oatmeal cups have completely cooled, store them in the refrigerator. They will last for five days, which gives you breakfast for an entire week. They do need to be refrigerated instead of stored at room temperature in order to maximize how long they will last.
If left on the counter, you should eat these oatmeal cups in 2-3 days.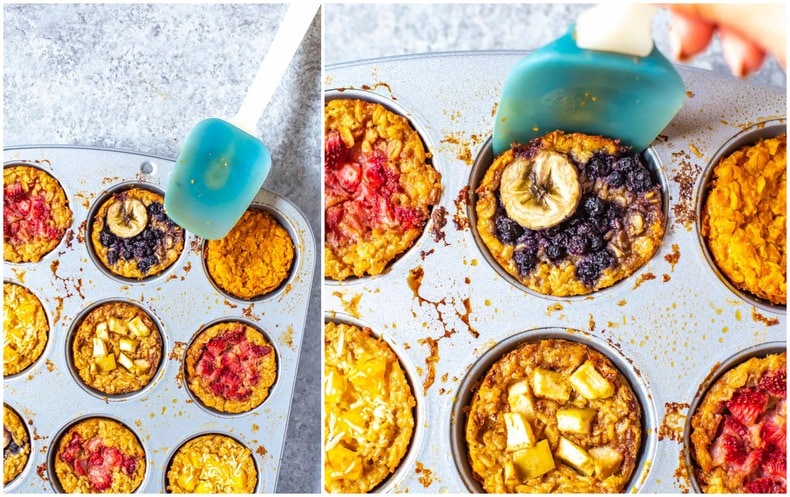 How to prevent oatmeal from sticking
You can prevent these oatmeal cups from sticking to the muffin tins in a variety of ways! Here are my simple strategies:
Use non-stick muffin tins so that the oatmeal is less likely to stick – make sure to add cooking spray before adding the batter
Use silicone muffin cups – they are perfect for avoiding sticking. I would also recommend adding cooking spray before adding the batter
These re-useable cupcake liners are totally non-stick so that's an option if your muffin tins are older and have lost their non-stick abilities
Regular cupcake liners will work too
When you're ready to remove the baked oatmeal cups, simply slide a silicone spatula around each cup and gently lift out like magic!
Can baked oatmeal be reheated?
Because oatmeal can be reheated, you will be prepared for an entire week of healthy breakfasts with this oatmeal cup recipe.
If it seems to be getting a little dry, you can add a splash of water or milk before reheating in the microwave for 1-2 minutes. The more you make this recipe, the better you will get at judging the right ratio of dry to wet ingredients.
Reheat an oatmeal cup in the microwave, enjoy them at room temperature, or even cold. The important thing is that you enjoy your oatmeal.
Can you freeze baked oatmeal cups?
Yes you can! Wait until the oatmeal cups have cooled to room temperature then freeze in individual portions in glass containers, or in a large freezer Ziploc bag. They can be frozen once cooked up to 3 months. To reheat, pop two into the microwave for 3-4 minutes until defrosted and slightly warm.
Different kinds of oatmeal cups
Pictured below are the different variations of baked oatmeal cups that you can make! Really, if you can think of a flavour combo you can add it to these muffin cups. You don't have to add fruit alone either. Grated zucchini, chocolate shavings, coconut, nuts and more all make great additions to this meal prep breakfast.
Pumpkin
Apple cinnamon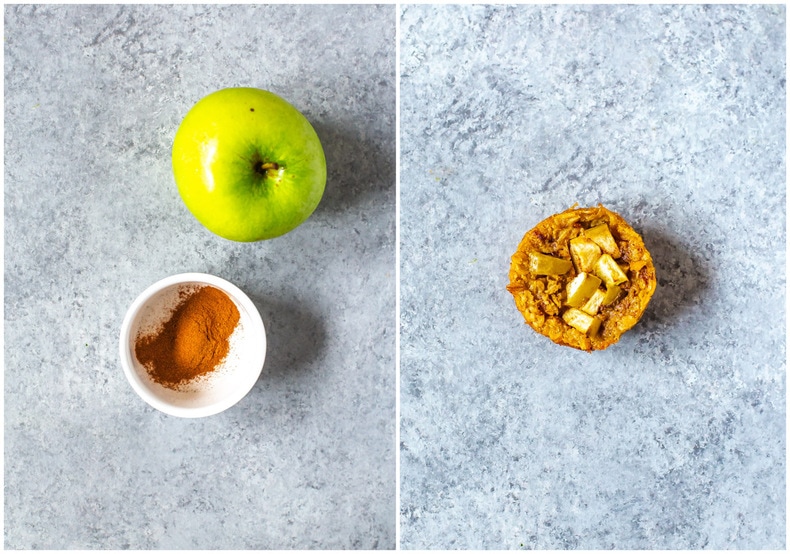 Blueberry banana
Mango coconut
Strawberry
Can you substitute quick oats for rolled oats?
All the variety of oats start out from the same piece of the grain. The only difference is how the grains are processed. For this baked oatmeal recipe, rolled oats create the best result. Here's why:
Steel cut oats are oats that are chopped into pieces. This variety takes the longest to cook. I also don't recommend substituting steel cut oats in the recipe. Your finished product will have a much different texture.
Rolled oats are steamed and flattened. You can tell that they are smashed when compared to steel cut oats. They are chewy and have a nutty flavor.
Quick oats are pre-cooked and allowed to dry. Then they are rolled thinner than rolled oats. Because they end up so thin, the cooking time for these oats really quick. The danger of substituting quick oats is that they tend to end up mushy.
All three varieties of oats have the same nutritional value. The only difference is in the preparation so there is no change to the calorie or fat count.
Other Meal Prep Breakfast Recipes to Try:
If you love these baked oatmeal cups, then you're going to LOVE these other meal prep breakfast ideas! They are also easy to divide into individual servings and pack up for the week so all you have to do is grab one and go…this way you can eat breakfast at work when you're actually hungry as opposed to force feeding yourself early in the morning.
Want to Learn How to Meal Prep? Join Dinner Prep Pro!
Our meal planning service removes the guesswork and helps you get dinner on the table in 15-20 minutes each night thanks to our prep ahead checklists. It takes just one hour of ingredient prep on a Sunday!
Meal prep tools for this recipe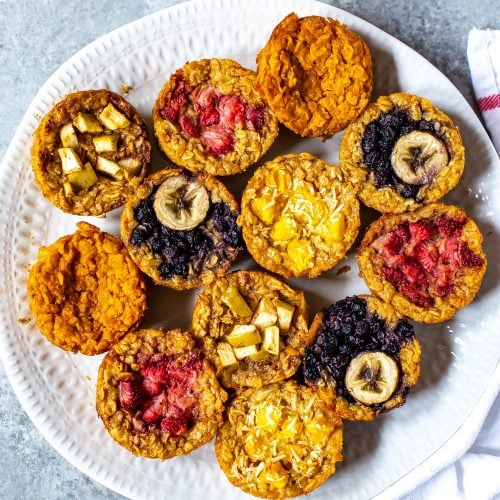 Meal Prep Baked Oatmeal Cups – 5 Ways
These Baked Oatmeal Cups are the perfect grab and go breakfast. Choose from 5 different variations, from mango coconut to apple cinnamon!
Print
Pin
Rate
Servings: 6 servings
Calories: 235kcal
Ingredients
Oatmeal cups base
2 1/2 cups rolled oats
1 tsp baking powder
1/4 tsp salt
2 tbsp coconut oil
2 cups almond or coconut milk
2 eggs
1/4 cup maple syrup `
1 tbsp vanilla
Strawberry
1 cup sliced strawberries
Blueberry banana
1/2 cup frozen blueberries
1 banana, mashed
Mango coconut
1 cup mango, diced
1/4 cup unsweetened shredded coconut
Apple cinnamon
1 granny smith apple, peeled & diced
1 tsp cinnamon
Instructions
Preheat oven to 350 F.

In a large bowl, mix together rolled oats, baking powder and salt. In another large bowl, mix together melted coconut oil, almond/coconut milk, eggs, maple syrup and vanilla. Fold wet ingredients into dry ingredients, then mix in add-ins of choice.

Line muffin tins with cupcake liners or spray with non-stick spray. Divide oatmeal mixture among cups, making sure to balance the wet and dry ingredients evenly.

Bake in oven for 40 minutes. Leftovers will keep in the fridge up to 5 days.
Video
Notes
NOTE: Recipe makes 12 cups, and nutritional info is for a serving of 2 cups.
Nutrition
Calories: 235kcal (12%)Carbohydrates: 33g (11%)Protein: 6g (12%)Fat: 9g (14%)Saturated Fat: 5g (31%)Cholesterol: 55mg (18%)Sodium: 231mg (10%)Potassium: 270mg (8%)Fiber: 4g (17%)Sugar: 12g (13%)Vitamin A: 2195IU (44%)Vitamin C: 0.6mg (1%)Calcium: 186mg (19%)Iron: 1.7mg (9%)