These Keto Chocolate Fat Bombs are a healthy snack made with just 3 ingredients: coconut oil, sunflower butter & cocoa powder.
Ingredients in chocolate fat bombs
This keto bomb recipe is made with just three simple ingredients that are probably already in your pantry.
Coconut oil
Sunflower butter (this means they are nut free so they are allergy-friendly as well!)
Cocoa powder
This short ingredient list means they are something almost everyone can eat. They were designed to fit the keto diet, but they are also paleo-friendly. They have no gluten, dairy or nuts. Plus, once you learn how to make them, you can change up the flavors to suit your tastes and cravings.
How to make fat bombs
With about 15 minutes of work, you will have 30 of these meal prep fat bomb snacks prepared. You'll want to make them often. They are so quick and delicious, you can keep them in your refrigerator all the time – did I mention they last up to 30 days in the fridge?! Not that they will last that long…
Microwave the sunflower butter and coconut oil for one minute.
Stir in the cocoa powder and mix well.
Pour batter into molds.
Freeze for 30 minutes.
Ingredient substitutions and notes
It's simple to change the flavor a bit by switching the sunflower butter with other nut butters or alternatives. Any of these will work in equal amounts:
Peanut butter
Almond butter
Soy butter
Coconut butter
Cashew butter
The coconut oil will help these fat bombs become solid when in the refrigerator. Other oils don't work as well because they are liquid at room temperature while coconut oil is a solid.
It's also easy to use this basic recipe and change the flavor. These are chocolate when you add cocoa powder, but you can change it up with other ingredients. You can also use combinations of these flavors to create your own version, like adding a drop of extract for additional flavor.
Blended nuts, like almonds, cashews or macadamia nuts.
Vanilla extract
Coconut flakes
Frozen berries
Lemon or lime juice
Cherries
Cinnamon
Ginger
Pepitas
Peppermint extract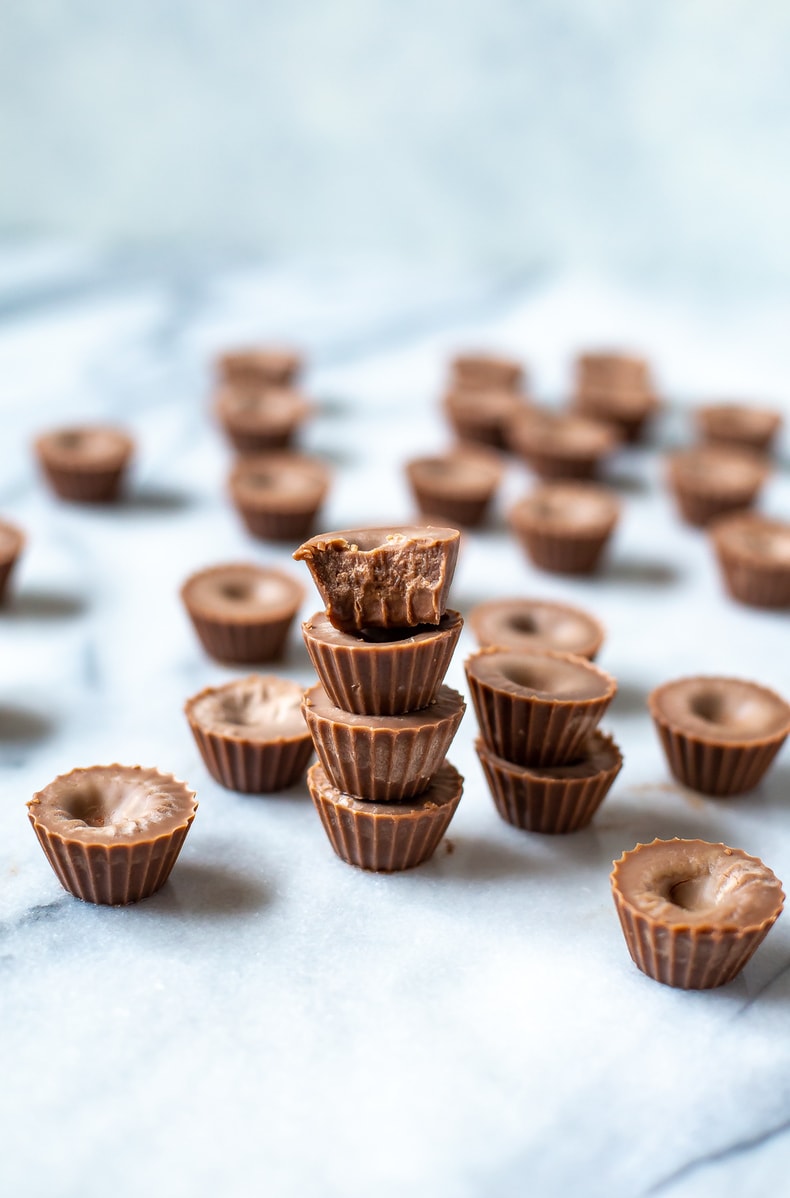 Where do you get the molds?
The molds I use for my chocolate fat bombs makes them look like mini Reese's cups – you can order the exact one I use HERE. Because of the explosion in popularity of the keto diet, you can now find these molds at nearly any retailer online or in stores.
You'll find ones like mine or ones that make circles, squares, cupcake shapes or even more creative ones like stars, hearts or flowers. You don't have to buy ones marketed specifically for fat bombs either. Any silicone candy mold will produce a fat bomb of the right size.
When shopping for fat bomb molds, choose ones made of silicone. This makes it much easier to remove them after they have finished solidifying – they will just pop out with no effort!
Just keep in mind that you want them to make small portions. This is a treat, not a meal replacement.
Why eat fat bombs?
A fat bomb is a high-energy snack or dessert that is completely keto-friendly. It will satisfy your craving for sweets, especially this chocolate fat bomb variety, with a big dose of healthy fats. There are no carbs and very little sugar in this treat.
The main tenet of the keto diet is to eat low carb, low sugar and high fat foods. This will keep your body in a state of ketosis. The body them burns fat instead of carbohydrates.
Because of all the fat in these fat bombs, you will feel full until your next meal without resorting to carb heavy foods.
Do you need to sweeten them?
I always just stick to these three simple ingredients in my keto fat bomb recipe. I think the cocoa powder gives it enough chocolatey flavor that it doesn't need additional sweetener.
However, you'll find other recipes that do include a sweetener. If you want to use one, make sure that you find one that fits with the diet plan you maintain. Some sweeteners you can use on keto are:
Monk fruit
Stevia
Agave
Maple syrup
Erythritol
Choose a sweetener that is a powdered texture. Something that is granular will change the texture of the fat bomb to make it less creamy. A liquid sweetener may make your fat bomb too runny and never solidify.
Storing fat bombs
Fat bombs should be kept refrigerated. The coconut oil in them will get runny and they will become very messy if they get too warm. That being said, these fat bombs will keep for up to 30 days in the refrigerator. Their long shelf life means you can make a big batch and always have some on hand to curb any cravings that come your way.
Freezing fat bombs
If you want to meal prep these fat bombs for an even longer time period, you can freeze them. Make sure they are firm before you pack them all together so they don't stick. Once frozen, the fat bombs will last for three months in the freezer.
Want to Learn How to Meal Prep? Join Dinner Prep Pro!
Our meal planning service removes the guesswork and helps you get dinner on the table in 15-20 minutes each night thanks to our prep ahead checklists. It takes just one hour of ingredient prep on a Sunday!
More meal prep snacks
Meal prep tools for this recipe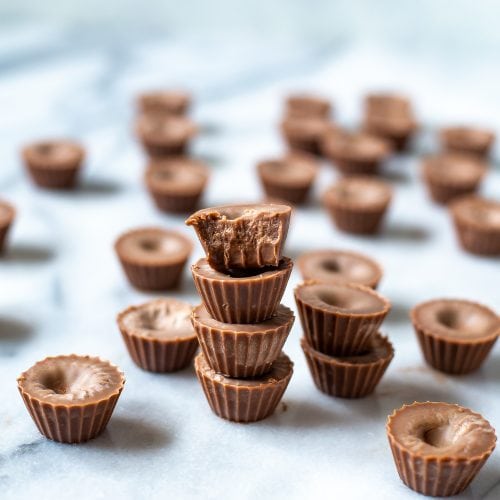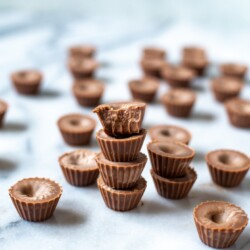 Keto Chocolate Fat Bombs
These Keto Chocolate Fat Bombs are a healthy snack made with just 3 ingredients: coconut oil, sunflower butter & cocoa powder.
Print
Pin
Rate
Servings: 30 fat bombs
Calories: 85kcal
Ingredients
3/4 cup coconut oil
3/4 cup sunflower butter
2 tbsp cocoa powder
Instructions
Add sunflower butter and coconut oil to a large bowl. Microwave for 1 minute, then stir in cocoa powder until well mixed.

Pour into molds and freeze for 30 minutes before serving. Leftover fat bombs should be kept refrigerated and can be kept in the fridge up to 30 days.
Video
Nutrition
Serving: 1fat bombCalories: 85kcal (4%)Carbohydrates: 2g (1%)Protein: 1g (2%)Fat: 9g (14%)Saturated Fat: 5g (31%)Sodium: 1mgPotassium: 10mgFiber: 1g (4%)Sugar: 1g (1%)Vitamin A: 3IUVitamin C: 1mg (1%)Calcium: 8mg (1%)Iron: 1mg (6%)