Here are all my tips on cooking for two! Plus, get a free meal plan filled with easy, healthy dinner recipes that can double as lunches.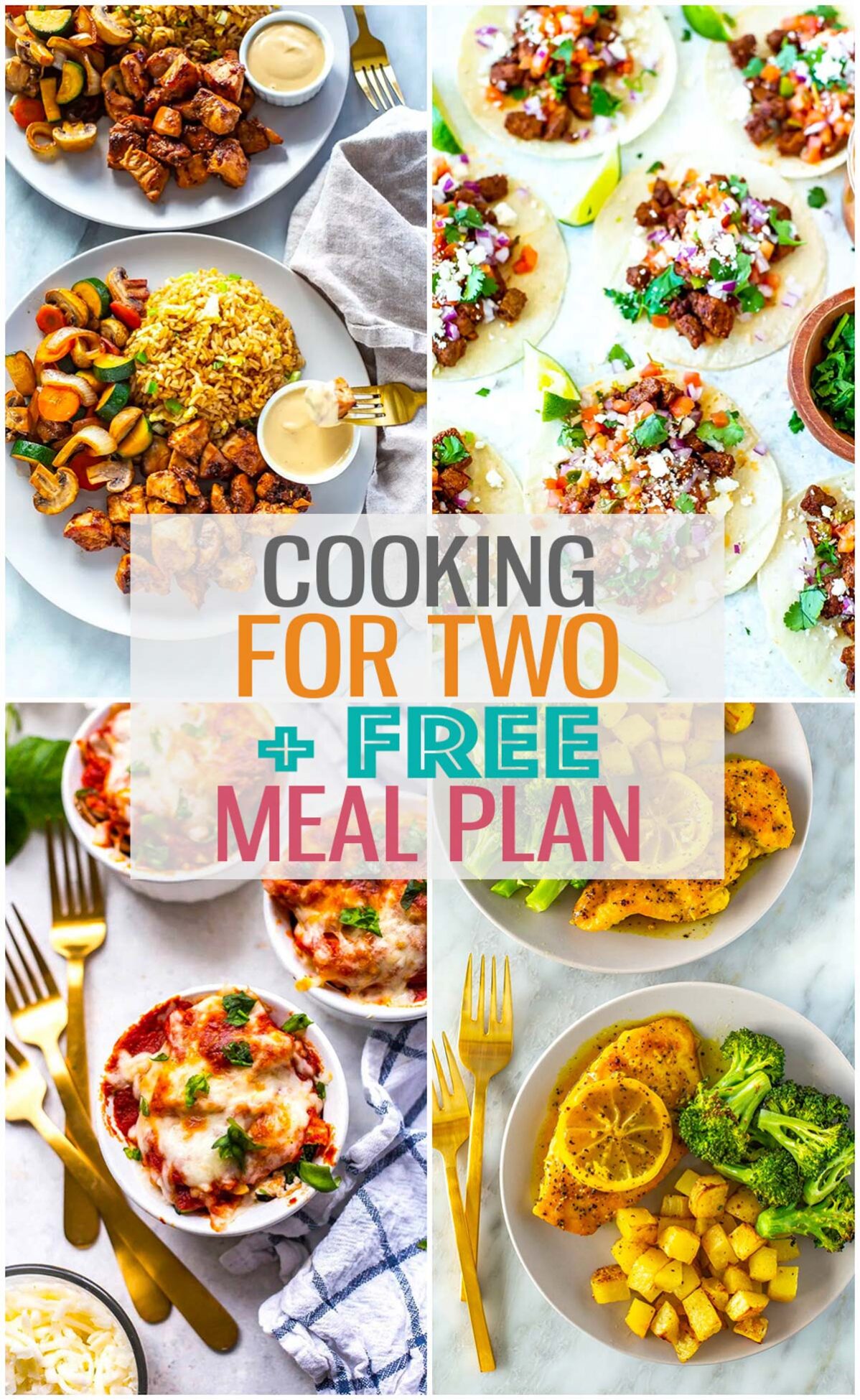 How to Cook for Two
Cooking and meal planning can feel daunting when you have a small household. Some can find it even more challenging than feeding a big crowd!
If you're looking for inspiration and guidance for cooking for you and your partner, you've come to the right place. I rounded up some of my top tips for cooking for two, along with a free meal plan filled with healthy and easy recipes so you can get started right away!
Meal plan together
When cooking for two, it's important to make sure you're making recipes that both of you will enjoy. The easiest way to ensure this is to meal plan together.
Pencil in time each week to choose what meals you'd like to eat. It can be helpful to create a shared Pinterest board so you can each add recipes you want to try. Decide on a few different meals that you both are looking forward to and note any substitutions/changes you can make so they can accommodate each of your preferences better (for example, if one of you doesn't like spice, you can portion out the dishes before adding any spicy ingredients).
This is also a good time to discuss any upcoming plans where you won't need to cook. Make sure you mark these dates down on your meal plan so you only cook what you need to. For more meal planning tips, check out my example meal plan for two in this post or read my article on How to Meal Plan in 15 Minutes.
Choose ingredients wisely
Food waste is a real concern for anyone cooking for two. Making a meal plan that uses up overlapping ingredients is a great way to buy less food. Try to find recipes that use up the same ingredients in different ways so you can still get variety. An example could be using half a head of cabbage for a stir fry and the other half for a coleslaw.
Don't be afraid of getting creative in the kitchen, either! Feel free to make substitutions to any recipe so you can use up what's left in your crisper or cupboards. All the recipes on The Girl on Bloor list ingredient substitutions for easy reference, but if you're ever in a pinch, some googling will find you a suitable alternative. Read my post on reducing food waste for even more tips!
Dealing with leftovers
Odds are, you're going to have lots of leftovers if you live in a smaller household and cook regularly. Most recipes are designed to have four servings, which can give you and your partner both a lunch and dinner portion.
If you're making something that yields a larger batch like this crockpot lasagna, make sure to see if you can freeze any leftovers. It's great to have leftovers in the freezer for when you don't feel like cooking. They can also help prevent you from feeling fatigue from eating the same thing over and over again. Instead, you can enjoy your leftovers 3-6 months later.
If you have leftover ingredients at the end of the week, try making one of these leftover meal ideas instead! Dishes like pastas, rice bowls, and loaded fries are excellent for using whatever you have on hand.
Meal Prep for Two
Traditional meal prepping can be stressful when you're cooking for two. Batching cooking a variety of meals for two people is tiring! Not to mention, you probably don't love the thought of eating leftovers the entire week.
Instead, I recommend ingredient prepping as it's so simple and efficient! Carve out some time on the weekend to do things like cook grains, mix sauces and chop veggies so when dinner comes around, you just need to toss everything together and cook!
Start by identifying what ingredients you can prep ahead of time. I've provided an example prep ahead checklist in this post so you can see what one looks like. You can also read my post on How to Food Prep in Just 1 Hour for more tips and tricks on ingredient prepping.
Once you try this method of meal prepping, you won't go back! It's been so helpful for members of my meal planning app, Dinner Prep Pro, who use their custom generated prep ahead checklists each week.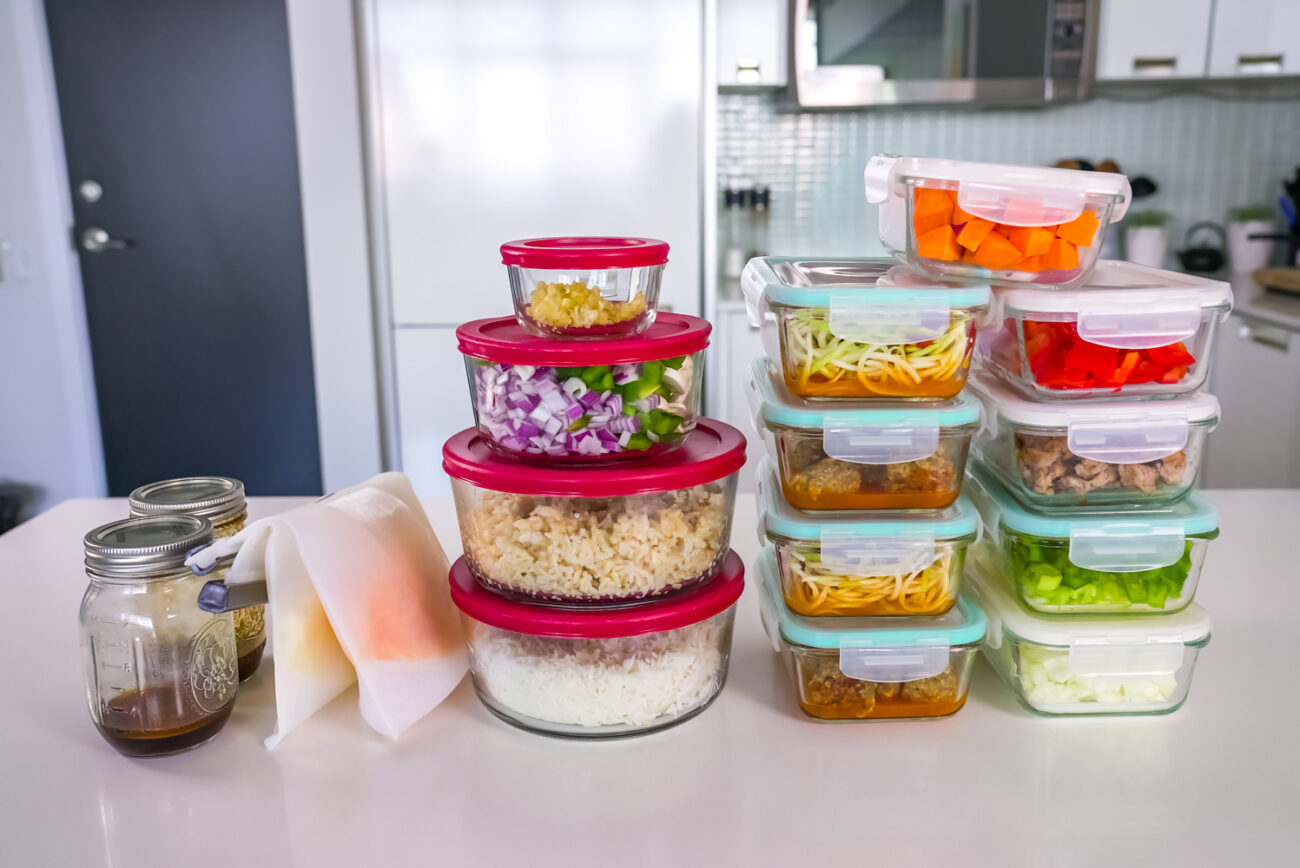 Example Meal Plan for Two
When you're cooking for two, you don't have to make as much food during the week. What I recommend doing is choosing 4 dinner recipes and using the leftovers for lunch each week.
On days you didn't plan a recipe to cook, you can whip up a quick meal such as frozen potstickers, a grilled cheese, breakfast for dinner or another type of meal that uses any leftovers or staples you have on hand in the kitchen. This way, you'll have flexibility to deviate from your meal plan while also not wasting food and making too much!
Leaving a few gaps in your meal plan also accounts for date nights out or spontaneous things like grabbing lunch with coworkers.
Here's what a sample meal plan would look like for a two person household:
Dinner 1: Perfect Hibachi Chicken
Dinner 2: Carne Asada Tacos
Dinner 3: Mini Vegetable Lasagna Cups
Dinner 4: Lemon Pepper Chicken
Feel free to add a meal prep breakfast in the mix, too.
Skip the Ads and Get Right to the Recipes!
ZERO ADS on over 600 recipes!
Weekly Meal Plans, Grocery & Prep Lists
Bonus eBooks
Prep Ahead Plan
Want to have dinners come together fast and easily each night? You can use this meal prep plan below to get more efficient in the kitchen. Follow the plan below on a Sunday to have all your ingredients ready for the week ahead.
Grains
Make the rice for the Hibachi Chicken by adding 1 cup white rice, 2 cups water, and a pinch of salt to a rice cooker, cooking until liquid has absorbed.
Proteins
Dice 1 lb chicken breasts for the Hibachi Chicken.
Cut 16 oz steak into 1/4-inch pieces for the Carne Asada Tacos.
Slice 2 chicken breasts in half lengthwise for the Lemon Pepper Chicken.
Produce
Slice 1 cup mushrooms,thinly slice 1 carrot, and chop 1 yellow onion and 1 zucchini for the Hibachi Chicken, storing together in a container.
Slice 4 green onions for the Hibachi Chicken, storing separately.
Dice 1/2 red onion and chop 1/2 bunch cilantro for the Carne Asada Tacos.
Dice 1 red or yellow pepper, slice 1/2 cup mushrooms, and chop 1/2 cup broccoli and zucchini for the Mini Vegetable Lasagna Cups, storing together in a container.
Zest 1 tbsp of zest from a lemon then slice it for the Lemon Pepper Chicken.
Dice 2 Yukon gold potatoes and store in a container in water for the Lemon Pepper Chicken. Rinse before use.
Cut 1 head broccoli into florets for the Lemon Pepper Chicken.
Dairy
Grate 1/2 cup mozzarella cheese for the Mini Vegetable Lasagna Cups.
Sauces
Make the marinade for the Hibachi Chicken by mixing together 1 tbsp sesame oil, 2 tbsp soy sauce, 2 tbsp hoisin sauce. 4 cloves minced garlic and 1 tsp fresh minced ginger.
Make the mustard sauce for the Hibachi Chicken by combining 1/2 cup light mayo, 1 tbsp soy sauce, 1 tbsp rice vinegar and 1 tbsp dijon mustard in a small bowl.
Make the marinade for the Carne Asada Tacos by mixing together 1 tbsp olive oil, 1 tbsp orange, 1 tbsp lime juice, 1 tbsp soy sauce, 1 tbsp chili powder, 1 tsp cumin, 1 tsp paprika, 2 cloves minced garlic, 1 tsp orange and/or lime zest, 1/2 tsp salt and 1/2 tsp pepper.
Make sauce for the Lemon Pepper Chicken by combining 1 tbsp melted butter, 1/2 cup chicken broth, 1 tbsp lemon juice, 1 tsp lemon pepper and 2 cloves minced garlic in a small bowl.
Frequently Asked Questions
How much rice should I cook for two people?
A typical serving size of rice varies depending on the recipe and how it's used. I will usually aim for half a cup of cooked rice per person for a side dish and up to a full cup of rice per person it's part of the main dish. Because all rice is different, check the package instructions to see how much uncooked rice will yield a cup.
What size slow cooker should I have for a two person household?
A standard slow cooker size is 6-7 quarts which can make meals for 4-8 people comfortable. If you're hoping to have leftovers, I'd recommend getting a standard size slow cooker rather than a smaller one. If you have less counter space or prefer cooking fresh meals for you and your partner, you may opt for a 3 quart model instead.
How can I cook a romantic dinner for two?
If you're having a date night in, these romantic dinner ideas are perfect! If you really want to set the mood, put on some music, light some candles and pour a glass of wine while you cook together.
Think My Ingredient Prep System Will Work for You?
My web app, Dinner Prep Pro, is a customizable meal planning tool. Every week I send you a new customizable meal plan with grocery and prep ahead checklists that auto-populate, regardless of changes you make!
Join The Girl on Bloor Premium!
ZERO ADS!
Weekly Meal Prep Checklists
Bonus eBooks