Spinach Stuffed Chicken Roll Ups are filled with ricotta, mushrooms, sundried tomatoes and mozzarella, topped with marinara sauce.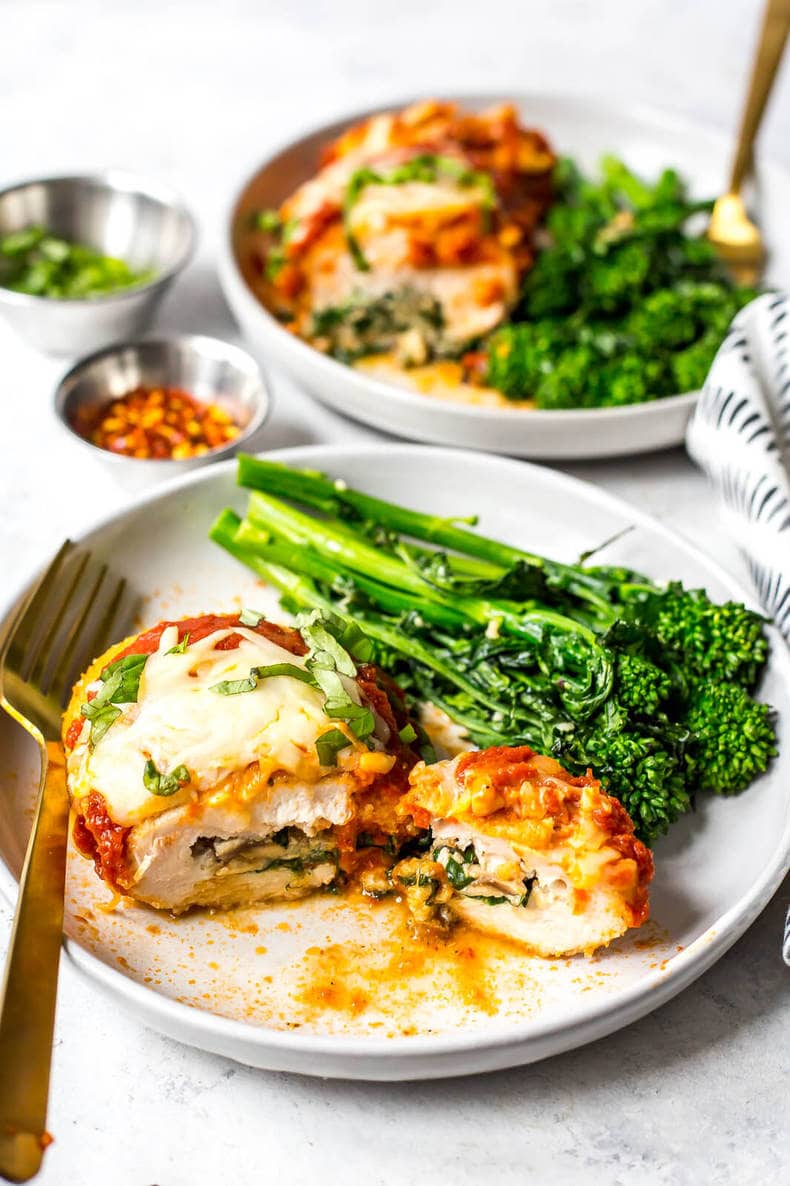 How to make chicken roll ups
Now I know the process for these chicken roll ups probably seems a bit overwhelming but I promise you it's super simple and easy!
Here's the step by step process:
Mix the stuffing together in a large bowl.
Add egg whites (or eggs!) and breadcrumbs to two separate bowls.
Add the filling to the chicken cutlets, then roll up and dip in egg whites, then breadcrumbs.
Add to a greased baking dish, then bake for 20 minutes.
Add tomato sauce and cheese, then bake another 10 minutes.
Ingredients in chicken roll ups
So get ready for the ultimate weeknight dinner…you're gonna LOVE these delicious chicken roll ups!
Stuffed with two different types of cheese, spinach, mushrooms and sundried tomatoes then topped with tasty marinara sauce and MORE cheese, these babies are bound to please even the pickiest eaters and the leftovers are BOMB!
How to make the stuffing
The stuffing for these roll ups is super simple to make. All you need is the following:
1/2 cup ricotta cheese
1 cup mozzarella cheese, divided
1 cup finely chopped fresh mushrooms
1/2 cup sundried tomatoes
1 cup finely chopped spinach
1/2 tsp each Salt and pepper
If you only have one type of cheese on hand, not to worry! Just sub in the amount of cheese that you're missing with the other kind. For example, add one more cup of ricotta cheese to the mix if you don't have any mozzarella on hand. You can also leave out any of the veggies that you don't want to add and replace it with something else or just leave as is.
Chicken breading
For the breading, you will dip your chicken in egg whites and then in breadcrumbs. It's a simple combination that gives the chicken a chicken parmesan type of feel. If you only have eggs on hand and don't feel like separating the whites (I usually use a carton of egg whites for convenience), you can go ahead and just use eggs instead. The breading will be similar but may have slightly more calories.
To save time and calories, you can actually leave the breading off the chicken altogether. Once you've rolled up your cutlets and stuffed them, just pop them into the oven to bake. Easy peasy!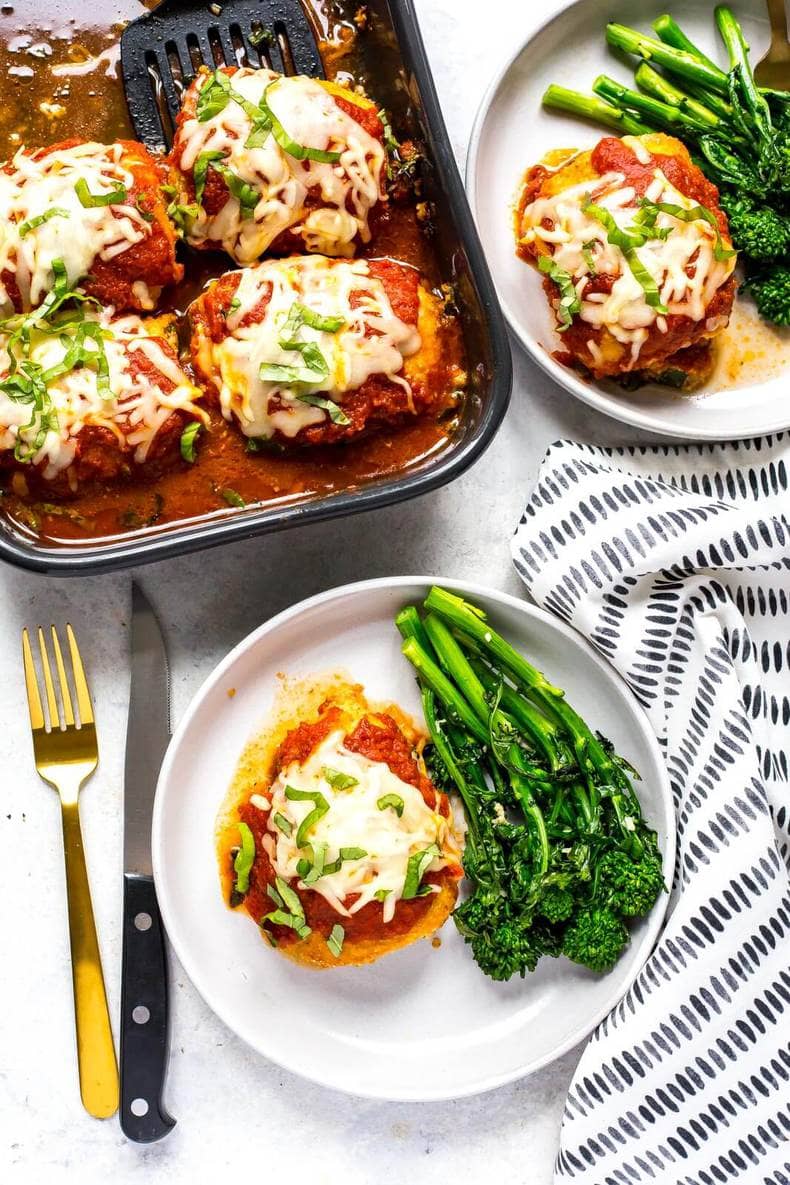 Sauce for chicken roll ups
Part of me kind of wishes I had even experimented and tried a different sauce other than the marinara – I just used my favourite jarred tomato sauce but you can easily turn a can of crushed tomatoes into a delicious sauce with a little bit of olive oil, brown sugar, and salt & pepper so don't be afraid to go hunting through your pantry if necessary.
An alfredo or light cream sauce would also make this spinach stuffed chicken breast amazing – a simple blend of olive oil, garlic, flour, milk and parmesan cheese is all that's standing between you and a delectable cream sauce so if you're feeling like a richer meal you can check out my super easy alfredo sauce in this Broccoli Pasta Alfredo post here.
What type of chicken to use
For this recipe you will be using chicken breast cutlets – you can usually find them pre-cut along with other types of chicken. However, you will be paying extra for the convenience of them already being cut, so if you're looking to save money you can use chicken breasts and then cut them in half lengthwise. Each breast will produce 2 cutlets so you would just need 3 chicken breasts for this recipe instead of 6 cutlets.
I would not recommend using any other type of chicken than boneless, skinless chicken breasts just because they will be too difficult to stuff that way.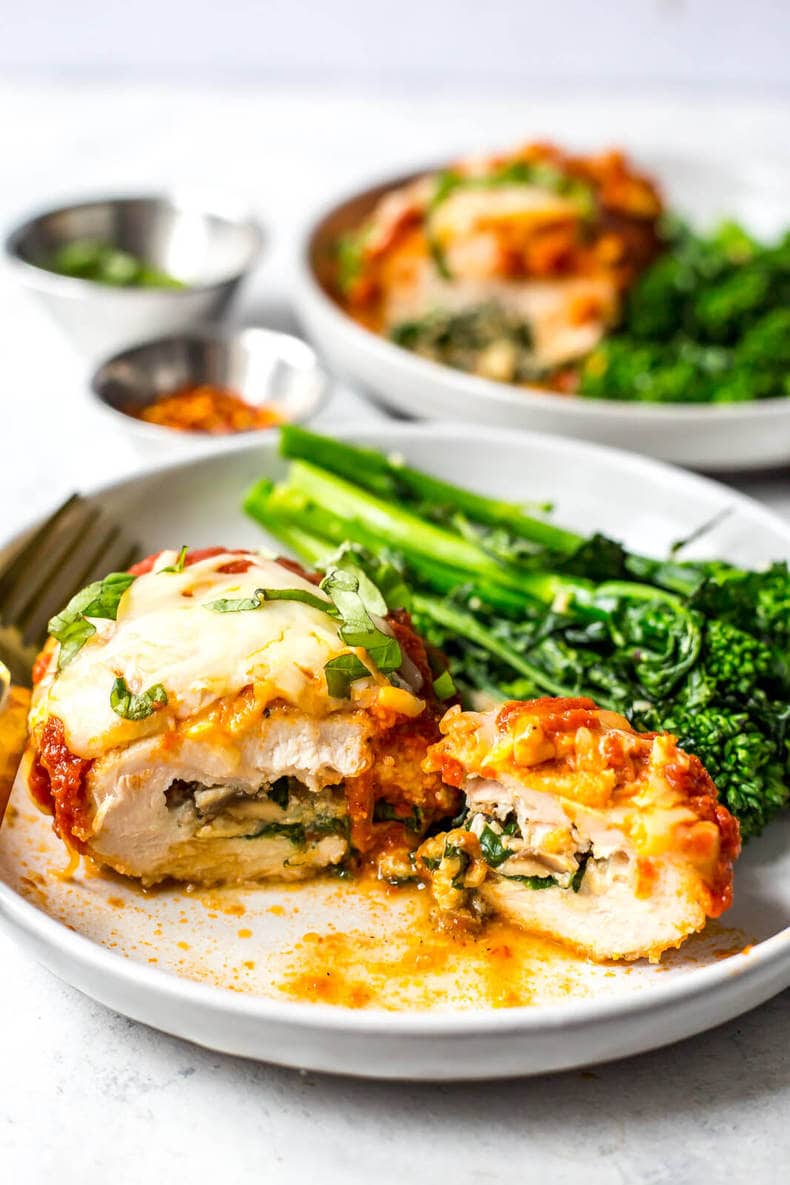 Storing and reheating this recipe
The leftovers from this meal will last in the fridge up to 5 days; store in glass meal prep containers are those are the easiest containers to get equal individual servings. They're also great because you can throw them right into the microwave straight from the fridge!
To reheat, sprinkle a bit of water overtop and cover with a paper towel. Reheat in the microwave for 2-3 minutes until chicken is hot all the way through. Serve with your choice of side and enjoy!
Can you freeze chicken roll ups?
Yes you can! To freeze, store in individual serving sizes in glass containers. You can also store the roll ups in foil containers if you decide to reheat them in the oven. To reheat from frozen, either pop into the microwave for 6-7 minutes, or reheat in a 350 F oven for 45 minutes. These rollups really do make a great freezer meal because you can freeze and reheat, then make your side dish of choice fresh so that it doesn't feel like a freezer meal, and you still save a ton of time.
What to serve with chicken roll ups
Because the chicken is so filling, you really only need to pair these chicken roll ups with a simple green side dish – I chose broccoli rabe (also known as rapini) because it cooks so quickly in the oven and you can have it roasting while you're working on stuffing and rolling the chicken.
Here are some other great side dish ideas for these chicken roll ups:
Side salad
Rice
Roasted potatoes
Pasta
Roasted or steamed vegetables such as broccoli, carrots or cauliflower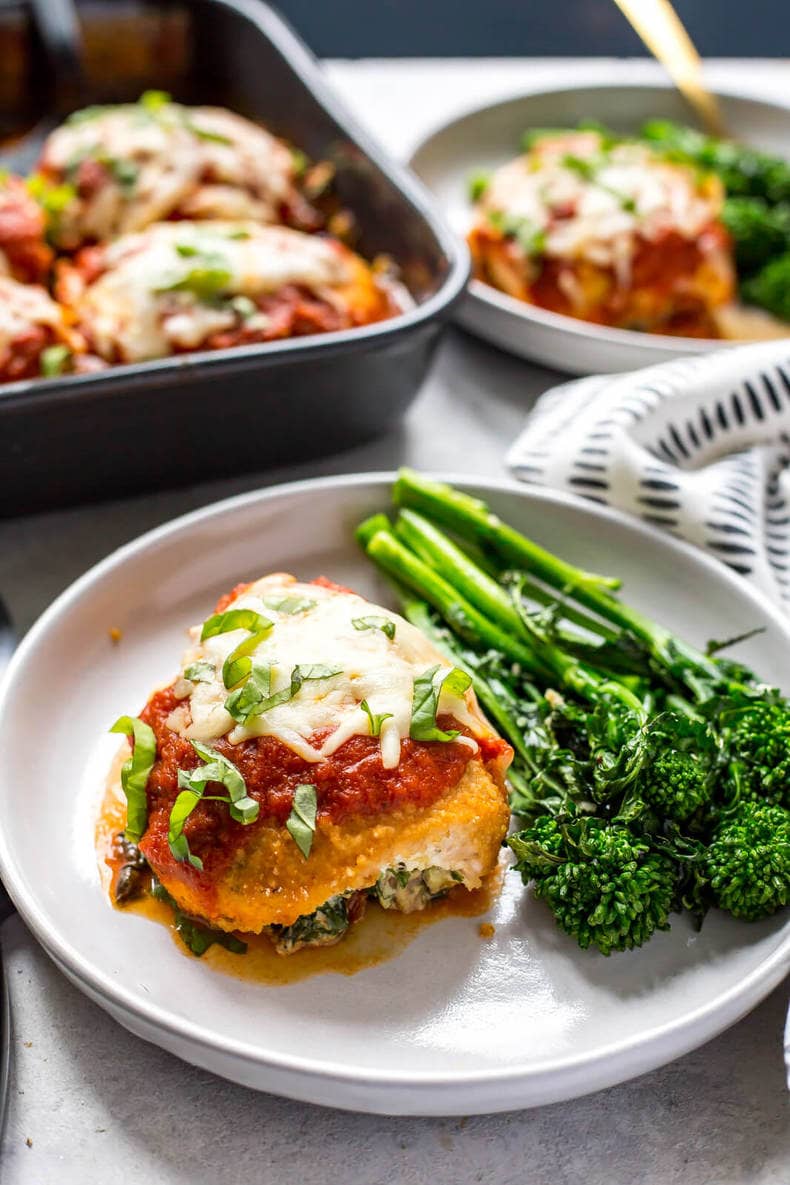 More stuffed chicken recipes
If you like these stuffed chicken roll ups, you're guaranteed to love these other recipes! Some of them are hasselback chicken recipes which involves cutting the chicken overtop to create slits, then stuffing the slits with toppings. Others are traditional stuffed chicken recipes. Either way, there's one to pique your fancy.
Meal prep tools for this recipe
Grab some glass meal prep bowls if you plan on using these chicken thigh marinades for meal prep lunches or dinners.
I get all my free-range chicken from Butcher Box, conveniently delivered to me frozen.
Get a meat thermometer to make sure your chicken is cooked through
Easy Spinach Stuffed Chicken Roll Ups
Spinach Stuffed Chicken Roll Ups are filled with ricotta, mushrooms, sundried tomatoes and mozzarella, topped with marinara sauce.
Print
Pin
Rate
Ingredients
3

egg whites

1

cup

breadcrumbs

6

chicken cutlets

1

tbsp

olive oil

Salt & pepper to taste

1/2

cup

ricotta cheese

1

cup

mozzarella cheese, divided

1

cup

finely chopped fresh mushrooms

1/2

cup

sundried tomatoes

1

cup

finely chopped spinach

1/2

tsp each

Salt and pepper

1

cup

jarred marinara sauce

1

tbsp

fresh chopped basil (optional)
Instructions
Preheat oven to 400 F. Grease an 8x11 baking dish with 1 tbsp of olive oil and set aside. Add egg whites to a large bowl and breadcrumbs to another large bowl and set aside.

In a large mixing bowl, mix together ricotta, 1/2 cup mozzarella cheese, mushrooms, sundried tomatoes, spinach and 1/2 tsp salt and pepper.

Season chicken cutlets with salt and pepper. Lay each cutlet flat and fill with a thin layer of ricotta-spinach stuffing mix. Roll up chicken cutlets, then dip in bowl of egg whites, then bowl of breadcrumbs.

Add each chicken roll up to the greased baking dish and bake in the oven for 25 minutes. Remove from oven, top with marinara sauce and cheese and bake another 5-10 min until cheese is melted.

Garnish with basil (optional) and serve with your choice of green (I roasted a bunch of broccoli rabe with 1 tbsp of olive oil, a pinch of salt and two cloves of garlic at 400F for 10 min). Enjoy!
Video
Nutrition
Calories:
334
kcal
|
Carbohydrates:
25
g
|
Protein:
31
g
|
Fat:
12
g
|
Saturated Fat:
5
g
|
Polyunsaturated Fat:
1
g
|
Monounsaturated Fat:
3
g
|
Cholesterol:
71
mg
|
Sodium:
722
mg
|
Potassium:
147
mg
|
Fiber:
4
g
|
Sugar:
7
g
|
Vitamin A:
1000
IU
|
Vitamin C:
5.8
mg
|
Calcium:
240
mg
|
Iron:
2.9
mg