Are you struggling to meal prep for yourself? Here are all my tips and tricks for easily meal prepping for one while reducing food waste!
How do you shop and cook for one?
When you live alone, it can be hard to find recipes with less than four servings. I put together some of my top tips and tricks when it comes to shopping and cooking for one so you can reduce food waste and not have to eat the same thing several days in a row!
Have a partner or roommate? Check out this guide on cooking for two instead!
Cut all recipes in half
The first thing you need to do is cut the recipe in half. Go through each ingredient and write or type out what half of it would be – so if the original recipe calls for one bell pepper, you'd only need half a bell pepper.
If you look at the recipe cards on each of my blog posts, you can actually hover over the servings and increase or decrease to the size you need. Easy-peasy!
Buy only half the ingredients
You don't want to buy a bunch of food you don't need and won't eat – that's a waste of food and money. Buy half the ingredients you'd need for the normal recipe. This might require a bit of creative thinking. For example, if you need a whole bunch of broccoli, you can just buy a small crown instead, or instead of buying a bag of carrots, I'll just buy one or two fresh ones.
Use recipes with overlapping ingredients
When you're coming up with your meal plan for the week, pick recipes that have overlapping ingredients so you can cut down on food waste. So, if you're making a stir fry that requires one chicken breast and half a red pepper, you could try and find a similar recipe that would use up the other chicken breast (since they normally come in packs of two) and the other half of the red pepper. Or if you have one recipe that only needs half a bag of coleslaw, find a corresponding recipe that will use the other half! You'll still get tons of variety but you won't be wasting any food.
Wanna Learn How To Meal Prep?
My meal planning service, Dinner Prep Pro, removes the guesswork and helps you get dinner on the table in 15-20 minutes each night. My meal prep checklists only take 1 hour each week!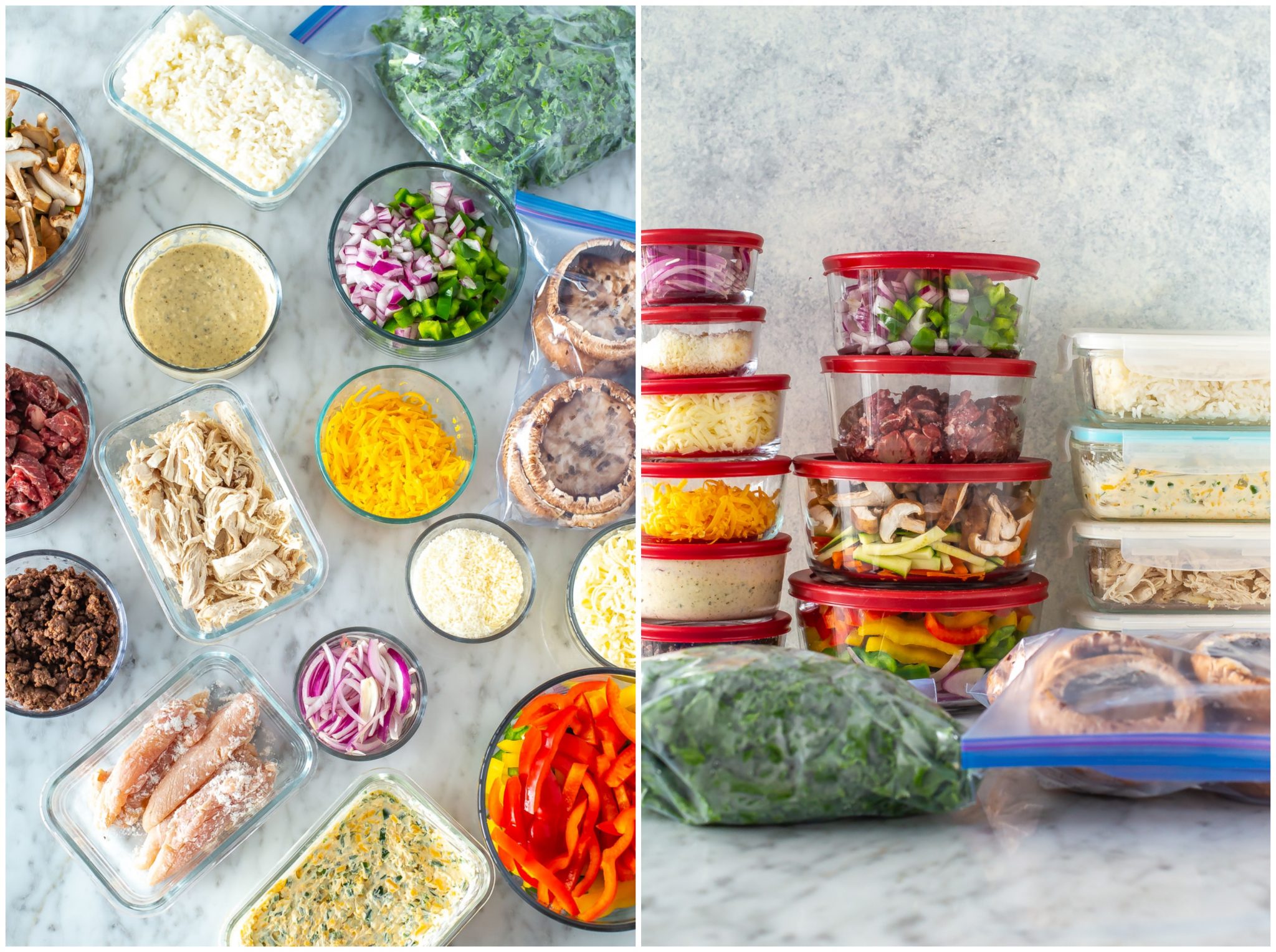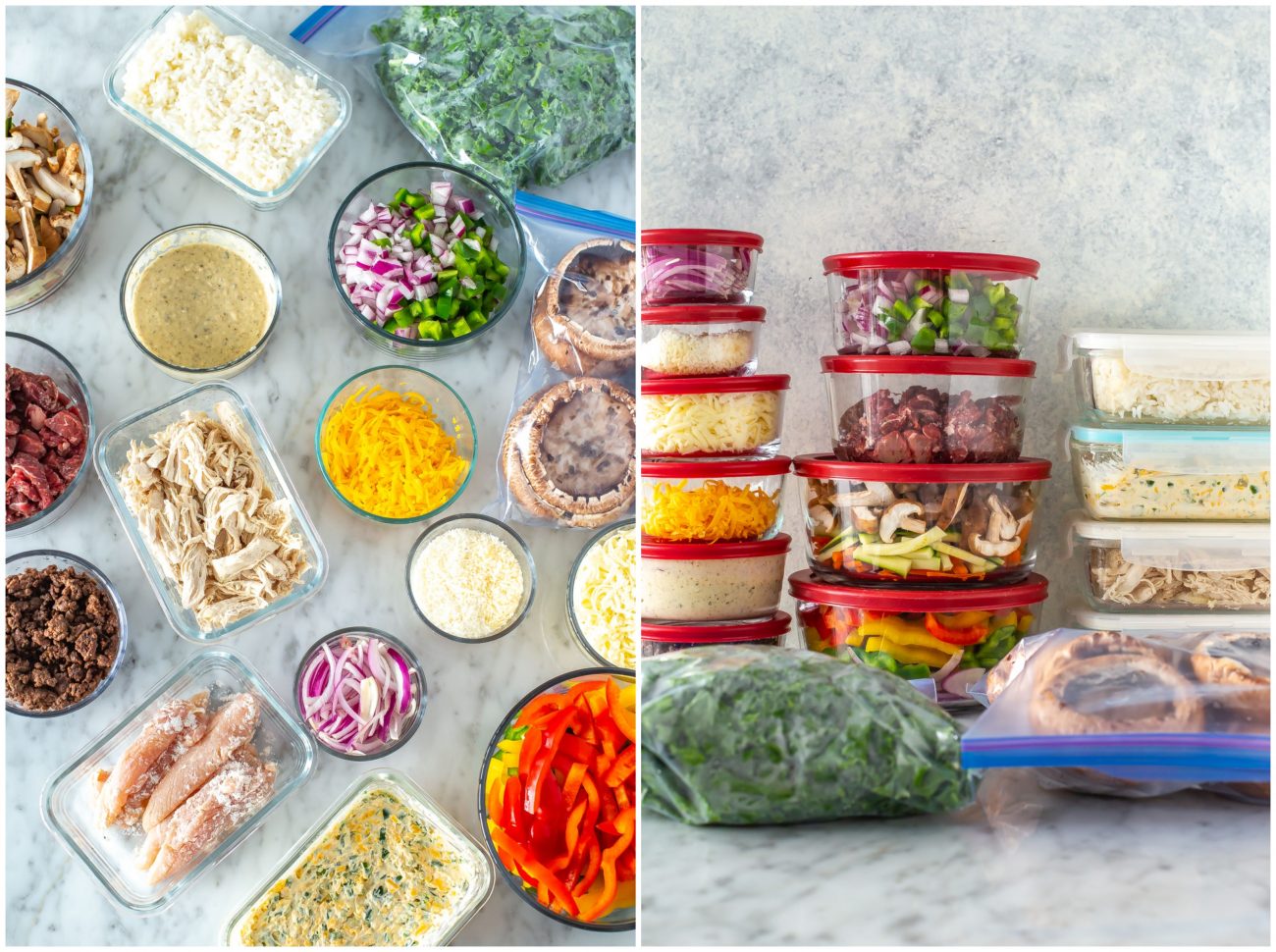 Skip the Ads and Get Right to the Recipes!
ZERO ADS on over 600 recipes!
Weekly Meal Plans, Grocery & Prep Lists
Bonus eBooks
Example meal plan for 1 person
I typically make 4-5 recipes in a given week when meal prepping for myself only – the key is not to make too much food! After cutting the recipes in half, you have two servings of each recipe to get you through the week.
On days when I have not planned a meal to cook, I'll make a quick meal such as frozen potstickers, a grilled cheese, breakfast for dinner or another type of meal I can whip up with any leftovers or staples I always have on hand in the kitchen. This way, I have flexibility to deviate from my meal plan while also not wasting food and making too much!
Here's an example of what a typical plan might look like for me as a single person:
Day 1: Stuffed Portobello Mushrooms
Day 2: Potsticker Bowls
Day 3: Kalbi Beef Tacos
Day 4: Shrimp Pasta Primavera
Watch my Youtube video to see how to make these recipes for one
Check out my YouTube video for all my secrets on prepping, shopping and cooking for one person.
How do you meal prep when living alone?
Meal prep when you live alone is a lot simpler than you think. It can actually be easier than having to meal prep for multiple people because you won't have to juggle anyone else's food preferences or make as much food.
Traditional meal prep
You'll just pick a day to cook everything all in one go then eat your leftovers throughout the week.
Pick a day to cook everything all in one go, then eat your leftovers throughout the week. Weekends are a popular option for meal prep because you've got lots of time to prep, cook and clean up afterwards. That being said, you can meal prep on whatever day works best for you.
After you've cooked each meal for the week, make sure to store it in airtight glass containers. Since you'll be cutting all your recipes in half, you'll have one serving for lunch and one serving for dinner, so you can mix and match throughout the week. You can even meal prep your breakfast to save more time in the mornings!
Make sure to check out my meal prep resources section for inspiration including my top meal prep recipes for breakfast, lunch and dinner.
Ingredient prep
While some people prefer to do traditional meal prep, I prefer to ingredient prep. I like cooking each night and making my food fresh, and it also minimizes clean-up because you're not making a huge mess on the day when you cook all your recipes.
All I have to do is prep a bunch of my ingredients ahead of time (normally on the Sunday) and then when I'm ready to cook the day of, I just take my ingredients out of the fridge and make the recipe fresh. It cuts down on the cooking time by half and is a total game changer!
Here are my steps for ingredient prep:
Make a prep ahead checklist.
Sort my ingredients into grains, proteins, sauces and veggies.
Prep the ingredients for each category.
Store everything in airtight glass containers (or mason jars for sauces).
And there you have it! Now all your ingredients are ready to go for the week ahead.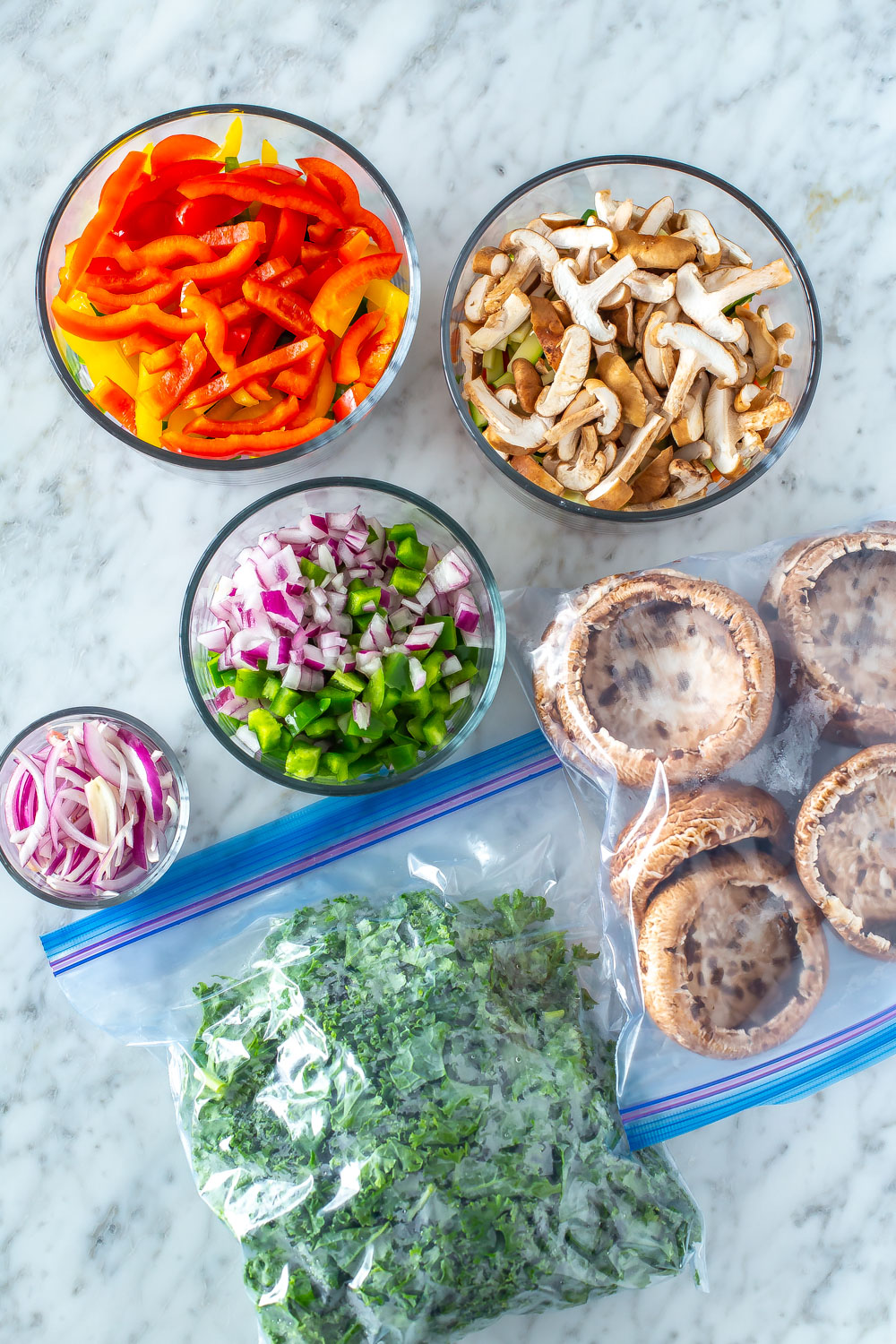 Example prep ahead plan for one person
Ready to get started on meal prep for one? You can use this meal prep plan below to get into the swing of things. Follow the plan below on a Sunday to have all your ingredients ready for the week ahead.
Grains
There actually aren't any grains for this week's meal plan, so you can move right on to the protein.
Proteins
Cook 1 chicken breast in a pot of boiling water on the stove for 15 minutes for the stuffed portobello mushrooms. Shred it with a fork when it's done cooking.
Defrost and peel half a pound of shrimp for the pasta primavera.
Veggies
Slice 2 green onions for the potsticker bowls.
Make the citrus slaw for the kalbi beef tacos. Mix together half bag of coleslaw in a large bowl with 1 tbsp. vinegar, 1 tbsp. sugar, ½ tsp. sunflower oil, ½ tsp. orange zest, ½ tsp. salt and ¼ tsp. pepper.
Slice up 1 red onion. Dice half for the pasta primavera.
Use the other half of the sliced red onion to make the pickled red onions. Add them to a mesh sieve, pour some boiling water over top then mix in a mason jar with 1/3 cup of vinegar, ¼ tsp. sugar and ¼ tsp. salt.
Cut up half a head of broccoli florets for the pasta primavera.
Zest half a lemon for the pasta primavera.
Dice ¼ red pepper, ¼ red onion and 2 tbsp. of parsley for the stuffed portobello mushrooms. Make the stuffed mushroom filling by mixing together the shredded chicken, parsley, diced red pepper, diced red onion, 2 tbsp. of breadcrumbs, 1 clove of minced garlic, ¼ tsp. salt, ¼ tsp. pepper and ¼ cup of pre-shredded cheddar cheese.
Sauces
Make the steak marinade for the kalbi beef tacos by mixing together 1 tbsp. of sesame oil, 1 tbsp. of soy sauce, ½ tbsp. of adobo sauce from a can of chipotles, ½ tbsp. sriracha, 2 cloves of minced garlic, 1 tbsp. of freshly squeezed orange juice, ½ tsp. lime juice and ½ tsp. dried ginger.
Cheeses
Grate 1/3 cup of parmesan cheese for the pasta primavera.