These Stuffed Portobello Mushrooms are the BEST EVER! With chicken, breadcrumbs, cheese & red pepper, this will become your go-to recipe.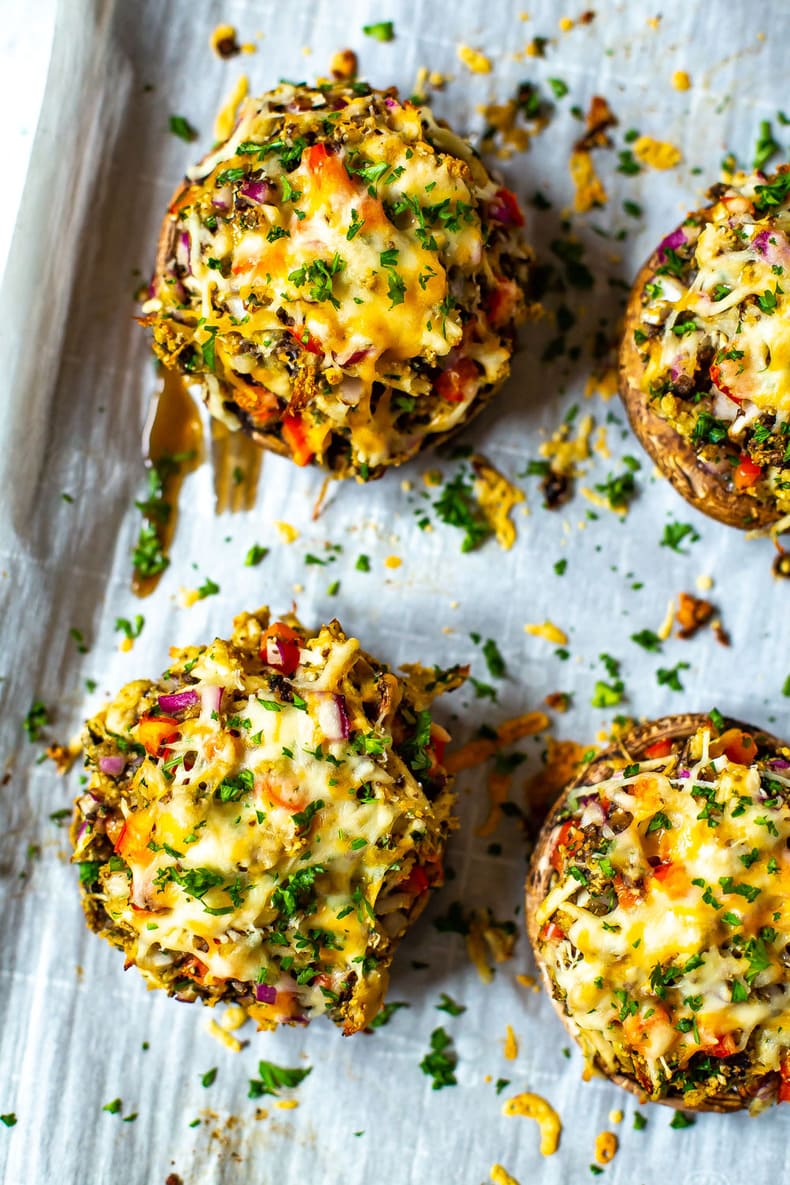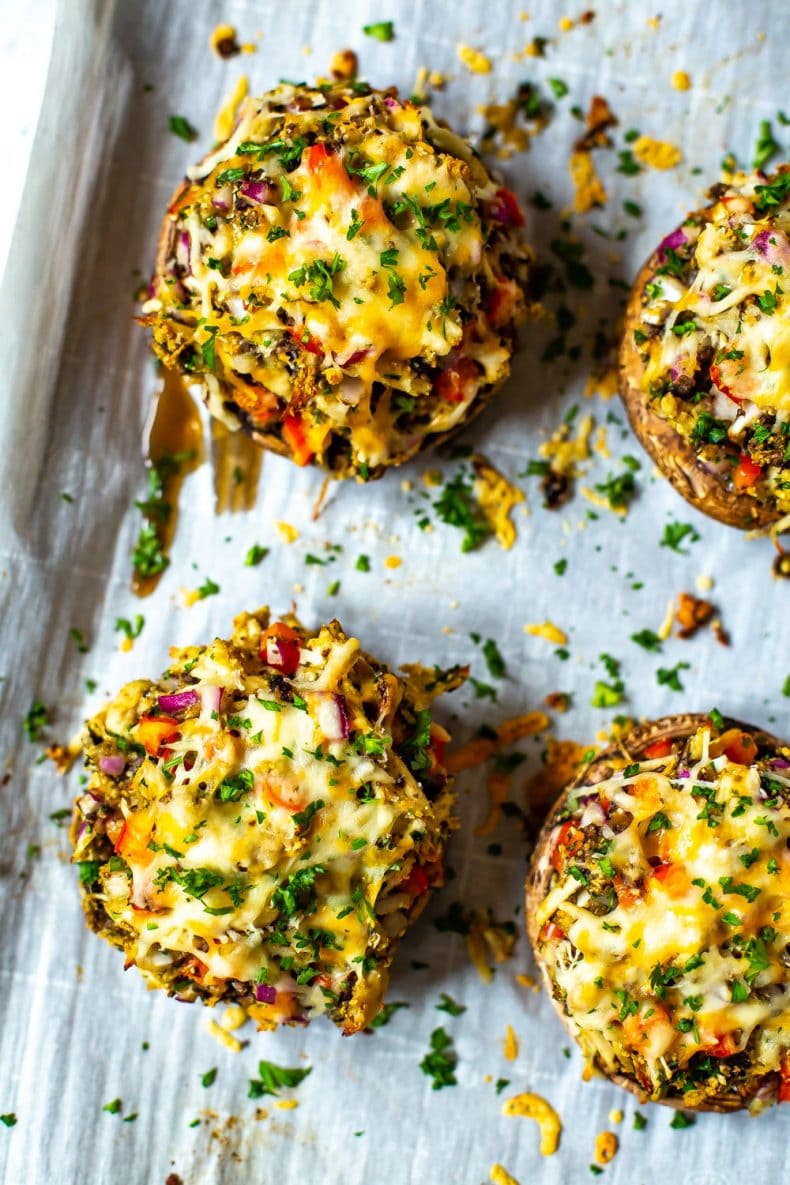 What's so special about these portobello mushrooms?!
I have been making these portobello mushrooms since 2011!!! I initially found the recipe in Clean Eating magazine and have made several tweaks over the years to get them just right. I can't find the original recipe on Clean Eating but here's a similar version.
I keep returning to these stuffed portobellos time and again because I'm convinced they are the absolute BEST stuffed portobello mushrooms in existence. Friends and family rave about this recipe and it's one of those go-to recipes that I turn to when I'm not quite sure what to make on a weeknight.
They reheat really well and the chicken, breadcrumb, cheese and vegetable stuffing is so easy and delicious. You can even cheat and use rotisserie chicken to cut down on prep time – I have more meal prep hacks below the more that you get into this post so keep reading for some handy tips and tricks to making the best portobello mushrooms ever!
How to scrape out mushroom gills
You'll want to very gently scrape out the mushroom gills and reserve them for the mushroom stuffing.
First, you'll want to gently cut the stem (you can chop the stem up finely and use it as part of the stuffing too), then start to scrape out the gills with a spoon.
Try to be as gentle as possible because you can crack the mushroom cap and you don't want that to happen or the stuffing will spill out.
Leave about 1/4 to 1/2 an inch of portobello cap so that you have ample room to stuff the mushroom but the mushroom isn't so thin that it will collapse. Once you have your mushrooms scooped out, you're good to start work on the stuffing.
Mushroom stuffing ingredients
Though the stuffing looks like it contains a ton of ingredients, they are very easy to prep and come together quicker than you think!
You'll need the following for the stuffing:
reserved mushroom gills
red pepper
red onion
shredded cooked chicken
breadcrumbs
garlic
egg
parsley (fresh or dried though I highly recommend fresh)
salt & pepper
shredded cheese (you can use any kind…I buy pre-shredded cheddar cheese to save time)
Mix it all together in a large bowl, then divide the mixture evenly among all your mushrooms. The mushrooms should be overflowing a little bit and then you will top them with more cheese before baking for 20 minutes at 350 F. You want a lower oven temperature to ensure the mushrooms don't overcook and spill out the stuffing, contrary to other recipes I've seen.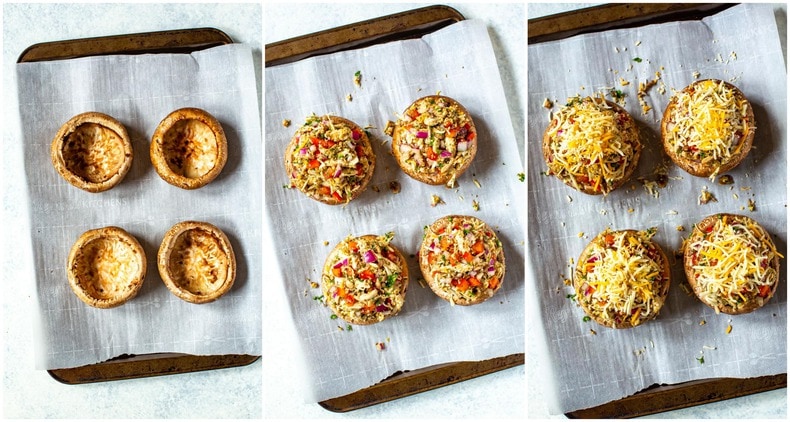 Stuffing substitutions
Though I'm biased and believe this is truly the BEST stuffed portobello mushroom recipe, you should know that it's pretty versatile! You can add pretty much any veggie or protein to the stuffing.
Here are some other ideas to swap in:
Crumbled cooked sausage
Bacon
Cooked ground beef
Little broccoli florets
Sliced cherry tomatoes
Chopped up zucchini
Other types of fresh herbs, such as basil
I would recommend keeping the breadcrumbs, cheese and eggs just to ensure the same texture of stuffing but even these are technically optional.
Making stuffed mushrooms low carb
As I mentioned earlier, the breadcrumbs are optional so you can definitely leave them out and just add your proteins and veggies to make these mushrooms low carb. I would add a bit of extra meat and cheese as vegetables sometimes add extra water, and this way you'll be getting more protein to keep you feeling full for longer.
Making vegan stuffed portobello mushrooms
You can definitely make these portobellos vegan as well! Just leave out the meat and cheese and add extra veggies. I would recommend adding a third veggie into the mix or you can even add cooked rice or cooked quinoa to make it a more substantial meal.
Meal prep hacks for this recipe
Here are some ideas to make these portobellos faster and more efficiently:
Use rotisserie chicken instead of cooking chicken fresh
Cook and shred chicken one or two days in advance
Use frozen shredded chicken
Use leftover chicken breast from other meals (I meal prep chicken based on this baked chicken recipe)
Chop your red peppers and red onions ahead of time
Use pre-shredded cheese to cut down on prep time
Can you make stuffed mushrooms ahead of time?
Though these mushrooms reheat really well, I wouldn't recommend making them ahead of time – the taste will be great but they just won't look as appetizing if serving them to guests. What you can do, however, is make the stuffing up to 2 or 3 days in advance. You can also scrape the mushrooms out up to 1 or 2 days in advance so you do have flexibility in prepping.
Are these an appetizer or main dish?
In all honesty, I recommend these mushrooms be eaten as a full meal and not an appetizer, mainly because these mushrooms are too big to be eaten with your hands and they are very filling considering how much chicken they contain.
They do make a great main dish because they have protein, carbs and veggies all in one. All you need is a side salad and you've got a full meal. For that reason you can definitely serve them to guests, I just recommend you do so as a main.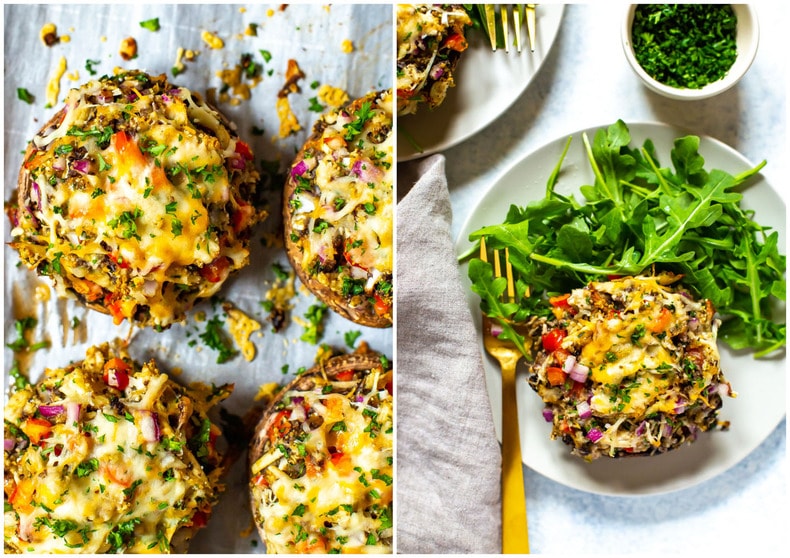 Reheating stuffed mushrooms
If you've made these for dinner and are looking to reheat as another meal, you can store them up to 3 days in the fridge and microwave on high for 2-3 minutes. I do recommend stirring the stuffing gently mid-way through the reheating time just to ensure even heating – when the mushrooms are this filled up with stuffing the center will take a bit longer to reheat.
Can you freeze stuffed portobello mushroom caps?
Yes, you can freeze them! Store cooked stuffed mushroom caps in an airtight container in the refrigerator for up to three days. If you won't be using them up within that time, then it's better to freeze them instead.
First, allow the cooked mushrooms to cool completely. Once they're cool, place the stuffed mushrooms in a single layer on a baking sheet and transfer them into your freezer. Once the mushrooms have frozen, transfer them to airtight containers or heavy-duty freezer bags.
Cooked stuffed portobellow mushroom caps can be kept in the freezer for up to six months, but may start to lose their texture slightly after two months.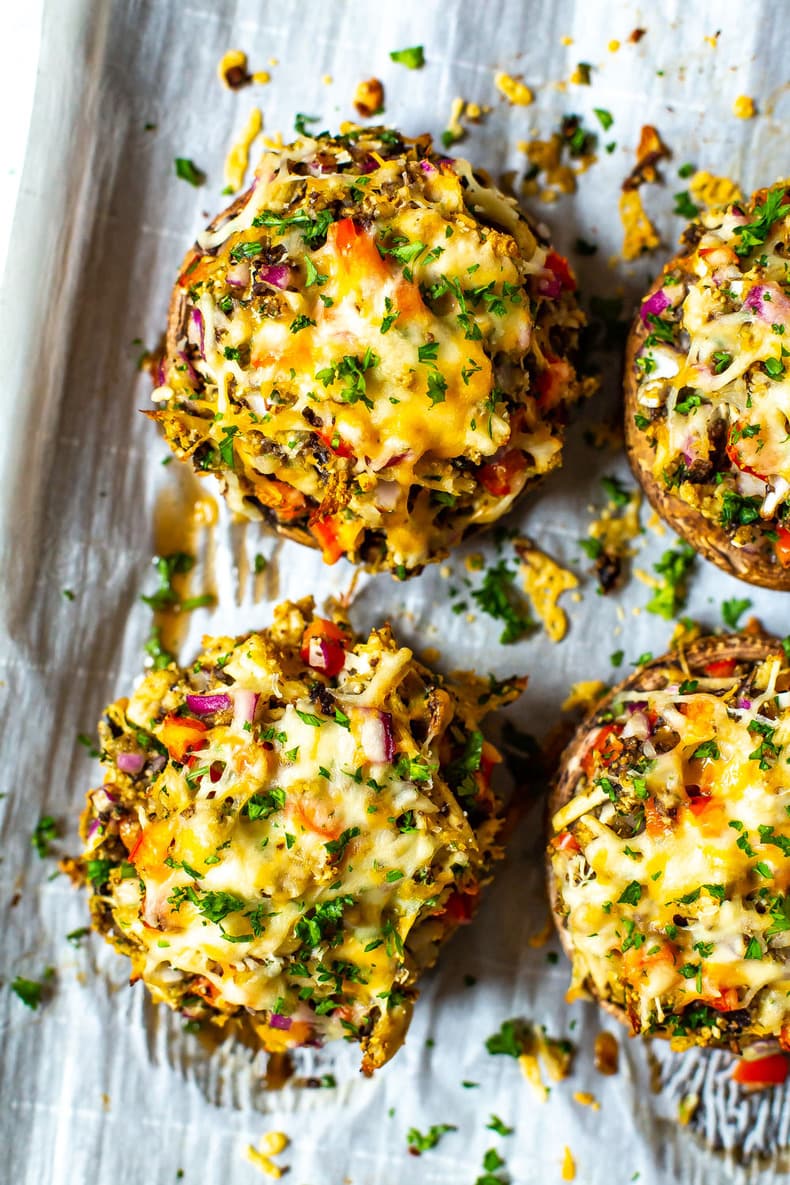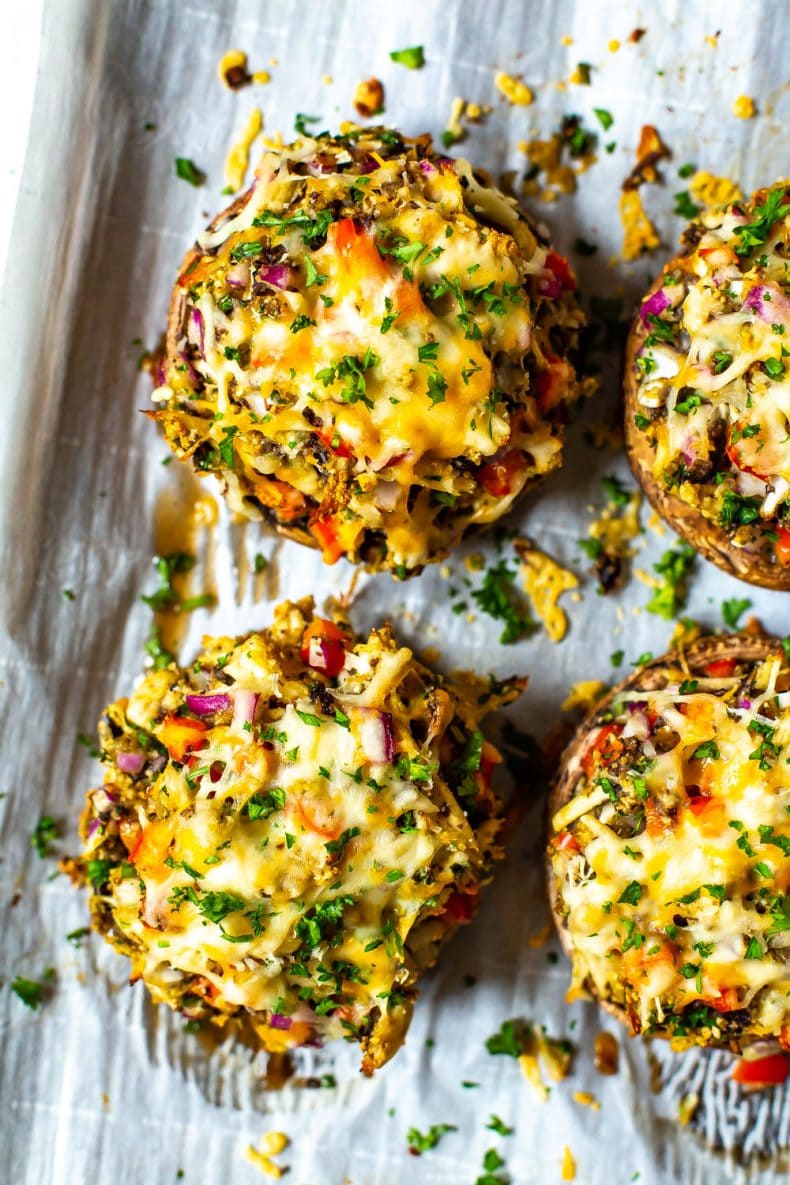 How do you store portobello mushrooms?
Mushrooms should be stored in the refrigerator as soon as possible after you bring them home from the market. You want them to be as firm as possible for this recipe otherwise the mushrooms will fall apart from the pressure of the stuffing.
There are several ways to store fresh mushrooms. Any of these methods should keep the mushrooms fresh for about one week:
in their original packaging
in paper bags
wrapped in paper towels
in a resealable plastic bag – If you choose this method, leave the bag partly open to allow moisture to escape.
Since mushrooms are mainly water (about 80%), they don't freeze well. What usually happens is that they go soft and become slightly mushy when frozen. Oddly though, after mushrooms are cooked, they freeze pretty well!
How do you choose good portobello mushrooms?
Here are a few tips to help you pick out the best mushrooms:
Buy loose. Opt for buying loose mushrooms rather than packaged ones so that you can inspect each mushroom.
Visual inspection. Choose mushrooms that have whole, intact caps that feel very firm. The caps should have a smooth appearance, with minimal discoloration or dry patches.
Pick it up. The mushroom should look plump and feel firm. Avoid any mushrooms that feel moist or slimy, or too soft.
Check the gills. Flip the portobello over and look at the gills (the light, feathery "ribs" under the cap). The gills should be dry and clean.
Do you wash portobello mushroom caps before cooking them?
Before you make this recipe, you should gently brush the mushroom caps to remove any traces of dirt. I use paper towel to do this. Then, give them a quick rinse in cold water and pat them dry with clean paper toweling.
Regardless of the type of mushroom you're cooking with, it's always smart to give them a rinse. But wash mushrooms before slicing them. Cut mushrooms absorb a lot more water than uncut mushrooms. Also, to prevent them from becoming slimy, wait to wash mushrooms until just before you are going to use them.
Want to Learn How to Meal Prep? Join Dinner Prep Pro!
Our meal planning service removes the guesswork and helps you get dinner on the table in 15-20 minutes each night thanks to our prep ahead checklists. It takes just one hour of ingredient prep on a Sunday!
Looking for more baked stuffed mushrooms?
Try some of my other stuffed portobello mushroom recipes! These different twists on the classic are SO delicious.
Meal prep tools for this recipe
Grab some glass meal prep bowls if you plan on turning this 30-Minute Ahi Poke Bowl into your weekly lunches.
I get all my free-range chicken from Butcher Box, conveniently delivered to me frozen.
Get a meat thermometer to make sure your chicken is cooked through
Use these Ziploc bag holders if you're marinating the chicken then freezing it
Freeze this recipe in glass microwave-safe bowls up to 3 months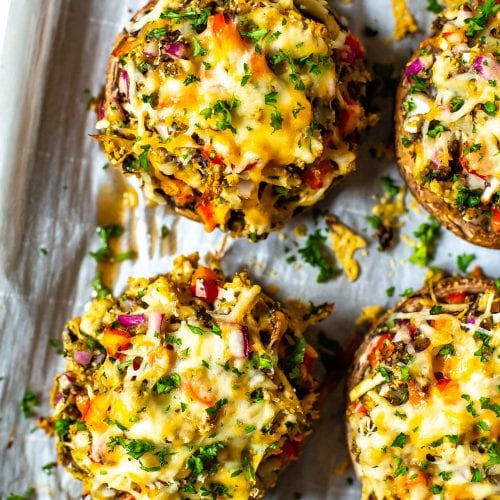 Stuffed Portobello Mushrooms
These Stuffed Portobello Mushrooms are the BEST EVER! With chicken, breadcrumbs, cheese & red pepper, this will become your go-to recipe.
Print
Pin
Rate
Servings: 4 servings
Calories: 313kcal
Ingredients
1 tbsp olive oil, divided
4 medium-sized portobello mushrooms
2 chicken breasts (or 2 cups leftover cooked chicken)
1/2 red pepper, diced
1/2 red onion, diced
1 egg optional – just acts a binder, but the cheese will do that as well
1/4 cup breadcrumbs
2 cloves garlic, minced
1/2 tsp each salt & pepper
1/4 cup fresh parsley, chopped
1 cup shredded cheddar cheese, divided
Instructions
Preheat oven to 400 F. Add 1/2 tbsp of olive oil to chicken and season with salt & pepper. Bake for 15 minutes until chicken is just barely cooked through. Let cool then shred or chop into small pieces. Alternatively, cook chicken in a large pot of boiling water for 15 minutes, then shred chicken.

While chicken is cooking, de-stem and scrape out the portobellos, reserving inside mushroom gills and disposing of stems. 

Add mushroom gills to a large bowl and toss with cooked chicken, red pepper, red onion, egg, breadcrumbs, garlic, salt & pepper, parsley and half the cheese. Change oven temperature to 375 F. 

Add filling to mushroom caps then top with remaining cheese. Bake in oven for 18-20 minutes until mushroom caps are cooked through and cheese is melted. Serve and enjoy!
Video
Nutrition
Calories: 313kcal (16%)Carbohydrates: 10g (3%)Protein: 35g (70%)Fat: 14g (22%)Saturated Fat: 7g (44%)Cholesterol: 142mg (47%)Sodium: 380mg (17%)Potassium: 831mg (24%)Fiber: 1g (4%)Sugar: 3g (3%)Vitamin A: 840IU (17%)Vitamin C: 21.4mg (26%)Calcium: 234mg (23%)Iron: 1.5mg (8%)