Learn the secret to the crispiest Air Fryer brussels sprouts – say hello to the perfect fall side dish with garlic, parmesan and balsamic.

How to make brussels sprouts in an Air Fryer
Preheat Air Fryer to 400 degrees. Wash and prepare brussels sprouts (cut ends and slice in half) then toss with olive oil, salt and pepper.

Cook brussels sprouts for 7 minutes. Remove basket and toss brussels sprouts, then air fry another 5 minutes. Remove the basket once more, then toss with balsamic vinegar, honey and garlic.

Air fry coated brussels sprouts for 2 more minutes.

When brussels sprouts are done, sprinkle with parmesan cheese. Serve and enjoy!
Ingredients and substitutions
Brussels sprouts
Olive oil – any neutral oil such as grape seed oil, canola oil or avocado oil can be used as a substitution for olive oil.
Salt & pepper (to taste)
Balsamic vinegar – red wine vinegar mixed with maple syrup or a balsamic vinaigrette can be used as in place of balsamic vinegar.
Honey – agave syrup, maple syrup or brown sugar syrup can be used in place of honey.
Garlic – use fresh or jarred minced garlic. Garlic powder can be used in a pinch but fresh garlic is recommended.
Parmesan cheese – nutritional yeast is a great dairy-free alternative to parmesan cheese, otherwise asiago cheese can be used in place of parmesan cheese.
Are brussels sprouts good for you?
Brussels sprouts are a high fibre root vegetable that is really comparable to cabbage. In fact, they're sometimes described as mini cabbages because they come from the same plant as cabbage. They're a high nutrient vegetable that makes for the perfect side dish when you're looking to incorporate some healthy greens into your lunches.
Brussels sprouts have tons of vitamins, minerals and antioxidants within them. One cup of brussels sprouts also contains around 4 grams of protein! They're known to be an anti-inflammatory vegetable that lowers the risk of heart disease and improves eye sight! Of course, feel free to do more research on these claims but they had me sold at anti-inflammatory!
How to avoid soggy brussels sprouts
Brussels sprouts are fairly easy to throw together, but with a few minor mistakes, you may notice that the brussels sprouts cooked on the soggy side rather than crispy. Here are some of my favourite tips to ensure you get the crispiest brussels sprouts:
Make sure all of the brussels sprouts are coated evenly with olive oil. Once the brussels sprouts are evenly coated and have a shiny look, they're ready to be roasted
Trim stems and cut larger brussels sprouts into smaller pieces, while keeping smaller brussels sprouts in tact or cut in halves
Avoid overcooking the brussels sprouts
Roast with olive oil and salt for a few minutes before adding in additional seasoning
Want to Learn How to Meal Prep? Join Dinner Prep Pro!
Our meal planning service removes the guesswork and helps you get dinner on the table in 15-20 minutes each night thanks to our prep ahead checklists. It takes just one hour of ingredient prep on a Sunday!
How to serve brussels sprouts
Brussels sprouts are the perfect side dish in the fall season. They pair beautifully with Thanksgiving dinner and other general fall flavours. If you're looking for the best way to serve your brussels sprouts, try these ideas:

Storing and reheating
To store this side dish for later, place cooked Brussels sprouts in a glass meal prep container once cooled to room temperature. Once stored, the brussels sprouts will last in the fridge for up to 4 days.
To reheat, add the cooked Brussels sprouts to a baking sheet and lightly oil with olive oil or another neutral oil. Reheat in the oven at 350 degrees until it is heated all the way through. Sprinkle with more grated parmesan if desired. You flash this dish in a microwave for 1-2 minutes. Be careful as they may become soggy.
How to freeze brussels sprouts
To store for longer than 4 days, you can freeze any leftover brussels sprouts for up to three months! Allow the roasted brussels sprouts to cool to room temperature and then transfer them to a freezer bag or glass meal prep container. Once frozen, keep them in the freezer for up to three months. To reheat from frozen, saute them on a skillet on the stove or bake in the oven using the reheating instructions above.
You can also freeze brussels sprouts without roasting if you happen to have a lot of them left over. If this is what you prefer, blanche or boil the uncooked brussels sprouts in water, dry completely and then proceed to freeze them for up to 6 months. To cook, follow the instructions above or allow them to defrost and then cook as instructed in the air fryer!

More delicious Air Fryer recipes
Meal prep tools for this recipe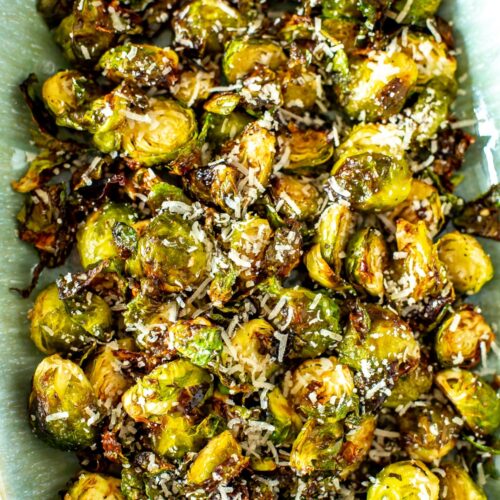 Air Fryer Brussels Sprouts
Learn the secret to the crispiest Air Fryer brussels sprouts – say hello to the perfect fall side dish with garlic, parmesan and balsamic.
Print
Pin
Rate
Servings: 4 servings
Calories: 99kcal
Ingredients
4 cups brussels sprouts
1 tbsp olive oil
1/2 tsp each salt & pepper
1 tbsp balsamic vinegar
1 tbsp honey
2 cloves garlic, minced
1/4 cup parmesan cheese
Instructions
Preheat air fryer to 400 F for 10 min. Cut ends off of brussels sprouts and then slice in half. In a large bowl, toss brussels sprouts with olive oil and salt & pepper.

Add brussels sprouts to air fryer and cook for 7 minutes. Remove basket and toss brussels sprouts, then air fry another 5 minutes. Remove the basket once more, then toss with balsamic vinegar, honey and garlic. Air fry for 2 more minutes.

When brussels sprouts are done, remove
Video
Nutrition
Calories: 99kcal (5%)Carbohydrates: 9g (3%)Protein: 5g (10%)Fat: 5g (8%)Saturated Fat: 2g (13%)Polyunsaturated Fat: 1gMonounsaturated Fat: 3gCholesterol: 4mg (1%)Sodium: 123mg (5%)Potassium: 359mg (10%)Fiber: 3g (13%)Sugar: 3g (3%)Vitamin A: 712IU (14%)Vitamin C: 75mg (91%)Calcium: 115mg (12%)Iron: 1mg (6%)