The Keg Mushrooms Neptune Copycat
Be prepared for the ultimate appetizer idea: this copycat Mushrooms Neptune recipe inspired by The Keg Steakhouse has a cream cheese, crab and shrimp filling you're gonna die for!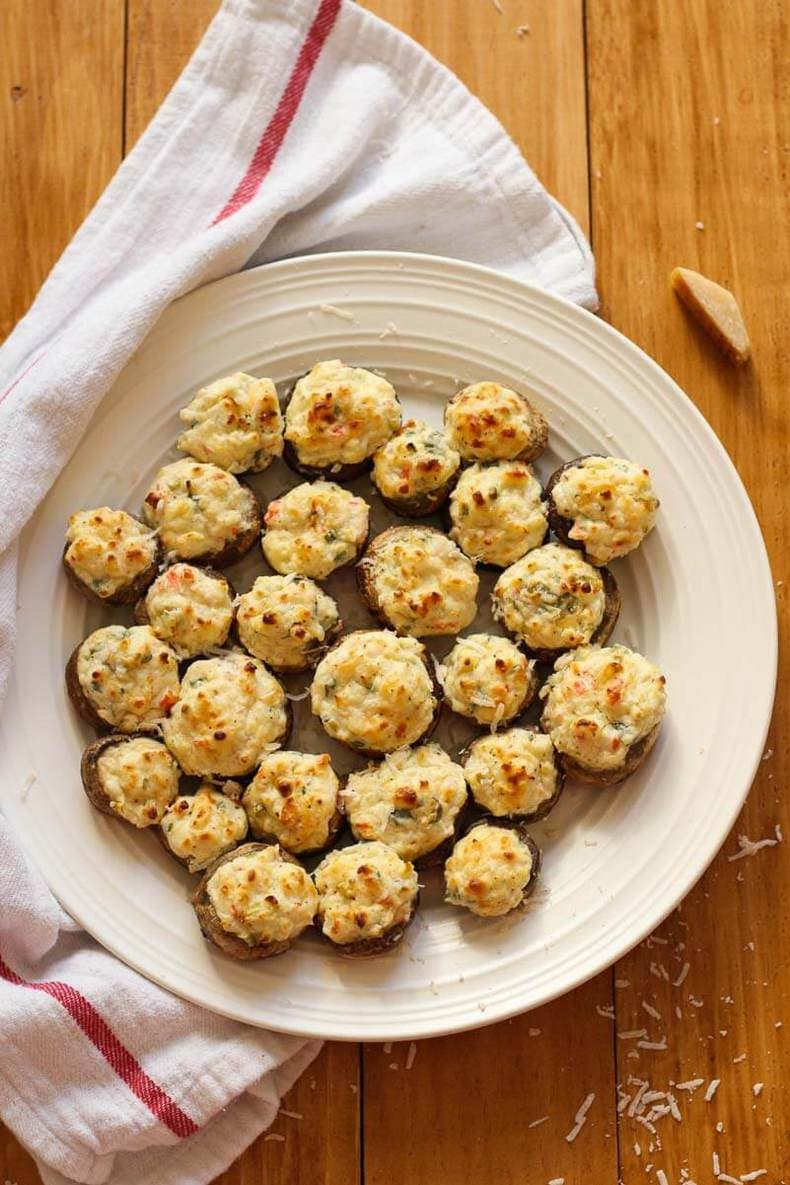 Don't you wish you could make some of your favourite restaurant dishes from home? This week, I decided to recreate one of my favourite appetizers from The Keg Steakhouse, scouring the Internet for a close and easily re-creatable recipe. After pulling a few different ones together and doing a lot of taste-testing (such a hard job, right?!?), I think I have created the perfect creamy, indulgent Keg Mushrooms Neptune recipe to enjoy at home!
And you wanna know the best part about this recipe?
You can make the cream cheese filling ahead of time and freeze it to use for another time. I've done this so many times and it's a great way to have a savoury, delicious snack at the last minute. Just imagine opening up the freezer and discovering that half the recipe's already done for you. It's a good feeling.?
If you're making these for a party, you can also make the mushrooms ahead of time and reheat them in the oven by the time company comes. These Mushrooms Neptune are one of my new favourites and a classic appetizer that is a real crowd-pleaser.
You honestly don't even know how many times family and friends ask me to bring this Mushrooms Neptune dish to parties and gatherings. Or how many ask for the recipe and recreate them at home. All you have to do is say you're bringing Mushrooms Neptune to a party and everyone's faces light up and they start licking their lips. Really, I'm doing an actual impression here hahaha.
I think I've made these mushrooms maybe about a billion times?
So, let's get down to it. All you need is the following:
Button mushrooms
A gluttonous array of Swiss, parmesan and cream cheese
Some crab and shrimp
Green onions
But making these of course is the fun part!
While these Mushrooms Neptune won't be swimming in sauce like the real Keg version, this recipe as about as close as you will get to this delicious appetizer. I am not even opposed to serving them alongside a steak just like they do at The Keg, but they also work great as a super yummy snack (hello football season or movie night!)
Basically, any chance I get to make these babies I'm taking it.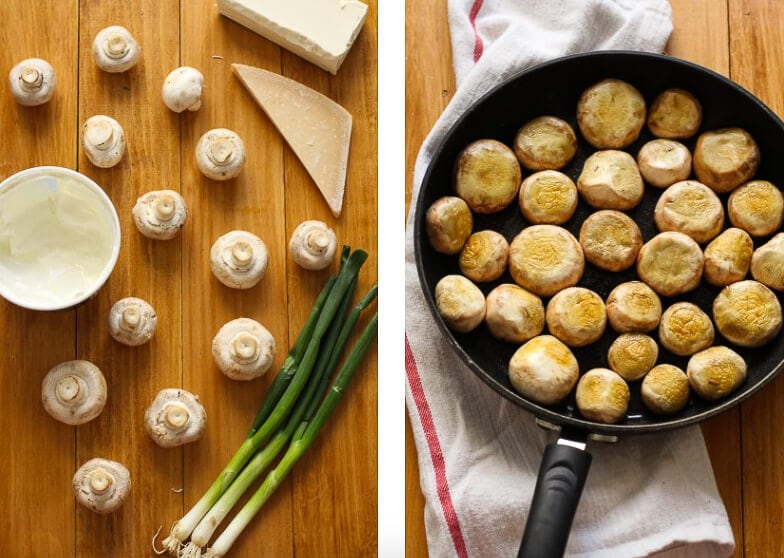 Trust me, as if I haven't said it enough yet, these Mushrooms Neptune are sure to become a hit at your next party!
Now if you're unsure of where to get the crabmeat, I usually buy the imitation crab at the seafood counter because it's more mild tasting without a strong seafood flavour and it's CHEAP. However, you can also get canned crab – that works too.
I am all for saving money over here, people.
However, you could definitely splurge too and get the real deal, fresh crab – just make sure it's high quality if you're gonna be paying that much. I also like to save time by buying my shrimp pre-cooked so all you have to do is mince it up alongside the crabmeat and green onions, but you can also boil raw shrimp for 2-3 minutes until just cooked and then cut it up once cooled.
From there, mix together all the cheese, sour cream, green onions, crab and shrimp, and you're on your way to stuffed mushrooms heaven. Honestly, if you eat stuffed mushrooms any other way, you're missing out!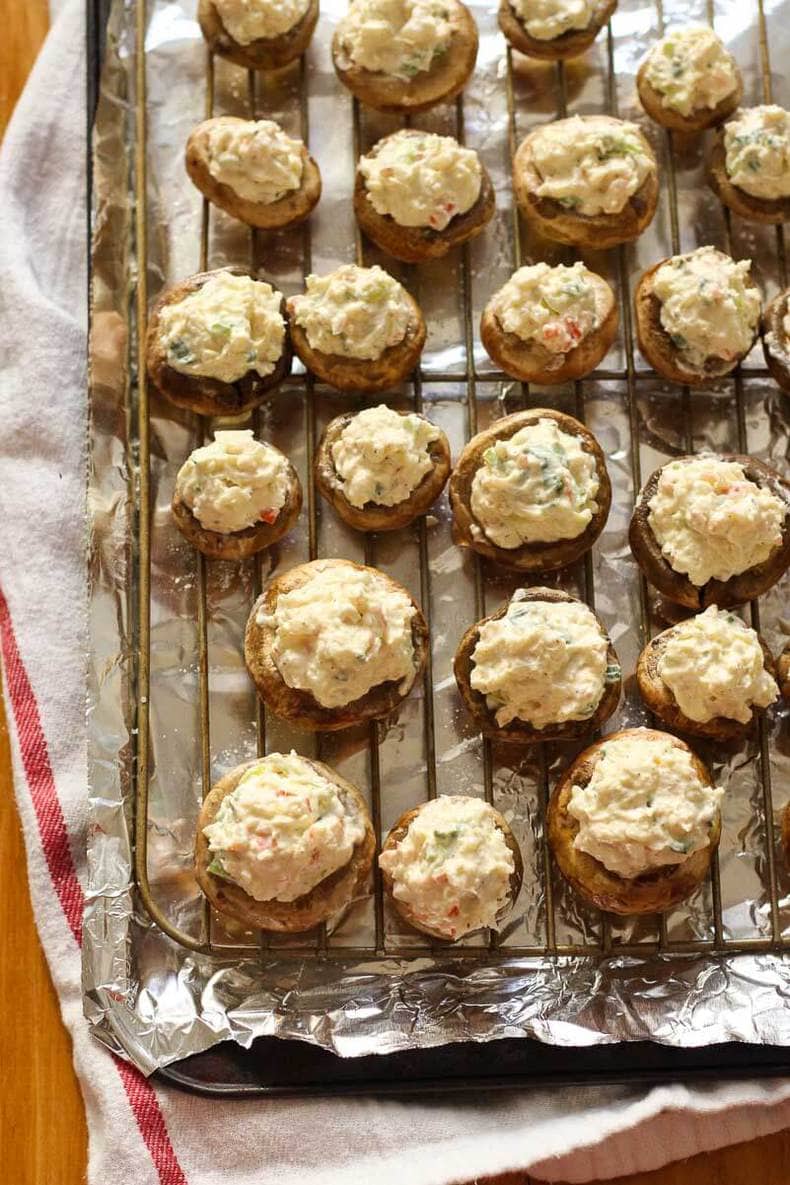 After you've prepared the cream cheese filling, pipe it into a large resealable bag (freeze or refrigerate it if you're making them later), cut a whole in the bottom of the bag, then pump as much filling as your heart desires into each sautéed mushroom cap.
Now be prepared to be the hero of your next party.
Seriously.
And if you're looking for more fun finger food recipes, here are a couple of my other favourites. For parties. Or, you know, casual snack time: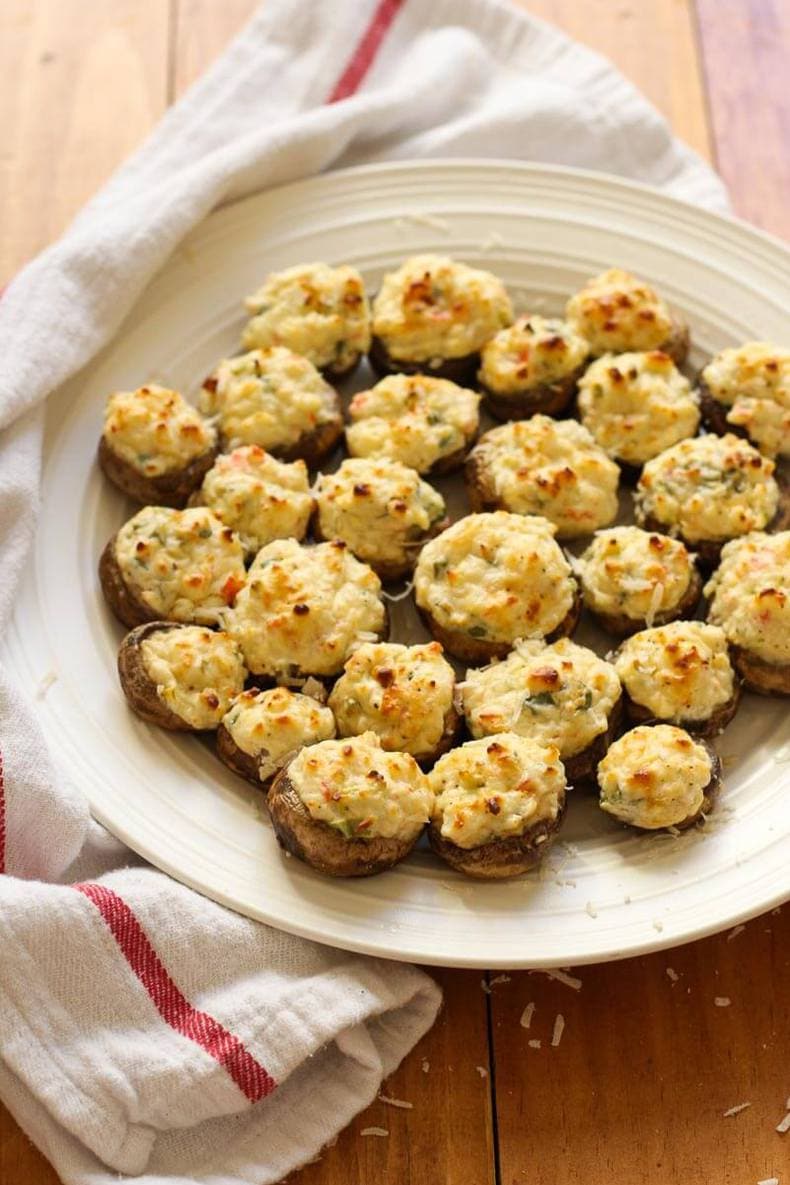 Will you be trying this Mushrooms Neptune recipe? I'd love to hear what you cook up in the comments!
Print Recipe
The Keg Mushrooms Neptune Copycat
Be prepared for the ultimate appetizer idea: this copycat Mushrooms Neptune recipe inspired by The Keg Steakhouse has a cream cheese, crab and shrimp filling you're gonna die for!
Ingredients
1

tbsp

olive oil

45

Button mushrooms

1

package cream cheese

2

tbsp

sour cream

2

tsp

lemon juice

1/2

cup

grated Swiss cheese

1/4

cup

grated parmesan cheese

3/4

tsp

salt

1/2

tsp

pepper

1/2

cup

finely chopped crabmeat

I use the imitation crab meat in packages typically found at most fish counters

1/4

cup

cooked shrimp

finely chopped

3

green onions

minced
Instructions
Preheat the oven to 400 F.

Wash mushrooms, and remove stems very carefully.

Soften cream cheese in the microwave in a large bowl for about 15 seconds. Add sour cream, lemon juice, cheeses, salt and pepper, crabmeat, shrimp and green onions.

Heat olive oil in a large frying pan on med-high heat. Add mushroom caps, sprinkle with a tiny bit of salt, and sauté for 2-3 minutes each side until softened.

Line a baking sheet with tin foil and place a wire rack on top. Add mushroom caps, and then spoon filling into mushroom caps.

Cook mushrooms in oven on the lowest oven rack for 15 minutes, then switch oven setting on to broil. Switch oven rack to the top setting and broil tops of the mushrooms for about 2-3 minutes until tops are lightly browned.

Serve right away, or refrigerate for up to 24 hours and then reheat in 400 F oven for 10 minutes. Filling can also be frozen up to 3 months to refill fresh mushrooms with!