This Stuffed Acorn Squash is the easiest dinner idea, stuffed with just homemade turkey sausage and chopped kale. You'll love these comforting fall flavours!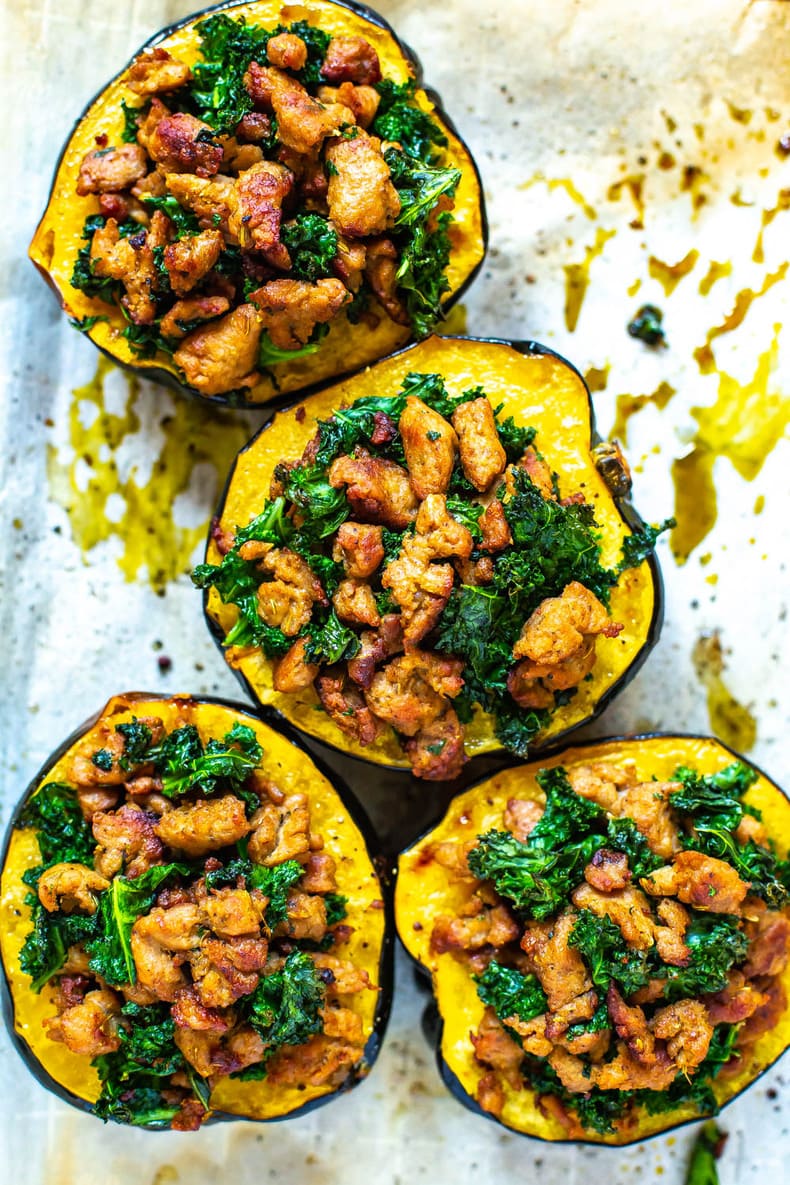 How to prepare acorn squash
You will need to prepare the acorn squash first for this recipe.
Slice the squash in half.
Scoop out the seeds.
Season with olive oil, salt and pepper.
Bake at 425 for 40 minutes.
Because you will be making stuffed acorn squash, you don't need to peel the squash. For other recipes, if you need to peel the squash, you can do so with a knife or Y-shaped peeler prior to cooking.
How to make stuffed acorn squash
While your acorn squash is roasting in the oven, you will need to make the sausage stuffing. Brown your sausage and then add the kale. This mixture will be stuffed into the squash, in the space where you scooped out the seeds.
After stuffing it, bake the stuffed acorn squash for five more minutes.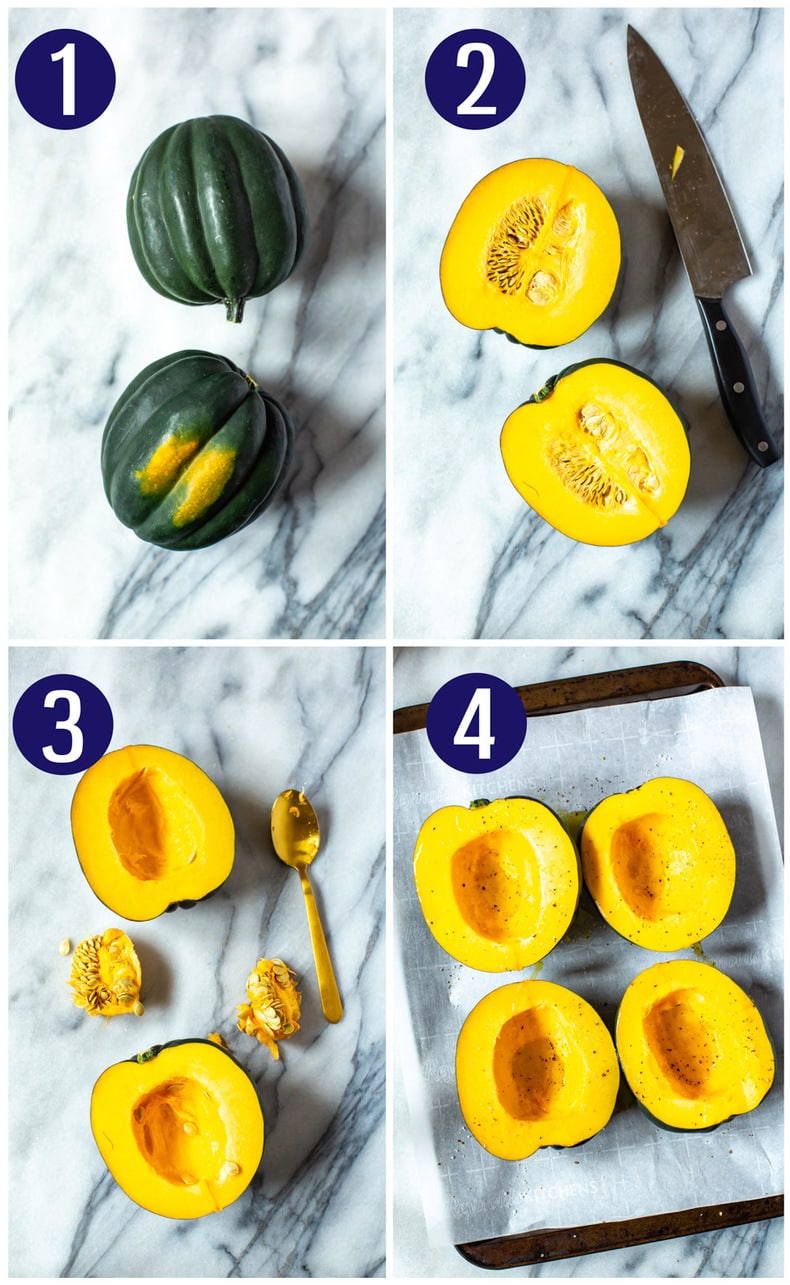 How to make homemade turkey sausage
I like to use homemade turkey sausage because it has more protein and is lower in fat than pork sausage. In addition, it has large amount of vitamins A, C, E, and the B vitamins.
Homemade turkey sausage is quick and easy to make. Plus, when you make your own, you know exactly what is in it, and you can season it the way you prefer. Once you know how, you can make your own sausage for any dish.
Combine the ground meat with the seasonings.
Cook over medium-high heat until the meat is browned. It will take about seven to eight minutes to brown the meat.
Be sure to break up any clumps of meat as it cooks.
Because we do not add any breadcrumbs or egg, this stuffed acorn squash recipe is Whole30 approved, keto-friendly and gluten free!
For this stuffed acorn squash recipe, you will add the kale once the sausage is cooked. However, you can use this sausage in any other dish as well.

Ingredients in stuffed acorn squash
This super simple stuffed acorn squash only requires three basic ingredients (minus any seasonings of course).
Acorn squash
Kale
Turkey sausage
You can purchase turkey sausage in the grocery store or you can choose to cook and season it yourself. You'll just need a few extra spices if you decide to make your own.
Ingredient substitutions
If you want to, you can use ground chicken or pork instead of turkey. Chicken has less fat and calories while still providing a full serving of protein.
Instead of kale, use one of these other hearty greens, or a combination of them.
Spinach
Swiss chard
Collard greens
Escarole
Mustard greens
Turnip greens
Another option is to try a different kind of winter squash. Butternut squash, spaghetti squash, pumpkin, or hubbard squash would all taste great with the sausage filling. Some winter squashes do not have the big hollow center though.
If you want a little something extra, add some grated parmesan cheese on top of the filling.
Can you pre-cook the filling?
You do have the option to meal prep this recipe. Just pre-cook the sausage and kale and store it in the refrigerator for up to two or three days. You can also assemble and cook the sausage stuffed acorn squash, then reheat it when you are ready.
Another option is to freeze the filling by itself. It will last in the freezer for two to three months and even the kale is hearty enough to be in the freezer for that long. You can also freeze the cooked acorn squash itself! So many options for making ahead!
How to store acorn squash
When choosing an acorn squash, find one that is heavy for its size, has smooth skin and no spot spots.
Uncut acorn squash will last for a month in a cool dark place. Keep the stem intact to slow the aging process. It will only last for about two weeks in the refrigerator, so save your fridge space for something else!
A cut but uncooked acorn squash can be stored in the refrigerator for four days, and cooked acorn squash will also keep for up to four days there.
If you want to freeze acorn squash, you must cook it first. You can cut it into chunks or puree it. It will keep in the freezer for ten to twelve months. The entire stuffed acorn squash won't freeze well, but the stuffing will freeze beautifully.
Storing and reheating this recipe
If you have leftovers, you can store them in the refrigerator for up to five days. You can also make this recipe ahead of time.
To reheat it, I recommend putting the stuffed acorn squash halves into the oven for 15-20 minutes at 350 degrees F. You can also microwave them for 2-3 minutes, stirring the filling halfway through.
You can freeze cooked acorn squash as well! I would recommend making the filling fresh and reheating the cooked acorn squash in the microwave for 5-6 minutes. This way you have an easy meal ready to go after a long day and half the prep work is completed already!
Side dishes for acorn squash
Acorn squash will go with just about any other veggie, protein or starch. You can serve squash with wild rice or quinoa on the side (or include it in the stuffing!), and you can also serve a nice salad on the side to keep things simple and add more veggies to the mix. Roasted potatoes would also be a great side dish for this recipe, but will up the amount of carbs.
More squash recipes
If you're looking for more fall-friendly recipes, I've got you covered!
If you're looking to make a vegetarian version of stuffed acorn squash, this Vegetarian Acorn Squash recipe is also delicious!
Meal prep tools for this recipe
Sausage Stuffed Acorn Squash
This Sausage Stuffed Acorn Squash is the easiest dinner idea, stuffed with just homemade turkey sausage and chopped kale. You'll love these comforting fall flavours!
Print
Pin
Rate
Ingredients
2

tbsp

olive oil, divided

2

acorn squash, sliced in half

Salt & pepper to taste

2

cups

chopped kale
Homemade turkey sausage
1

lb

ground turkey or chicken

1

tbsp

fennel seeds

1

tsp

paprika

1

tsp

garlic powder

1

tsp

onion powder

1/2

tsp

each salt & pepper
Instructions
Preheat oven to 425 F. Slice squash in half and scoop out seeds. Drizzle with 1 tbsp olive oil and season with salt & pepper. Bake on a parchment-lined baking sheet for 40 minutes or until squash is fork tender.

Meanwhile, combine ingredients for turkey sausage in a large bowl.

Heat remaining 1 tbsp of olive oil in a large skillet over med-high heat, then add turkey sausage, breaking up with a spoon and cooking until browned, about 7-8 minutes. Remove from heat and stir in kale then set aside.

When squash is done, add turkey and kale mixture, then bake another 5 minutes. Serve and enjoy!

Storing and reheating: Leftovers will last in fridge up to 5 days. To reheat, microwave for 1-2 minutes on high, or bake in a 375 F oven for 10-15 minutes until heated through.
Video
Nutrition
Calories:
303
kcal
|
Carbohydrates:
27
g
|
Protein:
30
g
|
Fat:
10
g
|
Saturated Fat:
2
g
|
Cholesterol:
62
mg
|
Sodium:
80
mg
|
Potassium:
1294
mg
|
Fiber:
4
g
|
Sugar:
1
g
|
Vitamin A:
4449
IU
|
Vitamin C:
64
mg
|
Calcium:
142
mg
|
Iron:
3
mg