This is a sponsored post written by me on behalf of Loblaws and Zehrs. All opinions are 100% mine.
This Sausage & Mushroom Stuffed Acorn Squash is going to become your new favourite Thanksgiving main – the perfect comfort food for crisp fall days and ready in just 30 minutes!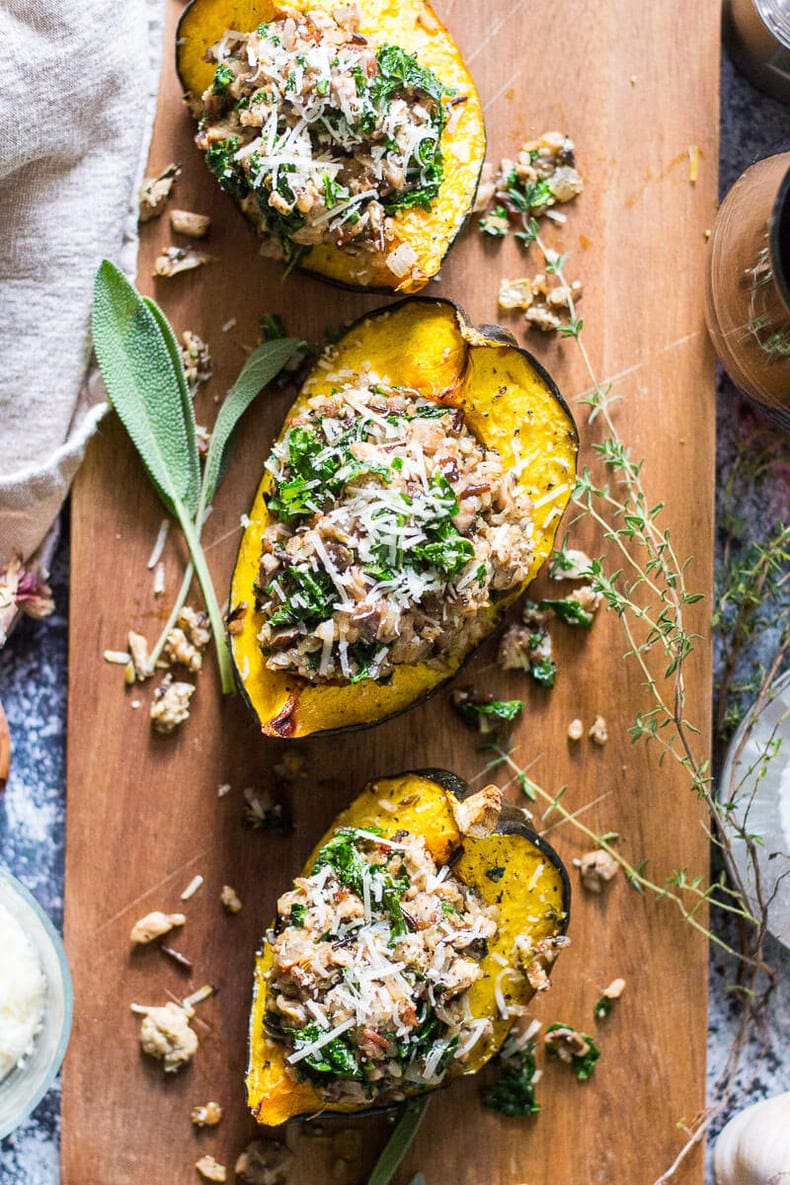 Thanksgiving: believe it or not I used to kind of hate it as a kid. Let's just say that I'm not your traditional turkey and mashed potatoes kind of gal and I have always believed in taking the alternative route to just about everything.
Give me stuffed apples, pumpkin spice frappuccinos, carrot and rutabaga mash, kale bowls and curried butternut squash and lentil soup. That's more my fall style: anything trendy and a bit out of the ordinary. 😉
Of course, my taste buds have really matured over the years and I can now appreciate a good turkey, but you can't tell me this Sausage & Mushroom Stuffed Acorn Squash isn't calling your name. And doesn't it just scream fall comfort food?
We all know what the stress of cooking a turkey and hosting multiple dinner guests can mean. Every Thanksgiving and Christmas my mom really outdoes herself and puts on a giant turkey feast with homemade stuffing, a crowd-pleasing potato casserole, oven roasted carrots, corn, peas, cranberry sauce, gravy and even more dishes I can't remember at this exact moment. It is truly crazy.
I mean, it's a two-day process, and it costs a whole lot of money in food and takes an entire team of people to clean up. In the end, the food is definitely delicious and it's worth it to have the family together for some quality time, but I can't help but think that maybe the whole process could be made just a little bit easier.
As a side note, I realize I'm one to talk about trying something different seeing as I JUST participated in a Friendsgiving feast with two of my good girlfriends from university, spending the day cooking up turkey breasts, potatoes, stuffing, gravy, kale and brussels sprouts dip, and this CRAZY pumpkin bread pudding.
It took us literally from two in the afternoon to nine at night to get everything prepped and on the table.
And it probably didn't help that we were drinking this Mulled Apple Cider Sangria all day either…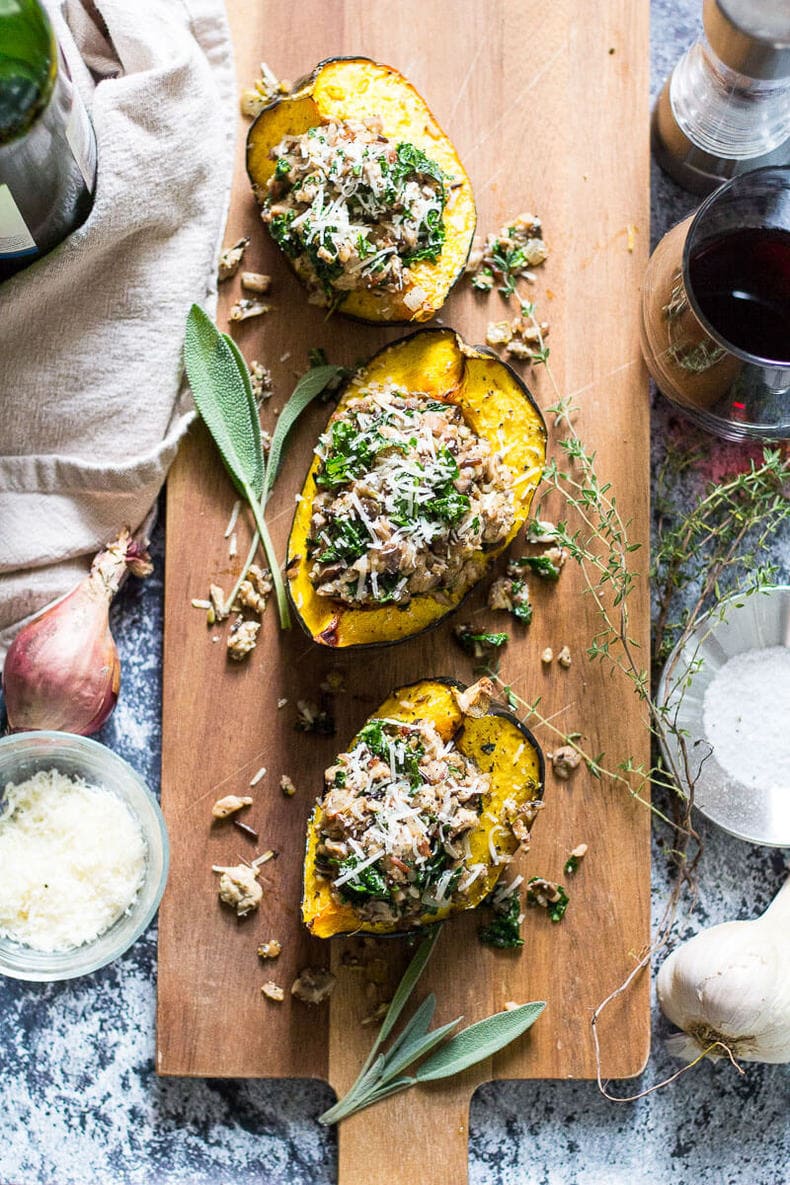 As much as I love cooking and really believe that food brings people together, what I'm TRYING to say is that a good feast doesn't always require a fancy amount of footwork, especially if you aren't a crazy cook like I am and don't care about taking seven hours to cook a bird. 😉
Sometimes all you need are some tasty seasonal eats (umm, hello, SQUASH and SAGE), some good company and a meal that secretly only takes 30 minutes to put together.
Now that's what I'm talking about.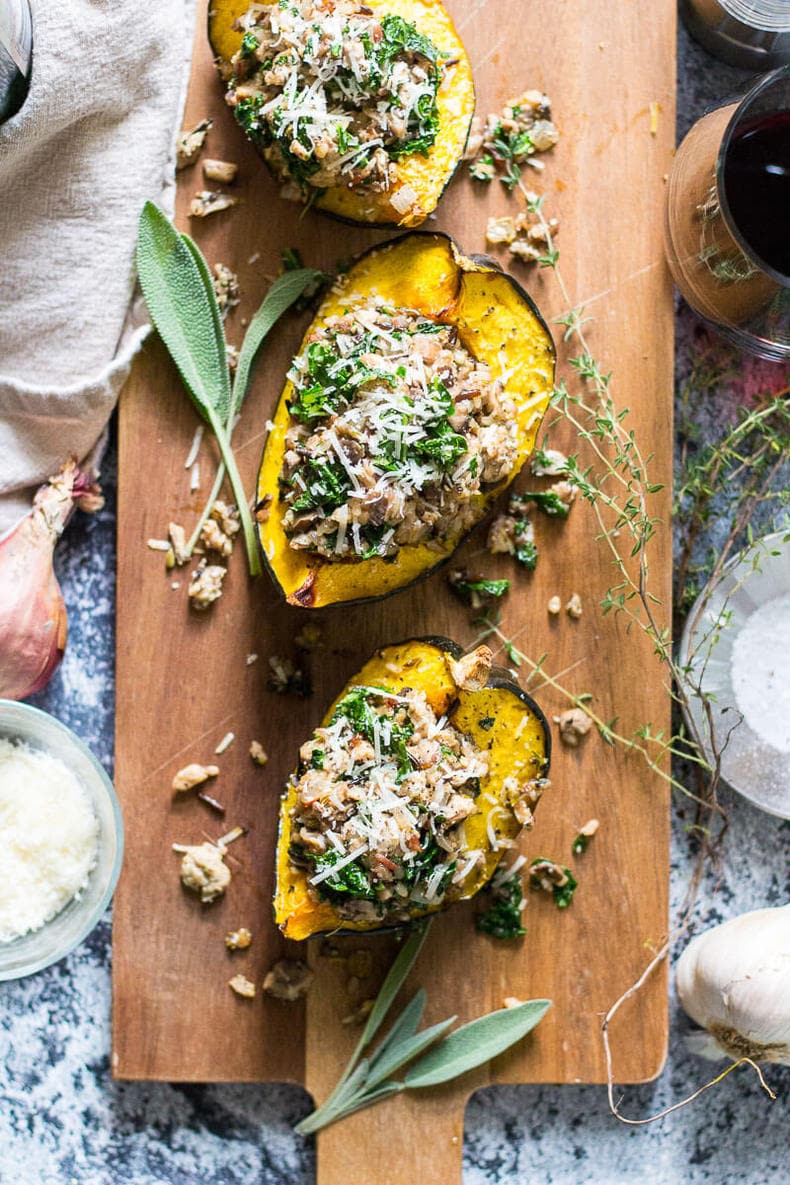 Now I know you're gonna love this stuffed acorn squash, but there's even more reason to celebrate and be thankful for this year: Loblaws is hosting a pretty sweet #HeartfeltFood contest contest, and I have a feeling that you might want in.
You could win the grand prize of a catered family feast for you and up to nine guests in your home, along with one keepsake culinary cookbook!
So basically, you get to take Thanksgiving dinner off this year.
HOW COOL IS THAT?!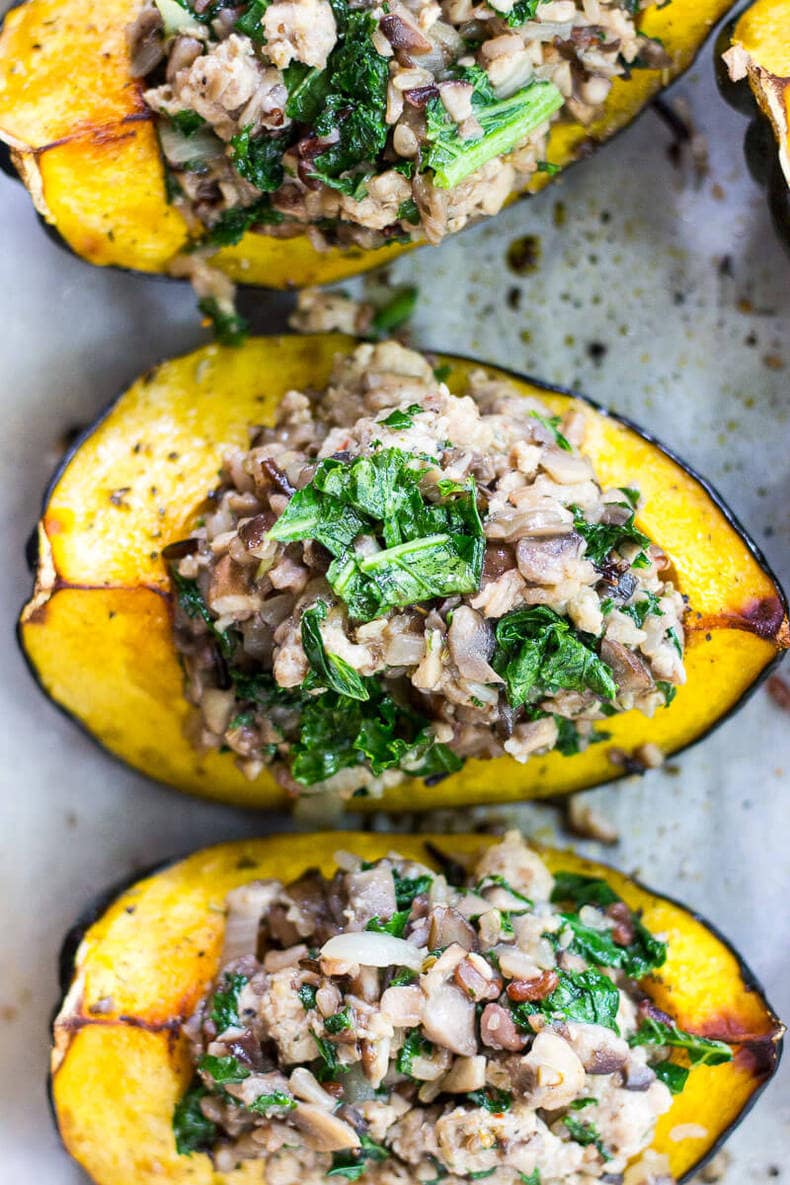 And as if that isn't enough, there are also some secondary prizes to be won! Loblaws is giving away ten $50 PC Gift Cards in addition to the grand prize so you can treat yourself to something extra special this holiday season.
Here's how to enter the Loblaws Thanksgiving Facebook contest:
Post an original picture of your favourite family side dish in the comment section of Loblaws' Facebook campaign post by October 20
Tag the people you want to invite to your next big holiday meal
Use the campaign hashtag: #HeartfeltFood and tag @LoblawsON
But most importantly I want to know if you'll be making this Sausage & Mushroom Stuffed Acorn Squash?! If you try any of my recipes be sure to let me know on Instagram, Twitter, Facebook or in the comments – and don't forget to send in some pictures of your family's favourite Thanksgiving side dishes! We wanna see!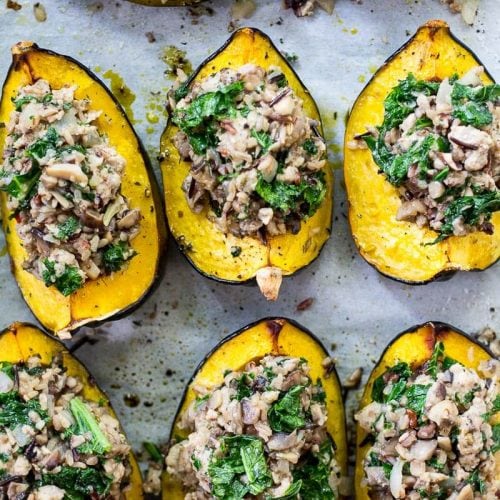 Ingredients
2

in

acorn squash

seeds scooped out and cutquarters

2

tbsp

butter

2

tbsp

brown sugar

tsp

rosemary

sage and thyme (dried or fresh...about 1-2each)

Salt & pepper to taste
Stuffing
1

tbsp

olive oil

1/2

of the turkey sausage mixture

freeze the other half!

2

shallots

diced

2

cloves

garlic

minced

2

Portobello mushrooms

diced

1

cup

Button mushrooms

diced

1

cup

cremini mushrooms

diced

1/2

cup

beef broth

1

tbsp

red wine

1

tsp

balsamic vinegar

1

cup

cooked wild rice

1/2

cup

shredded parmesan cheese

1

tbsp

fresh chopped sage

1

tsp

fresh chopped thyme

1

cup

chopped kale

1/2

tsp

salt

1/2

tsp

pepper
Turkey sausage
1

lb

ground turkey

2

tsp

dijon mustard

2

cloves

garlic

1

tbsp

fennel seeds

2

tsp

chopped fresh sage

2

tsp

chopped fresh thyme

1

tsp

salt

1/2

tsp

pepper
Instructions
Preheat oven to 400 F. Cut acorn squash in half, then cut halves in half (you should come out with four quarters per squash and eight quarters total).

Brush squash with melted butter and brown sugar then sprinkle rosemary, sage, thyme, salt and pepper overtop. Bake in the oven for 30 min.

Meanwhile, make rice according to package directions in a rice cooker and chop up mushrooms. Mix together all ingredients for turkey sausage.

Heat olive oil in a large pan on med-high heat, then add turkey sausage mixture, breaking up into 1 inch pieces. Add shallots and garlic, sauteing for 3-4 min. Add mushrooms and saute another 3-4 min. Add beef broth, red wine and balsamic vinegar and simmer for 10 min until mushroom juices are mostly absorbed.

Add wild rice and parmesan cheese, cooking for another 2 min. Remove from heat and stir in sage, thyme, kale, salt and pepper.

Squash should be done cooking in the oven at this point so remove them and then stuff with the turkey sausage and rice mixture. There may be some leftover - you can freeze it to use for another time!

Bake squash with stuffing in the oven for 5 min, then serve!