These Easy Pizza Stuffed Portobello Mushrooms are a delicious low-carb way to enjoy pizza, and they're ready in under 40 minutes!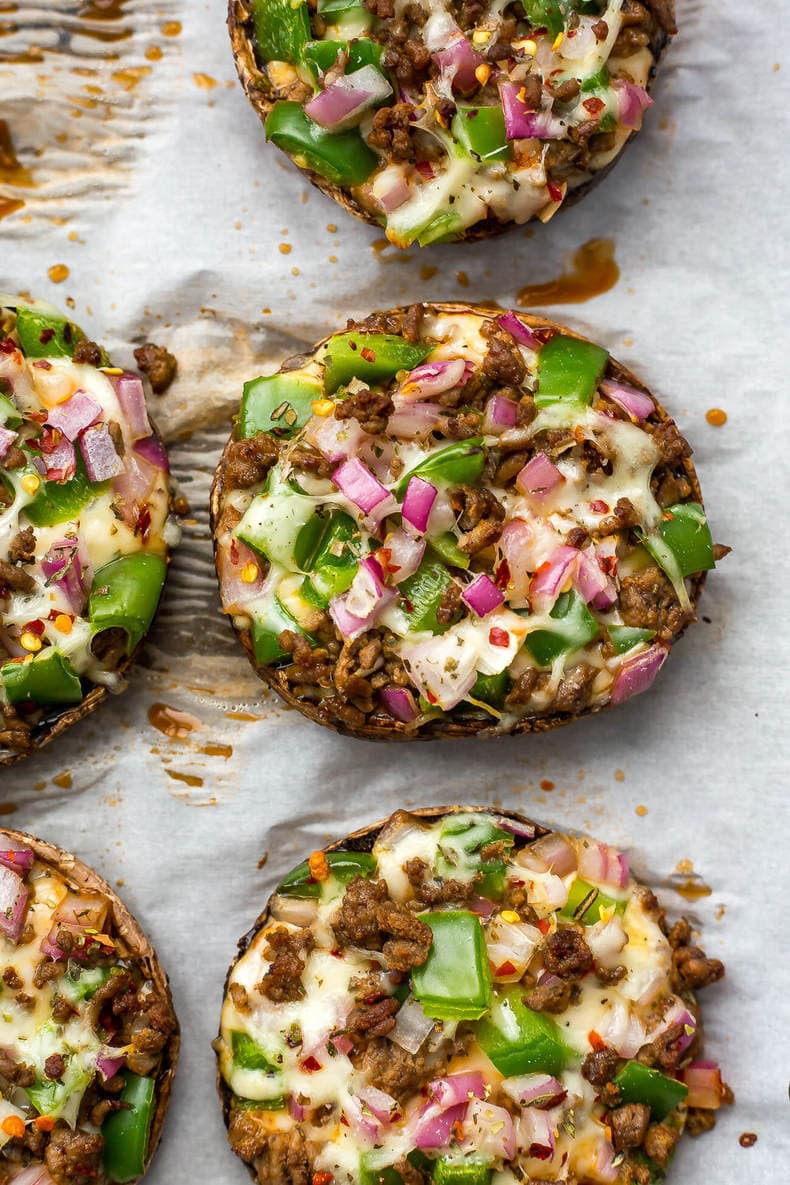 Ingredients in pizza stuffed portobellos
Oh pizza. How I love and loathe you. It's so tasty, but in the wrong form, it's not exactly the healthiest. Well, let me transform your vision of pizza with these low carb pizza portobellos! Here's what you need to make them, it's a very short ingredient list!
Portobello mushrooms
Pizza sauce
Mozzarella cheese
Your fave pizza toppings!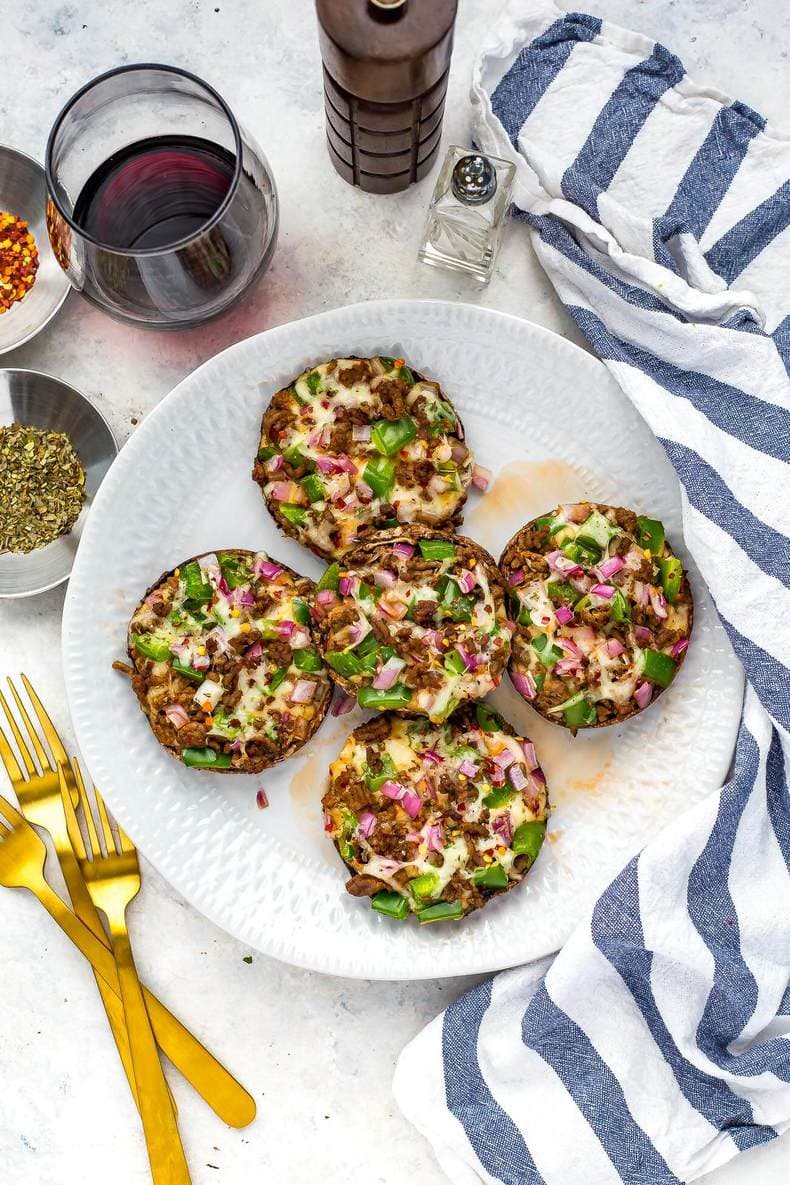 How to make pizza stuffed mushrooms
These Easy Pizza Stuffed Portobello Mushrooms are the perfect quick dinner because they have minimal ingredients (you may already likely have most on hand at home) and you can also use up whatever leftovers you've got kicking around, whether that's leftover chicken, or you just decide to go with all veg.
Here's how to make them:
Cook the ground beef.
While the ground beef is cooking, scoop out the stems and most of the flesh of the portobellos, and prepare your other toppings.
Add pizza sauce and cheese to each mushroom cap, then add your toppings.
Bake for 15 minutes, then serve and enjoy!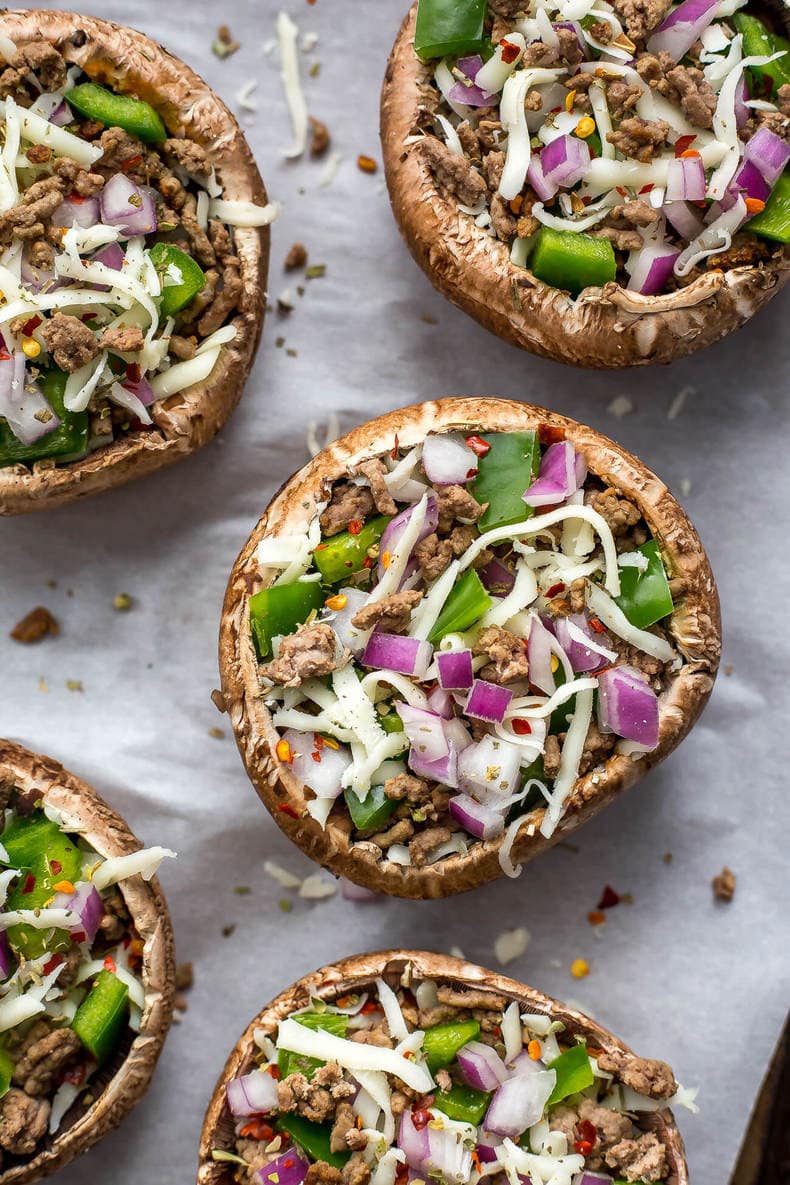 Ingredient substitutions
There are many different substitutions you can make with these mushrooms – this is one of my most versatile recipes ever! You can literally change up anything you'd like with this recipe. Here's some suggestions.
Protein – I prefer ground beef or sausage in this recipe to pack a ton of protein, but you can use pepperoni or bacon, or leave the meat out altogether.
 Mushroom caps – You don't even need to use portobello mushrooms as your base! You can use bell peppers, zucchini or make a cauliflower crust instead. There are so many options to change it up.
Pizza sauce – Change it up by using jarred alfredo sauce or use a blend of olive oil, garlic and Italian seasoning to make a "white pizza".
Cheese – Use any cheese you have on hand! Mozzarella is the traditional choice, but you can easily use cheddar, Swiss, Monterey jack, etc.
Toppings – Use any type of veggies you'd like! I also like to change it up and add olives, banana peppers, broccoli, sundried tomatoes, zucchini, corn and fresh herbs.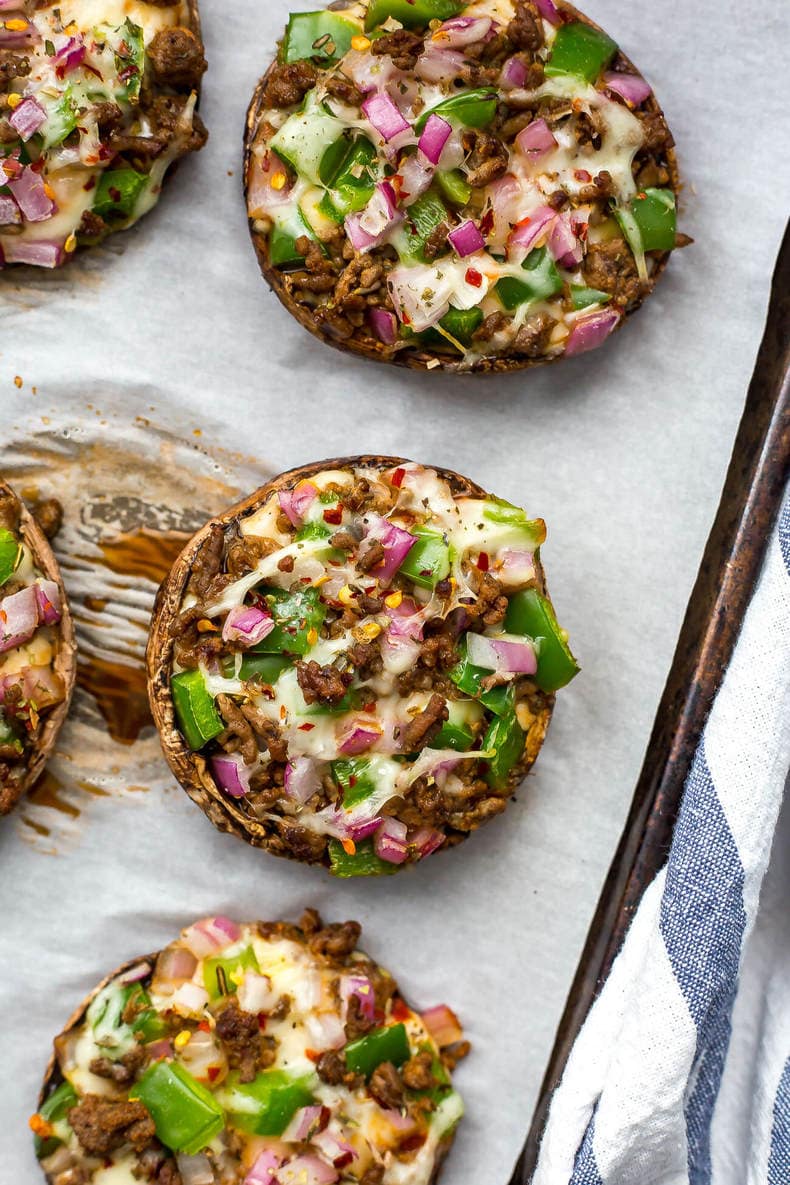 Can you use other types of mushrooms?
You can use smaller button or cremini mushrooms to make an appetizer version of these pizza stuffed mushrooms. The only thing I would advise is that you make them vegetarian so as to accommodate all your guests, but also cut down on the prep time.
In this case, it will take you longer to go through and de-stem and scrape out the smaller mushrooms then add pizza sauce, cheese and toppings so if you cut the time down by not cooking the ground beef/sausage, you're looking at roughly the same amount of time to make the recipe.
What to serve with stuffed mushrooms
Since these pizza stuffed mushrooms are low carb, you have the flexibility to add any type of side dish you'd like and the calorie count will still probably remain pretty low.
Now's your chance to add a fun side like garlic bread, but you could also go the healthy route and serve these mushrooms with a side salad. They are pretty filling on their own so you really don't need a side dish, but it's nice to know you have options!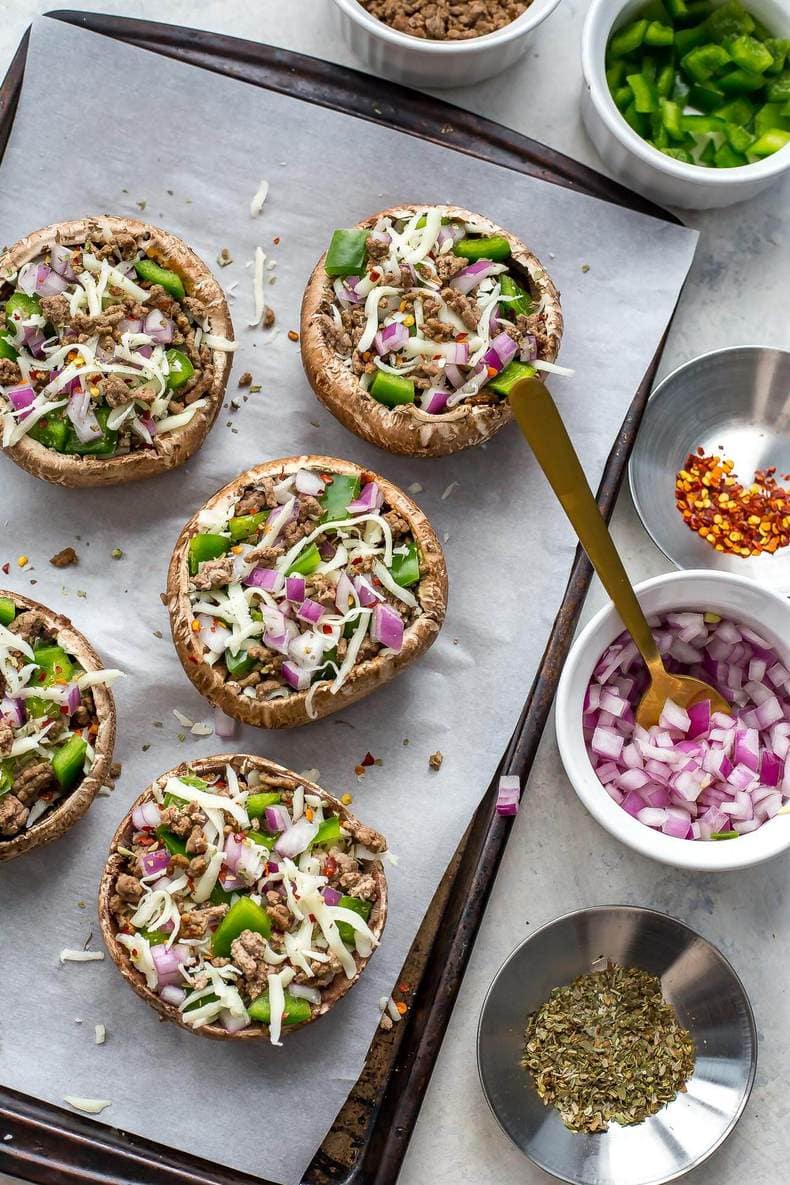 Storing and reheating
You can store leftover stuffed portobellos in the fridge for up to 3-4 days. You do want to try to eat them as quickly as possible, otherwise the cheese will get slimy and unappealing. I don't think this will be an issue for you as these mushrooms are BOMB and you'll likely eat them up right away! FYI – one serving is two mushrooms, so there are four servings in this recipe.
To reheat, you can microwave for a minute or two, or you can revive them more effectively in a 375 F oven for 10-15 minutes.
Can you freeze these mushrooms?
You can! Wrap them in plastic wrap once cooled, then store in a freezer-safe container for up to 3 months. You can reheat them from frozen in a 400 F oven for 25-30 minutes.
More fun pizza recipes
Meal prep tools for this recipe
Easy Pizza Stuffed Portobello Mushrooms
These Easy Pizza Stuffed Portobello Mushrooms are a delicious low-carb way to enjoy pizza, and they're ready in under 40 minutes - you can also make them ahead of time or freeze them!
Print
Pin
Rate
Ingredients
1/2

lb

ground beef or sausage

(I cook up the whole pound together and save the leftover beef for another meal)

8

Portobello mushrooms

1

cup

pizza sauce

2

cups

mozzarella cheese

(buy the ball of pizza mozzarella for best results)

1

green pepper, diced

1

small red onion, diced

Salt and pepper to taste

Chili flakes to taste

Italian seasoning to taste
Instructions
Preheat oven to 400 F. In a large skillet over med-high heat, cook ground beef for 7-8 min until fully cooked.

While beef cooks, prepare toppings and grate cheese (if not using pre-grated cheese). Remove the stems and scoop out the flesh from the mushrooms.

Divide pizza sauce, cheese and toppings among each mushroom, then place on a large baking sheet lined with parchment paper and bake in the oven for 15 minutes or until cheese is melted.

Serve and enjoy - also keeps in the freezer up to 3 months. To serve, reheat at 400 for 10 minutes.
Video
Nutrition
Calories:
304
kcal
|
Carbohydrates:
13
g
|
Protein:
26
g
|
Fat:
17
g
|
Saturated Fat:
9
g
|
Polyunsaturated Fat:
1
g
|
Monounsaturated Fat:
6
g
|
Cholesterol:
50
mg
|
Sodium:
338
mg
|
Potassium:
191
mg
|
Fiber:
7
g
|
Sugar:
4
g
|
Vitamin A:
350
IU
|
Vitamin C:
22.3
mg
|
Calcium:
430
mg
|
Iron:
0.9
mg