Easy Pizza Stuffed Portobello Mushrooms
These Easy Pizza Stuffed Portobello Mushrooms are a delicious low-carb way to enjoy pizza, and they're ready in under 40 minutes – you can also make them ahead of time or freeze them!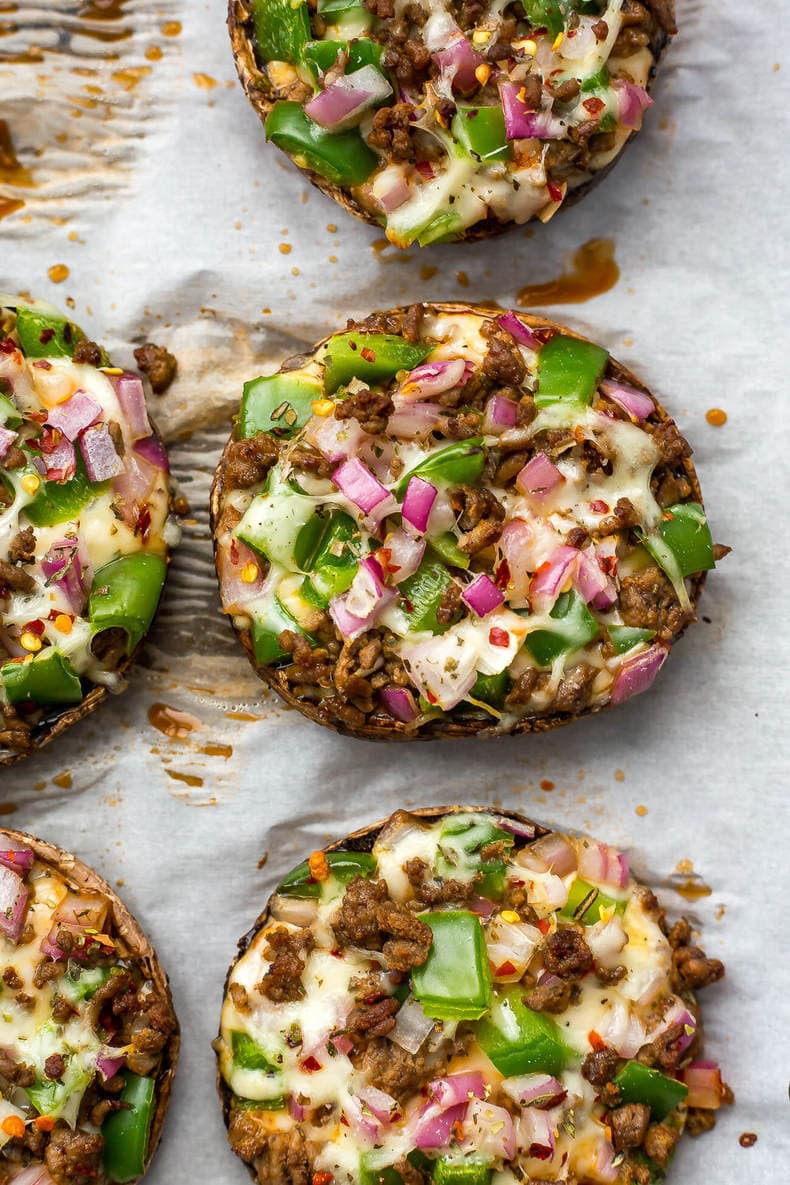 This post is sponsored by PC Black Label – thanks for supporting the brands that help keep my blog up and running!
Oh pizza. How I love and loathe you.
And not because I'm worried about eating too many carbs – more so because there are either REALLY good pizzas out there, or really bad ones, and I think that it starts with the cheese and sauce. Okay, maybe the toppings too. Really, some people just make really bad pizza, and yes that's a thing.
Let me explain.
I dreaded every pizza day and pizza party as a kid. Nowadays I don't eat pork (long story, I'll explain another time) so there's usually always a large pepperoni pizza in some sort of group gathering I can't eat, but even as a kid I can tell you that I detested plain pepperoni pizza.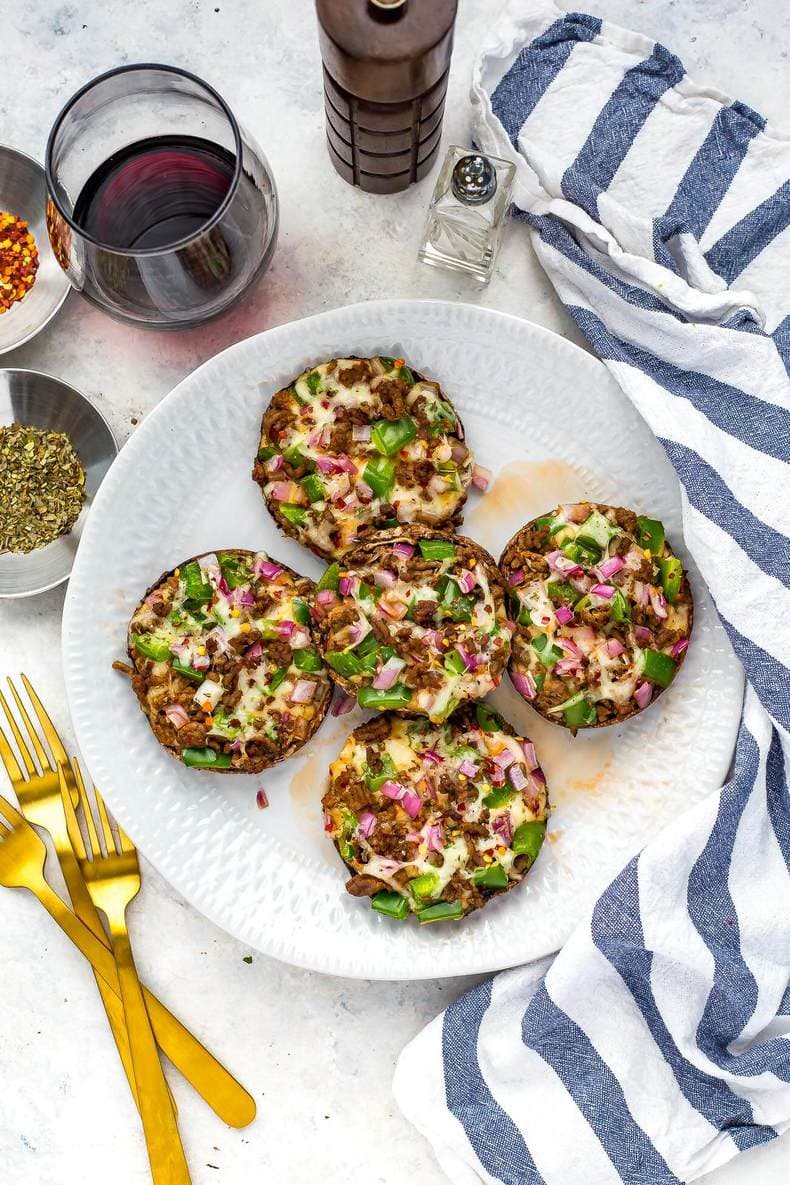 The kind the school ordered was the plainest, greasiest kind you could imagine. It was always from some generic chain restaurant and it was almost as if the restaurant delivered the pizza at 9am so that by the time you went to eat it at lunchtime it was all cold and the greasy cheese was hardened over.
It was the same thing at pizza parties or hockey nights or what have you – this gross, inedible pizza that always left me confused as to why people even ordered it in the first place. Flash forward a few years and I finally started making my own at home after getting so fed up most takeout joints.
And don't get me wrong, I love, love LOVE homemade pizza. But I don't always have time to get a ball of dough from the grocery store and whip up a big giant pizza that I'll never be able to eat by myself anyway. That's more of a Friday night treat sort of thing.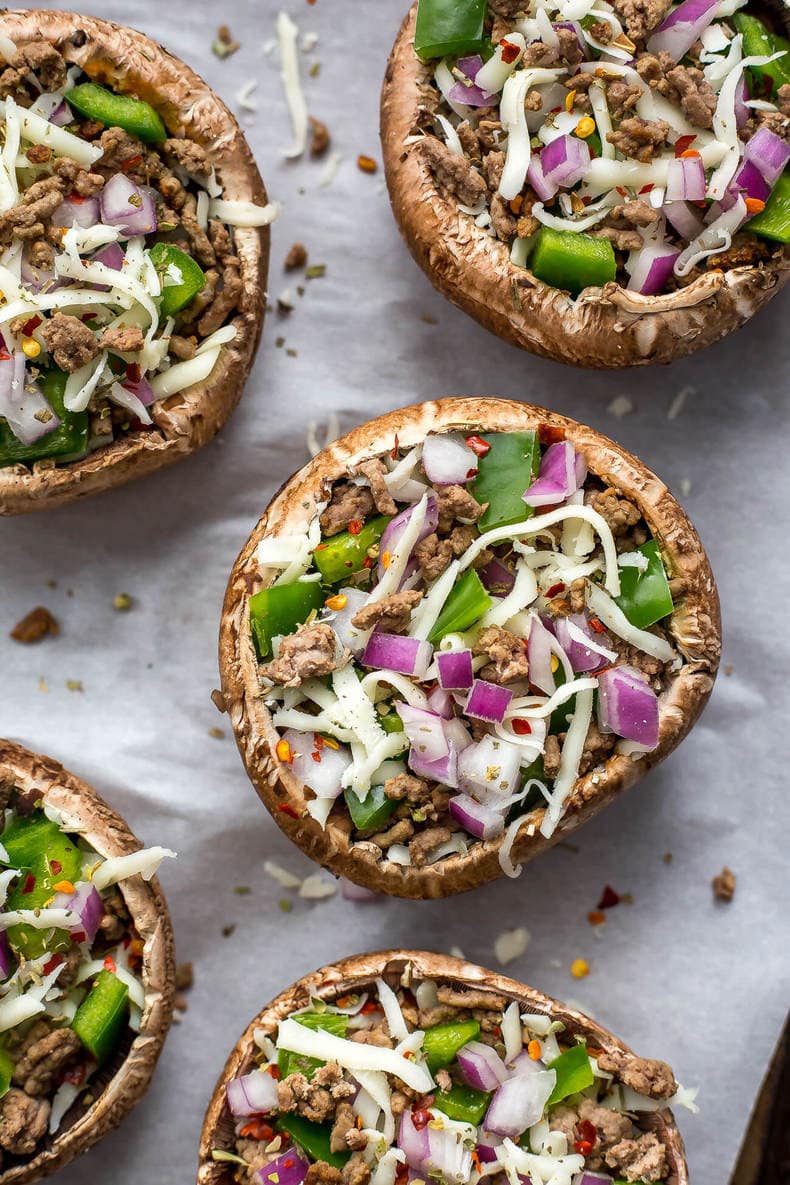 So what's a girl to do when it's a busy weeknight and she's craving pizza?
NO, I'm telling you right now, DO NOT go to your neighbourhood pizza place and settle for one of those reheated pizza slices in the window.
Get yourself a couple portobello mushrooms, and STUFF THEM WITH YOUR FAVE PIZZA TOPPINGS! 😀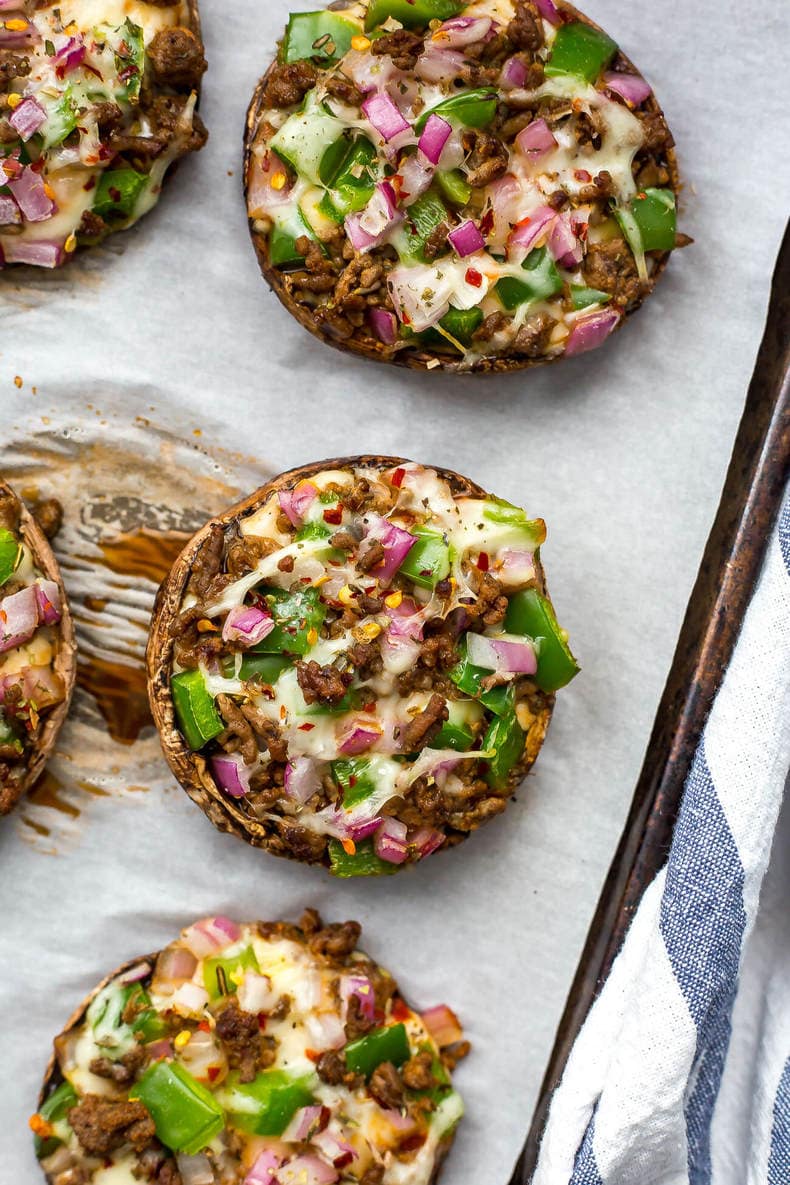 These Easy Pizza Stuffed Portobello Mushrooms are the perfect quick dinner because they have minimal ingredients (you may already likely have most on hand at home) and you can also use up whatever leftovers you've got kicking around, whether that's leftover chicken, or you just decide to go with all veg.
I know I've always got some extra veggies about to go bad in the fridge, or I've got chopped up veggies on hand leftover from an omelet or other type of meal prep so it's always handy to mix and match with a recipe like this and switch it up. You can also just make one serving if you're looking to scratch that pizza craving itch – just use two portobellos and whatever leftovers you've got in your fridge along with the cheese and sauce. And speaking of cheese and sauce, those are the key components of these Easy Pizza Stuffed Portobello Mushrooms.
You want to make sure you get a ball of mozzarella (though there are some pretty good pre-grated mixes out there specifically meant for pizza which I recommend if you're short on time), and you also want to use high-quality sauce. I really love the PC Black Label brand because it's filled with real Italian diced tomatoes, olive oil and garlic for extra indulgence. This'll be the type of pizza you look forward to making and eating all the time, trust me.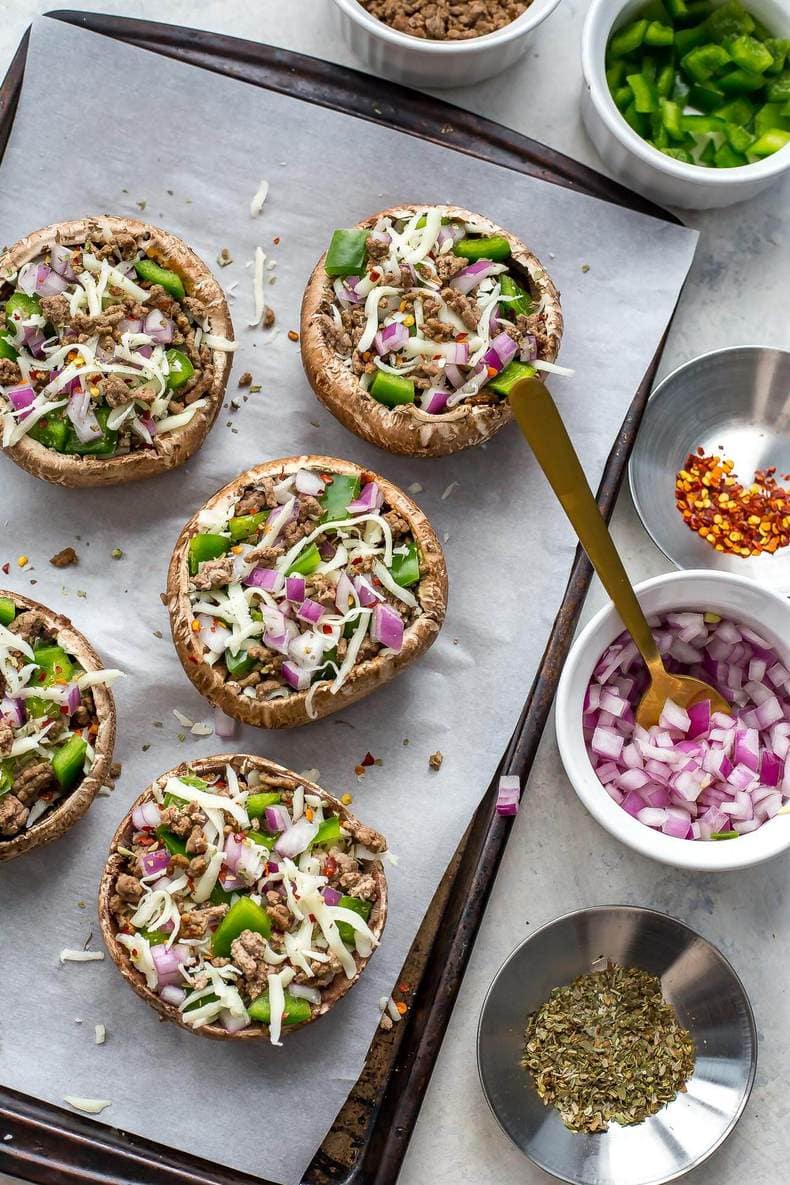 If you haven't been following along already, I've been sent a PC Black Label black box each month, revealing two secret ingredients inside to get me inspired to play around with different flavours. I've loved experimenting in the kitchen through the #PlayWithYourFood campaign, and this month I've got great news: this month I'm going to #PlayItForward by giving you a chance to win a PC Black Label black box of your very own!
The box comes with two surprise PC Black Label products and a $50 PC gift card so you can experiment with some delicious food before the holidays hit! All you have to do to enter is leave a blog comment, tweet about the contest or like The Girl on Bloor and President's Choice Facebook pages.
From there, tell us what YOU would create with the pizza sauce (or what your favourite pizza toppings are…we won't judge!). Be sure to include the product name, #PlayWithYourFood and #PCBlackLabel in your entry and good luck!
Will you be making these Easy Pizza Stuffed Portobello Mushrooms? 
I could even see myself making them for my weekly meal prep – they store well in the fridge or the freezer and reheat wonderfully! You could even try making them with different toppings like chicken or whatever other protein you already have on hand.
If you try any of my recipes be sure to let me know on Instagram, Twitter, Facebook or in the comments – I'd love to see what you come up with!
Print Recipe
Easy Pizza Stuffed Portobello Mushrooms
These Easy Pizza Stuffed Portobello Mushrooms are a delicious low-carb way to enjoy pizza, and they're ready in under 40 minutes - you can also make them ahead of time or freeze them!
Ingredients
8

Portobello mushrooms

1

jar

PC Black Label pizza sauce

2

cups

mozzarella cheese (I buy the ball)

1/2

green pepper, diced

1

small red onion, diced

1/2

lb

ground beef (I cook up the whole pound together and save the leftover beef for another meal)

Salt and pepper to taste

Chili flakes to taste

Italian seasoning to taste
Instructions
Preheat oven to 400 F. In a large skillet over med-high heat, cook ground beef for 7-8 min until fully cooked.

While beef cooks, prepare toppings and grate cheese (if not using pre-grated cheese). Remove the stems and scoop out the flesh from the mushrooms.

Divide pizza sauce, cheese and toppings among each mushroom, then place on a large baking sheet lined with parchment paper and bake in the oven for 12-15 minutes or until cheese is melted.

Serve and enjoy - also keeps in the freezer up to 3 months. To serve, reheat at 400 for 10 minutes.
Nutrition
Calories:
304
kcal
|
Carbohydrates:
13
g
|
Protein:
26
g
|
Fat:
17
g
|
Saturated Fat:
9
g
|
Polyunsaturated Fat:
1
g
|
Monounsaturated Fat:
6
g
|
Cholesterol:
50
mg
|
Sodium:
338
mg
|
Potassium:
191
mg
|
Fiber:
7
g
|
Sugar:
4
g
|
Vitamin A:
350
IU
|
Vitamin C:
22.3
mg
|
Calcium:
430
mg
|
Iron:
0.9
mg