These 7 Easy Ways to Meal Prep for Beginners are the best way to get started with meal prepping and planning – you'll be a pro in no time!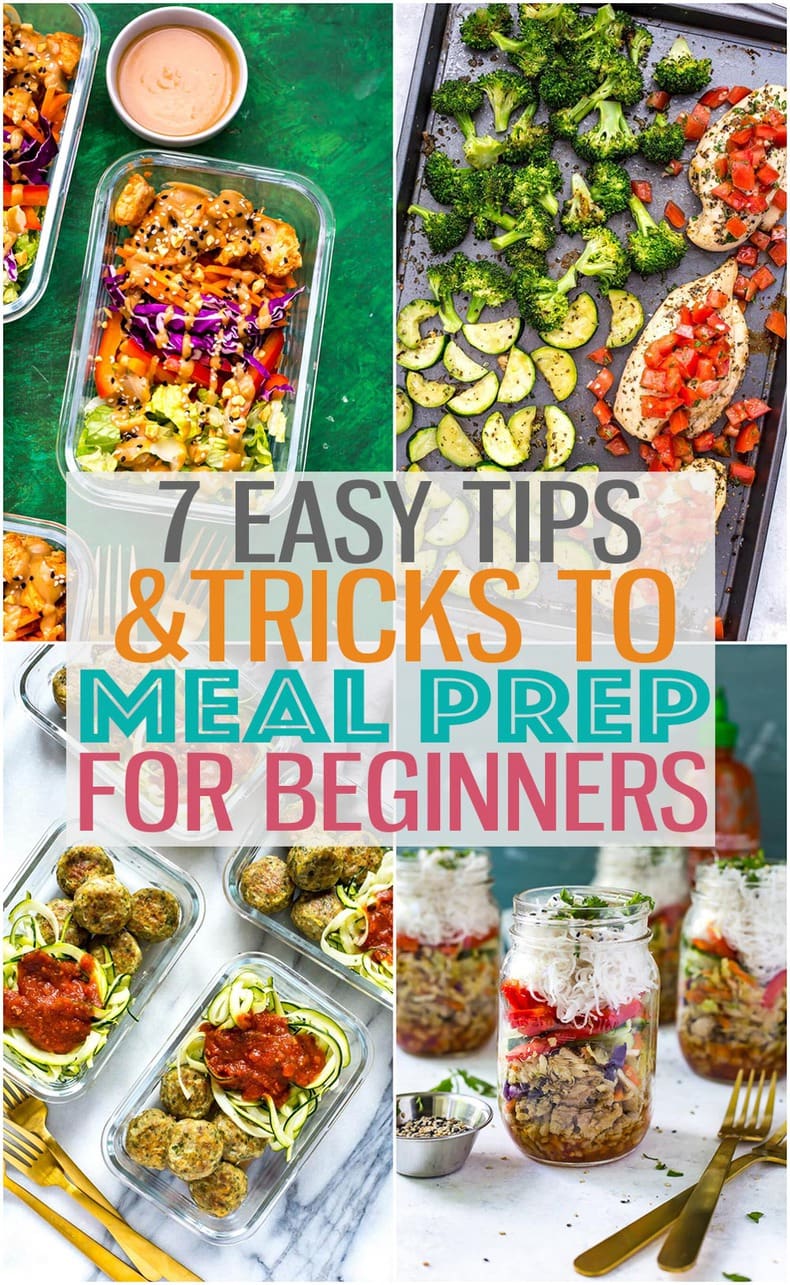 Meal Prepping for Beginners
There is SO much information out there about meal prep that it can seem daunting as a beginner. No matter your reasons for wanting to meal prep – whether it's to save money, lose/maintain your weight, save time or just feel more organized going into the workweek, you'll feel better after reading this easy meal prep guide for beginners.
Keep reading below to find out my exact meal prep routine along with some easy meal prep strategies to help you save time when you're first getting started. I've also included my most popular meal prep recipes as an added bonus!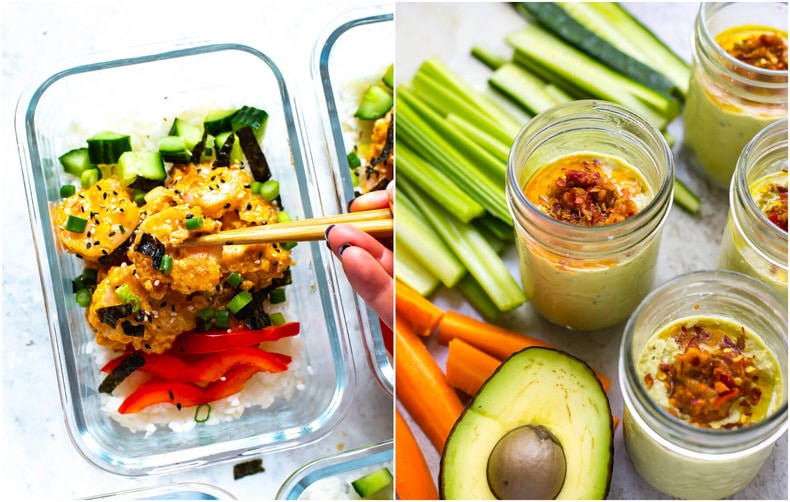 How to meal prep for the week (basic outline)
This is a bare-bones basic outline of how to meal prep when you're just starting out. Following this action plan will get you up and running in no time!
Want to Learn How to Meal Prep? Join Dinner Prep Pro!
Our meal planning service removes the guesswork and helps you get dinner on the table in 15-20 minutes each night thanks to our prep ahead checklists. It takes just one hour of ingredient prep on a Sunday!
Step 1: Make a meal plan
The very first step to meal prep is the planning! In my free 5-Day Meal Prep Email Challenge, you'll receive a free meal plan template and grocery list to get you started. It's designed to give you a structured outline in which to plan your meals and do your shopping in an efficient manner.
If you don't think you need any printables, you can always make a simple meal plan using a Google Doc or a Word doc. Create a chart with all the days of the week and three meals mapped out for each day.
As I outline in my Ultimate Meal Prep Routine post, I typically eat the same thing every day for breakfast and then have dinner leftovers for lunch each day. On the other hand, some people prefer to make a set of lunches for the week that are all the same and eat out of their freezer or make meals fresh for dinner.
It all depends on what you have the energy to do each week and how much time you're willing to commit, but having a meal plan is the first step to figuring that out.
Step 2: Fill out your grocery list
As I mentioned earlier, you'll receive a structured grocery list in my 5-Day Meal Prep Challenge, which will make your life so much easier. It sections out each type of ingredient by list so your trip around the store is fast and easy.
If you know the layout of the grocery store you typically go to, you can also make your list on a Word doc and then rearrange the ingredients you need so that you are working from the back of the store forward to the front. It makes your trip so much quicker, trust me!
Step 3: Get cooking!
Now that you've made your meal plan and got your groceries, it's time to cook!
I like to choose easy recipes with 10 ingredients or less so that my cooking day isn't overwhelming, and I'll choose different types of recipes that are easy to cook and are ready within less than an hour.
I've outlined these strategies in greater detail below.
Meal prep strategies for beginners
Now that you have a basic idea of how meal prep works, it's time to apply some strategies to get you meal prepping quick! These handy tips and tricks for meal prep for beginners will help even the most novice cook.
Plan around your social life
I find the biggest roadblock in meal prepping is factoring in your social life. I find most people take this all or nothing strategy with meal prep that hinders your ability to stick with it for the long term. If you're realistic about when you're going to be eating out, you can dedicate yourself more fully to meal prepping.
For instance, if you know you like to go out to dinner on the weekends, don't force yourself to meal prep for nights when you're likely to be out with friends.
Use recipes that have overlapping ingredients
This is much easier than you think! Try and find recipes that use the same protein, carbs and veggies but use different sauces so that you're not running out and buying five different types of vegetables or a ton of different cuts of meat.
My 5-Day Meal Prep Challenge will help you figure out how to meal plan more efficiently so you can trim your grocery list and buy less.
Prepare staple ingredients ahead of time for mix-and-match bowls
When you first get back from the store, cut up veggies and assemble greens in containers for easy access later. You can also buy pre-chopped or pre-spiralized veggies from the store so it's easy to throw these veggies in different meal prep bowls or stir fries later on.
You can also use your Instant Pot or Slow Cooker to cook up a bunch of chicken in bulk to use for other recipes later – rotisserie chicken also works in a pinch (there are tons of super easy ways to use Leftover Chicken).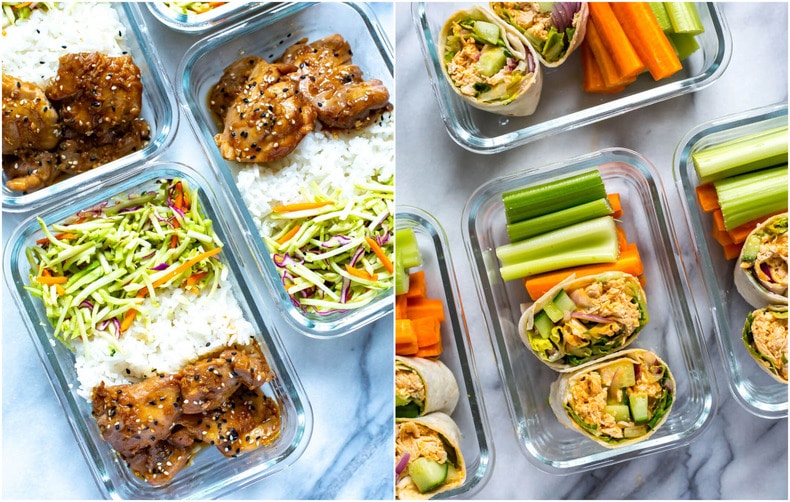 Use your freezer to your full advantage
I will cook up a big batch of lasagna or a chicken pasta bake and then freeze in individual-sized portions in foil containers so all I have to do is take one out of the freezer and bake in the oven after work.
You can also assemble ingredients into plastic freezer bags, then defrost when you're ready to cook and throw in the slow cooker (like with these Crockpot Freezer Meals).
Stock your fridge, freezer and pantry with healthy basics
In my 5-Day Meal Prep Challenge, I send along a fridge/freezer/pantry checklist that helps you go over what you already have on hand at home to reduce food waste.
This checklist also helps you keep healthy ingredients on hand (like sauces, vinegars, oils, spices, condiments, flours, etc.) so when you're doing your meal prep for the week, you already have everything you need on hand.
Plan to use dinner as leftovers for lunch
This is the most common meal prep strategy I use because it's so easy! Even if I don't feel like cooking ALL the time after work, it's the time I have available most to do any cooking and there's something so nice about a hot, fresh dinner.
If you make a huge batch of food, odds are you'll have leftovers for lunches AND other dinners during the rest of the week, so this is a great meal prep strategy I use over and over.
Make sheet pan/one pot meals
Sheet pan and one pot meals are the best way to cook in bulk so that you have a ton of food leftover for lunches and dinners, and since it all comes together on or in one dish, you don't have much clean up either. Discover more sheet pan dinners HERE.
Meal prep recipes
Here are the 5 most popular meal prep recipes from my blog for you to check out – they are my number ones for a reason and will be perfect for getting you started with meal prep!
And there you have it! I hope you found these meal prep ideas for beginners very helpful. I promise, it's easier than it appears. Even if you only start out making one or two recipes a week, it's a good start and will save you from buying lunches out each week.
With just an hour of planning and prep, you're on your way to healthier eating for the long term!