These 7 Easy Ways to Meal Prep for Beginners are the best way to get started with meal prepping and planning – you'll be a pro in no time!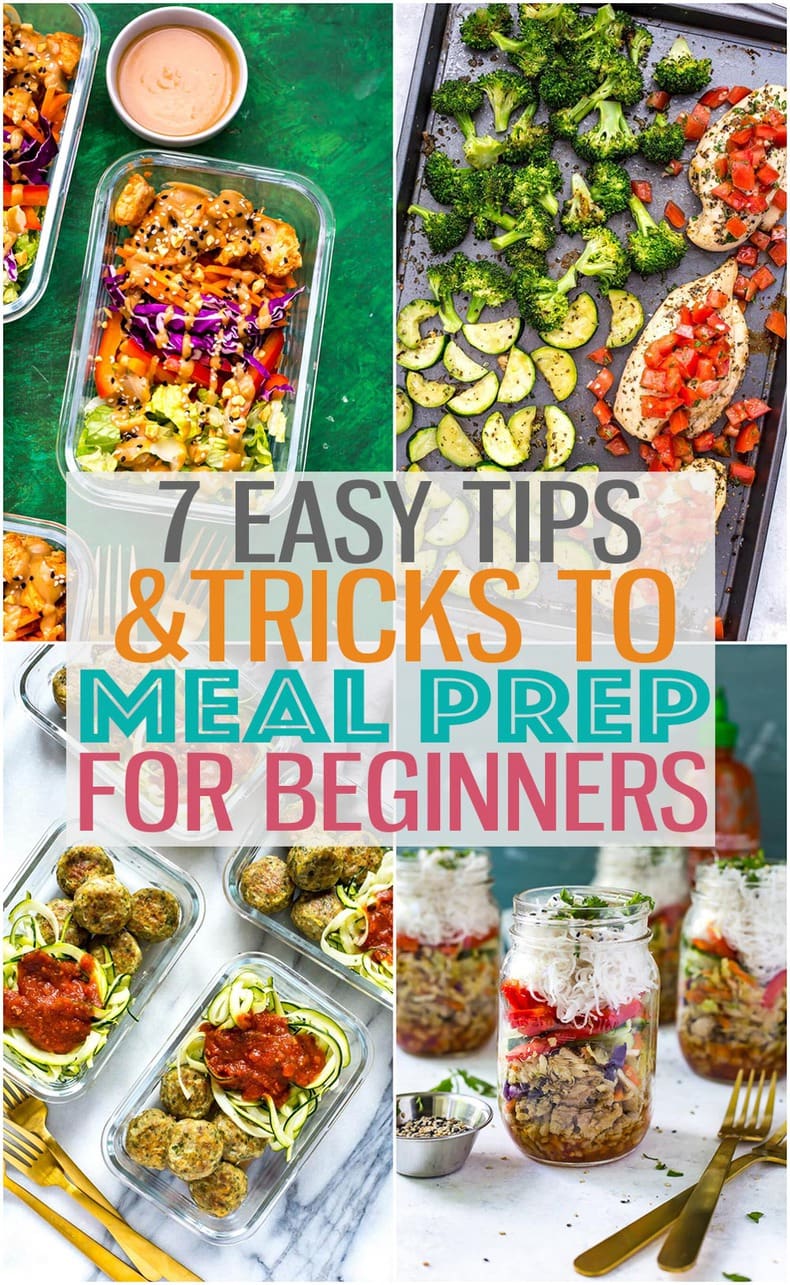 Meal prepping for beginners
There is SO much information out there about meal prep that it can seem daunting as a beginner. No matter your reasons for wanting to meal prep – whether it's to save money, lose/maintain your weight, save time or just feel more organized going into the workweek, you'll feel better after reading this easy meal prep guide for beginners.
Keep reading to find out my exact meal prep routine along with some easy meal prep strategies to help you save time when you're first getting started. I've also included my most popular meal prep recipes as an added bonus!
How to Meal Prep for the Week in 3 Easy Steps
This is a bare-bones basic outline of how to meal prep when you're just starting out. Following this action plan will get you meal prepping in no time!
Make a meal plan. This doesn't need to be complicated! You can decide what meals you're going to eat for the upcoming week and make a meal plan in 15 minutes or less. Download my free meal planning template to get started! As I outline in my Ultimate Meal Prep Routine post, I typically eat the same thing every day for breakfast and then have dinner leftovers for lunch each day. On the other hand, some people prefer to make a set of lunches for the week that are all the same and eat out of their freezer or make meals fresh for dinner.
Fill out your grocery list. Follow these steps to make a grocery list fast! Section out each type of ingredient by aisle so your trip around the store is fast and easy.
Get cooking! I like to choose easy recipes with 10 ingredients or less so that my cooking day isn't overwhelming, and I'll choose different types of recipes that are easy to cook and are ready within less than an hour. Read on for more strategies for choosing the right meal prep recipes.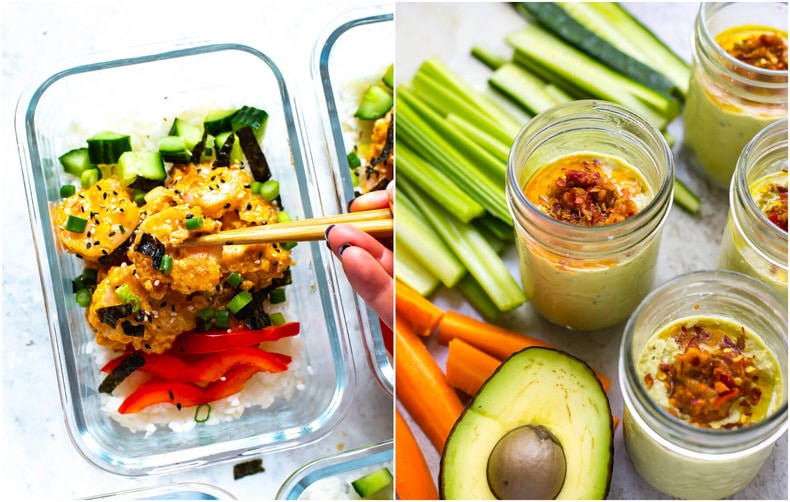 Meal Prep Strategies for Beginners
Now that you have a basic idea of how meal prep works, it's time to apply some strategies to get you meal prepping quick! These handy tips and tricks for meal prep for beginners will help even the most novice cook. Looking for even more tips and shortcuts? Make sure to check out these meal prep hacks!
Plan around your social life
I find the biggest roadblock in meal prepping is factoring in your social life. I find most people take this all or nothing strategy with meal prep that hinders your ability to stick with it for the long term. If you're realistic about when you're going to be eating out, you can dedicate yourself more fully to meal prepping.
For instance, if you know you like to go out to dinner on the weekends, don't force yourself to meal prep for nights when you're likely to be out with friends.
Use recipes that have overlapping ingredients
This is much easier than you think! Try and find recipes that use the same protein, carbs and veggies but use different sauces so that you're not running out and buying five different types of vegetables or a ton of different cuts of meat.
My 5-Day Meal Prep Challenge will help you figure out how to meal plan more efficiently so you can trim your grocery list and buy less.
I use this strategy while making meal plans for my meal prep app, Dinner Prep Pro, so users will have a easier grocery list.
Prepare staple ingredients ahead of time for mix-and-match bowls
When you first get back from the store, cut up veggies and assemble greens in containers for easy access later. You can also buy pre-chopped or pre-spiralized veggies from the store so it's easy to throw these veggies in different meal prep bowls or stir fries later on.
You can also use your Instant Pot or Slow Cooker to cook up a bunch of chicken in bulk to use for other recipes later – rotisserie chicken also works in a pinch (there are tons of super easy ways to use leftover chicken).
If you're not a fan of buffet style meal prepping, try ingredient prepping instead! I find meal prepping takes way less time if I'm only prepping ingredients. My meal prep app Dinner Prep Pro provides you with checklists so you'll know what you can prep for each recipe in your weekly meal plan.
Use your freezer to your full advantage
I will cook up a big batch of lasagna or a chicken pasta bake and then freeze in individual-sized portions in foil containers so all I have to do is take one out of the freezer and bake in the oven after work.
You can also assemble ingredients into plastic freezer bags, then defrost when you're ready to cook and throw in the slow cooker (like with these Crockpot Freezer Meals).
Stock your fridge, freezer and pantry with healthy basics
In my 5-Day Meal Prep Challenge, I send along a fridge/freezer/pantry checklist that helps you go over what you already have on hand at home to reduce food waste.
This checklist also helps you keep healthy ingredients on hand (like sauces, vinegars, oils, spices, condiments, flours, etc.) so when you're doing your meal prep for the week, you already have everything you need on hand.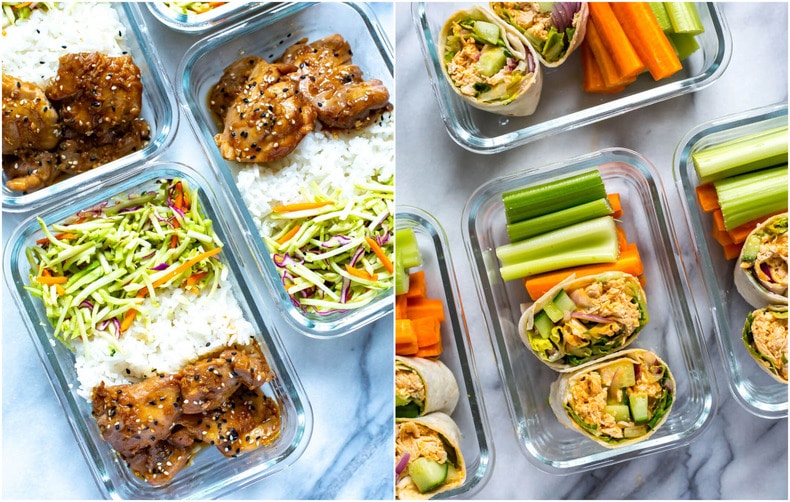 Plan to use dinner as leftovers for lunch
This is the most common meal prep strategy I use because it's so easy! Even if I don't feel like cooking ALL the time after work, it's the time I have available most to do any cooking and there's something so nice about a hot, fresh dinner.
If you make a huge batch of food, odds are you'll have leftovers for lunches AND other dinners during the rest of the week, so this is a great meal prep strategy I use over and over.
Make sheet pan/one pot meals
Sheet pan and one pot meals are the best way to cook in bulk so that you have a ton of food leftover for lunches and dinners, and since it all comes together on or in one dish, you don't have much clean up either. Discover more sheet pan dinners here.
Skip the Ads and Get Right to the Recipes!
ZERO ADS on over 600 recipes!
Weekly Meal Plans, Grocery & Prep Lists
Bonus eBooks
Beginner Meal Prep Recipes
Here are the 5 most popular meal prep recipes from my blog for you to check out – they are my number ones for a reason and will be perfect for getting you started with meal prep! Check out these list of 75+ healthy budget-friendly meal prep ideas for more recipes!
30 minutes
These Quick & Easy Chicken Spring Roll Jars are the perfect grab-and-go lunch with ground chicken and sweet chili sauce for an added kick.
Make this recipe
Calories: 480kcal | Carbohydrates: 73g | Protein: 32g | Fat: 7g | Saturated Fat: 1g | Cholesterol: 62mg | Sodium: 1172mg | Potassium: 686mg | Fiber: 5g | Sugar: 21g | Vitamin A: 1329IU | Vitamin C: 90mg | Calcium: 66mg | Iron: 2mg
35 minutes
These Honey Sriracha Chicken Meal Prep Bowls are a delicious make-ahead lunch idea. The sauce is so easy to make with just 3 ingredients!
Make this recipe
Calories: 455kcal | Carbohydrates: 67g | Protein: 24g | Fat: 10g | Saturated Fat: 2g | Polyunsaturated Fat: 2g | Monounsaturated Fat: 5g | Cholesterol: 105mg | Sodium: 460mg | Potassium: 361mg | Fiber: 2g | Sugar: 10g | Vitamin A: 500IU | Vitamin C: 32.2mg | Calcium: 30mg | Iron: 3.6mg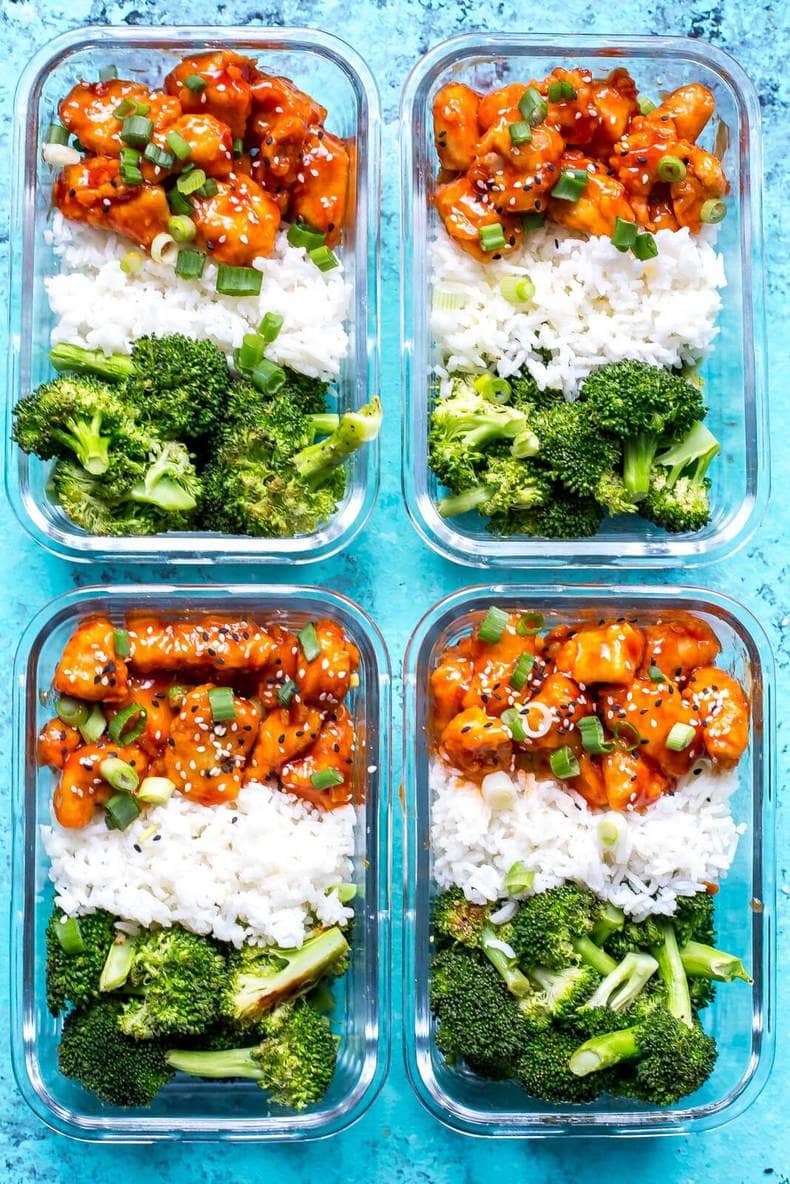 35 minutes
These Sheet Pan Greek Chicken Meal Prep Bowls are a low carb lunch idea with a lemon-oregano marinade, and they're ready in 30 minutes!
Make this recipe
Calories: 309kcal | Carbohydrates: 9g | Protein: 30g | Fat: 17g | Saturated Fat: 4g | Polyunsaturated Fat: 2g | Monounsaturated Fat: 8g | Cholesterol: 83mg | Sodium: 471mg | Potassium: 470mg | Fiber: 2g | Sugar: 3g | Vitamin A: 950IU | Vitamin C: 153.5mg | Calcium: 70mg | Iron: 1.4mg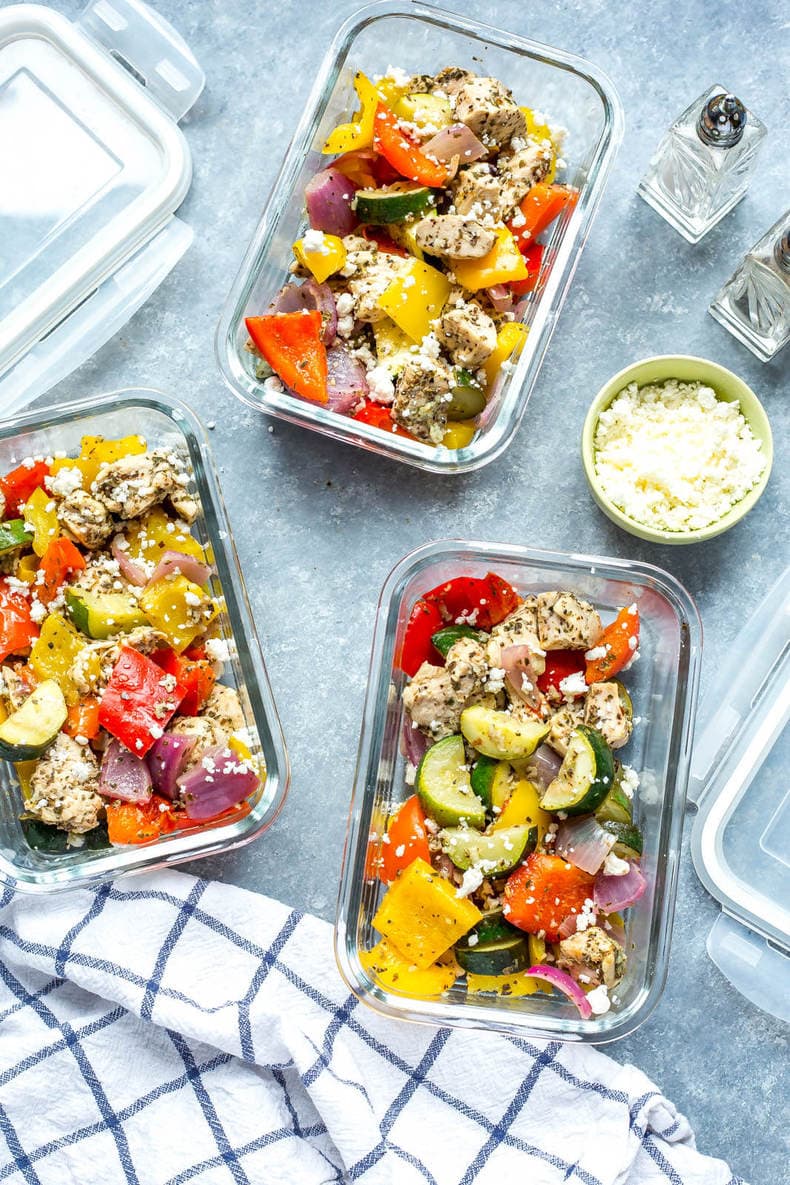 40 minutes
These Sweet Chili Chicken Meal Prep Bowls are a delicious make-ahead lunch idea. Serve with jasmine rice and your choice of toppings!
Make this recipe
Calories: 430kcal | Carbohydrates: 70g | Protein: 25g | Fat: 6g | Saturated Fat: 1g | Polyunsaturated Fat: 1g | Monounsaturated Fat: 3g | Trans Fat: 0.01g | Cholesterol: 69mg | Sodium: 656mg | Potassium: 194mg | Fiber: 4g | Sugar: 25g | Vitamin A: 6300IU | Vitamin C: 26.4mg | Calcium: 50mg | Iron: 1.3mg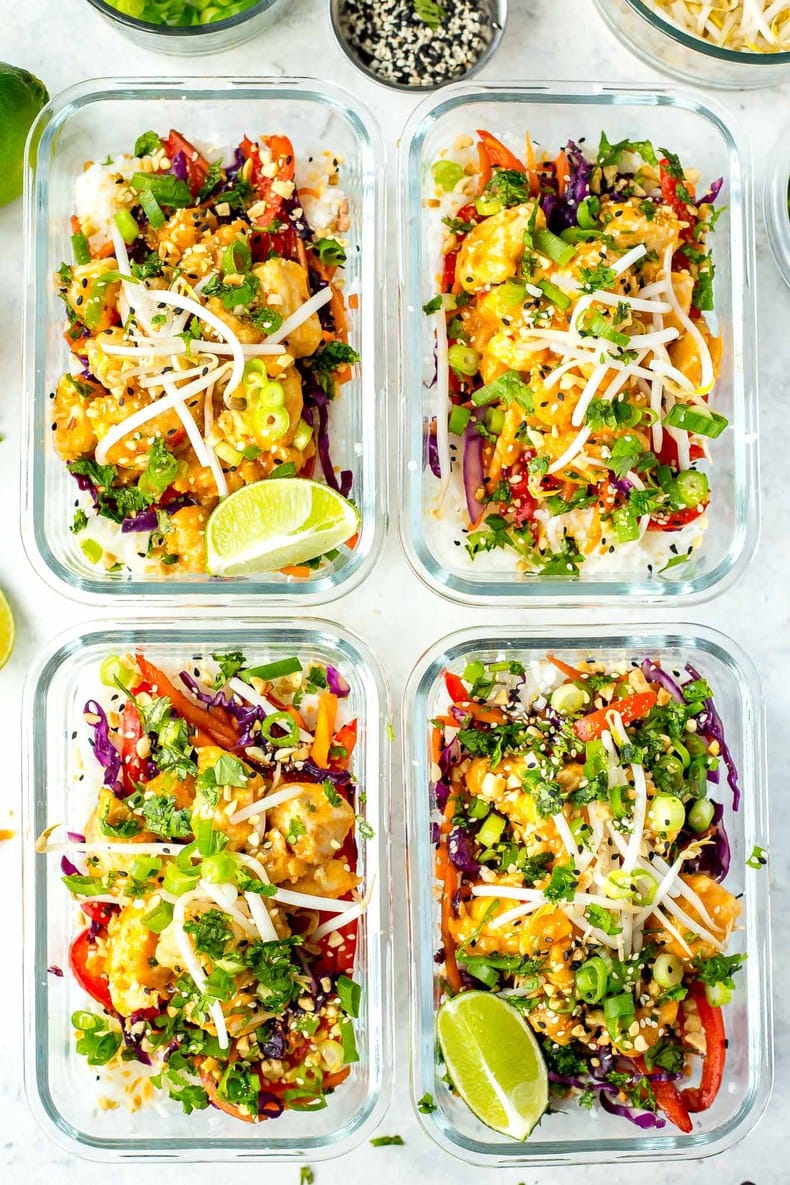 35 minutes
These Korean Inspired Chicken Meal Prep Bowls are a healthy make ahead lunch idea made up of chicken thighs, sesame coleslaw and jasmine rice!
Make this recipe
Calories: 520kcal | Carbohydrates: 49g | Protein: 49g | Fat: 13g | Saturated Fat: 3g | Cholesterol: 215mg | Sodium: 491mg | Potassium: 813mg | Fiber: 4g | Sugar: 8g | Vitamin A: 164IU | Vitamin C: 41mg | Calcium: 78mg | Iron: 3mg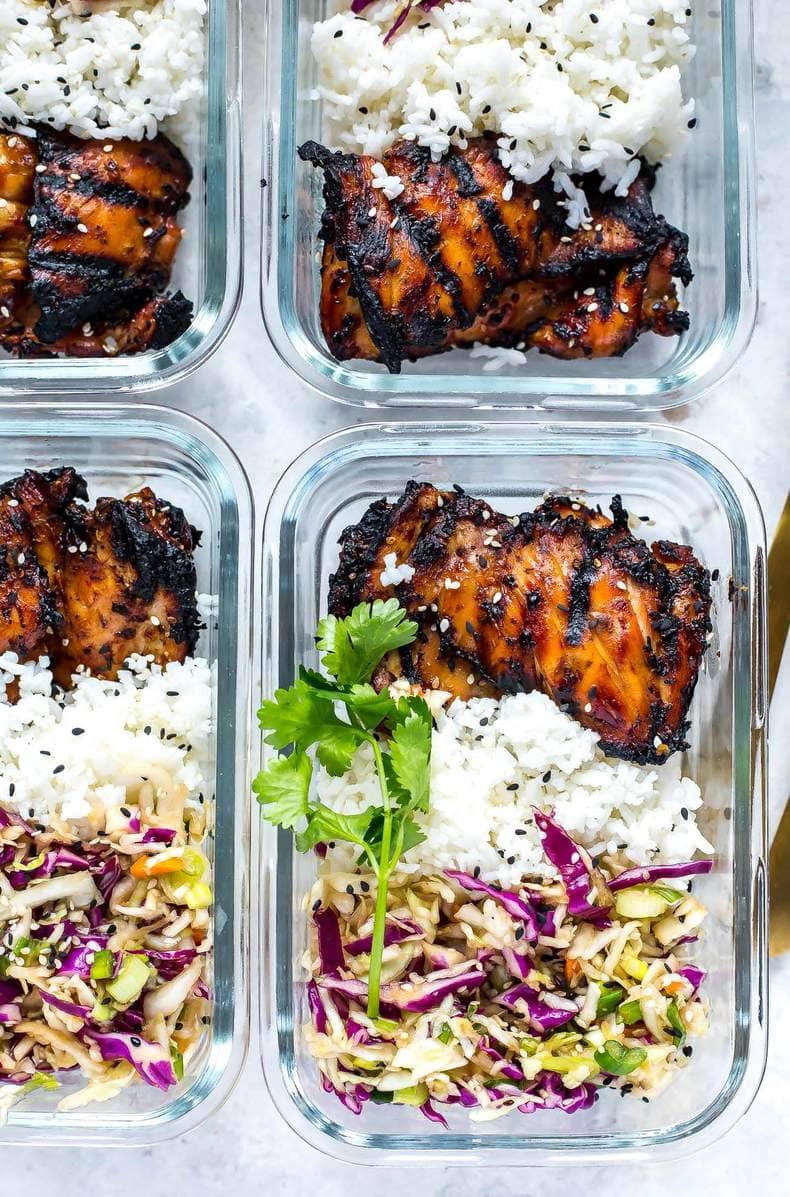 Think My Ingredient Prep System Will Work for You?
My web app, Dinner Prep Pro, is a customizable meal planning tool. Every week I send you a new customizable meal plan with grocery and prep ahead checklists that auto-populate, regardless of changes you make!
Frequently Asked Questions
What is the proper way to meal prep?
There's no right or wrong way to meal prep. As outlined above, there are a lot of strategies to help any beginner. Try out a couple different methods to find the one that works for you and your lifestyle.
What is the easiest meal to prep?
Most people find breakfast or lunch the easiest meal to prep! A lot of breakfast recipes can be made in under 30 minutes and have at least 4 servings. For lunch, you can make something quick like a sandwich/wrap or have leftovers from last night's dinner.
How long can you keep meal prep in the fridge?
Most meal prepped food can last in the fridge for 3-5 days. You can try freezing some recipes for longer storage.
Is it safe to meal prep for 5 days?
This depends on what ingredients are in your meal. If you are using meats in your meals, make sure to eat them before they go bad. Typically this is around 4 day. There are some meal prep recipes that can last in the fridge for 5 days, though, like these quinoa salads.
What should you not do while meal prepping?
One of the biggest mistakes meal prep beginners make is biting off more than they can chew (pun intended!). A lot of people have very ambitious goals when they're first starting out which can be hard to achieve. Instead, I'd recommend starting out small with meal prepping just one recipe. Once you've mastered that, you can start meal prepping for more meals if you'd like.
Meal Prep Tools